Wildlife is a part of all our lives and in these strange times I think we have become closer to nature with more walks in the countryside. With less traffic and noise, we have been able to hear nature clearly even in our gardens and parks, whether in urban or rural settings.
Our love of nature always comes to the fore at Christmas, as those frosty wintry scenes, or even our humorous festive cards just wouldn't seem the same without our furry and feathered friends.  So, no matter what you are looking for you will find some of the best card ideas here for your family and friends.  My choices are intentionally across all ranges, from those supporting Charities to handmade, and those available on the high street.
This year, sending heartfelt personalised cards and messages to friends and family I feel will be more important than ever, so here's a few ideas to get you going. Don't forget to perhaps enclose a letter with news or a couple of photographs if it's a while since you have seen each other.
Examples of What to Write in Christmas card
Wishing you a very Merry Christmas and a Happy New Year
May your Christmas sparkle with joy and laughter
Eat. Drink. Be Merry. Have a Wonderful Christmas
Wishing you all the best for the year ahead
Wishing you peace, joy and love this Christmas
May the true spirit of Christmas shine in your heart and light your path
Have a lovely Christmas and a great New Year!
Wishing you all the best for the festive season!
Hope you have a lovely Christmas and hope to see you soon
May the spirit of Christmas be with you all year round
You put the merry in my Christmas
Even though we are apart our hearts are together
Missing you most during this Christmas Time
The warmest wishes to you all.
Wishing you love and light in this challenging festive season
"Peace on earth will come to stay, when we live Christmas every day." — Helen Steiner Rice
Find the Perfect Wildlife Christmas Card.
Here you have a great selection of some of the best wildlife Christmas cards I could find. Featuring, the robin, the colourful partridge & pheasant, the mysterious owl, the festive stags – the reindeer, the fox, the elusive badger, the endangered hedgehog, the mischievous squirrel and those popular hares/rabbits. I am sure there are many more favourites I may have missed but hopefully one of these wonderful creatures included will bring a Christmas smile.
The Robin
The Robin is still the most popular bird featured on Christmas cards today, though the origins go back to Victorian times when the postmen were nicknamed 'robins' because of their red-breasted coloured uniforms. Interestingly, the robin at Christmas time came to represent the postman who delivered the card. In the morning I can hear the robin and along with the blackbird it is the first to appear when I feed the birds. A real British favourite of all our garden birds.
This fluffy robin caught my eye, he comes in a Charity pack of cards supporting Marie Curie.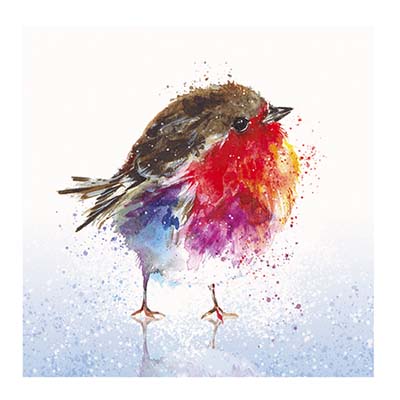 Love a 3D card this papercut robin and winter scene is quite special.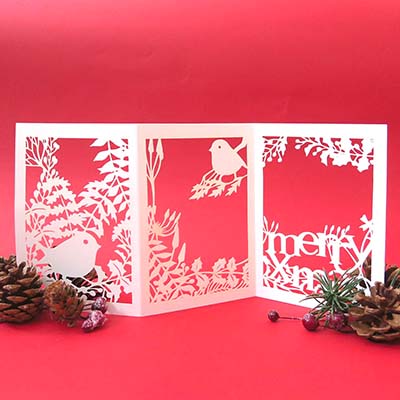 These robins are definitely royal with their gold crowns. Mum and Dad will feel very special this Christmas!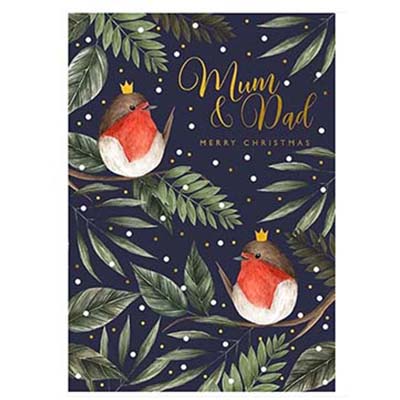 Vintage is still cool and these cute robins bring a warm Victorian glow.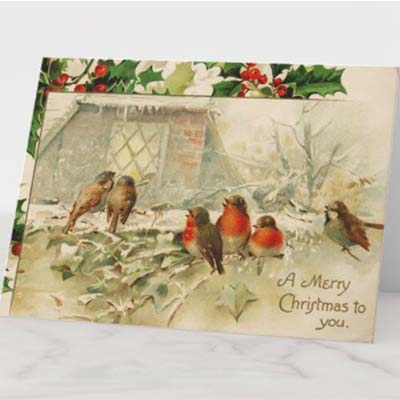 Hand-painted this Robin Garland brings a sparkle!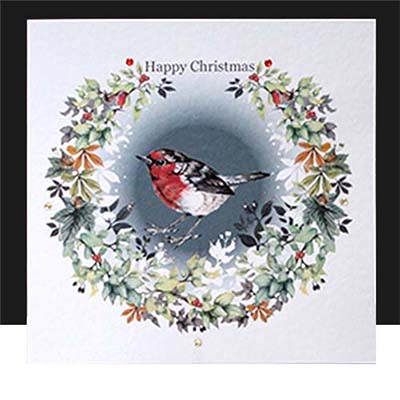 What a delightful little robin this is for Christmas and all occasions.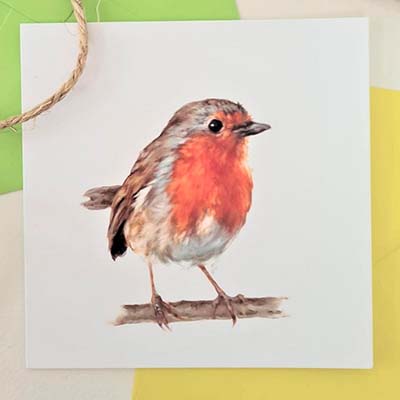 A special personalised robin card for the family
Merry Christmas to You Both.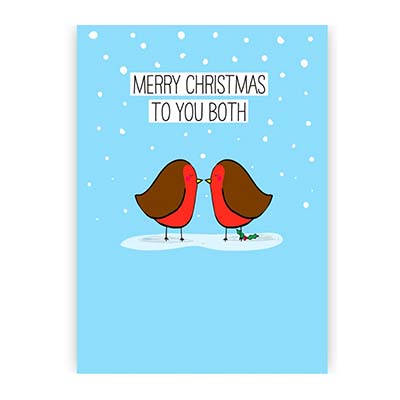 Robins with characters, one for the family!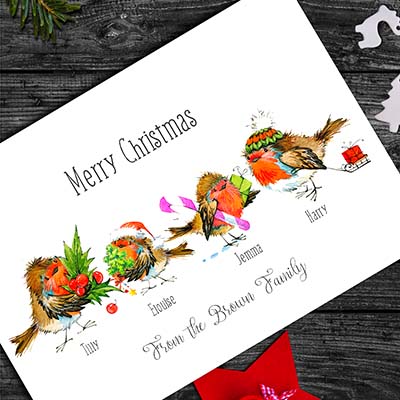 The Partridge and the Pheasant.
Our British game birds are always part of our Christmas celebrations, especially the 'Partridge in a Peartree' being part of the popular song the Twelve Days of Christmas. They are also such beautiful coloured birds against the subdued colours of Winter they make striking subjects.
The Partridge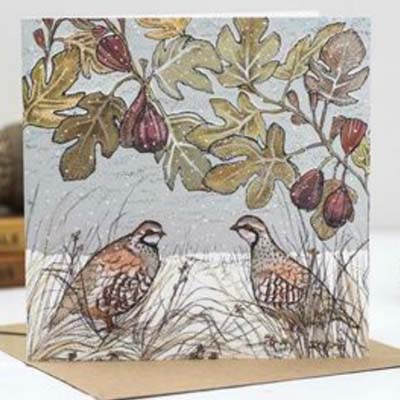 A wintry scene of partridges and figs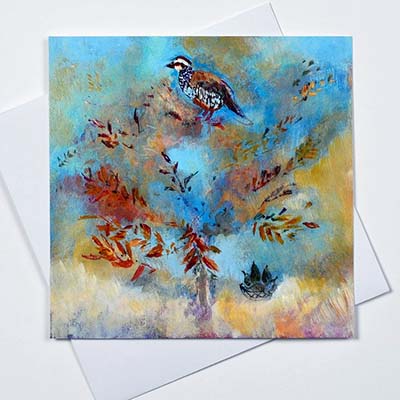 Love the amazing explosion of painted colour!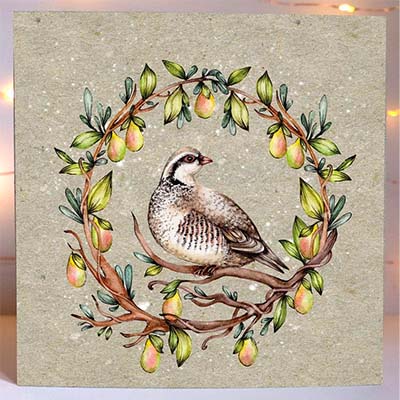 A subtle partridge in a halo of pears.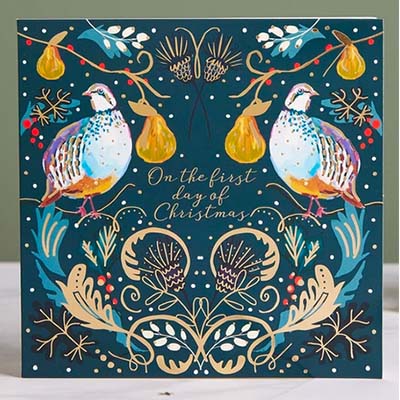 You can support 'Shelter' with these opulent partridges 'On the First day of Christmas'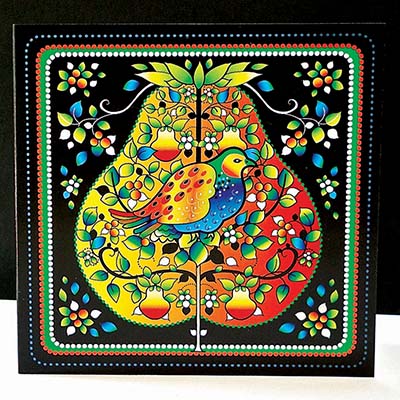 Bring that Autumn glow back into Christmas with this stunning 'Partridge in a Peartree' on black.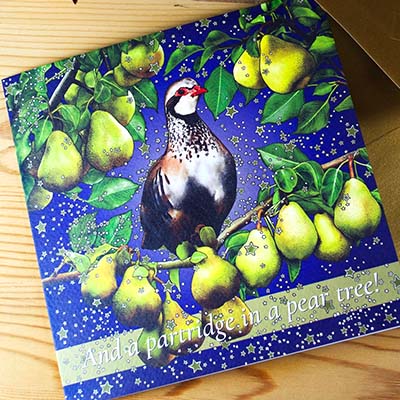 Love the bright blue ground with stars!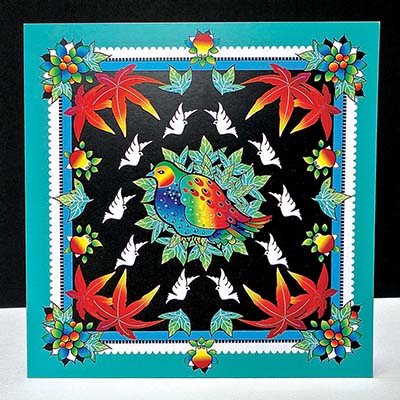 A nesting partridge framed in a beautiful turquoise!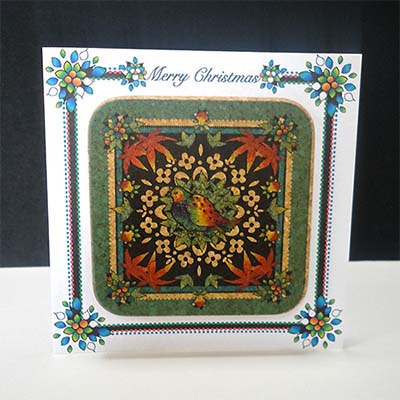 A gift and card in one, a cork coaster to put your cup of tea on in the New Year.
The Pheasant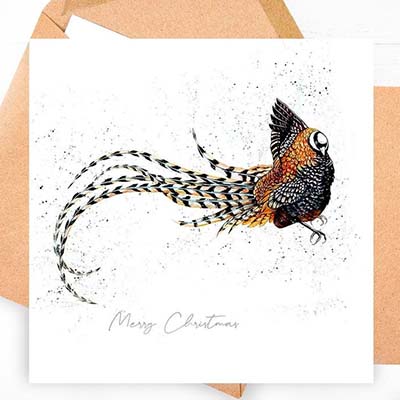 A really dramatic water-colour, love the black detail.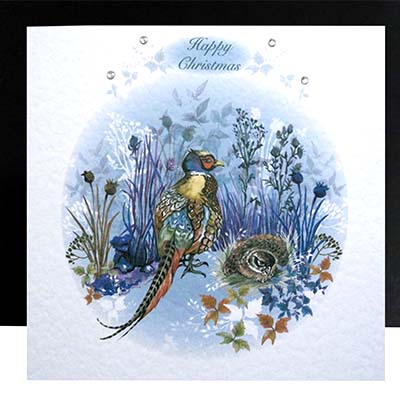 A misty blue winter with pheasants.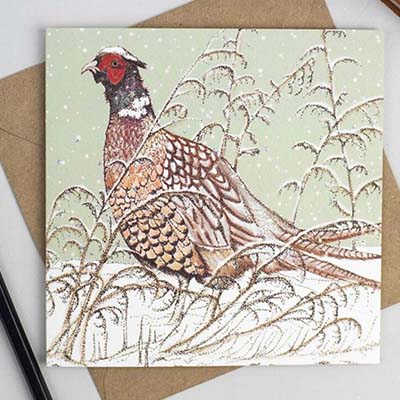 A really nice pheasant in the snow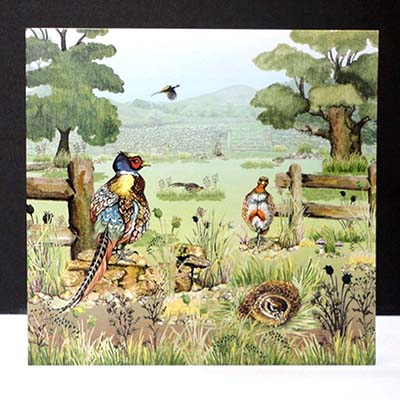 Game birds in a real country scene!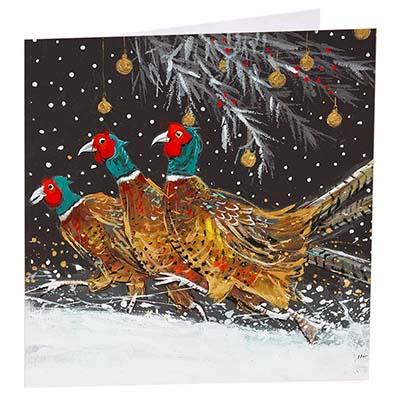 These pheasants are definitely in a rush!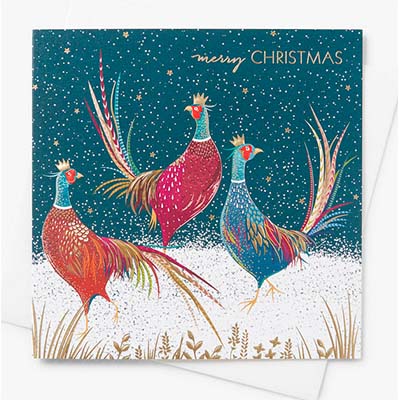 Three proud pheasants a decorative fun card.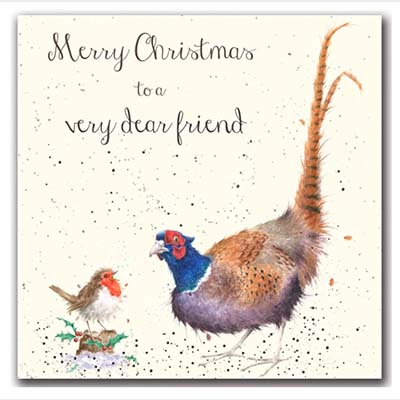 What dear friends!
The Owl
Owls are such enigmatic birds, as we don't often see them in the wild in daylight. With those distinctive eyes and the turning of the head its no wonder they symbolise wisdom. But they are also pretty loveable characters that we adore.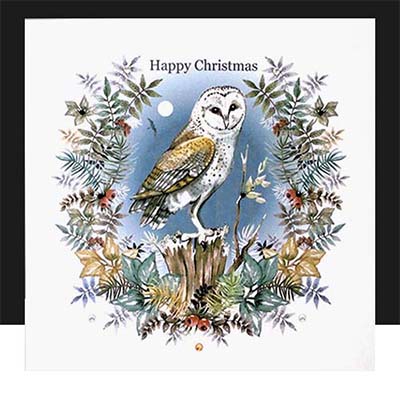 This Owl is perfectly happy in forest garland.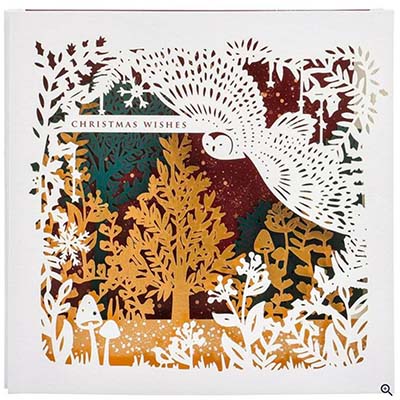 A beautiful autumnal colours in this laser cut card.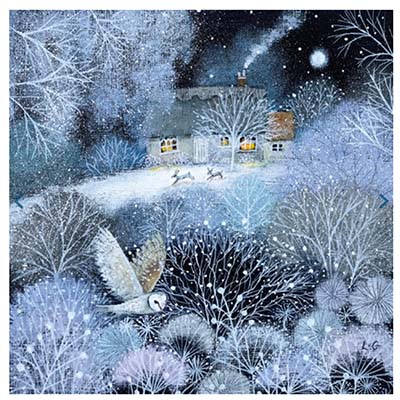 A magical snowy winter garden scene.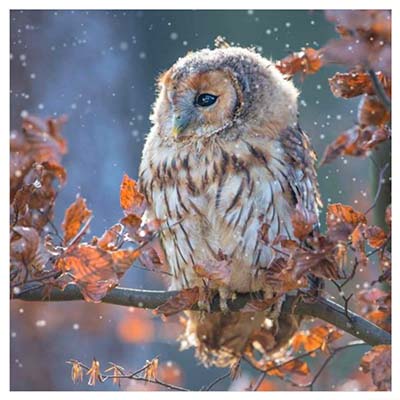 Yes, the RSPB have some of the best photos of owls and this cute tawny owl is just gorgeous.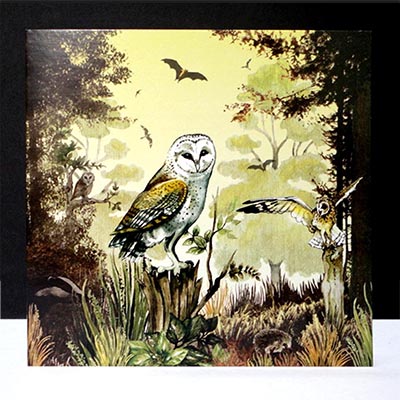 These Owls at Twilight have some nocturnal friends.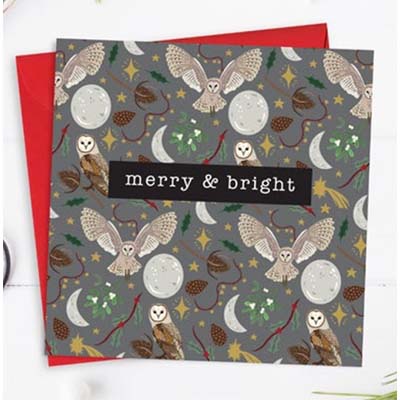 A merry and bright all-over Owl design for Christmas.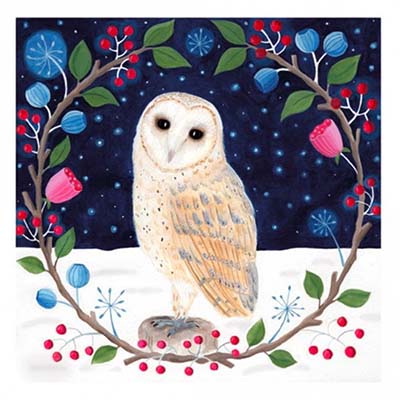 Such a warming little festive scene.
The Deer.
The deer family makes popular themes for Christmas. The reindeer is known as the caribou in North America. Native to the Arctic and colder climes they are a perfect choice to drive Santa's sleigh. But the male of the deer – the stag with its majestic antlers is also a good contender along with the fawns and Bambi-like illustrations.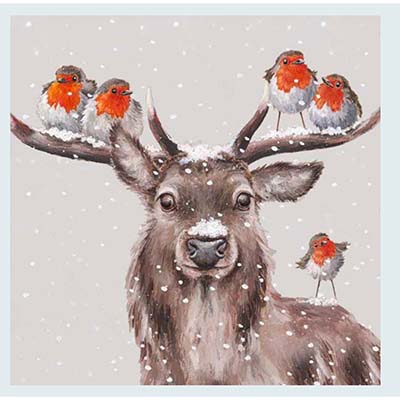 Love these cheeky robins with the friendly deer on this National Trust card.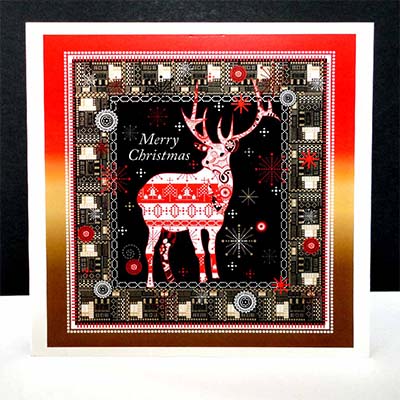 It must be cold as this reindeer has an Ikat knitted covering!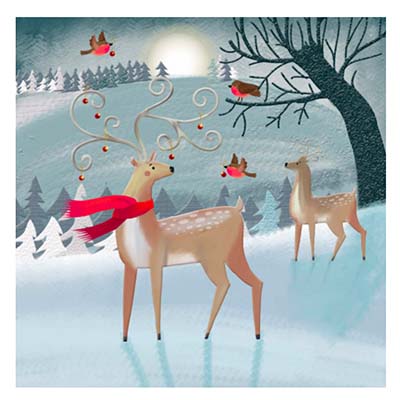 Fantasy blue winter forest setting for these Illustrative Reindeer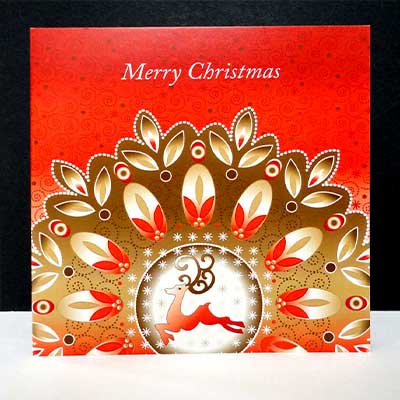 This Reindeer sparkles on this bright red ground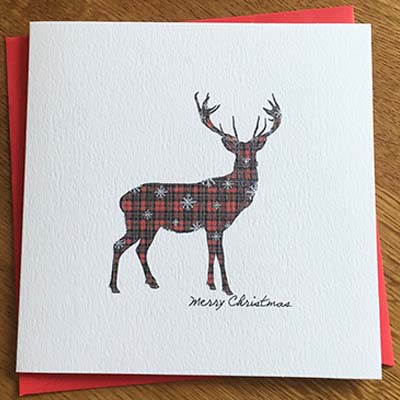 A traditionally dressed stag in tartan!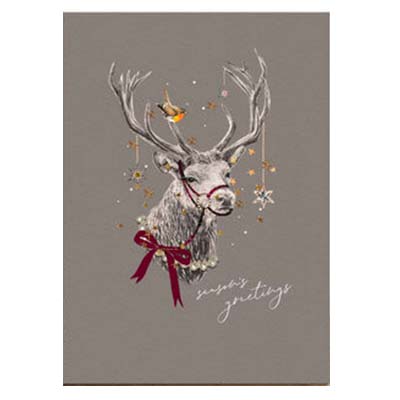 Added gold foil stars bring this beautifully drawn stag to life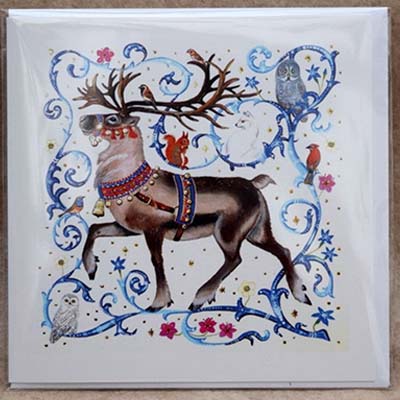 An amazing majestic Medieval Illuminated Reindeer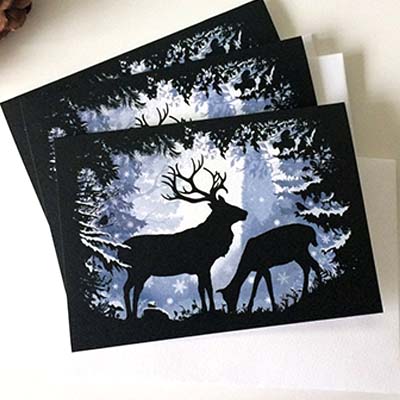 Black deer silhouettes make a dramatic winter scene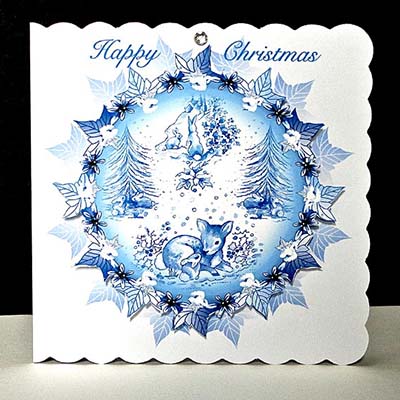 A Magical Christmas with a cute Bambi scene
The Fox
Many cards thankfully feature another wild animal native to Britain, the wild and wonderful fox. We may encounter one during the daytime, but they are shy creatures and are really prevalent at night; we often have them passing through our garden in the dark looking for food. I think they are fascinating and quite a beautiful animal with unique characters with features that are perfect subjects for design.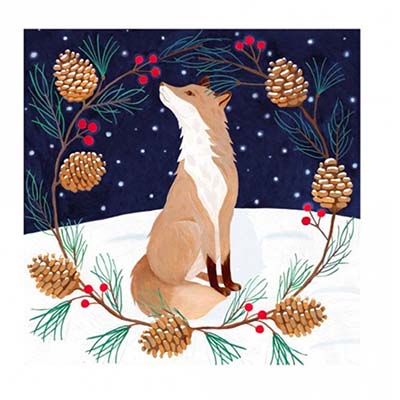 Such a charming fox in the snow.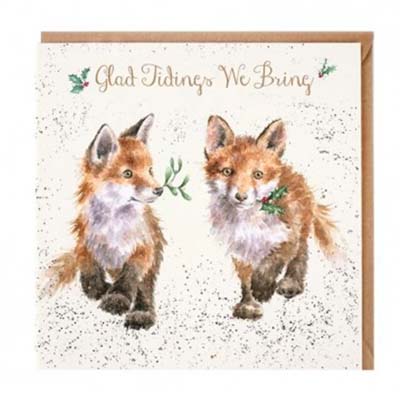 Don't we all wish we could see these little fox cubs in real life!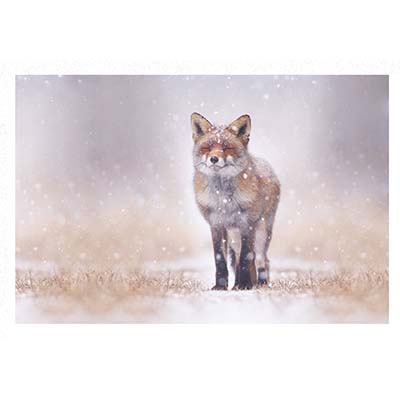 A beautiful fox by Worcestershire Wildlife Trust– it's cold out there!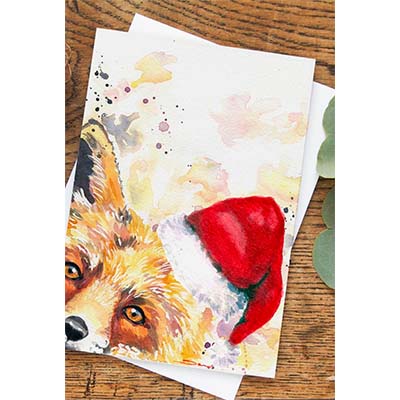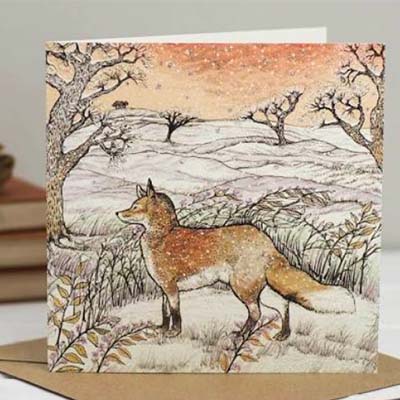 A rustic palette for this fox in the fields.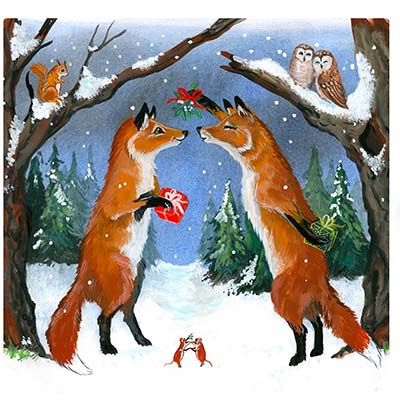 Love the idea of Foxes under the Mistletoe.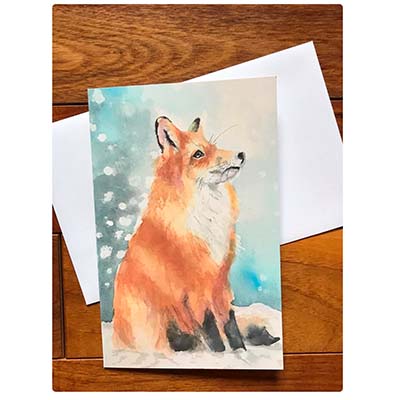 What a beautiful fox!


The Badger
The Badger with its distinctive black and white striped face is quite a stocky animal, that is shy and prefers the night. Unfortunately, they always seem to be under threat from us humans. I like to think of them as featured in Wind in the Willows, kind, strong and wise with lots of character.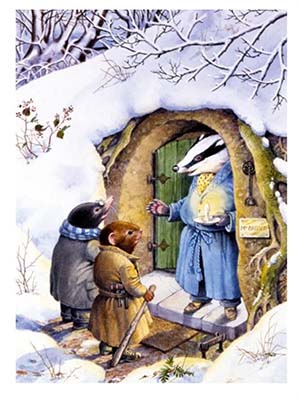 Here is Badger himself in Wind in the Willows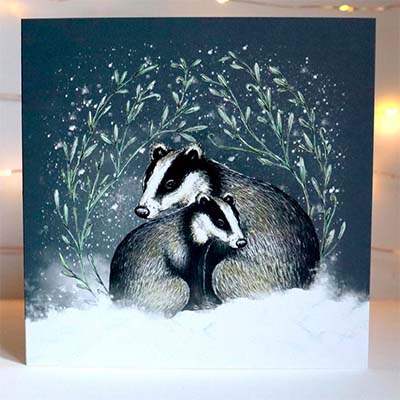 These really are 'Cosy Badgers'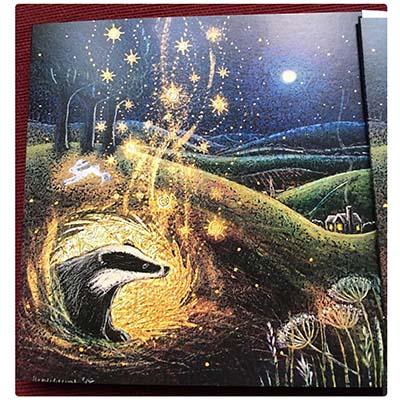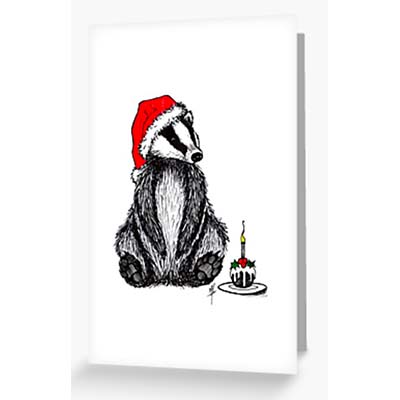 I think this badger is just awaiting Christmas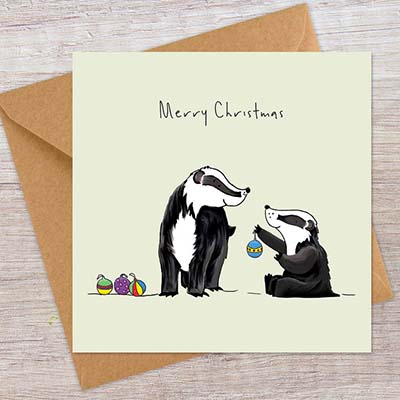 A missing Christmas tree I think?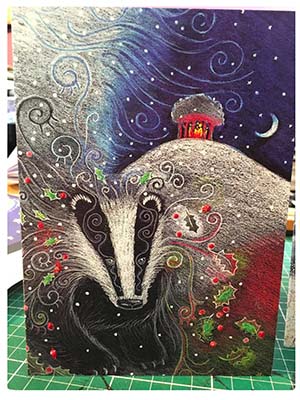 Definitely a surrealist badger.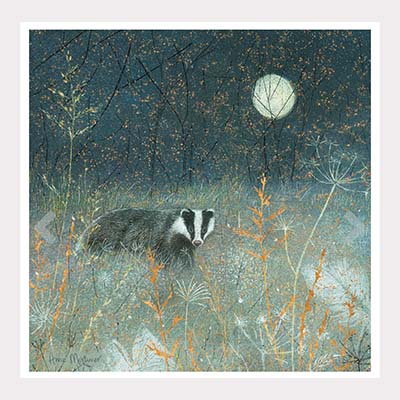 A very atmospheric and enchanting wildlife scene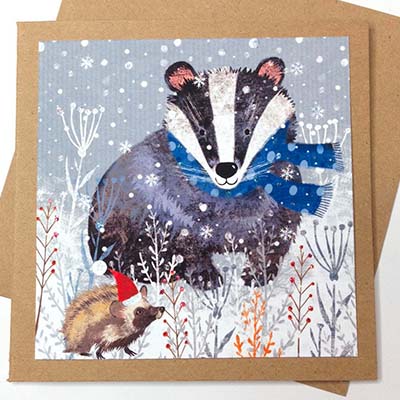 Badger and Hedgehog are dressed up warm for winter.
The Hedgehog
One of the most loved, truly unique of our wild animals and probably the most endangered is the hedgehog. That cute little face protected by a coat of spikes is probably why it is called a pincushion with legs. I am lucky to have had them in my garden a few years ago, they travel faster than you imagine when in a rush.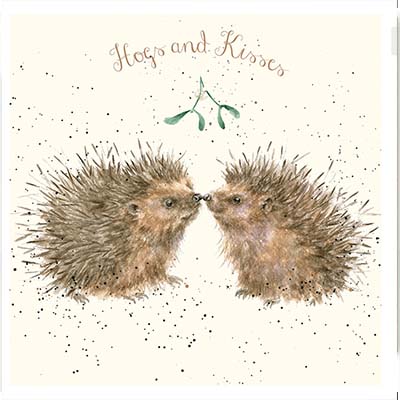 Such a cute pair under the mistletoe from the British Hedgehog Preservation Society.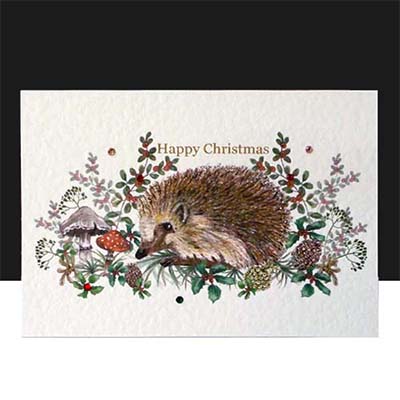 A real Christmas hedgehog!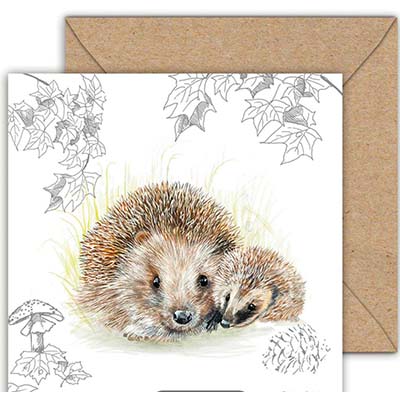 Beautifully painted Hedgehogs by Pollyanna Pickering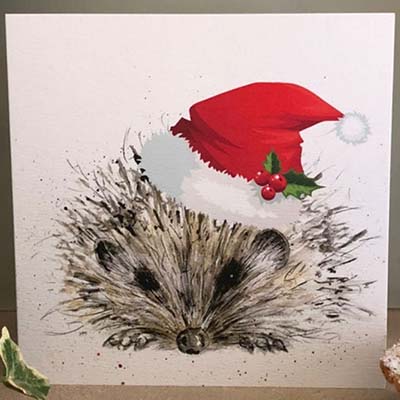 How about six of these characters for Christmas.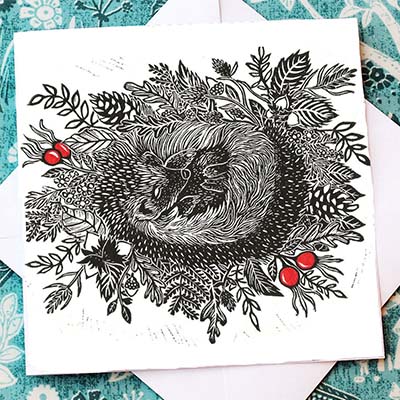 A very happy hedgehog nestled up for Winter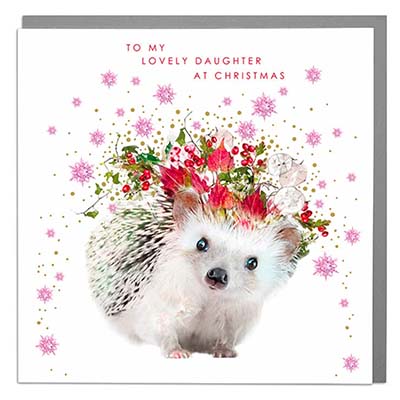 I think your Daughter would love this card.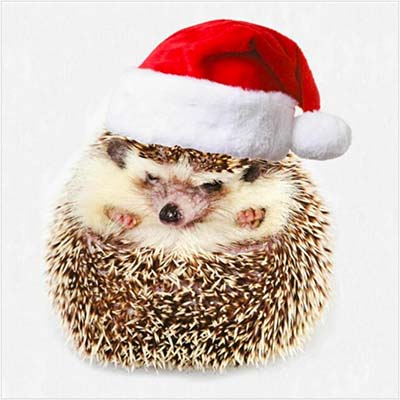 This hedgehog is all ready for Christmas I see! I sweet card from the Heart of Kent Hospice Charity.
The Squirrel
I think the Squirrel is the most mischievous and clever of our common wildlife, nothing can deter them from seeking food! Obviously, the most prevalent is the grey squirrel, we have many going through our garden to a large walnut tree. We constantly watch their antics at the seed containers in the apple tree.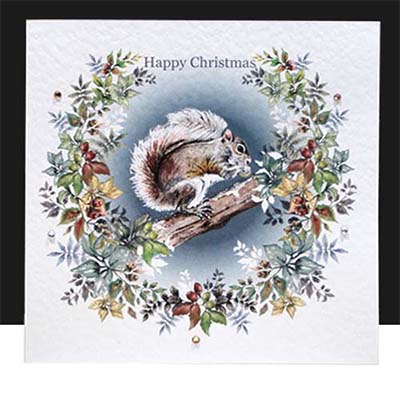 This grey squirrel has definitely been in my garden!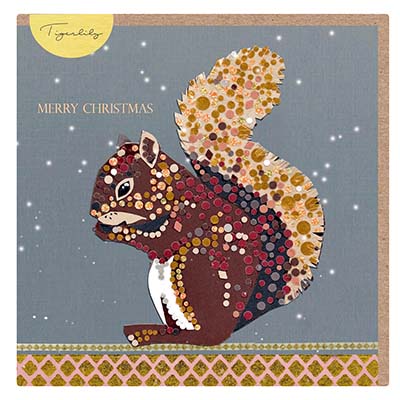 A very dotty squirrel!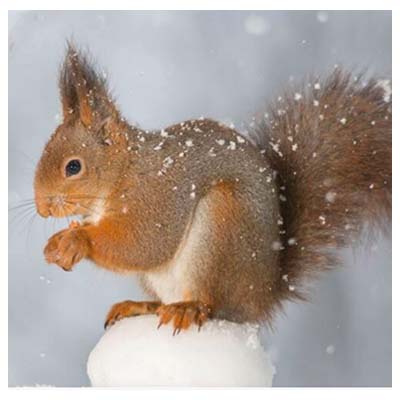 Love a beautiful photograph.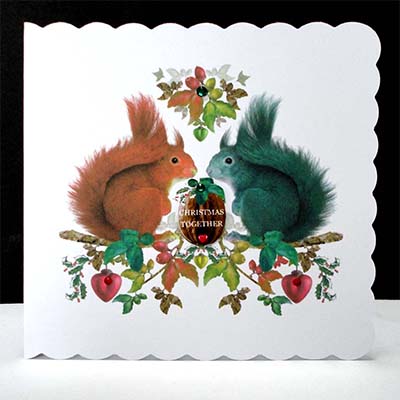 They make a lovely couple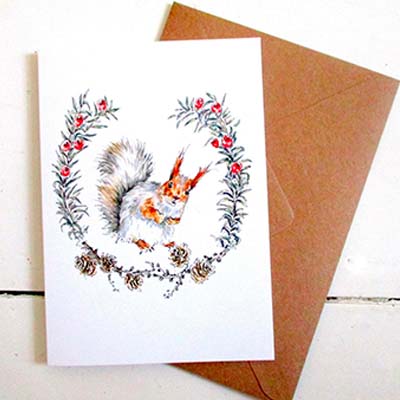 I think this red squirrel has been taken by surprise!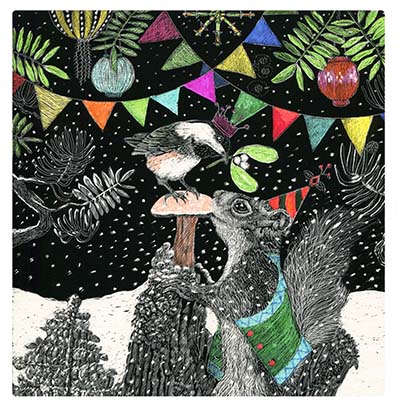 The detail on this card is amazing by KayLeverton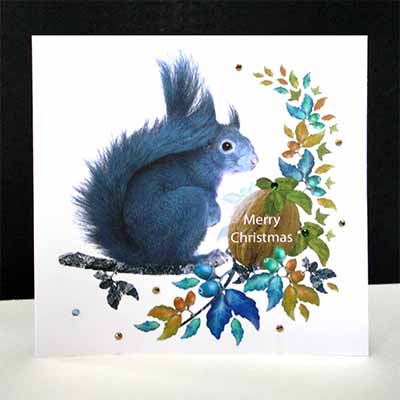 A grey squirrel at its best!
Hares and Rabbits
Hares and rabbits are from the same family, but a different species. Hares are bigger have longer ears and less social than rabbits, if in danger they run rather than hide. The phase 'Mad as a March Hare' comes from their madness in mating season when you see the hares 'boxing'. We are fascinated and seem to love pictures, photos or paintings of those elusive animals – the ones we don't see often.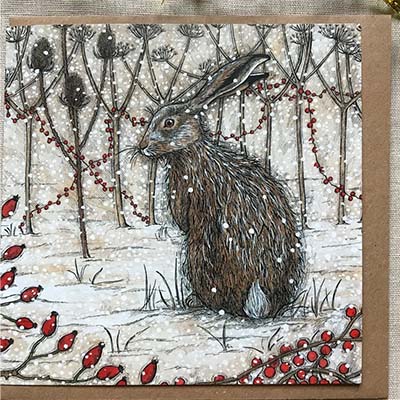 A beautiful pen and ink winter hare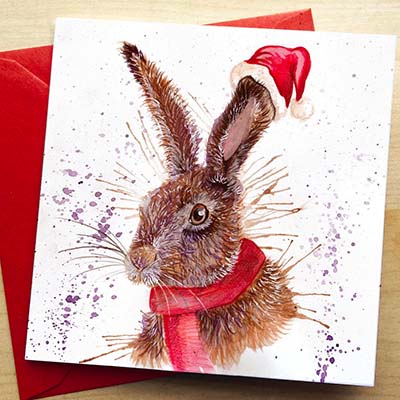 This hare has really got in the Christmas Spirit.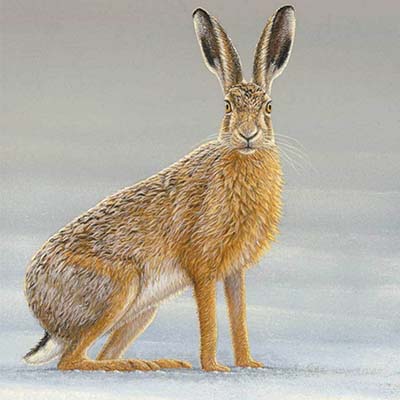 A wonderful hare from Hare watch by Robert E Fuller one of Britain's best wildlife artists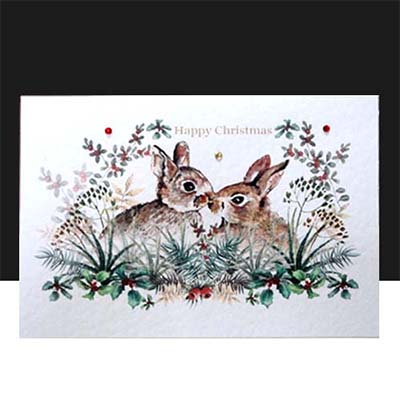 Say Happy Christmas with these cute bunnies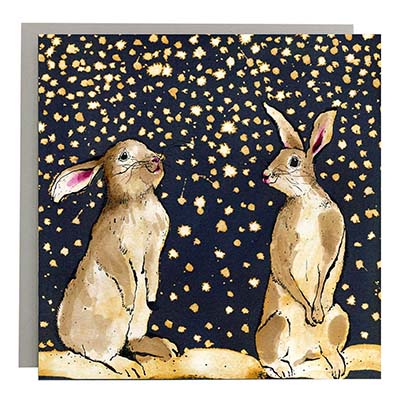 These bunnies are just loving the snow.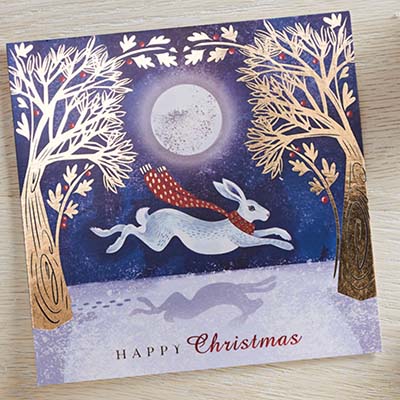 A great card from Yorkshire wildlife Trust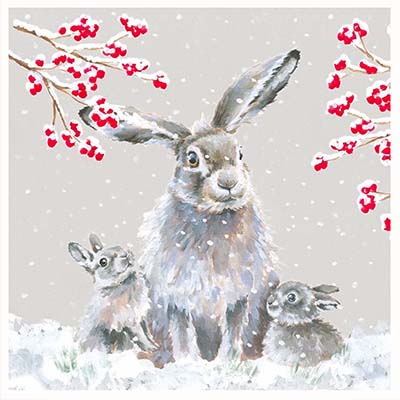 This rabbit family are enjoying the snow.
Woodland Animals.
The woodland animals are a family and belong together in their native surroundings. Here are some great combinations featuring them in really creative and imaginative designs. No matter which animal your friends and family favour there should be one to please in these beautiful cards.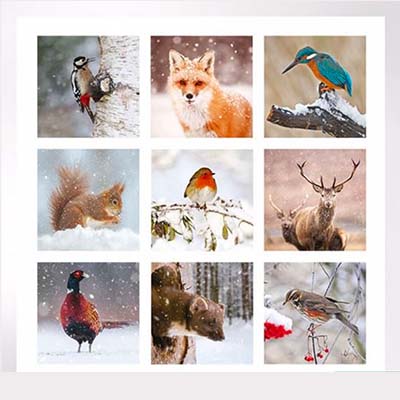 The Woodland Trust card photos of nature is a delight.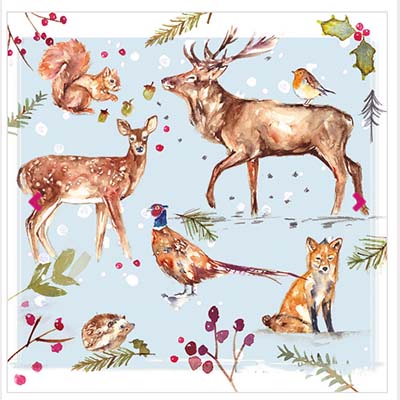 A lovely collection of woodland wildlife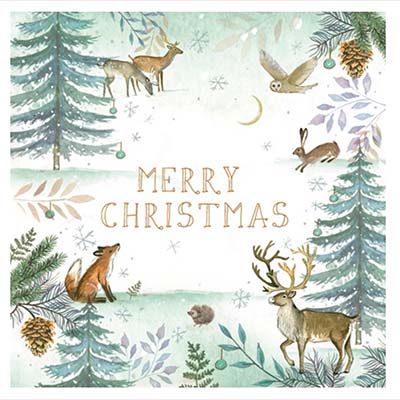 The woodland animals also feature on this Barnado's Christmas Card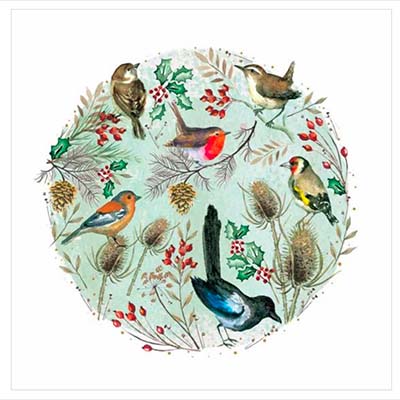 A festive selection of birds from the RSPB, love our feathered friends!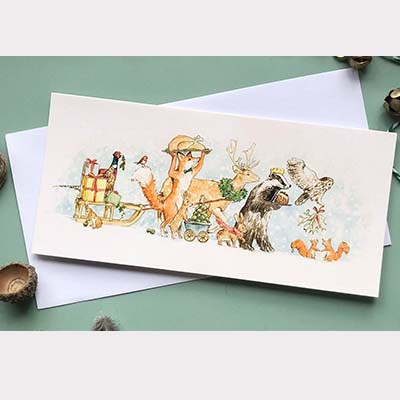 Ok lets have a Christmas Party!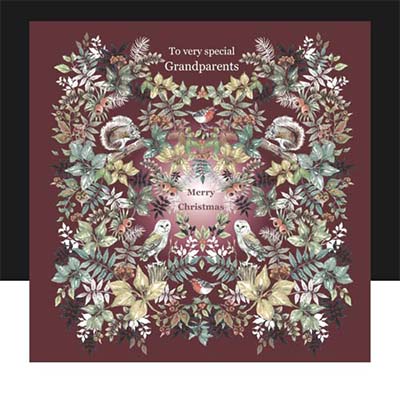 I think the Grandparents will be delighted with this card.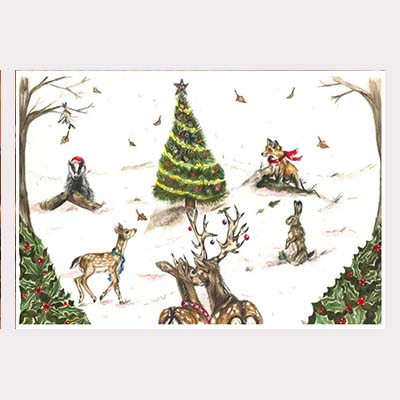 Lets gather around the Christmas tree.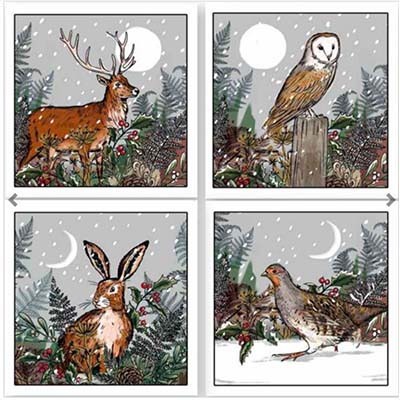 A Silent Night pack of woodland animal cards, one for everyone.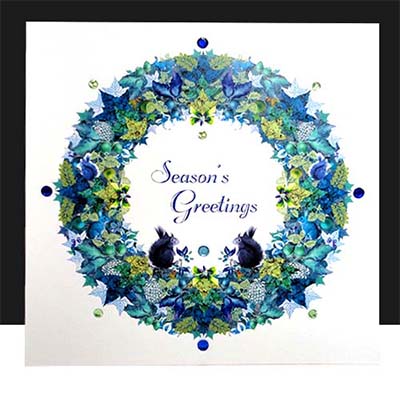 Squirrels and rabbits hide in a Christmas garland in blue.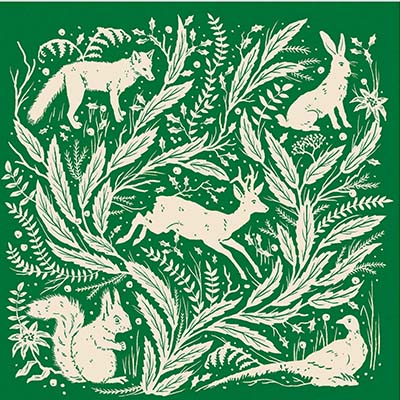 Oxfam have a festive green background for their woodland animals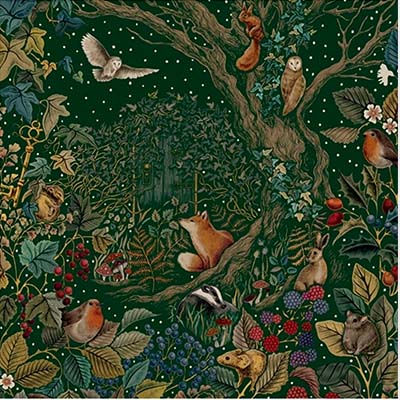 These luxury cards are deep inside the wood for this festive woodland scene.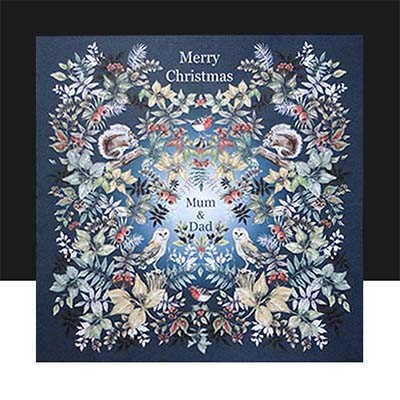 Lastly a woodland scene personalised for Mum and Dad.
There are so many wonderful cards available celebrating our wildlife, I could go on for ever, but I have to be realistic and stick to a select few. The highlighted text is a link so it will make your search and purchase much easier. So, do think of buying more not only for Christmas but all year round from designers and artists, keep this amazing creative spirit alive. Don't forget our wild animals too help save their habitats and why not sign up to the Wildlife Trust in your area?