Where did Valentine's Day originate? Nobody really knows the truth about this popular annual celebration. But, it definitely goes back to Roman Times and may be the festival of Lupercalia, which is the start of their springtime and a fertility celebration. However, the name is thought to come from St Valentine, who was executed on 14th February by Emperor Claudius II after officiating weddings of Roman Soldiers against the Emperor's wishes.
It seems that there is no clear answer to this, but let's face it we all enjoy this special day anyway! It gives us a chance to show our love to that very special person in our lives.
This year it is more important than ever, with so many people living apart in these extraordinary times.
Sending cards has become more increasingly important, with restrictions in place for the opening of retail stores; despite this, selecting Valentine's cards is not be a problem as there are so many fabulous cards for sale online. Small retailers, artists and designers all contribute to the British Card Industry without being on the High Street.
To help you with your search for that special Valentine's Card I have put together some of the best cards I can find. Just click on the high-lighted text for the link.
So, you have found the right card, but if you are stuck for the right words and need help – and the personal message may be more important than ever – here are some inspirational ideas to get you going!
Examples of what to write in a Valentine's Day card:
I've fallen in love many times… always with you
My heart belongs to you today and always
You and me were meant to be.
You're my sunshine on a cloudy day.
Sending a whole lot of love your way!
You're the girl/man of my dreams.
Ours is my favourite love story.
The little things we share make every day magical.
Next to you is my favourite place to be.
Can't tell you enough how special you are to me.
Being with you is a dream come true.
You're all I ever wanted and I'm so glad you're mine.
You've swept me off my feet and made my life complete.
Thank you for being my better half. Happy Valentine's Day!
Thank you for being my best friend, and partner in crime.
Happy Valentine's Day to the love of my life.
All I need is you to brighten my days.
You are always on my mind and in my heart, I love you.
Famous Love Quotes:
Gravitation is not responsible for people falling in love. Albert Einstein
Love is a game that two can play and both win. Eva Gabor
If I have a single flower for every time, I think of you, I could walk forever in a garden. Claudia Adrienne Grandi
At the touch of love, everyone becomes a poet. Plato
Grow old with me! This best is yet to be. Robert Browning
Love is the greatest refreshment in life. Pablo Picasso
If I live to be a hundred, I want to live to be a hundred minus one day so I never have to live without you. A.A.Milne
There's a long life ahead of you and it's going to be beautiful, as long as you keep loving and hugging each other. Yoko Ono
I'd rather have roses on my table than diamonds on my neck. Emma Goldman
A kiss makes the heart young again and wipes out the years. Rupert Brooke
The most popular subjects for Valentine's Cards are predominantly hearts and roses which come in many forms with the message of love. But animals, tropical subjects and off course the humorous card for the males in our lives are now becoming more frequently chosen.
Valentine's Day Cards For Her.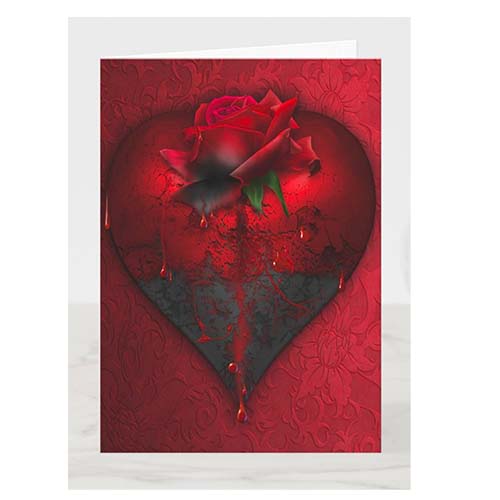 My first choice is a beautiful intense red Gothic Valentine Card. Love the damask background.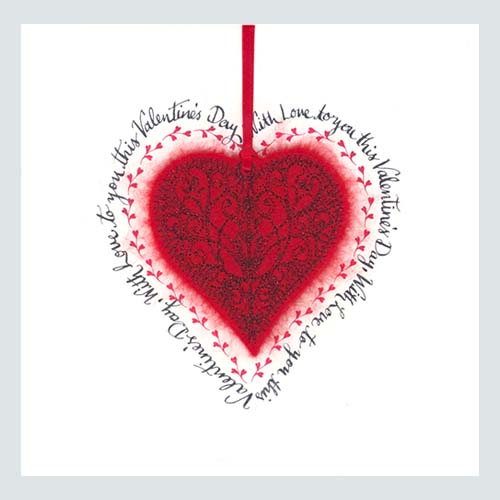 A stunning red embroidered heart with calligraphic sentiments makes a nice keepsake.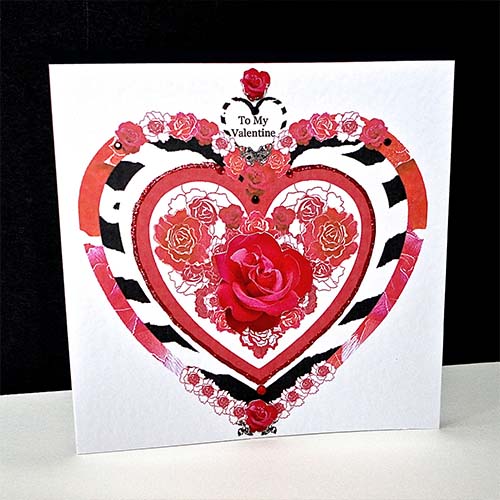 Red, black and white is a winning combination for this Rose and Heart Handmade Card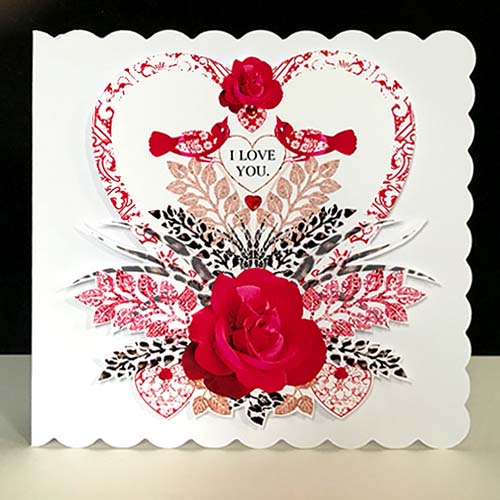 What better way to say I love You!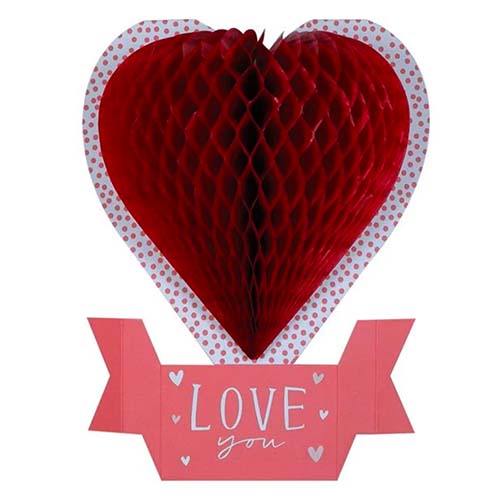 This Pop-out love heart is one to save as a great future decoration!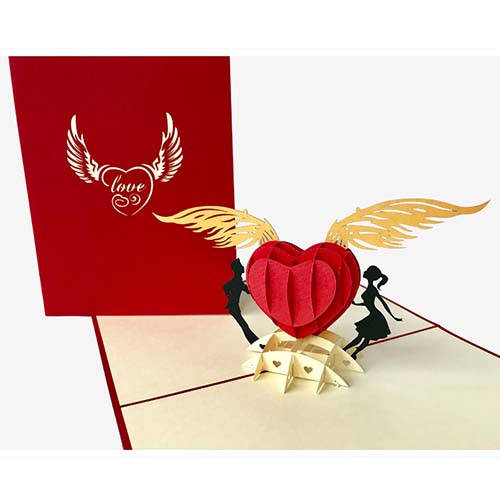 It's Love! With this unusual 3D card Pop-up Card.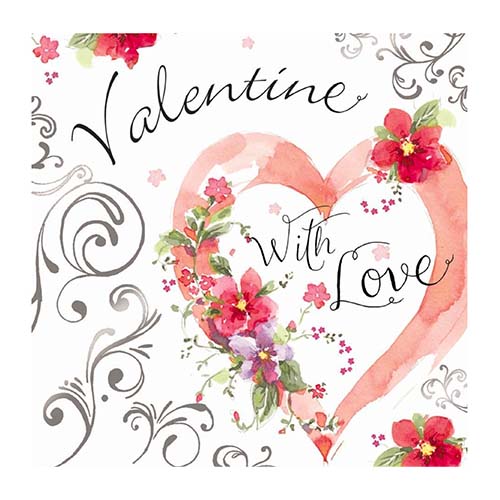 A fresh looking water-colour card sent with love, and a silver foil finish.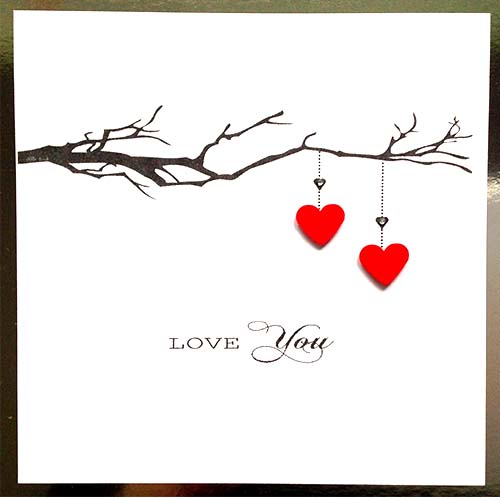 Really like the simplicity of this design. Two hearts hanging from a single branch.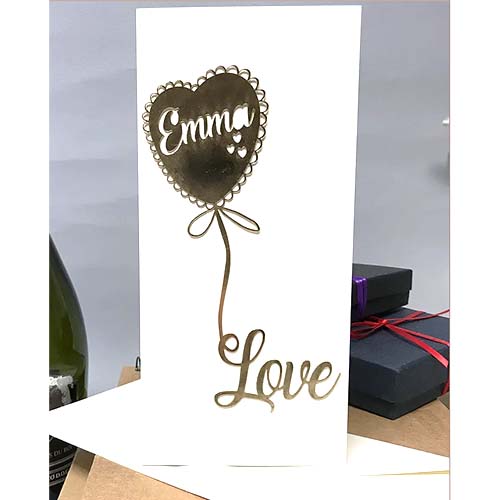 Celebrate with a personalised gold heart sent with love!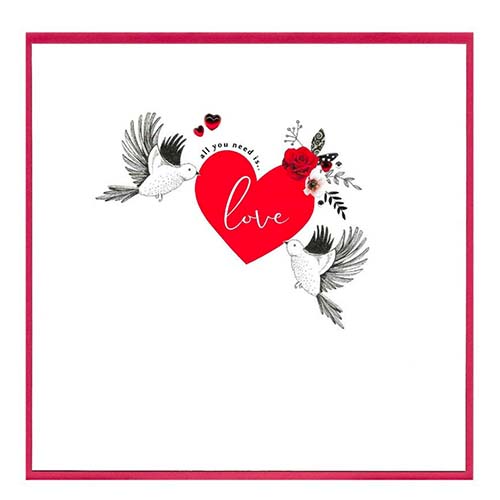 All these two little birds need is Love.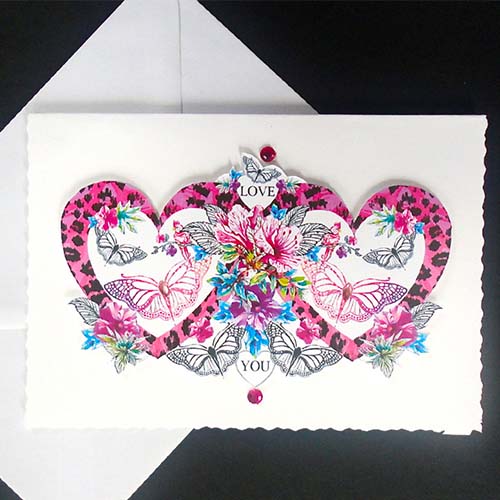 On trend are these skin-print hearts saying I love you.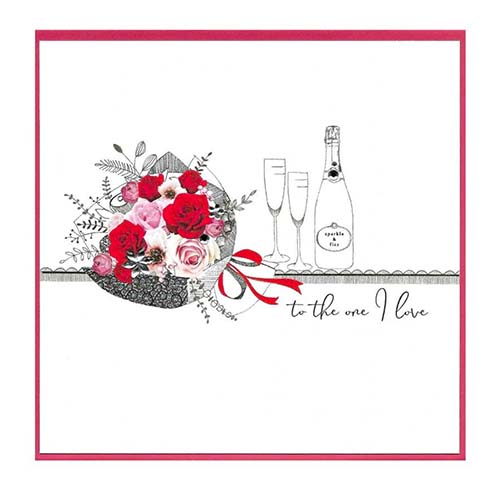 I think all we ladies love a bouquet of flowers and this doesn't disappoint.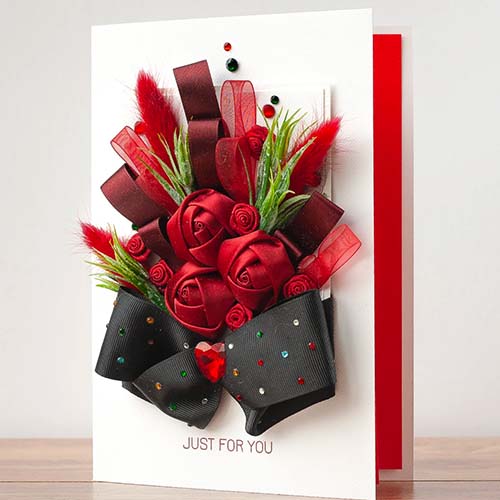 Looking for Luxury, then this gorgeous boxed card is ideal.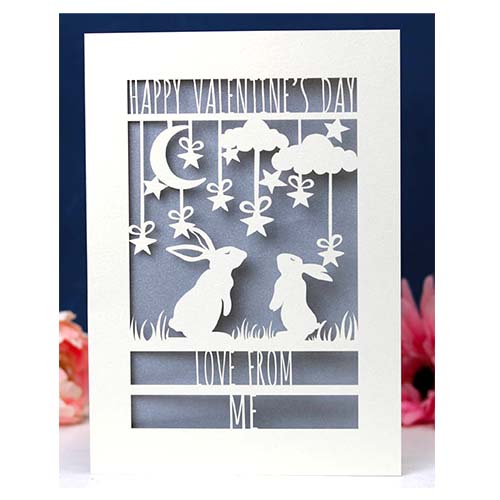 Animals are a favourite subject for many occasions and these paper cut bunnies are definitely cute for Valentine's Day!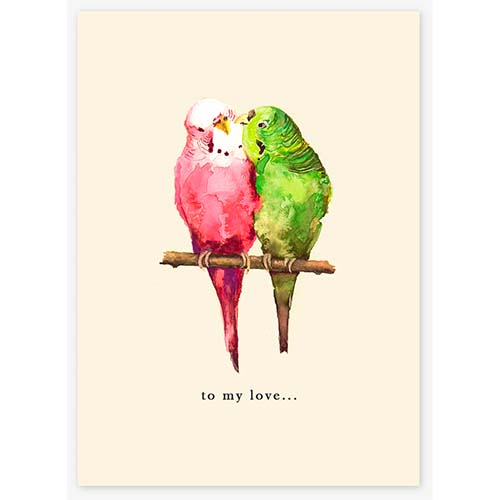 Love is in the air with these Budgies.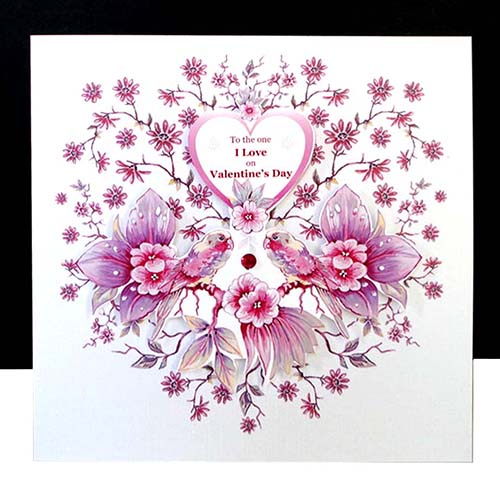 Hand-painted Love Birds in soft pink and pastel tones- 'To The One I Love'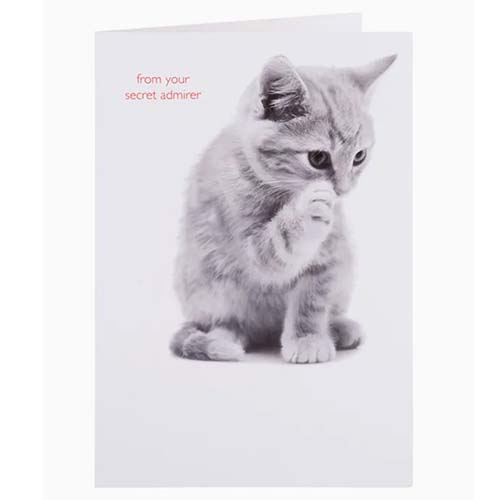 A Cute Kitten Secret Admirer, you're bound to get the girl!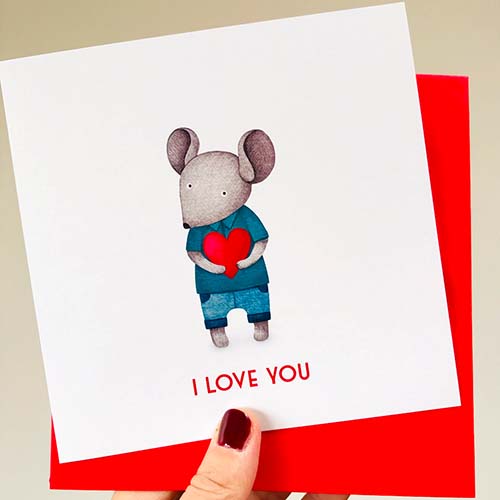 A small mouse with a big heart– Irresistible!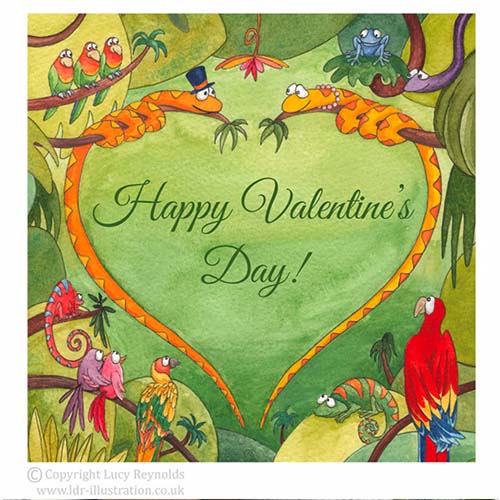 Brighten up her day with a colourful fun Jungle Valentine's Day Card.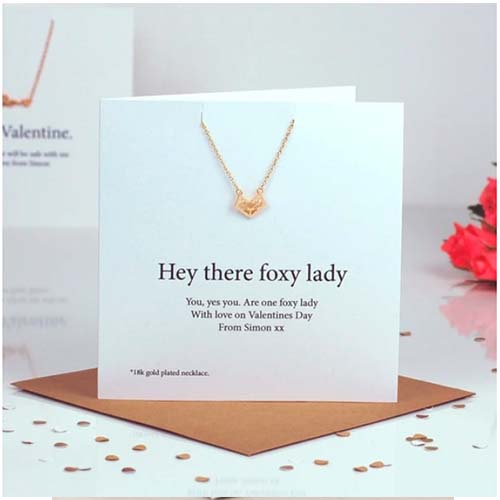 How about a gift and a card for that 'Foxy Lady'
Cards for your wife or fiancée.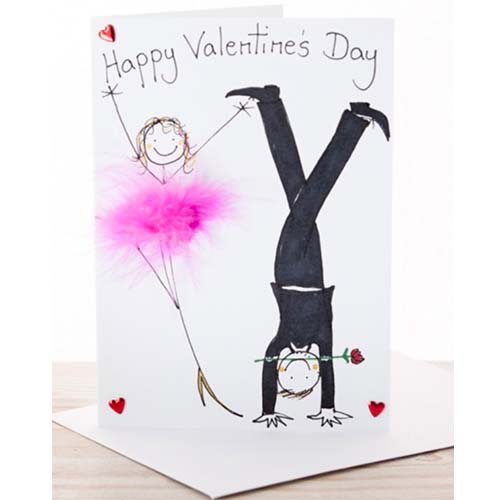 I good way to start this category is with a fun card, love the man really showing off his dancing skills!!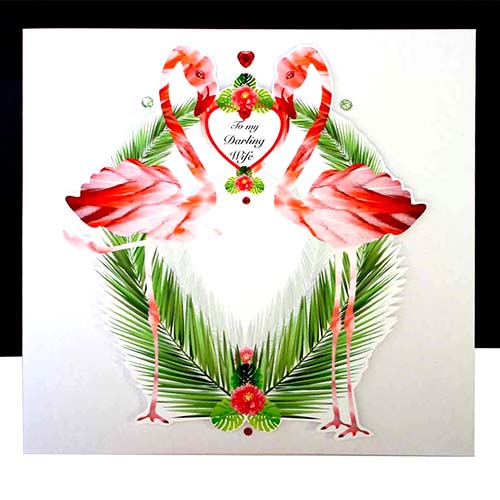 A hot tropical love scene for your wife. Flamingos in love is a winner!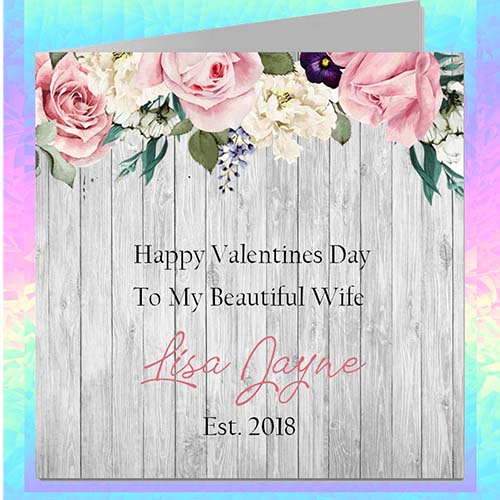 Pretty, personalised card 'To My Beautiful Wife' is perfect.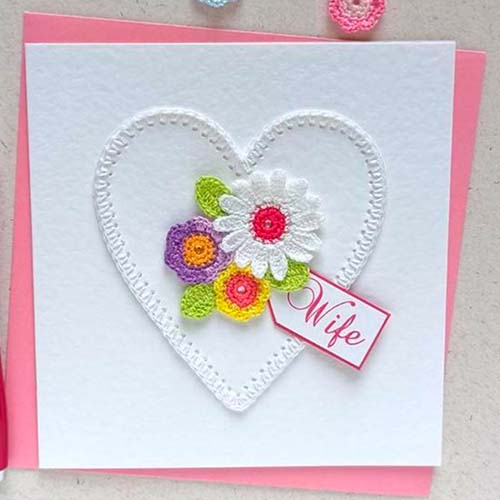 A lot of work has gone into this handmade crocheted heart and flowers, a romantic keepsake.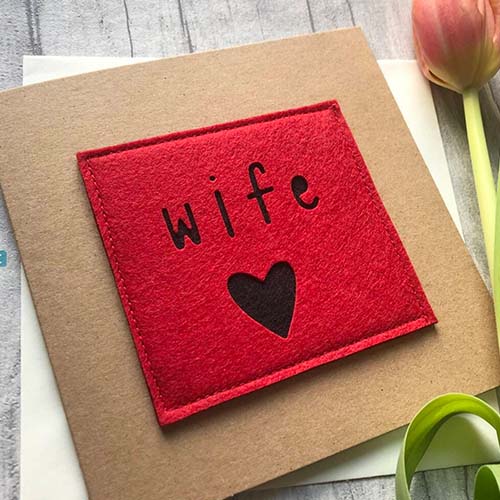 The variety of cards available is amazing and this simple message cut out of red felt is quite striking.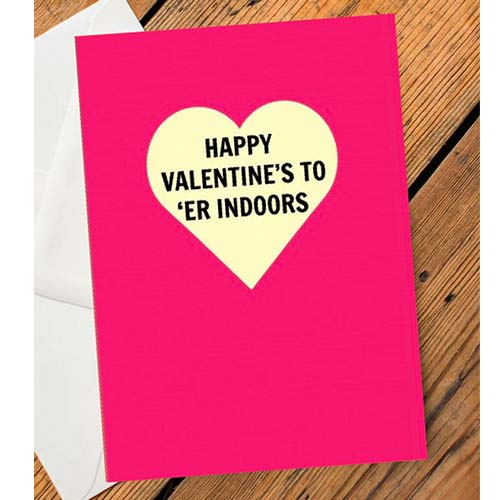 Ok, if your wife or partner has a sense of humour this could be the card 'For Er Indoors'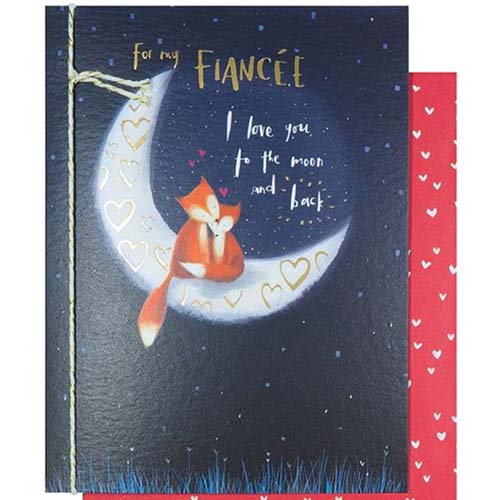 A lovely card for your fiancée, 'Love you to the moon and back'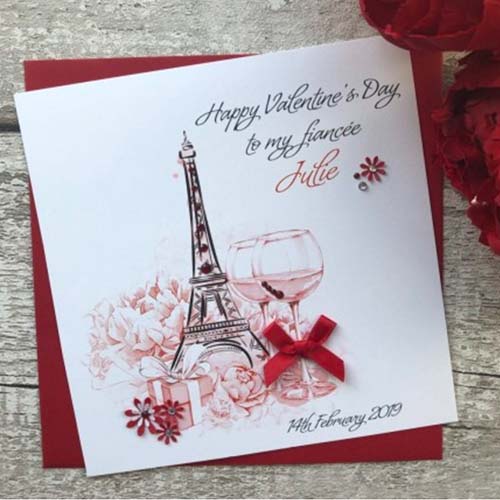 I think your fiancée will love this romantic card of Paris, somewhere to celebrate in the future.
Cards for your boyfriend, fiancé and husband.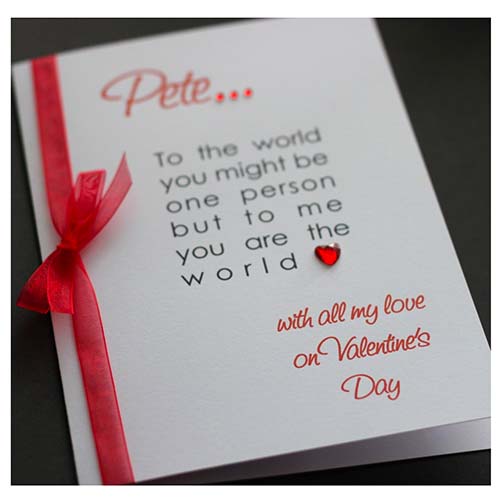 I think he will realise this personalised card is sent with all your love.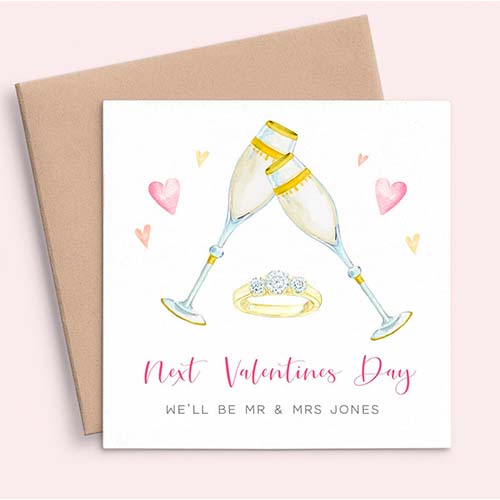 Looking forward to the 'Big Day' perfect for fiancé or fiancée.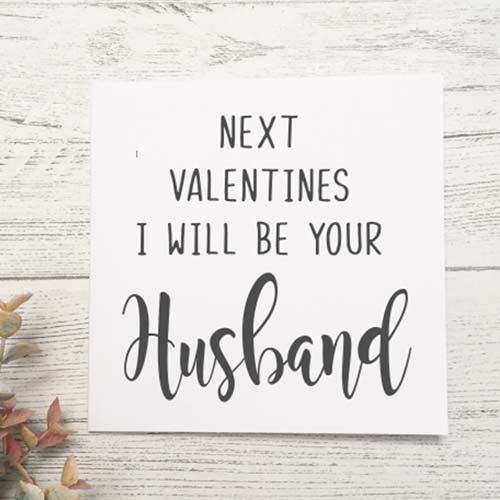 A simple card for your husband to be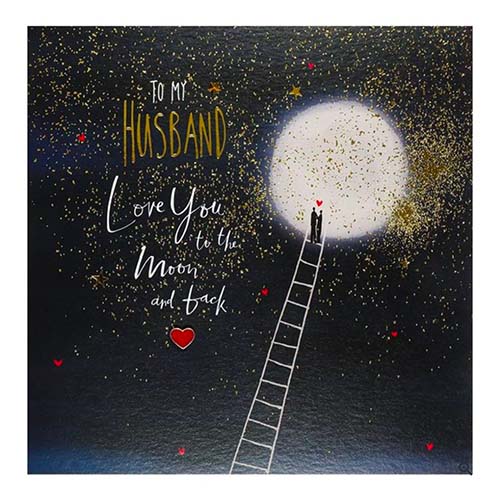 This ladder to the moon just says it all!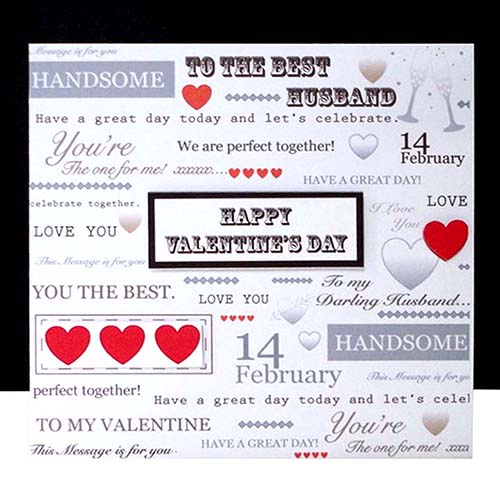 Sometimes your thoughts just have to be put into words. Happy Valentines Handsome!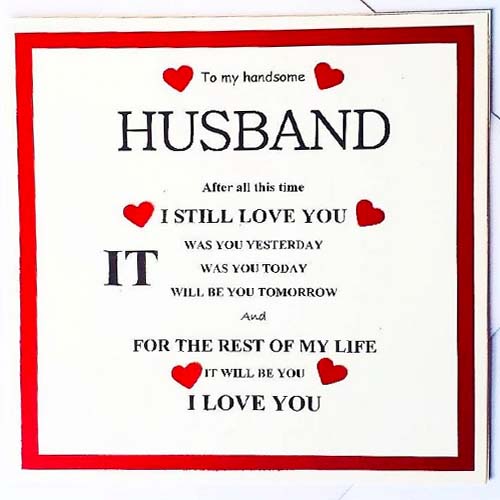 So much love to be appreciated on this card.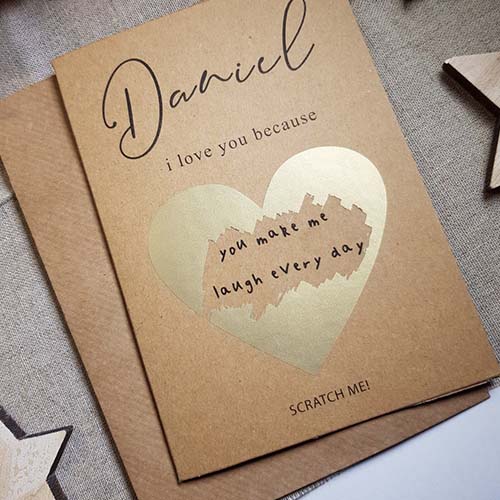 You have to do a little work to find out why you are loved so much here!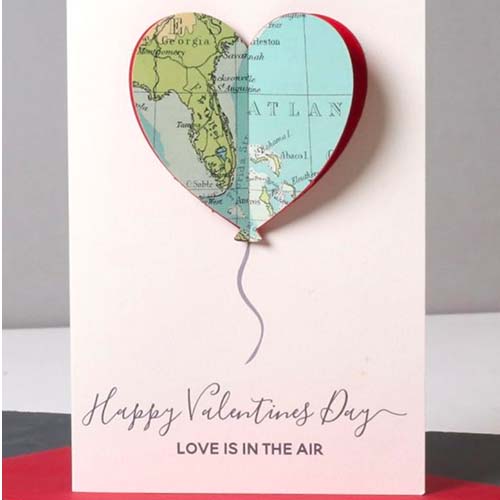 Love is definitely in the air with this heart balloon of vintage maps.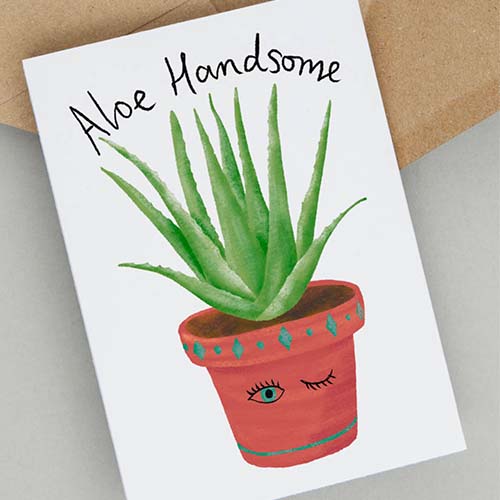 We all need a laugh and I really like this 'Aloe Handsome' with a wink!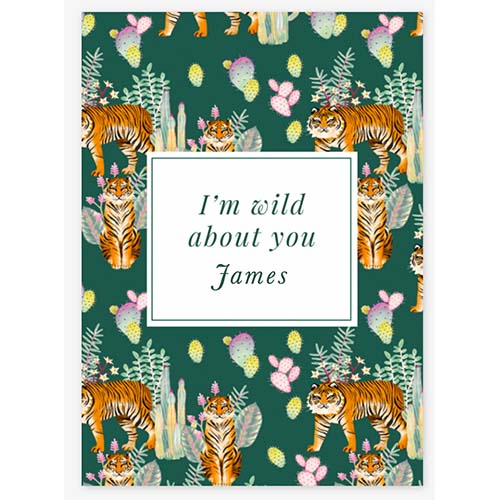 Of course, I'm Wild About You. Love a Tiger!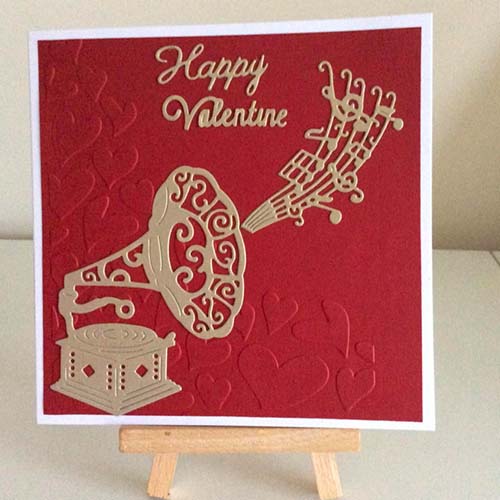 This antique gramophone is playing romantic music for your Valentine.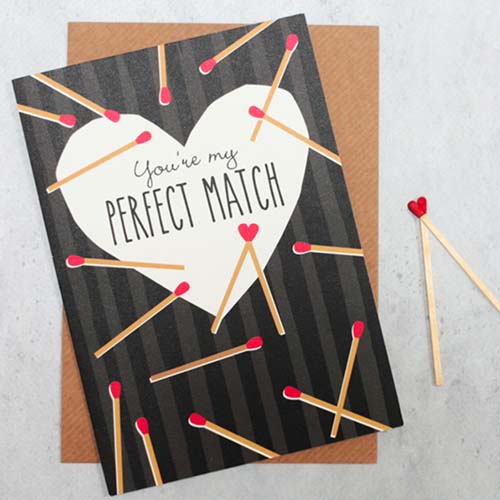 Your partner may be the Perfect Match.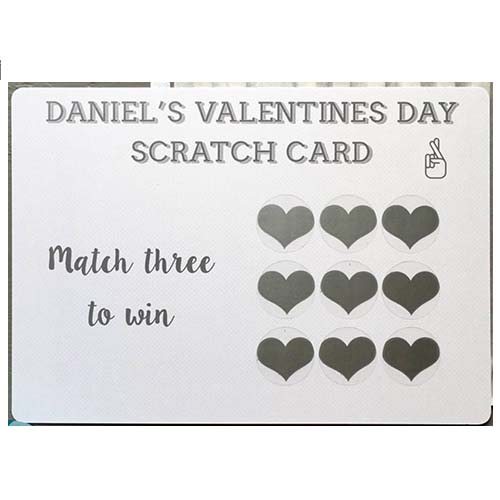 This card is a gamble, let's hope he gets three matching hearts!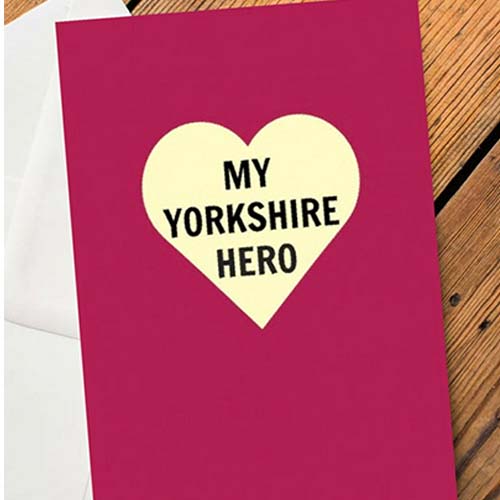 If your partner is from Yorkshire he will appreciate this card.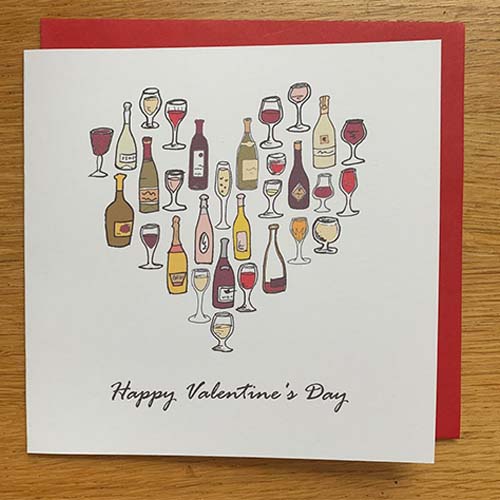 This is for a real wine lover.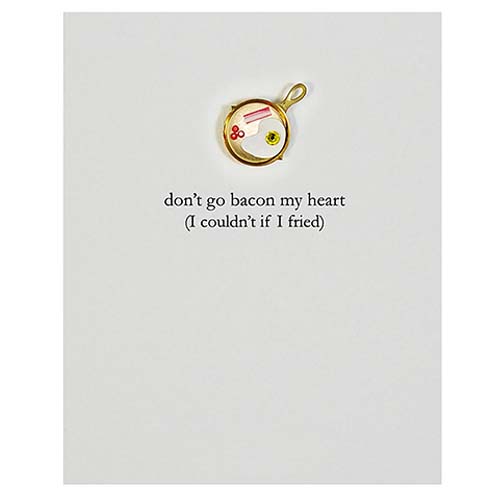 Humour is a great thing!
Cards for everyone.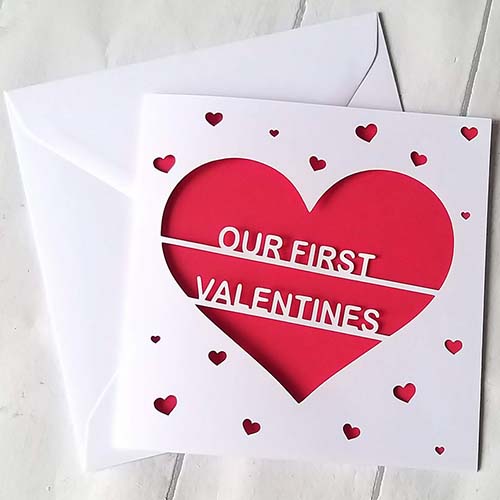 Celebrate your first Valentine's Day together.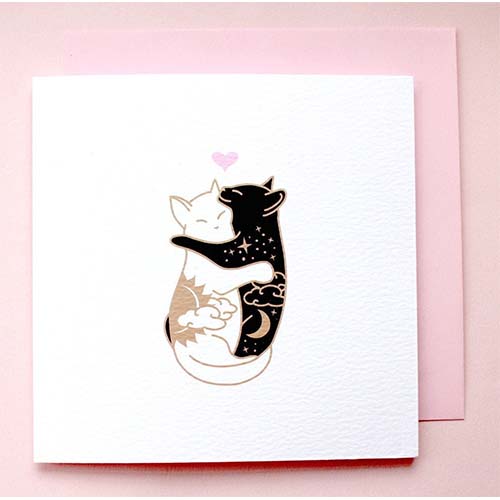 Aah! love this feline hug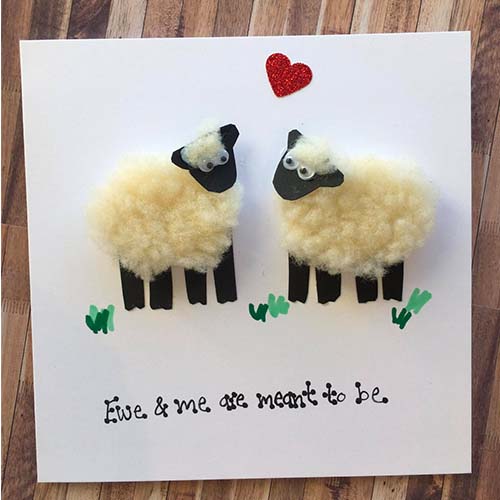 Love this woolie pair of sheep.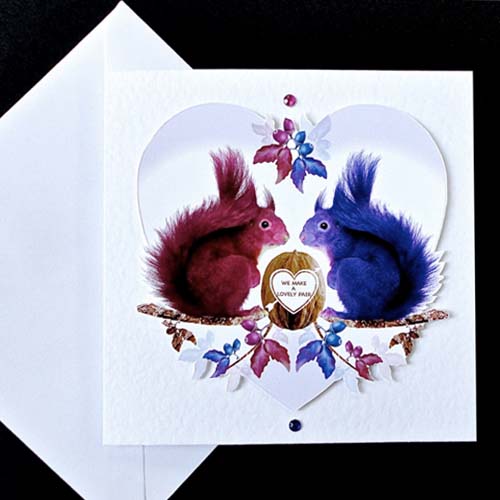 These two squirrels really do 'make a lovely pair'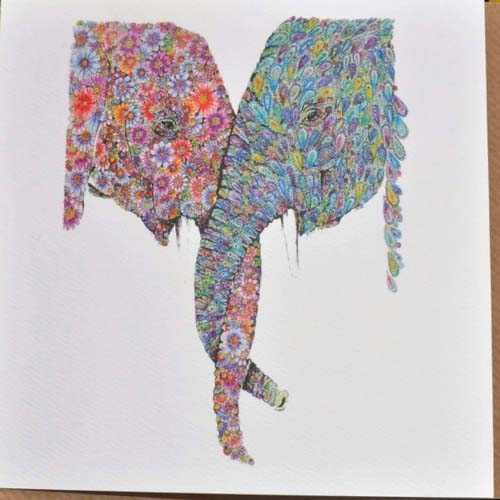 Beautiful decorative Elephants pair for life.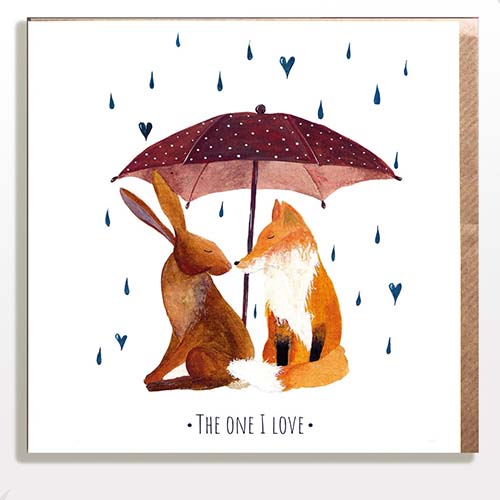 Keeping dry together the fox and hare are unusual love hearts.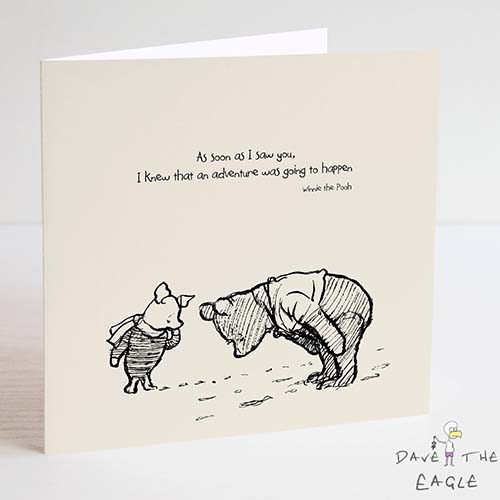 A classic, from much loved children's stories.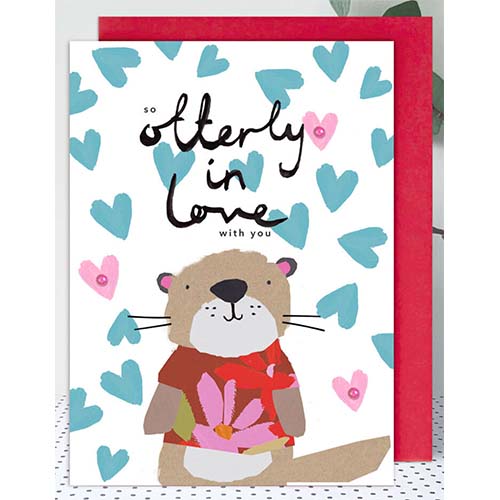 This is exactly how you may feel on Valentine's Day.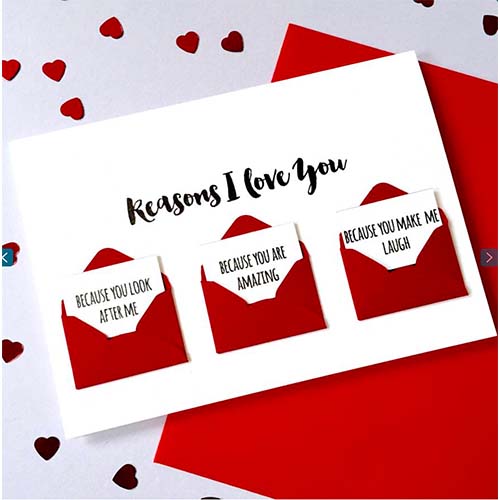 Personalised reasons for why I love you!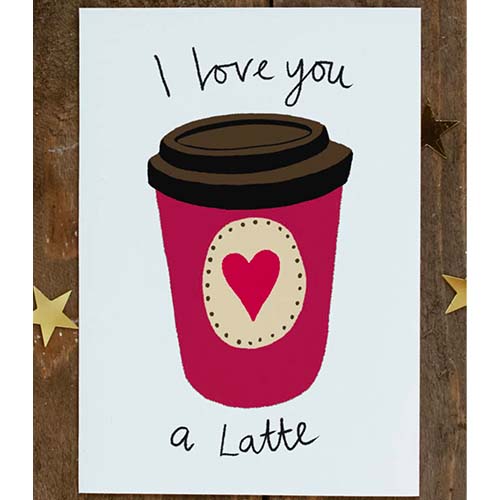 For all you coffee lovers with a sense of humour.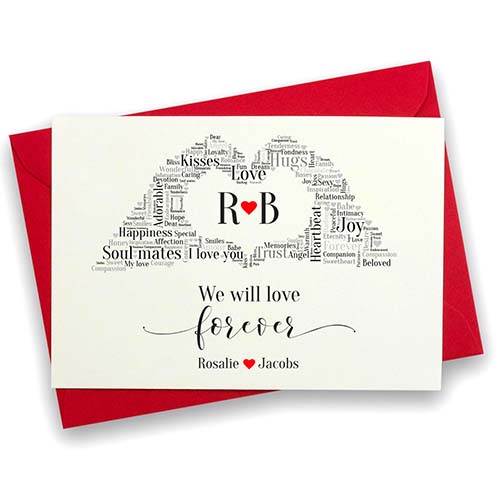 A nice card personalised for you 'Soul Mates'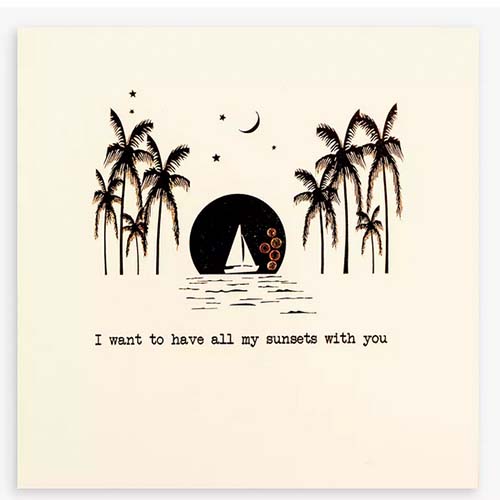 A romantic sunset is a perfect Valentine's choice.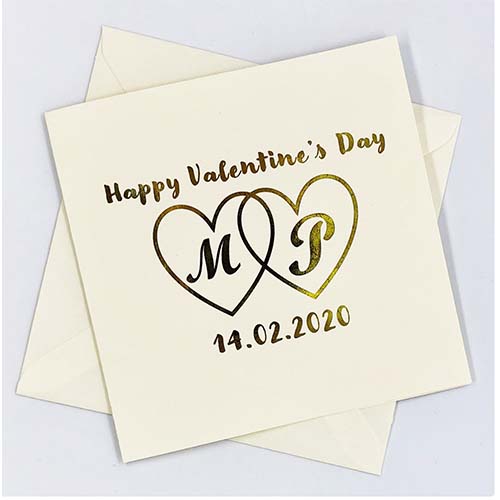 Initials, dates and love hearts, one to remember.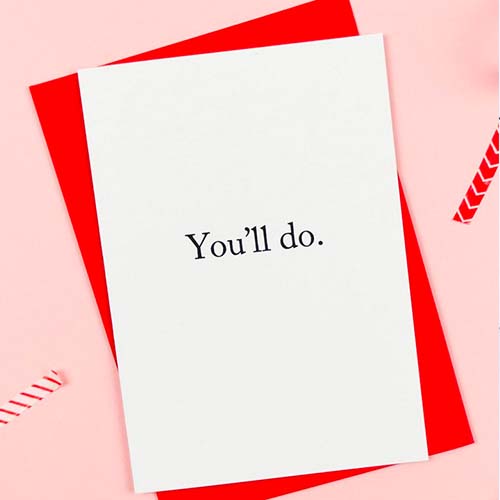 This message is short and sweet. But will do!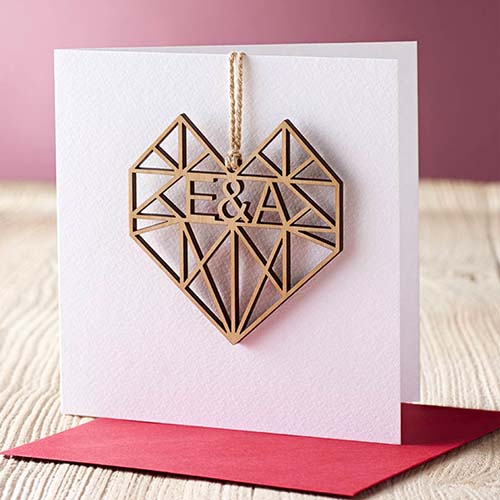 My penultimate card is not only a card but has your initials in a lovely laser-cut wood keepsake.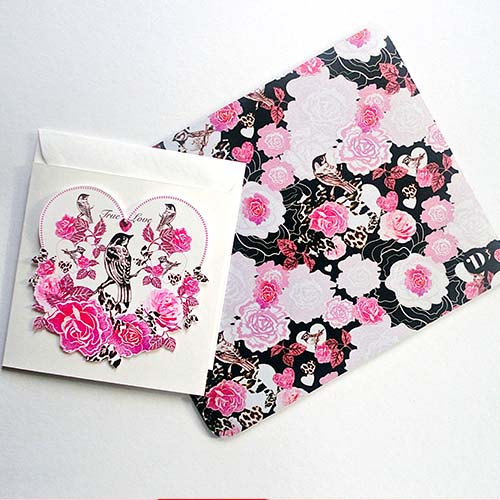 Finally, for your Valentine a matching card and present. Beautiful birds and roses for the one you love!
I have really enjoyed putting together this collection of fantastic Valentine's Cards. As usual, during this research I am always amazed at the creativity and imagination we have in this country! I hope this selection excites you and opens up your minds to seek out more designers, artists and crafters who do not always sell through the large brand outlets.
Personalisation can make a card something really special, particularly if you are not able to visit or celebrate together.
If you would like to have a go at making your own, I have posted a new blog for you to have a go creating a great personal Valentine's card with your own photographs or images for the one you love.