When we mention the word retirement it can prompt various emotions! For example, send a shiver down the spine, provoking thoughts of I'm not that old, I love my job or, on the other hand bring a big smile of relief – thinking of all that free time – at last, I can to do all those things I've been dreaming about!
On the 'to-do' list might be travel, leisure, gardening, further education, a new career, sport, volunteering, new hobbies, more family time and of course the dreaded DIY – doing jobs that might not have been at the top of our activities list for years!
The UK remains the number one country for sending cards; we just love not only receiving but seeking out that perfect card to send. A retirement card is well below the best-selling occasion which is the Birthday card; however, with so many people retiring early, making the most of their later years has become an important category for the card industry to add to the list.
What should I write in a retirement card?
I think it is only right that we mark what is a big change in someone's life with a card of good wishes, and there comes the difficulty of what to say! We don't often send cards to people we don't know, so the recipient must be a friend, an acquaintance, a family member or a work colleague. We may have an idea of what we want to say, but just can't find the right words.
If you need a little help, here you'll find a few ideas for that retirement card message.
How do you wish someone a happy retirement? Messages for friends and family.
The next years are the best. Happy Retirement.
Happy retirement! Time to live out your dreams…
Your someday is here. Happy Retirement. Enjoy!
Celebrating a job well done! Happy Retirement.
Wishing you good times, good health and good friends beside you in retirement.
All life's best to you, on your retirement.
Here's to a well-deserved and happy retirement!
Enjoy your new-found freedom and make the most of it. Happy Retirement.
Congratulations-here's to a long, healthy and happy retirement.
May all the years ahead bring you great joy and relaxation.
What to say instead of a happy retirement? Messages for a work colleague or co-worker.
You've worked hard for many years. Relax, take it easy and enjoy!
Wishing you all the best as you retire. Knowing you you'll still keep busy doing the things you love!
We love all you did. Now go and do all you love.
You've been promoted to the retirement stage of life.
Best wishes on your next adventure.
Thank you for bringing so much joy to the office. We will miss you.
No one deserves retirement as much as you.
Welcome to the next stage of your life, where every day is a weekend.
Thank you for all your hard work and dedication. Congratulations on your retirement.
Congrats – you're now your own boss!
Never forget the difference you made! We will miss you.
Happy Retirement. You'll be missed but never forgotten.
Humorous retirement messages.
Are you sure you are old enough to retire? I'm not quite buying it…
Have fun writing your next chapter! Try not to make it boring. Okay?
Enjoy living off your savings. Let me know what you do after the first month….
Congratulations on your retirement. Here's to watching your grandchildren instead of the bottom line!
What do you call a person who is happy on a Monday? Retired! Lucky you!
You've waited over 50 years for this day! Enjoy!
We know you've retired. But there's plenty of battery life left.
The only challenge you'll have in retirement is spending all that time without spending money!
This is the time you stop living at work and start working at living. Congratulations!
So, you're retired, goodbye tension, hello pension!
Some good retirement quotes.
After climbing a mountain, you can finally enjoy the view.
Retirement is the world's longest coffee break!
Retirement is not the end of the road; it is the beginning of the open highway.
Retirement is great you can finally do nothing without worrying about getting caught!
Congratulations on extending your holidays by five days!
Often when you think you are at the end of something, you're at the beginning of something else. (Fred Rogers)
New Places to go, new stories to live. Let the next chapter begin.
You are never too old to set another goal or to dream a new dream… (C.S Lewis)
Happy Retirement by Hilda Mullinger
Now retirement has caught up with you
You've no rush to get out of bed
Rest, relax, read a book
Let others work instead.
Time to Down Tools by Janyce Cotterill
It's time to down tools
It's time to take things slow
It's time to move out the fast lane
It's time to pass the load
You've worked hard for many years
Now it's time to rest
Raise a glass and celebrate
The next years are the best!
Going to Miss You by Susan Smith
All of us are going to miss you
So, we send this card to say
We wish you all the very best
On your retirement day.
How to Make a Handmade Retirement Card.
The retirement card we are going to make today, as you can see, resembles a book. A new volume of 'The Retirement Years' is a choice that should be appropriate for anyone! It's a beginning of a new chapter in the life of…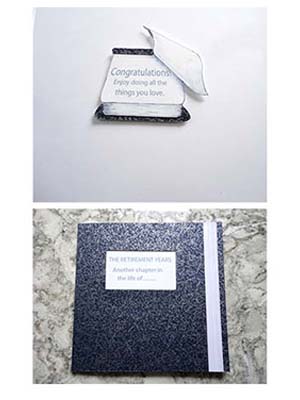 A good idea is to plan out your design first with some drawings and measurements so you can get everything ready in advance.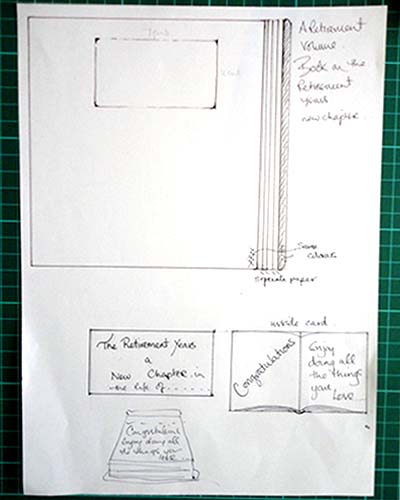 Materials
Plain white card & envelope 150 x 150 mm (or make your own from a sheet of A4 card)
White paper
Sheet of patterned or textured paper, fabric, leather or even cork, really any suitable material you may use to cover a book as it needs to look authentic.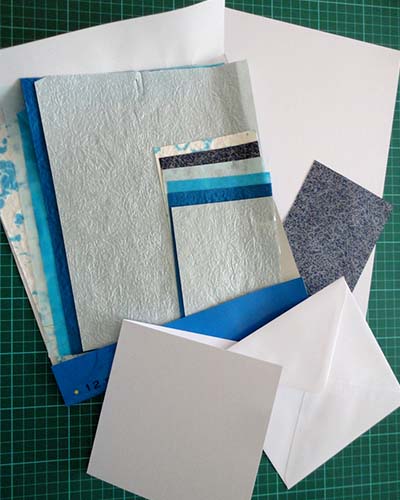 Equipment
Scissors
Scalpel
Ruler
Pencil
Adhesive foam pads
Double-sided sticky tape & Sellotape
Pritt stick or glue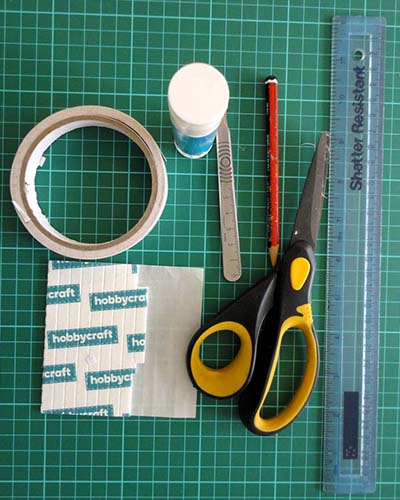 Firstly, we need to measure out the cover which will not need to go completely to the edge of the card. Measure 2.5cm in from that edge and place your covering along that line. Crease it with a ruler round the edges, leaving at least 1cm to go over the back fold of the card. Top and bottom does not have to be exact as you can trim later.
To allow room for text I cut out a rectangle 3cm from the top and 3cm from the back fold of the card. This needs to be smaller than the actual opening, so the measure will be 6 x 3 cm. This will allow you to snip the corners diagonally and turn the edges inwards, so the window is actually 7 x 4 cm. Double sided tape can be placed on the reverse side of the opening ready for the insert later.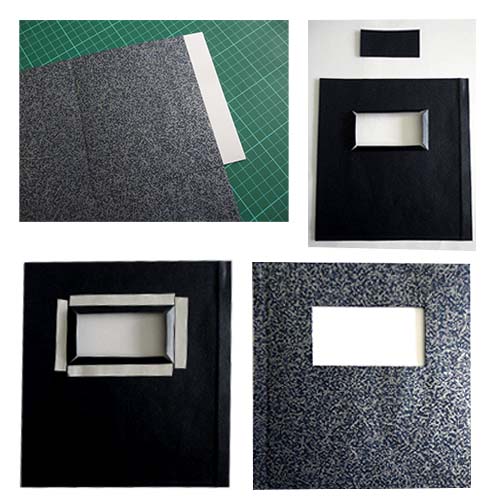 Next we are going to create the pages of the book. Firstly, by cutting a strip of the patterned paper 2cm wide, having 1cm each side of the card edge to finish it off nicely. I also cut quite a few 1cm wide strips of plain white card or paper.
Lay flat and adhere the first strip 0.5cm from the patterned edge and then layer another two on top the same way and seal the last with Sellotape. I found three was enough so as not to make it look too bulky.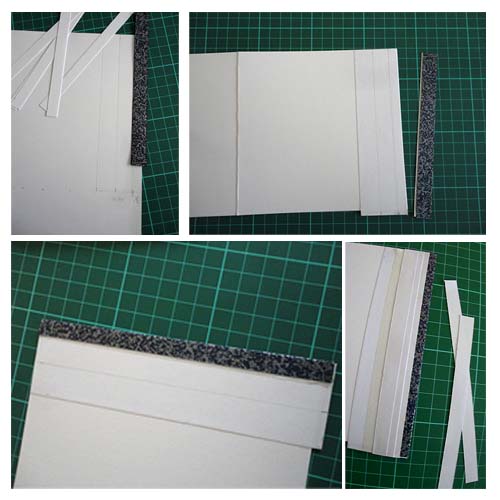 You may want to leave the inside of the card blank for your message or for a group of people to sign, but I intend to use a drawing I did of a note pad for another design to contain my message.
I have decided to print my text for both the front and inside of the card. The front rectangular insert should be bigger than the aperture, so is printed in a box 9 x 6cm. Once the message is printed you can set it centrally in the window with the double-sided tape. Another layer of double-sided tape is put around the opening and all around the edges ready to place this patterned surface permanently on the face of the greetings card.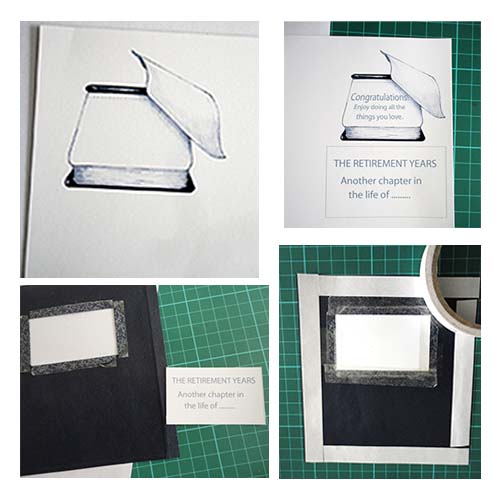 Once you have secured it in place with no creases, turn the back edge over the crease. Trim any excess off the bottom and top, and with a pencil draw in a few extra pages with equally spaced lines down the white layered paper.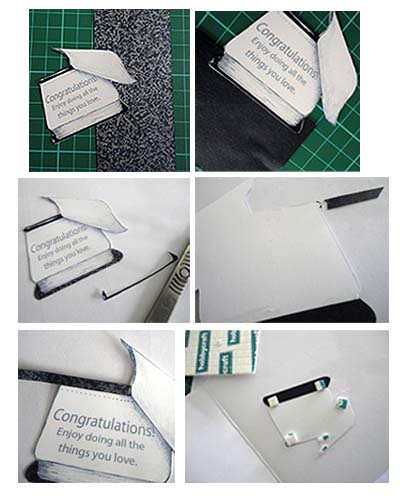 My little notebook for the inside of the card is going to get a revamp, its base and top band are covered to match the card front by cutting out the parts using the notebook as a template, then sticking them on and trimming. This is then affixed inside the card with small foam pads.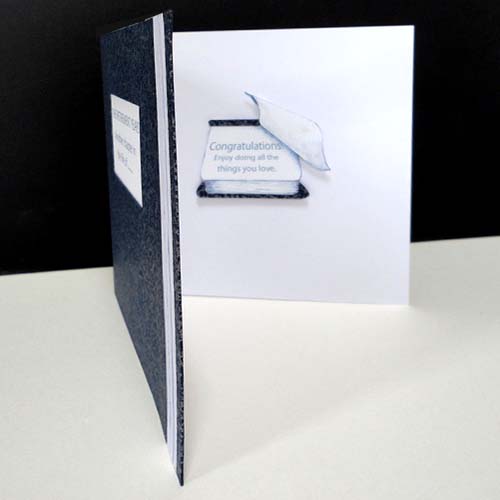 Let's hope the message inside comes true and they really do 'Enjoy doing the things they love best!' After all, I think that's what everyone would want to do.
Here's another Retirement card ready to buy if you just don't have the time to get crafty.
Celebration Bottles for him and her!! https://www.decorquecards.com/retirement-celebration-bottles-handmade-card/