Maybe you haven't had time to join in this year's annual survey on British Wildlife? Taking an hour out of the day sitting watching the birds coming to feed in the garden is quite relaxing. It has also inspired me to design a new card around this topical subject just to remind me of how special that short time was. Not that I don't already feature many birds, as they are a favourite not only to watch but draw and paint. But this card is a little more personal as it also features a Christmas gift made by a family member, a feeder created from a terracotta plant pot and saucers, which in itself is a brilliant idea!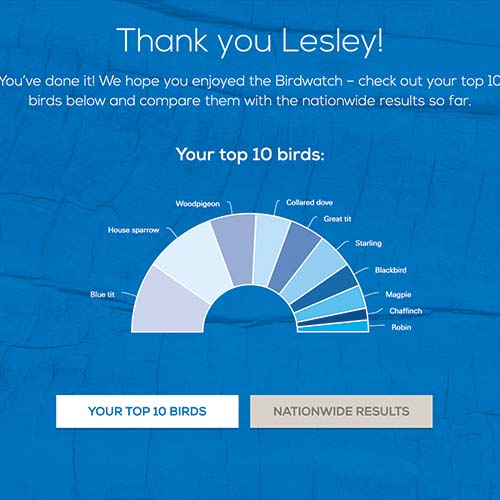 Above is the personal chart of birds seen in my garden. Luckily, I have bucked the trend with the number of Blue Tits compared to the nationwide results up to now, which I am really pleased about as they will be featured in this card with the Great Tit, the House Sparrow and the Robin. Unfortunately, I didn't record a single Wren, but this tiny bird is a frequent visitor that nests near the house in Spring so has earned its place in this design.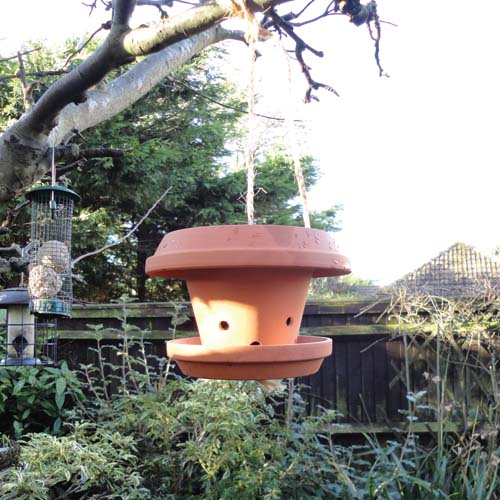 It's too difficult to get a detailed photo of all the birds I recorded actually feeding, so I have used my hand-painted versions. I often use photographs alongside hand-painted and images created in Illustrator and Photoshop.
From this photographic image I have taken out the background leaving the pot feeder, string and the living tree branch as it has the same early morning glow of sunlight bringing all the images together. Of course, at this time of year the branches are bare so hand painted leaves and my own painted birds with their stunning detail bring this perfect scene to life.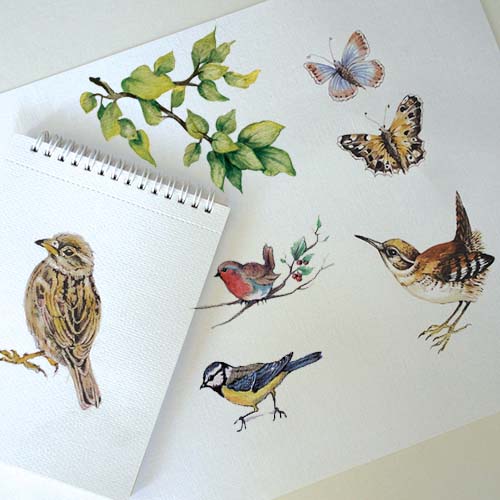 Actually, putting hand-crafted cards together is a real combination of designing, creating and crafting, you have love what you do. It always comes down to the detail, cutting, positioning, mounting, sticking and may be a few embellishments. The great thing is that I can create new designs, reacting to events, trends or customers' needs immediately without involving a commercial print run. It enables me to extend my cards for all occasions and events with unique designs, many of which can be personalised.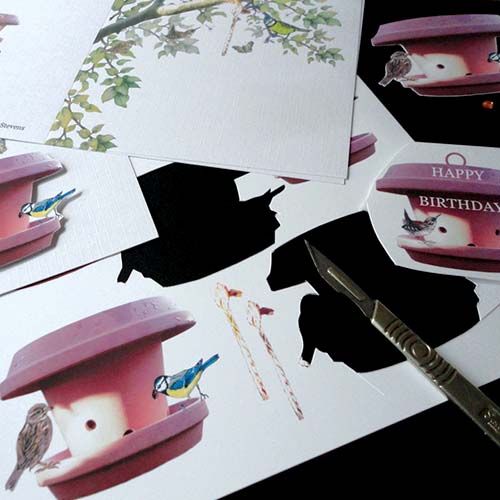 I am pleased with how 'The Garden Birdwatch Card' has come together, not wanting to take away any of this freshness of nature with text, the 'Happy Birthday' message is displayed inside the card on another terracotta feeder with a single Wren. I think anyone who loves birds and nature with love this card! I am even thinking of a version for Mother's Day!

British wildlife features in a large number of my cards; birds in particular. Birthdays are covered with 'The British Garden Bird Valance' or the 'Jay's Nest of Feathers' and 'The Chrysanthemum and Bird' is a special card for Mother's Day. The Natural Wildlife collection throws the spotlight on even more of our feathered friends, ducks, herons, owls, swans, game birds and the wonderful Kingfisher all blank so perfect for all occasions. Being a member of the RSPB and the Berks, Bucks & Oxon Wildlife Trust, I can hopefully help protect this wonderful wildlife and their habitat for future years.