Easter time holds a lot of memories for many of us. No matter how you celebrate Easter, it is the perfect time of year to come together as a family, spend time together and share best wishes and thoughts for the spring and beyond.
If you are looking for the perfect Easter card to send your friends and family, then what better way than to look at handmade, personalised cards?
We have put together a collection of our favourites from all over the Internet for you to have a look at and find the perfect card for you.
Need to find the perfect Easter card quickly? Why not check out the cards from Decorque below.
Lesley has created this lovely Easter Rabbit Toile Card to celebrate spring. Using bright colours and garlands, butterflies and rabbits, this card is a celebration of Spring and a beautiful handmade option for your wife.
Handmade Easter Card for Mum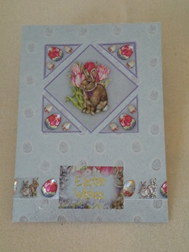 This handmade card from Etsy has so many additions that every time you look at it you'll notice something new. Shimmering toppers and shiny silver background paper, with a simple "Happy Easter" greeting in gold make this an elegant card for your mum.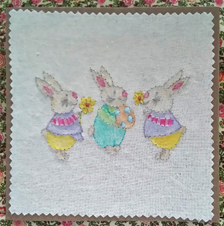 Not just handmade, but handstitched – this calico card features three cute bunnies and can be personalised with a stitched message. Available from Etsy, the finished stitching is coloured using watercolour pencils and then affixed to brown Kraft card. Arriving blank for your own message, this is a lovely, thoughtful card that your mum will love.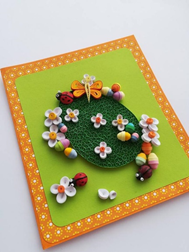 This spring celebration card has been created through quilling and is beautiful and homemade – straight from the imagination of the creator on Etsy. This English Country Garden card celebrates the spring connotations of Easter and comes blank for your own message inside.
Handmade Easter Card for Dad
If you are looking for a card with an eco-conscious focus, this Easter Coaster Card is a great option. Featuring butter-yellow soft roses, digitally printed onto a cork coaster, with the card border matching the design, this card is a gift as well. When you are ready, the coaster can be removed and used around the home or the office – and matching items are available in the online shop.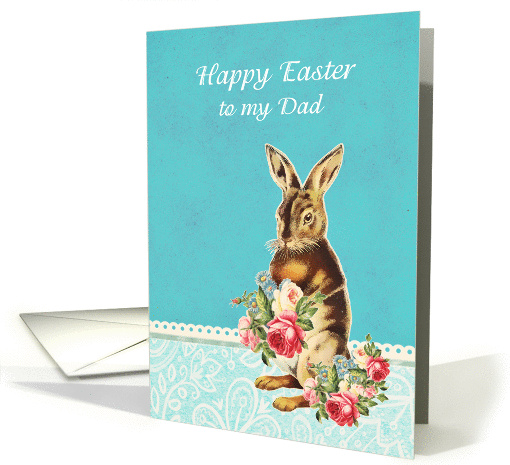 For a delightful card to give your Dad, look no further than this traditional Easter bunny card is sure to bring a smile to anybody's face.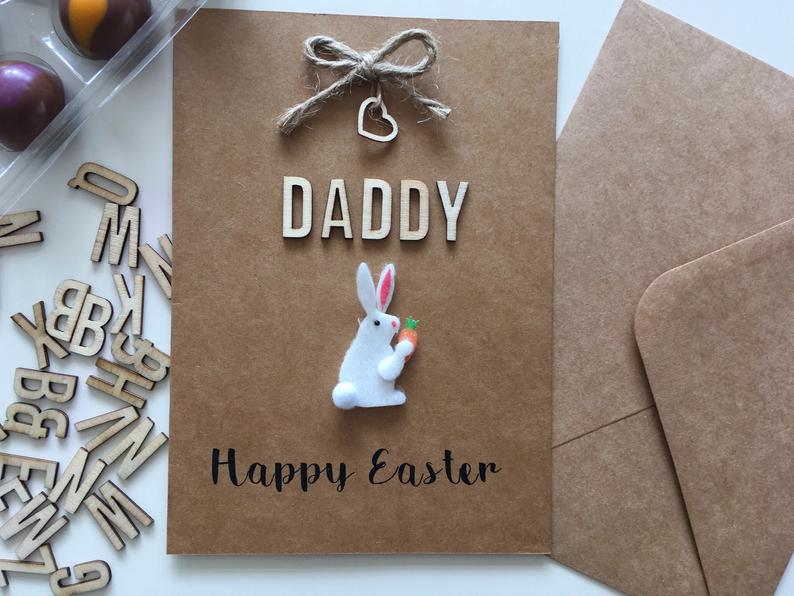 Any Daddy would love to receive this card, featuring a cute fluffy bunny and a rustic style. This card comes blank inside for your own message, but if you would like special wording inside then you can get that printed for no extra cost by contacting the seller on Etsy.
Handmade Easter Card for Wife
Lesley has created this lovely Easter Rabbit Toile Card to celebrate spring. Using bright colours and garlands, butterflies and rabbits, this card is a celebration of Spring and a beautiful handmade option for your wife.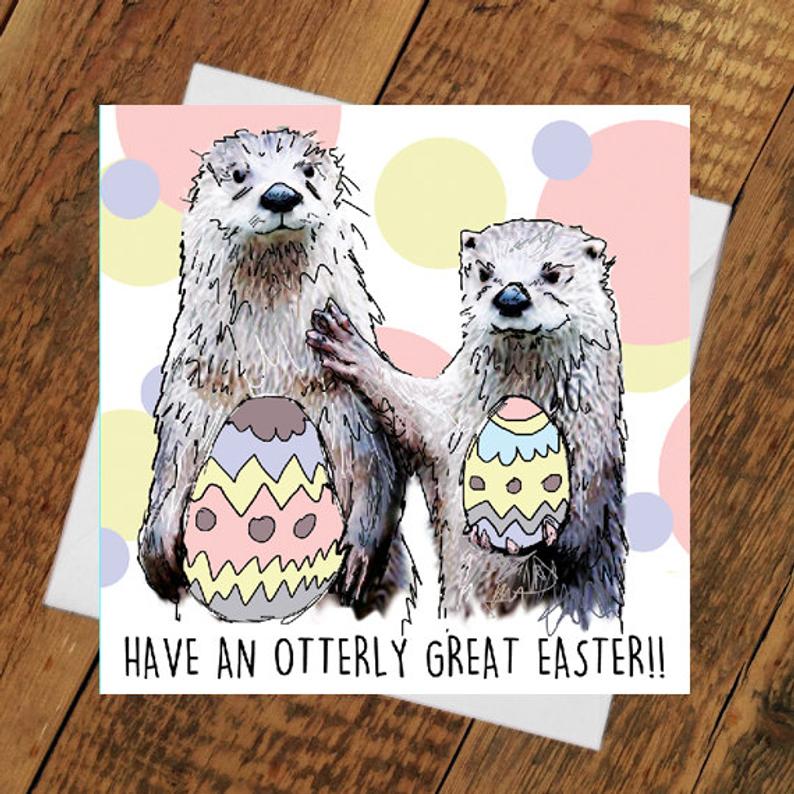 Does your wife love Otters? This card would be perfect for her if she does! Available from Etsy, this is a hand-drawn, printed card that can be shipped across the world. It is left blank inside for your own message.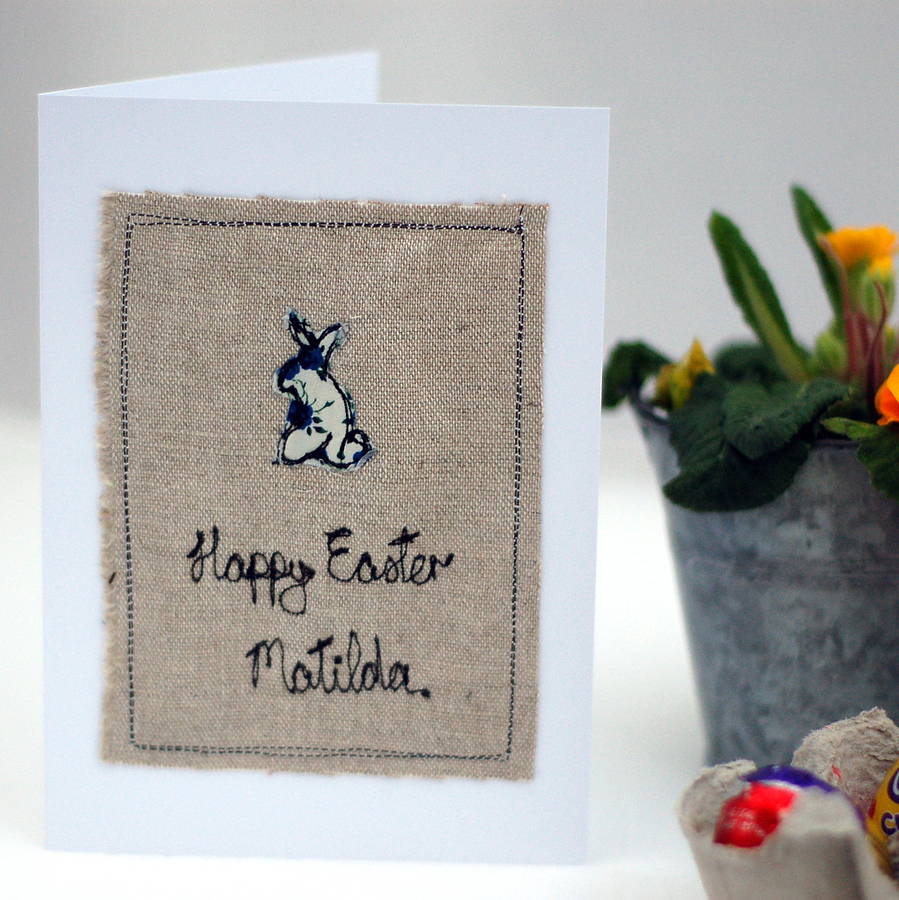 This is a lovely, personal card to send, made from lovely card and freehand embroidery stitching. Available from Not on the High Street, this can be personalised to your needs and you can choose whether you want the rabbit to be a Liberty floral print or a blue herringbone linen.
Handmade Easter Card for Husband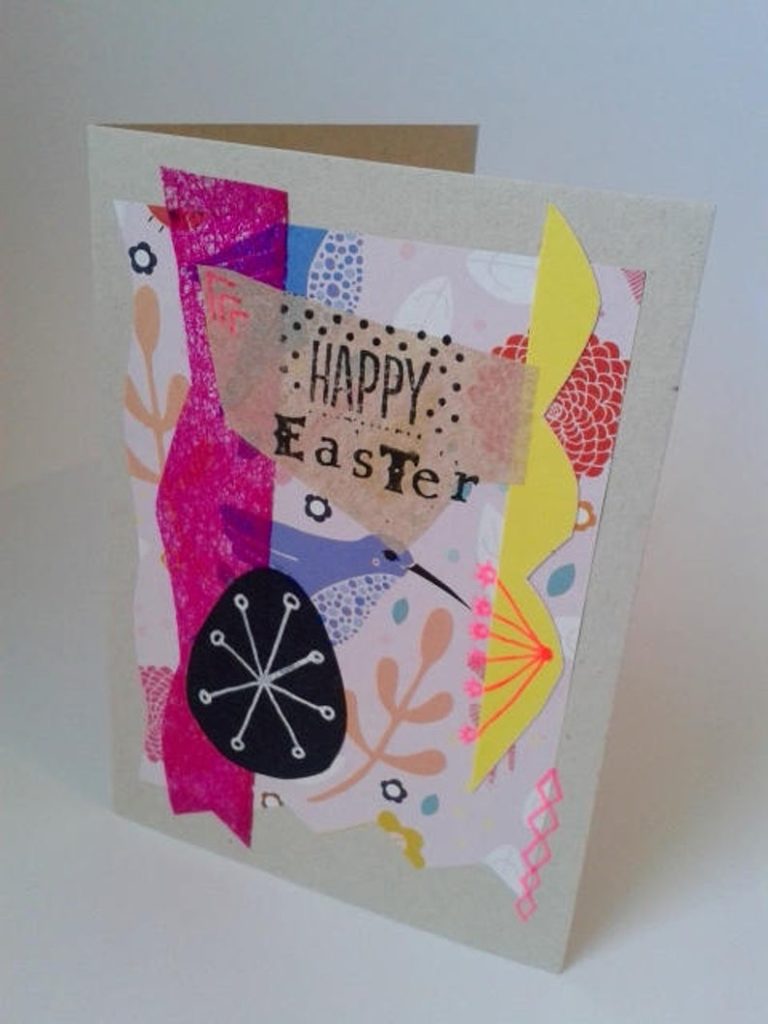 For the eco lover in your life, then why not opt for this environmentally friendly card? This handmade collage card is made from recycled materials and uses non-toxic glue. Because each item is handmade to order, bespoke orders and personalisation can be added.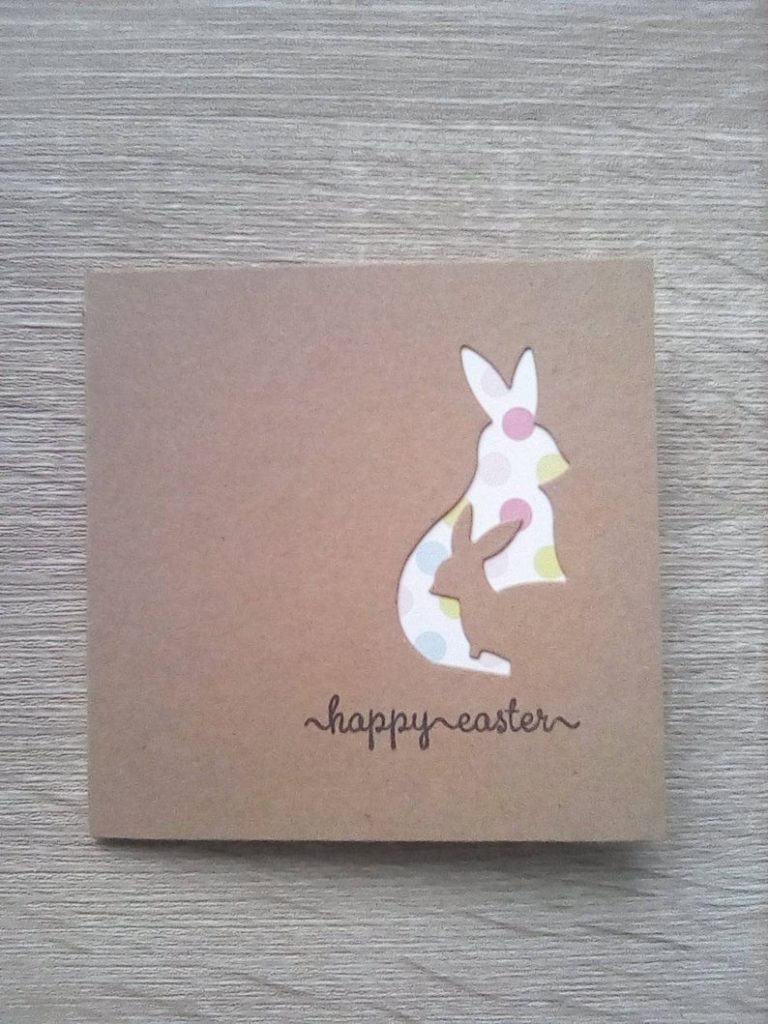 This elegant, simple design is a real winner for a subtle Easter celebration. Available from Etsy, this card features a cut-out bunny design with a patterned paper detail and a hand- stamped greeting. This card is handmade to order and comes with a blank insert for your own special message.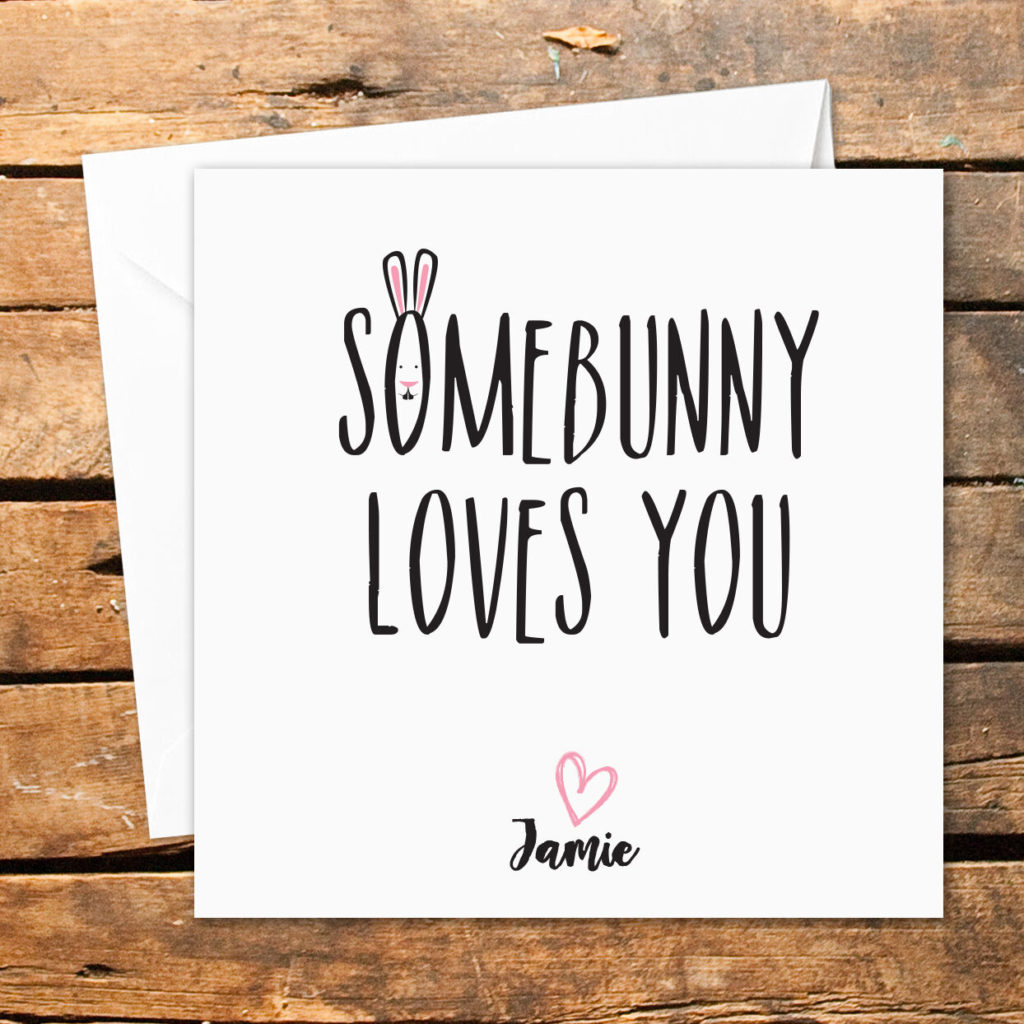 Simple, beautiful and fun, this card is perfect for your husband. Available from eBay, this card can be fully personalised and is a really cute and amusing declaration of love on this occasion. The seller has 100% customer satisfaction, so you can buy with confidence. 
Handmade Religious Easter Cards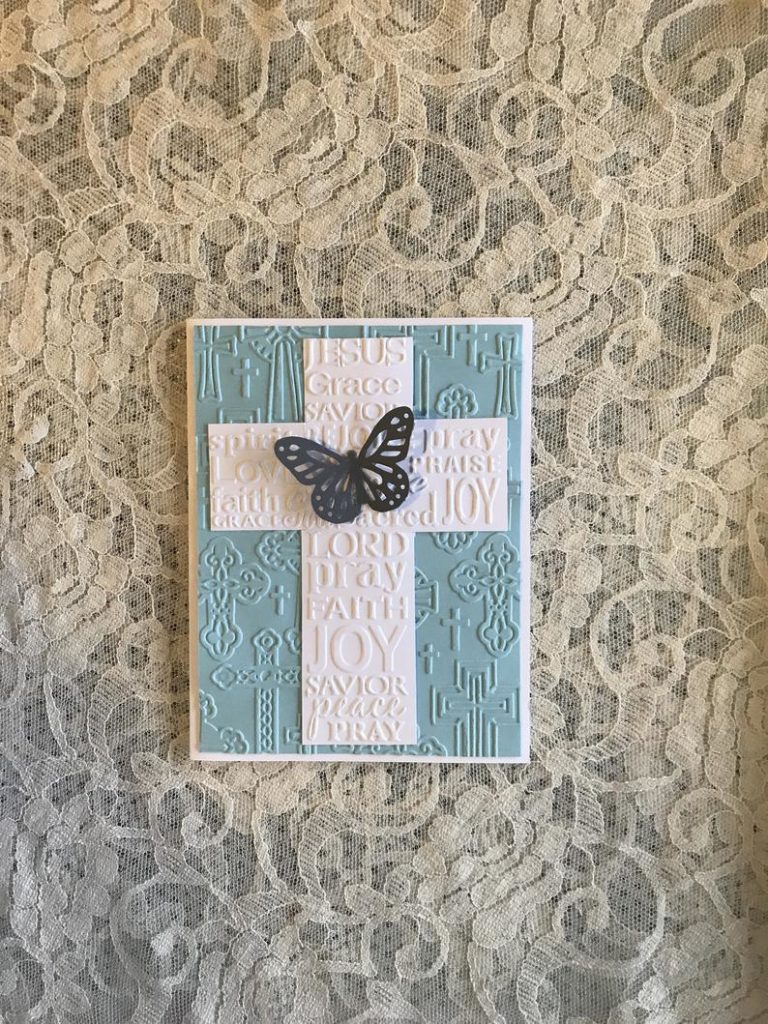 This handmade card from Etsy features light blue and white card stock, lovingly embossed with biblical phrases and imagery. You can choose to leave this blank or add a stamped message inside.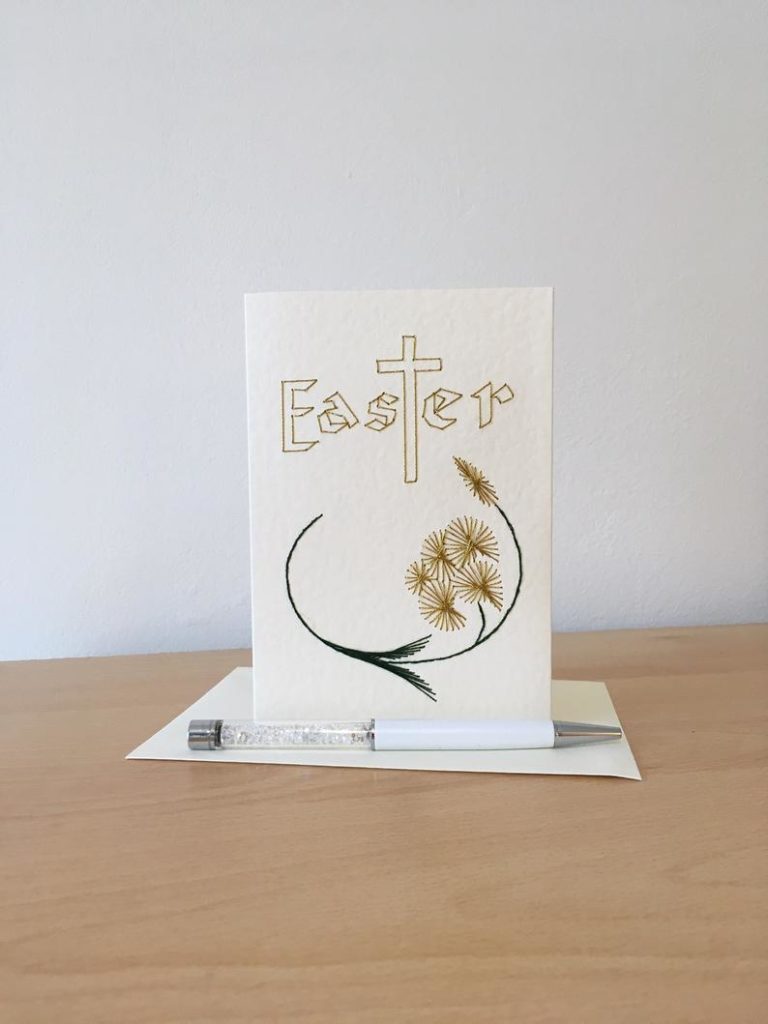 This card is hand stitched, with thread in gold and green to celebrate the religious meaning of Easter. The card itself is cream. The seller on Etsy uses three-fold card, so the inside of the card does not look any different to a normal card.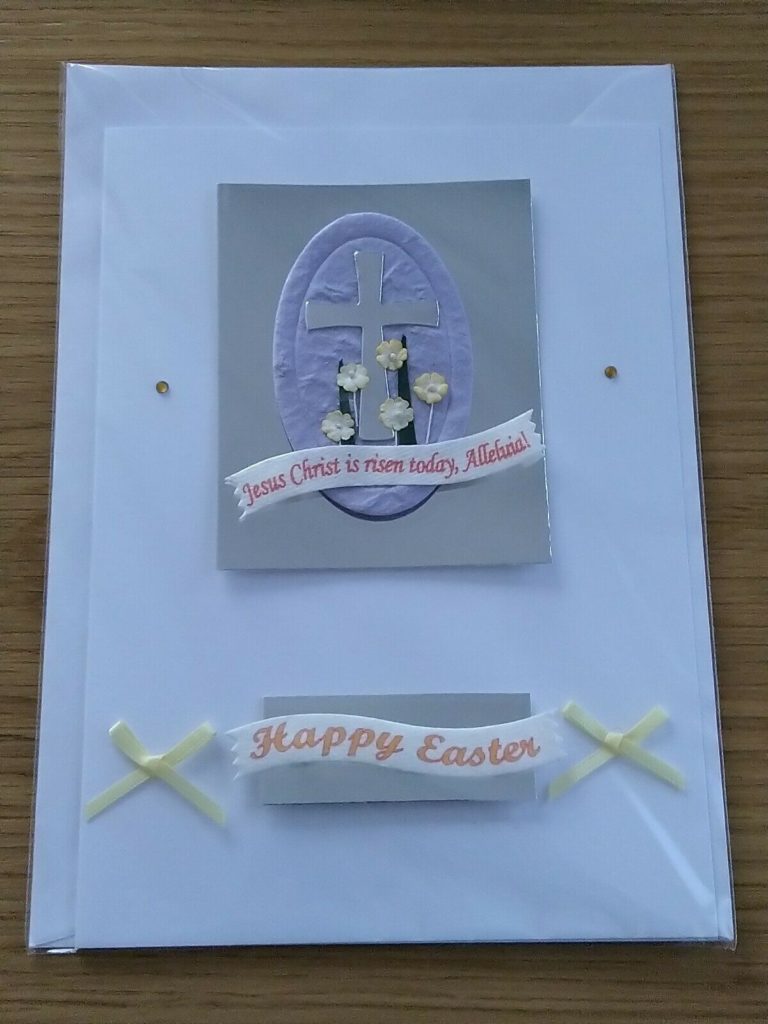 This handmade Easter card is a lovely, simple option that is available in several different colours to make it more personal. Available from eBay, this card features a biblical message "Jesus Christ is risen today, Alleluia!". Left blank inside for your own message. 
Handmade Easter Card for Grandchildren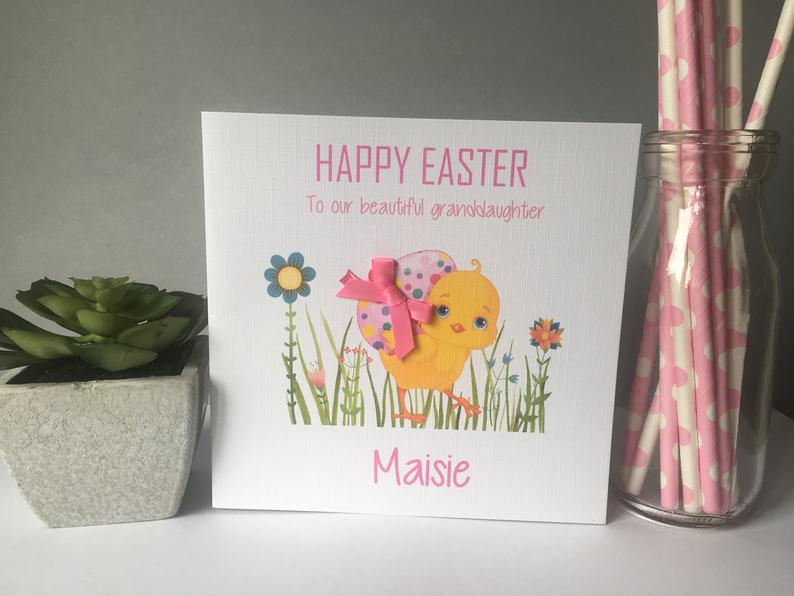 This card is available in blue and pink and can be fully personalised – including a message inside, if you wish. Available from this seller on Etsy, it is 6 x 6 inches and comes wrapped in cellophane for immaculate presentation.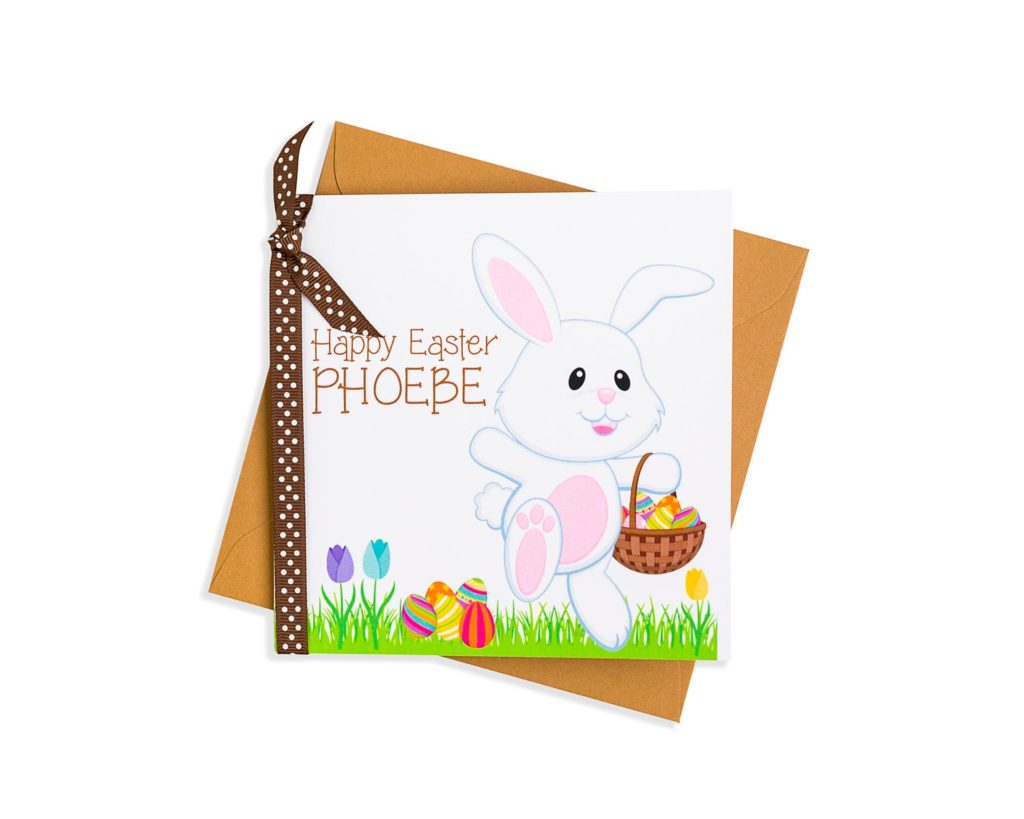 This card features a cute bunny character and can be personalised with your child's name. Available from Etsy,  it is printed on handmade card stock and can feature a message inside of your choice. Finished with a spotty ribbon and sent with a chocolate brown envelope, it is a lovely option.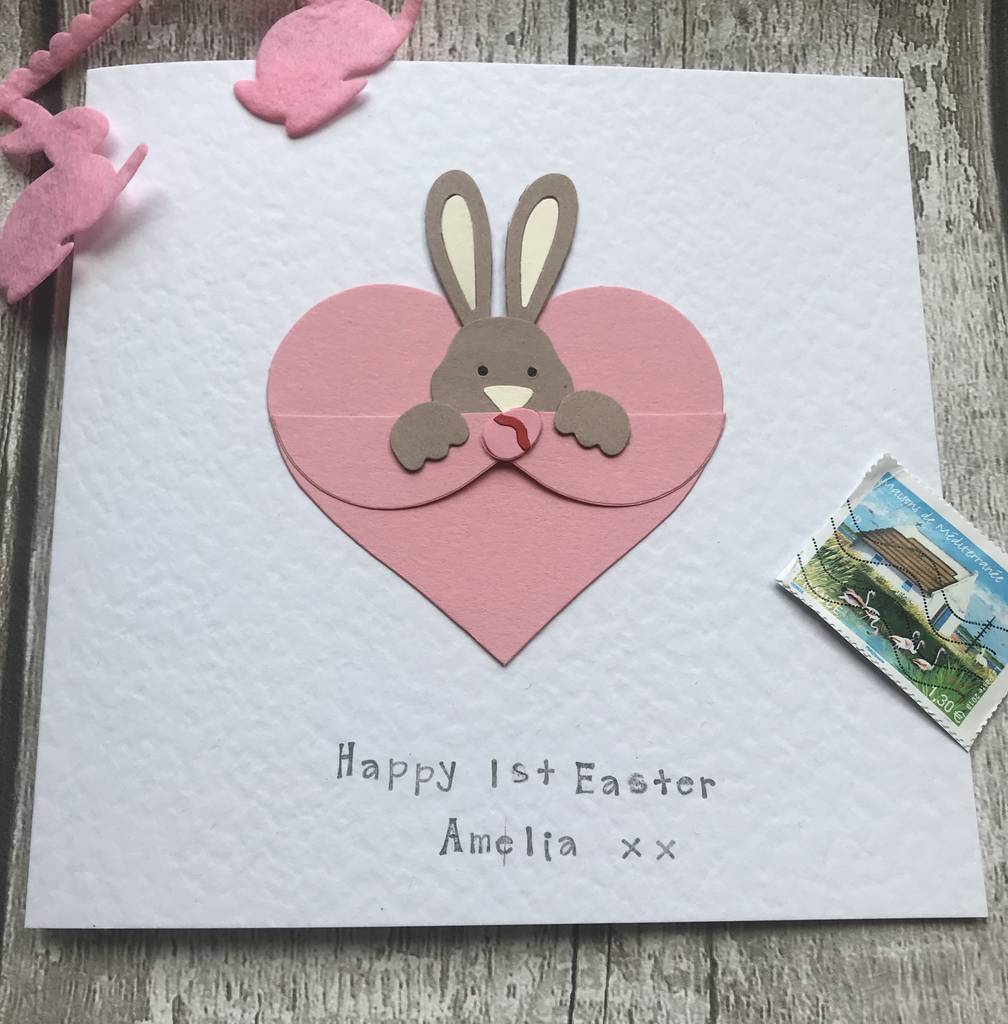 This is a lovely handmade card for your grandchild – with full personalisation and the opportunity to print a message inside, it is available from Not on the High Street. The heart can come in blue or pink, and you can add the child's name.
Handmade Easter Card for Boyfriend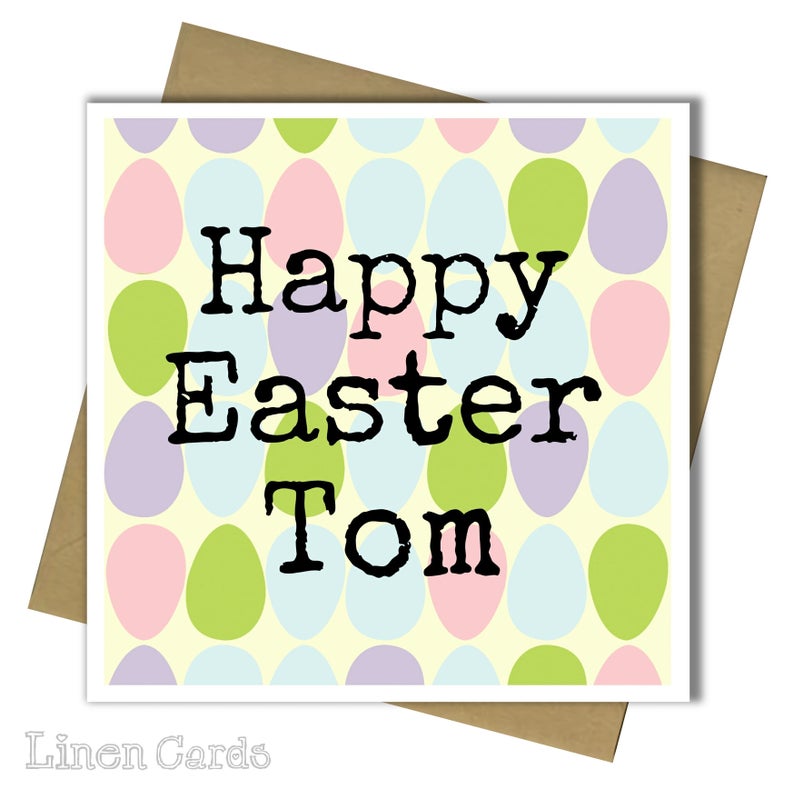 Keep it simple in your Easter greetings with this card from Etsy. Featuring colourful Easter eggs in Spring tones, it can be personalised with your boyfriend's name. The middle can be left blank for your own message, or something can be printed if you would like.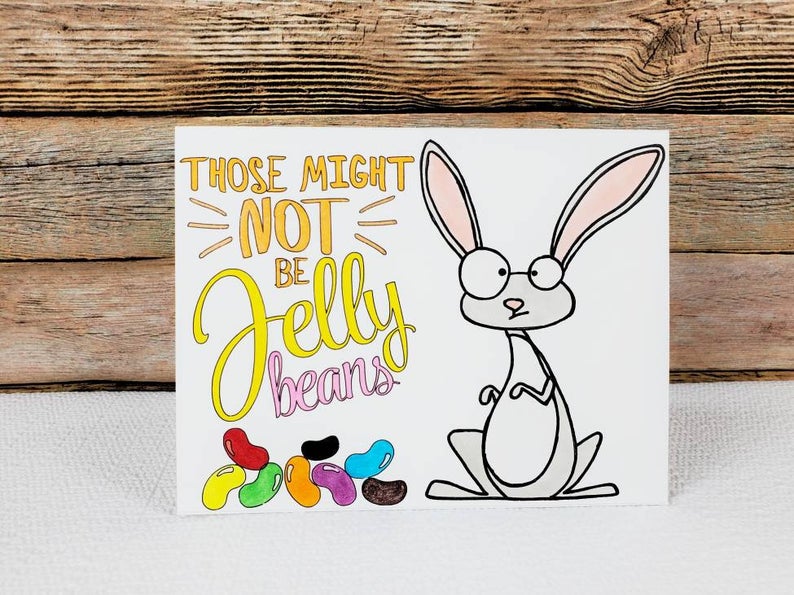 This amusing card is a great option for your boyfriends' card. This card from Etsy features a hand-sketched and coloured cartoon. Completely handmade, this is a fun, silly Easter card for your boyfriend.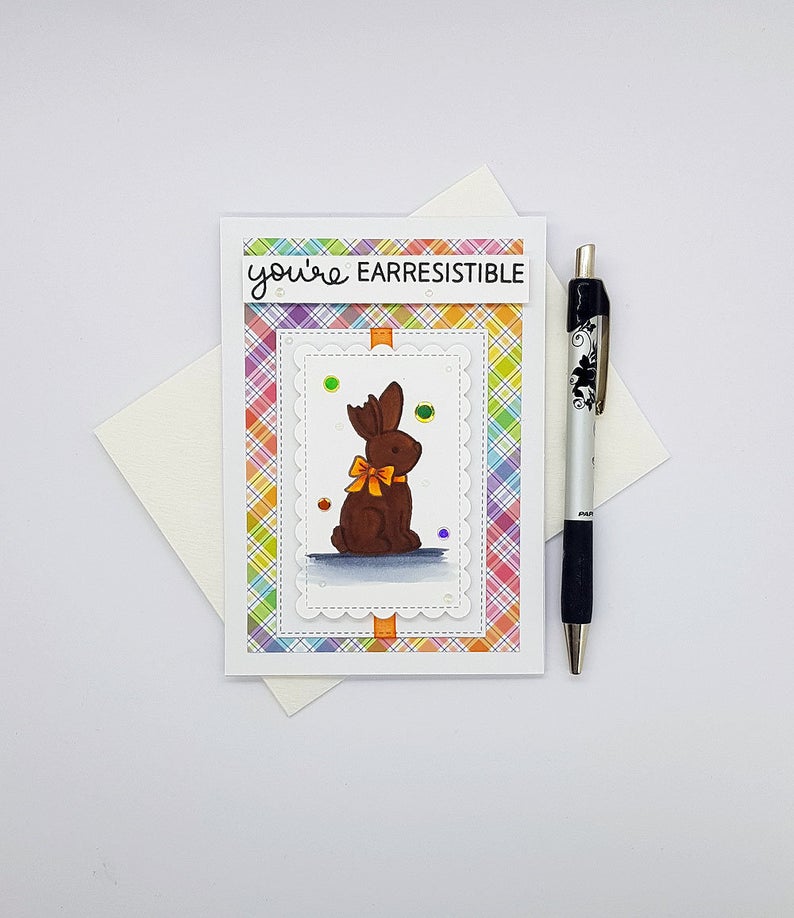 Show your love for your boyfriend by calling him 'earresistable' in this fun card available from Etsy. With colourful card, sequins and bows, this card is pretty. Customisation can be added, usually at no extra charge.
Handmade Easter Card for Kids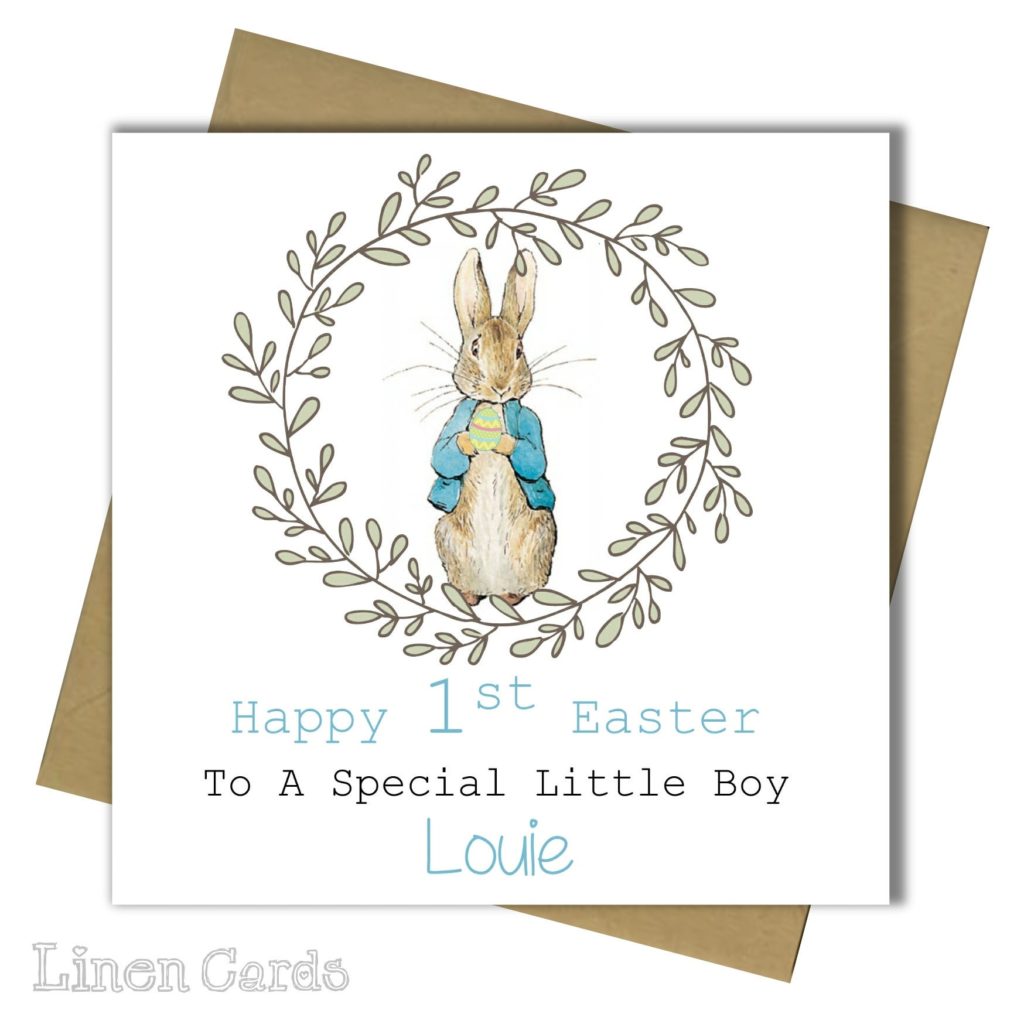 Linen stock and full personalisation make this card from Etsy a great option for the kids. Featuring Peter Rabbit, this card can be left blank for your own message, or you can ask for a special message to be printed inside.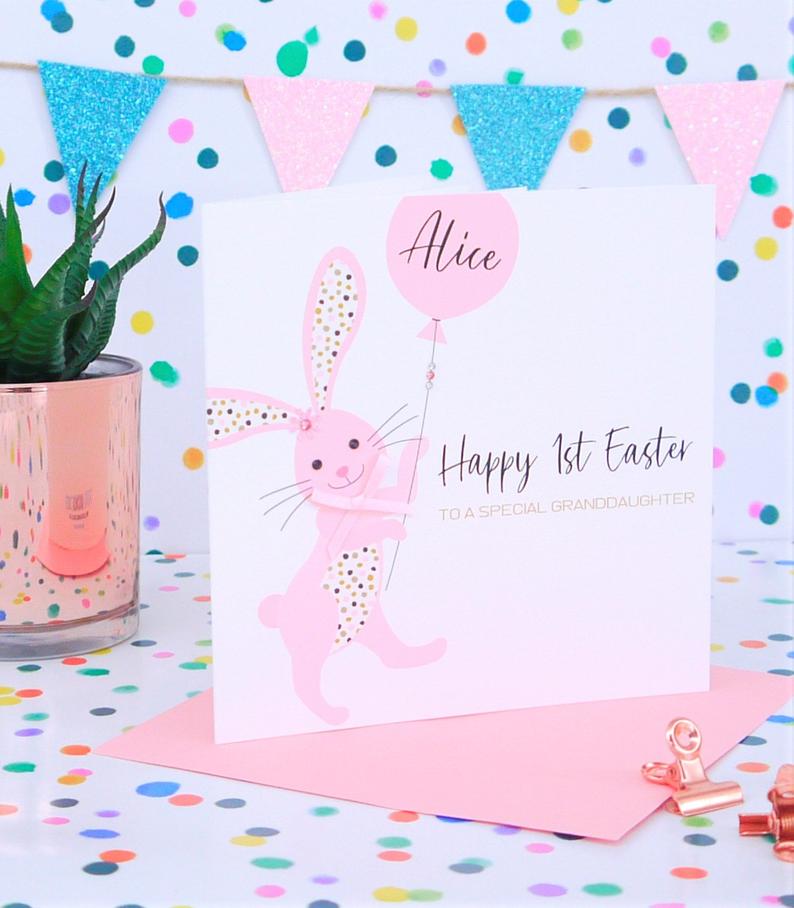 Pretty in pink, this card features a bunny and a balloon, and can be fully personalised to suit your needs. Perfect for a first Easter, the card available on Etsy offers different wording and can use your particular greetings. This card comes blank inside as standard, but you can have a message printed inside at no extra cost.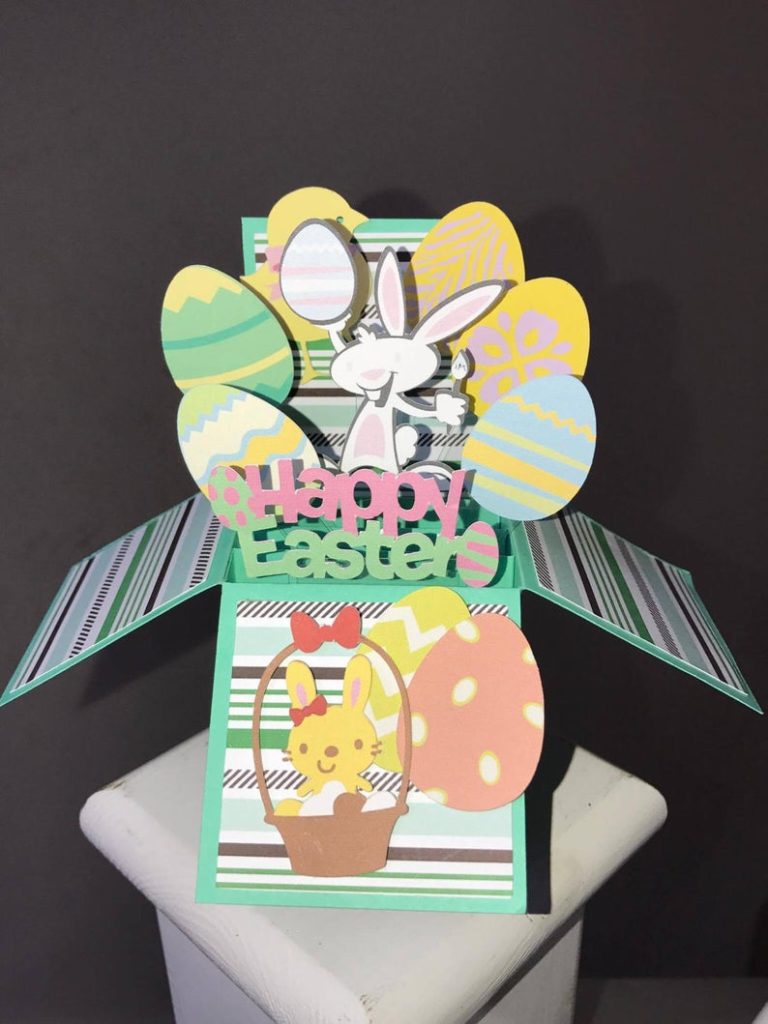 A great option to give to multiple kids, this box pop-up card features Easter eggs, cute bunnies and bright colours. Any wording or message can be added, and the creator on Etsy has made sure that the card stays flat inside the envelope.
Easter Cards to make:
This Crafty Easter Card Tutorial is perfect for anybody looking to get hands on with and creative with their children.
You Will Need:
Card
Coloured paper, cut into squares slightly bigger than you want your finished honeycomb section to be (you'll need about 15-20 squares)
Pen
Pencil
Scissors
Glue (PVA)
Needle and thread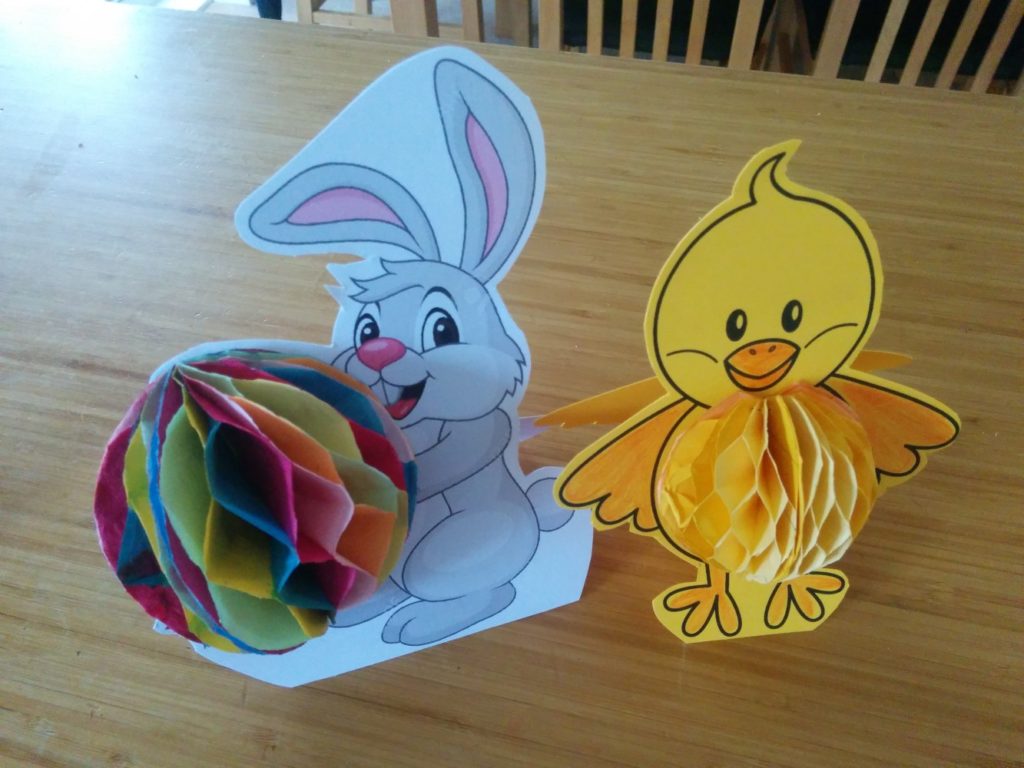 Instructions:
Draw a circle on a piece of paper, and measure 5 vertical equidistant lines, with the 3rd line passing through the centre. Label these lines:  A, B A, B, A (or 1, 2, 1, 2, 1).
Cut out another circle of card the same size and put aside for later.
Take your paper, and place it on top of the circle, marking the corners so you know where each sheet should be positioned, ensuring that you can still see the lines (and labels) projecting above the top edge of the paper.
Place a line of glue along each A line, on the paper, and stick your next sheet of paper on top.
Next place a line of glue along the B lines and place a 3rd sheet of paper on top.
Repeat steps 4 and 5 until your paper is used up.
Glue the entire surface of the card circle and stick to the paper stack. Leave to dry.
Cut across the circle, perpendicular to the glue lines, and the cut the papers to match the semi-circular edges.
Turn the semicircles over, so you have the paper side facing you, and put them on top of your original template (remember to position the cut horizontally).
Put glue down the B lines of the top half of the circle and flip the bottom half up to stick it on, leaving you with one semicircle.
Using the needle and thread, pierce the corner of the semicircle, and make a loop (leave it loose to that your honeycomb has enough room to open out) and knot. Repeat at the other corner.
Leave to dry thoroughly and then stick to your chosen card. You can cut out some cute Easter pictures – such as a chick and a bunny – and used one honeycomb for a pull-out tummy, and one, which I trimmed into more of a semi-oval, like an egg. Make sure to continue any design onto the visible side of your honeycomb when it is closed.
Easter Wishes Card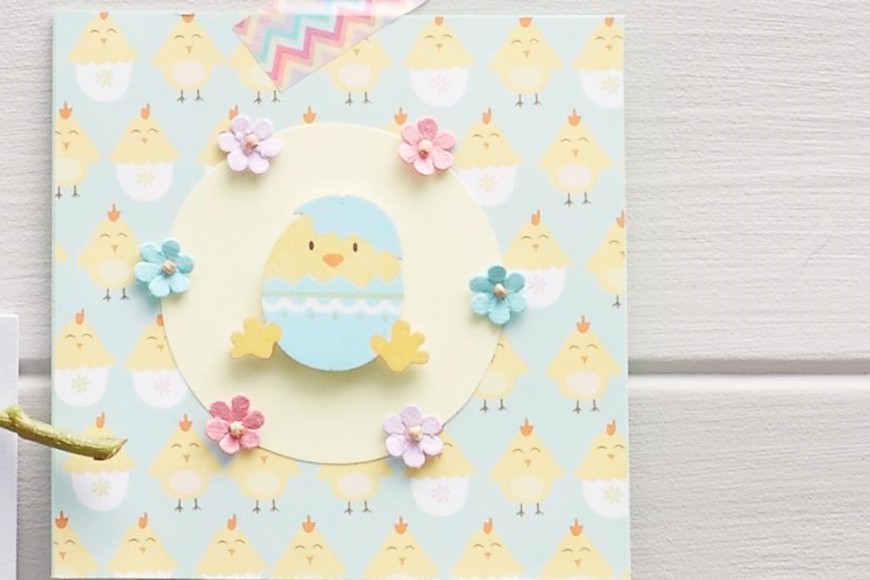 You Will Need:
Square Card Blank
Pale Yellow Card
Spring Time Paper Pack
Wooden Chick Topper
Mini Paper Flowers
PVA
Craft Knife
Cutting Board
Metal Ruler
Scissors
Instructions:
Use a craft knife and metal ruler to cut a square of pretty Spring Time paper to the same measurements as your blank card. Glue this to the front of your blank card.
Take the sheet of pale yellow card and draw around a circular object. Cut out, position and glue in place at the centre of the card.
Stick a wooden chick topper to the centre of the circle.
Arrange and glue mini paper flowers around the edge of the card circle.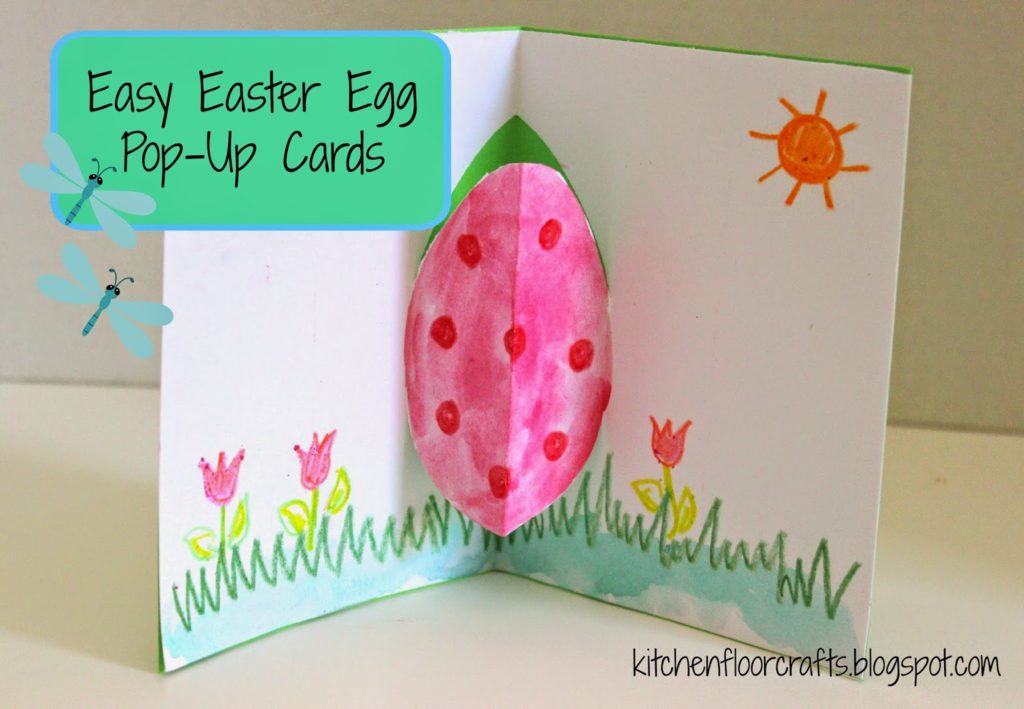 You Will Need:
white card stock
scissors
crayons
watercolours
coloured card stock
glue sticks
Instructions:
Cut the white card stock in half so that you have two 5.5 x 8-inch pieces. (Each piece will make one card.) 
Fold the paper in half and cut out a half oval shape by cutting two quarter circles. Don't cut the oval all the way through. To make the shape more egg like cut the bottom quarter circle a little more rounded and the top quarter circle slightly pointed. 
Open the card. Use the crease on the oval to fold the egg shape away from the original fold. 
The card will have an egg shape which "pops" out of the inside when opened. 
Colour the shape and decorate the card with crayon. 
Afterwards watercolour on top of the parts which were coloured with the crayon. 
Have fun with it, think of different ways to decorate the eggs (just like when you're dying real eggs!)
After the paint dries glue the white piece of card stock into a colourful piece of card stock with the glue stick. It works best if the coloured card stock is cut to the same size (5.5 x 8.) when glueing, don't put any glue on the back of the egg cut out. 
Easter Cards and Gifts From Decorque
Lesley has been creating beautiful artwork, cards and gifts from her home studio that are available to buy. These make excellent presents for any occasion, and if you have a specific reason for gifting in mind, then use the search function to find what you need on the Decorque Home Page.
If you want to learn more about Lesley's creative process, you can find out all about her ideas and how she makes her beautiful cards and gifts on her blog here.