We love our mums! One great way of celebrating how much we love our Mums is on Mothering Sunday, and here at Decorque, we have so many options for cards made especially for your Mum.
When is Mother's Day?
Mothering Sunday falls on the 4th Sunday in Lent, 3 weeks before Easter Day. This year, Mothers Day is on Sunday 22nd March.
Why do we celebrate Mother's Day?
For over a century, the day has been recognised as a day to celebrate motherhood. Traditionally, flowers, cards and gifts are given. In the UK, Mother's Day is celebrated in March traditionally, whereas, in the US, it is celebrated in May.
Mother's Day, as we know it today, was first celebrated in 1908, where a memorial was held for social activist Anna Jarvis' mother in a Methodist Church in West Virginia. This campaign led to the US officially observing the holiday in 1911, and in 1914, the then- president, Woodrow Wilson signed a proclamation designating Mother's Day as a national holiday.
Mother's Day card from daughter
This lovely tropical design is perfect to get you Mum excited for summer! Featuring a beautiful tropical hibiscus flower, the colours of this flower are brought out with deep pinks and subtle yellow. With glass gems adorning the card, this bespoke design will be a memorable card to give this Mother's Day.
Everyone knows that their mum loves a cup of tea – and this card from Lesley (available here) is a great way to acknowledge that. The hand-cut teacup features delicate printed florals, with beautiful gems.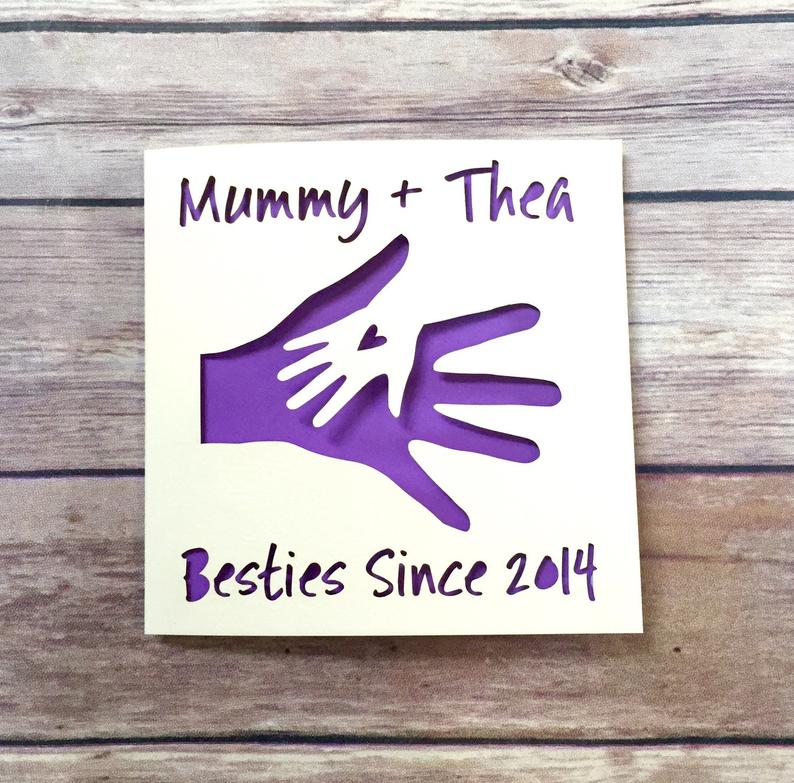 Send the best Mum a card that proves you've been besties since you were born with this personalised card. Simple, beautiful and heart-warming, this card is a lovely way to have a personal touch to Mother's Day.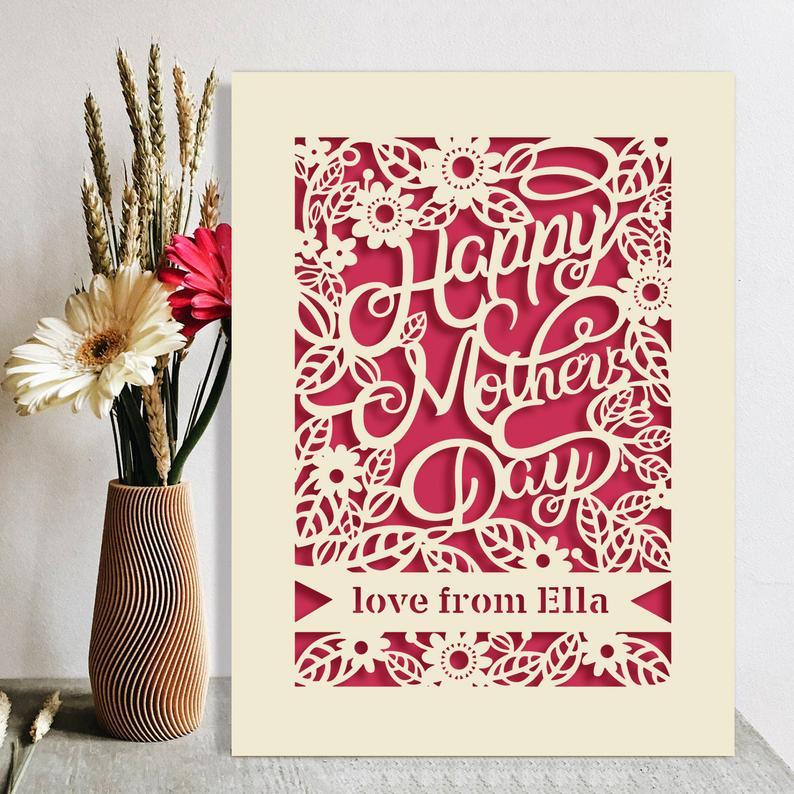 This bespoke detailed card can be personalised with your name, making it a completely unique choice. You can find it on Etsy and get it in time for Mother's Day.
Mother's Day card from son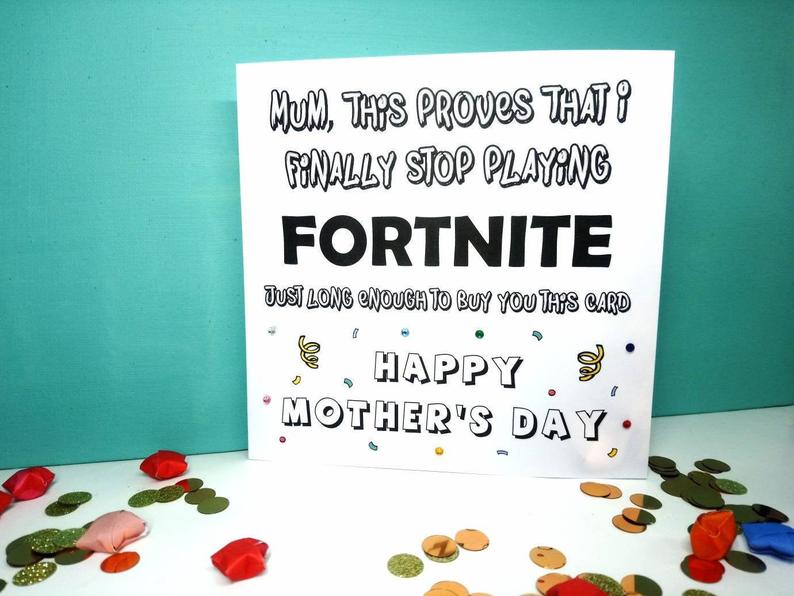 Any mum of boys of a certain age will understand the struggle here – and this card proves some love! Available on Etsy, it is handmade in the UK and perfect for a gamer son to give his mum.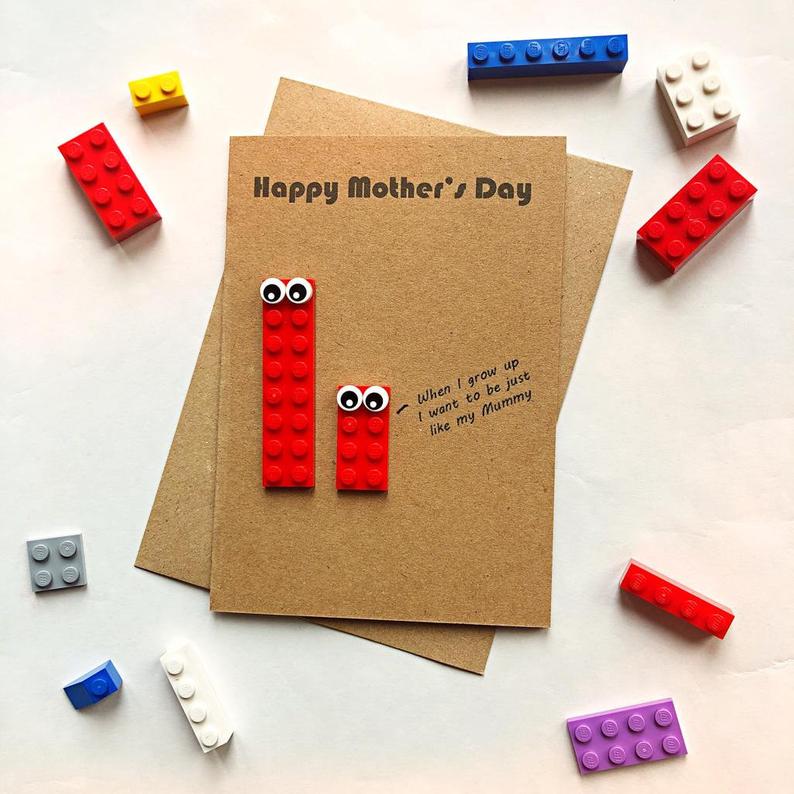 Ah, Lego – every mum has a tale about stepping on some, often in the middle of the night – so putting it to use in this adorable card is a nice touch. The Lego is removable and usable, so it can be added to your collection. Available from Etsy it is blank inside for your own message.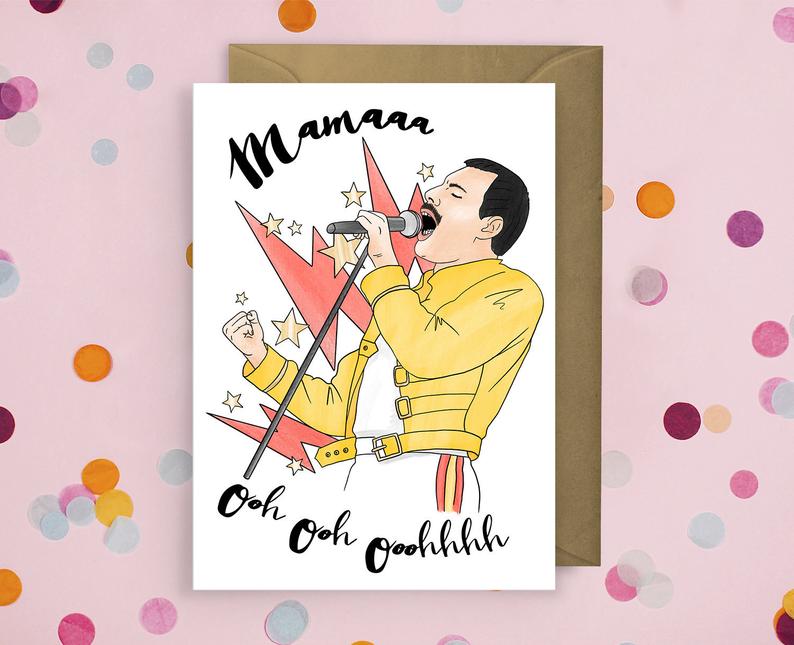 For the Queen lover in your life, why not go for this musical number? Featuring the legendary Freddie Mercury, you can find this on Etsy and bring a smile to your Mum's face.
Mother's Day card for wife
Remind your wife of how much she's appreciated as a Mum with a card this year. We've found some of the best, so you don't have to!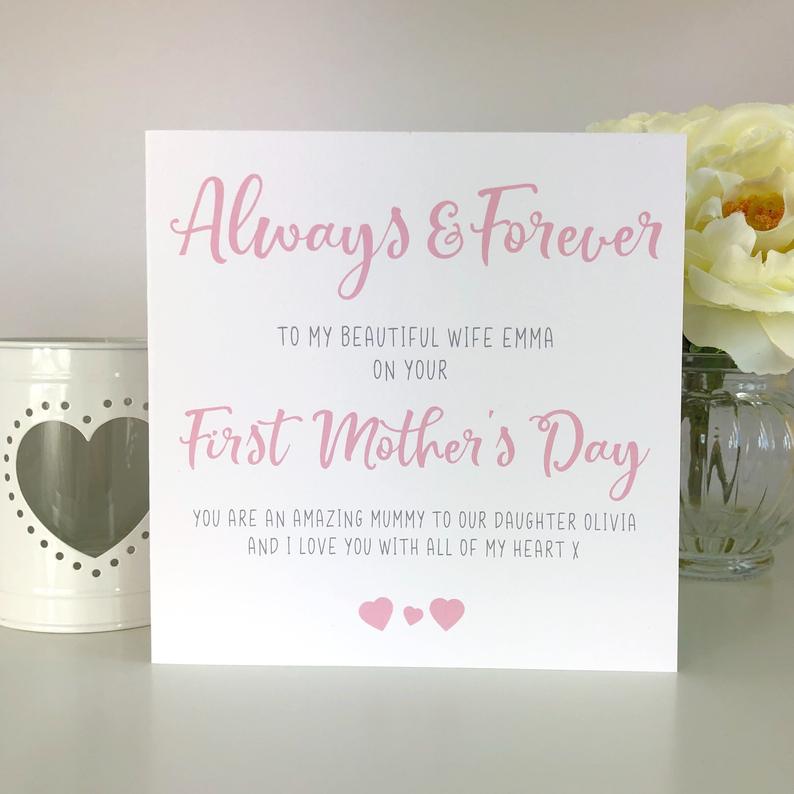 We love this highly personal, handmade card from Etsy. You can change the relationship, add names, and make it your own by contacting the seller. This card is left blank inside so you can add your own handwritten message, making it even more special.
Lesley has made this beautiful card featuring a beautiful blue tit and showy chrysanthemums, hand painted and printed to create a textured finish. Available on the Decorque site here. Hand finished with gems and presented with a scalloped edge; this card is a lovely Mother's Day card for your wife.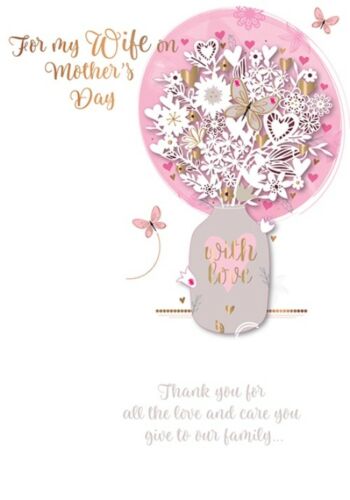 This special handmade card available from Talking Pictures on eBay features some beautiful embellishments such as flowers and butterflies, in relief.
Mother's Day card from dog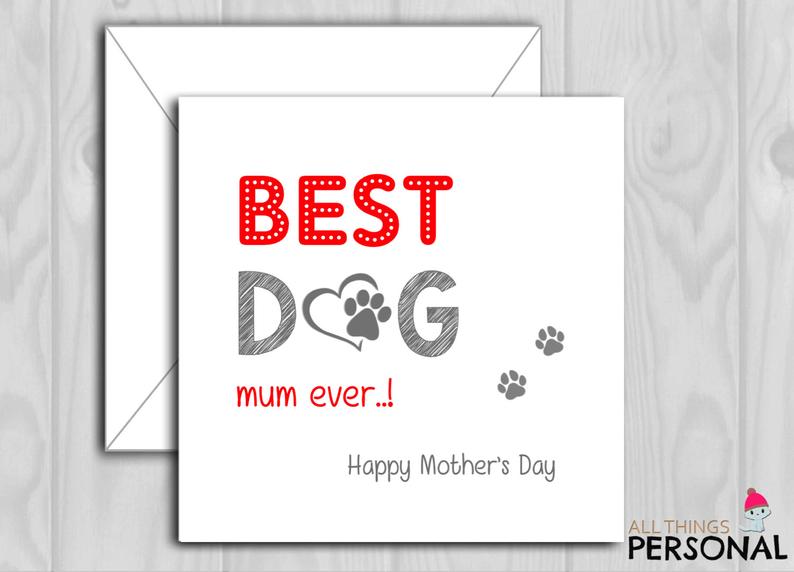 This handmade, quirky card from Etsy is presented in a clear cellophane bag and left blank for your own message. Printed on heavyweight card for that luxurious touch, it is an excellent card perfect for any dog mum.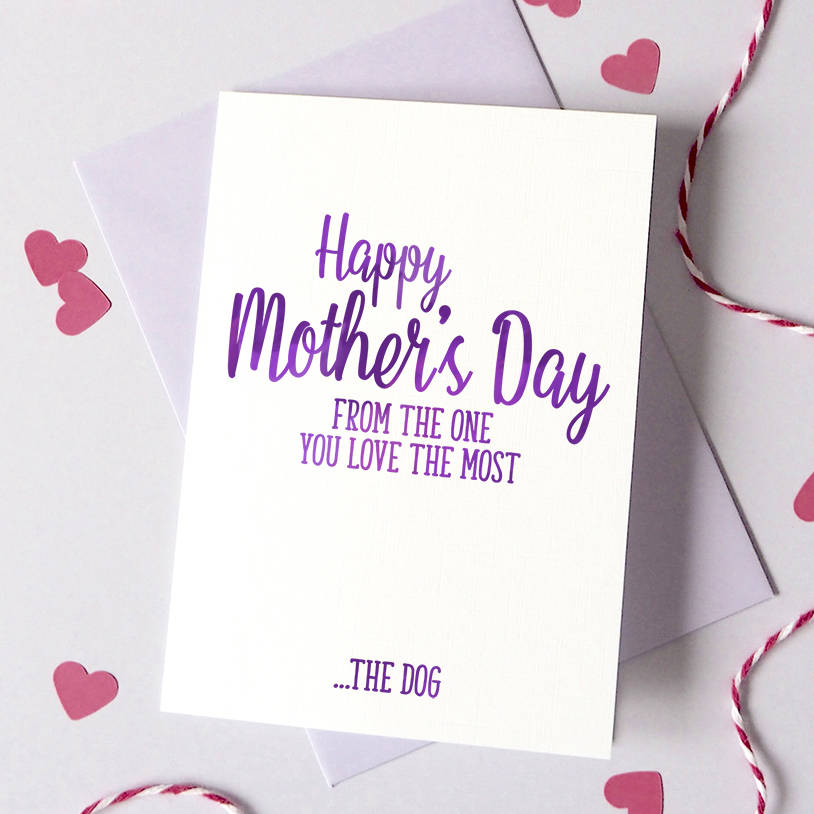 Fur babies celebrating their mums need this card, because we all know that they are the ones that Mum loves the most! Available from Not on the High Street, you can personalise it with the dog's name and the inside can feature a message of your choice.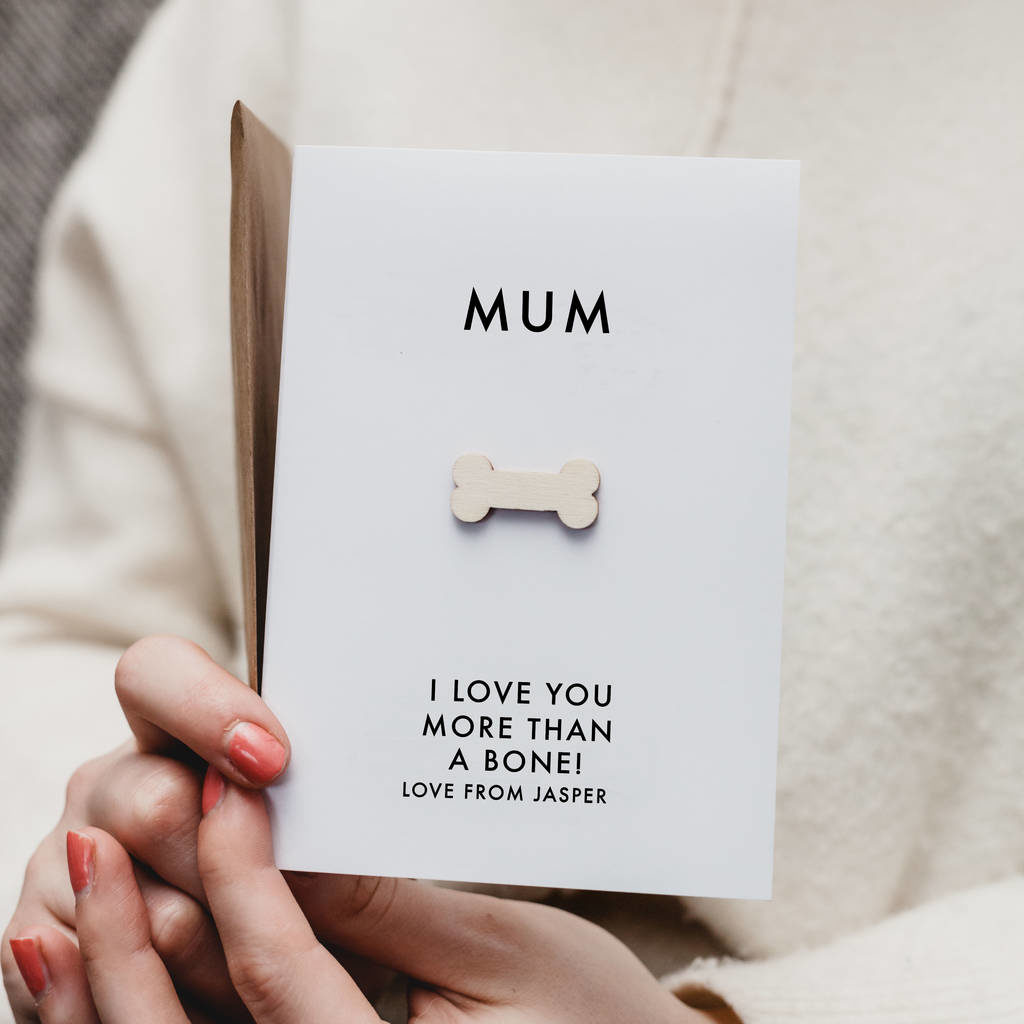 This lovely card from Not on the High Street. Featuring personalised greeting, added name of the dog, and has a lovely wooden bone on the front. With a smooth white satin finish, this card is a simple and beautiful way to share the dog's love for his mum.
Mother's Day from cat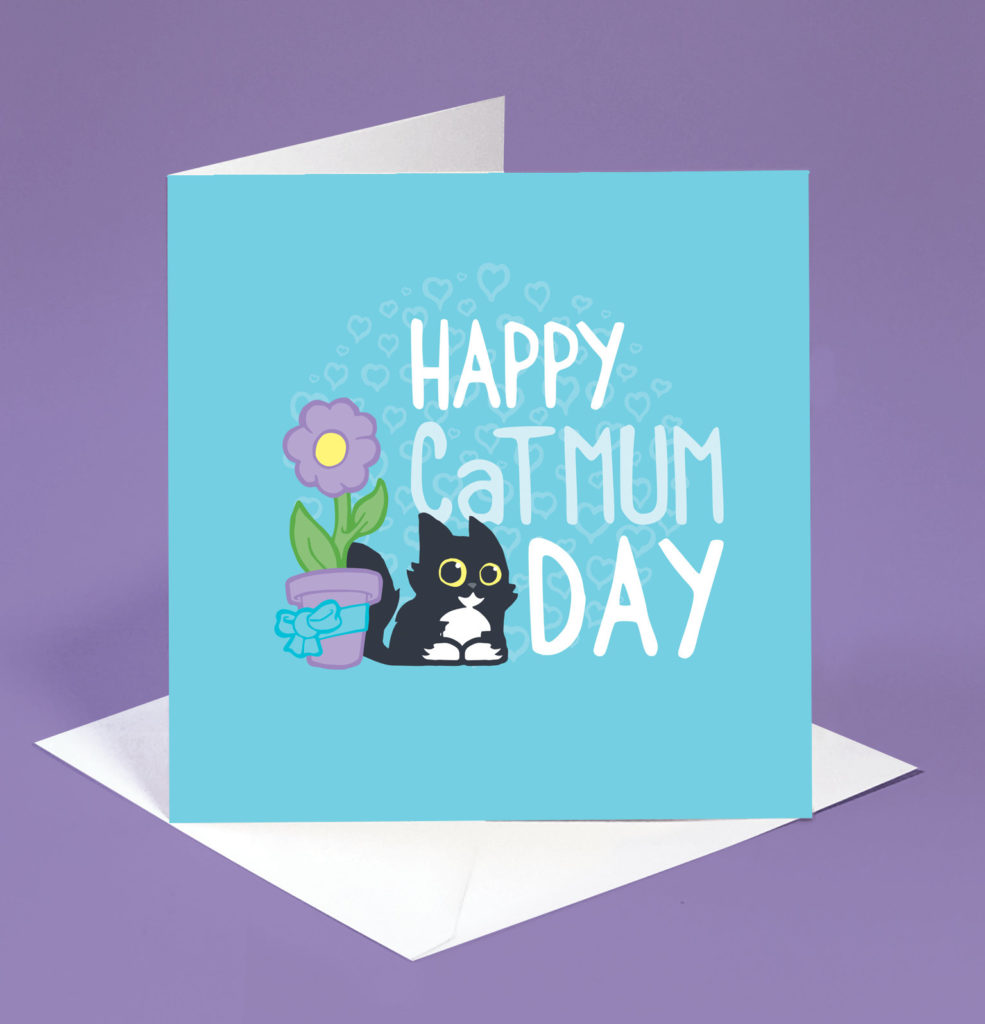 Being a cat mum can be a thankless task sometimes, but we love the furry friends anyway. This card is a lovely way to show appreciation from the feline, and is available on Etsy. Handmade in the UK and left blank for your own message, the design is inspired by rescue cats and is lovely!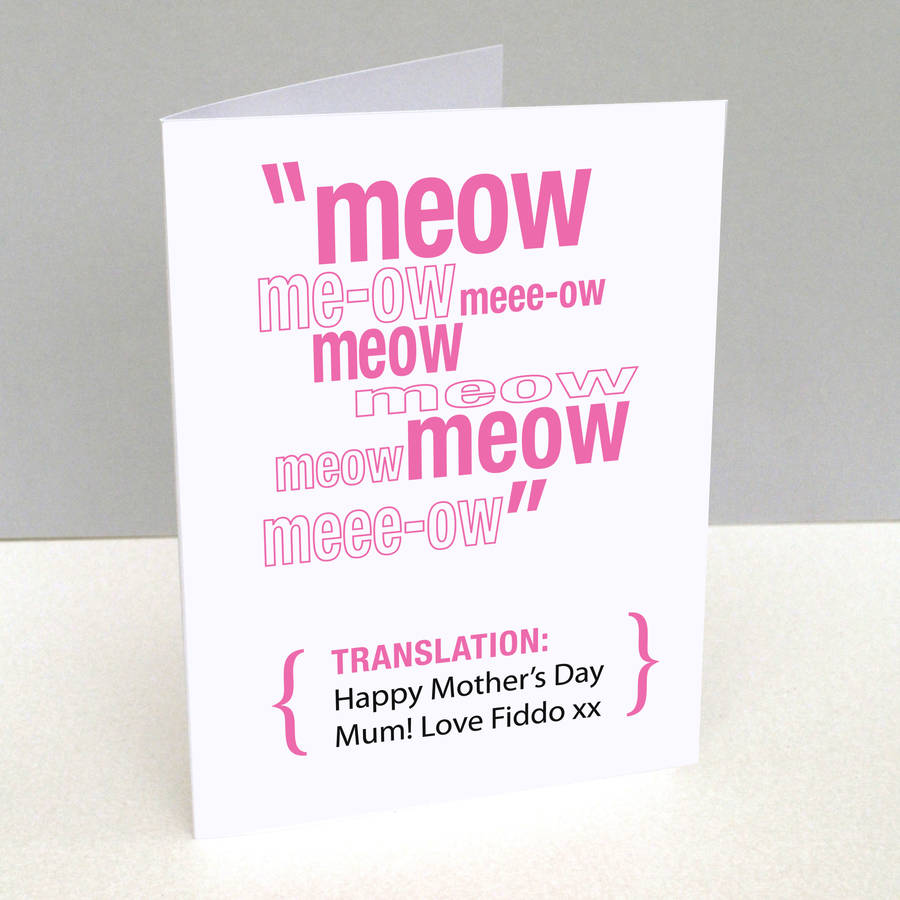 Translating the way your cat talks to you can be a complicated matter – but this card has the answer! Available from Not on the High Street and also available to come from the Dog, this card is made in Britain and can be personalised.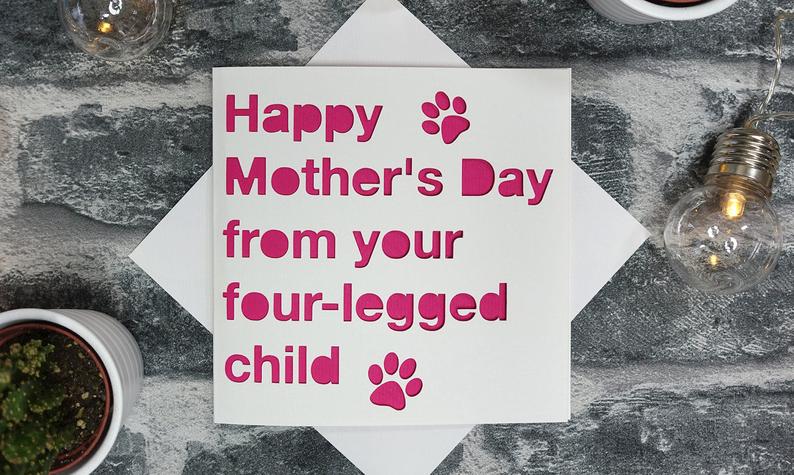 This cut-out card is available in a range of different colours from Perfectly Papercuts on Etsy. It comes with a lovely coloured insert for your own message and can read 'four-legged child' or 'four-legged children'.
Mother's Day card for mum to be
This striking card from Lesley's collection is a beautiful card for a mum-to-be. This Pink Rose and Bird card that is blank inside for your own message. Textures, colours and a landscape orientation make this card eye-catching and a lovely one to give a friend before they meet their baby.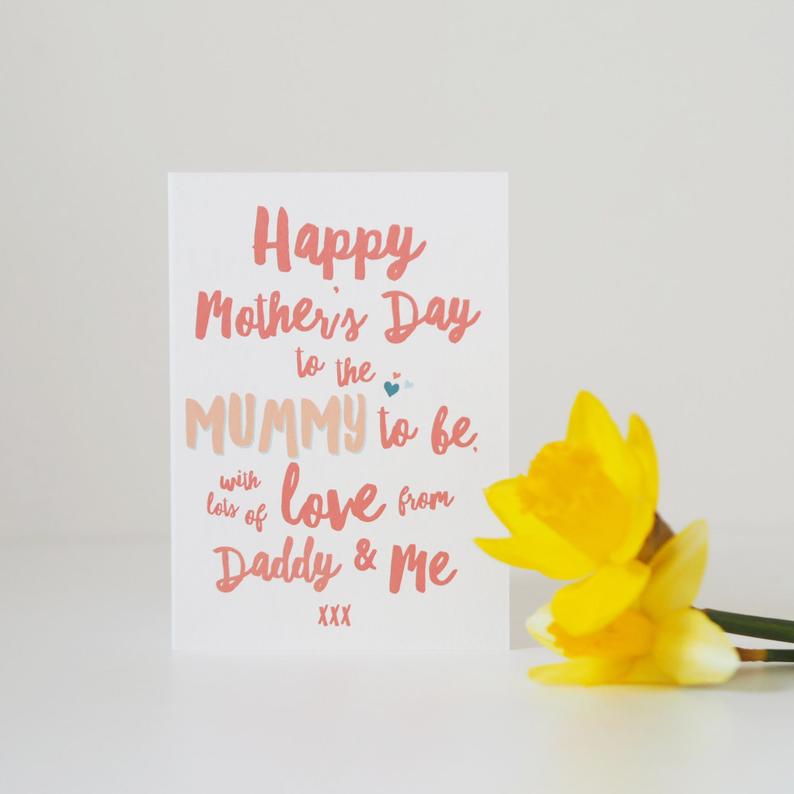 Celebrate the mum-to-be with this lovely card from Daddy and the bump. From Etsy and left blank for your own message, this simple and beautiful card is a lovely memento.
Mother's Day card from bump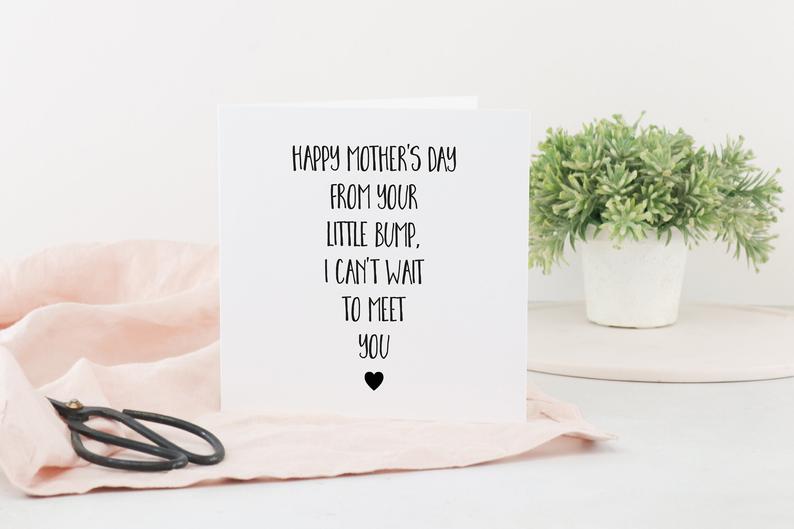 Having a baby is so exciting, and the mum-to-be shouldn't miss out on Mother's Day while she is pregnant. This lovely card from Etsy comes on white or brown card, and is also available for fathers to be too!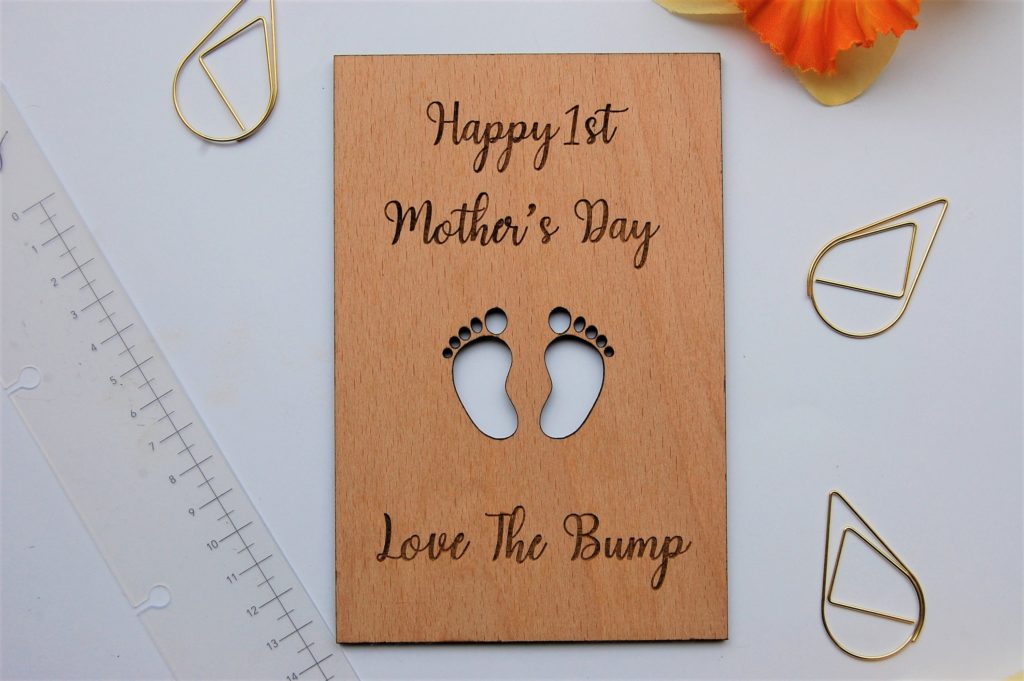 Combining a card and a keepsake, this lovely item from Etsy is a perfect gift from the bump. The name at the bottom can be changed, and a personal message can be added to the reverse, too. It can come with a stand for display purposes.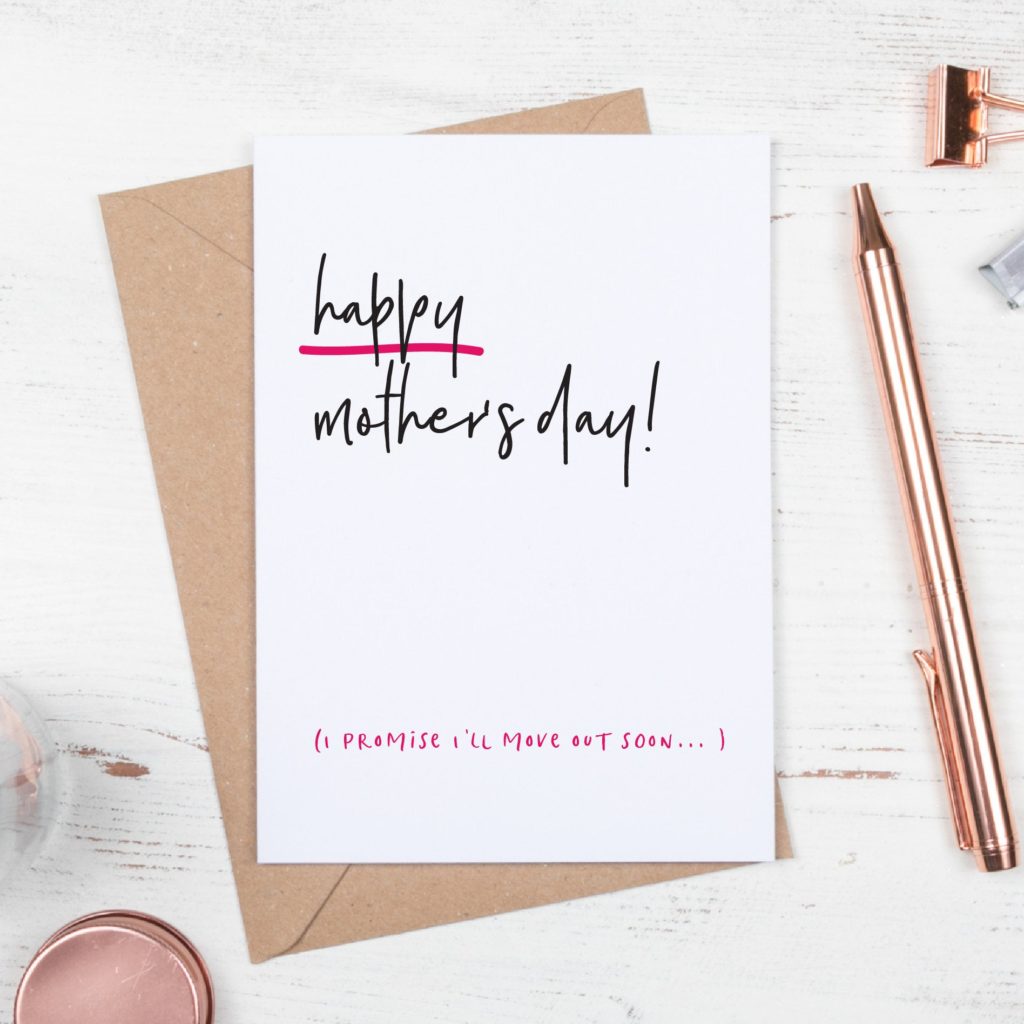 This card by WeAreKVCreative on Etsy is a very tongue in cheek card that could either be from an adult child still living at home, or for a mum-to-be that is reaching her due date. Either way it is funny and lovely in a simple and wonderful way.
Mother's Day Card for Grandma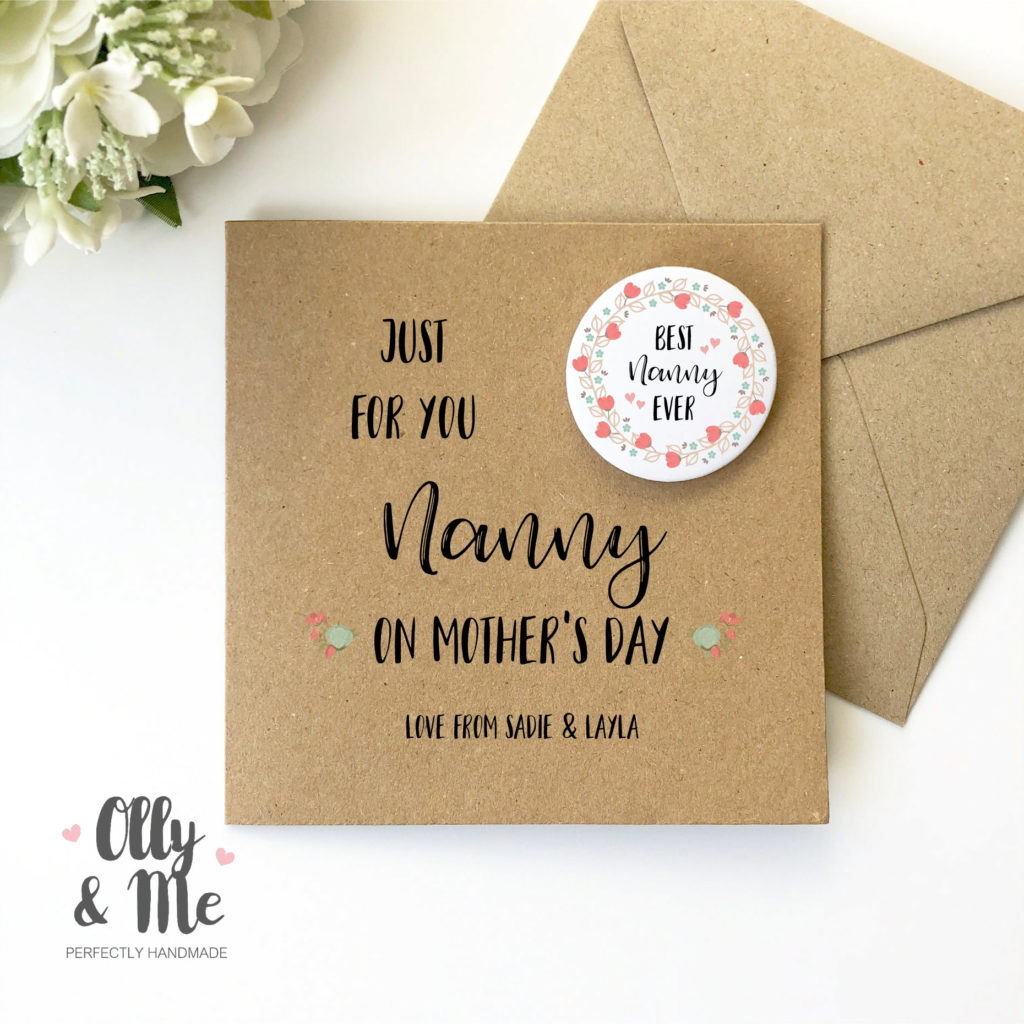 This handmade, personalised card from Etsy is perfect for your Grandma, and can be personalised with the specific name you call them – Nanny, Nana or any other name. It can also feature your names as the sender! It also comes with a badge, making it fun and full of love.
Available in pink, blue or red, this card made by Lesley is a great option to give your Grandma, especially if they have a favourite colour. This unique design features a beautiful heart design, a striking rose and two beautiful birds. If you would like to change the greeting or add a message to personalise your card, then contact Lesley to find out more about the bespoke options she offers.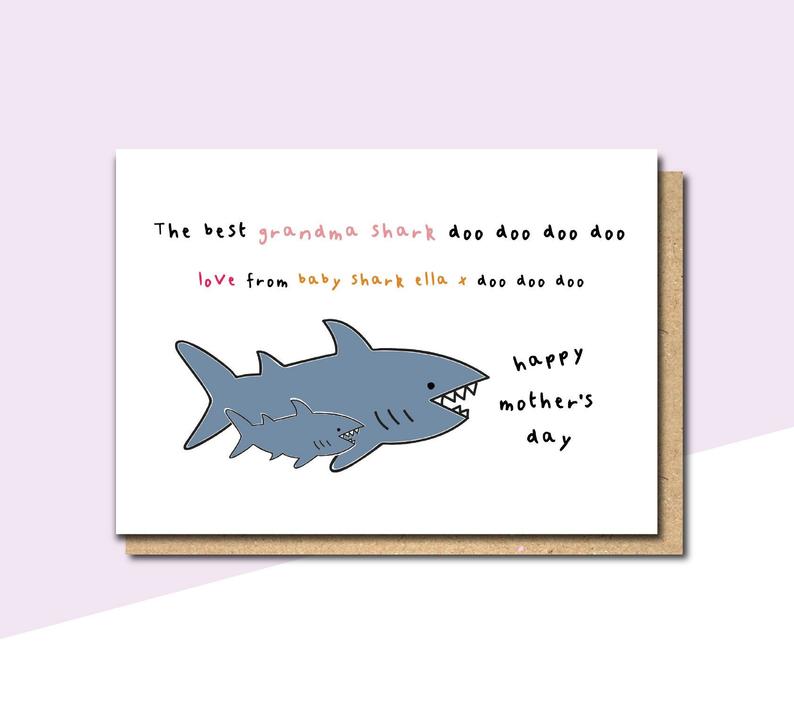 A card for the smaller children to send to their Grandma, celebrating the viral sensation (and annoyingly catchy) Baby Shark. The greeting could be Granny or Nana, depending on how you know her, and the other personalisation can include who this card is from. Available from Etsy.
Mother's Day Card for Aunt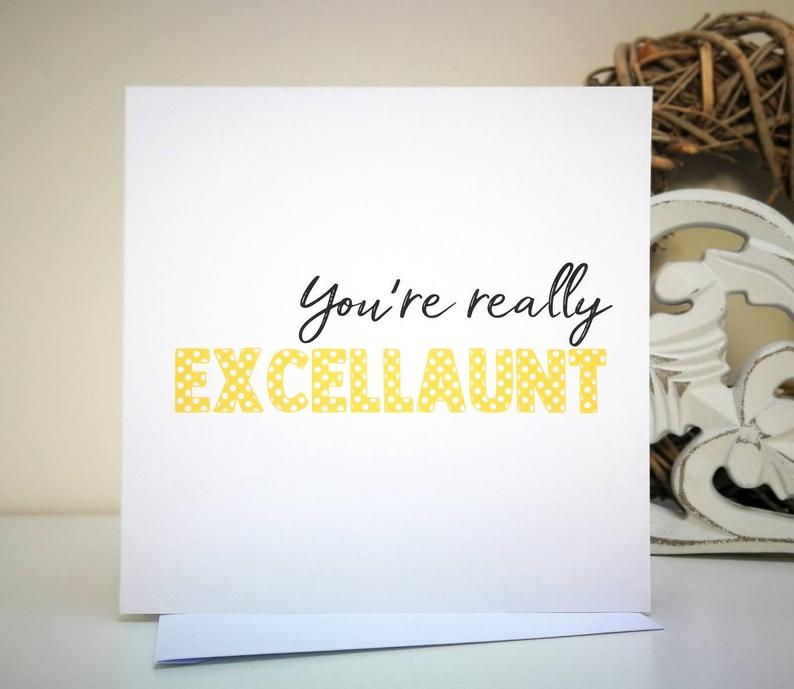 Who doesn't love a pun? This card can be personalised with a message inside so is perfect for your Aunt on Mother's Day. The yellow polka dot style is really eye catching, and you can see this on Etsy.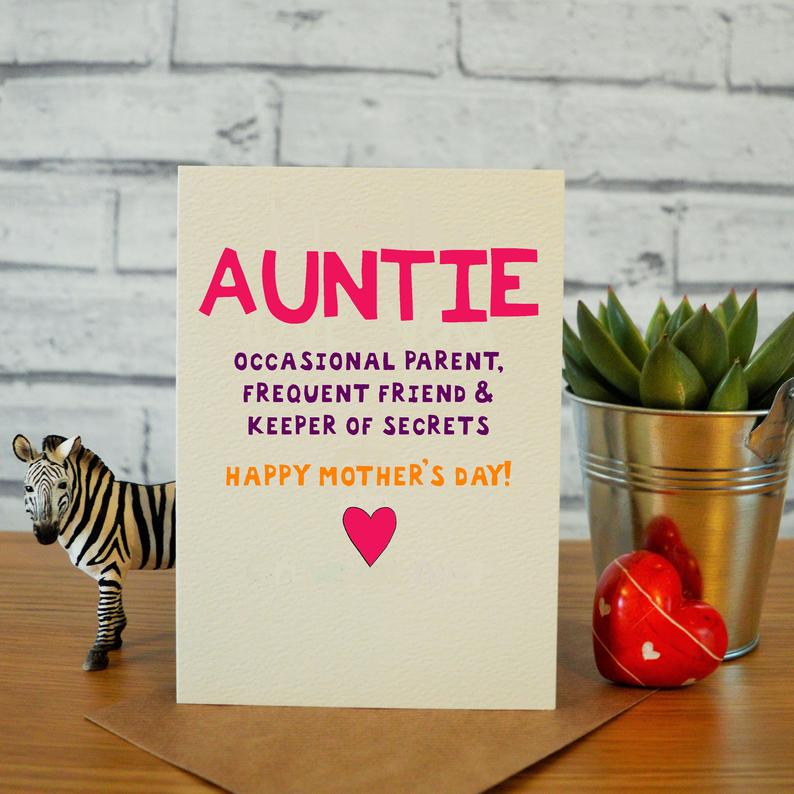 We have really lovely relationships with our Aunts, which is immortalised in this lovely card from Etsy. This card can be printed with a specific message on the inside, or you can leave it blank to add your personal touch.
We love a card that is also a gift – and Lesley has created this Mother's Day card with a cork coaster as the main decorative piece. This can be removed and used, so a wonderful commemoration for your Aunt. Designed and made by Lesley herself and available at Decorque cards, this beautiful card comes blank for your own message.
TOP TIP: Why not pair this card with a matching gift? You can find a pack of four handmade cork coasters from Decorque. If this gets you inspired, you can check out Decorque's range of handmade home accessories here.
Mother's Day for Stepmother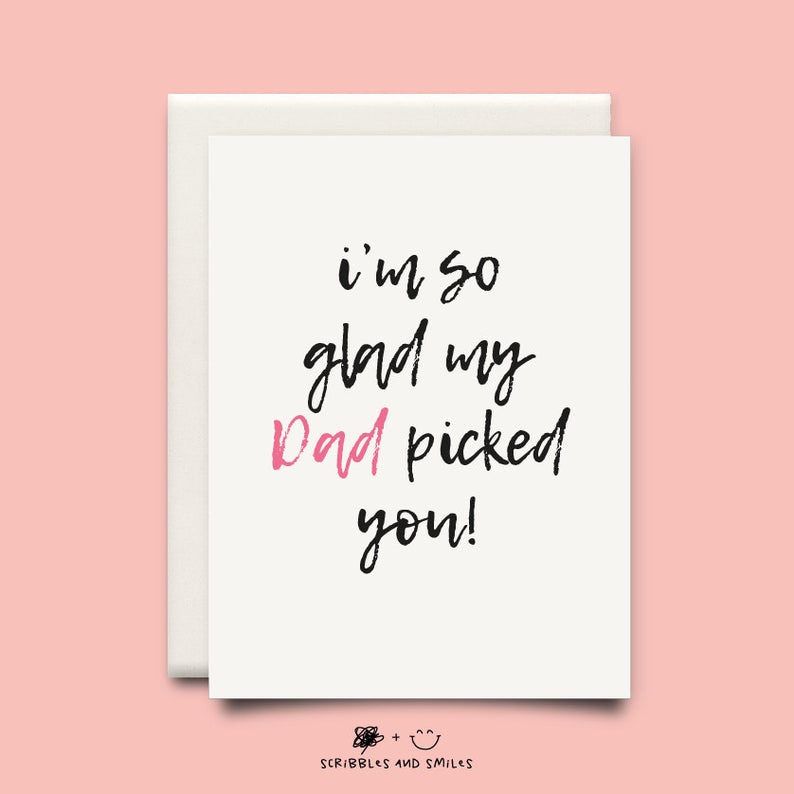 Show your stepmum some love with this card from Etsy. This beautiful A5 size card is handmade in the UK and left blank inside for your own message. You can ask for a personalised message to be printed inside.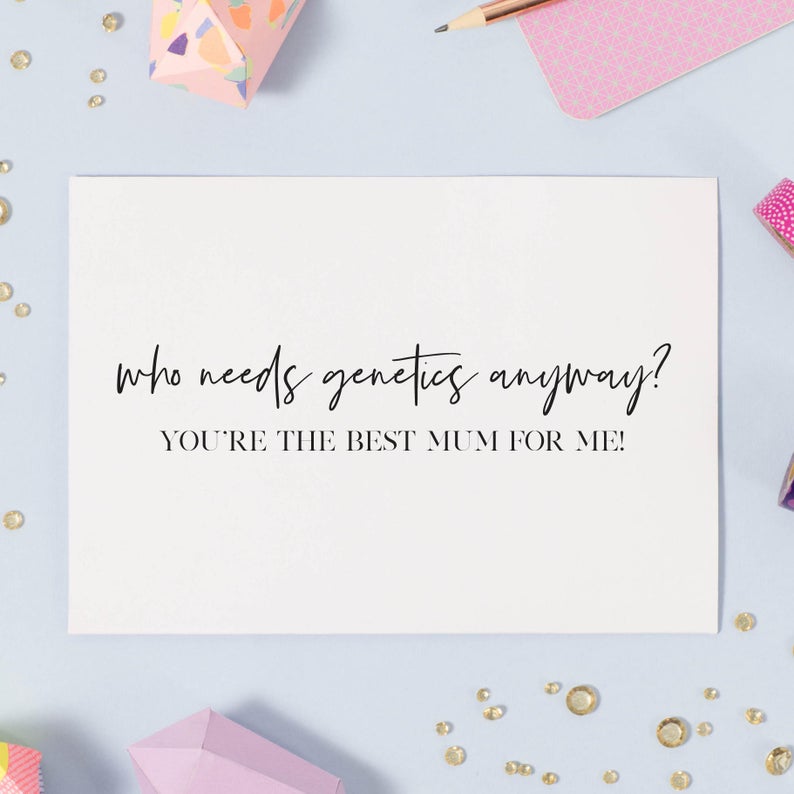 Simple message, but heartfelt in the right way. Genetics don't make a mother, and this card from Etsy would be good for a stepmum or an adoptive mum too. These cards are made in Surrey by a lady who specialises in inappropriately appropriate cards.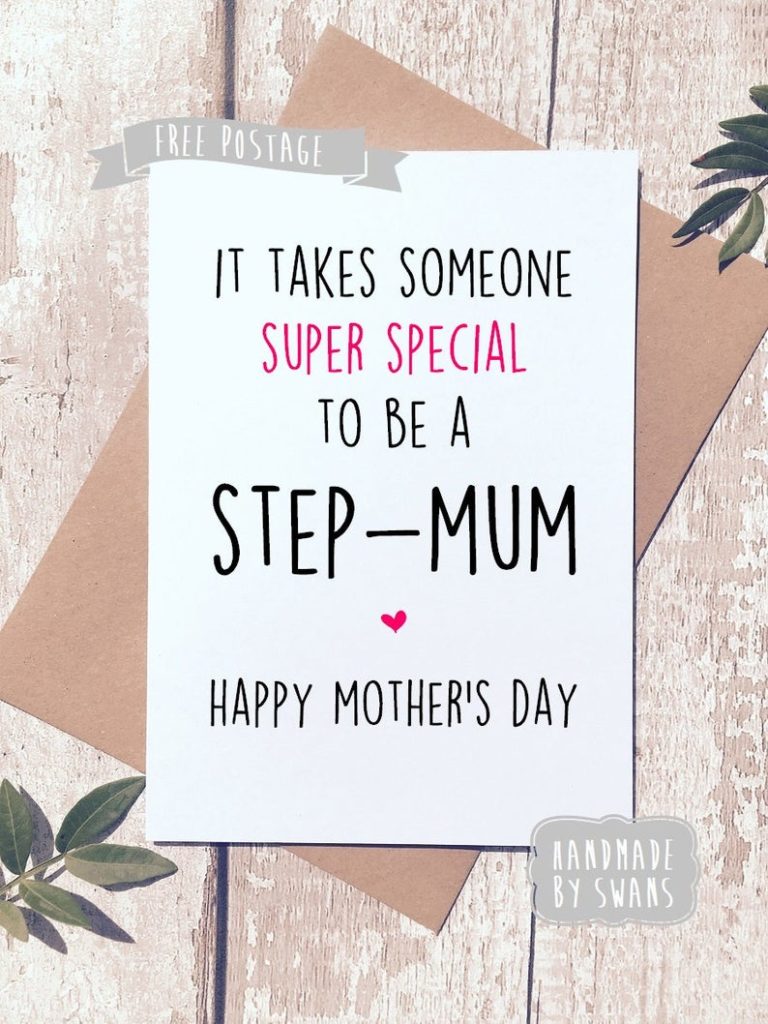 This handmade card from Etsy is a great card for your stepmum. It can be personalised at the point of order or come blank inside for your own message.
For Mother in law
Lesley has designed This card to coordinate with the Chintz Anglais range, and it is a lovely option to give to your mother in law on Mother's Day. The hand cut fan is adorned with butterflies and flowers, as well as beautiful turquoise gems.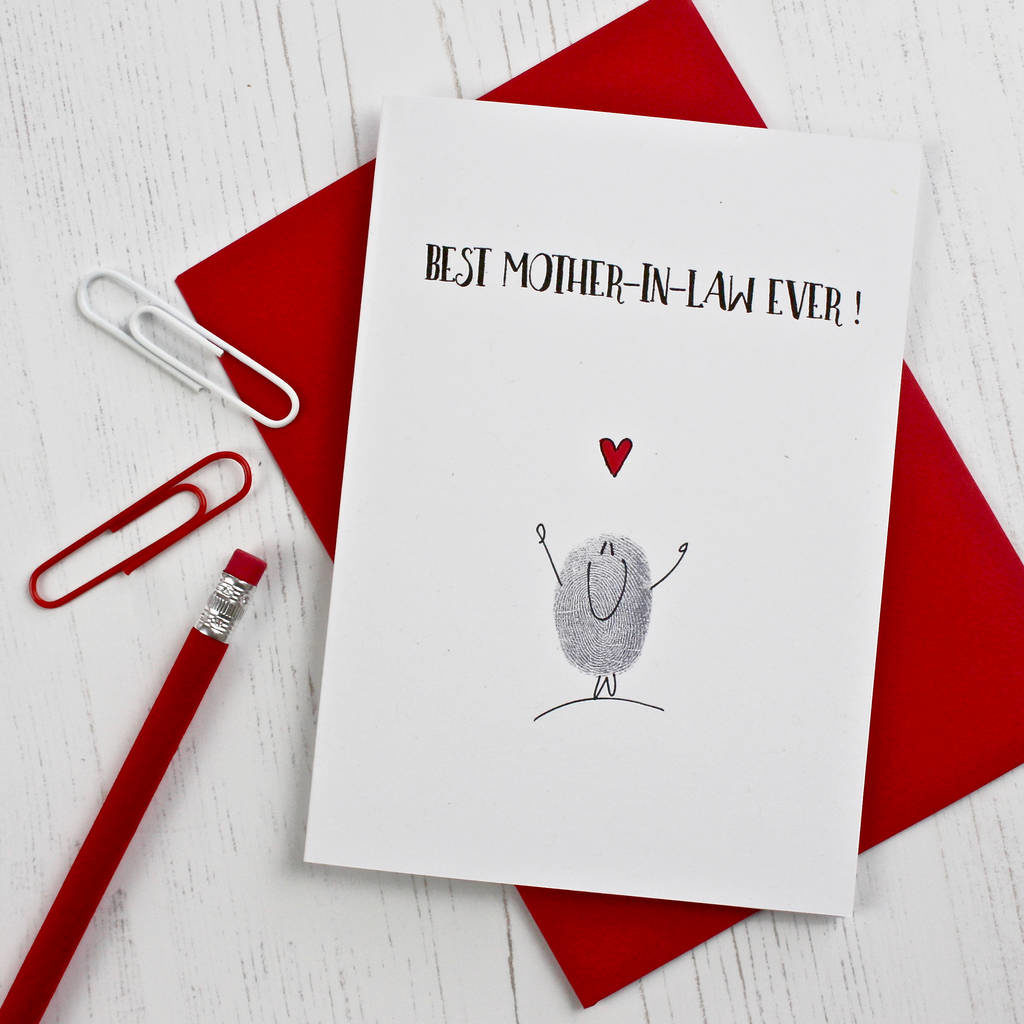 This cute handmade thumbprint card is available from Not on the High Street. Made from recycled materials, each one is handmade to order and comes blank for your own personalised message.
Mother's Day Card Quotes
Short
"God could not be everywhere, and therefore he made mothers." – Rudyard Kipling
"All that I am, or hope to be, I owe to my angel mother." – Abraham Lincoln
"Grandmother: A wonderful mother with lots of practice." – Unknown
"Marriage made us family, love made me your daughter." – Unknown
Funny
OMG… You were right about EVERYTHING!"
"I love how we don't need to say out loud that I'm your favourite child – we both just know."
"Congratulations, Mum – I turned out perfectly."
"I owe you everything, can I pay you back in hugs?"
Inspiring
"You might think I never listened to what you said when I was young, Mum. But the truth is, I live by your words every single day."
"The older I get, the more I realise that you're the best best friend I've ever had."
"Not always eye-to-eye – but always heart-to-heart."
"You're like glue. Even when we can't see you, you're still holding our family together."
Heartfelt
Always My Mother – Forever My Friend."
"Everything I am, you helped me to be."
"If I didn't have you as a Mum, I'd choose you as a friend."
"You have always inspired me to be greater than I thought I could be."
Nice
"Thank you, Mum, for all that you do."
"I hope you have a day as great as you are."
"You deserve nothing but the very best"
"You are the best Mother in the World."
How to make the perfect handmade Mother's Day Card
Easy to make handmade Mother's Day Cards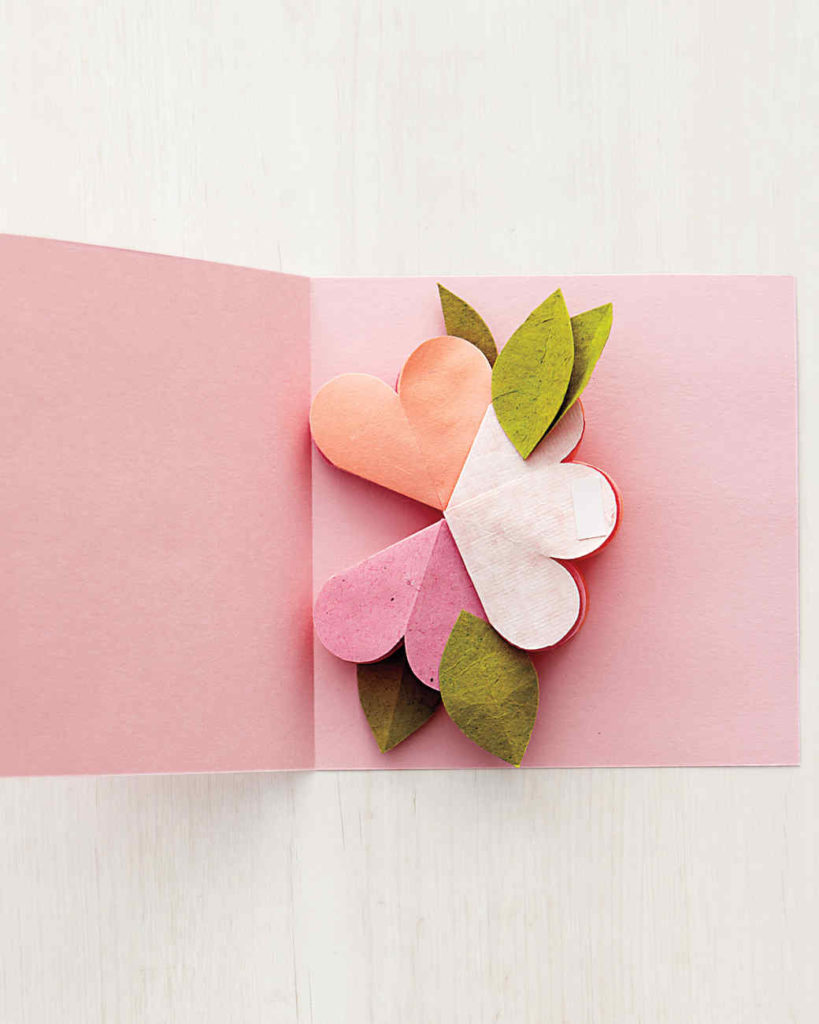 Make this lovely 3D pop-up Mother's Day card with easy to follow instructions.
You will need:
Tissue paper
Glue stick
Double-sided tape
Card stock
Petal Template
Cut out several squares of coloured tissue paper and fold into quarters. Fold each side down to create triangles. Using the petal template (see link below), cut out petal shapes. Open out and remove one petal; close the gap to make it 3D.
Using double-sided tape, add them together, overlapping, and glue to card stock. Add some freehand leaves for extra effect.
For full tutorial and step by step pictures and instruction, see this article from Martha Stewart!
Mother's Day Cards for Children to make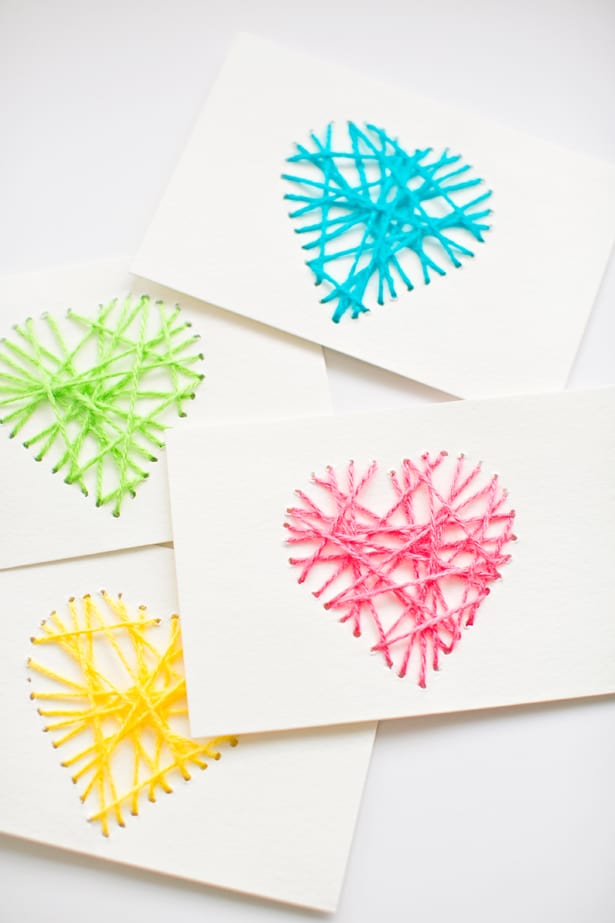 These lovely Heartstring Cards are a lovely craft for kids, and can be used for Mother's Day, Valentine's Day, or any time when you want to celebrate love!
You will need:
colourful wool
thick card stock cut out to the size you want
large threading needle
pencil, eraser, scissors
heart template
Step by step instructions:
Trace heart shape onto card using template and pencil
Punch holes along edge of shape using the needle, erase pencil marks
Thread wool through holes in different directions and be sure to tie off underneath.
For full instructions, see here.
TOP TIP: If you have felt inspired by these Mother's Day ideas, take a peek at Lesley's creative process here.
There are some beautiful, handmade gift ideas that would be a lovely thought for Mother's Day – you can check out a few handmade home accessories, where you will find everything from art prints to cushions and lampshades. For more bespoke handmade cards, check out the full range on our website as you'll be sure to find a special card available for any occasion.