At the moment we may all have a bit too much time on our hands, so a perfect solution is to let that creative side out. Why not get crafty and make things that will delight others and maybe even save you money!
Going forward I intend to give you plenty of inspiration in my new blogs on ways to get hands-on and produce some beautiful cards for friends and family.
I make many handmade cards for all events and occasions, some are commissioned, others personalised for that extra special touch, and it is always nice to give customer options. All my cards involve hand-painted images mixed with Illustrator or Photoshop, but I appreciate not everyone has this technology at their fingertips, so all my new guides give you some practical options too.
My first handmade card is going to be celebrating an Engagement. When a couple are getting engaged it's all about the ring being a symbol of commitment leading to marriage. The ring shape itself is a gift 'design-wise', perfect for adding glamour and sparkle for the occasion.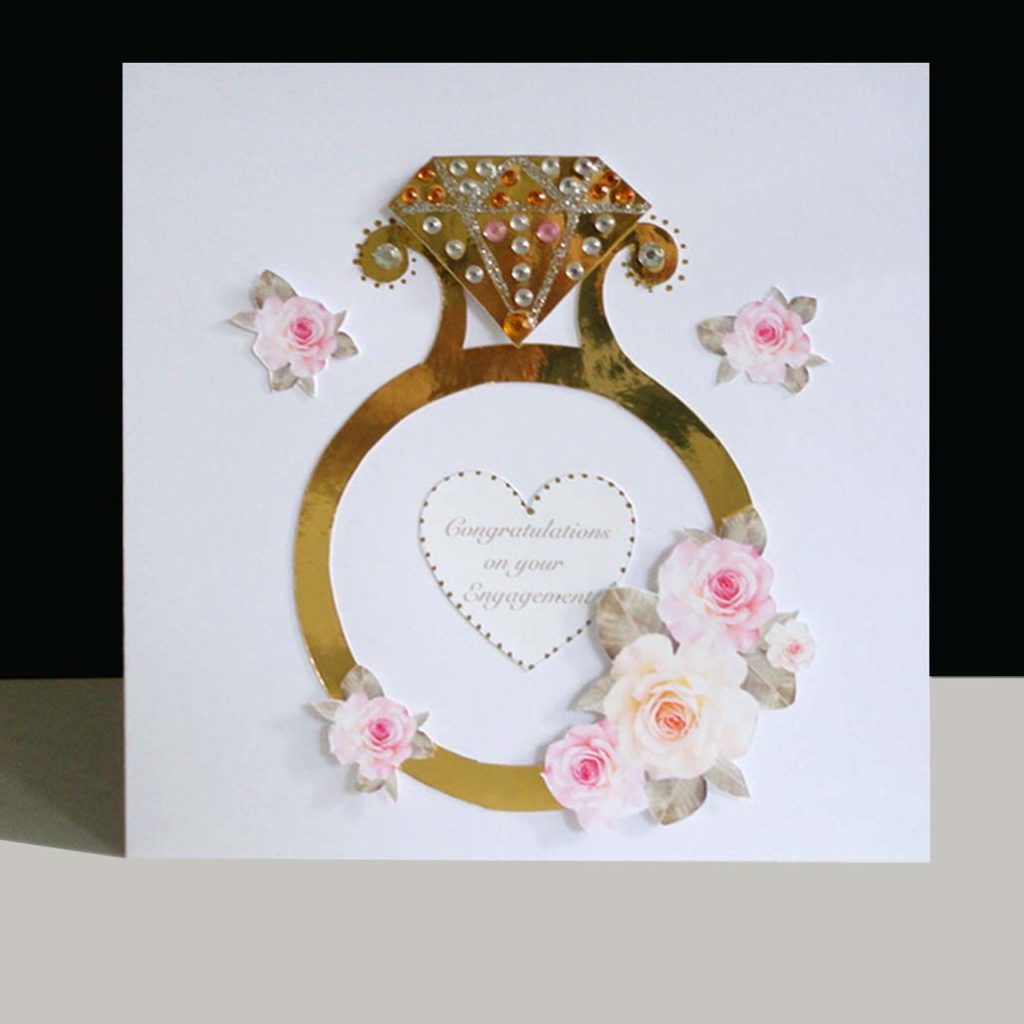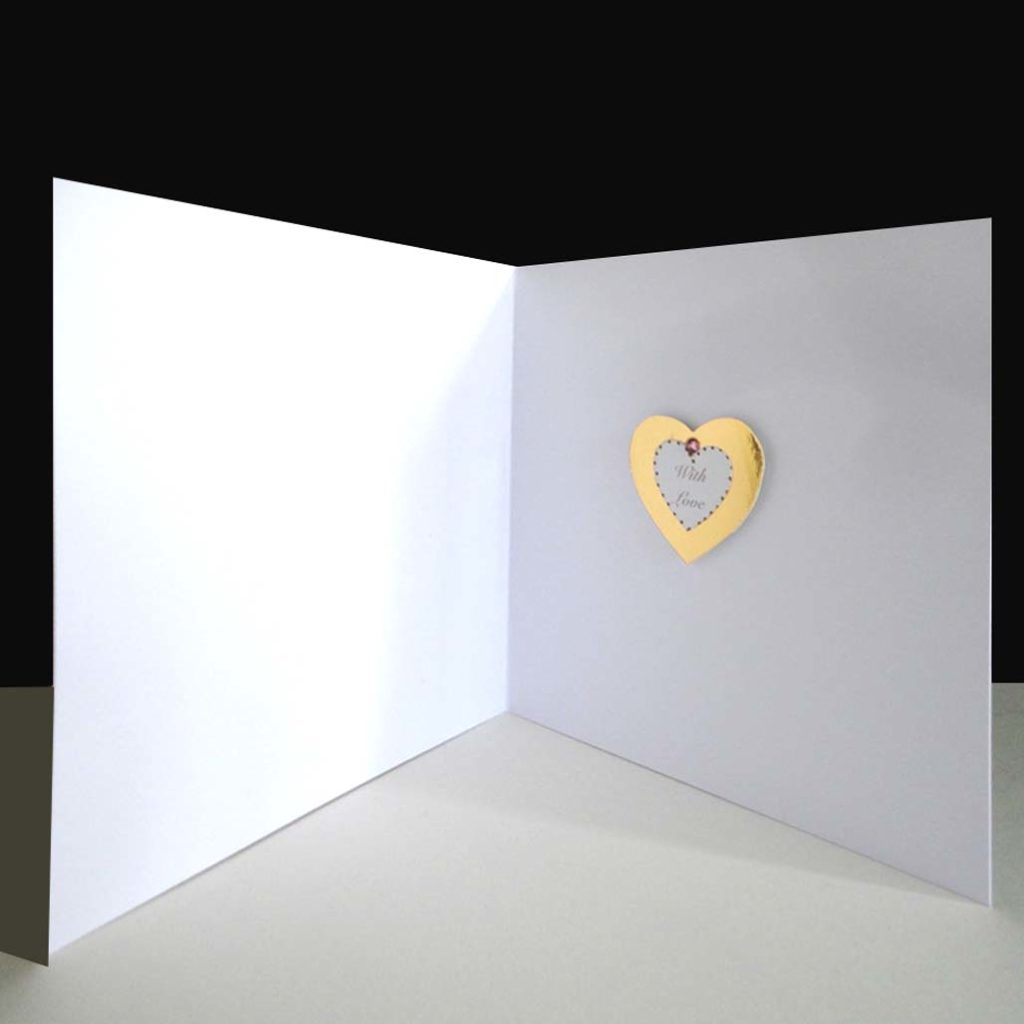 Make this lovely Engagement Card with easy-to-follow instructions. With your own choices of material, colour and text you can really make it your own design.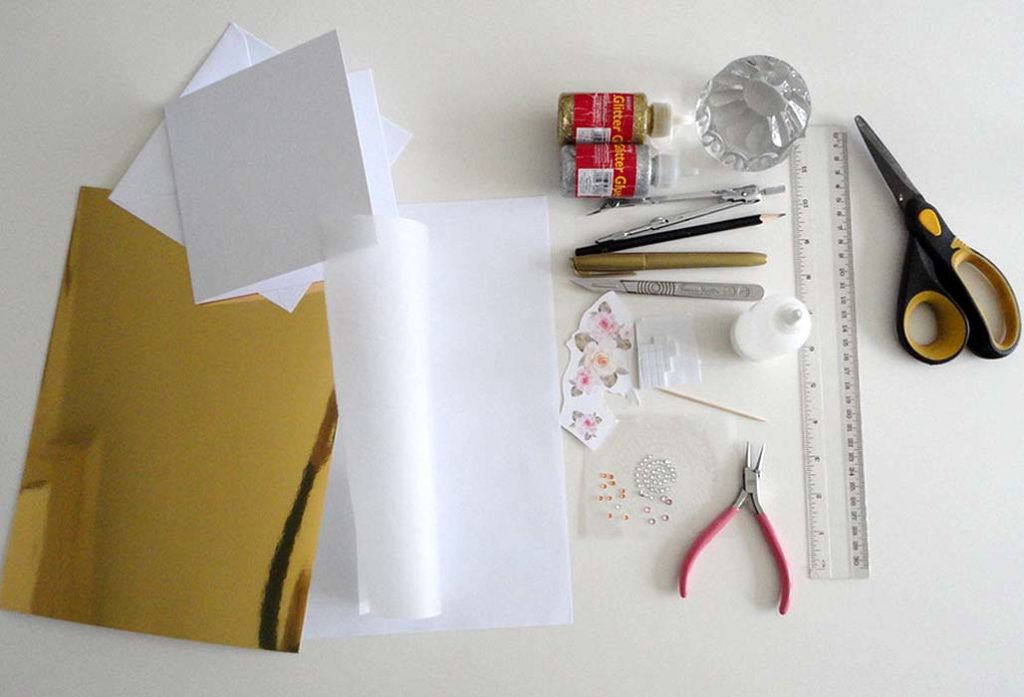 What you will need to make your own handmade engagement card
Equipment:
Scissors
Scalpel
Ruler and Compass
Pencil, gold/silver pen
White paper, tracing paper
Adhesive foam pads
Clear drying glue and a
Paperweight.
Materials:
Plain white card & envelope 150 x 150 mm (or make your own from a sheet of A4 card)
Sheet of A4 Metallic Card/ Gold or Silver
A floral card/wrapping paper
A picture of flowers – or images from the Internet / flowers you've hand painted yourself.
Glitter Glue Gold/Silver
Glass gems – clear, amber & pink coloured.
Most of these products are available from Hobbycraft or The Works and will not break the bank!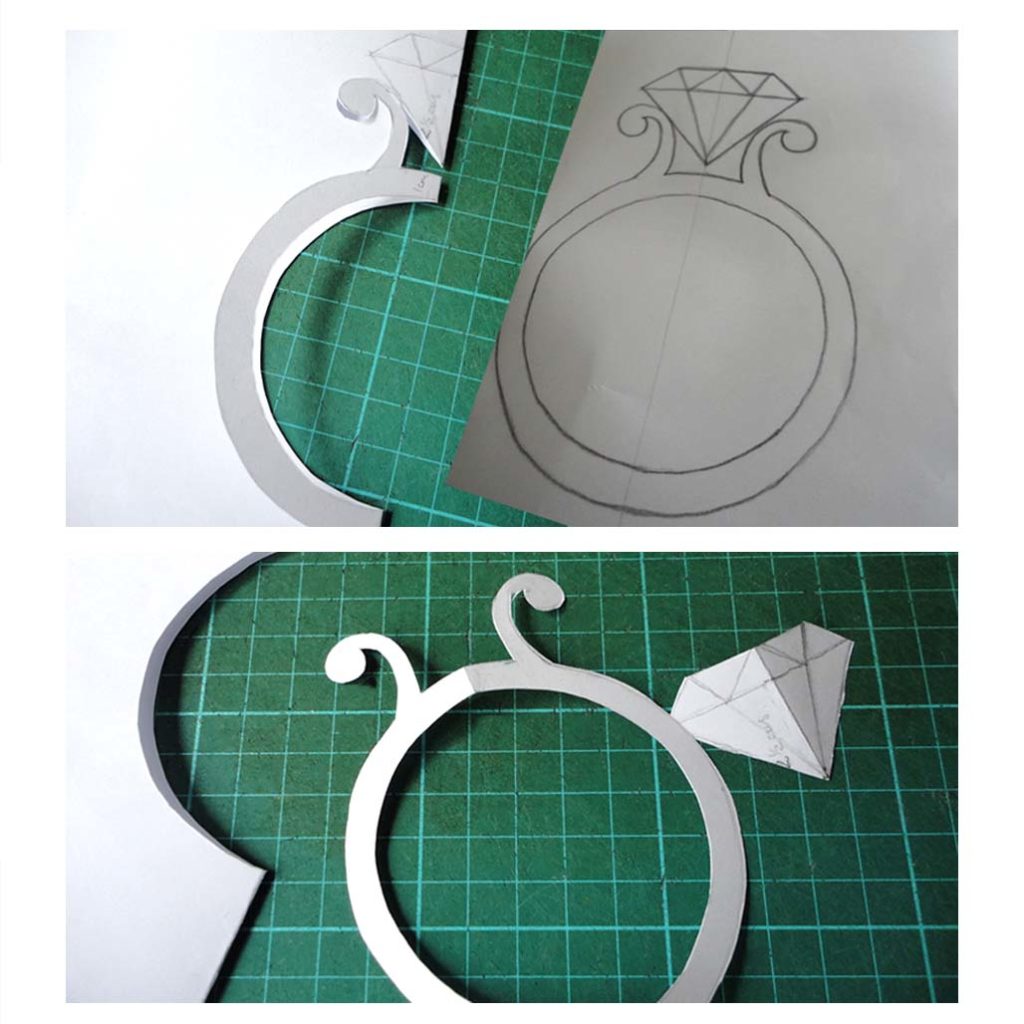 Firstly, we are going to get the circular shape of the ring. The outer circle has a diameter of 8.6 cms and the inner circle 7 cms.
Draw a vertical line on a piece of paper or tracing paper, marking out 8cms with a pencil point at 4.3cms for the compass, then place the compass point and draw a circle. Using the same middle point mark 3.5 cms up the line to get your next circle.
Fold the paper down the line so both sides, when drawn will be identical.
Mark 1 cm from middle line at top of circle to start your hand drawn swirl with a circle at the end.
To create the gemstone: At least 1cm from the top of the circle measure 2.5 cms up the line, draw a right-angled line out 2.5cms. draw a line cutting through the centre of the shape 4 cms up and a line across to the crease and join the dots up.
Of course, you could make this gemstone your own shape with a curved top, whatever is easiest as long as the triangle at the bottom will fit the shape.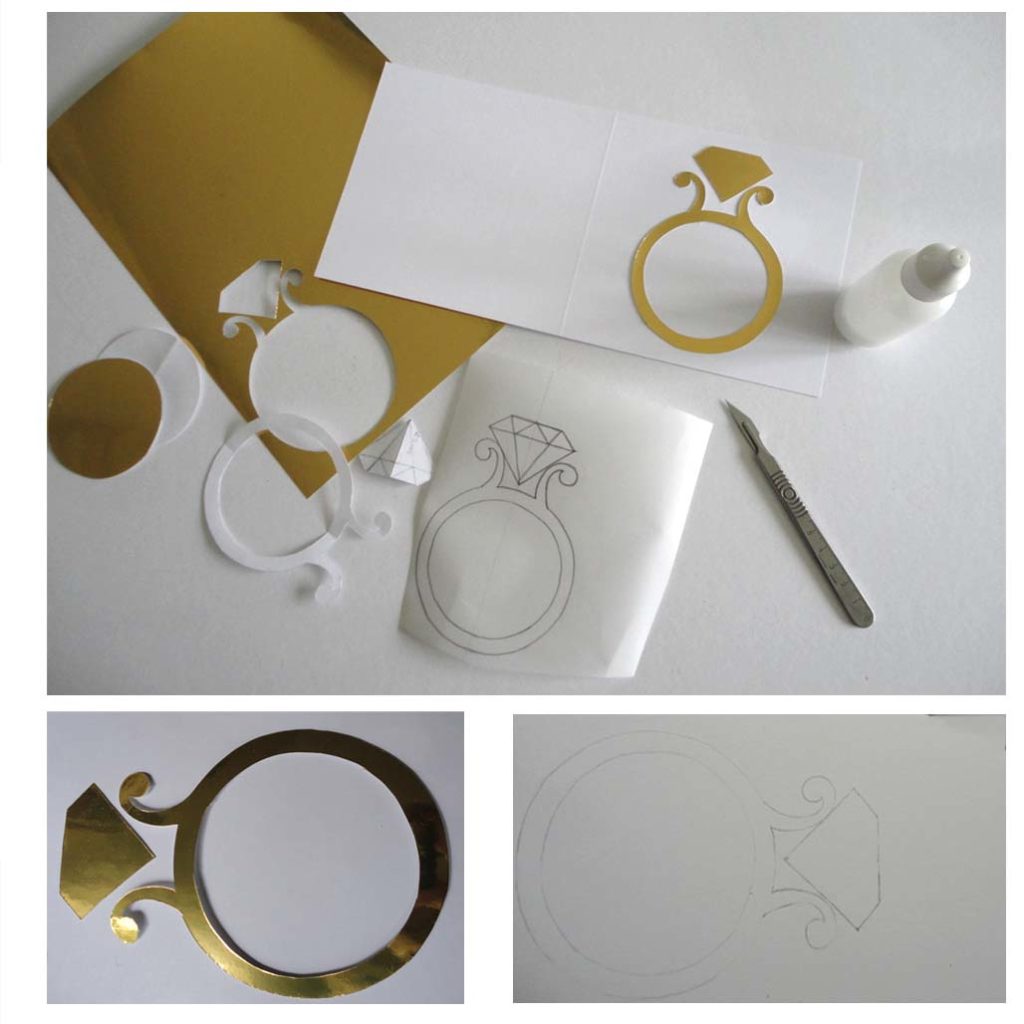 Whether using the tracing paper or the cut-out template draw the image on the back of your card and cut round. I have chosen a gold metallic card, but you may prefer silver, or glitter card or coloured or patterned paper the choice is yours.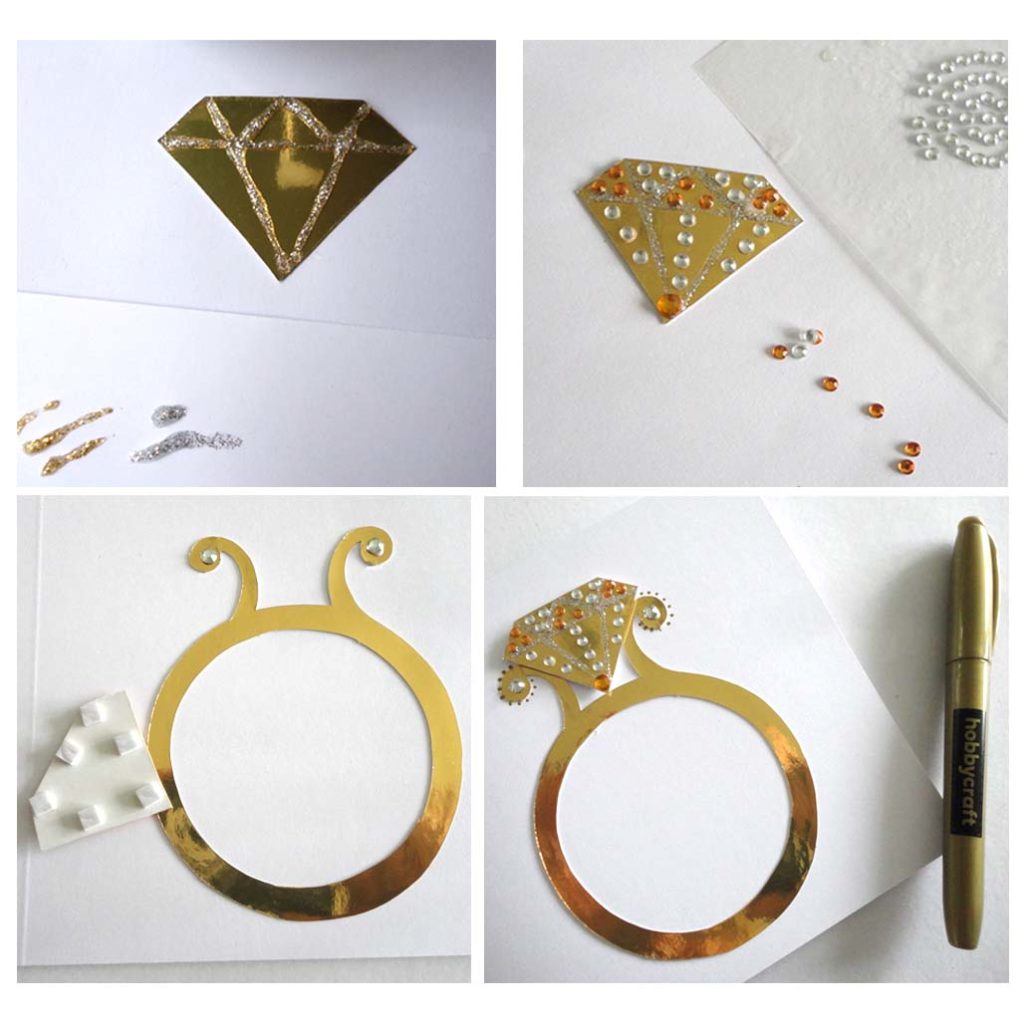 The gold ring is then glued flat, placed in the centre of the card front.
The gemstone shape is separate to the ring as this will sit in relief in its setting using the adhesive foam pads. Firstly, though I have accentuated the lines with a silver glitter glue giving a framework for the gems, of which the choice of colour is yours – do this and let it dry before mounting. One large clear gem has been placed in the circular mounts each side with gold marker pen dots following the shape round.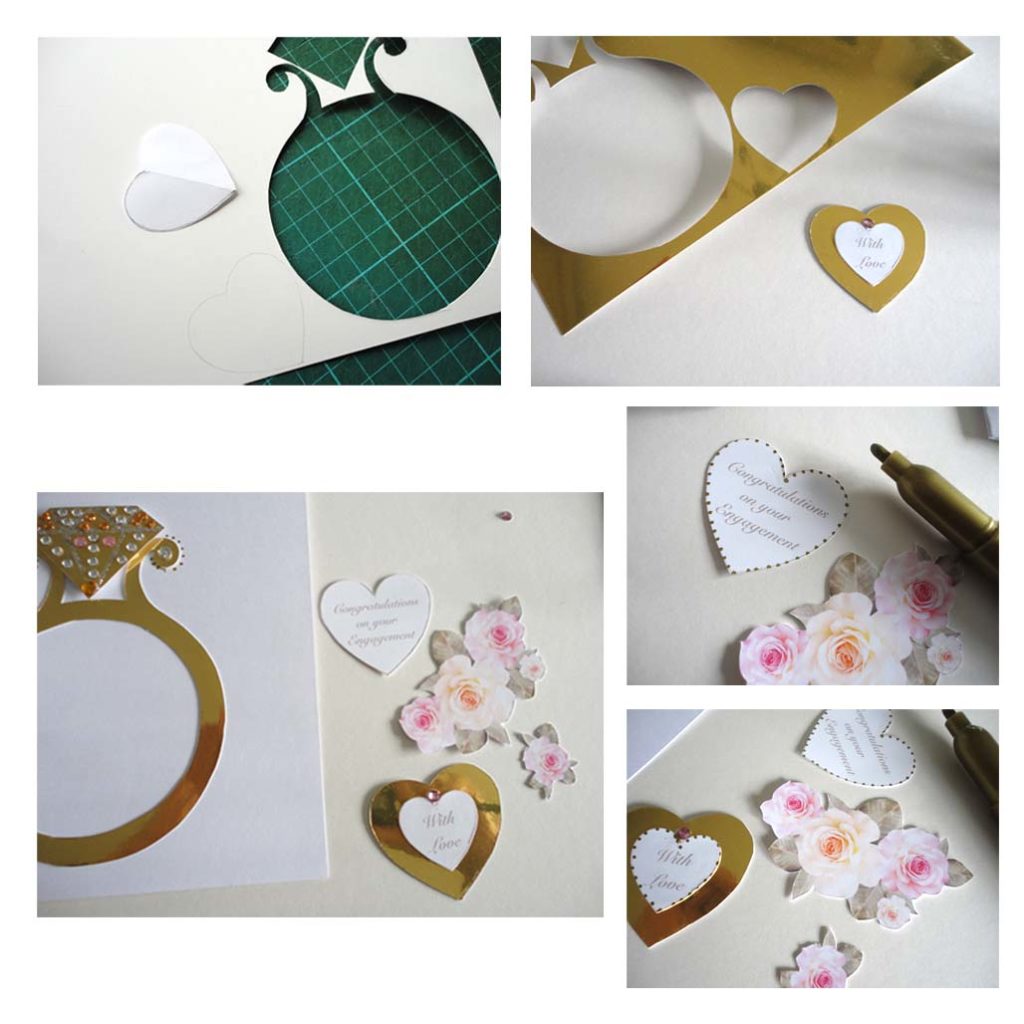 You need a nice arrangement of flowers that can sit in relief on the ring, and a couple of smaller single ones for spacing around. I have used some images I had already printed for cards, but as suggested you could cut images from old cards, wrapping paper or material, but the latter may need a card backing before mounting.
Text is always difficult; this example is printed and cut out, but you could write these messages yourself with a metallic pen; take a look at Faux Calligraphy tutorials, use a ruler stencil or even buy ready stick on text if you are unable to print this out successfully.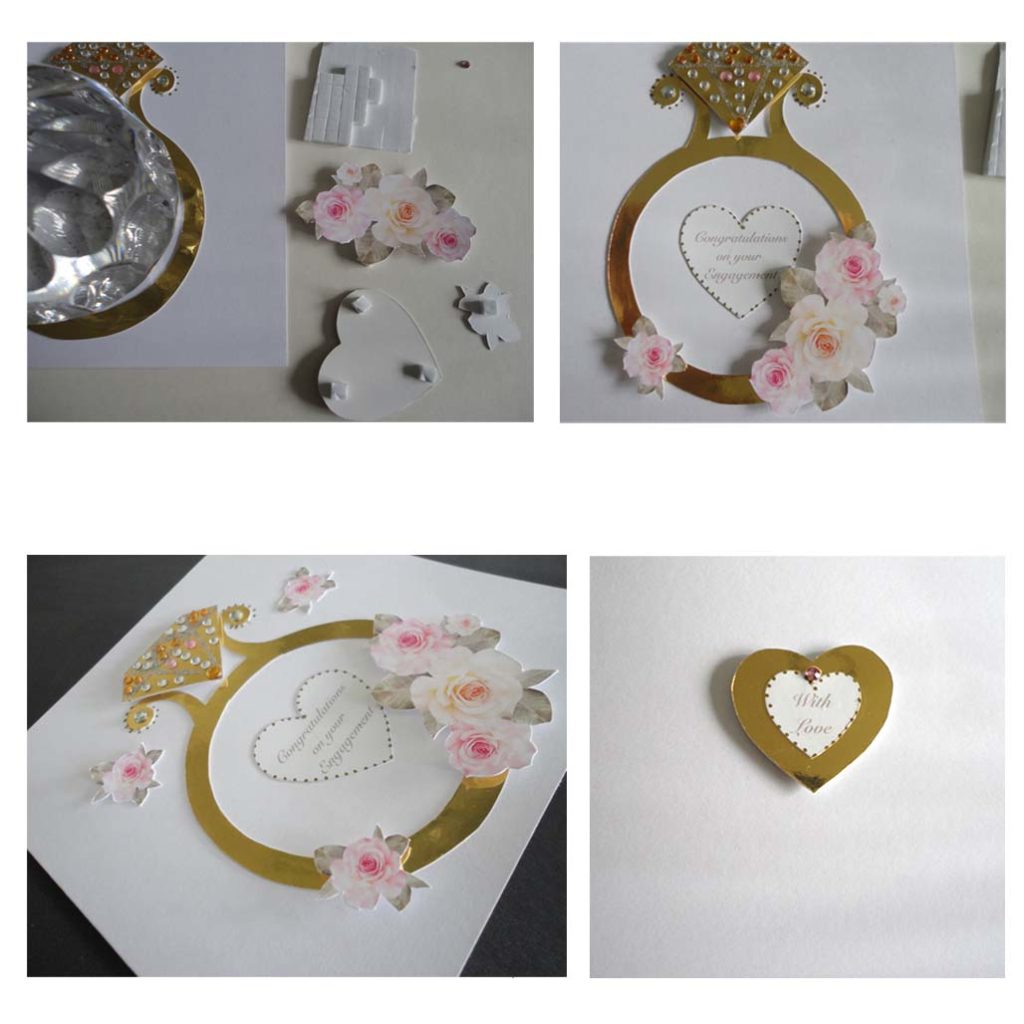 The central heart text says 'Congratulations on your Engagement'; obviously, this could be personalised with names. The heart is placed centrally and glued flat using a paperweight to hold it firm and flat. The flowers are then added with the foam pads. Inside the card is a 4cm gold heart with a smaller one inside saying 'With Love' with extra gold dots and a pink glass gem.
If you are looking for more inspiration you can check out our other Engagement Cards.
I hope you enjoy making this card and have fun experimenting with different materials, to create a truly original design!