Love this roundup? See our brand new Handmade Christmas Card Guide for 2019 and Thanksgiving Card Guide.

Despite your very best intentions, you still find yourself scrabbling through that 'birthday box' you keep under the bed, desperately searching for a scrap of wrapping paper and a blank card. Well this year, how about you say no to half-hearted gestures for your friends and family members' biggest celebrations and instead get organised.
To help you, we've compiled our definitive 2019 guide to the best, prettiest, quirkiest and loveliest birthday cards out there.
We've left no gift-giving stone unturned to ensure you have instant access – and clickable links – to some of the best cards around. No longer will you feel obliged to head to the big name high street card shop; with all these unique cards at your fingertips, you can get out that Birthday/ Occasions list for the year and buy now to save time and trouble later. Plus, these cards are cool!
We've split our guide into handy sections to help you quickly and easily find the card(s) for you. Read on…
Handmade Birthday Cards for Her
If you're looking for a card for your mum/sister/friend/auntie (delete as appropriate), we've got you covered. And while we hate to generalise by assuming all ladies love flowers, hearts and the colour pink, we kind of have here! But you know; you can mix and match these cards – and their corresponding sections – as you please. Hey, your Dad might be partial to a floral card, too – and why on earth wouldn't he be? Here's our pick of the best cards out there: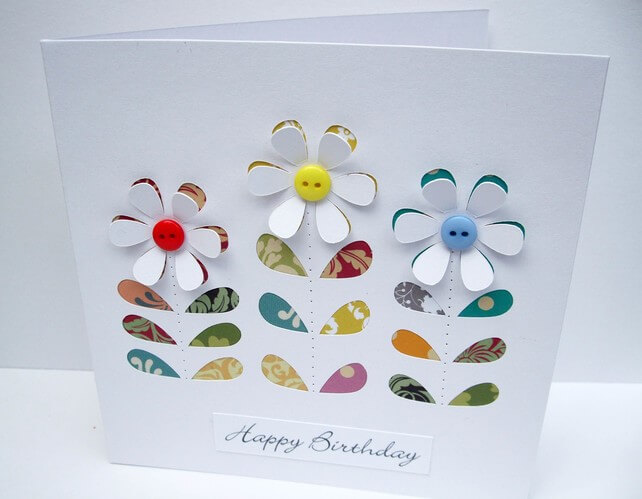 How pretty is this card, above? Featuring a lovely trio of blooms, this Folksy favourite is less than £5 and has been designed by the (very creative) Nikki Meara.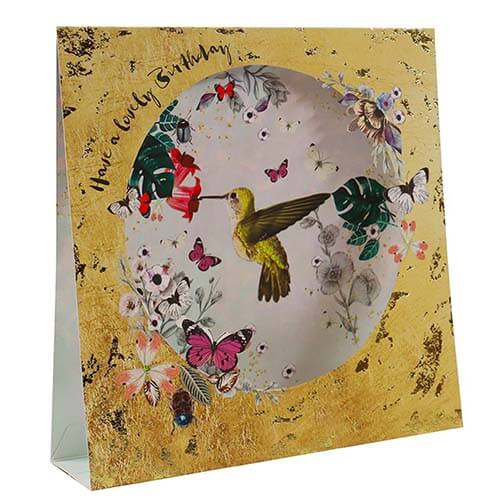 We all love the amazing Hummingbird and this pop-up card from Paperchase will certainly make sure she has a lovely day!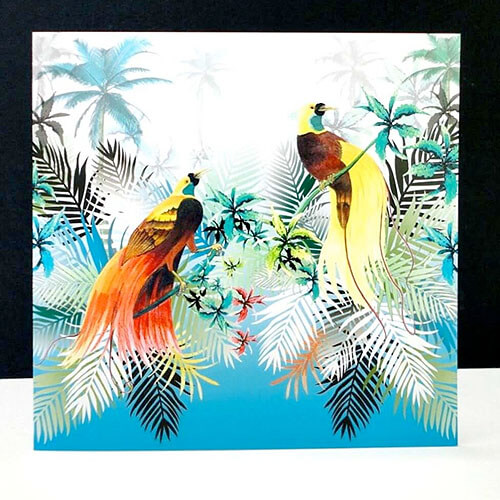 Here are some more of our uniquely stunning feathered friends- Birds of Paradise definitely have that Wow factor! This tropical scene created by Decorque will brighten up anyone's day!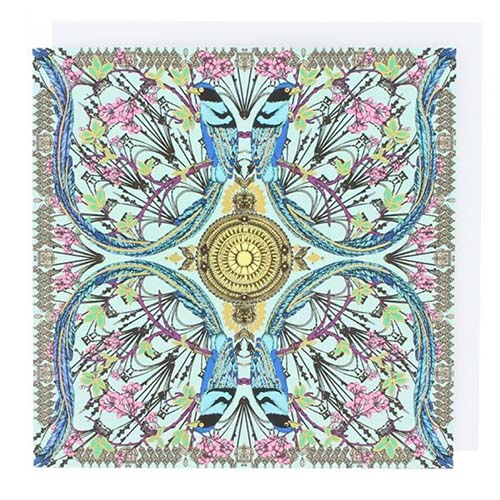 Matthew Williamson is a favourite designer, loves pattern colour and like me nature. The Songbird Card is another beautiful card you'll agree!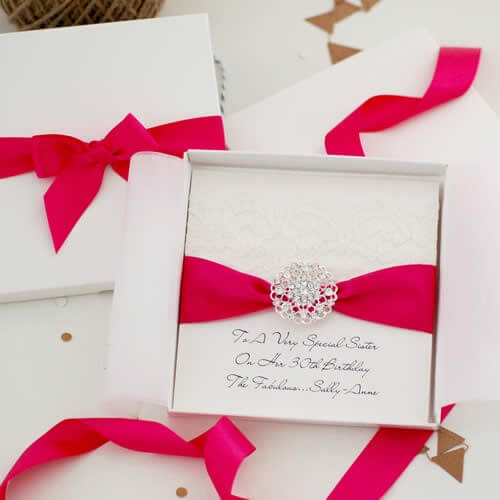 Over at Made with Love Designs, you can choose a gorgeous, personalised card that has your best friend or mum written all over it. With lovely, hand-scrawled-style text and a bold pink ribbon featuring a decorative brooch, this is gorgeously girlie.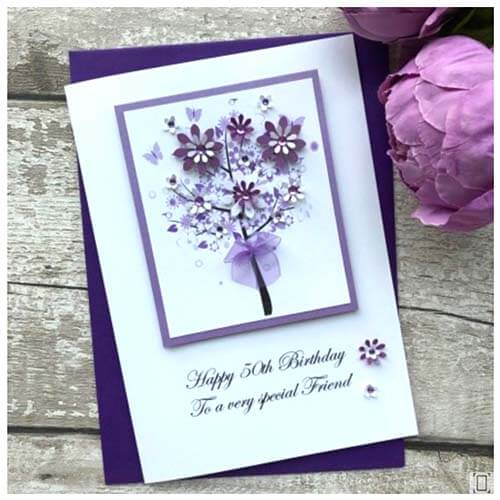 We're sticking with a floral theme over on the Pink and Posh site – and this Personal handmade card will brighten up anyone's special day
These beautifully-designed cards are a gift in themselves. Created using ribbon and cute embellishments, they're a step up from your average, high street shop-bought greetings card.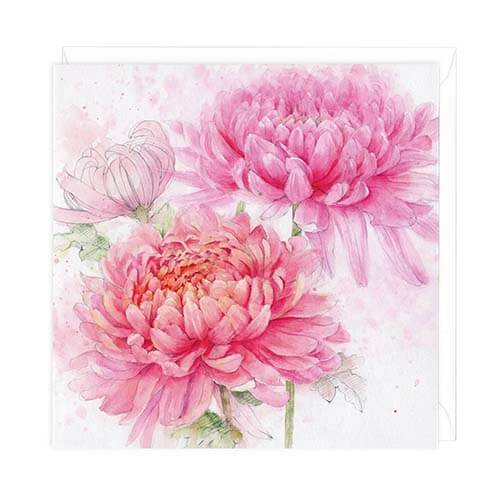 These pink watercoloured chrysanthemums by artist Rose Eddington you'll agree are beautiful and bring some Summer into a special day!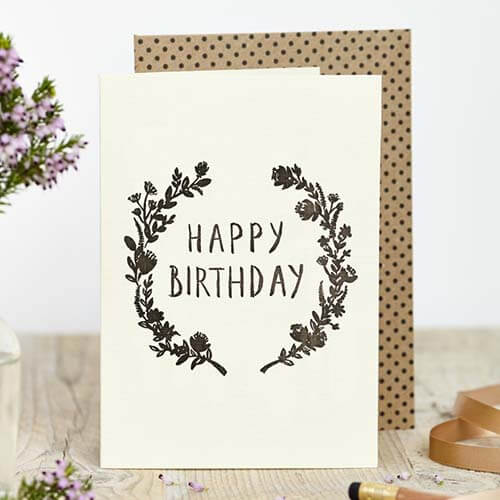 I think there is always a place for hand-printed cards and this simple floral design on cream by Katie Leamon would be a great choice in it's polka dot envelope.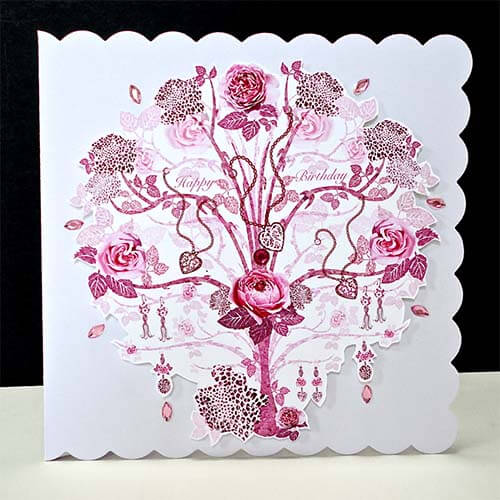 It's not always the size of the card that matters, this little gem is so pretty with a decorative tree of pink roses and jewels.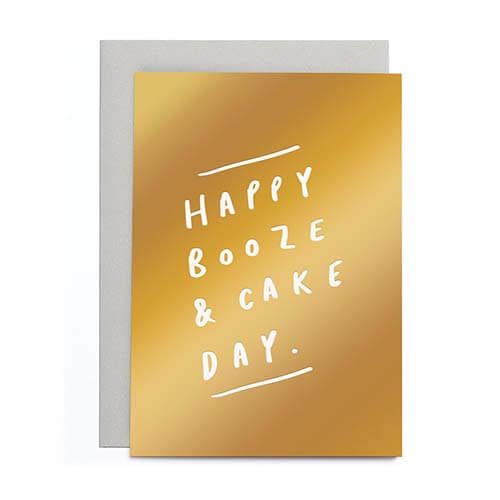 This gold foil Booze and Cake Day Card from the OldEnglishCo may just sum up that perfect Birthday celebration!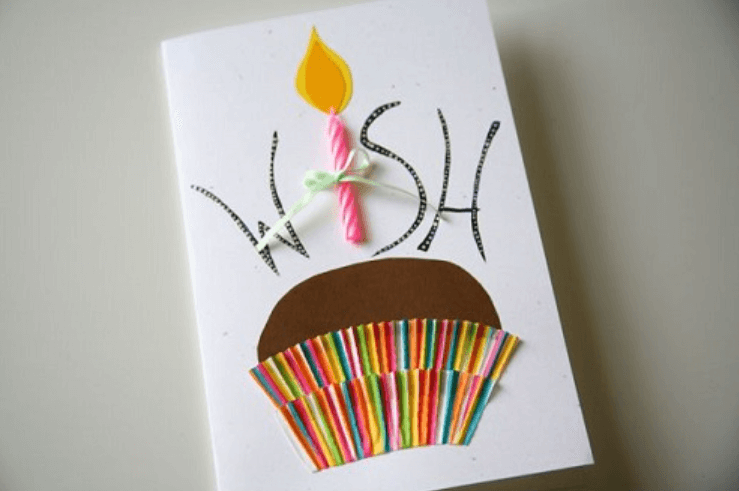 The site My Happy Birthday Wishes has pulled together a blog post featuring some beautiful ideas when it comes to making your own cards. We love this one, above, which makes use of a multi-coloured cupcake case and a candle – what a great idea!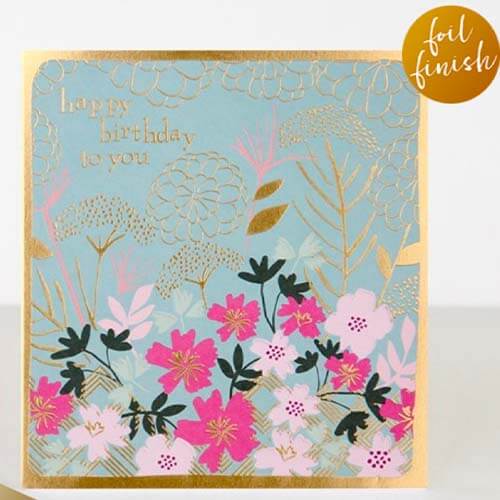 There is nothing like a touch of gold to make a card look special. This Kimono Floral from Caroline Gardner has gold foiling and yes, a gold envelope!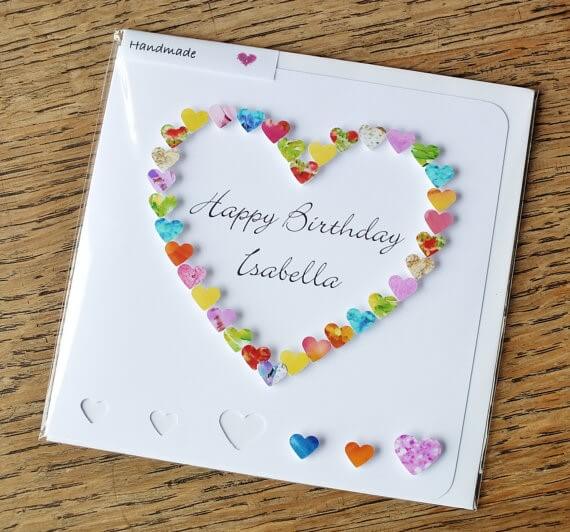 CardsbyGaynor is a lovely Etsy shop, which is absolutely choc-full of gorgeous cards. This one (above) jumped out at us straight away, thanks to its pretty embellishments and cheery colour palette. Are you a fan, too?

The British Rose is always a favourite and you can almost smell that sweet scent of this intense cerise bloom photographed fresh from the garden for this gorgeous handmade Birthday card from Decorque.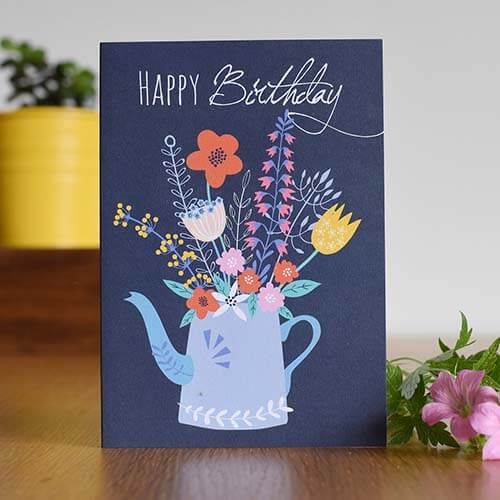 Tea pots, coffee pots we all love a cuppa on our Birthday. This stylised floral teapot is really eye-catching on its blue ground. A really nice design by Jane Farnham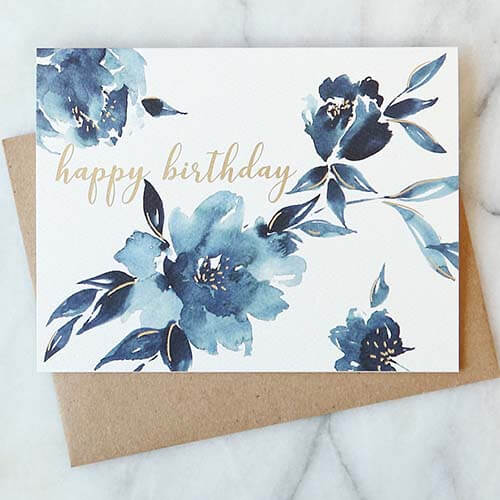 Not a fan of pink- favour the cooler tones of blue- a lovely Indigo Floral watercolour Birthday card with shiny gold foil accents may be the perfect choice.
Handmade Birthday Cards for Mum
Is your Mum's birthday on the horizon? If yes, you'll definitely want to check out some of these pretty cards we've hand-selected from the Internet. From traditional cards to something a little bit different, you'll find exactly what you're looking for in our guide.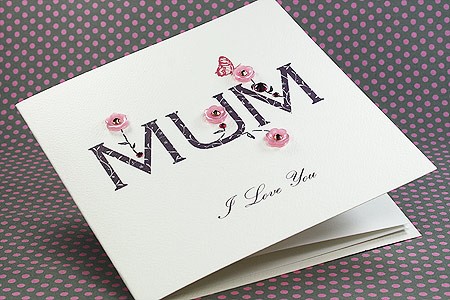 Show your mum how much you love her next Mother's Day with this daintily-designed card from the talented folks over at Lotus Art Studio.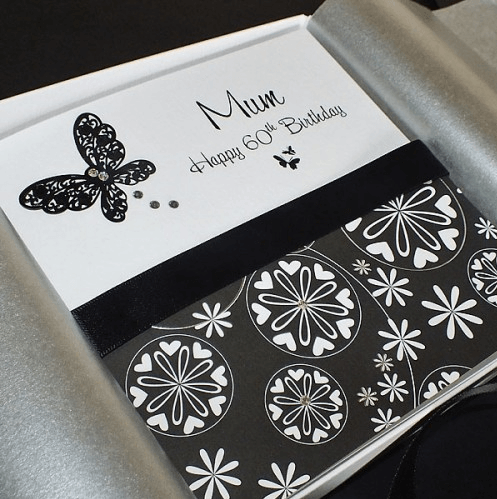 Monochrome is the theme of this stylish birthday card for your mum, from Purple Mountain Designs. With a contemporary floral and butterfly print, this card can even be framed or popped on a cork board to add interest to a lounge, spare room or bedroom.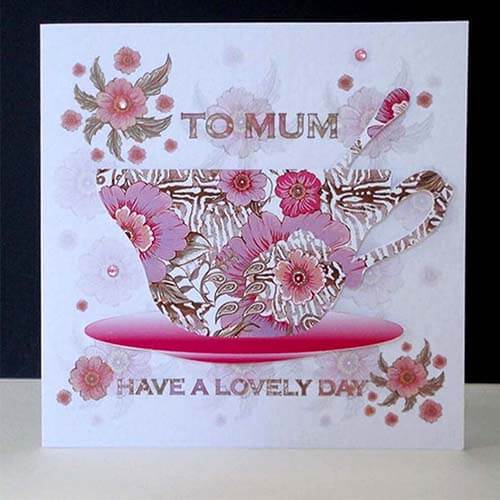 So Mum loves a cuppa to celebrate with her slice of Birthday cake, who doesn't, well here's the perfect card a beautiful floral china cup and saucer! No mugs on our Decorque designs!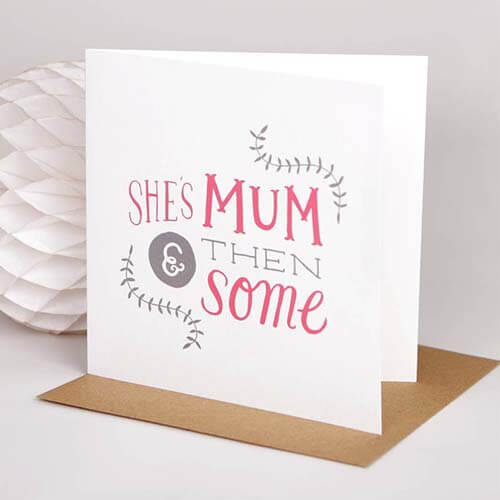 If your Mum is not just your mother, but your child's babysitter, your agony aunt and your personal cleaner, this card via Bespoke Verse is definitely the one for you. Or you know, your Mum!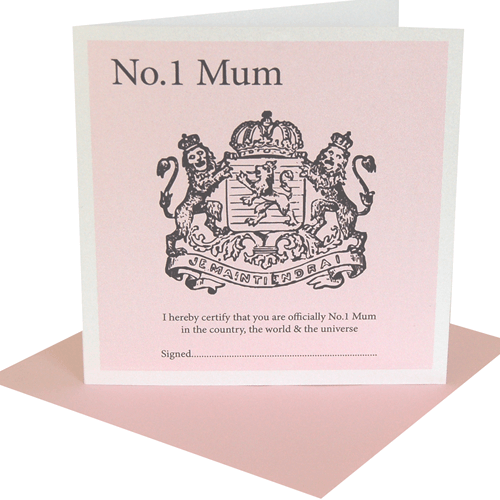 Number one Mum? Let her know with this fancy schmancy-looking certificate in card form. It's from Made with Love Designs and it's ideal for Mums with a touch of class about them. So everyone's Mum, then.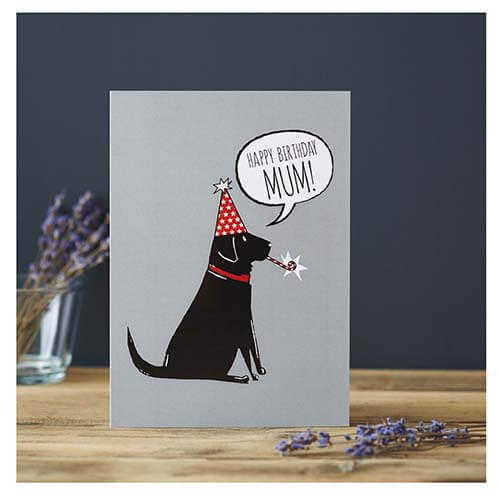 Have you a Dog Loving Mum? Ok then here's a fun card to make her day!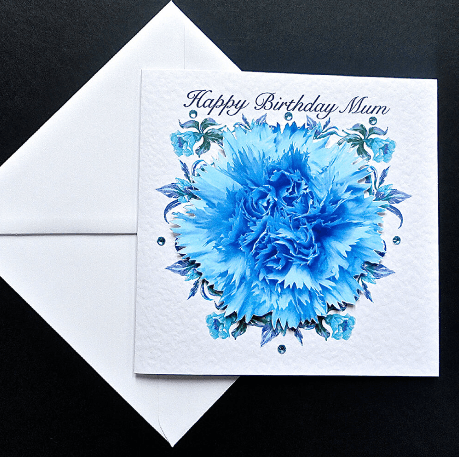 We never disappoint here at Decorque when it comes to lovely-looking cards for Mums. This blue floral one is no exception; it's been lovingly-designed by me on embossed card and features a striking blue carnation in the middle – just gorgeous, we're sure you'll agree.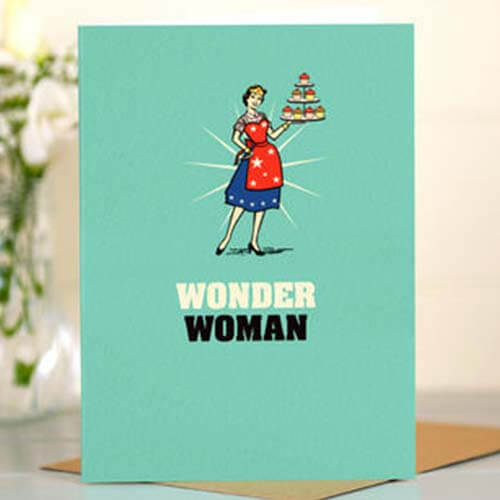 Being a Mum , I think this card says it all!!!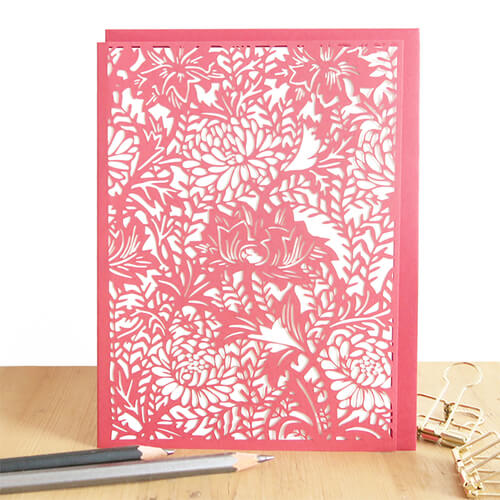 The William Morris prints are definitely on trend at the moment and I'm sure Mum would love this similar designed pattern laser cut card from Chau Art Papercut.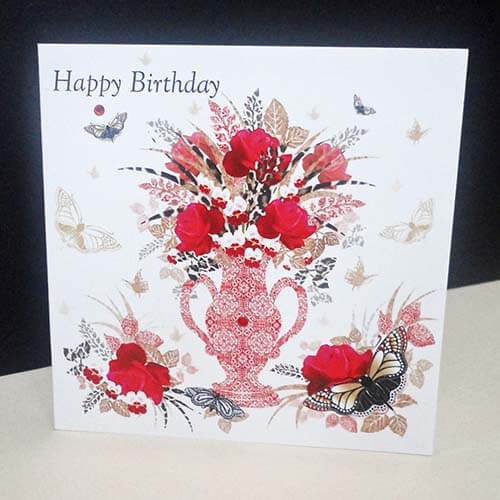 All Mums love a bouquet of flowers, this decorative floral arrangement in a vase is one of my most popular cards. A real Birthday Treat!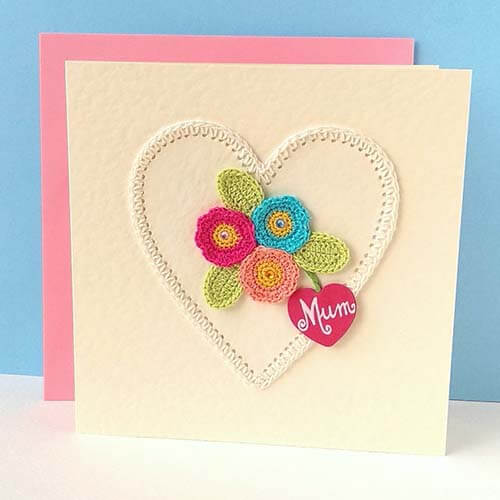 Original crafts make unique cards. This is a perfect example by Treeofgoodwishes is a lovely stitched heart on cream with crochet flowers. A cool idea – the flowers could make a nice broach too!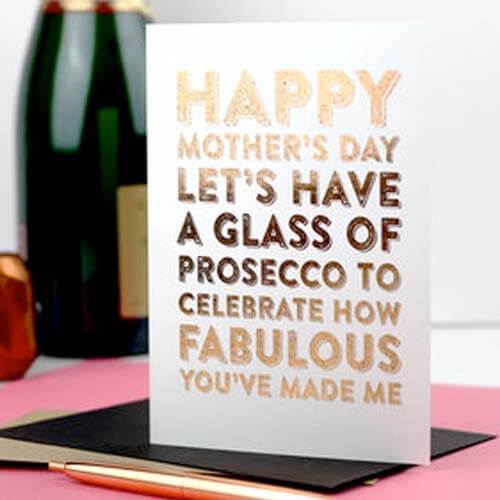 Mother's Day is another day to thank Mum. A glass of bubbly and a bit of self-promotion doesn't go a miss!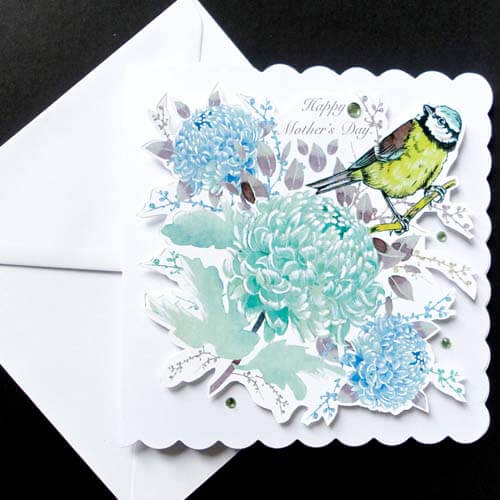 Love hand-painting my subjects and this beautiful garden bird and chrysanthemums is my Mum's favourite and I'm sure will delight your Mum on her special Day too!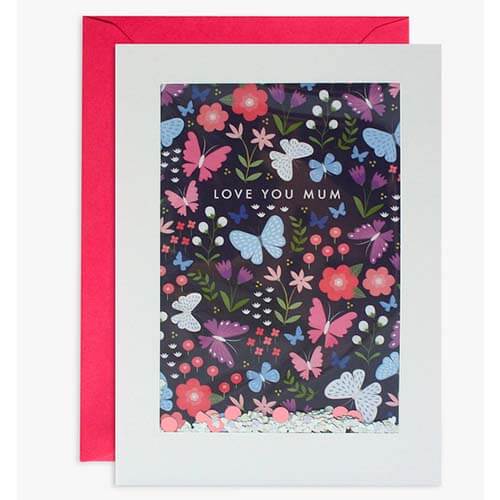 Butterflies and Glitter by James Ellis is a lovely design to say 'Love You Mum'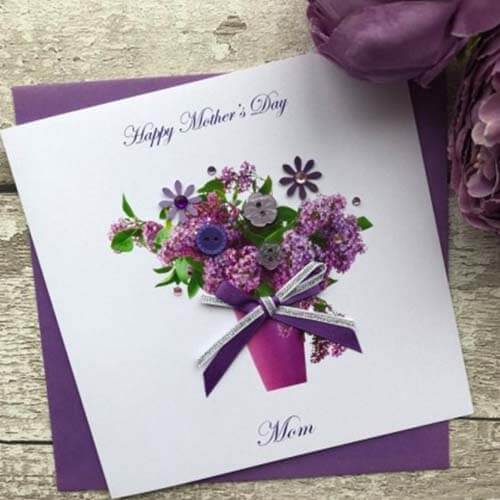 If you don't mind splashing out a bit more for Mum. Pink & Posh create beautiful handmade personalised cards. You'll agree this vase of lilac flowers is delightful!
Handmade Birthday Cards for Grandma
"Grandma, we love you. Grandma we do." Name that tune! Actually, the clue's in the name. Pick out a card perfect for your Nanna with our selection of the very best handmade cards for grandma. Take a look…
Etsy is a real wonder of the Internet, thanks to the many arts and crafts you'll find on the site.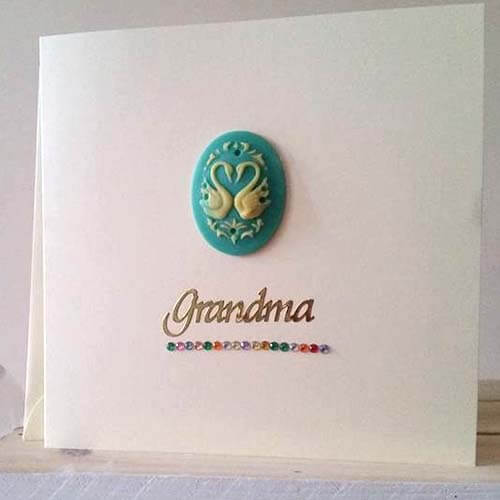 A Blue Swan Cameo may just be the card for Grandma, a simple elegant card with gold lettering and glass gems to add a sparkle to the day! A nice one from TheHandmaidens Tale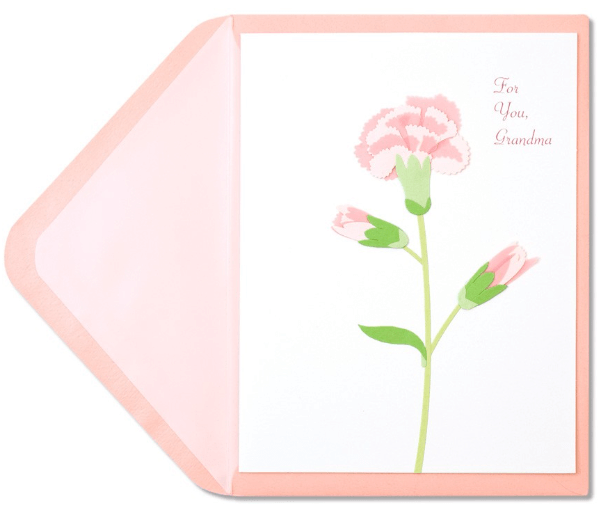 Papyrus Online has some lovely cards, like this carnation printed one. We just had to share this one with you; it's super pretty, with a flower that looks almost 3D.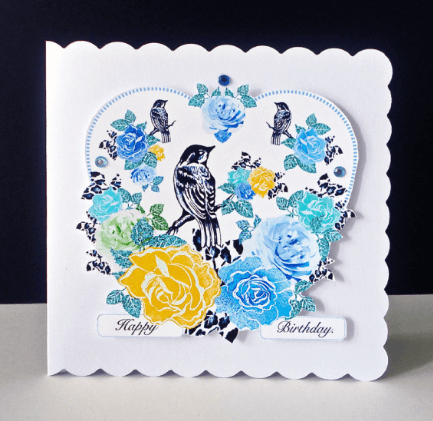 Offering a pretty pop of colour almost as soon as your Grandma opens the envelope, this vibrant card with birds and roses set in a heart has been lovingly designed by Lesley R Stevens.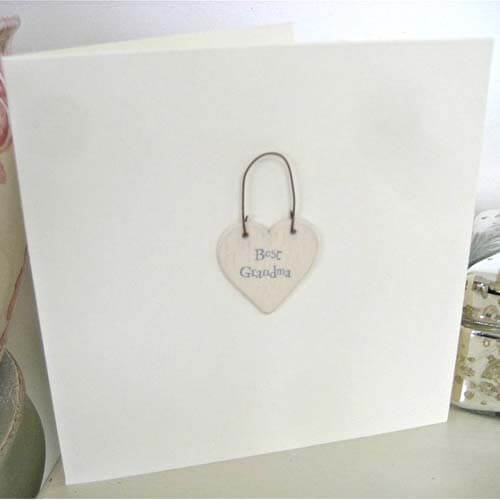 Is your grandma the best? Don't forget to tell her! Not on the High Street saves the day, thanks to this simple yet stunning card via Chapel Cards.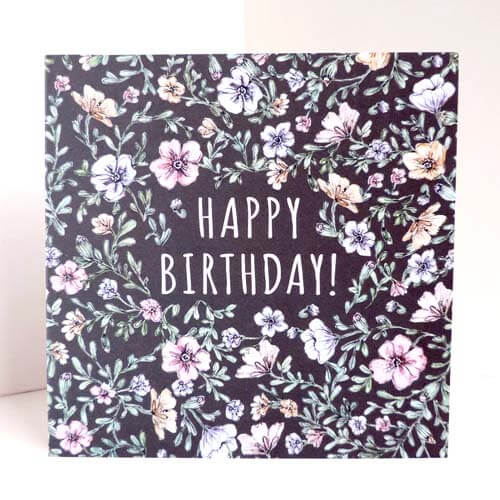 An allover pattern like this watercolour botanical floral on black makes a delightful card for any family member by TheInkyDeer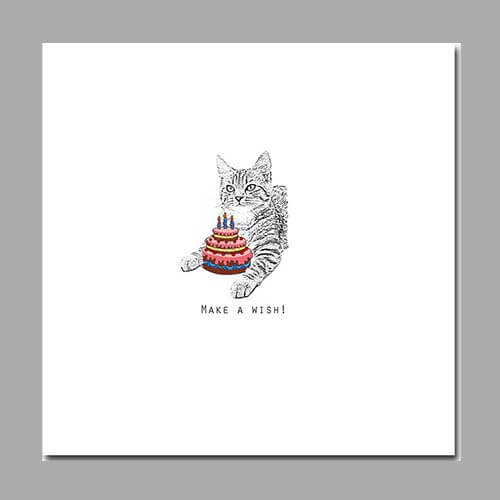 Not all Grandmas love cats but our feline friends are so popular and Make A Wish Card by Sarah Boddy is lovely with a Purr-fect cat and cake!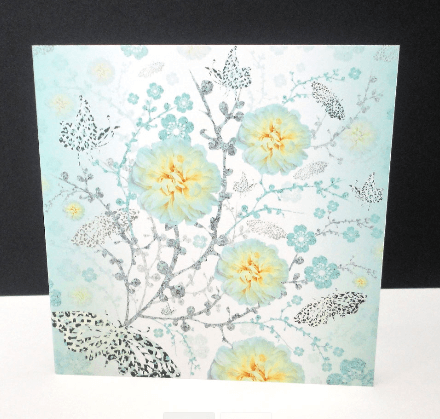 At just £1.45, this beautiful handmade card – on a white background with soft turquoise ombre tones has opaque layers of blossom and branches. A lovely handmade card for a Nanna (or even a sister, auntie or friend), it's also ideal for any occasion.
Handmade Birthday Cards for Aunt
Does your Auntie mean a lot to you? Make sure you don't forget to let her know. And thanks to this cute and quirky selection of handmade birthday cards for Aunt, you'll be spoiled for choice.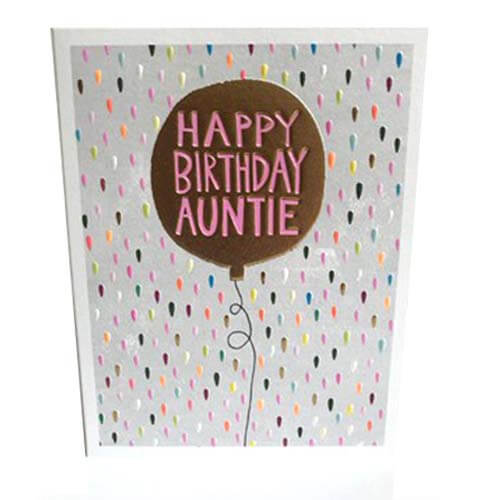 Auntie will love this textured card with embossed neon and gold foiled balloon.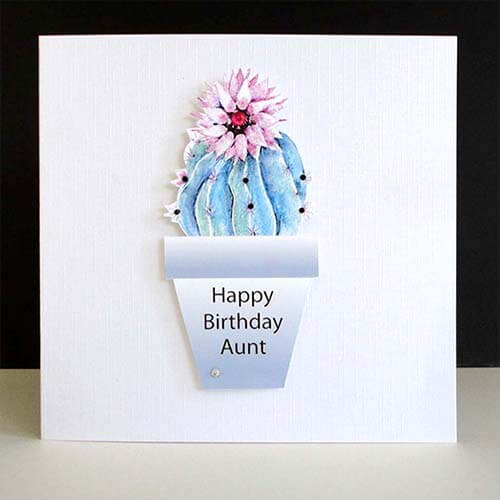 Aunts love a potted plant as a Birthday gift and this special Rosy Pincushion Cactus comes ready to send on a card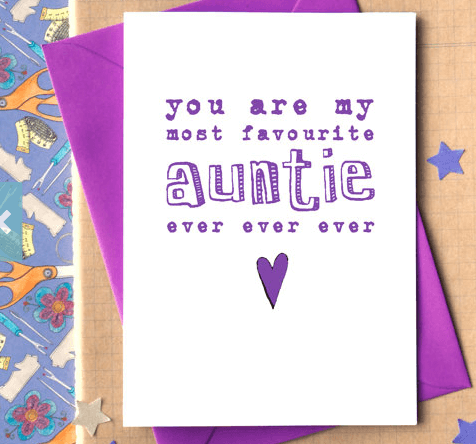 Simple and striking, this white and purple handmade card has a purple-loving auntie written all over it. And you can't help but smile at that cute slogan, too.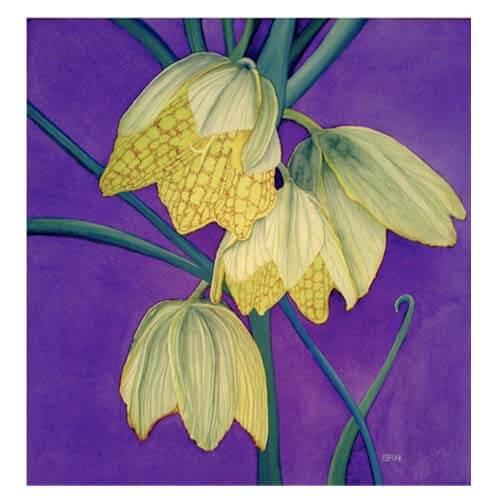 What a stunning card this is from an original painting by Sue Harrison The Fritillaria really comes to life! One to keep and frame!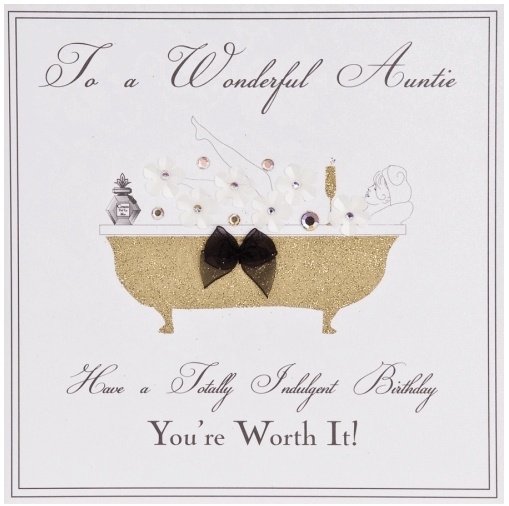 Glitter? Check! Embellishments? Check! This card is 'totally' worth the money. Head over to Tilt Art to get yours!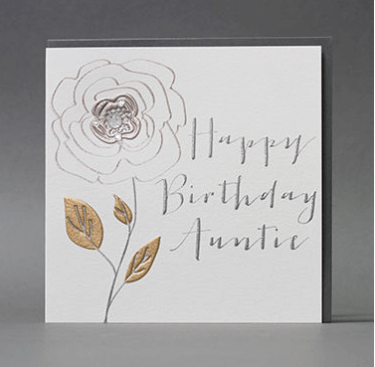 With a chic design, this 'Happy Birthday Auntie' handmade card offers a simple look for the Auntie who doesn't like too many frills and fuss. Are you a fan, too?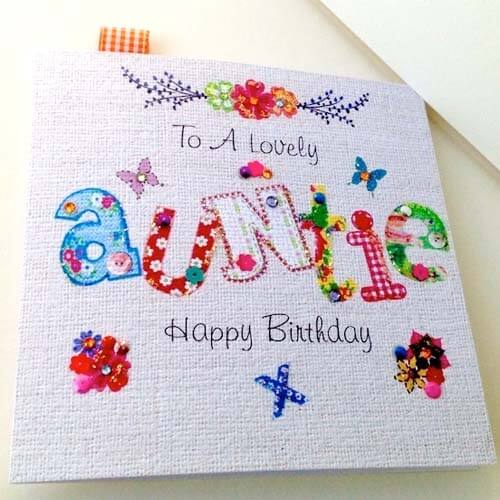 Well, would you look at this beauty of a handmade card! It's over on Folksy via Stephanie Short Stationery's page. And at just £1.95, it's not a bad price for a hand-finished piece of greetings card art like this.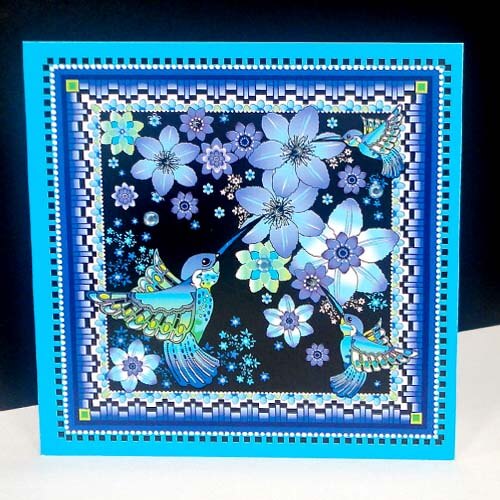 Vibrant colour, decorative flowers, geometric patterns and another amazing Hummingbird I think Aunt may like this one!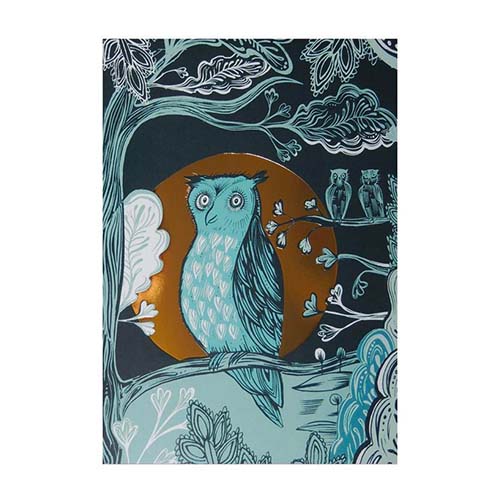 This decorative wise owl is a great design from Lush Designs
Handmade Birthday Cards for Sister
You've grown up with your sister, so it's true that few people will know each other better than you do. Show her just how well you know her by choosing the right handmade card for her ahead of her next birthday. To help you, we've picked out a few: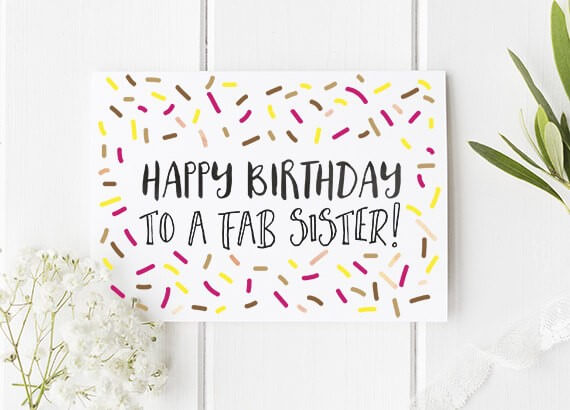 This Etsy card, available at VeraLaLune's shop reminds us of the hundreds and thousands you get on a birthday cake – yum! It really does look good enough to eat, doesn't it?!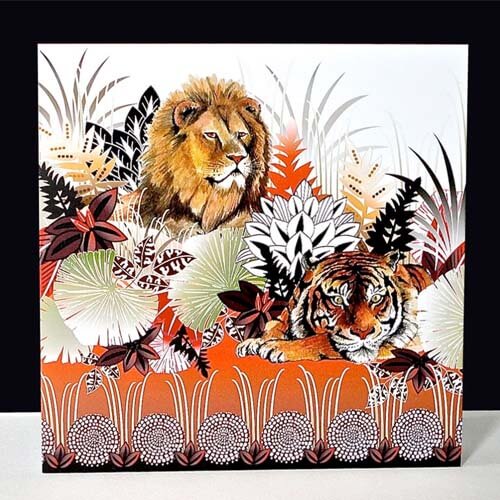 I'm a great fan of all the Wild Cat Families hence this Big Cat Reserve design, may be your Sister loves them too! She can enjoy it, then frame it!!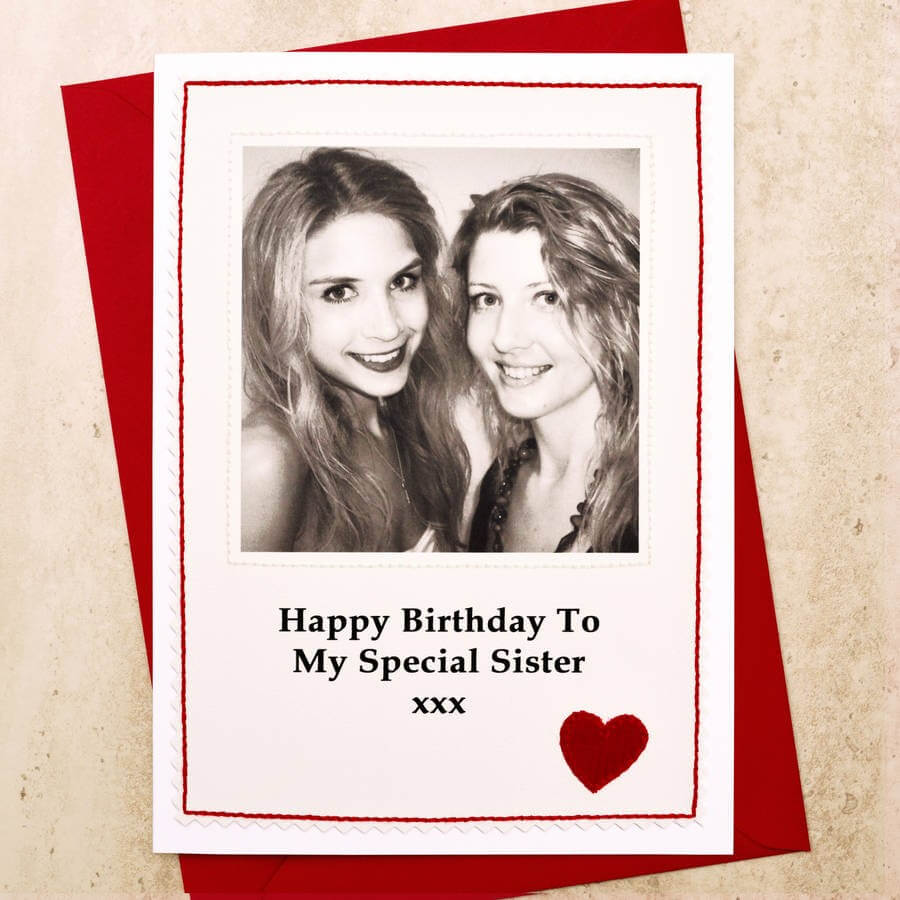 If you're always chuckling about a treasured old photo of the two of you, why not add it to your sister's next birthday card? Jenny Arnott has it covered with this beauty of a card, over on Not on the High Street.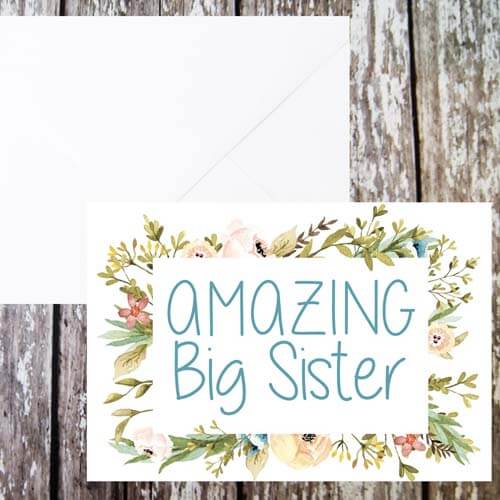 Yes, a card for your Amazing Big Sister – Amazing!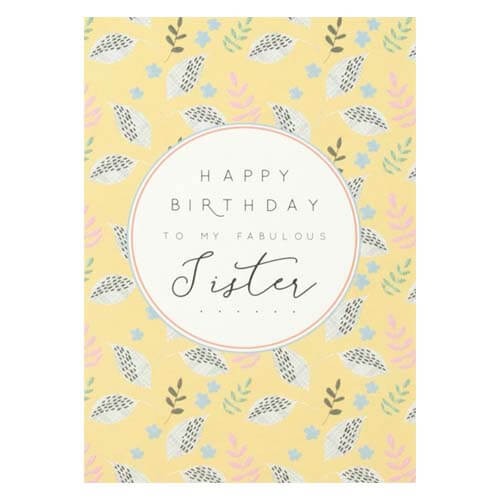 This pretty leaf design card will make your Sister feel Fabulous on her Birthday!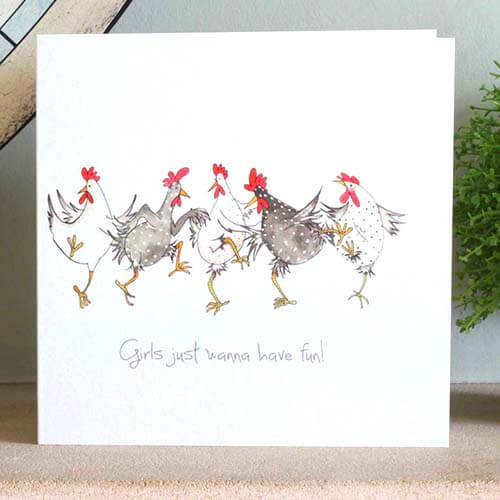 Girls Just Love Wanna Have Fun! Does this card sum up your sister?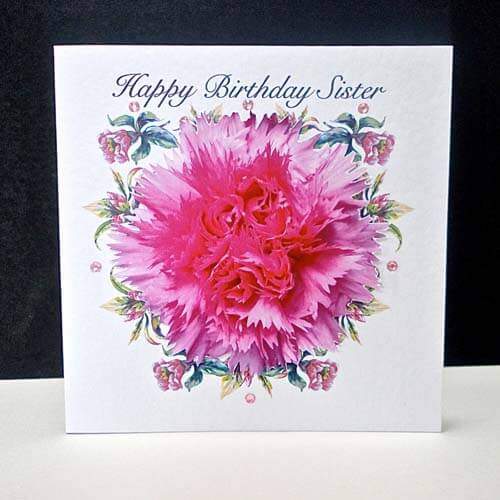 If your sister prefers the more traditional floral Birthday card, you can't go wrong with a Pink Carnation. A stunning hand-cut bloom with plenty of sparkles!
Handmade Birthday Cards for Girlfriend
From the quirky to the very, very cute, we've rounded up some of the Internet's coolest cards for your girlfriend's birthday.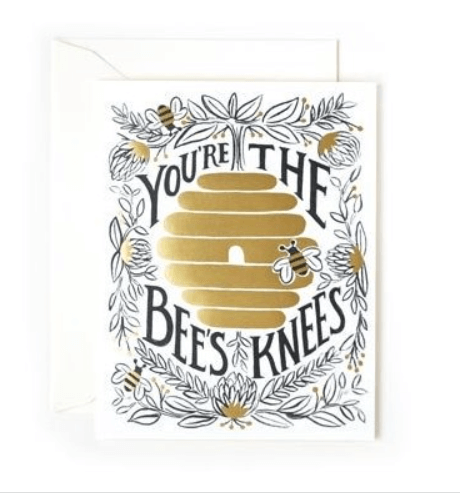 A fun card direct from the The Paper Parlour it shares a love of animals and insects. And with a fun phrase on the front, we bet it'll be right up your other half's street.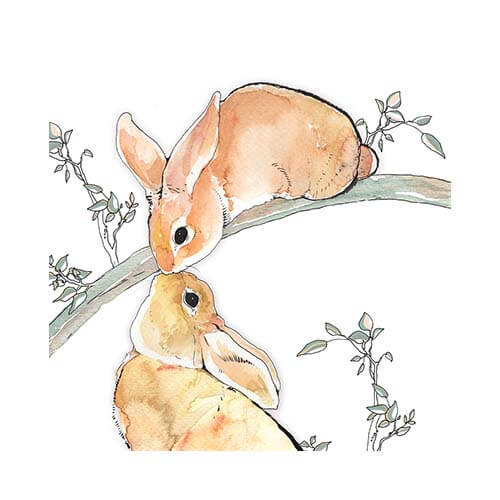 These cute kissing bunnies from Clear Creations are perfect for your sweetheart.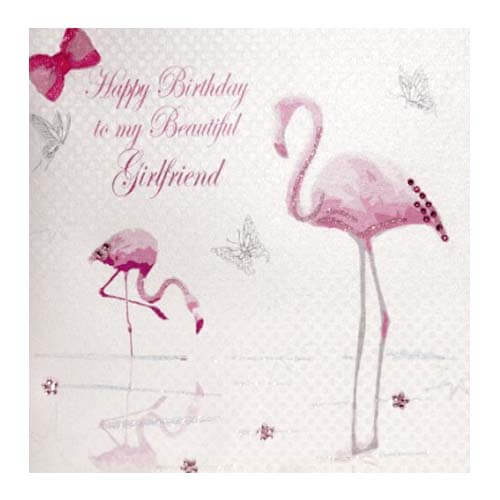 You will see many Flamingo cards popping up! But with good reason; they're just so popular! We love the dainty little legs attached to these birds, who are on standby to fly in and wish your girlfriend a special day. Not literally, you understand.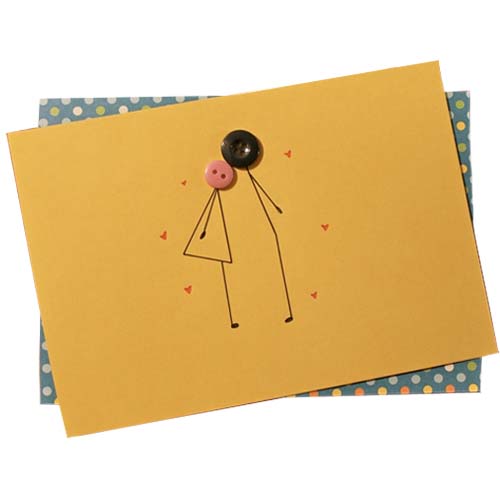 Fancy making your own card for your girlfriend? Top Inspired has put together a piece containing the 10 best DIY birthday cards to make for your other half. How cute are these button people, above?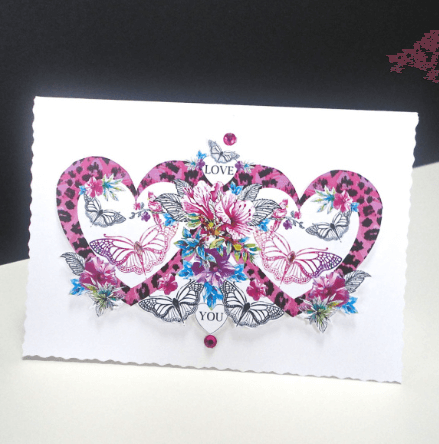 Pink to make the girls wink! This heart and butterfly handcrafted card I created at Decorque is simply stunning; don't you agree?
Handmade Birthday Cards for Wife
Put a note in your diary to remember your wife's birthday – you'll be glad you did. To save you the time looking for a handmade card for your wife, we've found some of the loveliest ones online. Read on…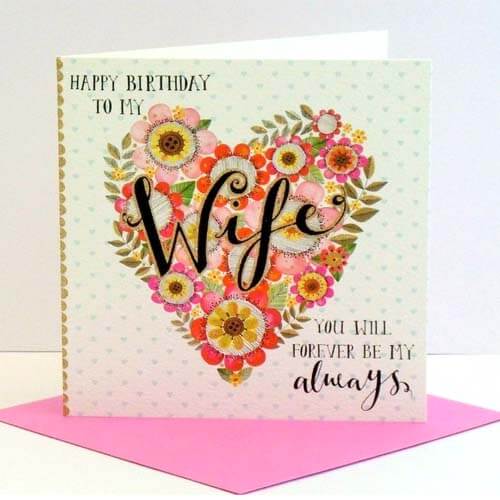 You Will Forever Be My Always! Nice sentiments with this floral heart design and gold glitter detail! A Winner I think!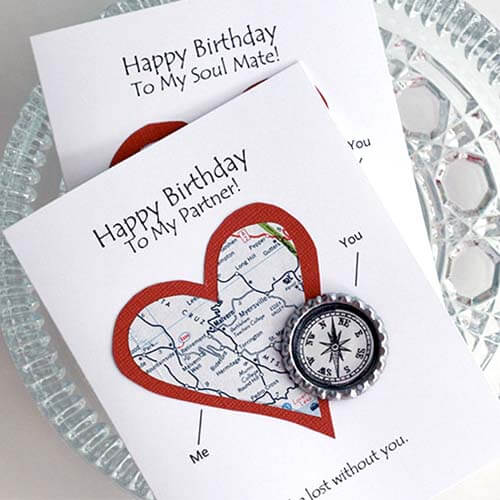 Etsy never disappoints when it comes to unique cards – and this one is no different. Travel mad couples will love this geographical-themed card, which features a lovely little slogan, too.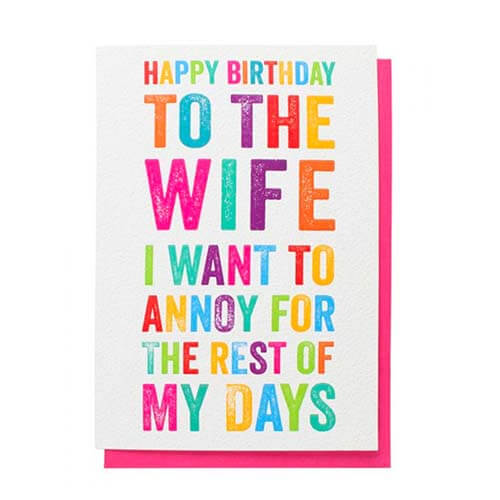 Love a cheeky card! This one brings a smile.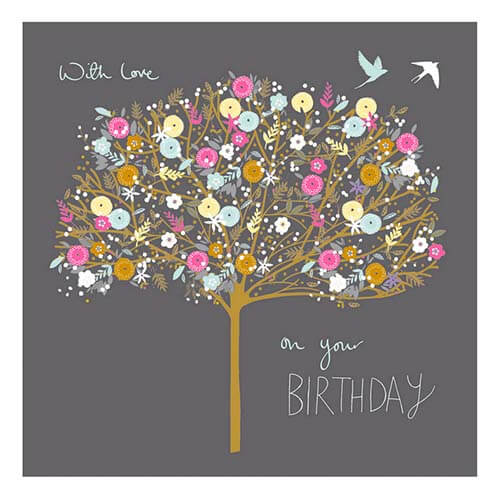 You can sent all your love with this Woodmansterne Pretty Petals Birthday Card.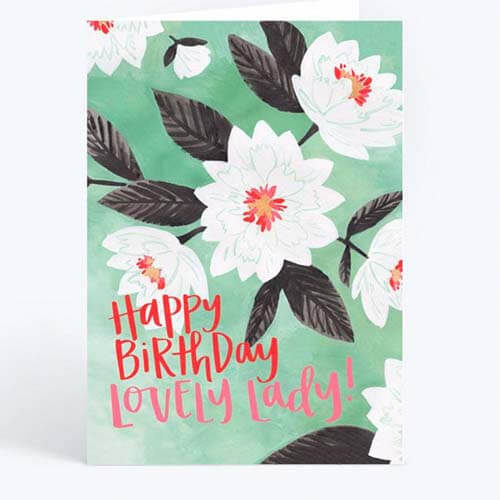 Happy Birthday Lovely Lady! She will love that!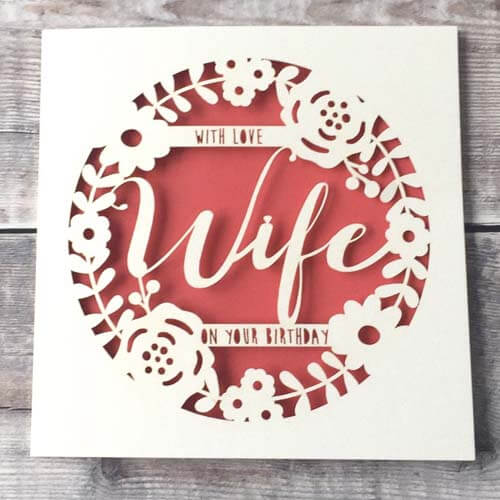 A laser cut card clearly spells out your Birthday wishes. With a choice of over fifteen background colours you can get it just right for your wife.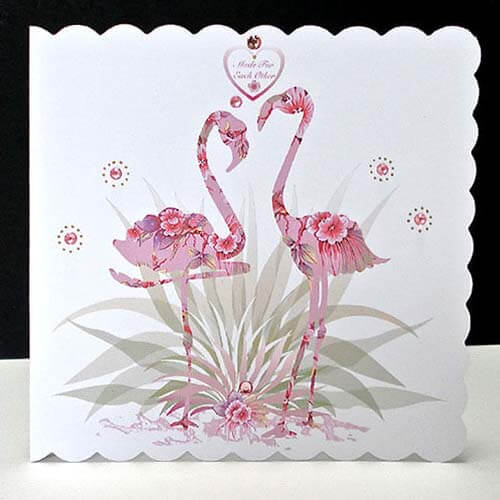 Flamingos are very much in vogue at the moment, as you will have noticed, which is why I think you'll love this quirky card on the Decorque site. Featuring these exotic birds, which I've patterned with a pink floral chintz. 'Made for Each Other' is the message a special card for Anniversary, Birthday, Wedding or just as a Thank you!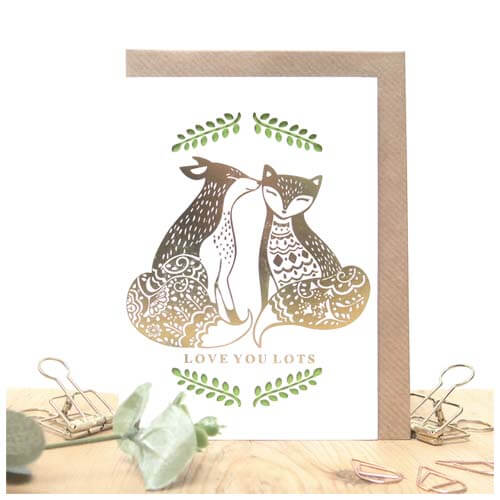 Birthday, Anniversary or Valentines Day these two enchanting Foxes just send the perfect message!
Handmade Birthday Cards for Fiancé
Want to let your soon-to-be husband know how happy you are that the pair of you are going to get married? Take a look at some of the greetings cards we've discovered online…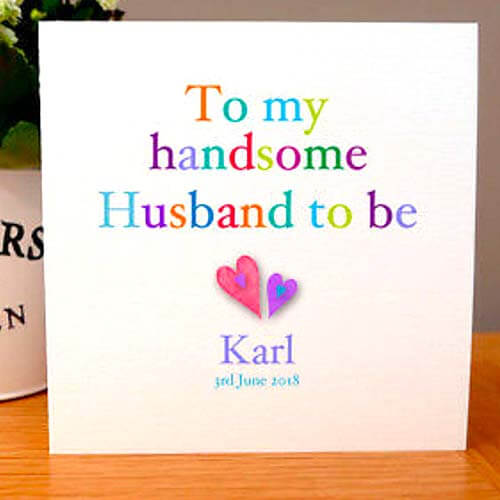 This card, available via eBay, can be personalised with your fiancé's name – and the date of your upcoming wedding. A nice touch, don't you think?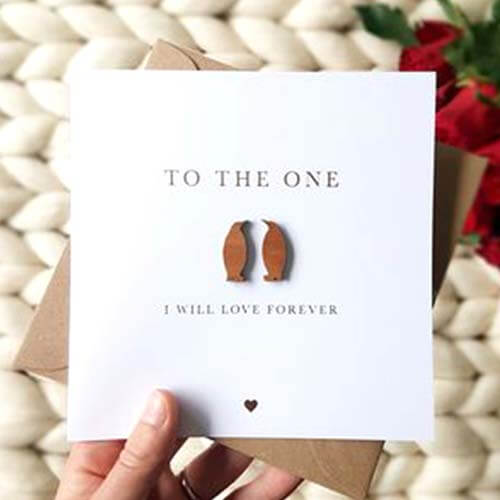 These unique wooden penguins say 'I will love you forever' enough said! A thoughtful card from notonthehighstreet.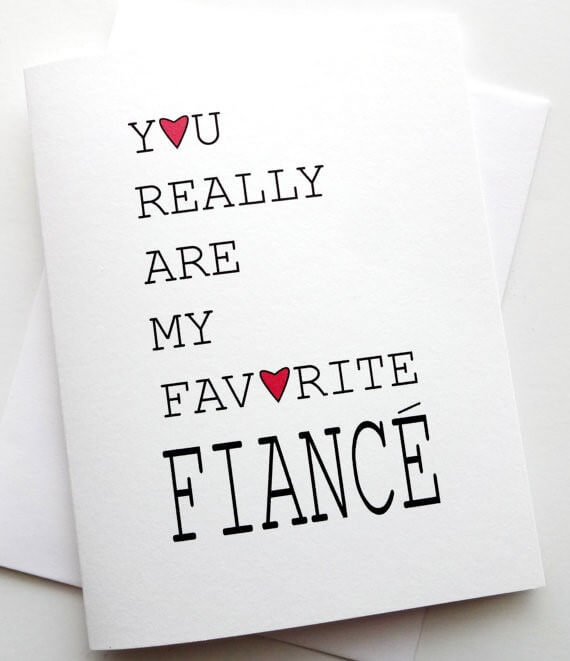 A bit of humour never fails to put a smile on someone's face – and we bet your fiancé will love this Etsy winner.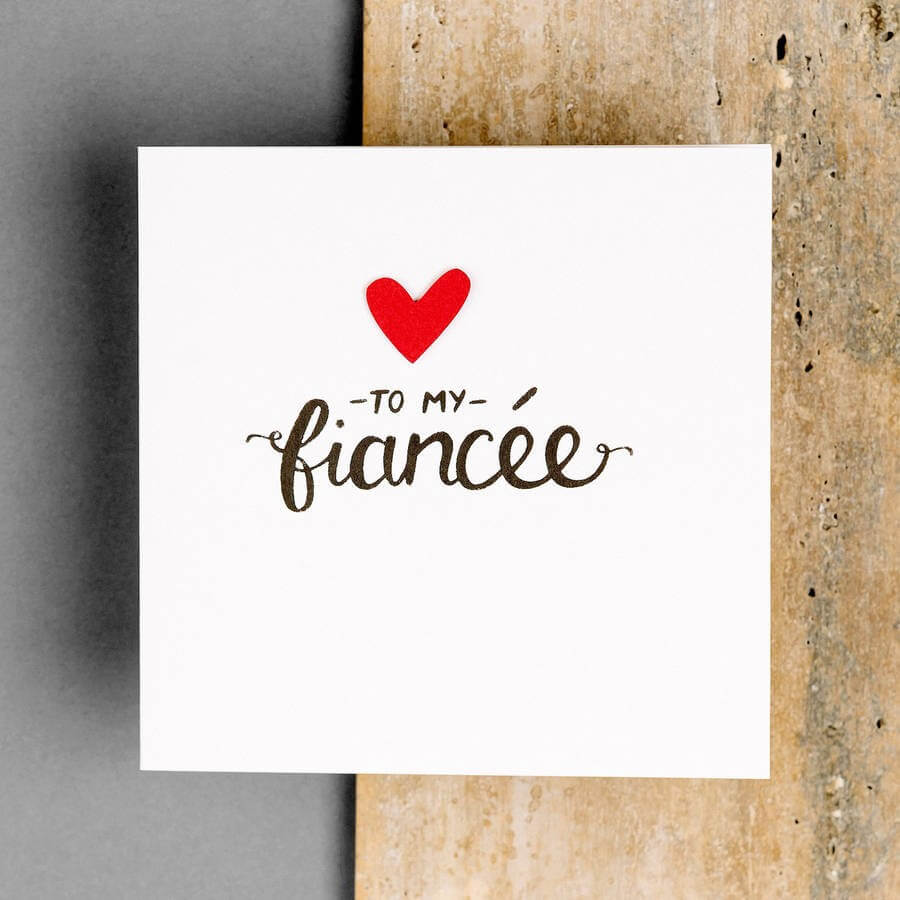 This card (above) might be simple in design but it gets the message across! It's another reason to check out some of the great designing talent over on Not on the High Street, we say.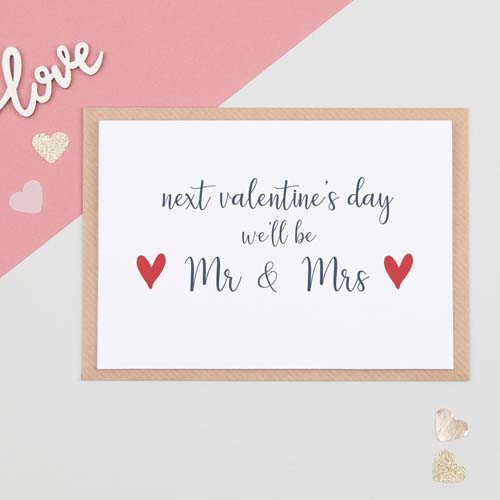 Nice Message and a Nice Thought!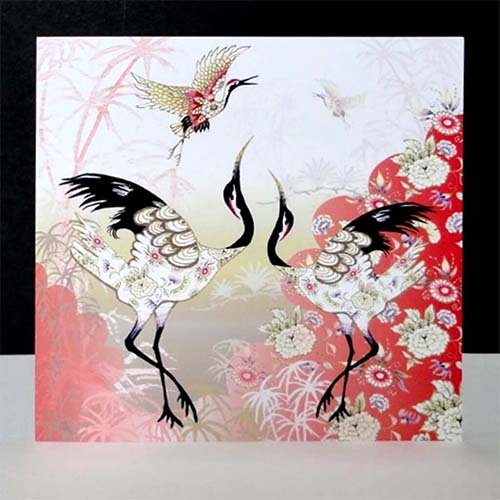 These fascinating Courting Cranes are doing their dance of love, a perfect match! A perfect Card!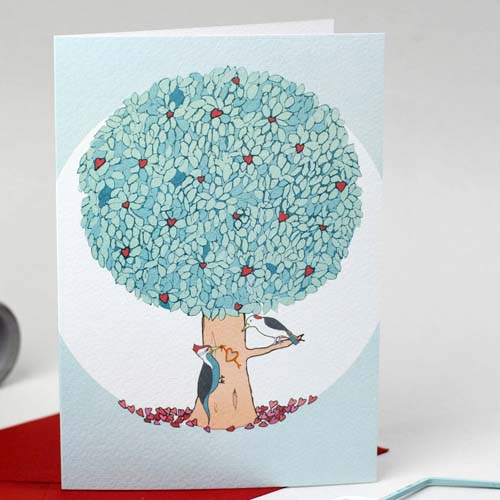 Really like this illustration of a pair of woodpeckers in a Tree of Love!
Handmade Birthday Cards for Sister-in-Law
She might not be your biological sister, but that doesn't mean she doesn't deserve a birthday card! This year, make your sister-in-law top priority and spoil her rotten on her special day. For some hints, here's some gorgeous handmade cards we think she'll like.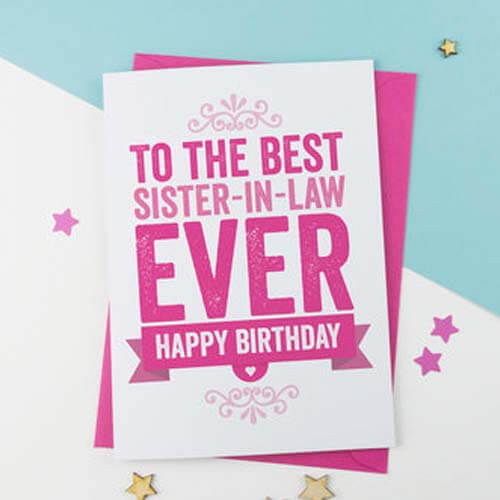 It does what it says on the tin, this card: lets your sister-in-law know that she's the bees' knees, in your mind.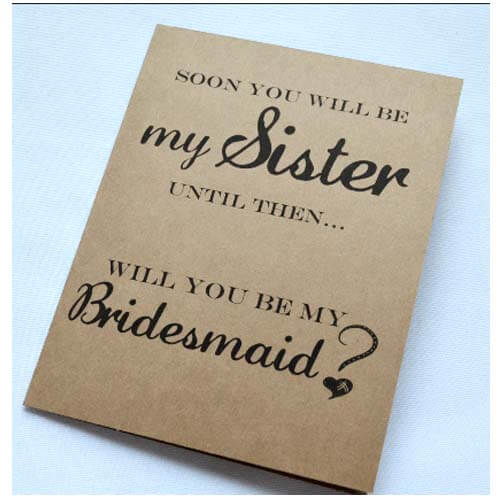 How will you ask your sister-in-law to be your bridesmaid? We've found the answer – and it's genius! Thanks Etsy – and the Invites by This and That shop we found this on.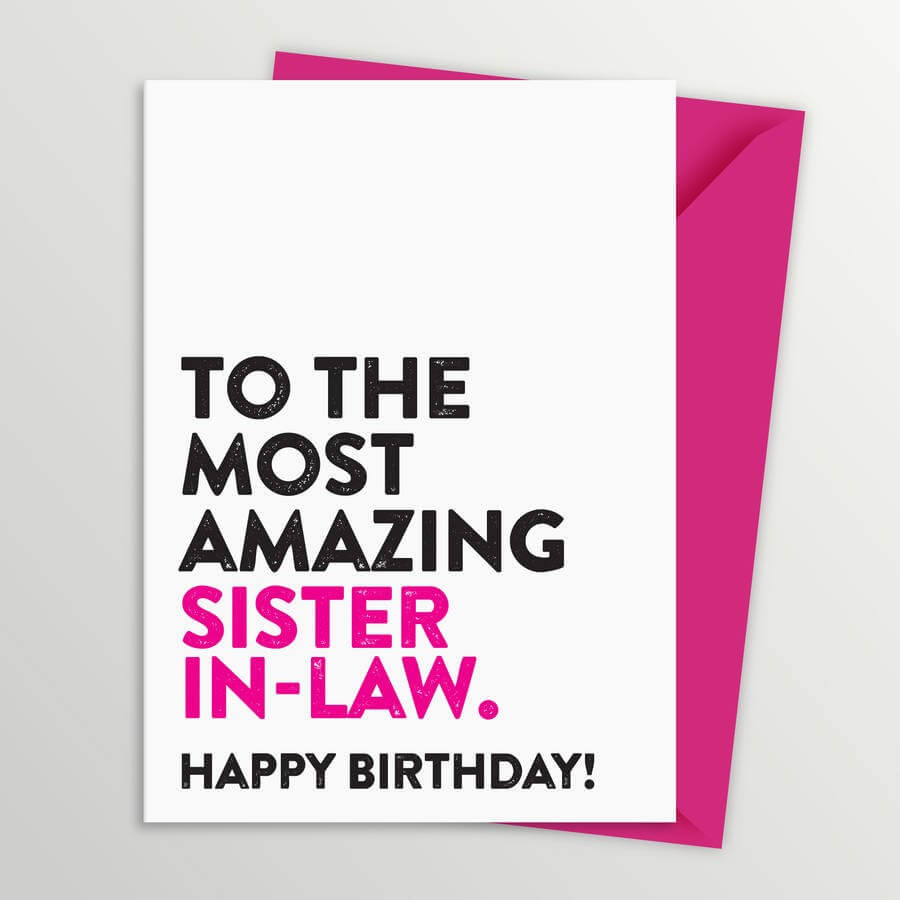 Another sister-in-law card with a message that hits the nail right on the head. In fact, take some time to have a look around the 'A is for Alphabet' shop, as there's some real card-based delights to be discovered.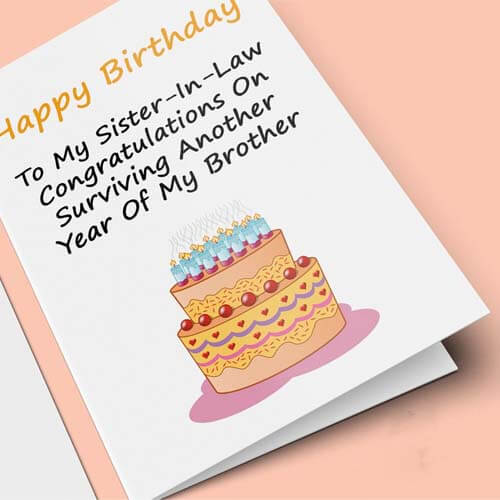 We all like a laugh, just hope your Brother has a good sense of humour too!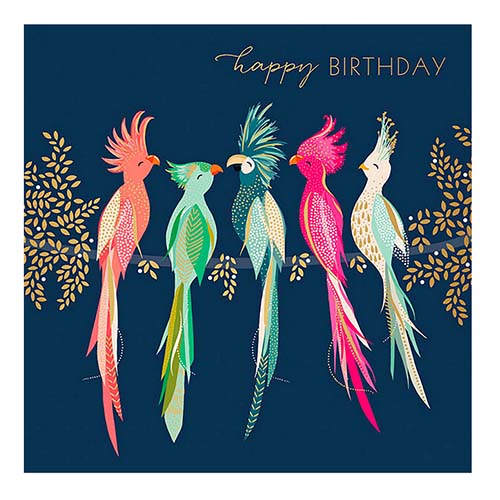 A brilliant line-up of very cheeky looking Cockatoos by Art File. Great choice for any of you tropical bird lovers!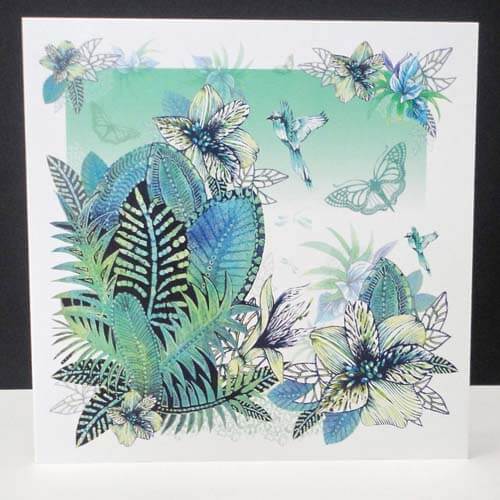 Sometimes you just want to send a beautiful card – A Tropical Forest Scene to stir the imagination and write your own message.
Handmade Birthday Cards for Nan
From a huge vase of flowers to a humongous box of chocolates, there are plenty of ways to let your Nan know how much she means to you. Just don't forget the handmade card while you're at it!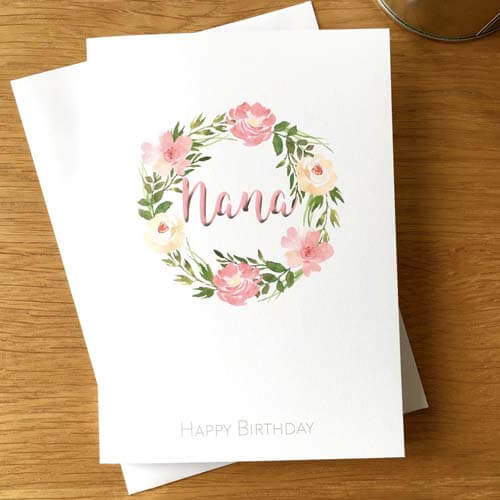 You need options when it comes to Nan, Nana, Nanny or any of the grandmother connotations. This pretty card from TheHouseOfAirey covers them all!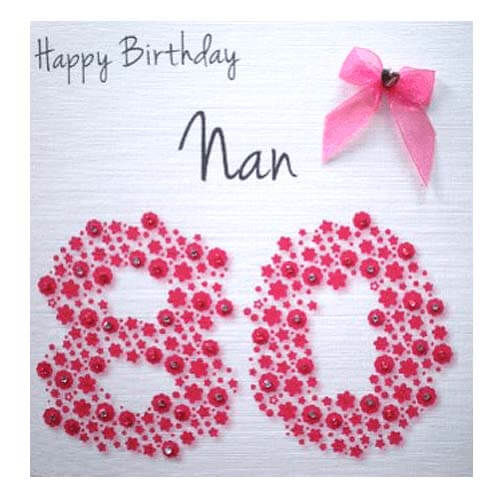 If your Nanna's due to hit the big 8-0, you really can't go wrong by selecting this Happy Birthday card via an independent cards seller on Amazon.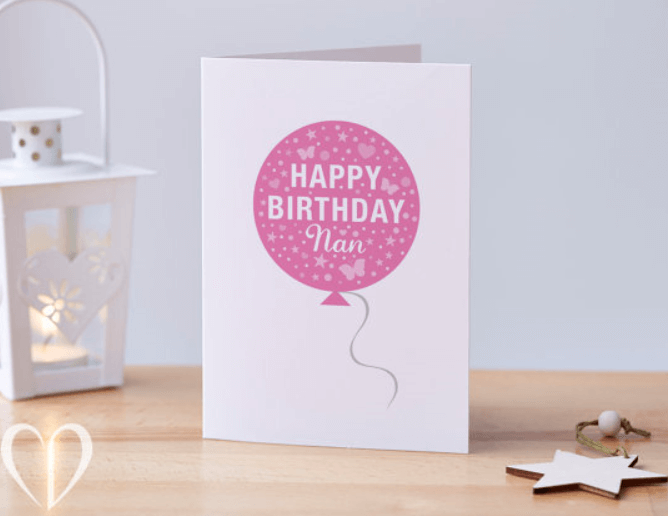 This pink, made to order card can be personalised with your own message. For a Nan that loves a special thought, this is the perfect gesture.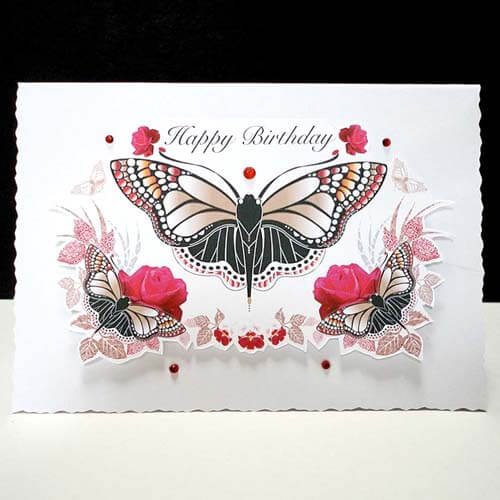 This Beautiful Butterfly surrounded by red roses and textured leaves is a gorgeous card I designed with special Birthdays and Anniversaries in mind think ypour Nan will love it.
Handmade Birthday Cards for Daughter
We know how it is; it's so difficult to find a nice card from the high street card shops. So don't be dashing around last-minute this year. instead, check out some of these lovely greetings cards that are bound to raise a smile.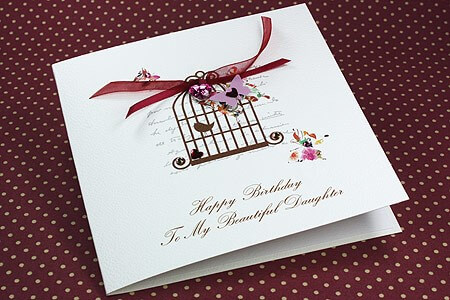 Lotus Art Studio offers a host of pretty cards, but this one is our favourite. With an ornate-looking bird cage on the front, this simple card features a host of dainty embellishments.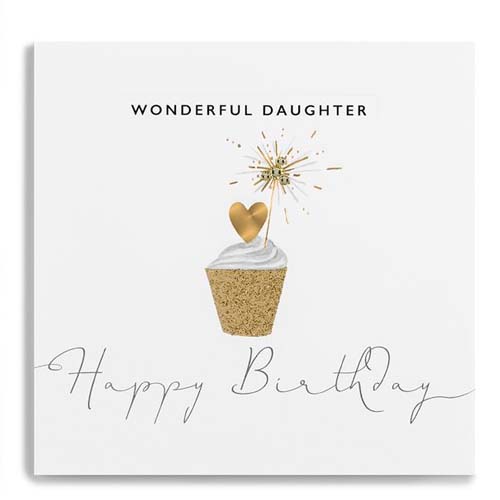 How about sending your Wonderful Daughter this gold cupcake. By Janie Wilson. Love the sparkler!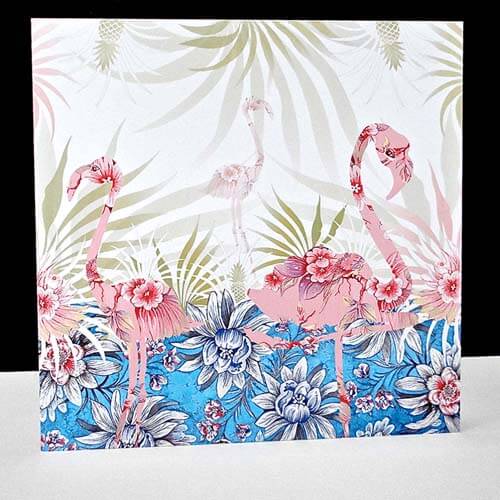 Daughters are always on trend and yes, it's the flamingo again and the pineapple. This fashionable design is perfect to add your own personal message too!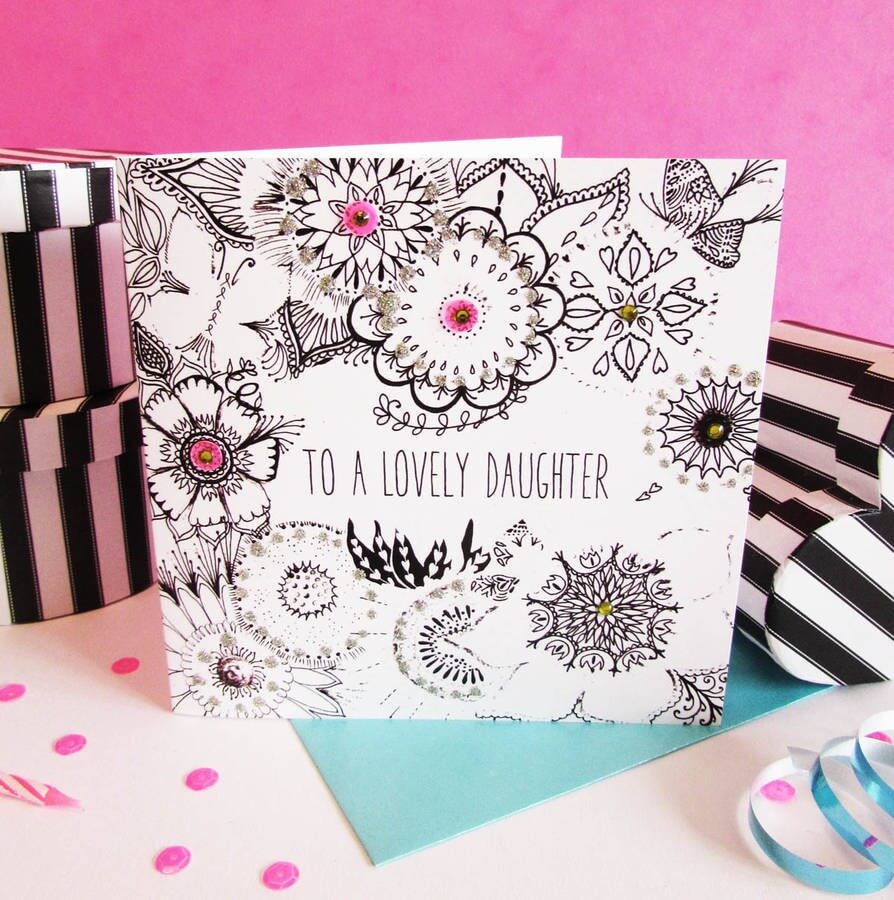 Fay's Studio has come up trumps with this stylish, monochrome card featuring a lovely message to your daughter on the front.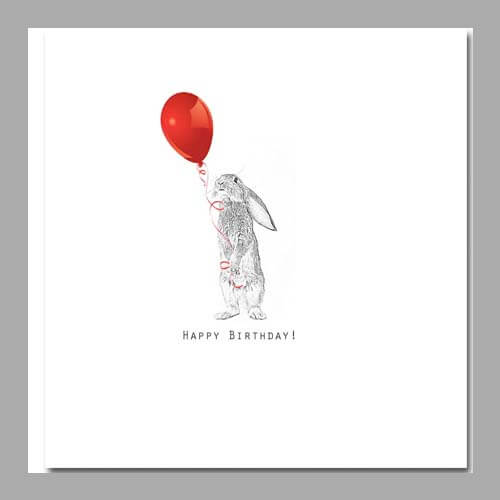 Who wouldn't love this gorgeous little Bunny holding a balloon! Another cute design by Sarah Boddy. You can add a personal message inside too!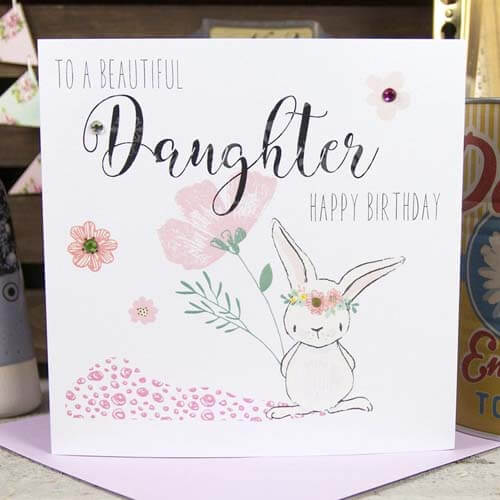 Bunnies and Daughters seem to go together! Just couldn't resist this sweet card.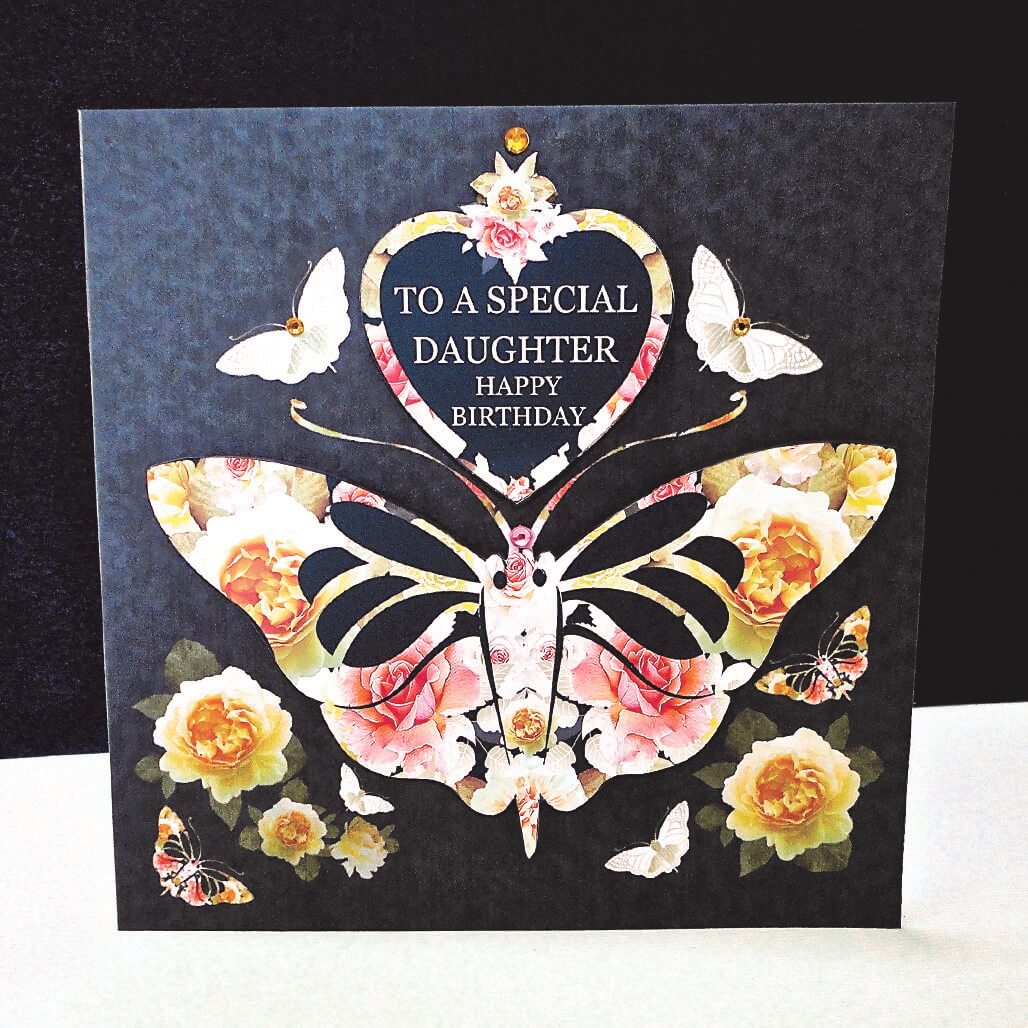 Is your daughter truly special? Say it via a pretty card.
One of my own favourites on my Decorque Cards site, this butterfly and rose card has a lover of all things girlie very much in mind.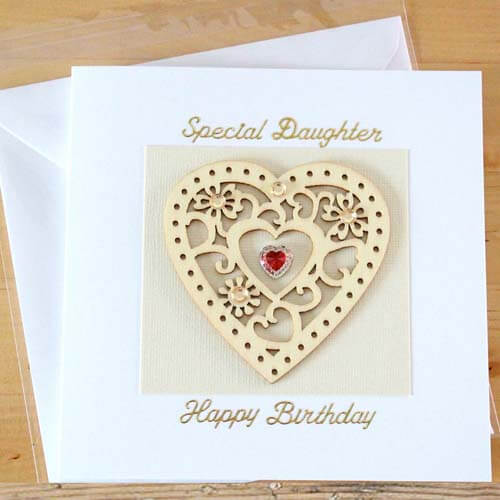 Gift Cards are a brilliant idea, a something to keep afterwards. This cream wooden heart with rhine stones is a delight!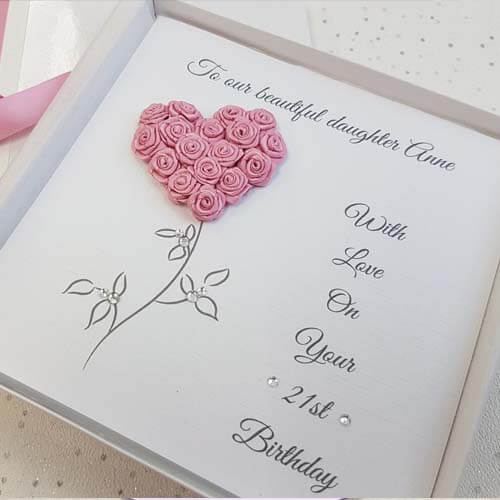 Searching for that very special card for your Daughters 21st Birthday. Here it is by Yccstudio, handmade, personalised and a boxed keepsake- brilliant!
Handmade Birthday Cards for Him
While some men don't even bother buying cards for their nearest and dearest, there's no denying that they enjoy getting one of their own – and especially when it's a nice-looking one like one of these…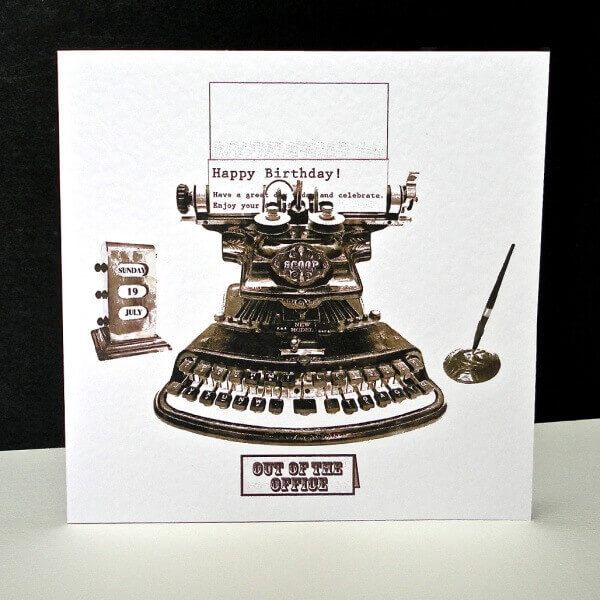 A cool piece of art with a typewriter as the focus, we've come to your rescue yet again at Decorque Cards with this retro take on a greetings card.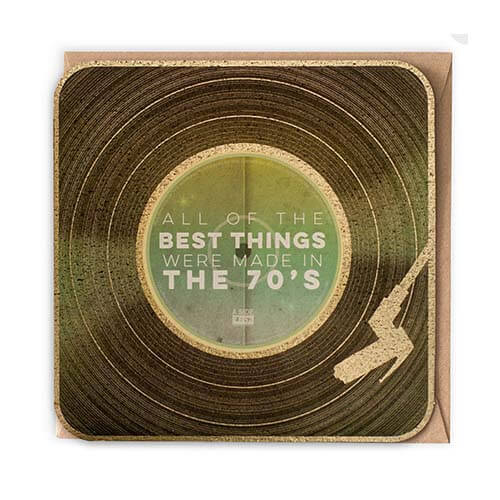 How cool is this- you can choose your decade from The Vinyl Black Collection– a card in the style of a vinyl record designed by Lanther Black.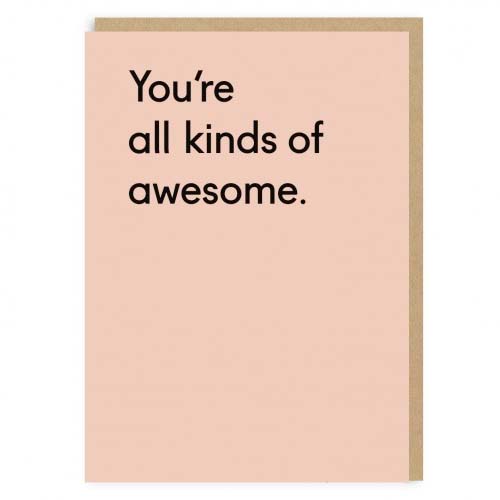 OHH Deer always come up with a gem. Men love to be praised so Awesome is the word!
Handmade Birthday Cards for Husband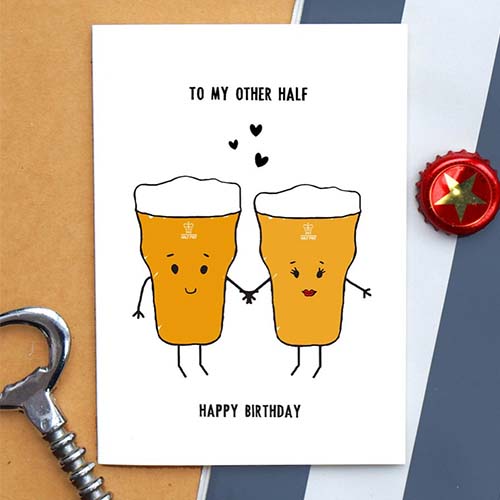 Yes, I hate to say it- but I think all men like a Funny Beer Birthday Card, there's a good choice by oflifeandlemons. This one is so cute!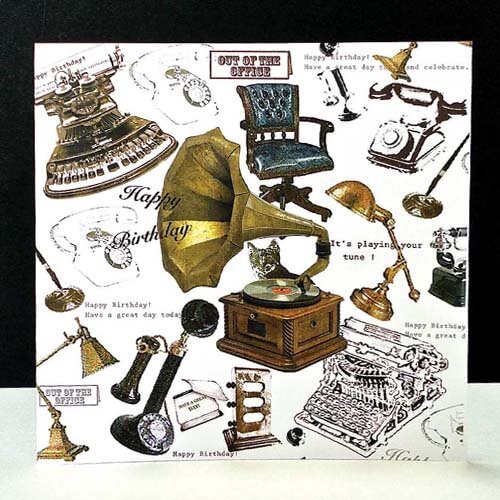 Now I am not saying your husband is an antique! But he may like this nostalgic collection of office and media memorabilia!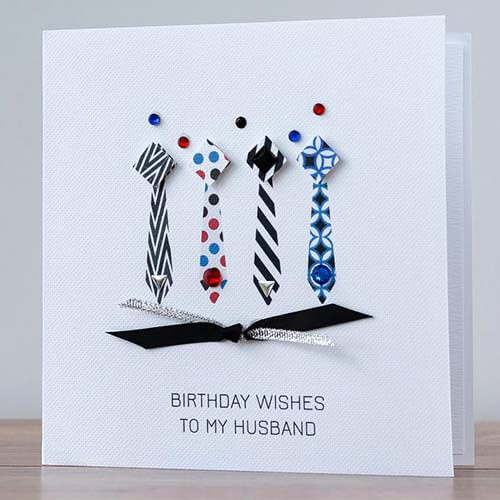 You can really TIE your husband up this Birthday!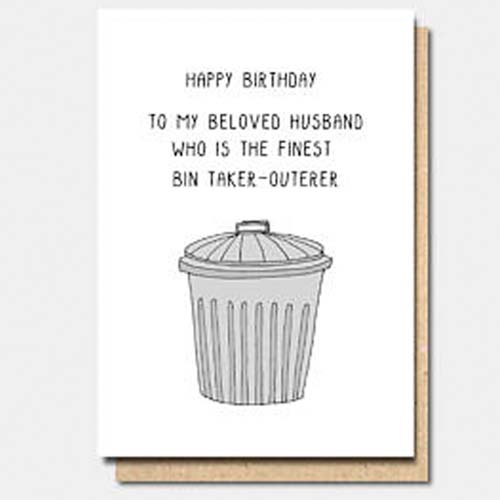 We must praise our husbands when praise is due! After all it is his Birthday!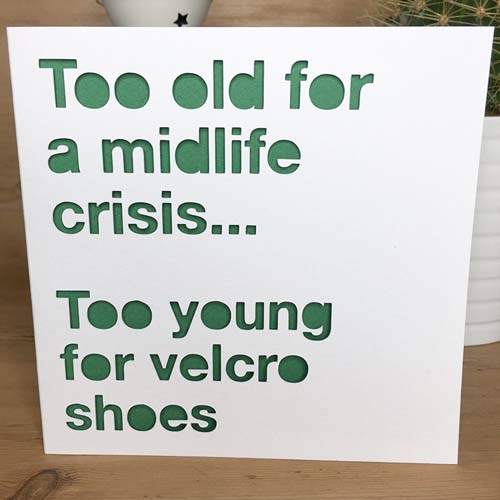 Sorry, but this one made me chuckle! The thought of Velcro shoes!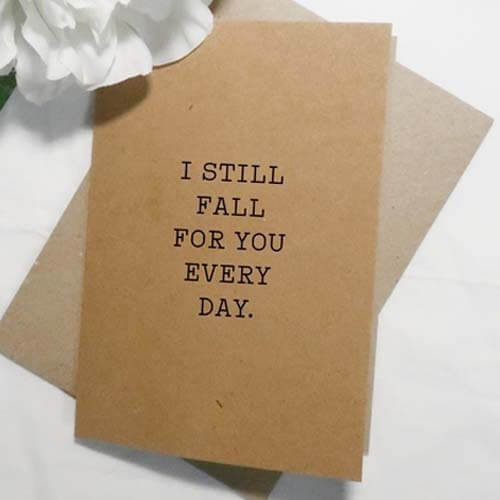 Aah! What a lovely thing to say!! I think this sentiment is perfect for Husband or Wife!
Handmade Birthday Cards for Dad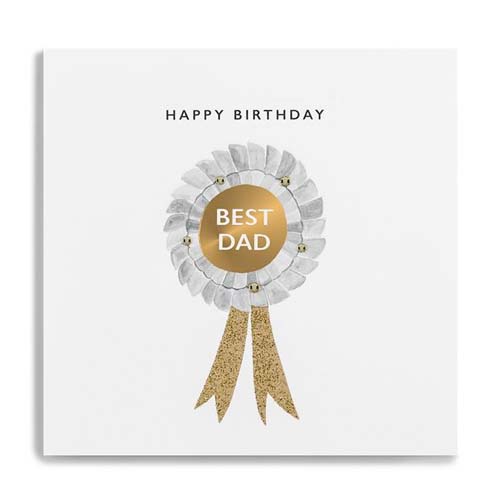 Gold Best Dad Rosette. I think Dad deserves an award don't you!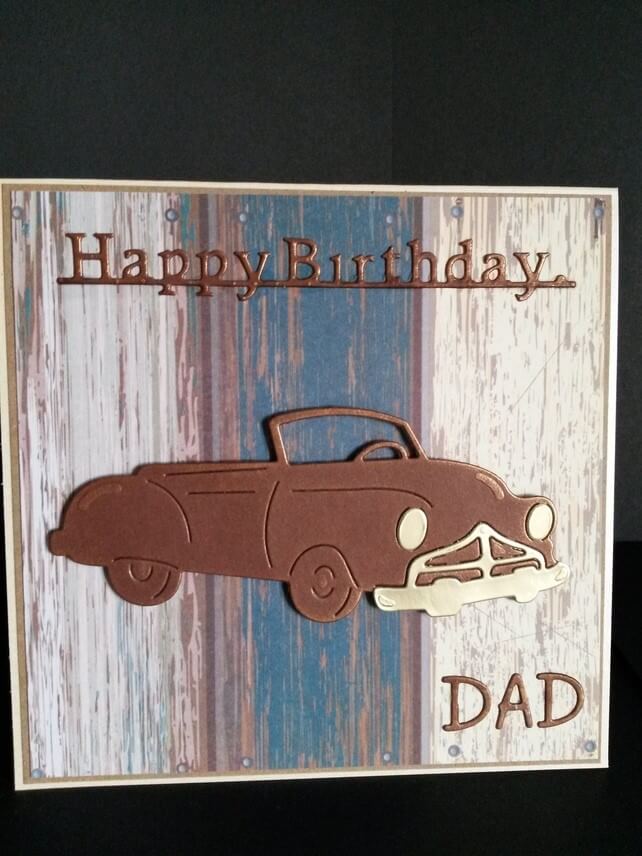 It's true that Dads love cars, so make his day with one in card form.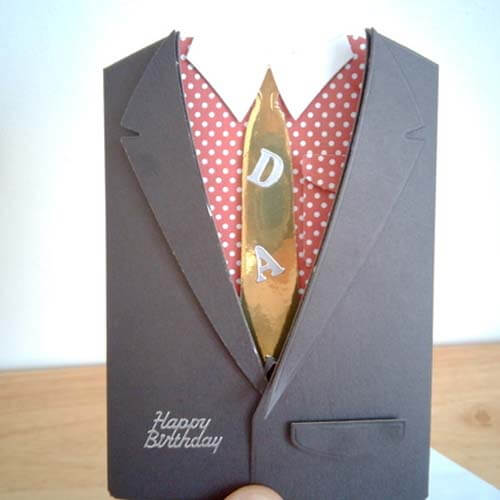 This suit style card is definitely one to display at the office! I like something different a smart idea.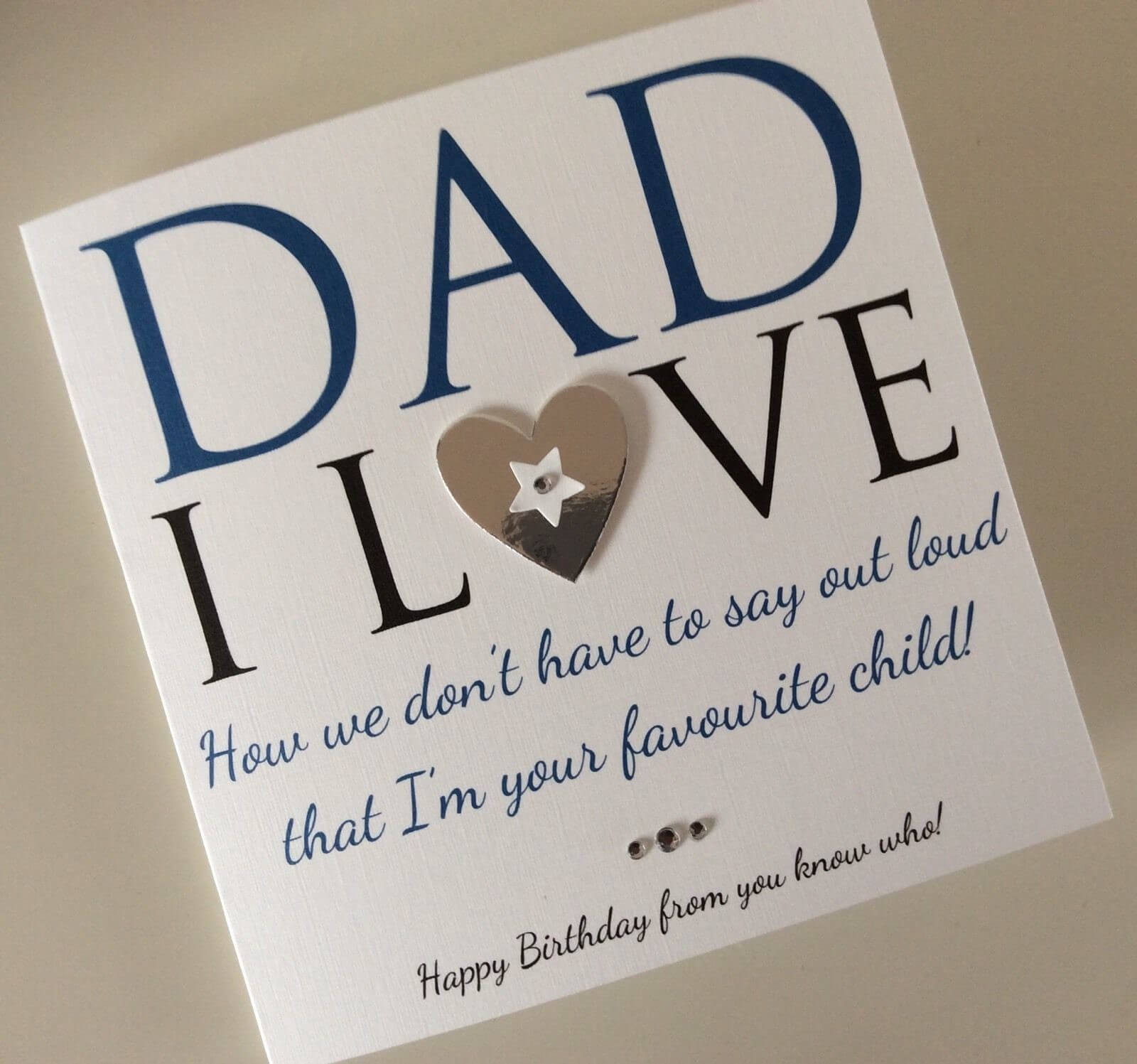 Sibling rivalry always rears its head at birthdays. Who got the best card? Who gave the biggest gift? Head over to eBay and this year you'll win the coveted title!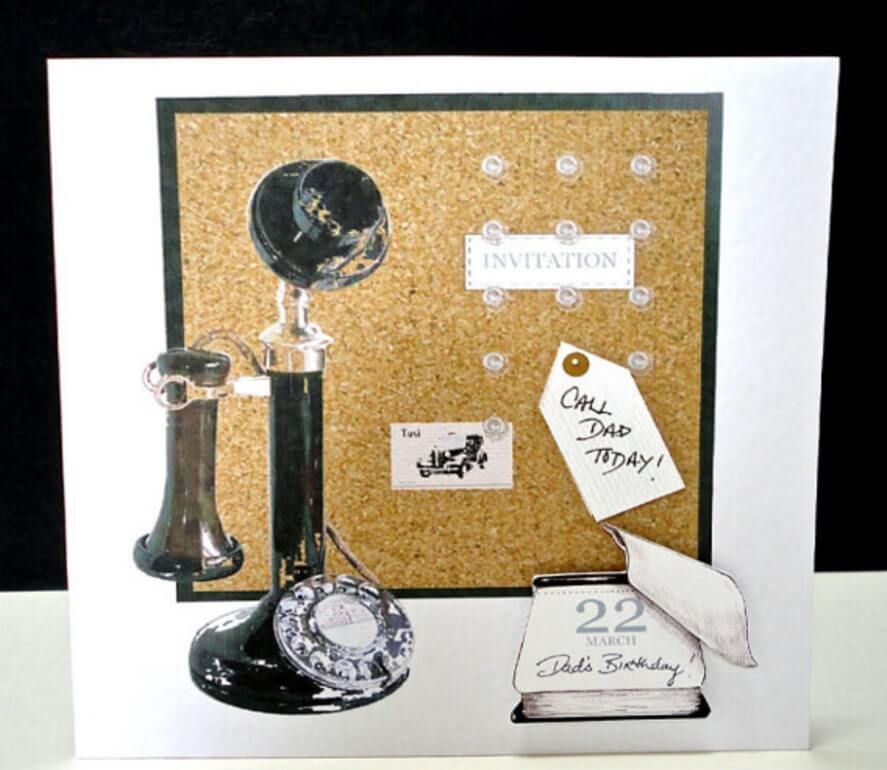 We love this retro telephone! And if you reckon your Dad would too, you know what to do!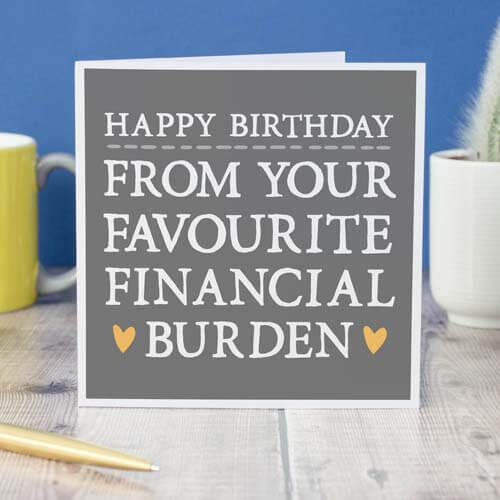 I am sure there are many Sons and Daughters who would love to send this card!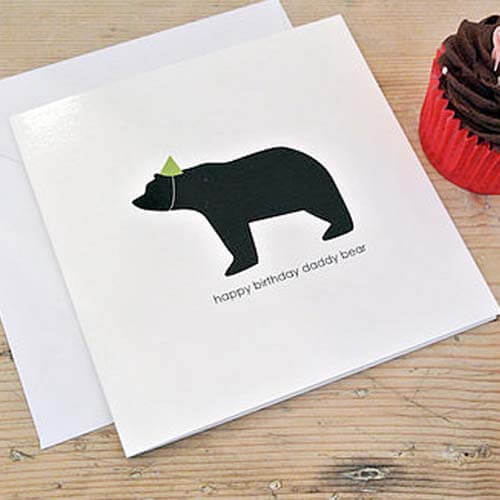 Happy Birthday Daddy Bear. Here's a card from the little ones!
Handmade Birthday Cards for Grandad
You've remembered to buy your Dad's card ahead of his next birthday, so don't forget your Grandad's, too! We're helping you find exactly what you're looking for with our card-based tip offs, below: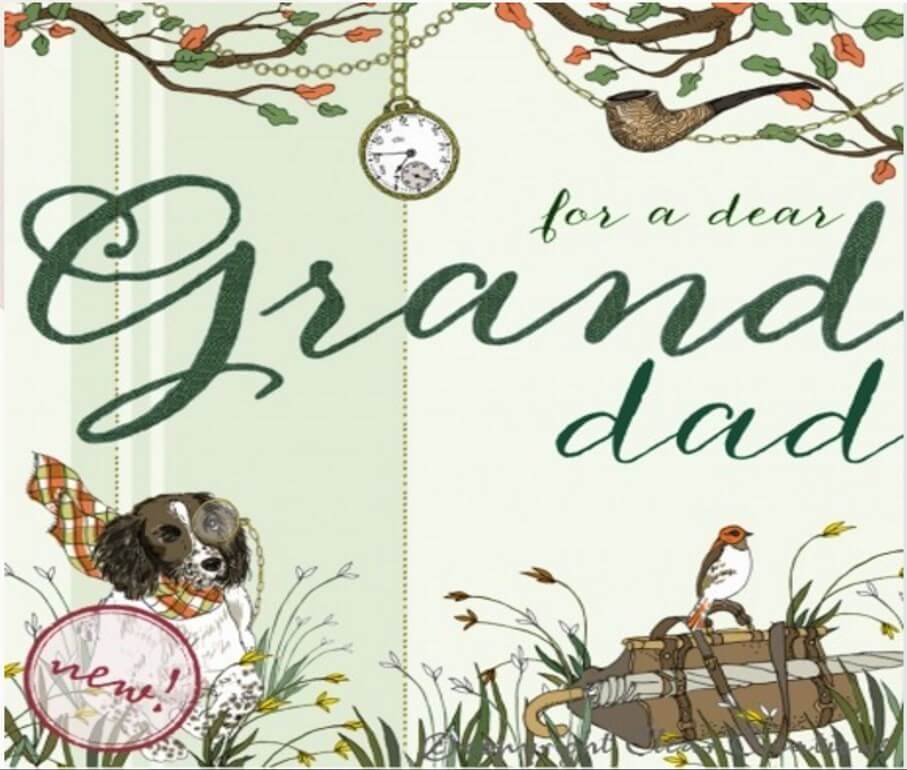 Clear Creations has helped us out once again, by providing this little lovely of a card. Birds, dogs and umbrellas all feature – surely some of your Grandad's favourite things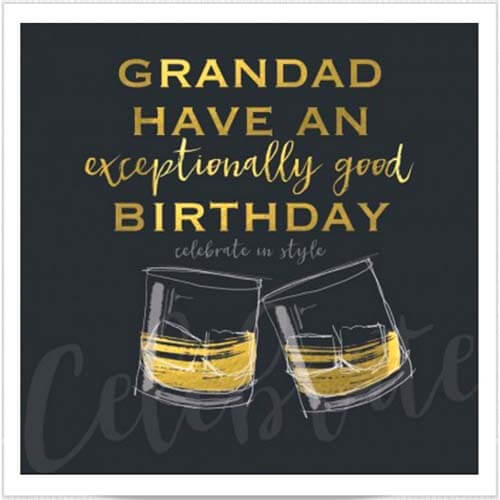 May be Grandad would like to celebrate this Birthday in Style. A really nice sophisticated card with a gold foil finish from Hammond Gower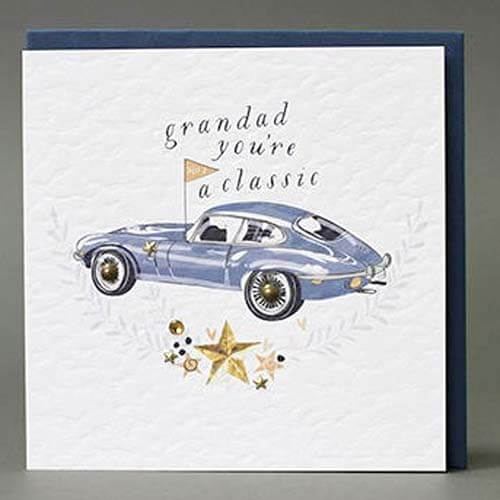 If your grandad's a real classic, he'll definitely want to receive this card via the Karenza Paperie site.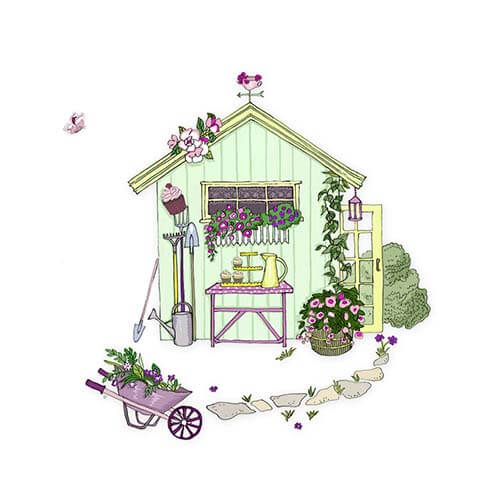 Has Grandad got a bit of a green thumb. A tea cup weathervane is a great idea!!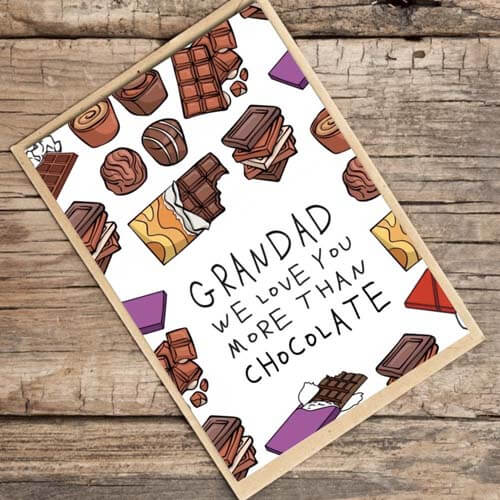 Always like to throw in a funny card here and there. The sentiment that Grandad is loved more than chocolate is so appealing!!
Handmade Birthday Cards for Grandpa
Grandpa is often easily pleased, but this year go all-out! The good news is the Internet has loads of fab cards he's guaranteed to like. Here are just some of our favourites…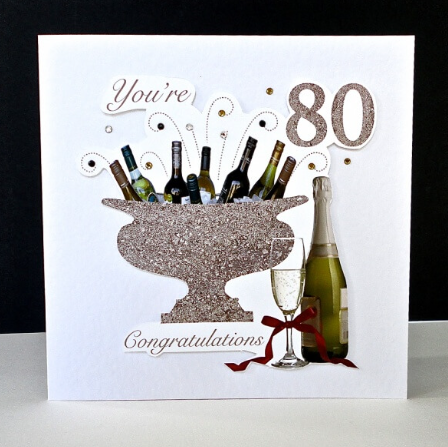 Need an 80th card? Chic and very celebratory, this lovely handmade birthday card – one of my personal favourites on my Decorque site – features plenty of wine and a big ice cooler to put it in.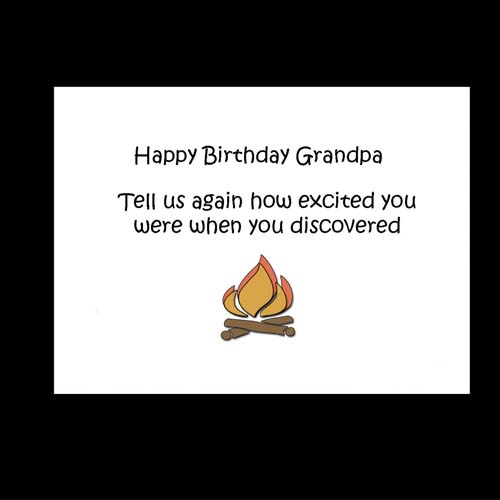 Grandpa up for a laugh– he'll love this one!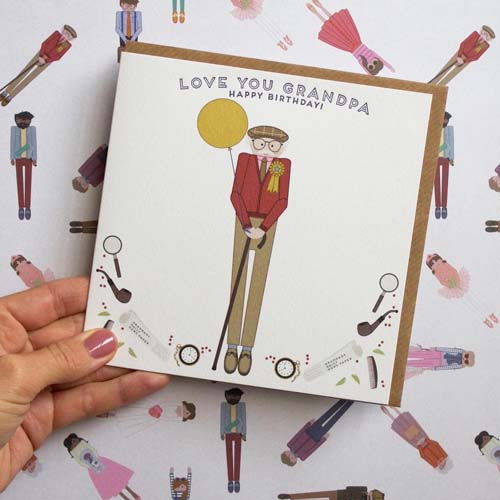 Great Illustration of Grandpa- love the cap!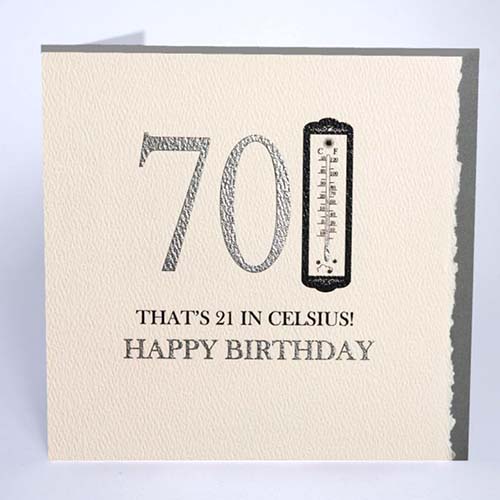 That's definitely the age most 70 year olds would like to feel!!!
Handmade Birthday Cards for Uncle
Your Uncle deserves a treat, but if money's tight, he'll appreciate a card. Keep his interests in mind and pick one that perfectly sums him up. Maybe one of these will do it…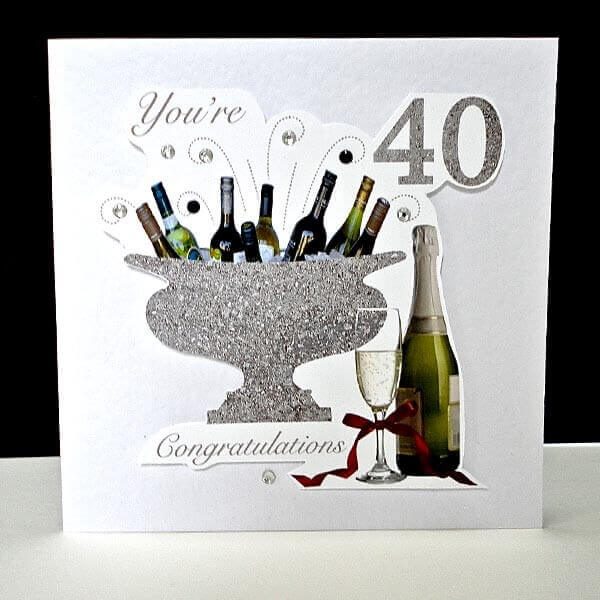 Help your Uncle celebrate 40 years with this well-designed card I made for my website, Decorque.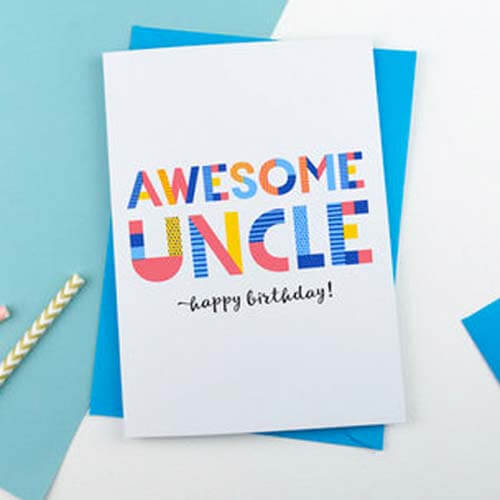 This bright card and flattering message will make your Uncle's Day!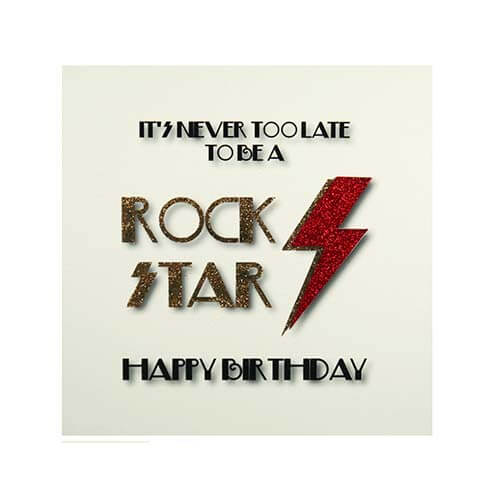 Your Uncle is into music, has a great sense of humour then he'll love this card! It's Never Too Late To Be A Rock Star
Handmade Birthday Cards for Brother
You'll be in a spot of bother with your brother if you forget his birthday! So, we've saved you a job by finding some lovely-looking cards you might like online.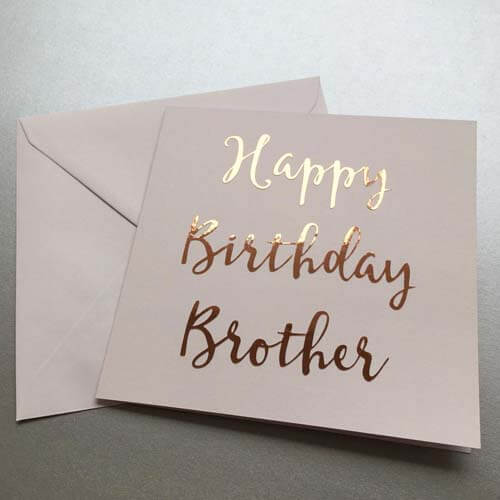 A simple message in rose gold lettering does it for me! Looks really smart.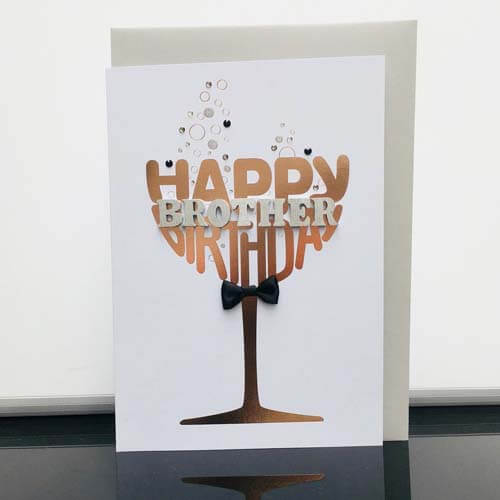 A very 'James Bond' card, by Moodimonkey. Shaken and not Stirred!! Love a stylish glass with a black bow tie!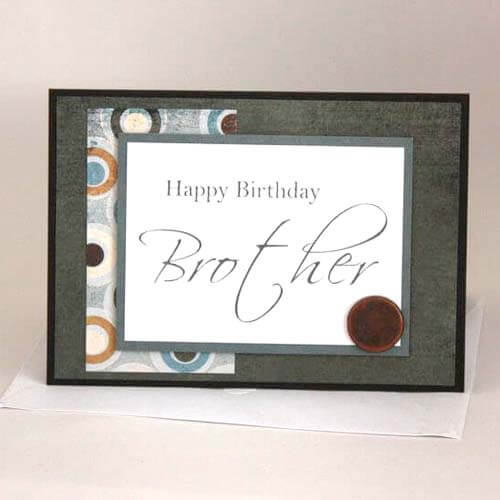 Simple is often the most stylish – and we've got to say, this Folksy card has us sold.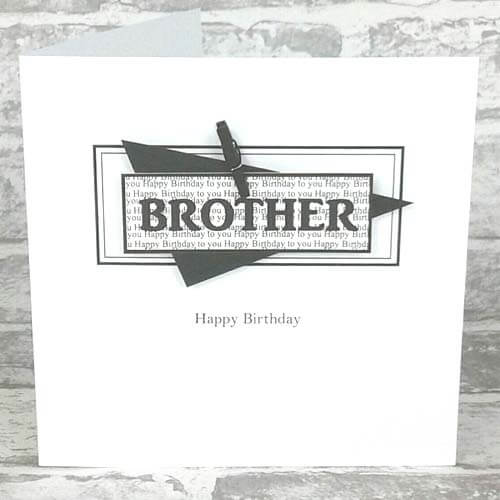 Love a monochrome card and the newsprint detail is cool!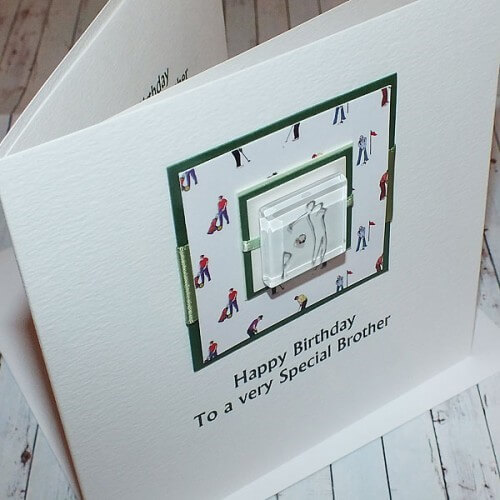 Achieve a birthday hole in one with this golf-inspired card via the site, Purple Mountain Designs.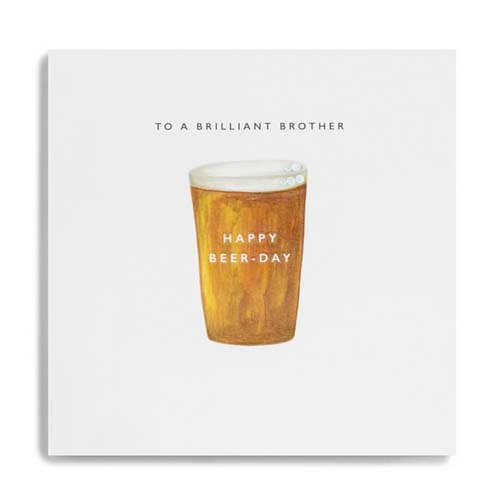 I'm sure your Brother will be celebrating with a few of these!
Handmade Birthday Cards for Boyfriend
Want to treat your boyfriend to a card he can keep? Look no further than our round up of some of the coolest cards out there for men.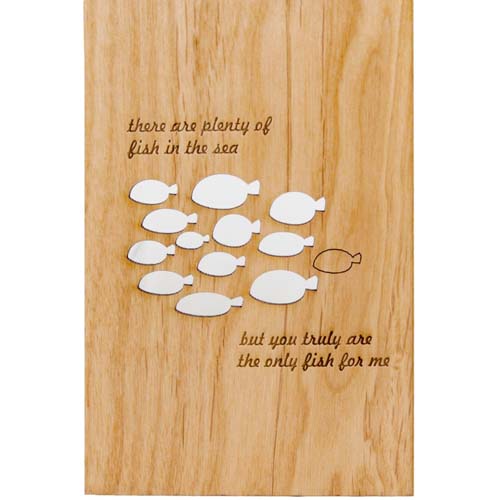 Could this wooden card be any cuter? We thought Etsy was all about standard, paper-based cards? We thought wrong!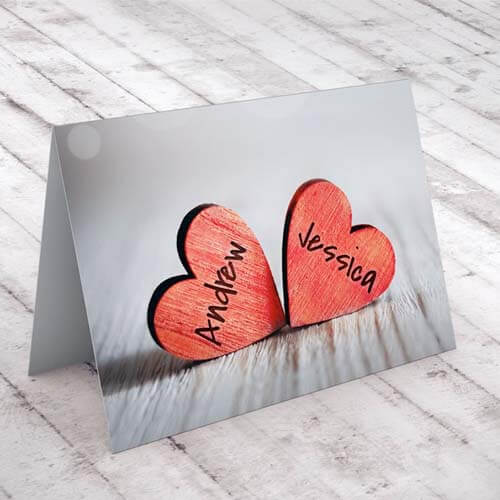 So you just can't find that card- create your own with your own personalised wooden hearts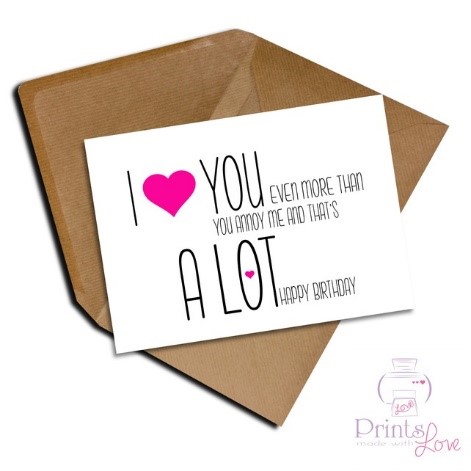 Ha! You can't beat this fun card, above, which we bet more than a few couples can relate to. Hit up Folksy to get yours.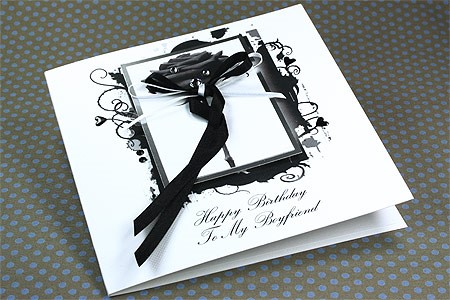 A spot of monochrome magic again here, thanks to Lotus Art Studio. As it's so simple, we say this could well be the answer for the man who's notoriously hard to buy cards for.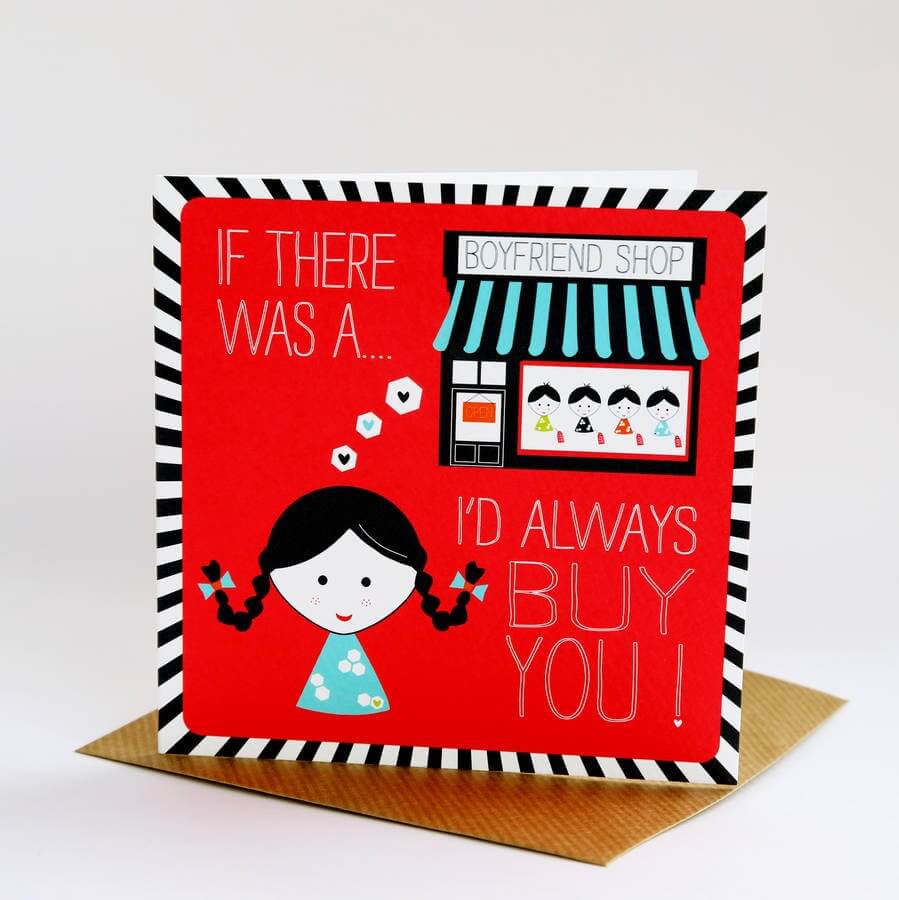 Another cutie! This one's from the very talented AlliHopper, over on Not on the High Street. Know someone who'd love to buy these for their other half?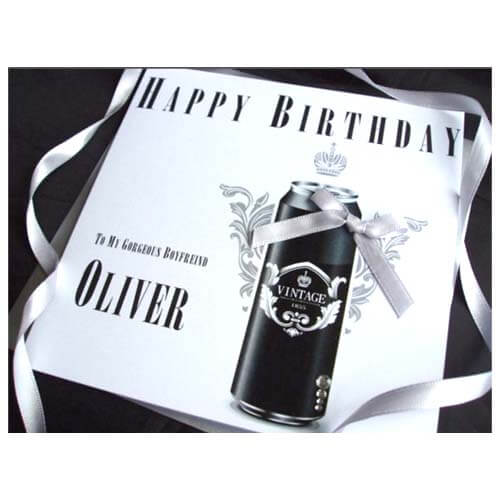 A posh beer, Guvnor? Mine's a vintage!
Handmade Birthday Cards for Brother-in-Law and Son-in-law

If you're always forgetting your brother and son-in-law's birthday, this year will be the one where it doesn't slip your mind. And when you have stylish cards like these to choose from, you'll have every reason to remember.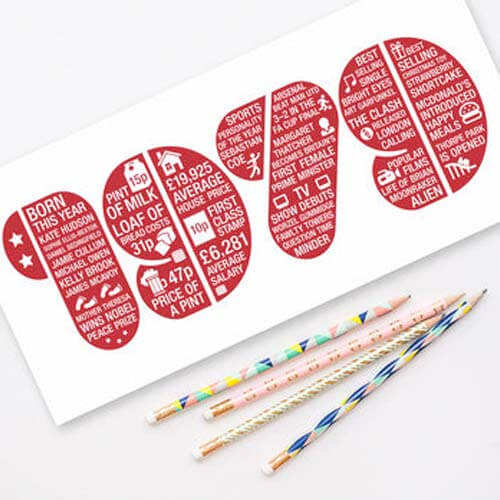 Is this Birthday a significant one! You know one with a nought at the end?! The Joy of Memories has a great card with all those interesting snippets of news from that year.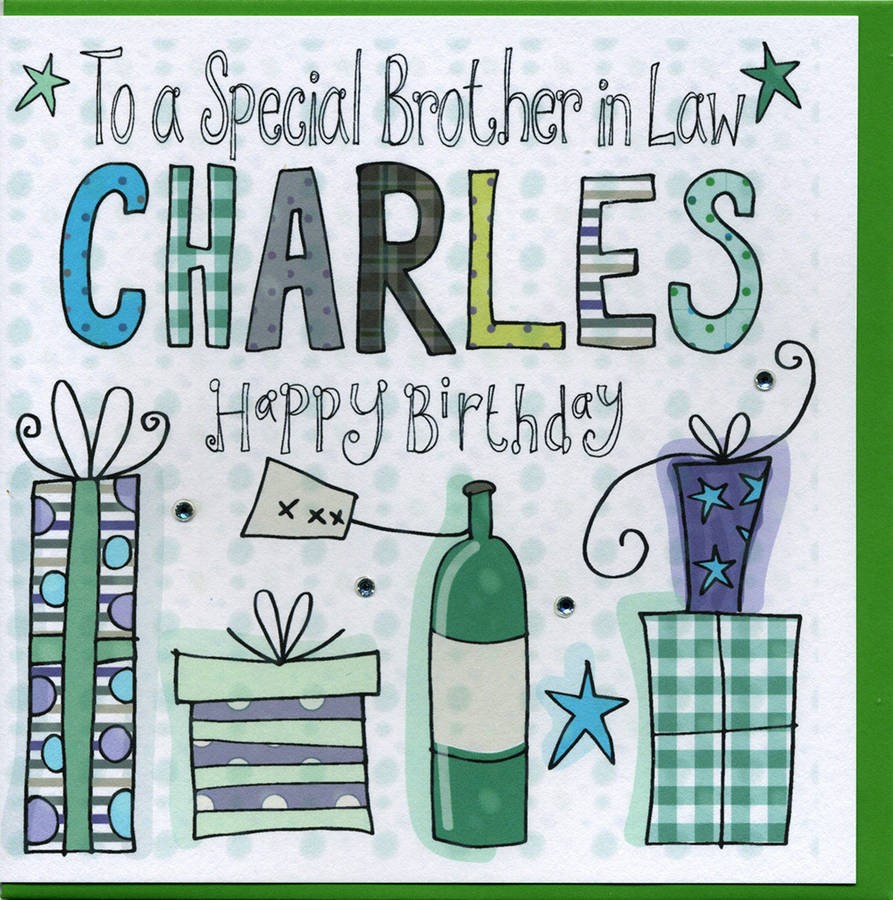 If you like your cards personalised, Claire will help you with her gorgeous range here on the Internet. Add in your own name and send it to your brother-in-law; he's bound to like it.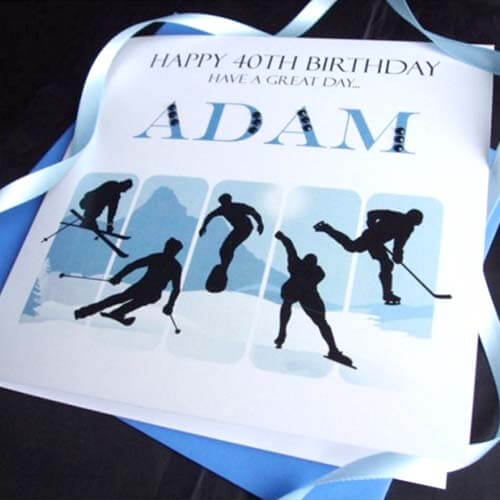 Pink and Posh rarely disappoint, do they? This skiing card is the ideal choice for any brother-in-law who loves their winter sports.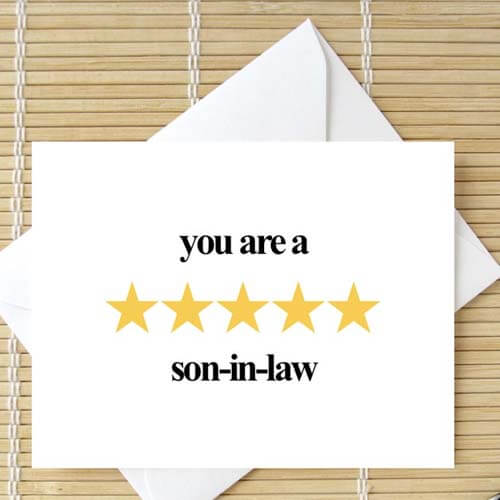 A good idea to give your relations a star rating? As long as its five star!
Handmade Birthday Cards for Son
Does your son deserve a very special birthday? Then what he also needs is a special card to go with it. As if by magic….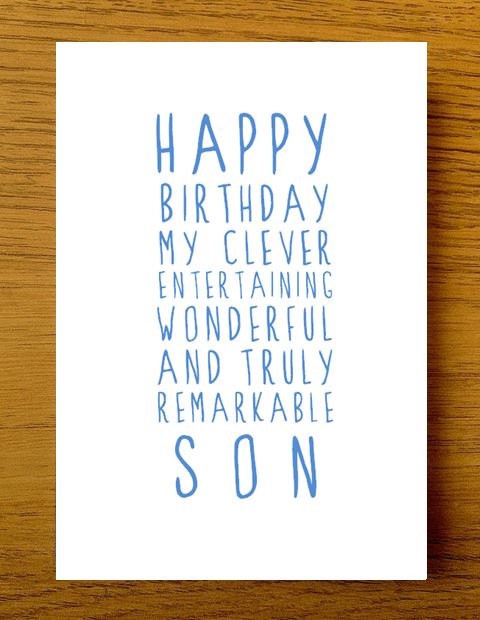 You could buy yourself this one, cos…well…you know…it's very complimentary. Thanks Etsy!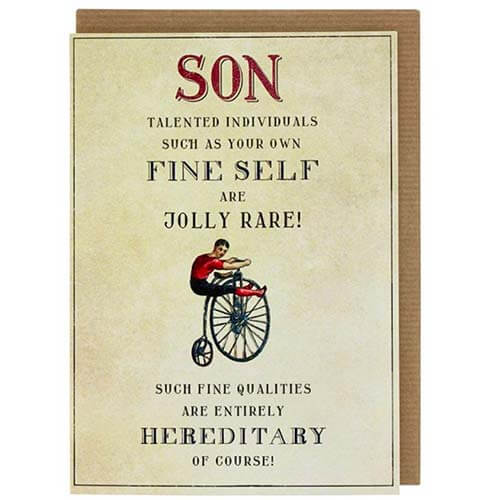 Obviously these fine qualities run in the family! Happy Birthday!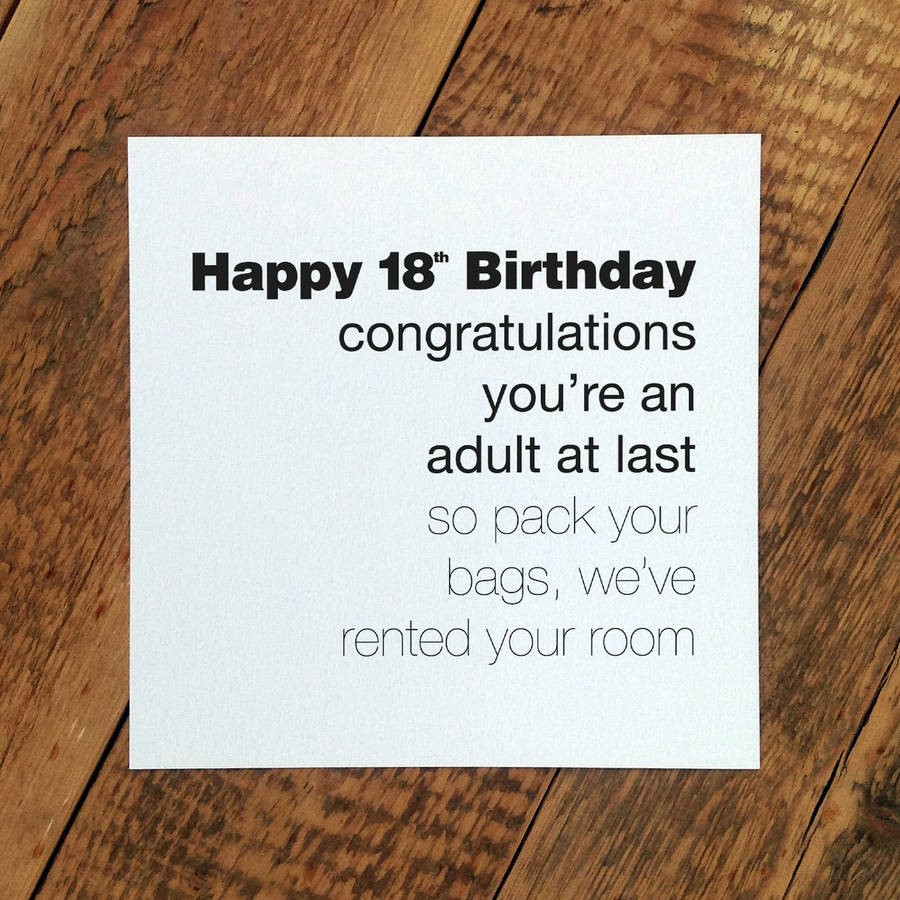 Haha, we love this card by Coulson Macleod. Lots of laughs for the birthday boy here.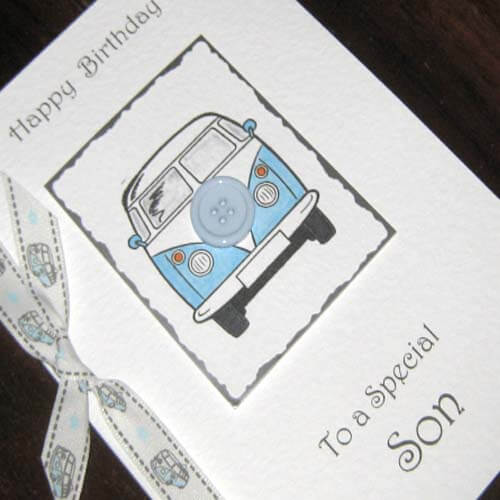 What could be cooler than a VW Camper? a VW Camper with a big blue button as a spare wheel? So cool and not too expensive, either.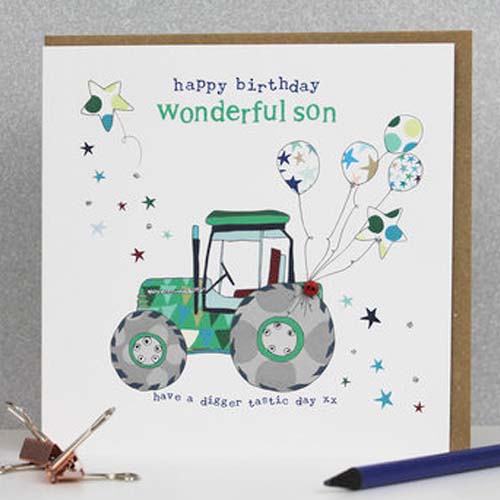 Get down on the farm with this tractor card!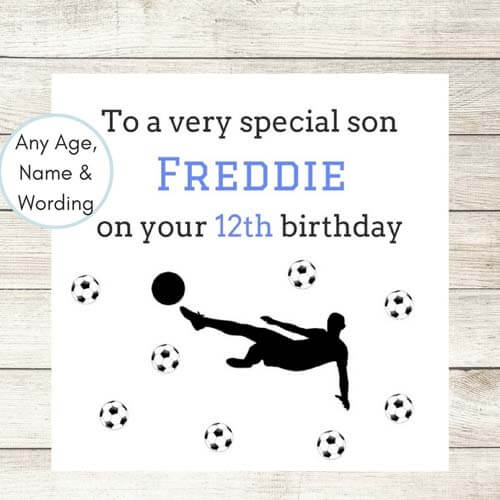 Football is such a popular sport. Here's a card you can personalise for the male in your family and a great choice for your Son!
Handmade Birthday Cards for Lover
Whether you've been dating for days or weeks, don't forget your lover on their birthday. It doesn't take much to remember to buy a card, after all. Take a look at some of our top picks.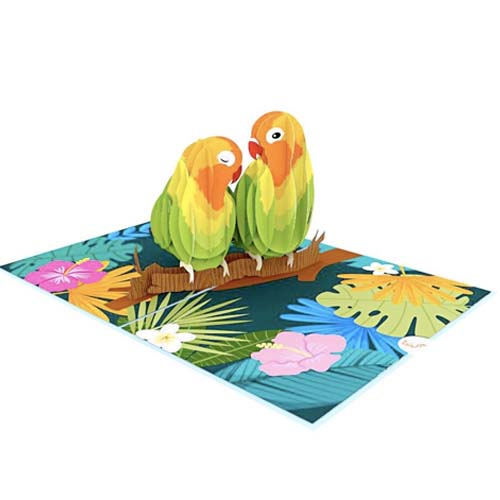 Love a Pop-Up card. Yes a bit more expensive, but then these gorgeous Love Birds are worth it!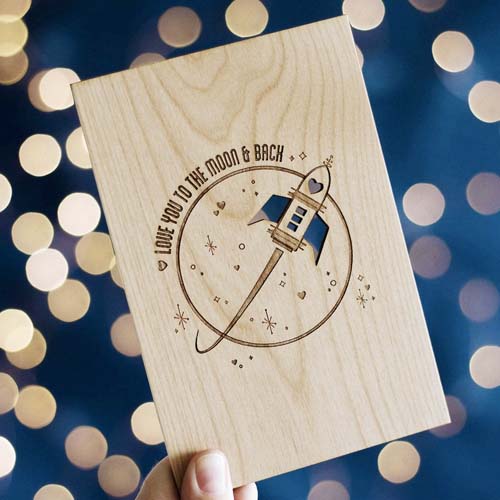 Love you to the Moon and Back! That says it all.
Just have room for a few Valentines Cards, I can't really do it justice on this blog as unfortunately it needs one of its own!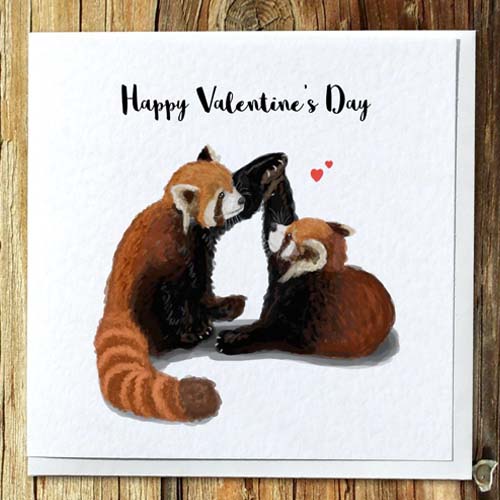 Aah! such sweet red pandas in love. Happy Valentine's Day!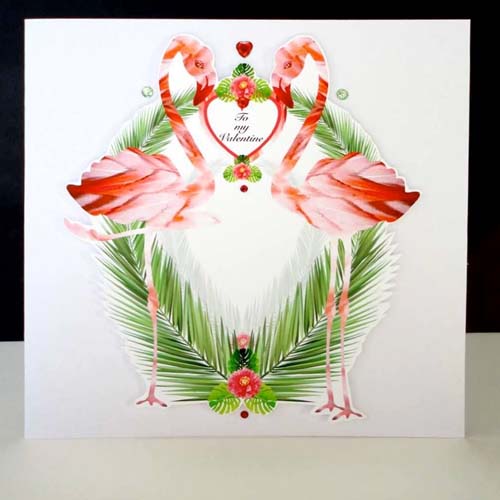 The Flamingos are such a hit, I've even got them making eyes at each other on this Valentines Card!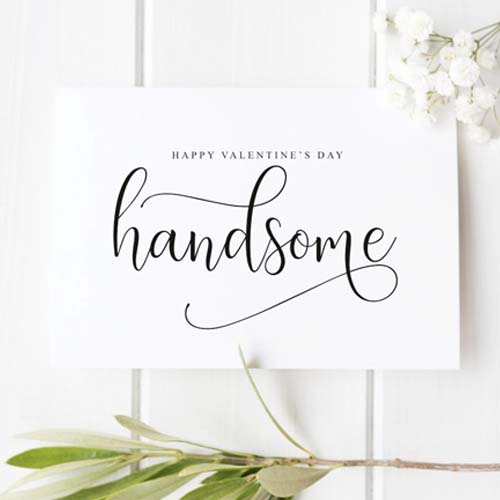 That's what I like a clear simple message – Handsome!
Handmade Birthday Cards for Friends
Where would you be without your friends? Share a chuckle and some memories and keep in touch.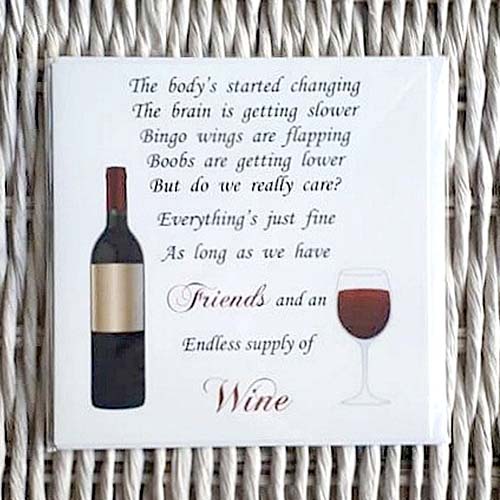 Wine is always the answer! So why not add it to your friend's card, too? The only thing (almost) as good as wine? A poem about wine!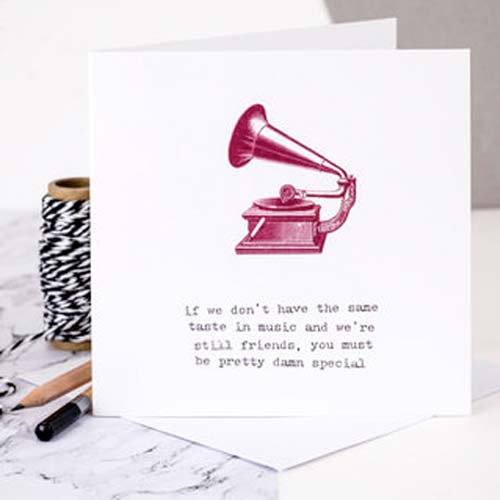 Music often brings friends together, so why not 'blow his or her trumpet' with this music-inspired card. Available on the Coulson Macleod shop online, this is a true retro delight.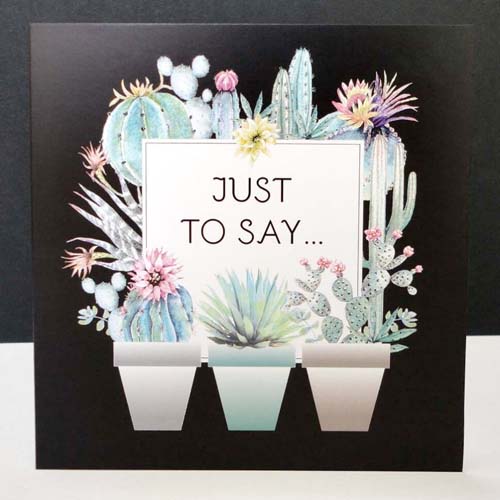 You haven't been in touch for a while, Just To Say…. We're all doing fine and lets meet up again, catch up on news.
Handmade Birthday Cards for Best Friend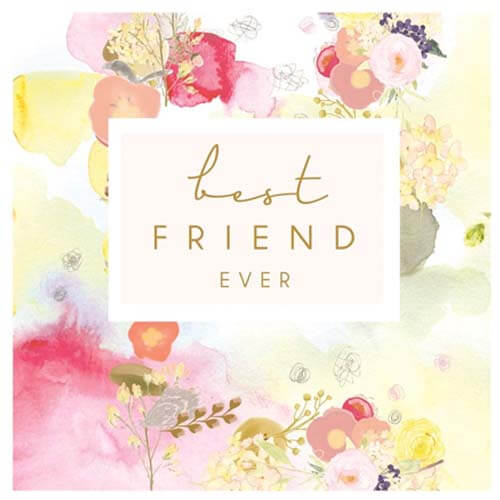 A Best Friend needs a special card I feel and this contemporary water-colour floral will fit the bill!
Wow! What a compliment I think your Best Friend will love this.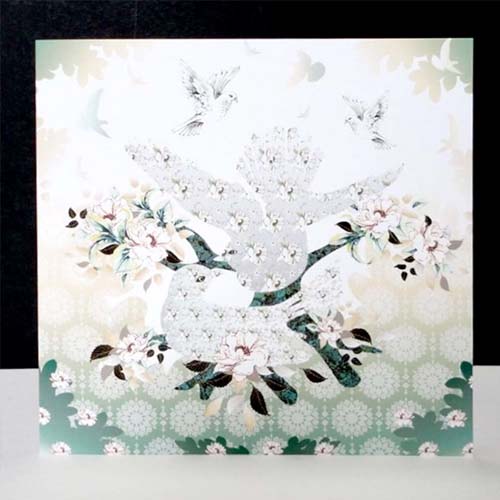 Best Friends are as close as these two beautiful doves, just add your own message.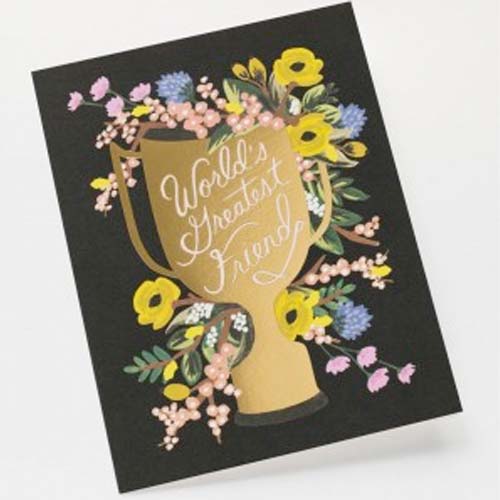 World's Greatest Friend, this must be for your Best friend!
Handmade Birthday Cards for Kids
For kids' birthdays, it's tempting to pop down to the high street to get a standard card with a standard badge on it. Don't! Instead, take a look at some of these….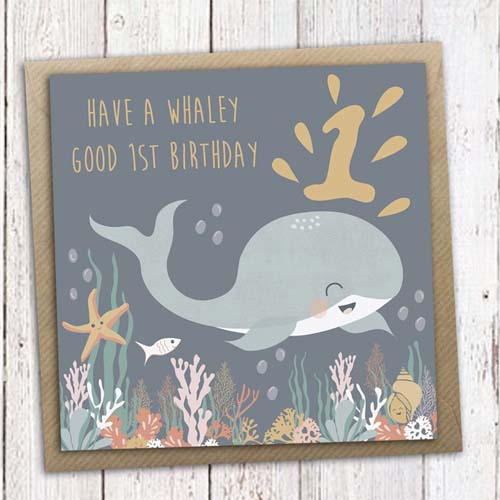 What a cute Whale for a 1st Birthday!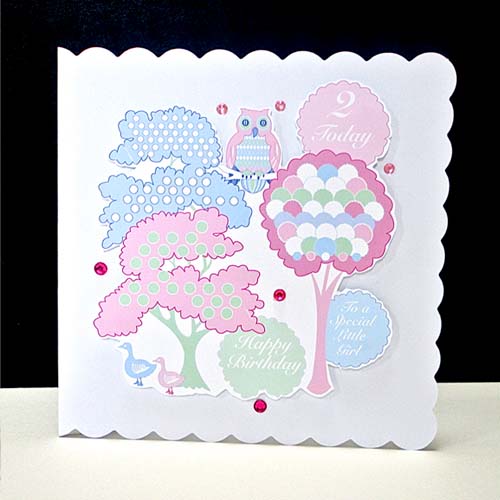 Looking for a card 1-5 years old. This Pink Wise Owl sits in a wood of imagery decorative trees in pastel tones pink or blue for girls or boys.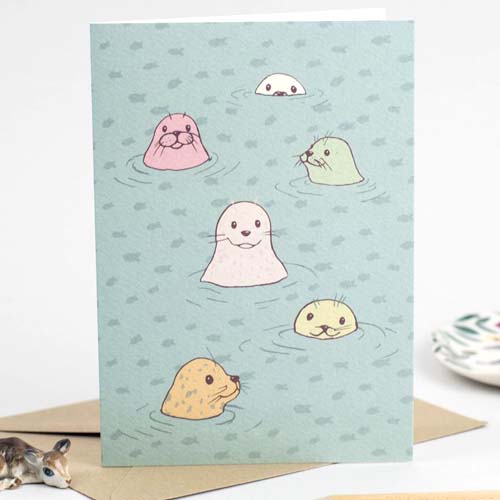 Children will love these cute seals with their heads popping up above the water.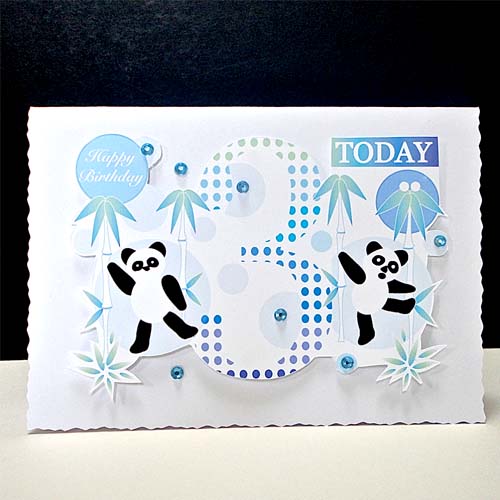 Three Today! Playful Pandas dance in the bamboo to celebrate the day- for 2 -7 years old.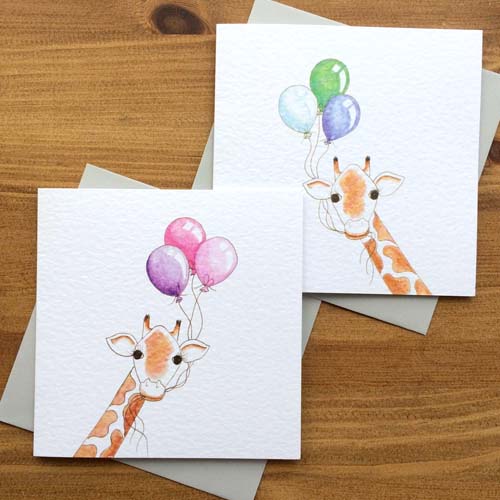 Children love the extraordinary. The giraffe with its long neck is a fascination and these hand-painted sweet faces holding balloons is sure to be a favourite by RosieandBlueDesigns.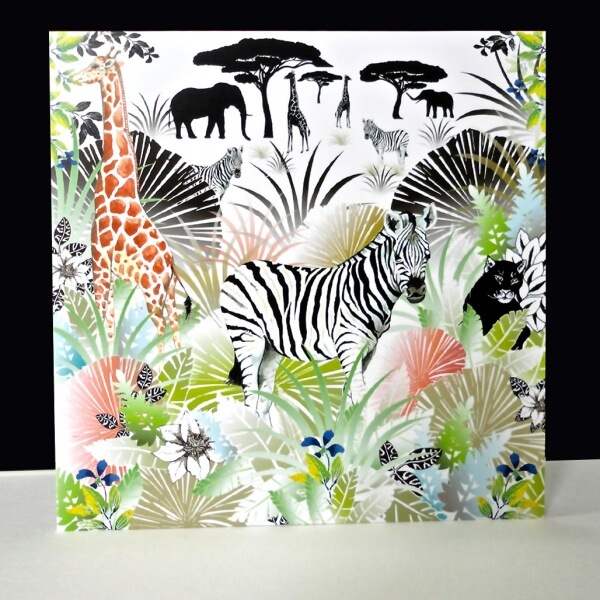 A safari scene brings the magic of a visit to the zoo. Find, name all the animals, then frame it for for on the wall! Your kids will love this one.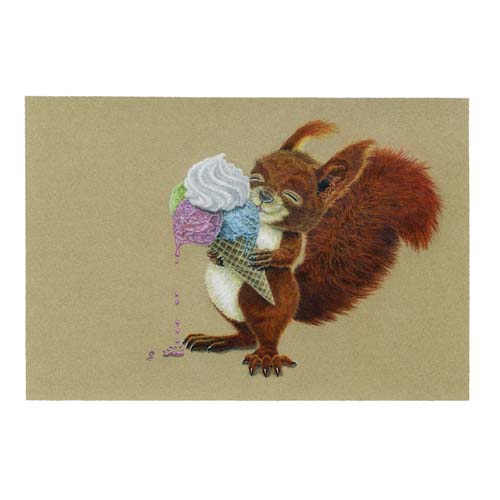 What a gorgeous drawing, adore this cheeky greedy squirrel with such an enormous ice-cream cornet!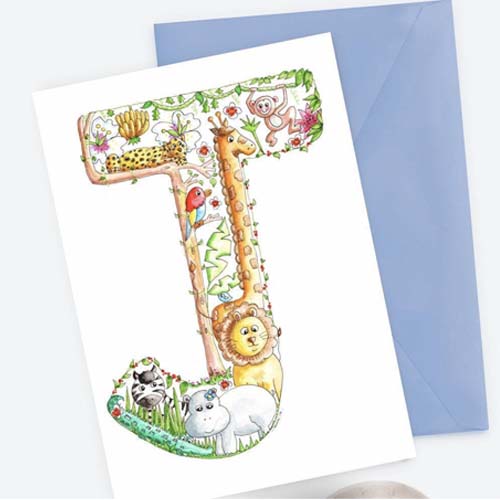 It's so nice to get a personalised card and this Jungle Alphabet Card by SueRocheIllustration is a great idea!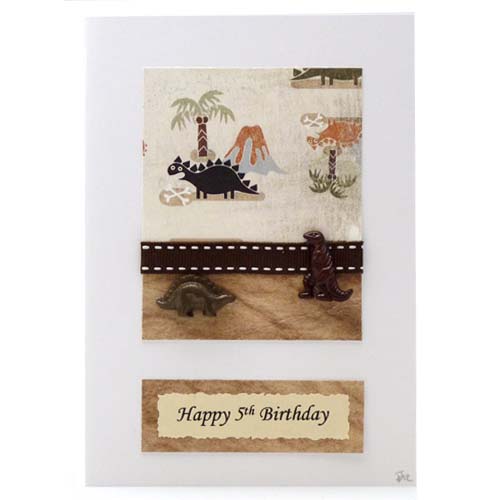 Boys love Dinosaurs! I really like the dinosaur print and attached buttons.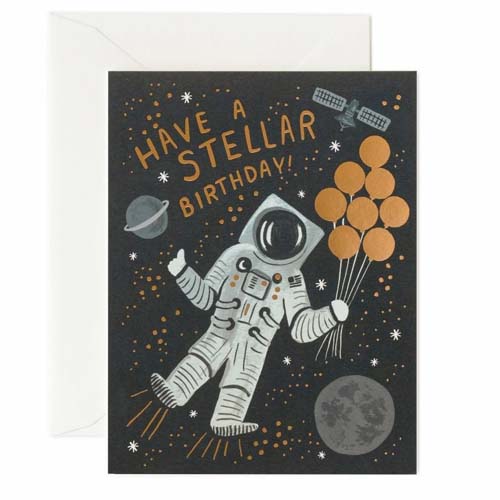 I thought we needed a space card for all those children fascinated by Tim Peake the astronaut.
Handmade Belated Birthday Card.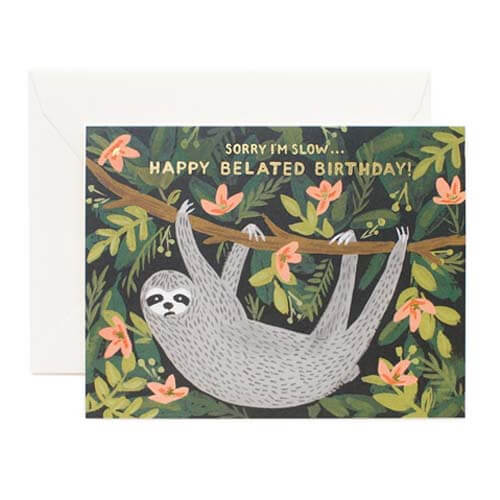 Yes, occasionally we miss that important Birthday and why not admit it Sorry I'm Slow. Bring a smile to an embarrassing situation!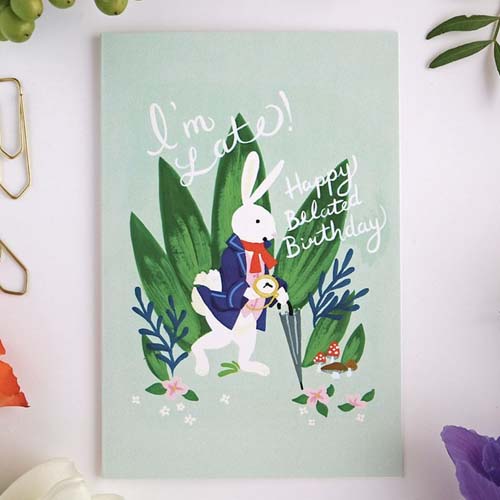 Oh dear, hate missing Birthdays but this lovely White Rabbit card may soften the disappointment!