In this country we Britons still love sending cards, whatever the celebration, event or occasion; a card can say it all and make someone's day. #justacard Week is designed to promote all us individual British designers and craftmakers who produce wonderful cards in our workshops, studios or just from home. Why not support your local shops and galleries and buy a unique card to send, a perfect message created by artist or designer with a real passion for what they do? Many cards today can even be personalised to add that individual touch for a special celebration.

Many of us have websites that you can purchase from and get delivered in time for the event. Others sell on market places such as Folksy, Etsy or Notonthehighstreet. My main website is www.decorque.com which has my home accessories range, but from the designs created for that range came the inspiration for cards leading to www.decorquecards.com All my designs are #inspiredbynature_ whether it's roses The Cerise Rose Handmade Birthday Card and birds from the garden featured in The Lantern at Daybreak Card or exotic flora and fauna.

You could say I don't shy away from colour! Colour captures the atmosphere of the scene I have created, whether its the dusty yellow sandy tones of the in Desert World, the cool ombre tones of a British river scene in the popular Kingfisher Card , or the hot colours of the birds amongst the bright greens and turquoise of the palms set in the tropics Birds of Paradise Card My designs include handpainted, photographic and images created in Illustrator all brought together in Photoshop. Some are available as art prints but the intricate detail in the card designs make them an ideal option for framing, after all they are still a piece of art created within a frame with elements of nature and my imagination.

Many of my cards are blank inside and with no specific message on the front, I think it is important to have that choice, most of us have a drawer or place for bought cards ready to send when needed without a panic rush to the shops, and these are perfect for any occasion. There are 'suggestion' cards too, which have an introductory phrase that you can then follow on inside the card . Here's Wishing You Flamingo Card is an example where the wish can be Happy Birthday, Happy Anniversary, Safe Journey, or just A Big Thank You.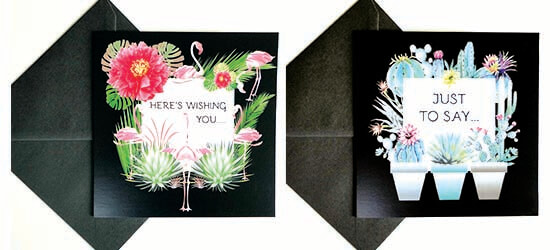 Like many designers I follow the trends in home & fashion when creating new designs, and an example is the Just to say Cactus Card that was inspired by a texile design I created last year for fashion. Again, this card has a text Just To Say… which you can follow with words of your own choice – I'm Sorry to Hear, I Hope You Get Well Soon, Thank You, Congratulations, Happy Birthday , We'll Miss You – ideal for so many occasions! I believe we have to fulfill the customer's needs – how many times do we buy cards which don't get used because they are for the wrong occasion, so we pop out to buy more?

I know today it is so easy just to send a text or email to send a message, but to say Thank You, is important, and if you really are grateful for that wonderful present, or help with something or for someone just being there when you need them, then a card can say it all. As stated on the Justacard website, 'A Card costs no more than your favourite cup of coffee' and surely is worth it to make someone's day! Most of the individual small retailers stock single or packs of thank you cards in their stationery department, or online, look for those created #handmadewithlove and printed locally, by British designers – which you can keep at the ready after Birthdays and Christmas.
So remember, it's Just send a Card this week, brighten someone's day and support your local businesses and talent!