As summer draws to a close and we look towards the autumn and winter seasons, you may start to think ahead to the upcoming holidays. For those in America and Canada, one of the most eagerly anticipated holidays of the year is Thanksgiving. One key part of Thanksgiving? Finding the right Thanksgiving card!
You may be celebrating Thanksgiving yourself and are meeting with family and friends this year. Even if you or are merely sending a card to a loved one overseas, finding the right card shouldn't be a chore.
Look no further for your perfect Thanksgiving card, as we've searched for the best cards for Thanksgiving online which you can find in this handy guide. No matter who you're looking for, read on to discover the best card ideas for Thanksgiving.
The Answers to your Thanksgiving Questions
What is Thanksgiving?
When is Thanksgiving?
How is Thanksgiving Celebrated?
What to Write in a Thanksgiving Card
What to Include in a Thanksgiving Card
Find the Perfect Thanksgiving Card
For Her
Thanksgiving Cards for Mum
Thanksgiving Cards for Wife
Thanksgiving Cards for Sister
Thanksgiving Cards for Girlfriend
Thanksgiving Cards for Friend
For Him
Thanksgiving Cards for Dad
Thanksgiving Cards for Husband
Thanksgiving Cards for Brother
Thanksgiving Cards for Boyfriend
Thanksgiving Cards for Friend
For Everyone Else
Thanksgiving Cards for Grandparents
Thanksgiving Cards for Teacher
Thanksgiving Cards for Neighbour
Thanksgiving Cards for Colleague

Thanksgiving is a national holiday celebrated every year in America, Canada, and some Caribbean islands. It's also celebrated in Liberia.
It is a holiday steeped in symbolism and history as people give thanks and come together as a family.
Traditionally, Thanksgiving gave people an opportunity to thank God for the blessings of the harvest. It dates back as late as 1621, where the English Pilgrims and the Native Americans were brought together by a harvest feast in a day of thanks.
Abraham Lincoln proclaimed a day of National Thanksgiving in 1863, and it was set in stone as a national holiday by Franklin D Roosevelt in 1942.
Since that date, it has been celebrated on the same day every year.
Thanksgiving is celebrated traditionally on the fourth Thursday in November in the US, and the second Monday of October in Canada.
Thanksgiving is generally celebrated with the coming together of friends and family. Many Americans travel far and wide for the holiday and celebrate together.
The most important part of Thanksgiving is traditionally the Thanksgiving meal, which includes a turkey, pumpkin pie, cranberry sauce, candied yams (sweetened sweet potato), stuffing, mashed potato, corn, and pecan pie.
As well as the thanksgiving meal, people may tune into the Thanksgiving parade, watch an NFL game, and give thanksgiving cards, of course!
If words don't come naturally to you, then don't worry. As experts in the industry we know a thing or two about cards, so read on for some useful pointers on writing a Thanksgiving card.
First of all, who are you sending your card to?
You may decide to send a Thanksgiving card to:
A friend
A boyfriend or girlfriend
A husband or wife
A parent
A grandparent
A neighbour
A teacher
A work colleague
Inspirational quote or message
Thanksgiving wishes
Message of appreciation
Traditional thanksgiving quote
Funny thanksgiving quote
Here are a few to get you started…
Happy Thanksgiving!
As I look back on the memories we've made and the good times we've had, I want to say thank you and let you know how much I appreciate you.
Here's to another year of memories and happy times shared together. Thank you for everything.
Knowing you are there for me no matter what is something I'm so grateful for. Happy Thanksgiving!
Wishing you a happy and healthy Thanksgiving.
Thank you for all you do and for all you give.
I'm lucky to call you my (friend/ sister/brother/ Mum/Dad/boyfriend/girlfriend/husband/wife) and wish you all the best for the years to come.
Thanksgiving is the perfect opportunity to give thanks to your Mum for all the hard work she's done. Traditionally, people come together at Thanksgiving and many who have moved away travel home. Give your Mum the perfect Thanksgiving card and get inspired below with some of the best options around.
Get Creative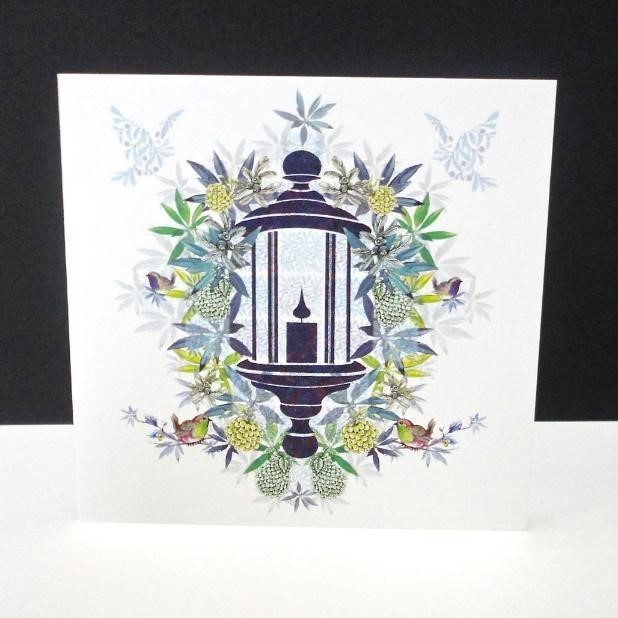 Thanksgiving is a time where people come together at home, and what better way to bring a cosy feel to the celebrations than with this enchanting card depicting a lantern. With soft blues, berries, and leaves, give the feeling of a charming winter scene this Thanksgiving, perfect for Mum to display pride of place!
Top Tip: Give it as a gift!
Make this gift extra special and give the print of a gift so that your Mum can cherish this artwork for years to come. You can find the framed art print of this design here. Lovely.
Seasonal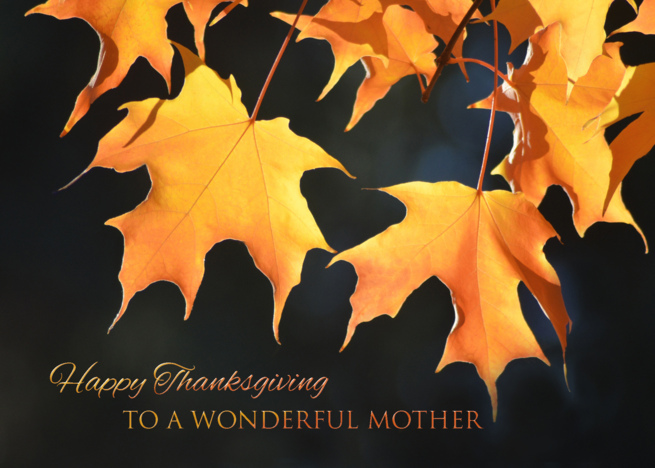 You can make your card extra seasonal with a depiction of Autumnal leaves for your Thanksgiving card. This card keeps things simple with a delicate leaf design and is personalised for a Mother to receive.
Pretty thoughtful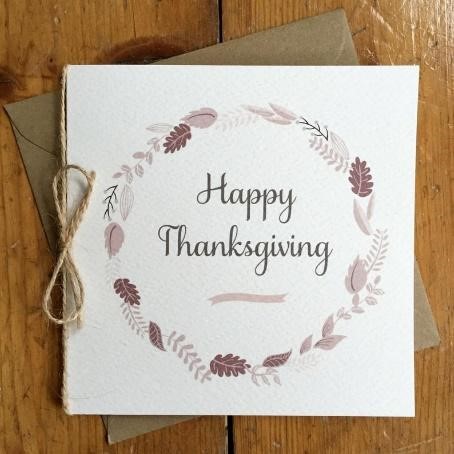 This subtle and cheery design keeps things simple and would look great on any mantelpiece. Find it here and order with plenty of time for Thanksgiving.
It is easy to forget how much your wife does for you, as busy lives and hectic schedules can get in the way. Say it all with a card this Thanksgiving and get inspired with the options below.
A sweet option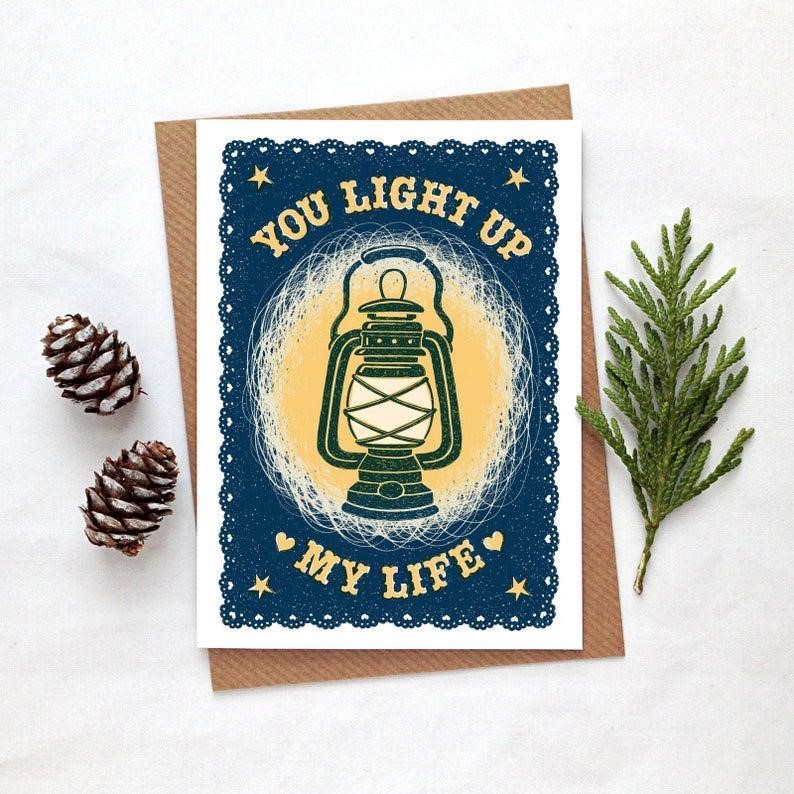 Let your other half know how much they mean to you with this charming design depicting a lantern. Perfect for the time of year, it also shows how much you care, and would make anyone's thanksgiving. If you like the look of this card you can find it here.
Colourful and vibrant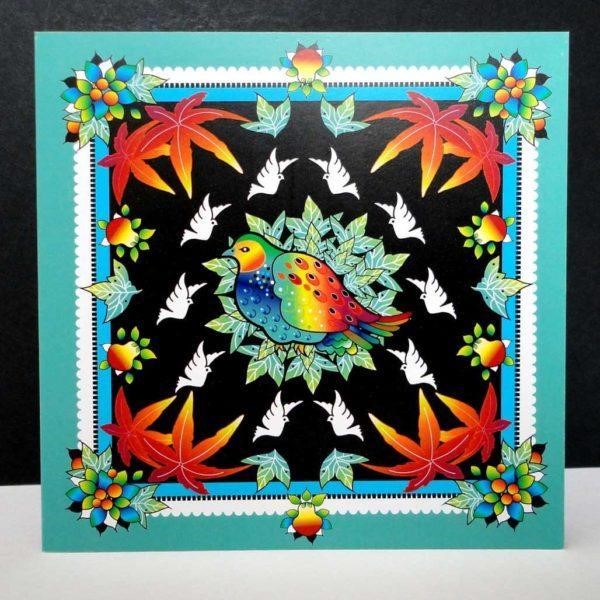 Remind your soulmate of the happy times you've had with this vibrant, patterned depicting a partridge with autumnal leaves. Thanksgiving is a notable holiday in the Autumn calendar, so give a card that encompasses the season!
For the dog lover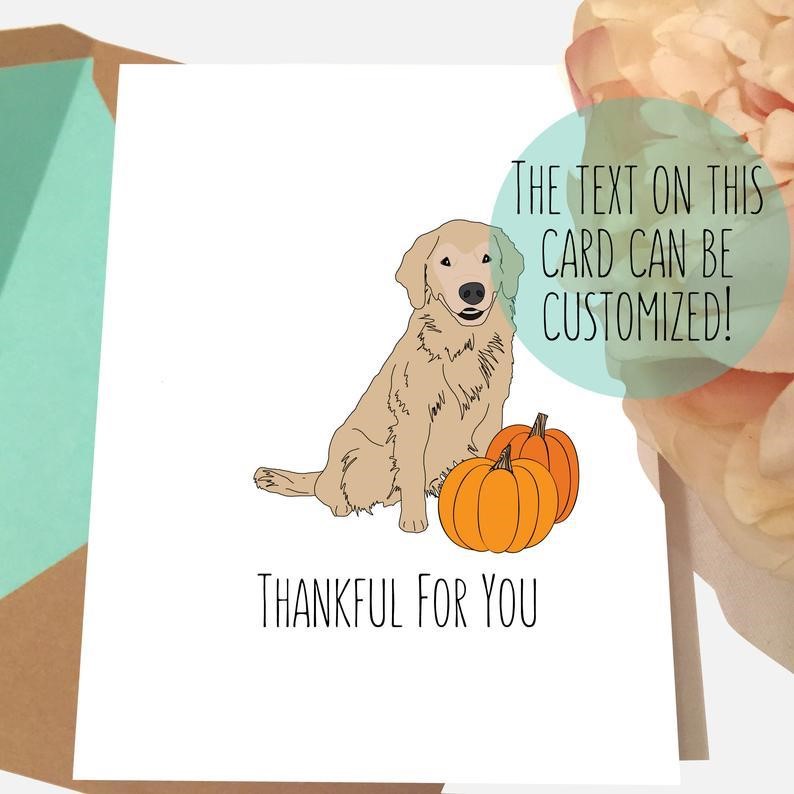 If you and your wife love your dog more than each other, then this is the card for you! Remind her of your shared best friend with charming dog thanksgiving card that can personalised.
No matter your age, your sister will always be your sister! If you rarely get a chance to see your sister, Thanksgiving is the perfect chance to send a greeting or give a card that says everything you want to say. Here are a few ideas to get you inspired to give the perfect Thanksgiving card for your sister.
Keep it simple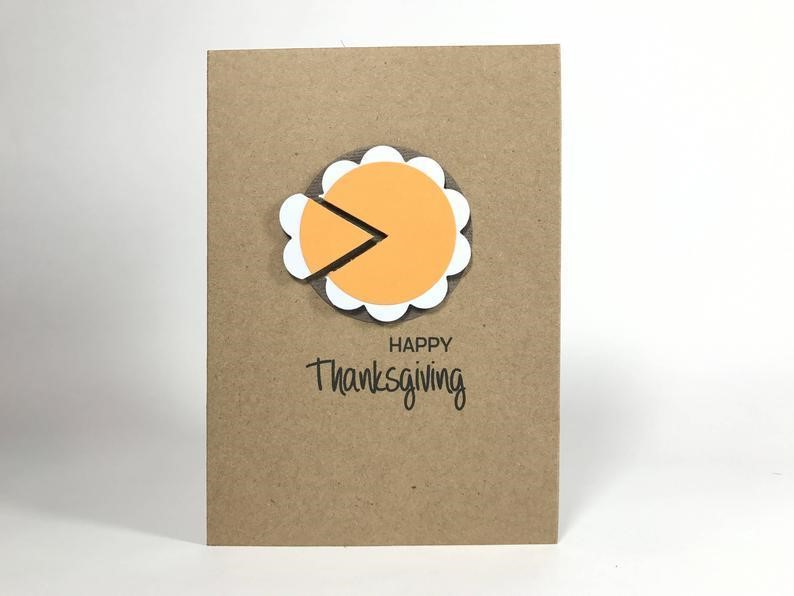 This sweet and simple design depicts a pumpkin pie and is instantly recognisable as a traditional Thanksgiving offering. Fun and quirky, any sister would be happy to receive this poppy design.
Get back to nature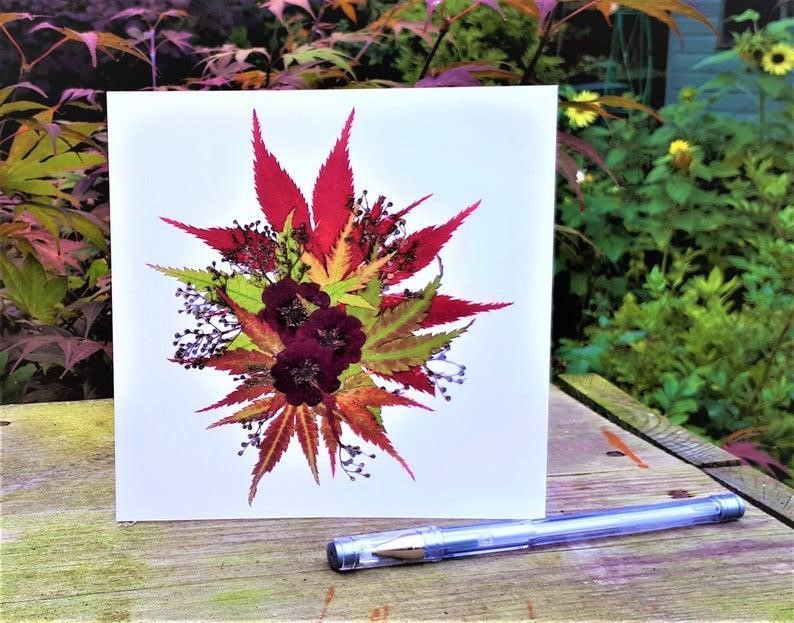 This beautiful, rich design depicts the traditional leaves and colours associated with Thanksgiving. This is a more elegant design for a sister who has an eye for detail, and can be found here.
For the wordsmith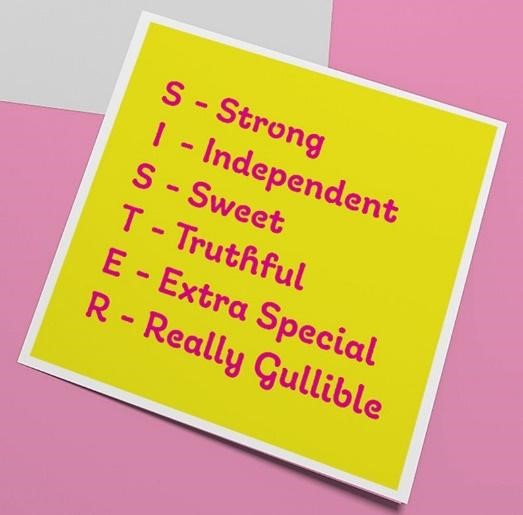 Remind your sister of what makes her special (with a touch of humour) with a fun colourful card for your sister this Thanksgiving.
Thanksgiving is the perfect opportunity to show your appreciation for your girlfriend. No matter if it's your first Thanksgiving celebrated together or not, don't forget to find the perfect Thanksgiving card for your girlfriend in time. Stuck for ideas? The cards below should get you thinking!
For the foodie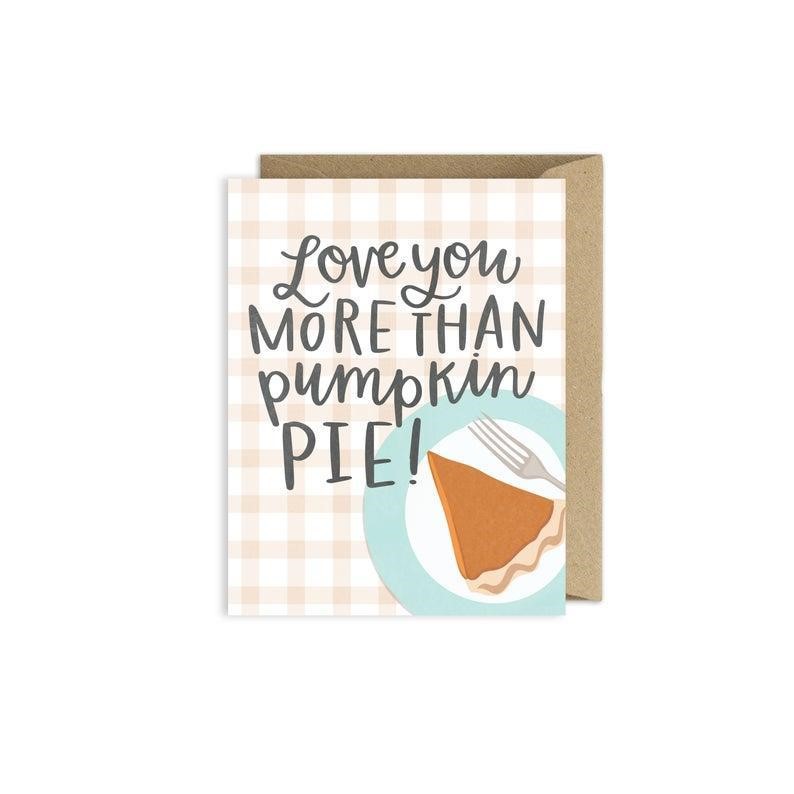 If your girlfriend loves nothing more than Thanksgiving dinner, then this card is sure to sweeten her up! This modern design is the perfect way to let your girlfriend know how much she means to you. Illustrated cards give an extra homely feel, which is exactly what Thanksgiving is all about. Find this scrumptious card here.
Keep things traditional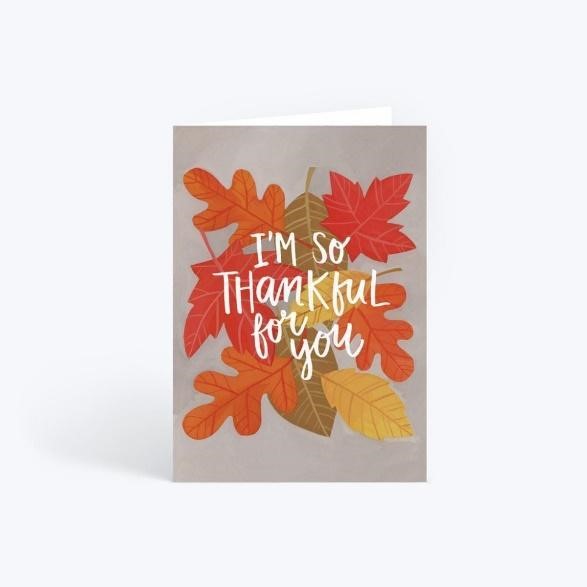 This sweet, modern design encapsulates everything Thanksgiving is about with an artistic twist, so you can thank your girlfriend for all the good times and let the card do the talking. With autumnal leaves and a sweet message, this card is sure to brighten up your girlfriend's day.
Sharing is caring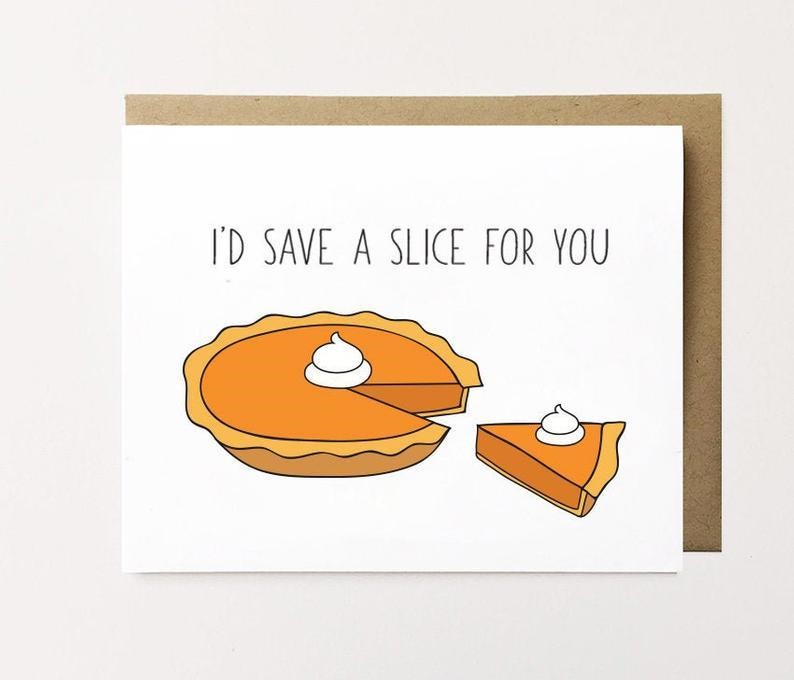 This cute card says it all this Thanksgiving. Remind your girlfriend of how much she means to you with this sweet card. You can find this Thanksgiving card for your girlfriend online.
During the busy holiday season, you might not be able to fit in visits to all your friends. If your calendar is packed out, don't worry! A Thanksgiving card is a brilliant way to remind your friend of how thankful you are for them. No matter if it's a best friend, or a friend you see every now and then, these cheerful designs are sure to get you inspired to give the best Thanksgiving cards for a friend you can find.
Keeping it traditional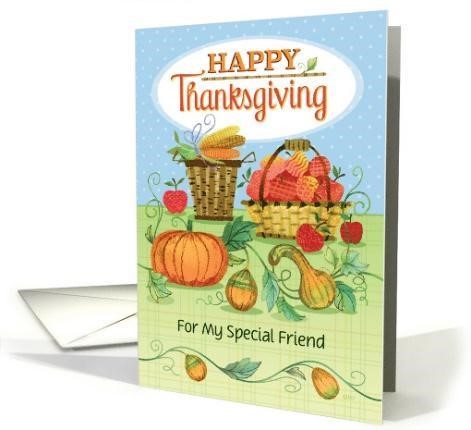 This cheerful harvest scene harks back to what Thanksgiving is all about. If you're grateful for all your friend has done, then this is the card for you. It's personalised for your best friend, and the bright artwork makes this card extra special.
For the Friends fanatic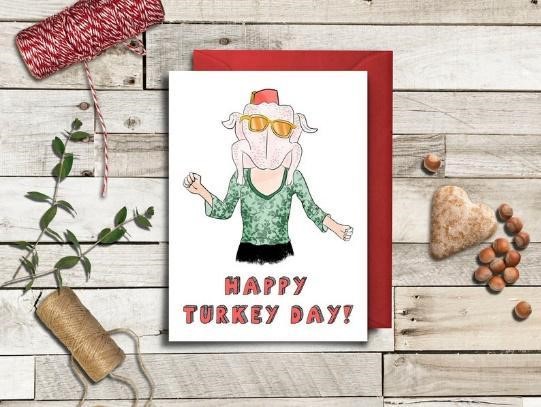 No TV show quite reflects true friendship like Friends. Bring a smile to your friend's face with this Friends based artwork depicting a classic Thanksgiving scene from America's most loved sitcom.
TOP TIP: Check out this awesome Thanksgiving gift for a friend that you can give along with this fantastic card!
Quirky and original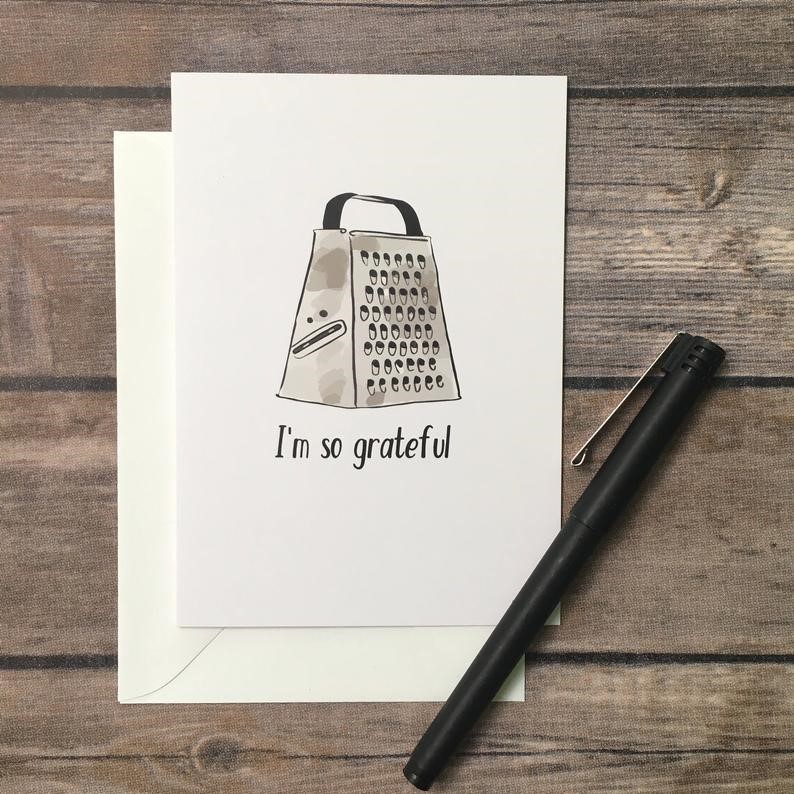 This fun thanksgiving card is sure to bring a smile to your friend's face. Show them how grateful you are this season with this imaginative choice.
It can be easy to forget to thank your Dad for everything, especially as we get older! This is what Thanksgiving is all about. Get ahead this year and check out some examples of the best Thanksgiving cards for Dad online below.
Cheerful design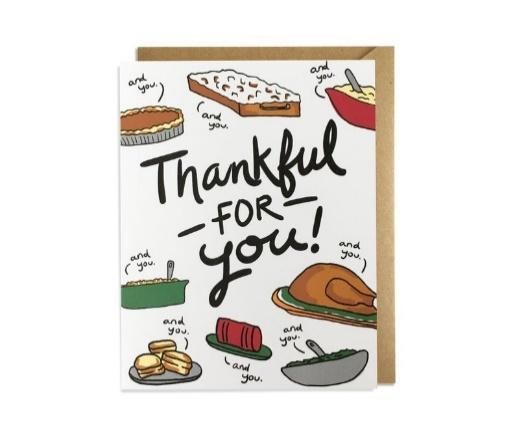 This fun and simple is a great way to let your Dad know how appreciative you are. Featuring all your Dad's favourites at the dinner table, its sure to put a smile on your Dad's face.
Sentimental option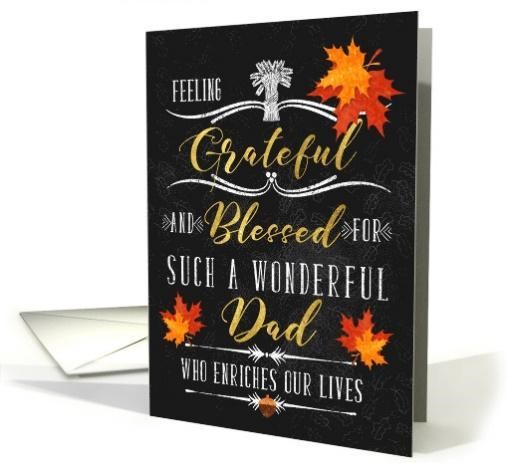 This card takes a more traditional route is your Dad is the wordsmith of the family. If you don't know how to put your thoughts into words, then look no further than this intricate design that does the hard work for you.

You can find this design online here.
For the cat lover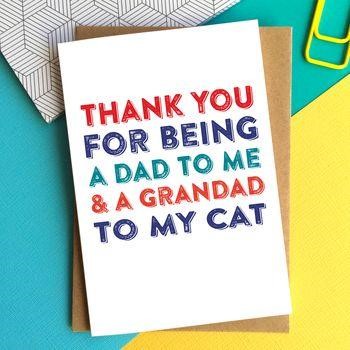 If you and your Dad bond over a feline friend then this card is purrfect for you! Give this card to your dad at Thanksgiving as it's sure to bring a chuckle.
When life is full-on you might not tell your other half how much you appreciate him. Take the opportunity to do just that this Thanksgiving, and to get you started check out these designs below, perfect for your husband this Thanksgiving.
A homely touch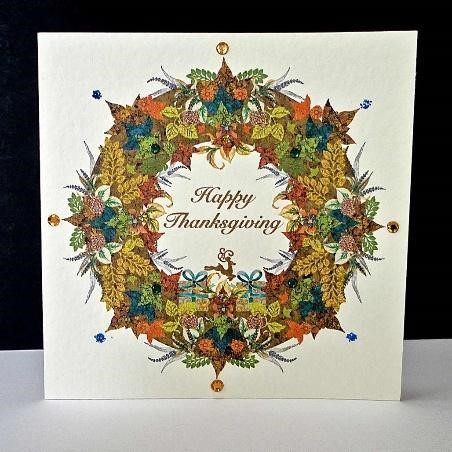 With strong autumn colours and a delicate font, keep things traditional with this smart card for your husband this Thanksgiving, depicting a wreath similar to what you may display in your home.
Sweet and simple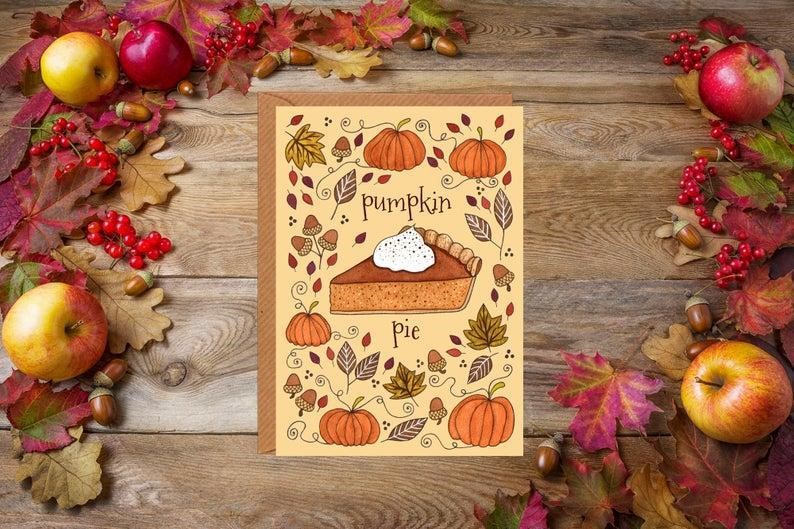 If your husband has a sweet tooth they'll be sure to appreciate this sweet design depicting a pumpkin pie. Artistic and jolly. It's sure to leave your other half smiling.
Let the card do the talking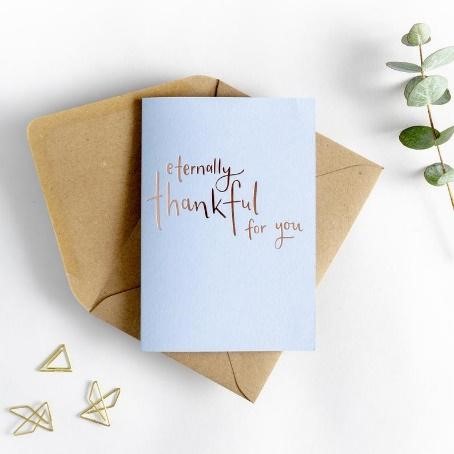 If you're not one for words, then this card is the perfect choice for your other half. Take a moment and let them know how thankful you are for all they do with this sweet Thanksgiving card.
No matter if you fight like cats and dogs or get along brilliantly, say it all this Thanksgiving with a card sure to make your brother smile.
A sweet reminder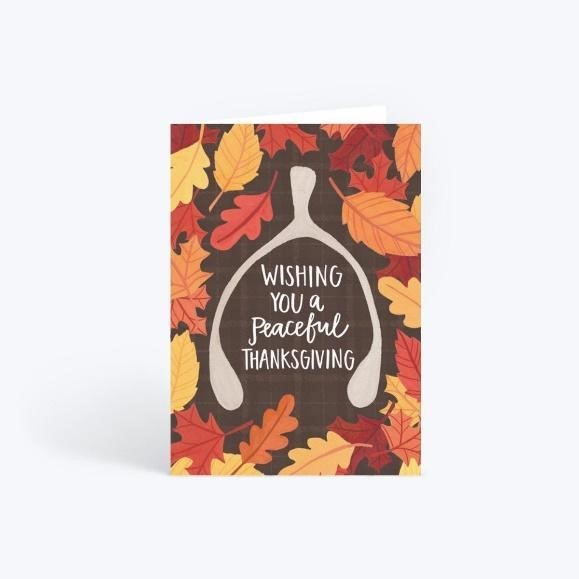 This neat and pleasant design says everything you need to say this Thanksgiving, with the inside left blank for your own message of thanks. This card is particularly perfect if you and your sibling used to break the wishbone when you were younger!
Just grin and 'bear' it!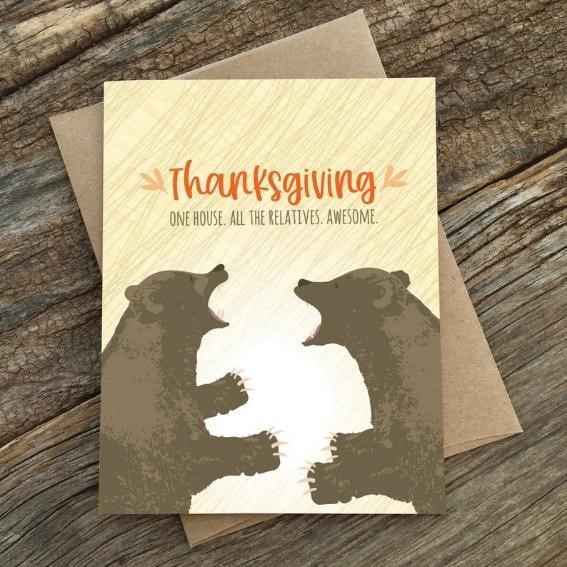 Siblings are all too familiar with family drama! This clever card cheerfully depicts two bears and is the perfect option for anybody who still has the occasional brotherly squabble over the dinner table! If you want to say it all in the card, this design is the perfect choice.
A great reminder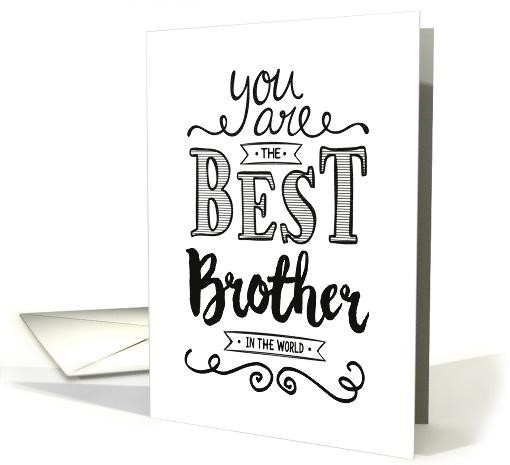 Remind your brother of just how much they mean to you this Thanksgiving with this simple but sweet message. Available here.
Every girlfriend loves the opportunity to give a gift or card to their other half. Thanksgiving should be no exception! Take a look below for some fun designs your boyfriend will love this Thanksgiving.
Make him smile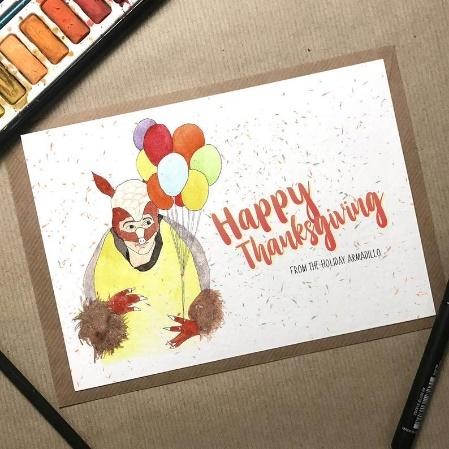 If your boyfriend is a culture vulture this card is sure to please. Depicting an iconic scene from the Friends TV show, bring a smile to your boyfriend's face as well as a thankful message with this card.
Show your thanks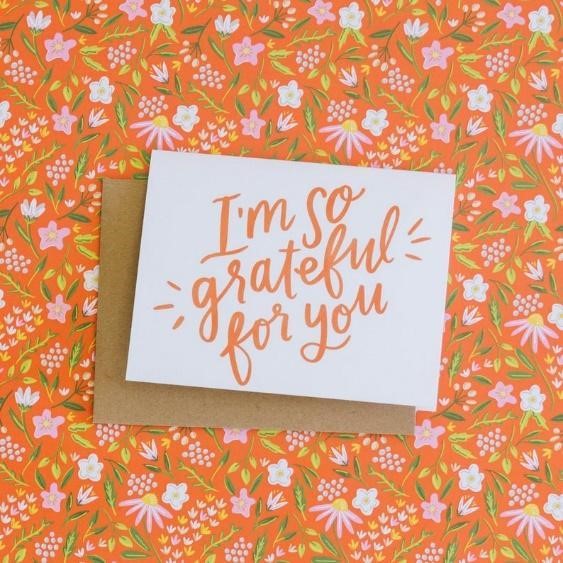 If your boyfriend lights up your day and makes you smile, then let them know with this bright design that will stand out from the rest! Thanksgiving is all about showing your gratitude and this card says it all.
Traditional message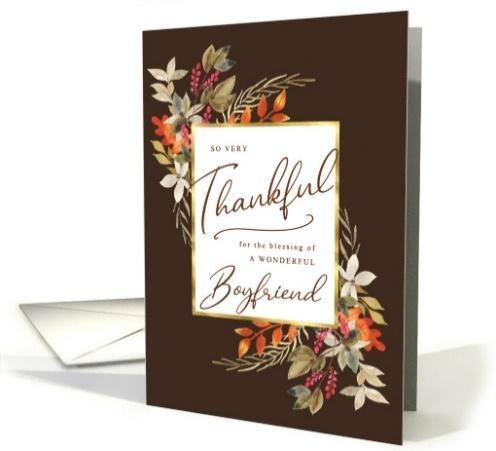 This seasonal and sweet design is the perfect card to thank your boyfriend for all the memories made and happy times. It depicts the traditional leaves that fall around Thanksgiving and is an elegant option that reminds your other half of how lucky you feel to have them!
Maybe you have a bromance, or maybe you just have a really good friend who you rarely appreciate properly. Let the card do the talking this Thanksgiving. Check out some of the best Thanksgiving cards for a friend below.
For the joker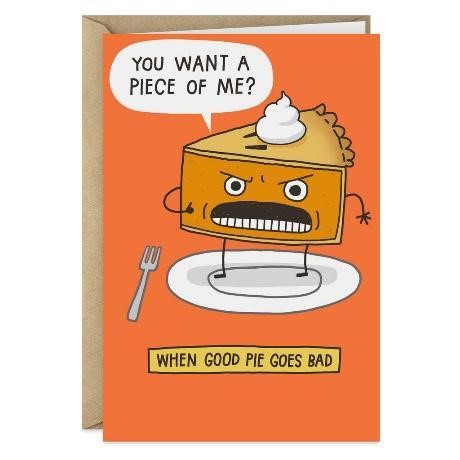 This quirky card is perfect for your friend if he's the joker of the pack. This card comes with the opportunity to write a personal message, too. Sorted.
For the gym bro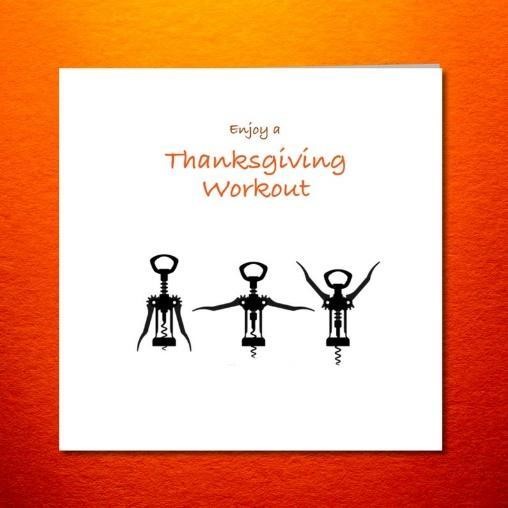 If your friend loves to hit the gym, remind him of the workout he'll need after Thanksgiving with this great Thanksgiving card for a friend that'll be right up his street.

Find here.
No Fuss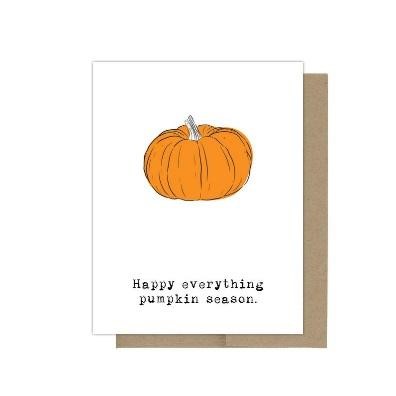 This card keeps the message simple with a nod to the iconic pumpkin that is so popular around this time of year. Perfect for a friend who doesn't like a fuss, give this Thanksgiving card for a friend this year.
Beautifully traditional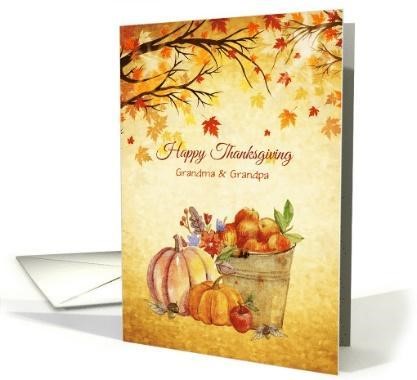 Any grandparent would be happy to receive this beautiful card depicting a traditional Thanksgiving scene.
Bright bouquet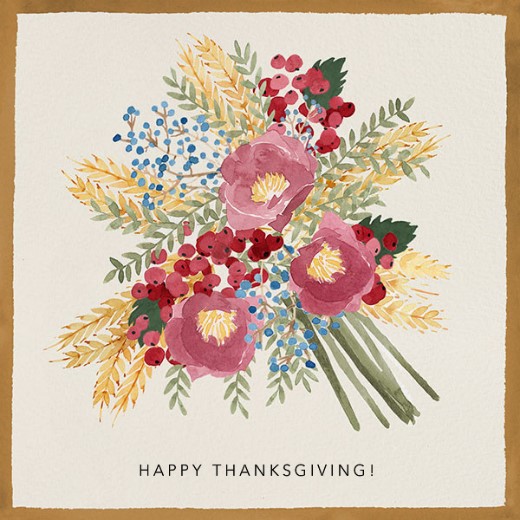 This beautiful bouquet Thanksgiving card is sure to bring a smile if you choose to give it to your grandparents.
TOP TIP: Go one step further and give your grandparents a real bouquet along with this Thanksgiving card!
Show your artistic side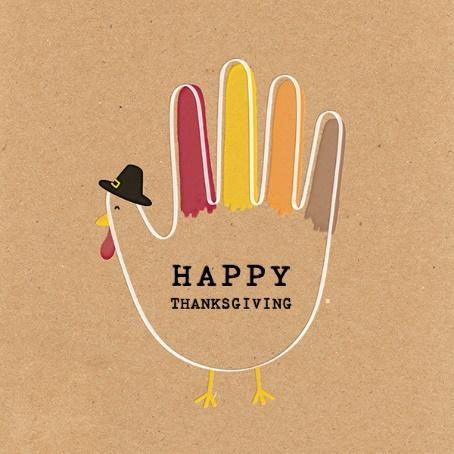 Keep it creative and thank your teacher for their hard work so far with this artistic turkey card.
Colours of the season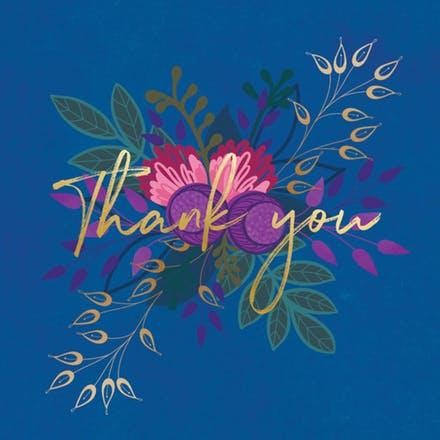 Go for a subtle design with this thank you card for teacher at Thanksgiving that's sure to stay on the mantelpiece.
Cheerful and bright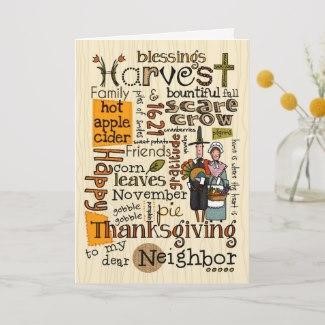 You and your neighbour may never get the chance to show your appreciation for each other. Say it all this Thanksgiving with this great card.
Golden Design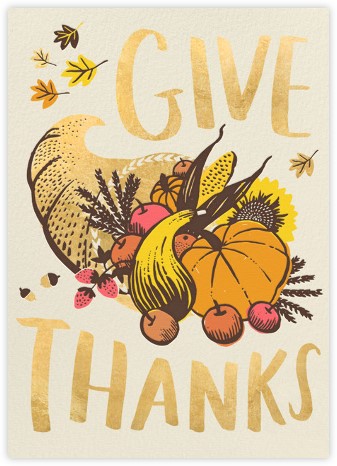 This friendly golden design depicts a traditional Thanksgiving scene with a cornucopia abundant with food from the harvest. A perfect depiction of what Thanksgiving is all about, give this to your neighbour to remind them you're appreciative of them.
Keep things personal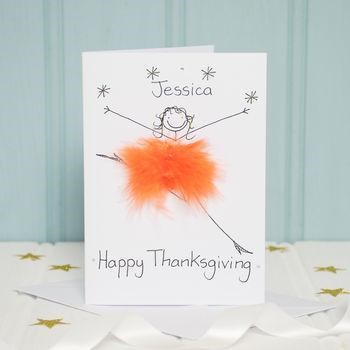 You can keep things personal with this personalised Thanksgiving card for your co-worker.
TOP TIP: As this article states, giving thanks can do wonders for your career! Whether you send an e-note or thank you card, giving thanks at work is always worth doing.
Smart and simple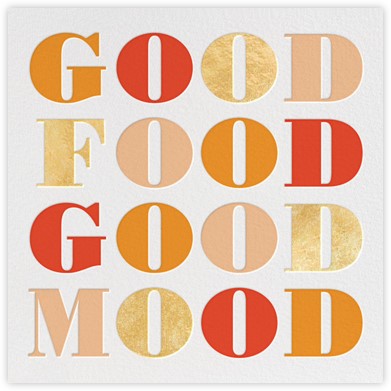 This modern design is ideal to give to a colleague at Thanksgiving as you celebrate Thanksgiving in the office.
So, there you have it, the ultimate guide to the biggest celebration in the American calendar. No matter who you're looking to please with a card this Thanksgiving, this handy guide can get you inspired so this year's Thanksgiving is more memorable than ever!