If you have a new birth to celebrate, and are looking for something special, here are 14 beautiful handmade new baby cards that I absolutely love. In Britain, we love sending and receiving cards; combine this with our appetite for creating and you have making greeting cards as one the top craft hobby.
My favourite ' New Baby Card' is this really creative 'Handmade Personalised Congratulations New Baby Card' designed by Lesley Ann Wilson from Birmingham, found for sale on Folksy.
The reason for choosing this card is the wonderfully ingenious idea of the tiny knitted jumper, just not quite finished, still on the needles with the wool attached and a small teddy motif on the front!  Placed on a printed polka dot heart and clear printed text of personalised details, it is a card I would choose. Lesley actually knits this perfect miniature piece with something akin to cocktail sticks. It brings back memories of all the Mums, Aunts and Grandmas getting their knitting needles out at the mention of a birth in the family, and in no time a new wardrobe of bonnets, mittens, cardigans and booties is created!  Booties are a popular subject for Baby cards and my 'Balloons and Booties' is an example of their use on handmade cards.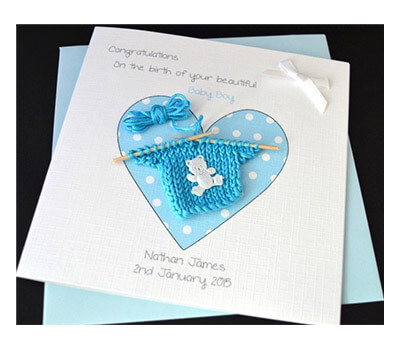 My second choice is the 'Budgie New Baby Card' by Petra Boase Ltd found on Not On The Highstreet. This baby girl card has a pretty pink machine embroidered budgie on felt, simply perched on a single branch.  Here, I have to admit to keeping budgies for many years and I just love their sweet characters, so I am a little biased on this subject, and must get around to designing a card featuring them myself!  This lovely little bird can be removed and used to embellish a piece of clothing or a cushion, so need not be stored in a box of keepsakes for years but enjoyed to look at or wear. Its partner is a genuine blue budgie for a baby boy.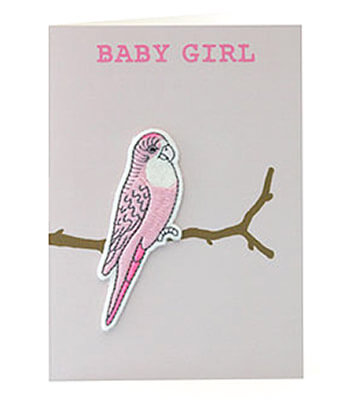 For my third choice, I have a card which is unisex, if you don't know the gender of the new baby. This Handmade New Baby Card "Baby Joy" by Lotus Art Studio is perfect.
This is a classy card, with its text 'baby' in a simple grey and ivory polka dot pattern, clear and peach Swarovski crystals and two cream silk flowers with silver triangle centres. The message is clear ' Welcome to the World', this simply says it all!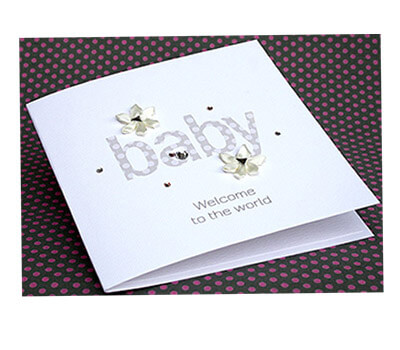 Number four on my list of Best New Baby Handmade Cards is the 'Vintage Blue Pram' by huddle & bliss.
You may be thinking this cannot be categorised as handmade, but I keep coming back to this card.  So, I apologise but I love this gorgeous antique pram with all its detail; the quality of printing on the buff background gives it a certain antiqueness and really makes it stand out to me.  I have shown both colourways as I really couldn't choose which to feature, it makes me want to see more colour examples of this British design and print.  Unfortunately, the buggies and prams of today are not aesthetically pleasing; so we tend you use the Vintage for their design quality.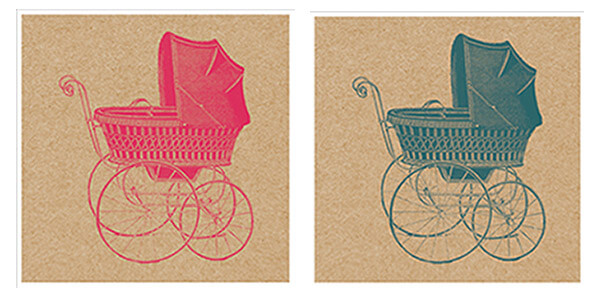 Fifth on my list is 'Welcome Little Lady Card' by Anna Treliving, Nottingham, found on Folksy.
Here is another image of a pram portrayed in a completely different way from my fourth choice.  This card illustrates the sewing technique that is trending at the moment in the handmade greetings card market.  The hand-drawn pram and simple message ' welcome little lady' are printed on the card; a pretty floral fabric hood machine stitched is then added.  I like the nice easy combination with a choice of different coloured hoods.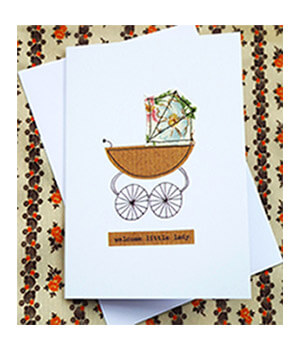 My next group of three cards is not in order of preference, but are just grouped together as great cards in the blue palette for a baby boy.  I start with the simple 'Personalised New Baby Card' with a personalised birth date calendar, by Thispaperbook, from Notonthehighstreet.
The second shown is one of two cards I have chosen from Especiallyforyoo by Clair Green.
I like her combinations of design media, the flat printed swirls and rattle base brought together in a blue gingham bow and the ombré blue rattle head mounted in relief with its braiding and flowers.  Finishing off with small glass stars and a fixed tag saying 'It's a Boy" is a nice touch!
The last in this group of three is one of Elspeth Thomson's Handmade Embroidered Greetings Cards, the 'Baby Blue Goose'.  It is an embroidered illustration of a goose in white felt with a blue stitched outline mounted on a background of tall stitched flowers with added glitter.  A very delicate card with a simple printed message' a Beautiful New a Baby Boy'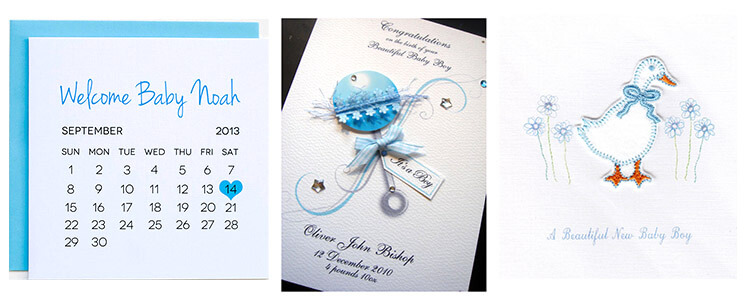 In no particular order, this group of three cards is a celebration of the birth of a New Baby Girl.  This first card with the four pink single tags spelling out 'Baby' came from Pinterest and was sourced from Folksy.  I really like this simple but clever idea of tags – it could be developed a long way on a design front with patterns, scenes, changing shapes – really endless opportunities for new cards.  The white ribbons and daisy flowers against the pink gives the card a fresh clean look.
Again, this second card I took from Pinterest 'Sweet Baby' by astamom.
There is a lot of work gone to produce this card, a building up of layers.  The first layer of paper has groups of embossed tiny hearts and three silver studs attached at the bottom left hand corner.  On top are two strips of paper, cut like ribbons hanging down from the top rectangle of paper with its pattern die-cut border. In the centre of this is a small polka dot patterned giraffe with a cotton tie!   To finish off it is embellished with a pink and white bow and pink button!
The third card again brings up that popular Vintage look. The 'Baby Girl Card' is by Garnetfleuri from Melbourne Australia.
t is a handmade paper collage with added ribbon, wool and a message with a difference about the baby and parents!  The soft antique pastels on the tea-stained coloured ground have that cosy, pretty feel.
If you are interested in Vintage cards, then take a look at my blog 'Cards I love this Valentines's Day' – I have some images of Vintage Valentine's cards, the detail in the die-cut cards is amazing!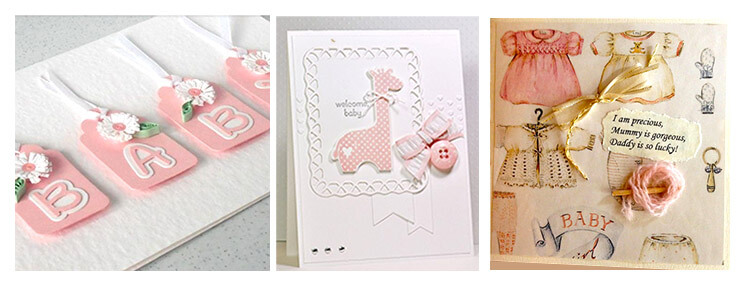 Sometimes, when thinking about the birth of a new baby, we forget multiple births, so my last three are chosen for twins and triplets!
The popular pram is featured again in this 'Paloma Baby Twins' card by belly button designs.
This pram is definitely influenced by the 1940's – 1950's design, but don't you just love the double hood!  This pram says expensive as the image is foiled and embossed and hand finished with sparkles and crystals and presented in a smart grey envelope.
In contrast, the second card is another creation by Clair Green using the same combination of line and embellishments.  I adore the stork carrying two colourful checked patterned bundles, two babies ready to meet the world with small tags attached with their names.  Again, a lot of work goes into this card from the printing to the added images in relief to the simple, die-cut flower shapes on the corners.  Some real imagination shown here!
Finally, my last card is the 'Handmade Personalised New Baby Triplets Card' by Just For Cards. How sweet are those three little bunnies? Once the card is personalised and they have names they take on a character. Even the little duck on wheels is cute, and it is all hand-finished with rhinestones and a bow!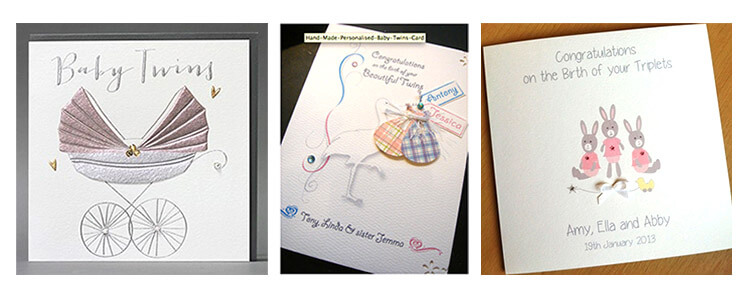 I hope you have enjoyed my pick of the best handmade new baby cards, if you have some great examples that you feel deserve a mention why not send me a message and we could extend this selection in the future.