At Christmas we all think of cards featuring nature and animals in their natural Wintry habitats. I have compiled a great selection of some of the best bird cards around that are perfect for you bird-lovers this Christmas.
Birds always feature at the top of the list as Christmas Favourites.
Even in the English Christmas Carol 'The Twelve Days of Christmas' we have the first day featuring a partridge in a pear tree. Further into the lyrics are two Turtle Doves, three French Hens, four Calling Birds, six Geese-a-laying and seven Swans-a-swimming.
Of course, the most popular subject to promote Christmas cheer is the partridge, which is my first choice too; so here are some great designs.
My first choice is a Pretty Partridge Christmas – this colourful partridge in a pear tree is a great buy to support a worthy charity.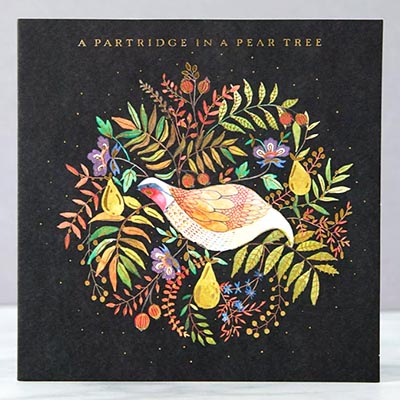 Keeping on the black background this stunning partridge is beautifully framed in a real pear-shaped tree!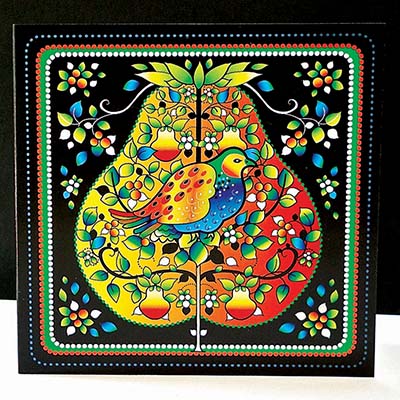 This hand-painted Partridge has a very Autumn feel!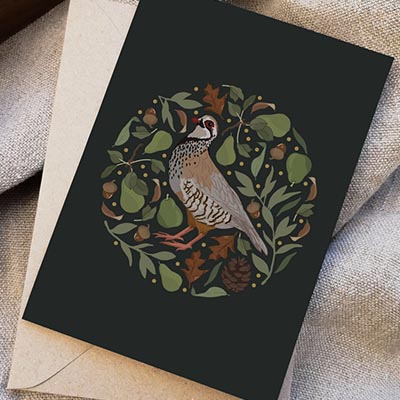 A very contemporary look with this Partridge Letterpress Card.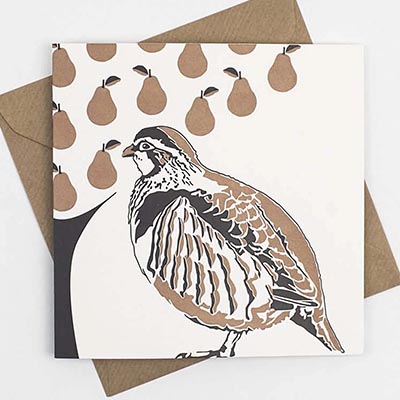 How about a 3D card and a Christmas decoration in one?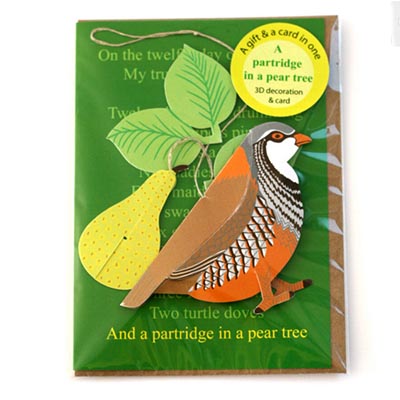 Looking for a beautifully painted partridge?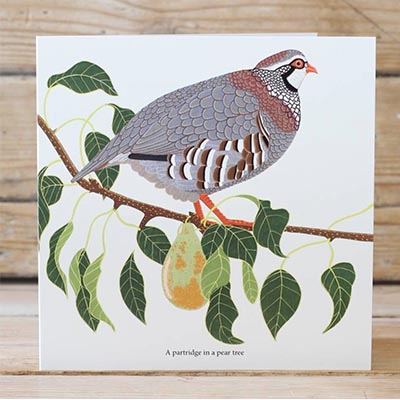 What a fabulous partridge card, stunning decoration. Supporting The Children's Society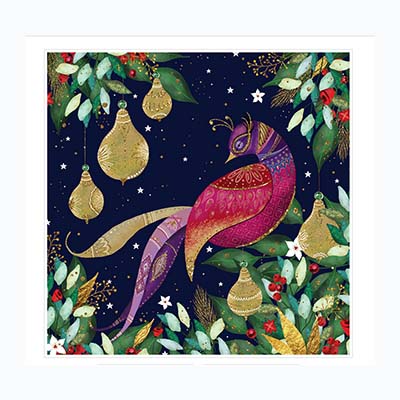 This hand-painted partridge is perched in a garland of pears and autumn leaves set in a Wintry scene.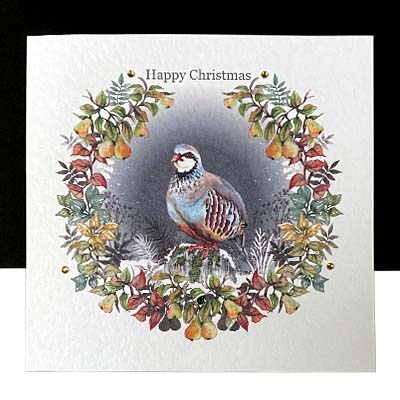 This Partridge has upped and left the tree!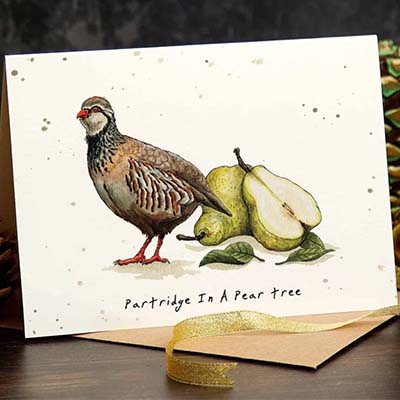 This Plump Partridge is so decorative in the wild.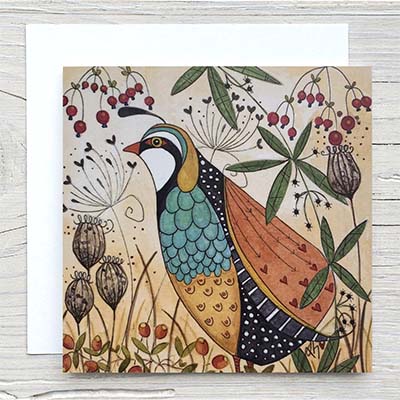 Bright and almost tropical, he's a handsome bird!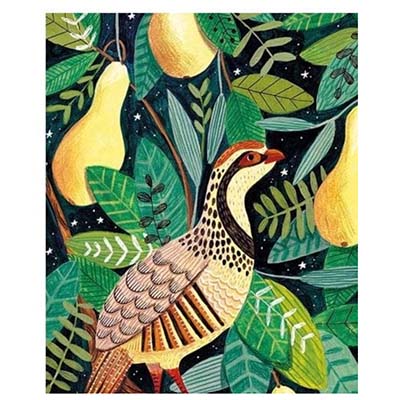 On the bright festive side this roosting partridge is surrounded by turtle doves and amazingly glowing autumn leaves and fruit.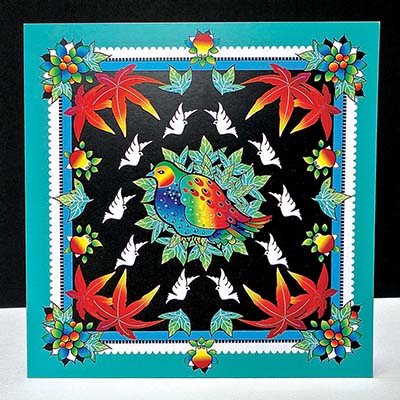 I like to think we all like a laugh at Christmas and here's one for all you golfers.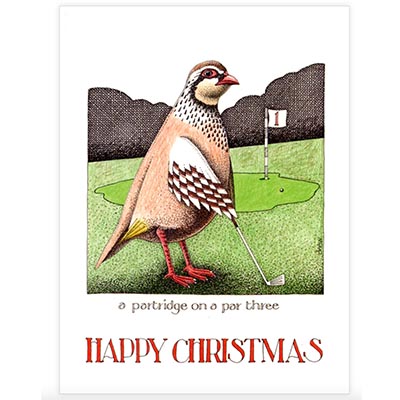 Or spread some laughter at Christmas with this eco-friendly card.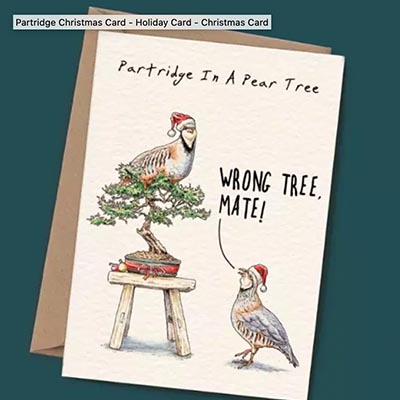 Regarding game birds, the pheasant is popular too!
This hand-painted male pheasant is standing proud inside a beautiful Autumn garland.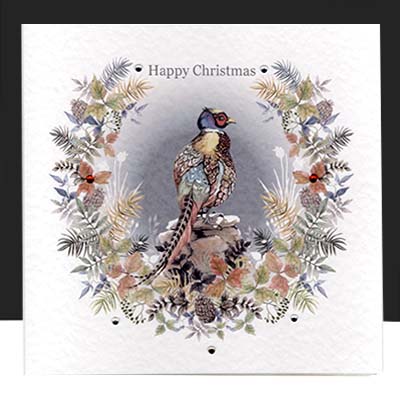 I love this cheeky Christmas pheasant wearing a hat!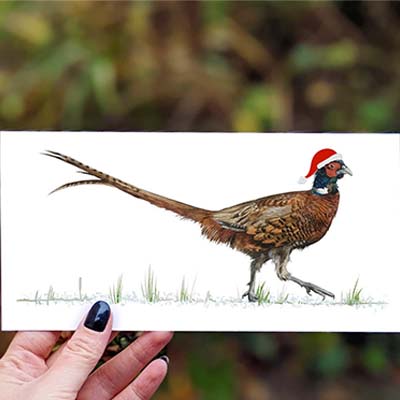 I really didn't realise pheasants were such fun, this one just loves his rosette!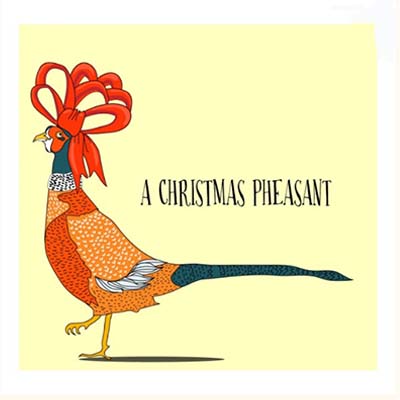 Obviously, pheasants love wearing hats and this one is beautifully drawn.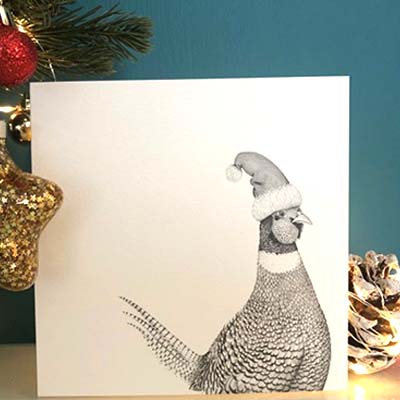 From a vintage playing to a Christmas card, I like the idea of upcycling!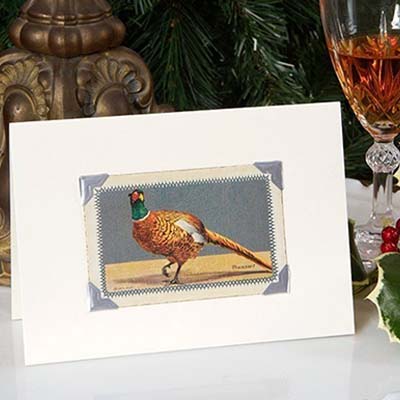 Or maybe you'd like a pheasant, and a partridge – a countryside scene is perfect for any occasion – maybe add some glitter and it's perfect for Christmas.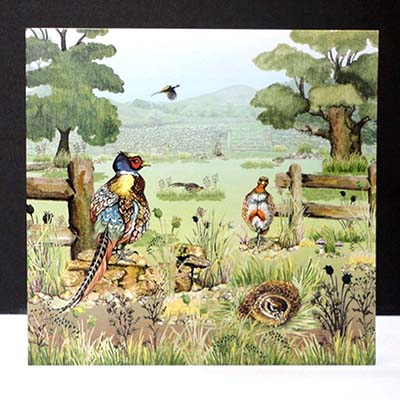 This Lino Cut Print design has a real Wintry feel with the pheasant leaving his foot prints in the snow.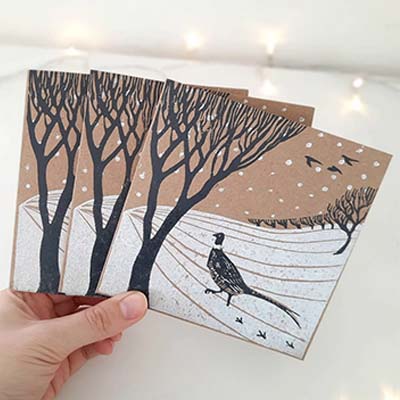 Here I'm finishing with a very colourful bright pheasant from Art File.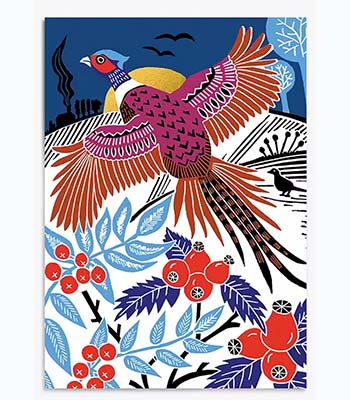 Moving on, the Robin is probably one of the most popular birds featured on British Christmas cards. Whether it's the main subject or somewhere in the background of a Winter scene, we can't get enough of this small, joyful red breasted garden bird.
What a unique little robin made from a pebble!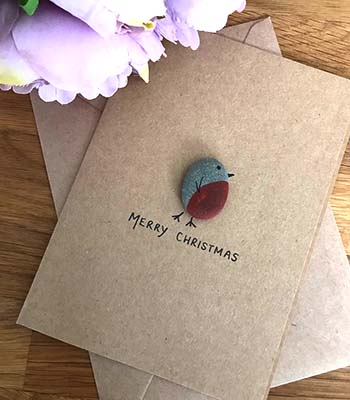 I love the idea of plantable seed paper cards and why not for Christmas?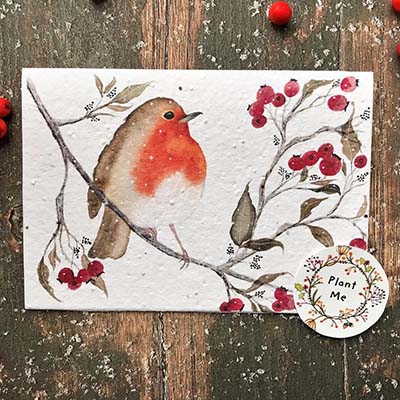 What a beautiful piece of art!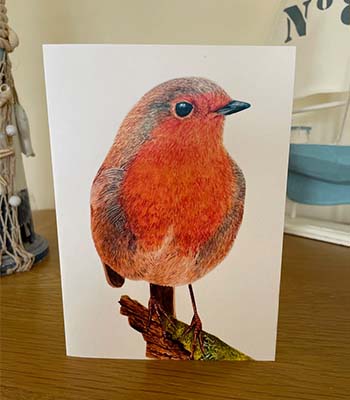 Another hand-painted robin in a festive garland with sparkles.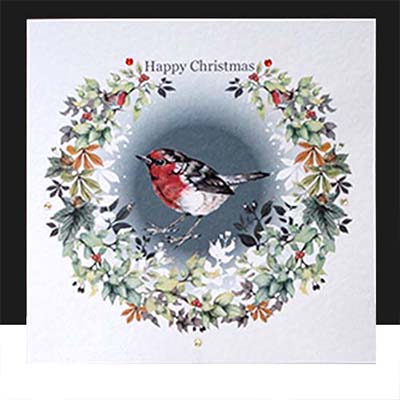 A pair of robins are perched each side of this festive lantern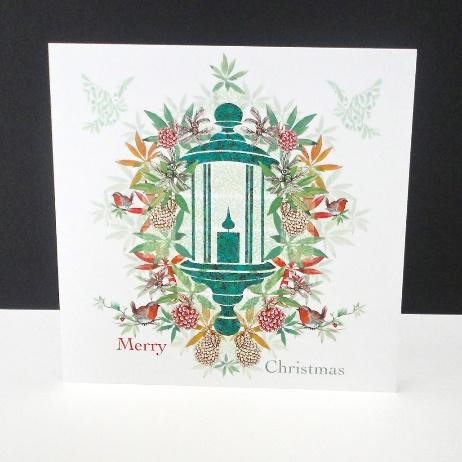 Another lovely Charity Christmas Card – love the bright colours against the snowy landscape!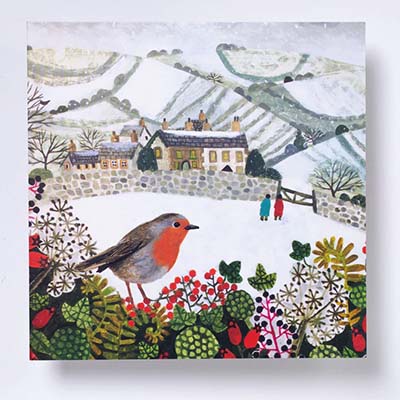 A beautiful pair of cute robins with Christmas Wishes ready to post.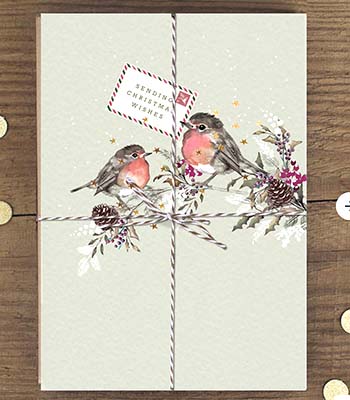 Enjoy crafting, and into cross stitch? Well, here is a Christmas Card Kit ready to make.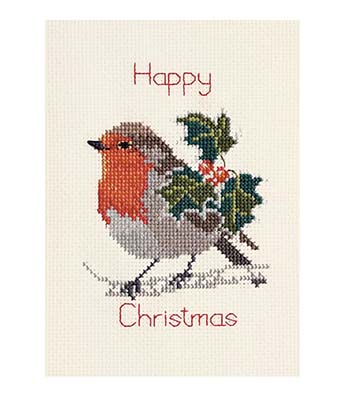 It seems like Robins like hats too!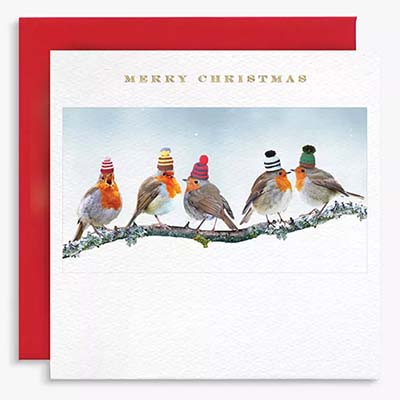 What a gorgeous little robin such vibrant colours and beautifully painted.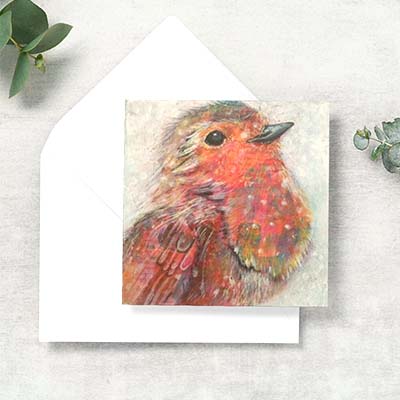 Christmas Cheers, this little robin may not be after the wine, but those mince pies look good!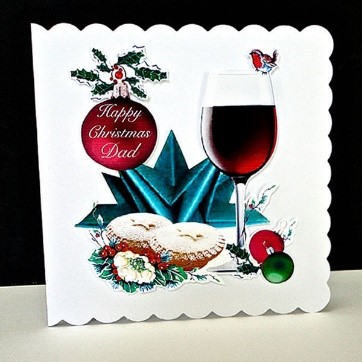 We are all fascinated by owls. We have strong feelings about them, maybe because they look more like us with a round head and flat face, or is it their wisdom, or how they swivel their heads? For me it's all those things but mainly their beautiful plumage and their knowing stare.
You wouldn't expect anything less from the RSPB. A thoughtful Barn Owl with the moon and snow at night.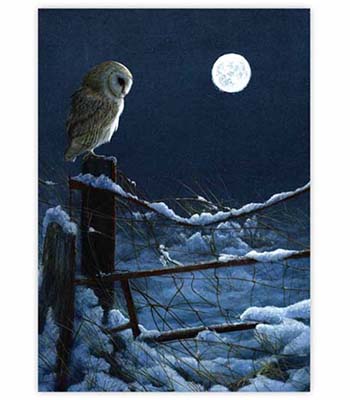 Another fabulous Barn Owl in flight in a snowy scene at night.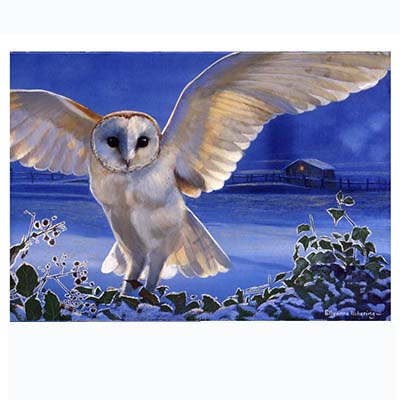 This Barn Owl is featured at Twilight with other nocturnal friends. Perfect for all occasions.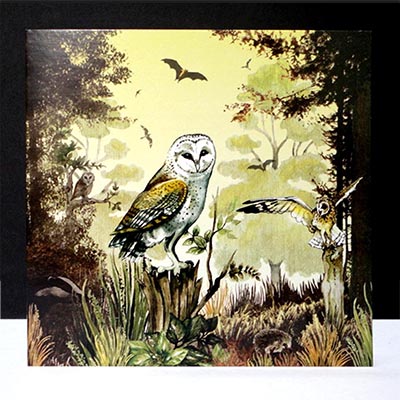 Love this cool coloured decorative owl with turquoise snowflakes and berries.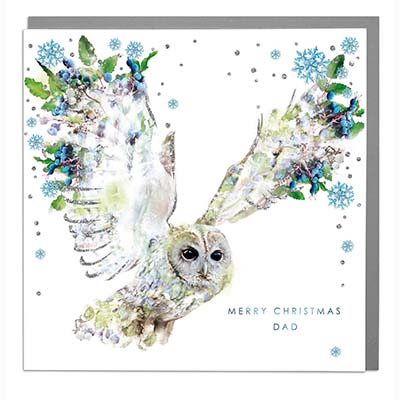 Unlike his other feathered friends this Grumpy Owl does not like wearing a Christmas hat!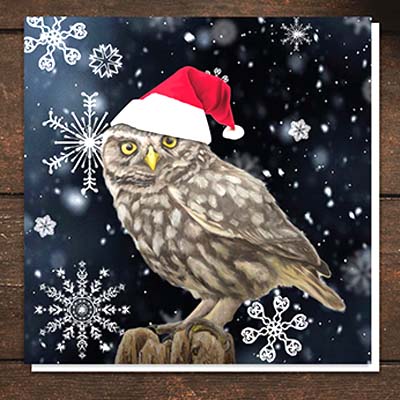 The earthy colours and pattern detail in this design of Hedgerow Barn Owl are amazing.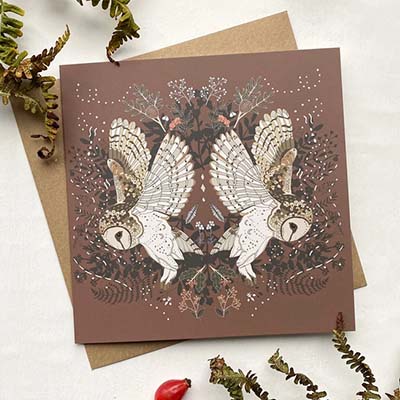 A Christmas Owl Garland is my last choice, a traditional mix berries, ferns and leaves, with added glitter and sparkles.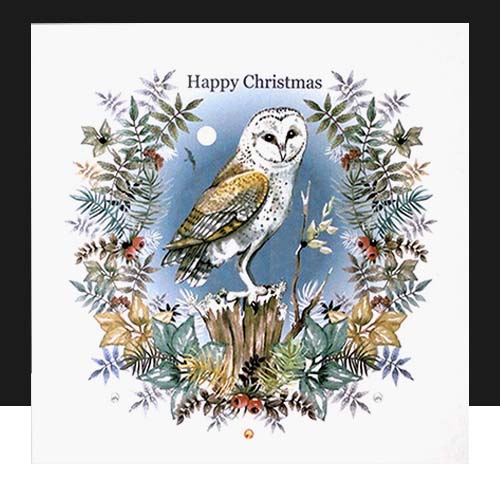 There are many other popular birds featured on Christmas cards including garden birds, sea birds even tropical birds; but the goose, and the turkey are the last of the birds I am covering today, otherwise this blog will go on forever!
Here's six geese in the snow!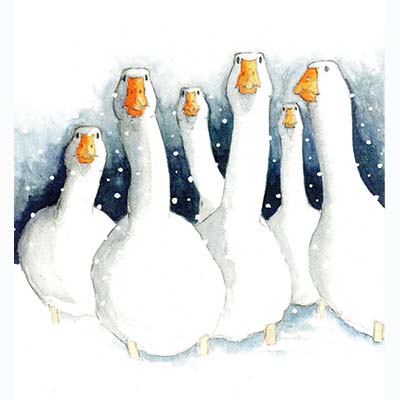 What a good idea – geese pulling Santa's Sleigh.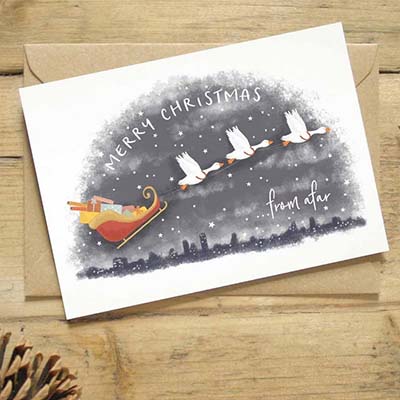 Of course there's a goose in a Christmas Hat!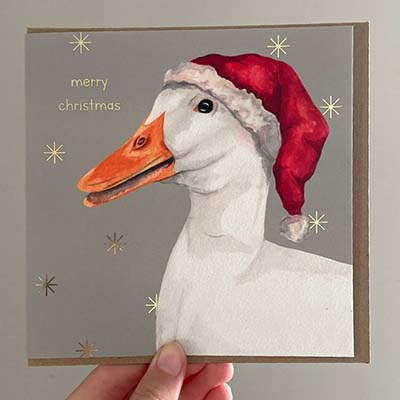 A card not just for Christmas, this is a wonderful Canada Goose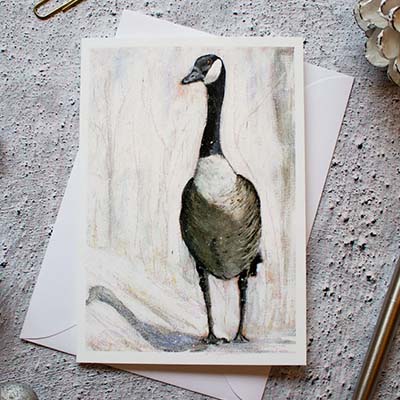 I like the thought of flying home for Christmas.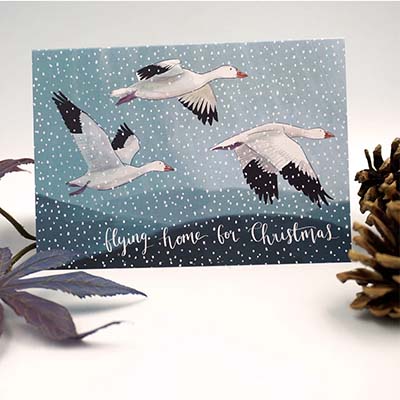 Dabbling Ducks is a card for Christmas or all year round.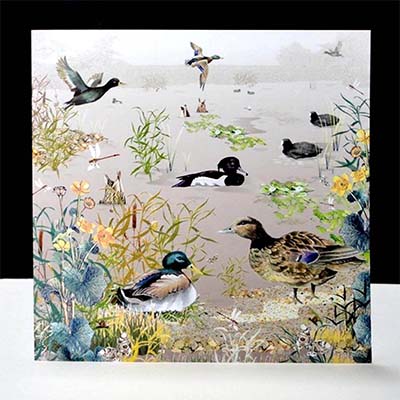 Finally, it's the Christmas Turkey! A Christmas and Thanksgiving favourite.
This well drawn Christmas Turkey really stands out on this buff kraft card.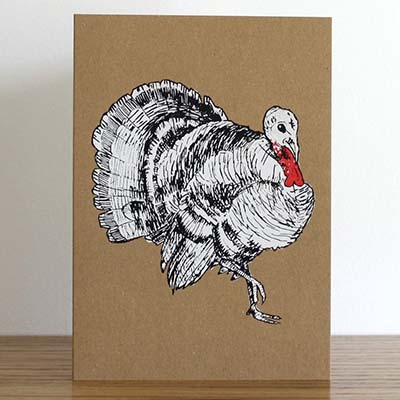 A beautifully coloured turkey for Christmas or Thanksgiving.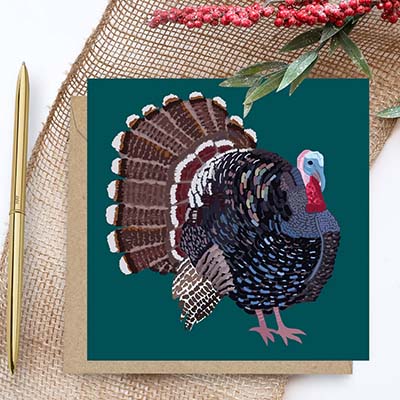 How about nine turkeys, love the subtle change of colour.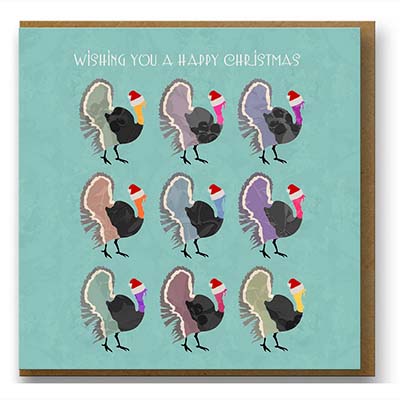 How about an instant download – template for a Pop Up card or table centerpiece.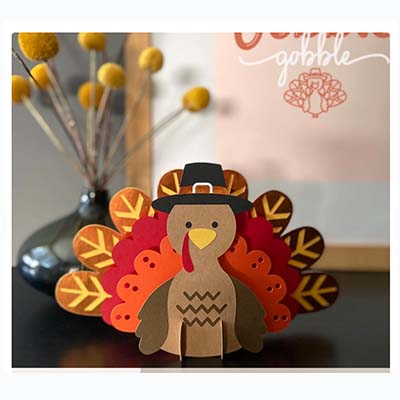 If I was a turkey I'd feel the same!!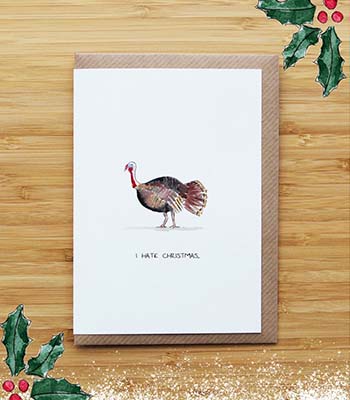 With fifty beautiful examples of seasonal bird cards to choose and buy, I hope you find some great cards to send your best wishes at Christmas to all your friends and relations.
I
i