Today is Palm Sunday and a good day to publish this blog, as there is still time to send Easter cards to friends and family.
We all know the religious connotations of Easter, being the most important Festival in the Christian calendar. It marks the resurrection of Jesus three days after being crucified.
But how and when do the Easter bunny, chicks and eggs fit in?
The rabbit (Easter bunny), like the resurrection symbolises new life, and a symbol in many cultures around the world with Springtime and new beginnings.
Legend has it that an Anglo-Saxon goddess, Eostre, found an injured bird and transformed it into a rabbit so it would survive the cold winter. However, the rabbit wasn't fully transformed and was still able to lay eggs, decorating them each Spring to leave as an offering to the goddess as a way of expressing thank you for saving his life. What a lovely story!
But the modern bunny was born in the 1800s when the Victorians started celebrating Easter with satin covered cardboard eggs filled with treats. Our favourite Easter egg hunt originated in the U.S, and the chocolate Easter treats started in Europe.
The chicks also symbolise new life. When I was young, we decorated hard-boiled eggs and couldn't wait to roll them down a local hill. This, I didn't realise at the time, symbolised the rolling of the stones away from Christ's tomb. It was great fun and we enjoyed eating the eggs afterwards.
So, you have a wide choice for your Easter cards, whether a religious symbol of the cross, Easter bunnies, eggs, chicks, or just Spring flowers – they all have a deep meaning associated with Easter. They are a perfect selection for greetings cards to send and share this traditional festival with friends and family.
Easter Bunnies: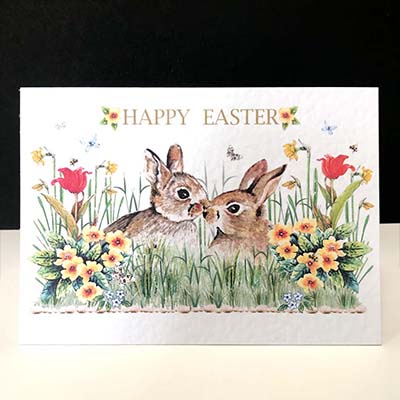 A traditional wildlife Springtime scene with gorgeous little bunnies set in a meadow of tulips and daffodils.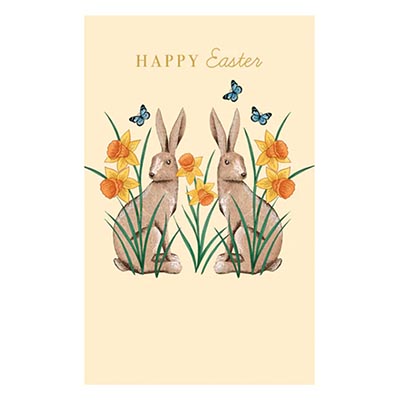 I always like to include Charity cards and this pack of six Bunnies and Daffodils will bring some Easter cheer!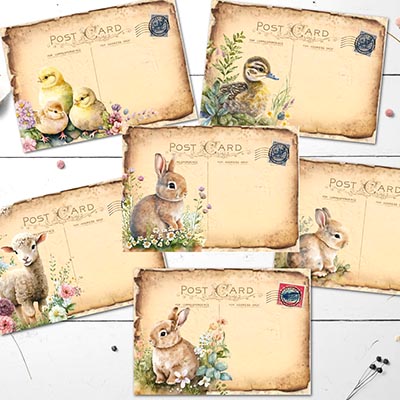 Love these Vintage Style Postcards, pretty and cute.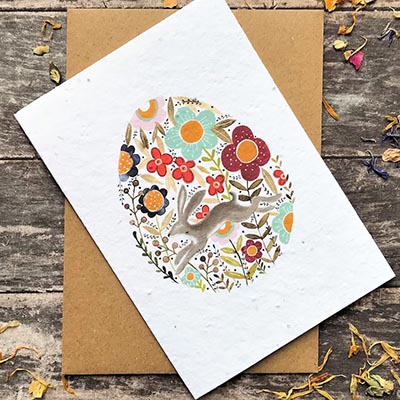 A Plantable Seed Paper Card is a great idea for spring!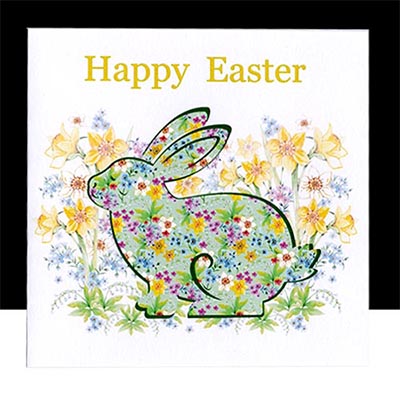 This Floral Easter Rabbit is happy among the daffodils.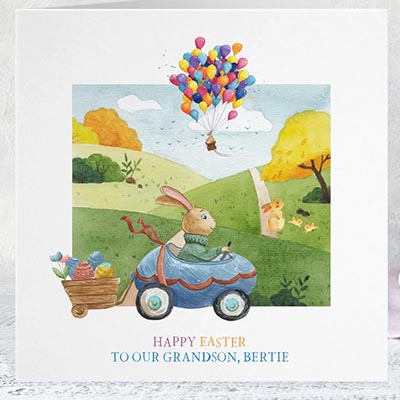 A cute personalised card with a Bunny delivering Easter eggs.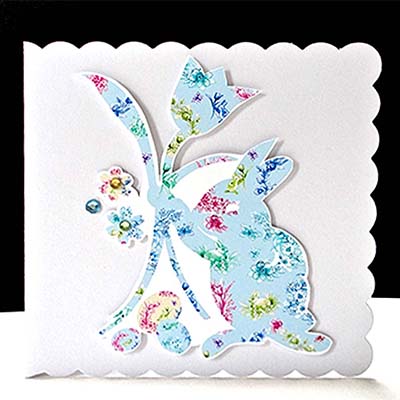 This pretty Tulip and Rabbit in Blue is a great idea when making your own Easter card.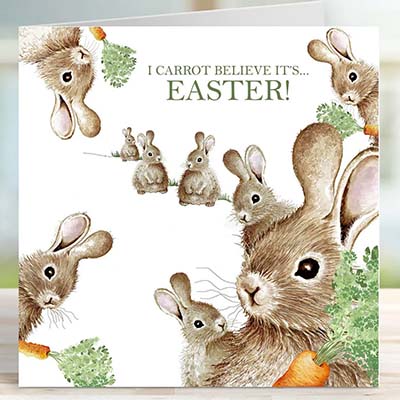 I love these Funny Bunnies!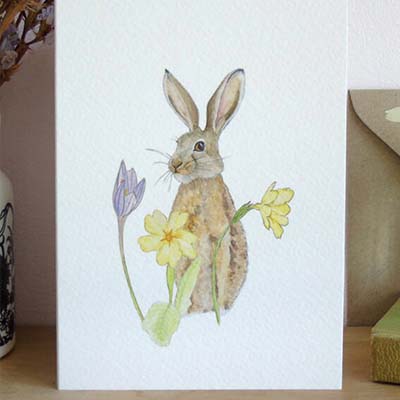 A lovely watercolour of a March Hare and Primroses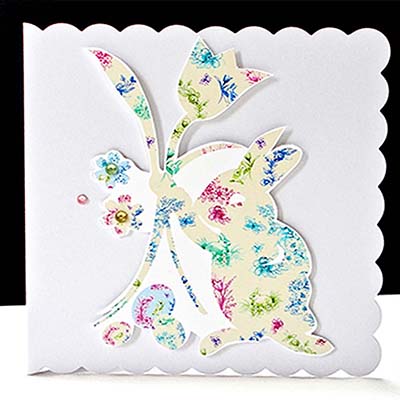 Another Easter Tulip and Rabbit in Lemon has a few sparkles added for Easter.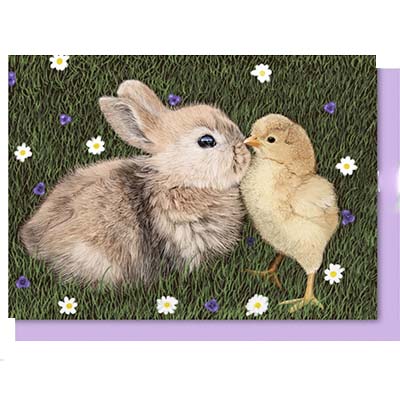 Moving from bunnies to chicks this is a perfect card with an Easter Bunny and Chick!
Easter Chicks and Eggs: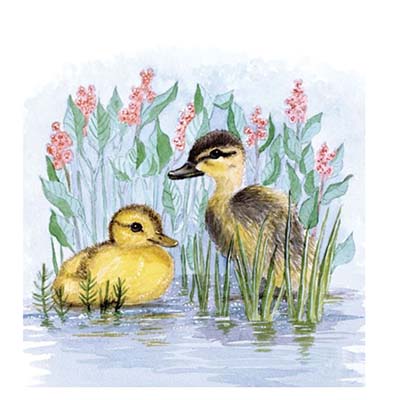 Say Happy Easter with these two adorable ducklings.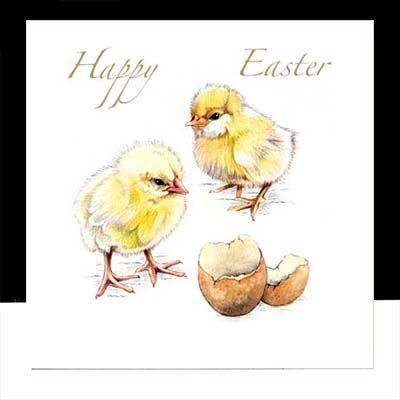 So cute.  Just hatched from an egg are two beautiful hand painted chicks.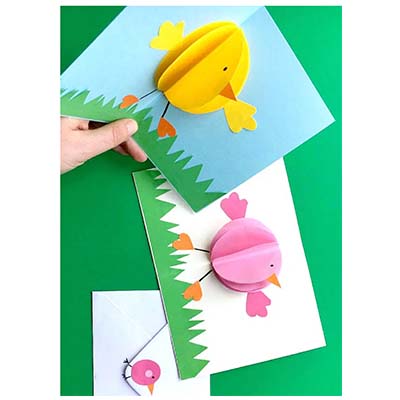 With Children at home for the Easter holidays, here's a great way to make your own Pop Up Chick Easter Card.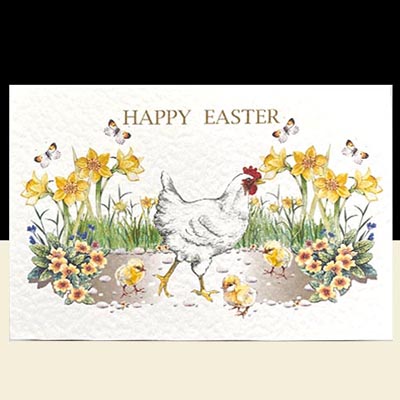 Easter has put a spring in this Mother Hen's step as she takes a stroll with her baby chicks.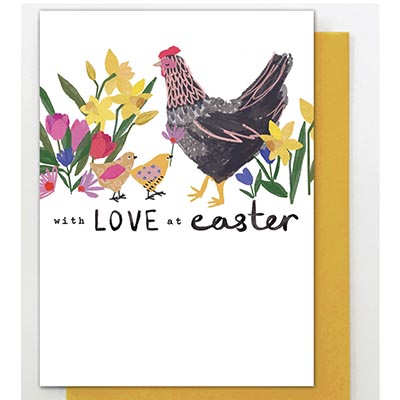 Send your love at Easter with this bright contemporary Hen and Chicks Card.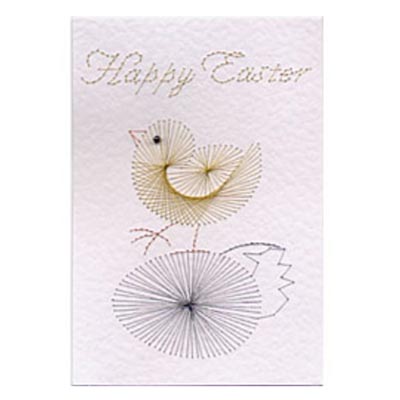 You can download your own stitching card to make this amazing Easter Chick Pattern.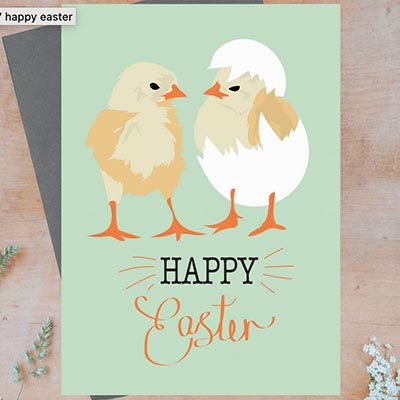 Happy Easter Chicks and one is still wearing his egg!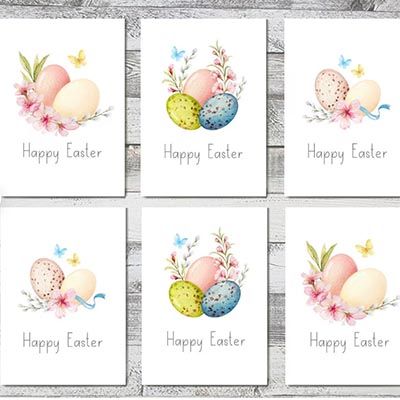 What beautiful pastel watercolour eggs, a great pack of six too!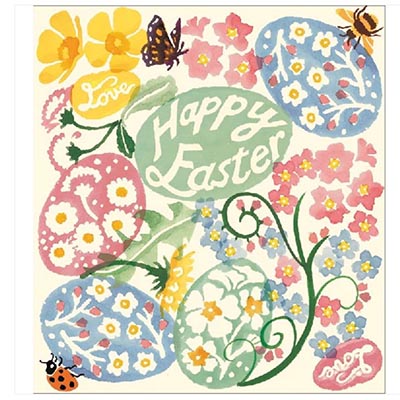 Lots of flowers on these watercolour Easter eggs.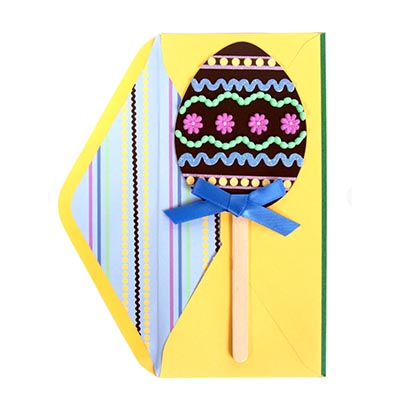 Something different with this Easter Egg on a Stick!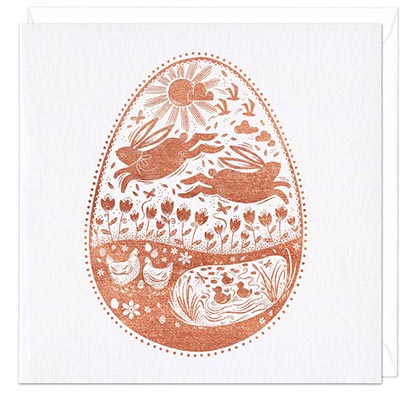 This Easter Bunny Egg Foil Card sums up a Spring day!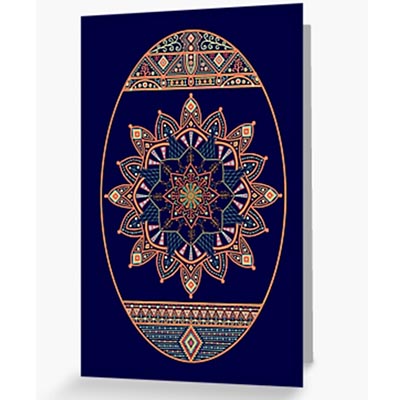 Love a beautiful decorative Easter Egg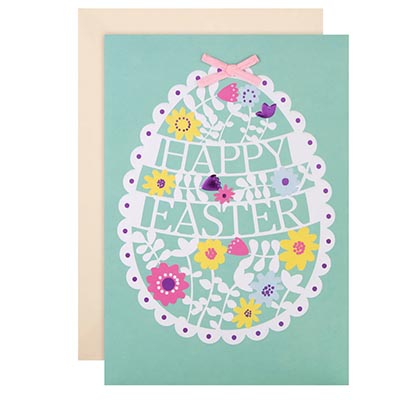 A Pretty Contemporary Patterned Easter Egg is a sweet card with an added pink bow.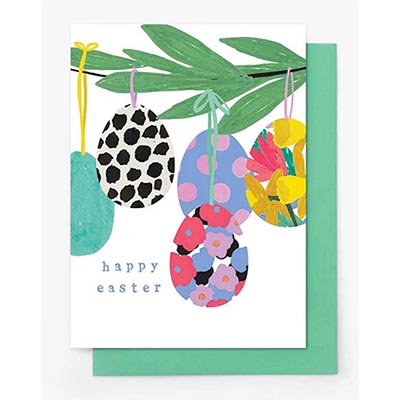 Some very brightly patterned Easter eggs are hanging from this branch!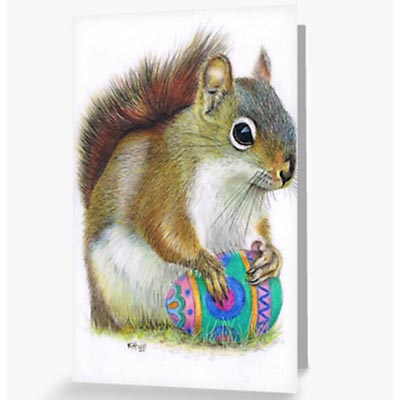 I just love squirrels; I feature them on many of my cards. This mischievous squirrel has found an Easter egg which I think he is ready to stash away for another day!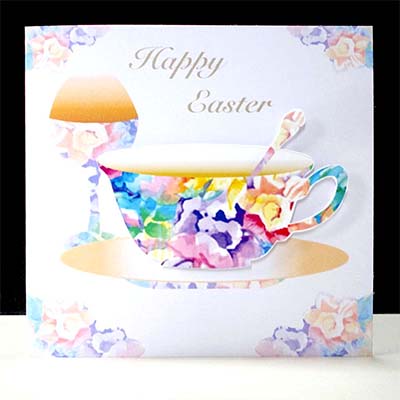 Talking of eggs, here's one freshly boiled ready for your Easter Breakfast.
Easter Flowers: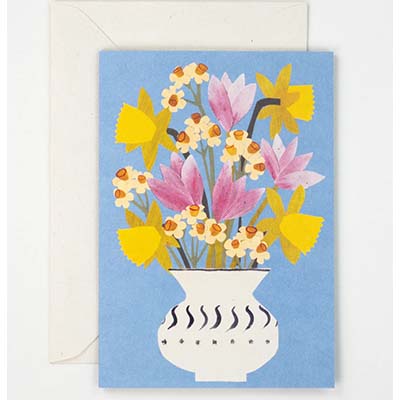 What better way to start celebrating Easter than with Spring Flowers.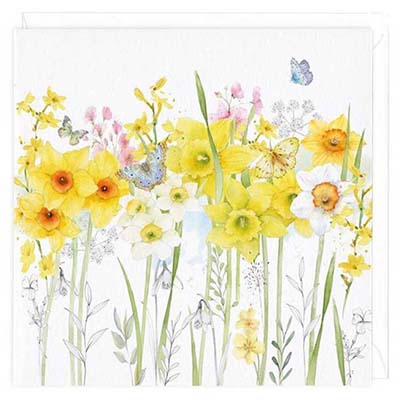 Golden daffodils make a Happy Easter.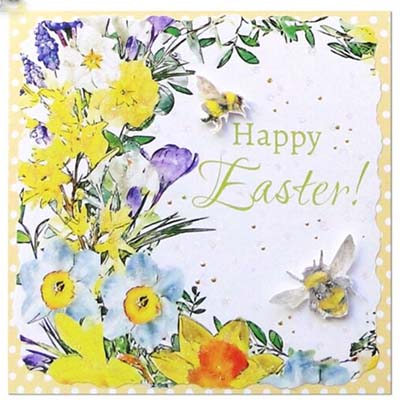 Yes, it's Springtime with Flowers and Bees.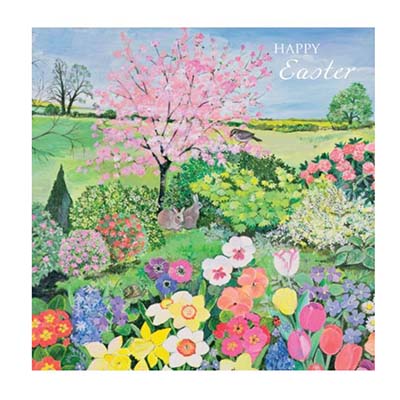 A Spring Garden with pink blossom says Easter to me!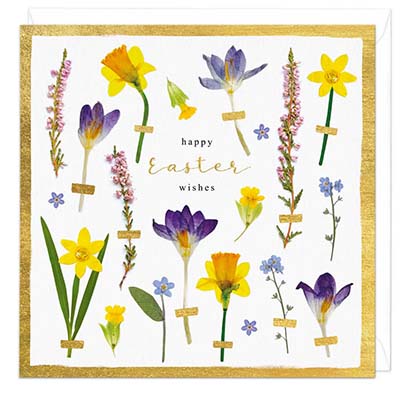 It is a long time since I pressed flowers, but this Easter Card joyfully displays Spring.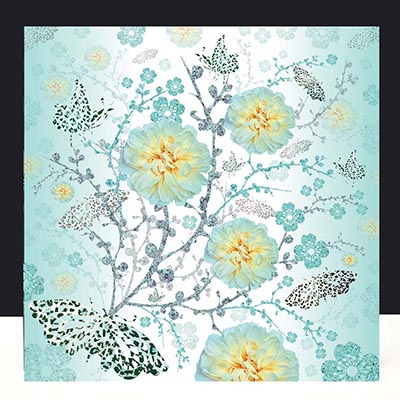 Beautiful butterfly morning blossom in a turquoise haze shouts Spring is here!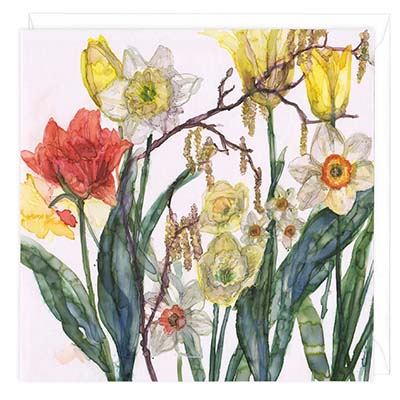 Daffodils and catkins take me back to childhood memories in the countryside.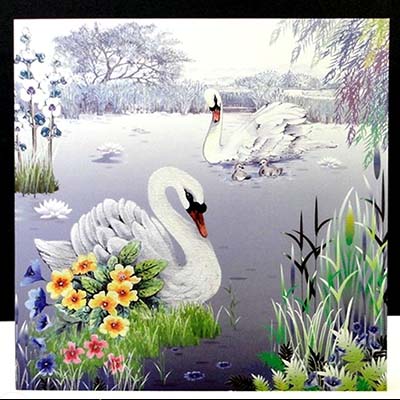 An idyllic Spring morning scene, Swans Lake with primroses.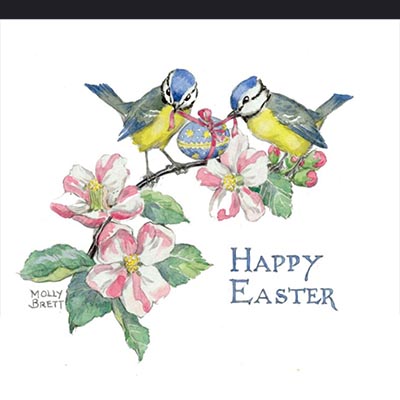 These Bluetits have an Easter Surprise.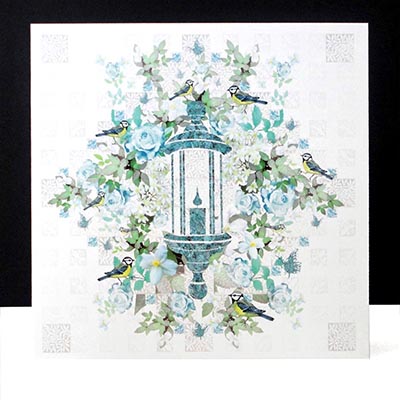 A Lantern at Daybreak with bluetits searching for insects in the blossom makes a perfect card for Easter.
Traditional and Vintage: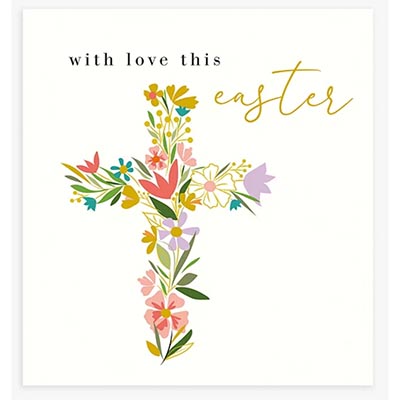 A floral cross with a contemporary feel is sent with love this Easter.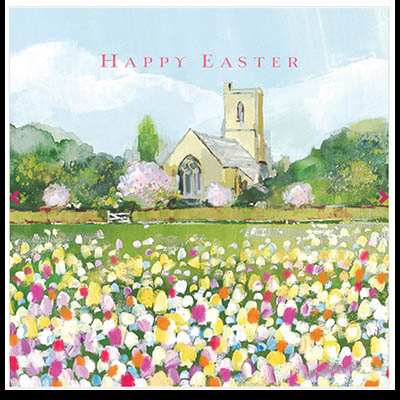 Thinking of Easter I think this Spring Church View has a contemporary feel for a more traditional subject.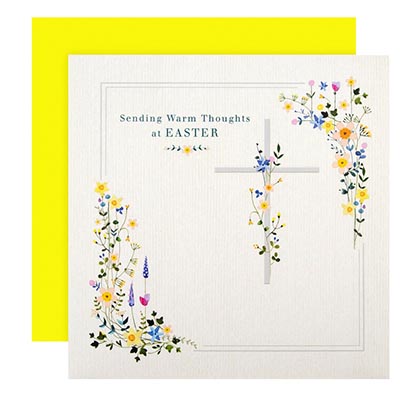 Religious card showing a simple embossed cross with fresh spring flowers sends warm thoughts for Easter.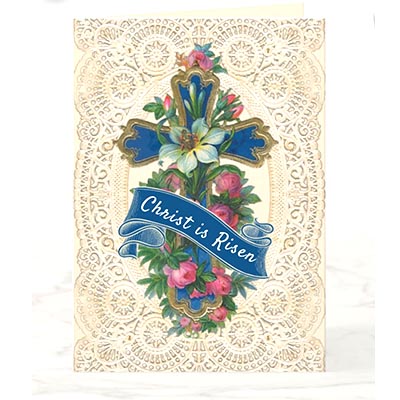 Religious and Vintage, this lace cross has a Victorian feel to it!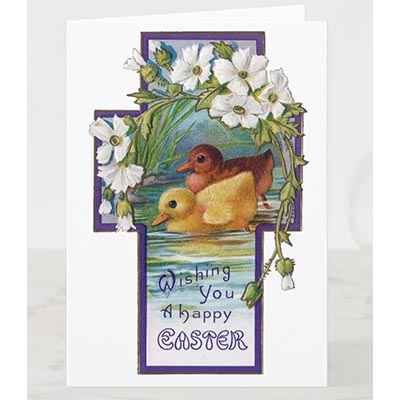 Sweet baby ducklings are at home swimming along in this Ducklings Cross Vintage Card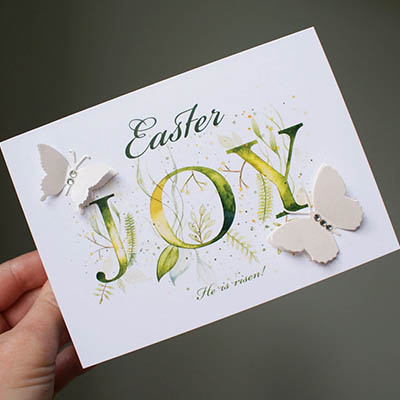 Or just bring Easter Joy with this refreshingly eye-catching card with a Christian message.
As always, I've enjoyed researching this selection of cards celebrating Easter. I have tried to cover most subjects which celebrate this annual festival. It is always an informative exercise for me to see what's new on the market and I am constantly amazed at the variety of designs on offer.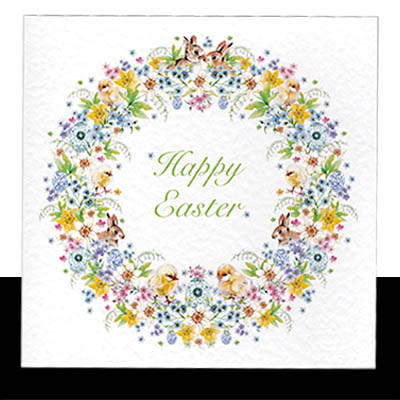 A Springtime Easter Garland has, bunnies, chicks, decorative eggs and flowers, a little of everything for Easter!!