I think we all know our fathers very well, their likes, dislikes, hobbies, humour and their passions. This special day Father's Day is now a permanent fixture in our calendar. We thank our Mothers every year on Mothering Sunday so why leave out Dad?!
When I get a new idea for a handmade card, my inspiration has a shape or design that can be adapted to suit everyone; after all, only we know the person we are sending this to. Thinking of what may be perfect for a Dad, I can imagine what he would like printed on his special personal mug. A simple mug template would allow this card to be personalised in so many unique ways.
My design has lots of different text, with many of the things you'd wish to say.  All the text is prepared on the computer and printed out in different fonts and a few different colours, mounted with a few sports symbols and a couple of handcrafted elements, plus the star and the medal.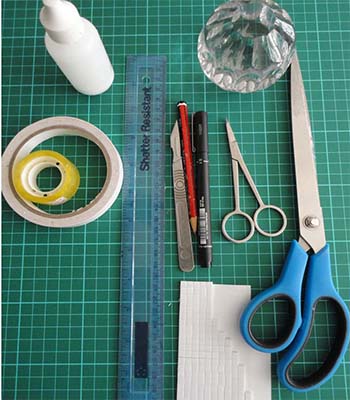 What you will need to make your own handmade engagement card
Equipment:
Scissors
Scalpel
Ruler
Pencil
Clear drying glue
Sellotape
Double sided tape
Black pen
Foam pads
Paper weight
Materials:
Plain white card & envelope 150 x 150 mm (or make your own from a sheet of A4 card)
Extra piece of white card/ thick paper
Patterned paper
Gold metallic card
Blue ribbon
Most of these items you can purchase from craft shops online.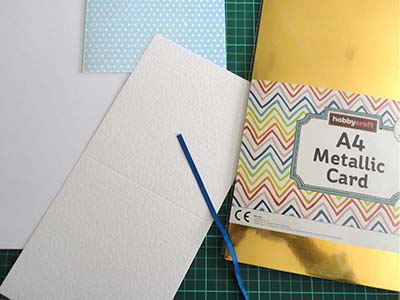 When starting a new design, I never draw directly onto the card, I make a template in paper, it makes the task easier without marking the card and I can use this shape over and over again for other card, Birthday or even Mother's Day next Year!
The mug is going to be the whole depth of the card and the measurements for this mug are marked out on the template. Once the shape is cut out, open out the card and place it on the front panel and cut out the handle. Here you have to make a decision whether to close the card and cut the same shapes out of the back panel to have a complete mug with handle
or have an inset to highlight the mug shape.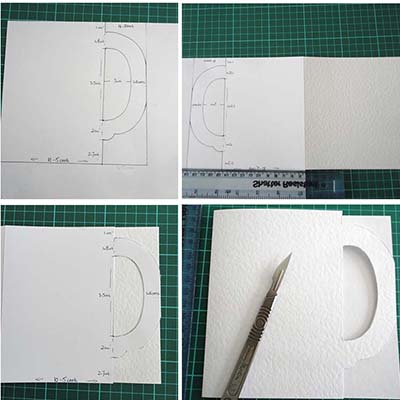 I have decided to keep the back of the card complete, as it gives the card more stability and I rather like the idea of a pattern accentuating the mug handle to show its form. I decided on a blue and white polka dot, but it could be a plain colour, a tartan, stripe or a wrapping paper with a masculine motif.
This strip is 4.5cms wide allowing a little more to go under the width of the mug. Obviously, this will be the depth of the card, it can be easier to make it longer then cut after sticking to get an exact edge. To keep this firm, I have used double-sided tape in two strips to secure it firmly onto the card. At this point it would be ideal to place a heavy book on the card so the front and back lie flat together, while you made some of the other pieces needed for this design.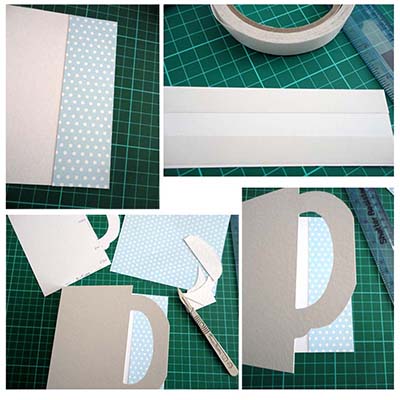 As you can see, the card has a couple of handmade embellishments, the medal and the star.
These are both cut from gold card, the medal is tiny only 22mm in diameter, so you may wish to find a bottle top or something to draw a circle round. The star you can just draw freehand, both on the back of the card and cut out. The ribbon is tricky – you need to form a loop and hold with Sellotape at the back. Then flatten the loop down and pop a paperweight on top to put that crease in it ready to stick on later. Before sticking, I used a pencil to draw and inner circle around DAD, which I then went over with a black pen.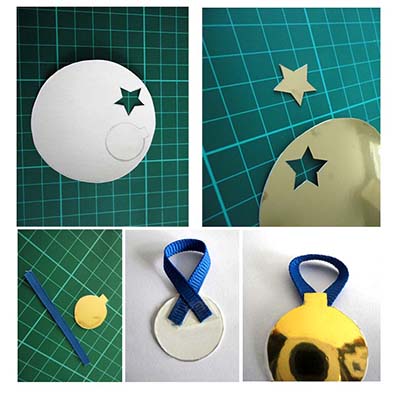 I decided to print lots of popular phrases associated with Dad/Father's Day, using lots of different fonts and different colours. Some text is set in boxes others just as if typed, with another framed in the patterned card to link the back stripe to the front design.  It's good to have variety, not only in print and spacing but depth too.  A few strips have double-sided tape, some are stuck with glue and others are set in relief with foam pads.  You could work out the spacing first on your template and transfer.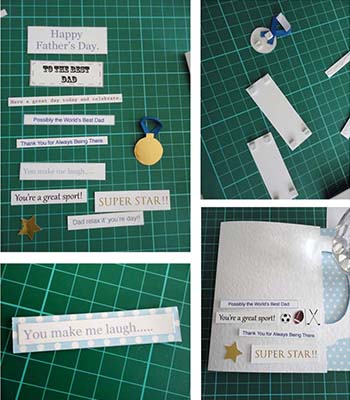 You probably think great this card is finished now, but I always like a surprise inside another phrase or good wishes. Here I have framed 'Possibly the World's Best Dad' in the patterned card to match the decorative strip.  I can imagine Dad saying 'Possibly'!! (I am, aren't I?)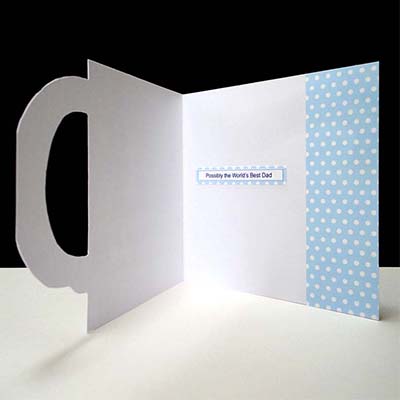 I like to think that this handmade card may have sparked many ideas for your own Father's Day Card design, and you will enjoy making your own. Sometimes we just need a little inspiration to get the ball rolling!
Even from this design you could simplify elements with a football and may be include the emblem of Dad's favourite team. With the medal idea make it simple but go to town and make or print one really big one for the World's Best Dad! Any sport hobby, jokes or even photographs can be added to this individual mug design card and make the 15th June a really special day for a very special person!