A Daughter is someone who always deserves a very special card. Yes, the males in the family don't like to miss out on cards, but it's always the females that are enchanted by them – they love both buying and receiving cards. Here are some of the best Daughter cards I could find for all ages.
My first choice of card is a Celebration card for 'A Special Daughter'; she will have to be grown up to enjoy this 'Floral Champagne Birthday Card' with sparkly hearts bubbling in this glass of Champagne.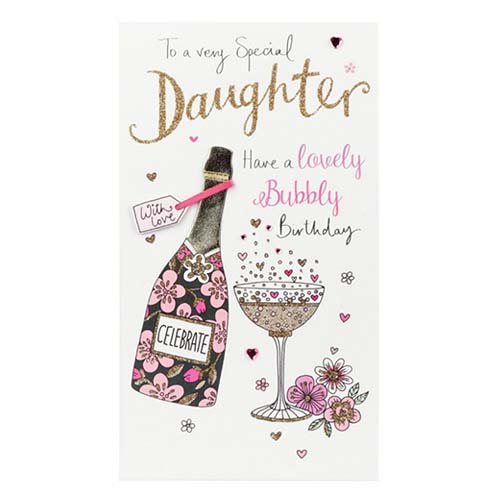 Talking of sparkle- some girls just have it!  'A darling Daughter' is going to really love this rainbow outfit and bow.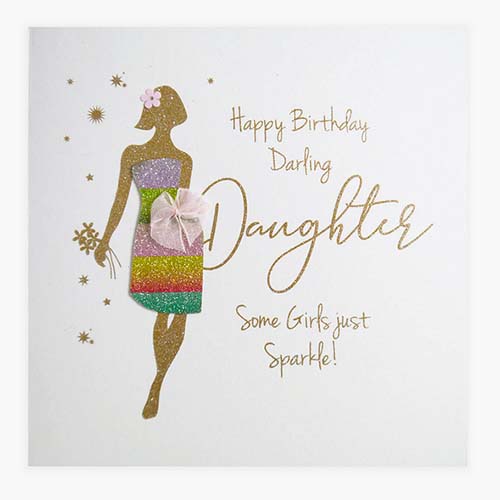 Your Daughter is coming of age, her 21st Birthday is approaching and you need a beautiful hand-made personalised card. I found this unique card on Folksy. It has a gold encrusted branch with butterflies and a personal message, something to keep from the special day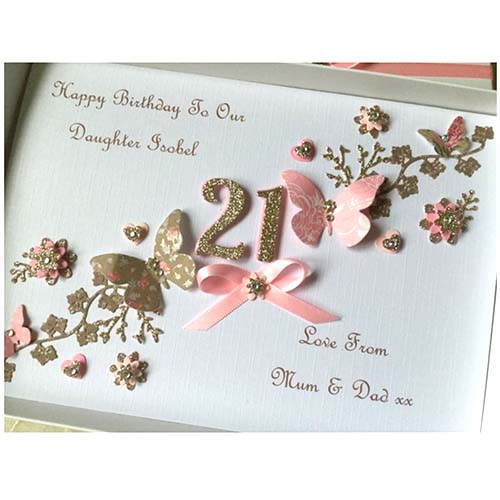 This card for a 'Wonderful Daughter' with pink and white polka dots and gold text with a diamante heart simply conveys the right message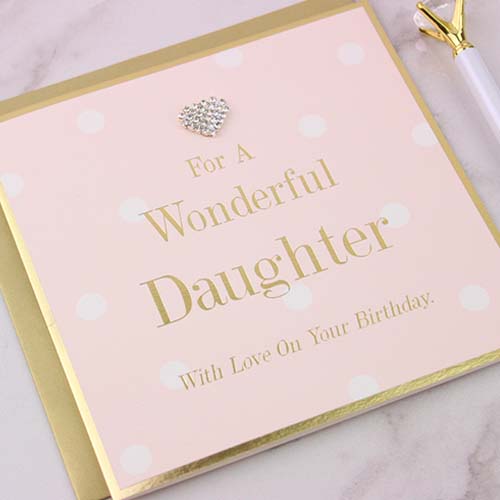 Where have all those years gone your Daughter is 30 years old already! This  Lilac Butterflies boxed card is a bit pricey but handmade and does have pretty features and Swarovski crystals for that extra special day!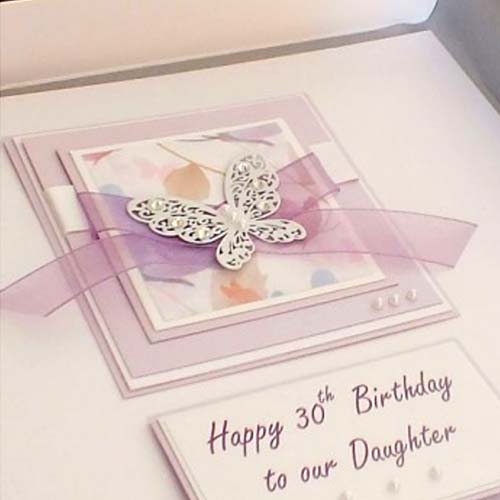 This Bright Floral by norma & dorothy is a simple but very pretty design for a 'Beautiful Daughter'.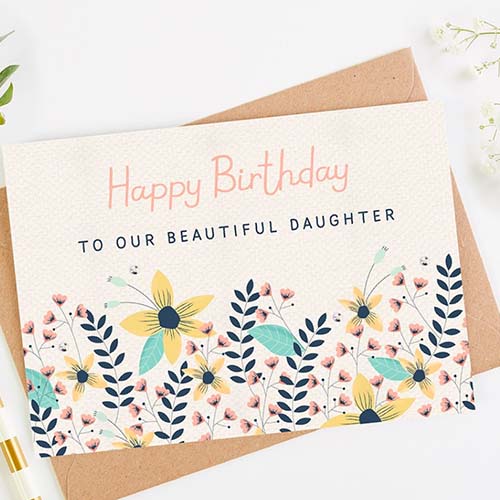 A Butterfly of Roses on a slate grey ground is a dramatic design, a floral but not too girlie! This may well be just what you are looking for! A unique card for a Special Daughter.
Sweet Sixteen is a lovely age and I really like this card by pink & posh with its dressing table features and the extra jewelled flowers and pink bow.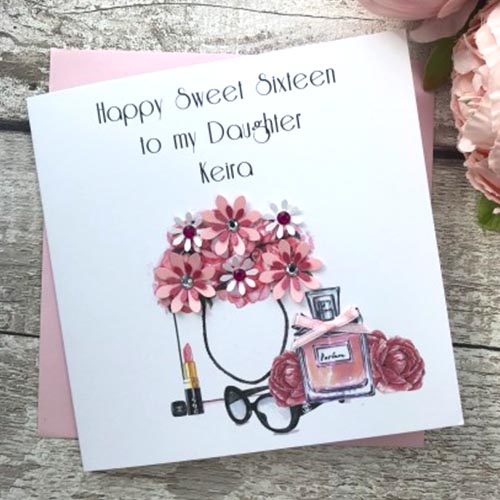 A Purple Butterfly Heart by Inkywool has a great sentiment, each butterfly represents love! What more can you say!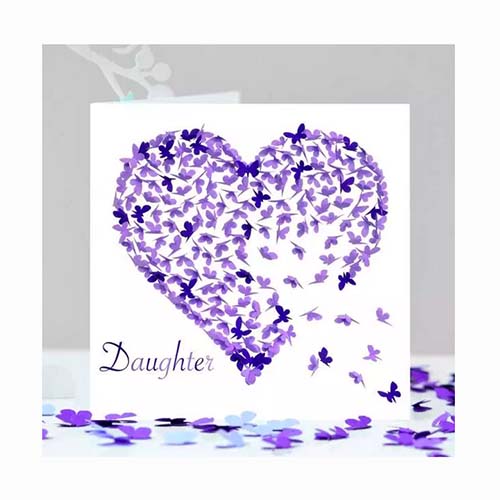 Cards made of Seed Paper is a brilliant idea, I just love the thought of planting it after the occasion knowing it will live on as beautiful flowers! Great eco-friendly option for a daughter of any age.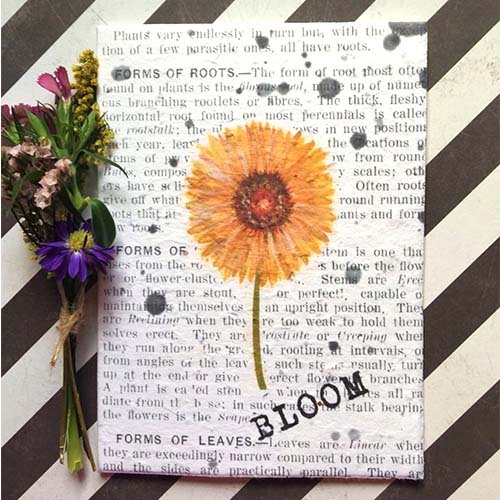 I'm sure this handmade card with its bird cage and lots of added embellishments by lotus art will really make it a 'Splendid Birthday'.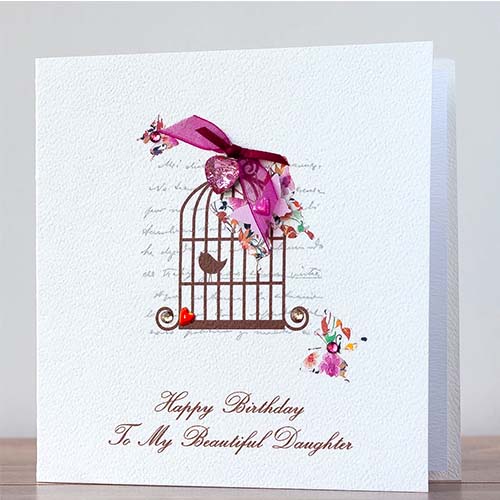 If its pretty you are looking for then this 'Pink Jewelled Tree' hand-cut and mounted on a scalloped card with glass gems will bring that sparkle into a special day.
Sometimes we just aren't looking for pretty cards, but something different. I came across this Map of the World card on Etsy which has a great message, whether a traveller or not, she'll love it!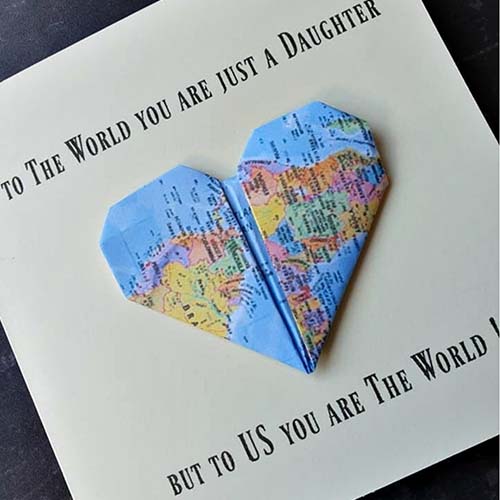 Alliums swaying in the breeze is one of my favourite flowers and this illustrated card by Molly Mae is a lovely card for a 'Wonderful Daughter'.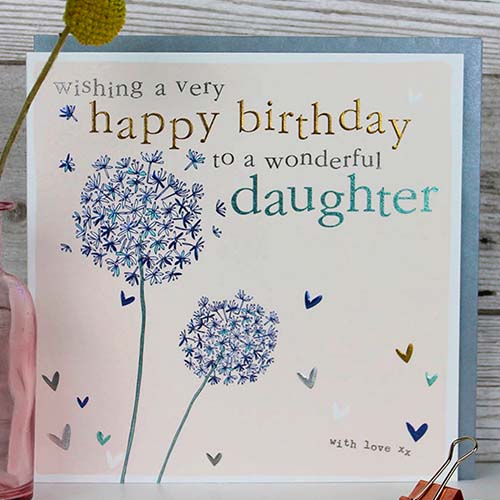 The simplicity of this graphic design and the use of pink against a white ground, with the text forming the heart is very effective. The wooden letters saying Daughter make it even a little more innovative.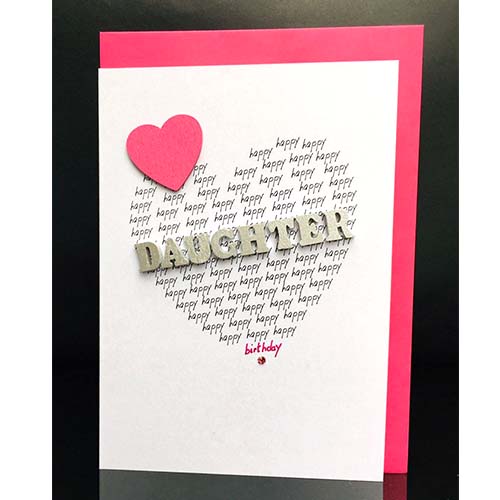 A fresh water-colour floral is always a pleasure to receive and this 'Wild Flower Daughter Birthday Card' will brighten her day!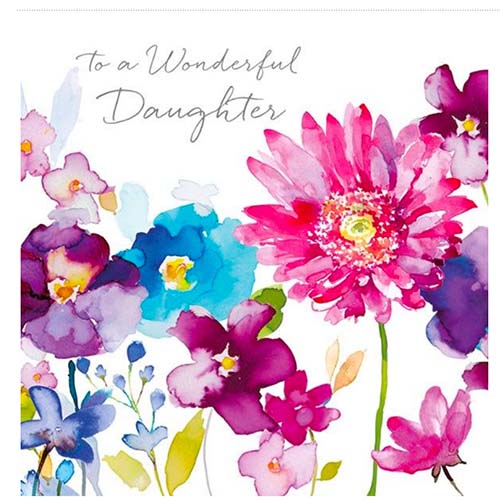 My Daughter loves Flamingos so this quirky 'Flamingo Pop-Up Card' from Pop Up Pigeon, would certainly hit the spot! Left blank you can write your own message.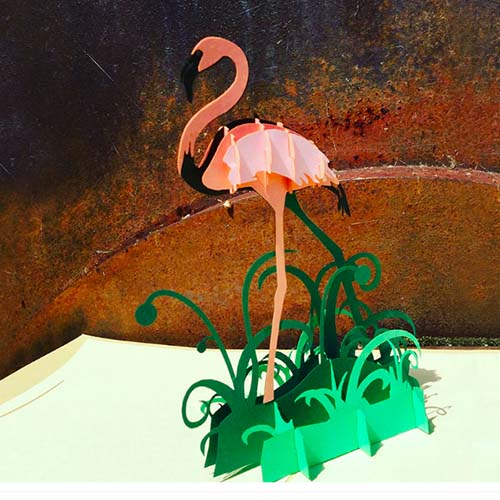 Wow! We'd all love a pair of sunglasses like these! This Birthday Girl is great fun from Rifle Paper Co.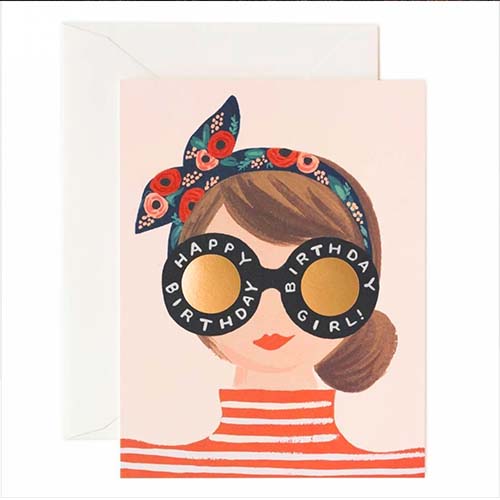 Every Daughter wants to be called a beautiful 'Superstar' and this simple card by Molly Mae with multicoloured foiling adds a nice touch!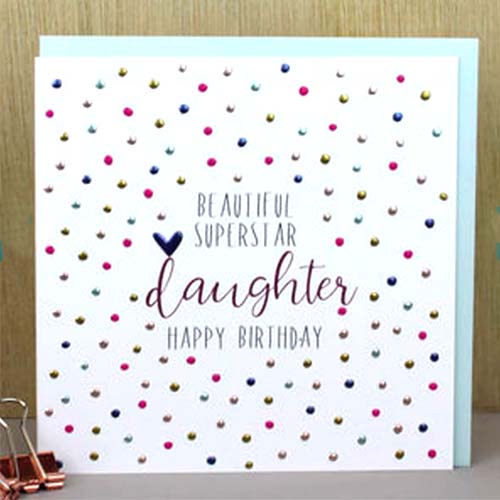 The character caught on this Image from an original painting by Mark Braithwaite, may just sum up your daughter.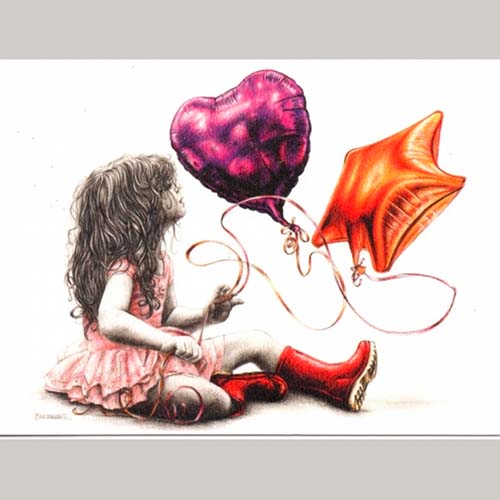 Yes, this card is blank, so you can write your own personal message. Who can resist a hedgehog surrounded by pretty flowers and I think your daughter would love it too! Plus, 50 pence from each sale goes to a Charity so you can give a little while receiving.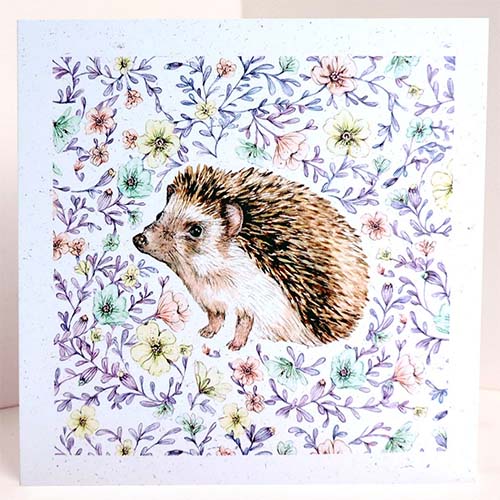 This cute Penguin Heart card, from Zazzle, has a fluffy message 'Love You'. It's a customised card with an option for your personal message to be printed inside.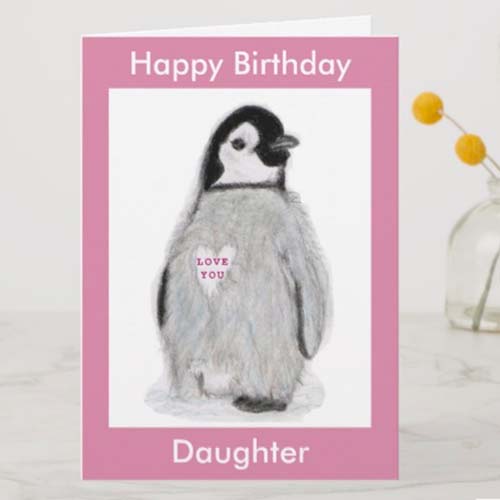 Zebras are very popular at the moment, and this one, with a softly painted face and big eyes under an explosion of flowers with floating balloons will I'm sure make your daughter's day!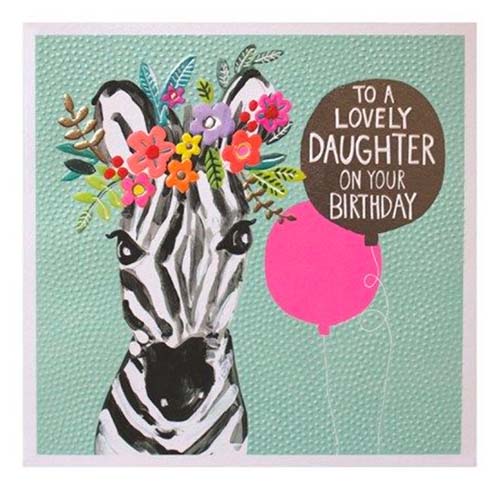 After Zebras we have Giraffes! The mother giraffe is keeping close, nuzzling her baby to show her affection. This handmade card with its sweet intimate tropical scene is to a 'Special Daughter' and her age or name can be added too.
'Rabbit Kiss' is a lovely card just love the doodle like illustrations of flowers around the water coloured rabbits. You could free style this card and write 'To my wonderful Daughter' in ink and it wouldn't look out of place. Nice one by Bug Art!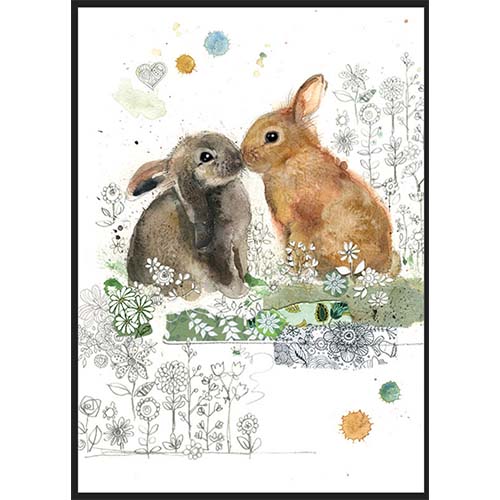 I cannot resist choosing at least one 'Cat card' and Sarah Boddy has a great choice including some fun ones. But I just liked this ginger cat having a lazy day, as they do! For an extra pound you can have your special message to your daughter printed inside.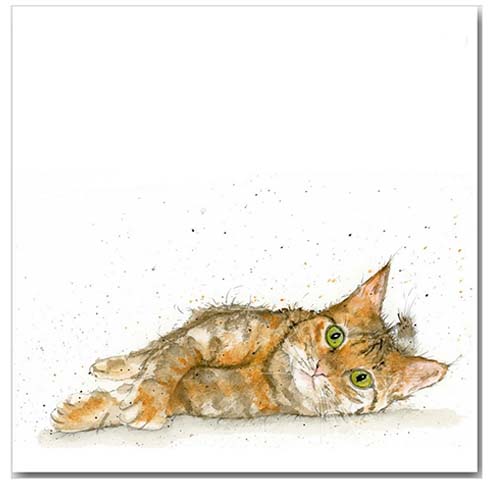 This unique 'To Our Daughter Card' I found on Folksy created in fabric and wood. It is a crafters dream, look at all the work behind this creation, stitching, gluing, handmade lettering worth paying that bit extra I feel.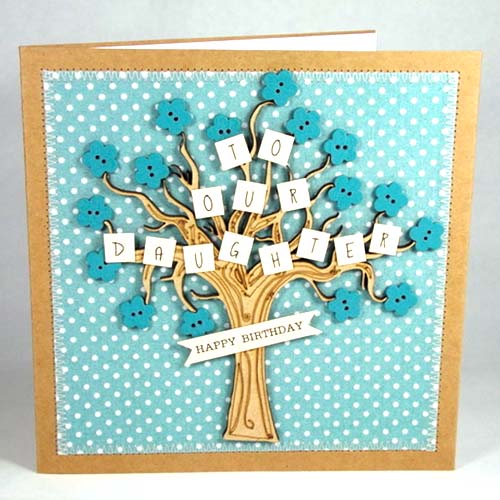 If your daughter is a child of the 80's or a 'Rock Chick' she will love this 'Sweet Child O'Mine' silver foiled card from The Curious Pancake.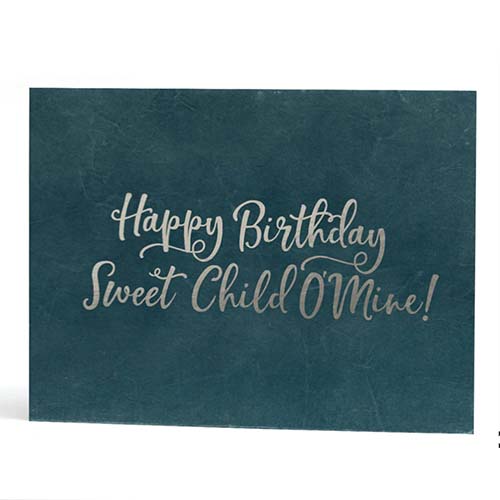 This Yellow Rose Cork Coaster Card is a card and gift all in one. Long after your Daughters' Birthday she will be using this coaster at home or around the office.
A stunning Golden Shoe, stitched with golden thread set in an ornate border is a beautiful card made by Elspeth Thompson. Birthday wishes for Miss Glamourous can also be personalised.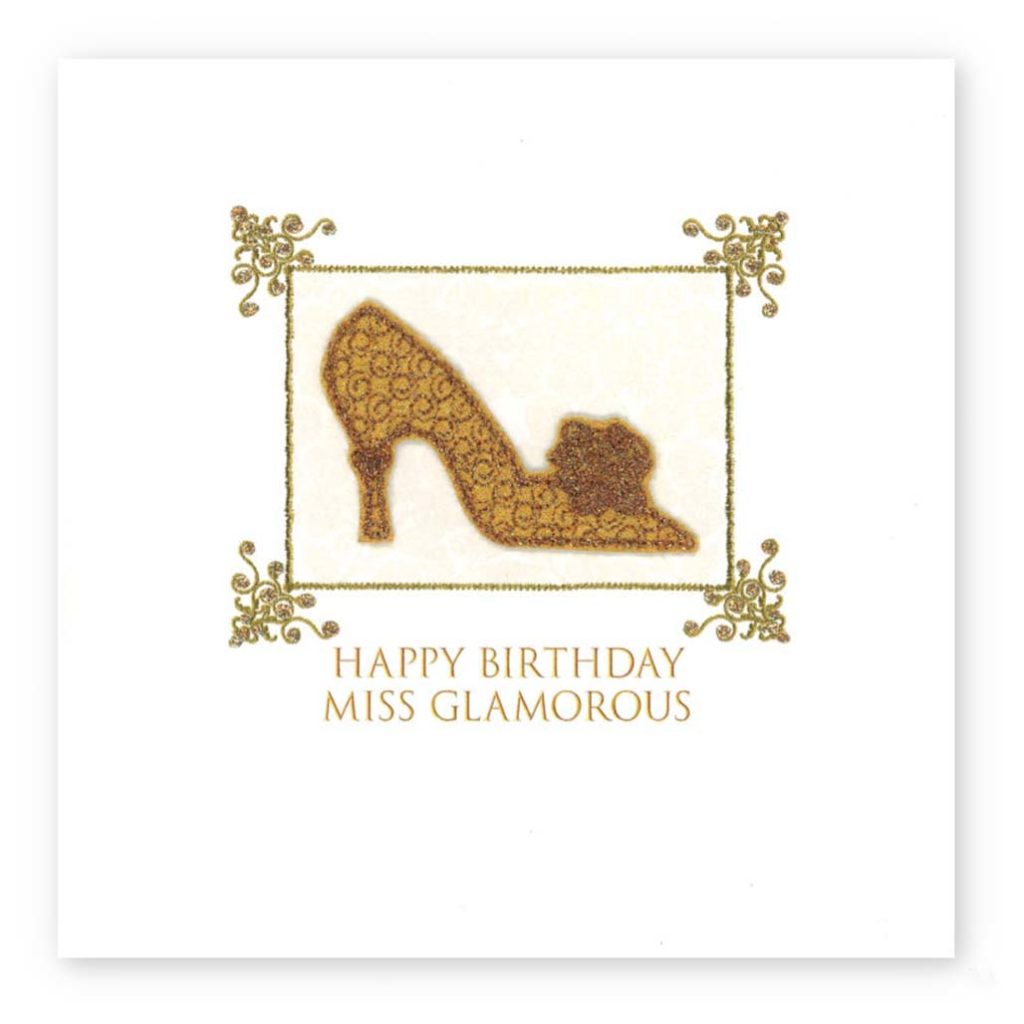 Sometimes it is nice to have a keepsake from a Birthday. This Darling Daughter card from Country Heart, has a detachable wooden heart personalised with her name, a little something to hang in her room or bedroom door!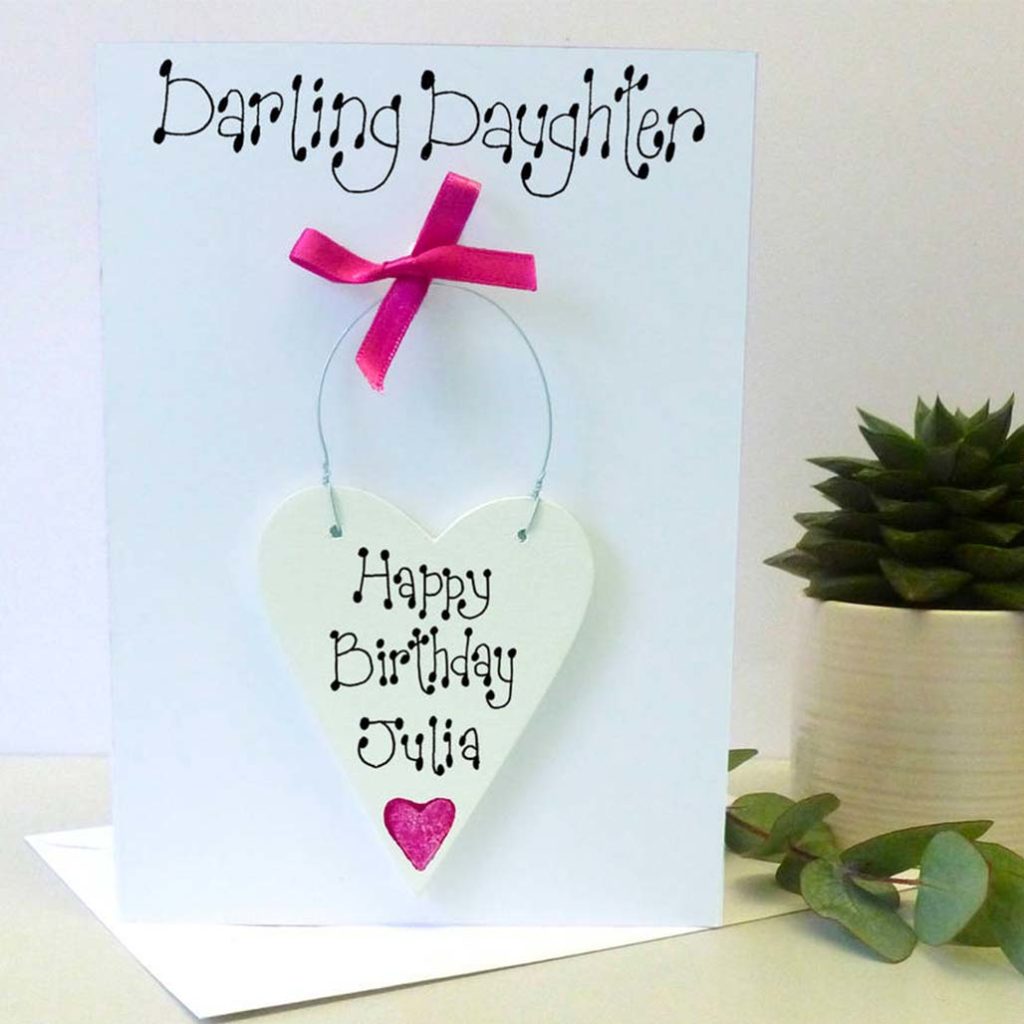 Has your daughter reached a milestone Birthday? So, you need a large personalised card that really celebrates the occasion. This brightly patterned bottle of champagne with gems would be a perfect choice.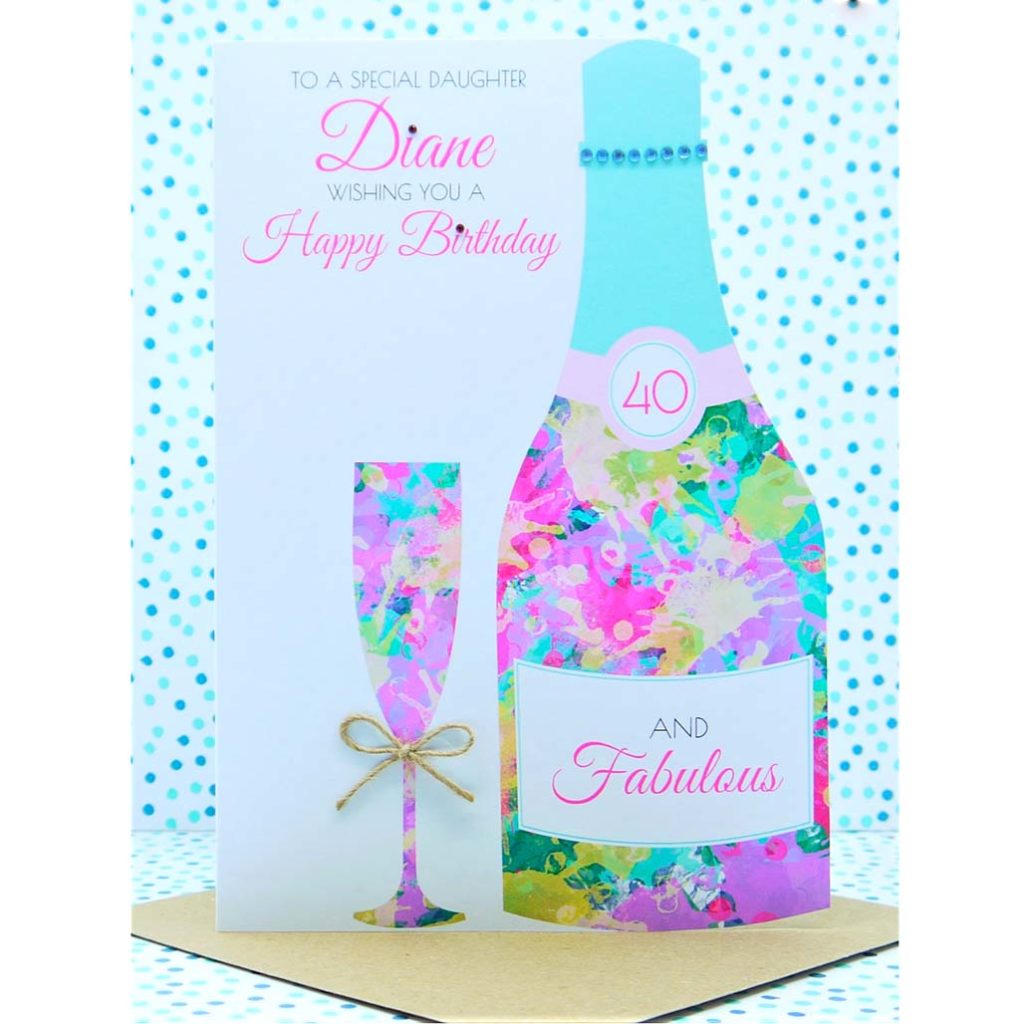 While we are celebrating, love this glass of fizz with cherries from White Cotton. The added glitter and diamond encrusted gems stand out on a subtle gold dotted ground.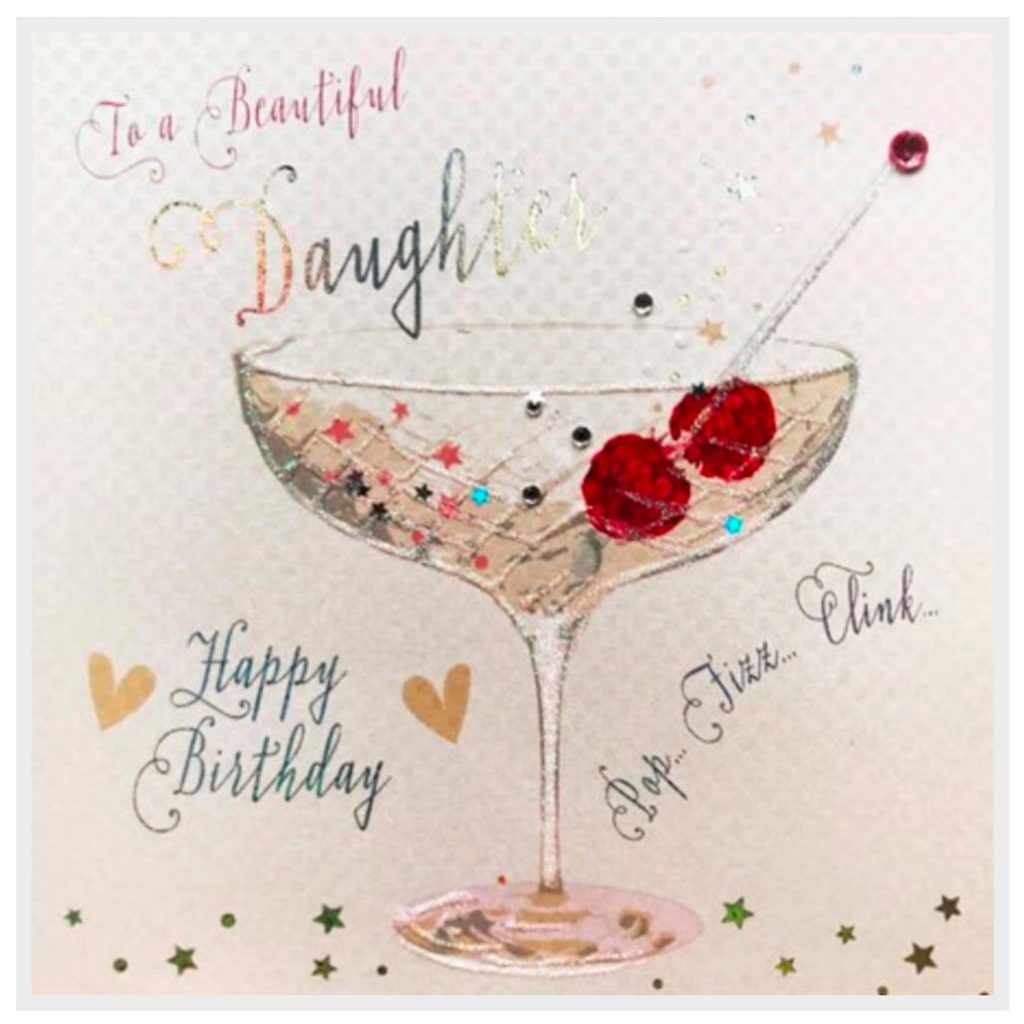 I just needed to find that perfect card that makes me smile and this one does! Hammond Gower have a great choice of fun animal cards so you can choose your daughters favourite. I'd love to be at that this crazy Birthday Party!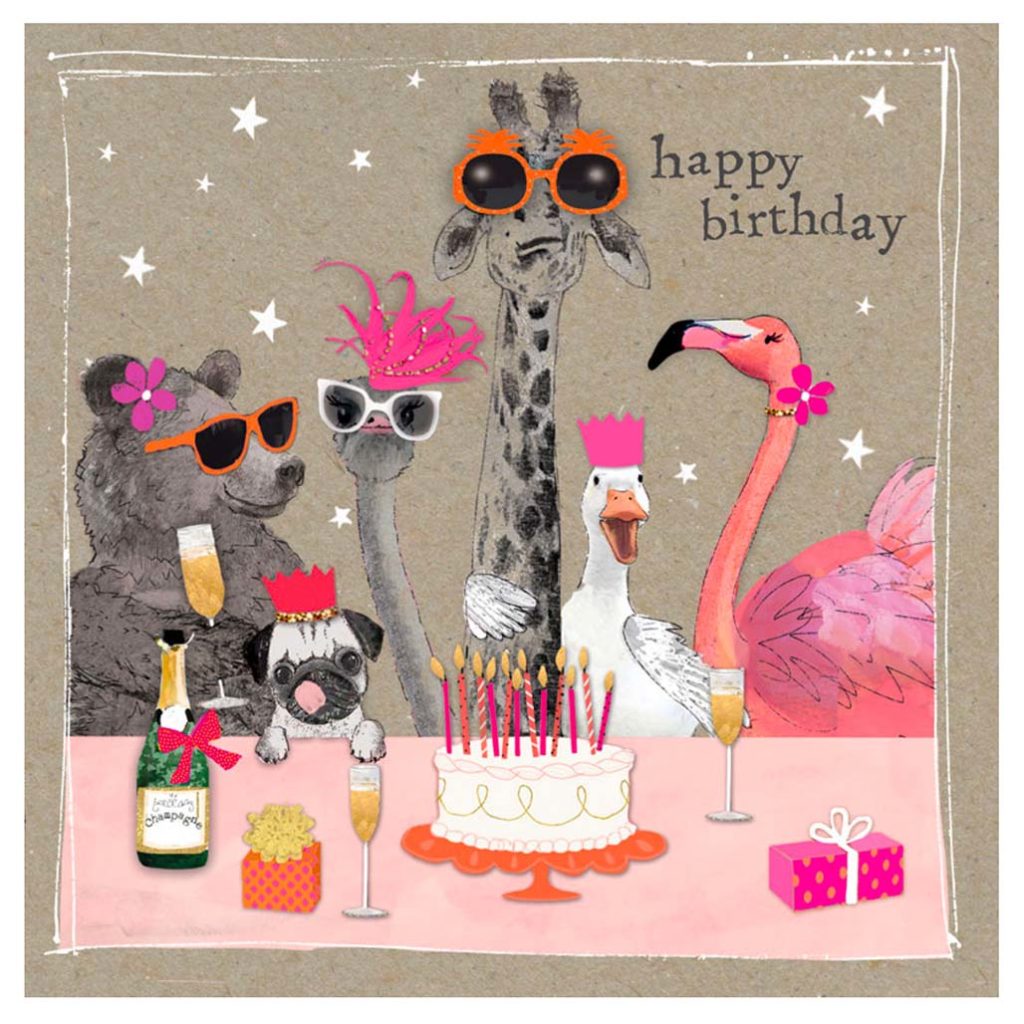 My last card is a bit of a showstopper. This is not customised but I'm sure any Daughter would love this amazing Tropical Pop-Up Birdcage. The laser cutting to produce this paper creation by Me&McQ is amazing. Available in white too!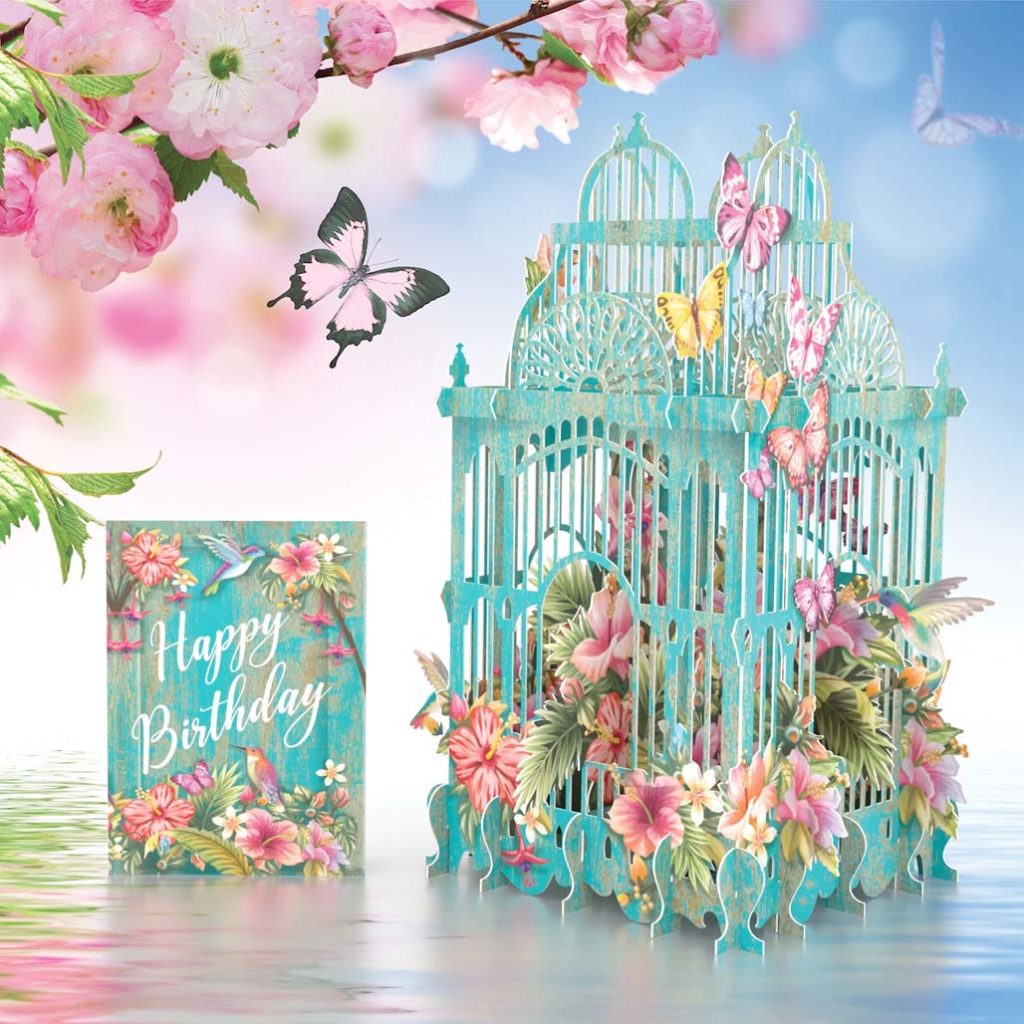 I hope you have enjoyed looking through my selection of some of the best Daughter cards available. The majority are handmade, but a few examples in there are obviously produced in larger quantities. I hope you find that perfect card for your Daughter and this inspires you to search more on-line for these fantastic designers, crafters and companies producing cards you may not see in the shops on the High Street.