I have always thought that the Butterfly is an absolute gift to designers, with its mirrored patterned wings making it a perfect decorative subject. I think the delicate beauty of the butterfly is fascinating and when that charming form is lit up on a lampshade it captivates us all!
Lampshades are a way to freshen or up-date a room, whether you find one to co-ordinate with your existing furnishings or build a whole new look from its colours or pattern. Even giving a new look to an old lamp-base works!
To help that search I have put together what I think are some of the best butterfly lampshades I can find with easy links to take the hard work out of browsing.
Thinking simple and very contemporary with soft muted background colours of grey, sage or taupe, the black and white spaced butterflies by Rose & Gray will add something new without taking over the room.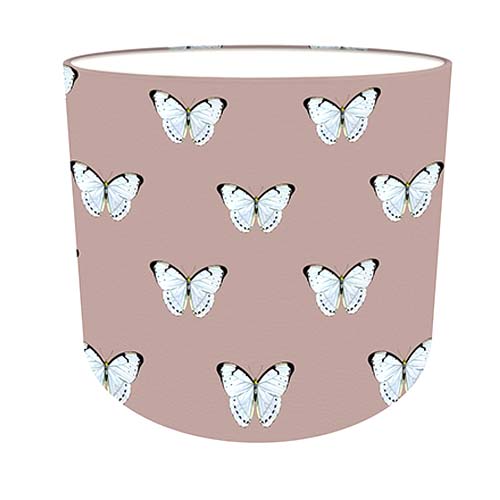 Staying on a neutral palette these beautifully drawn and water-coloured Butterflies & Beetles by Timothy Grass on white, bring nature inside in a subtle way.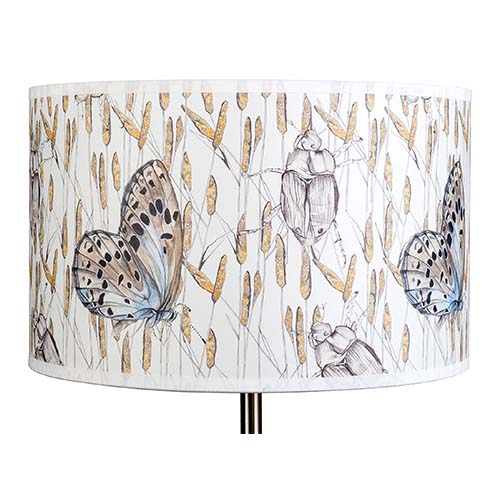 Introducing a little more colour into those neutral tones is this beautiful butterfly settling on the purple flower of a thistle. With a pale ground this pastel painting scene will be captured by the light.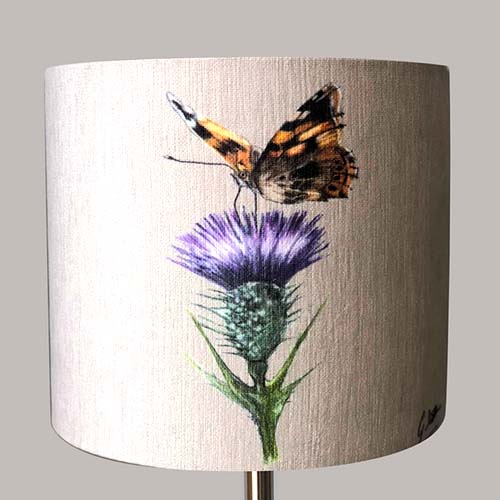 If it's a range of different butterflies you are looking for then this 'Butterflies' design may be the one for you, with its softly painted selection in greys, oranges and ochres you will always have an interesting view.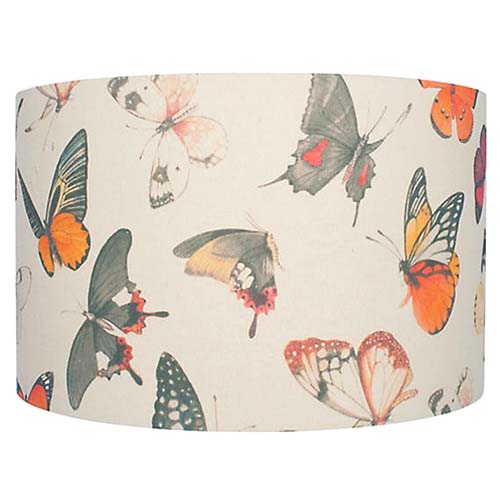 Maybe like me you love turquoise; well this stunningly large butterfly on grey & white is also impressive in both size and colour! The water-colour tones from dark teal to a lighter blue really make you feel this butterfly has just landed on this drum lampshade.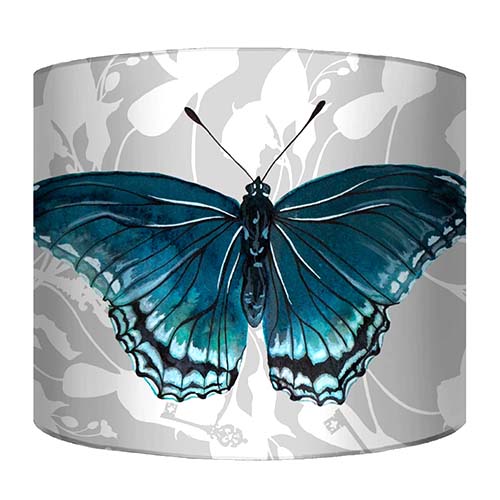 We all like a bit of 'skin print', which being so popular in the fashion world is now listed as a colour. The leopard skin patterned butterflies stand out on the white/ivory background as they hover round a cork bush of soft coral roses. An imaginative scene that can keep you glued in the light.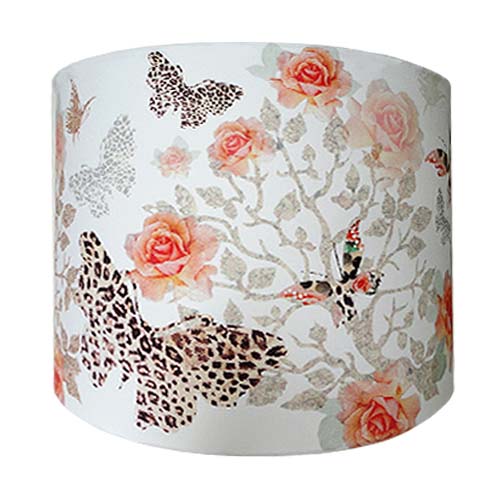 This Mariposa Butterfly Lampshade has a very similar colour palette to the Cork Butterfly Bush above. This design is a kaleidoscope of butterflies or a swarm, an all-over pattern on white.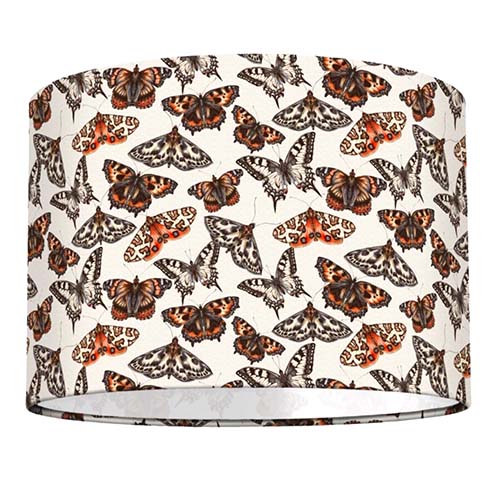 Most of the lampshades featured are fabric based: but I've found a beautiful parchment tube lampshade covered in vintage wallpaper butterflies in white. A real swarm is decorating this aptly named Papillon Butterfly Lampshade!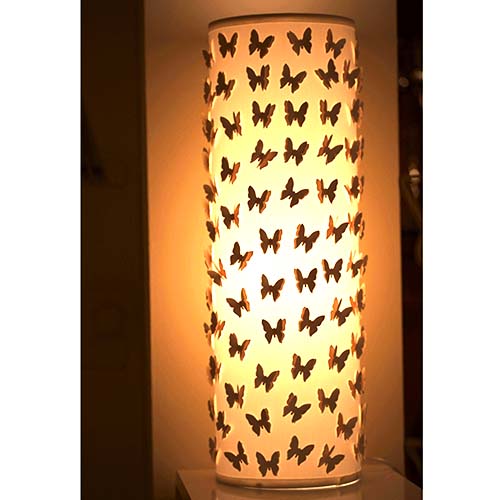 Osborne & Little have some great fabrics for lampshades – I love the Little 'Cocos' fabric with its mixture of cones, palms birds and butterflies; order one ready to use or buy the fabric and get crafting.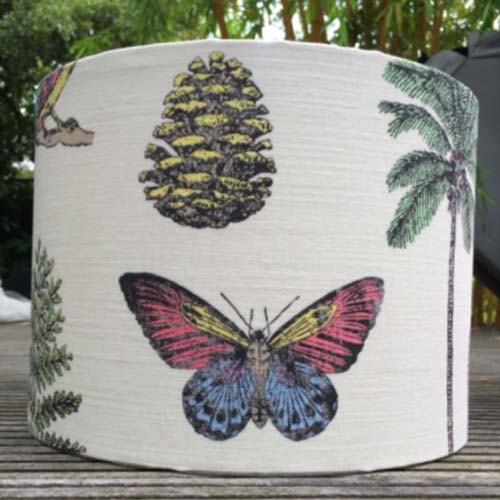 Tropical Botanical is always a popular look and the Little Tulipan Multi-Cacao Butterfly is beautiful on black, with stunning flowers and gorgeous black & white butterflies. An expensive fabric by the meter, so although this lampshade looks a bit pricey it is still a bargain.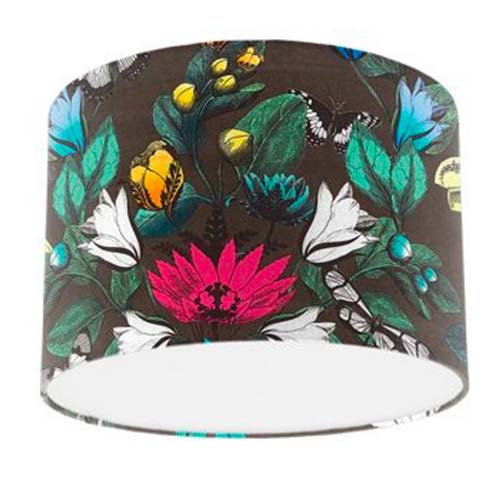 'Butterflies on Black' by Lily Greenwood has butterflies in flight a mirrored repeat design. Multi coloured tiny butterflies put on an air-display creating this interesting pattern on a contemporary stand.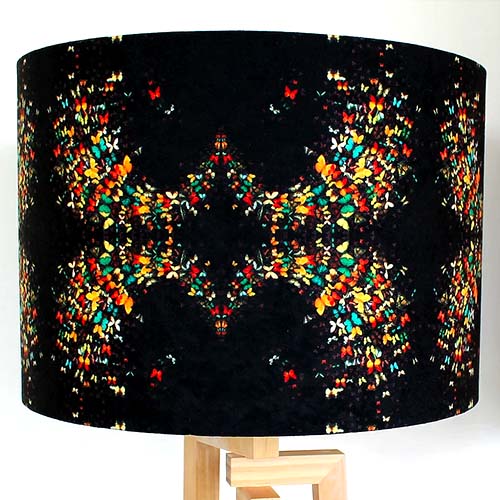 This design is a little more English Garden with an abundance of flowers, but I like the black and white contrasting butterflies, dragonflies and birds spaced on top giving a 3D effect.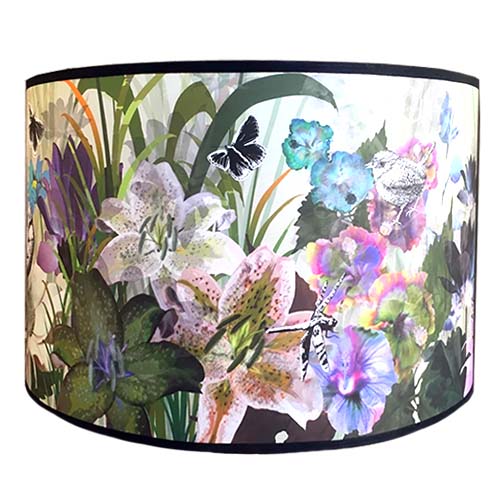 A room in shades of white can be a bit cold and if perhaps you are looking for a real splash of colour, this 'Pink Botanical Butterfly' shade will change all that – add a few bright pink or turquoise cushions and you have an instant new statement look.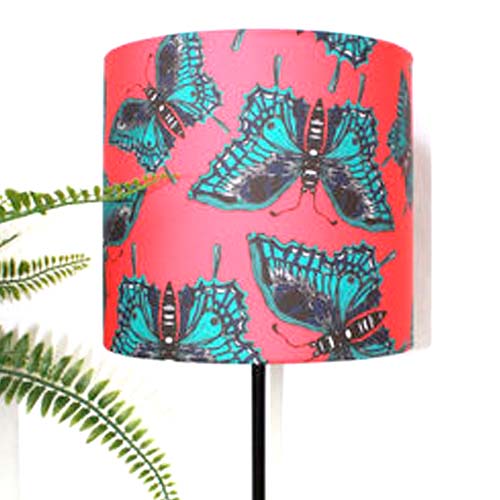 Most of the lampshades featured are the usual drum shape so here's a few alternatives.
The 'Butterfly Wings Lamp Shade' is a Coolie shaped shade edged in blue. The design is taken from an original hand painted silk design printed on to a parchment, but still looks like silk. It reveals a close-up pattern of the butterfly wings in pinks, purples, and blues.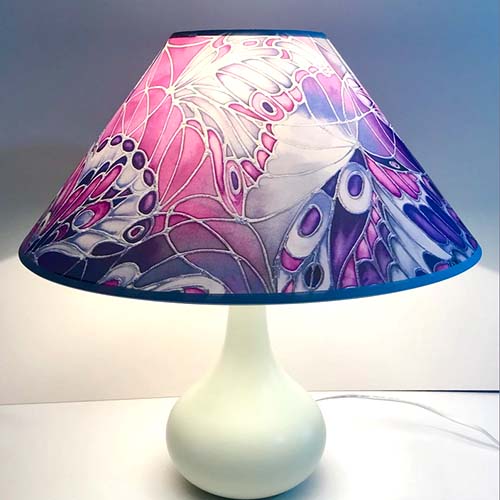 Sometimes the butterfly can be the lamp itself, as with this 'Isla Butterfly Tiffany'. The stained-glass effect lamps can at times look dated, but placed with a plain backdrop they are still quite stunning.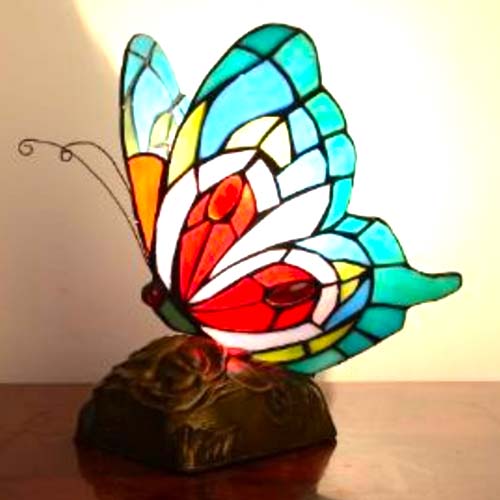 When thinking of the butterfly, children come to mind, they love them and little girls especially. In John Lewis's 'little home' I found this simple butterfly shade with a pink or white background at a really reasonable price.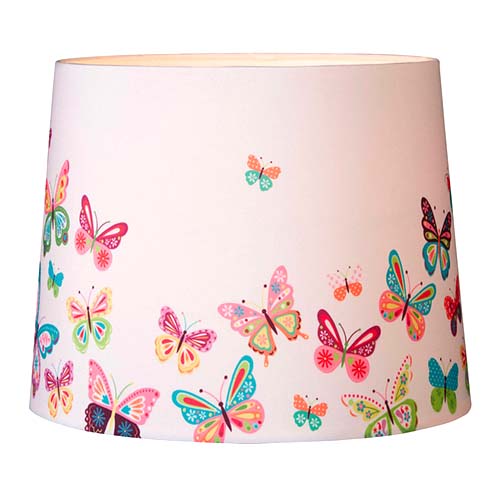 I love the idea of a lampshade and mobile combined as the light from the shade highlights the floating butterflies below. This Yellow Girl with Butterflies lampshade is really nice from L'Oiseau Bateau.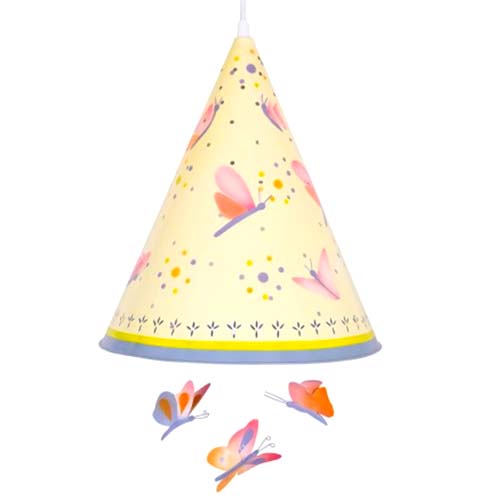 There are many pendant shades with individual butterflies in a cluster, but I like this Butterfly Multi- Coloured Pendant Shade, just because it does has lots of colour and children love colour, plenty of time for those subtle shades of white when they are grown-up!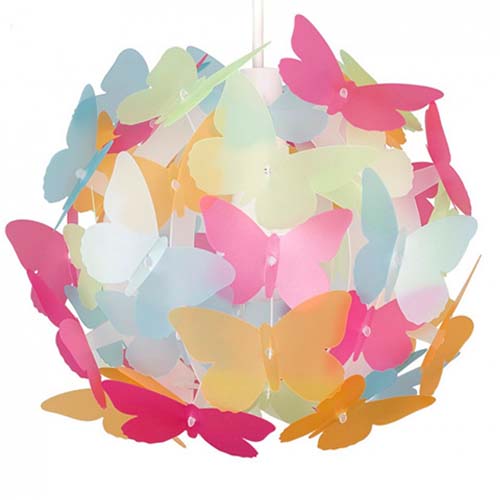 A lot of work has gone into this handmade, Butterfly Applique Embroidered Lampshade. The ditsy patterns inside the shapes do make it very attractive, and with stitching on top it really is a little girl's lamp. A bit expensive but again I stress handmade. It's a good idea though, to brighten up and re-use an old plain lampshade, or get the children to do it themselves!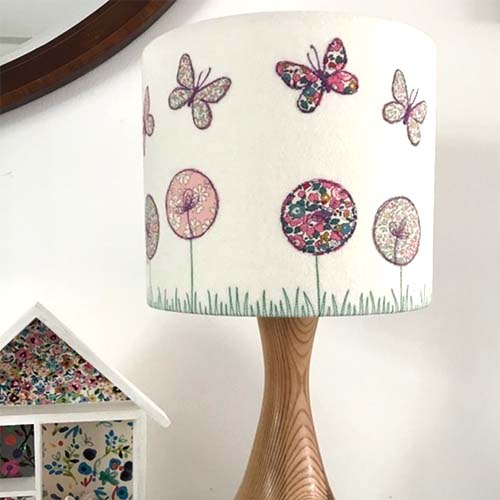 I found this 'Checkerspot Butterfly' Lampshade by Kate Willis on Etsy, and love the ombre tone from brown to teal reflecting the colours of this species. The butterfly wings almost make a flower in shape with linear lines reflecting the solid shapes.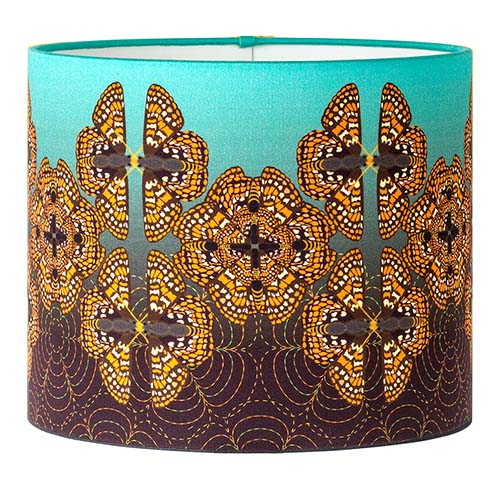 Butterflies with geometric borders can make a statement piece with a little Art Deco style in this Red and Black Butterfly Lampshade. Monotone and full coloured butterflies come to life on a subtle ombre shading from red-yellow ochre to Ivory.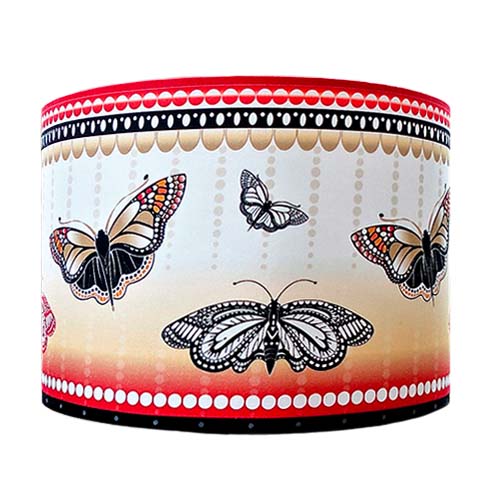 A beautiful butterfly Charonda print fabric from The Designers Guild collection makes a fabulous lampshade. You can buy the fabric at Jane Clayton & Co at a pricey £65 per metre or find one already made on Etsy.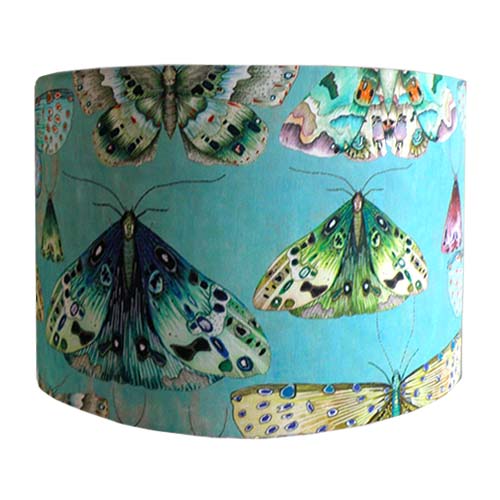 Now if you really want a bright and an over-the-top lampshade in both print and shade then this recovered lampshade is it! The typically bright Christian Lacroix fabric print 'Butterfly Parade' with large watery painted butterflies is edged in velvet with pom poms – not for the faint hearted, this one!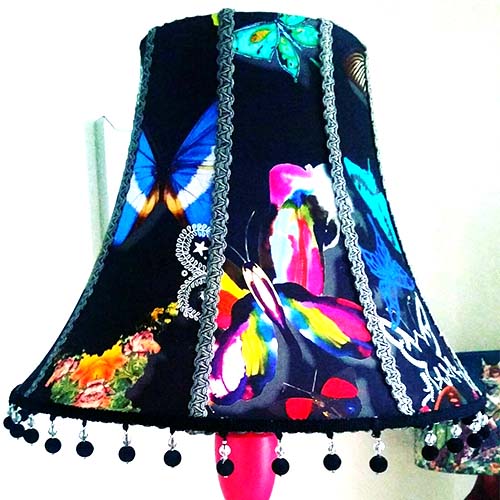 I like to seek out the unusual and this Butterfly Chocolate Gourd Lampshade is definitely that! I do have two more traditional Turkish lamps which give off fantastic patterns of light on the ceiling but this lamp projects the butterflies in light which is quite extraordinary!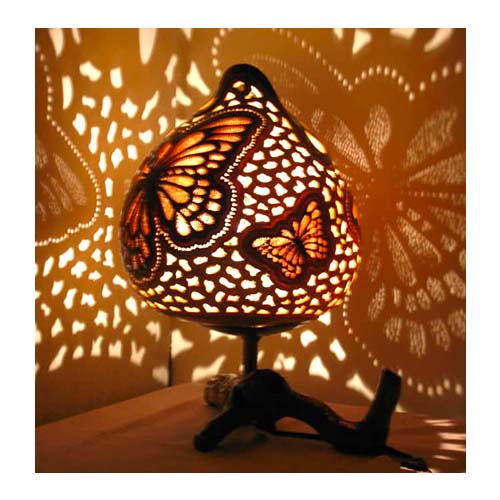 So, here's my last Butterfly Lampshade after scouring the internet for some of the best examples I can find to help you in your search. I am finishing with a unique and extravagant lampshade, not for everyone but you can appreciate the work, originality and design that has gone into producing this and all the Abigail Hardie Home lampshades. The Butterflies adorn the scalloped crown shade which in contrast is decorated with thick green fringes and matching tassels.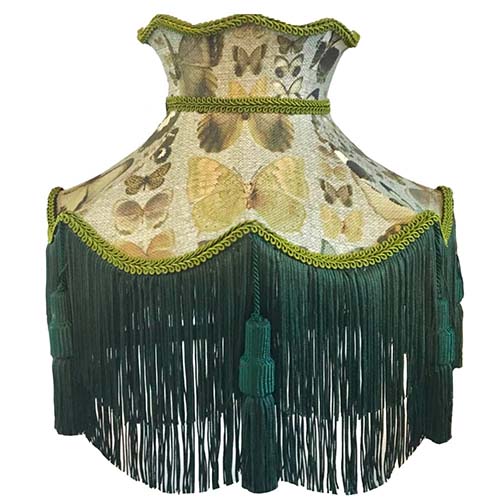 With so many fabulous prints, patterns and innovative ideas that make up my selection, I hope you've enjoyed looking and perhaps it has inspired you to buy or even have a go yourself. I make my own lampshades for Decorque. Initially, I thought that it would be difficult, but with so many tutorial videos to watch and easy DIY kits available anyone can be creative. Try www.dannells.com who specialise in these kits for all shapes and sizes or you can find them on most on-line market places.