What is a garland? It can be a braid, knot or wreath made of flowers, leaves or other materials worn on the head, around the neck or hung for decoration. We mainly think of wreaths with an assortment of flora and fauna constructed into a ring for funerals, cultural and religious occasions. Therefore, I have chosen garlands to describe my designs. Many are not full circles and of course other shapes can be used such as a heart, oval or an open sway to celebrate happier times.
A garland is such a gift design-wise, especially for greetings cards whether for Christmas, Birthday or Anniversary; this decorative border is perfect for framing a central message or an interesting scene.
I have curated a collection of some of the best Christmas garland/wreath cards I could find online – with some easy links if you want to make a quick purchase.
I start with the robin, which is always a Christmas favourite so here are a few with garlands.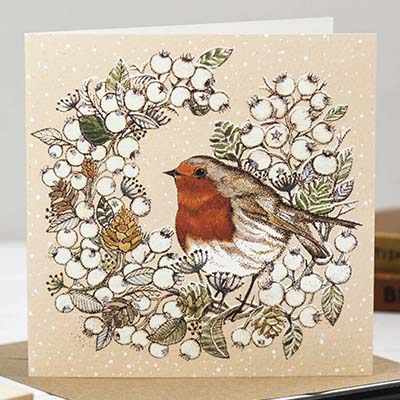 This snowy scene has a robin perched on a wreath of white berries and cones.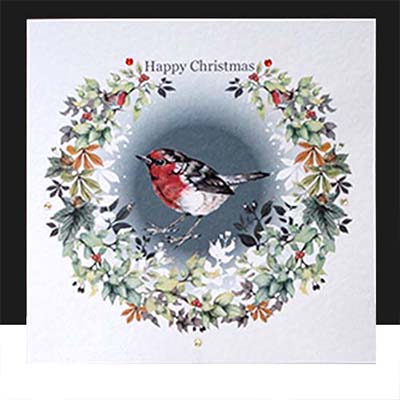 This Christmas Robin Garland has a beautiful circle of autumn leaves and berries surrounding this sweet singing bird.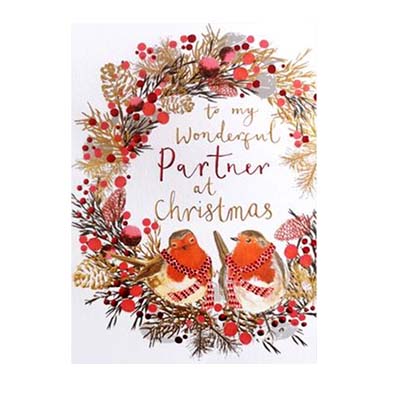 I think these two little robins are keeping warm with their matching scarves, perfect for your partner this Christmas.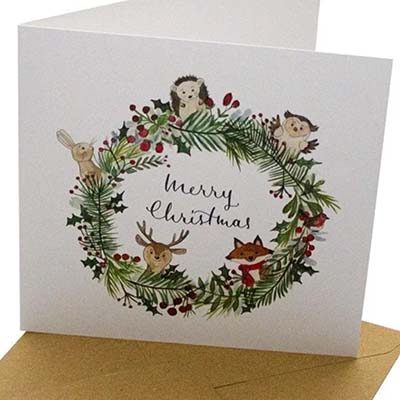 These cute wild animals are peeping out from behind the Christmas foliage.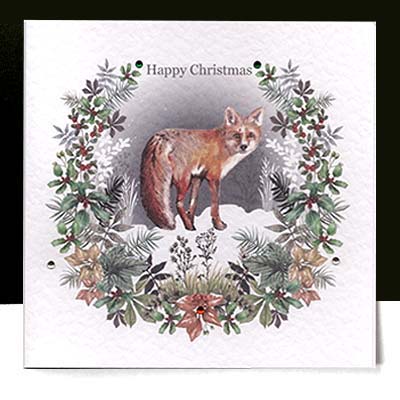 Staying with the wildlife subject, this fox has just turned to look at us in this snowy garland scene.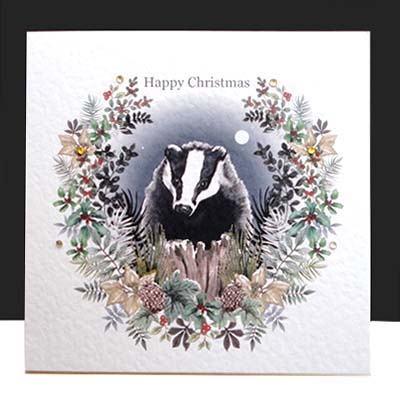 This night vision features a wonderful badger in the moonlight with a forest garland.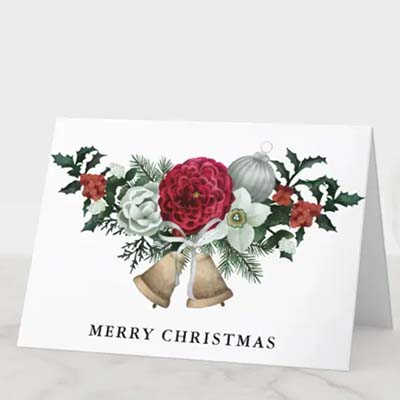 This Winter Floral Garland has a beautiful red Chrysanthemum and gold bells making a lovely display.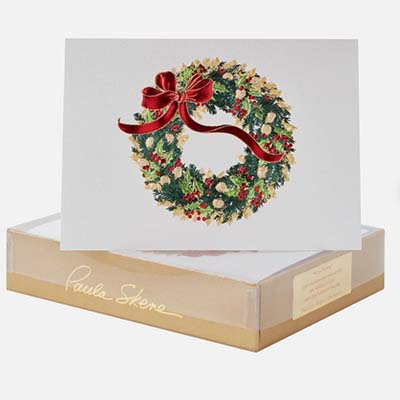 A box of Holiday Wreath Christmas Cards from Fortnum & Mason are a bit pricey but are foil stamped and embossed.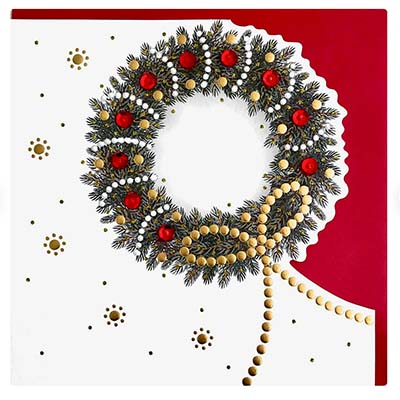 I like the die-cut on the front of this card outlining the garland which is finished with gold foil and ruby red sequins.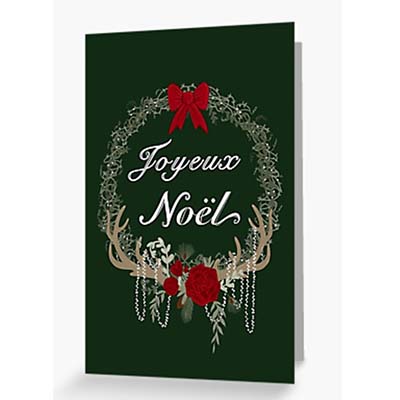 Joyeux Noel really stands out on this dark background. A nice garland with deer antlers and flowers.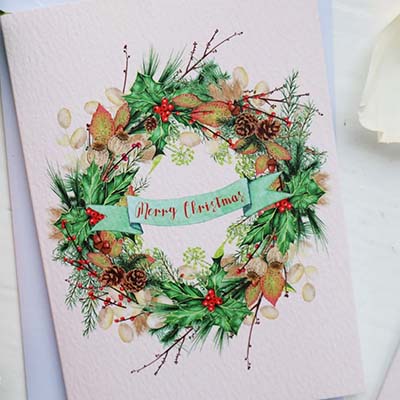 This Merry Christmas water coloured wreath almost looks real with its beautiful holly and protuding twigs.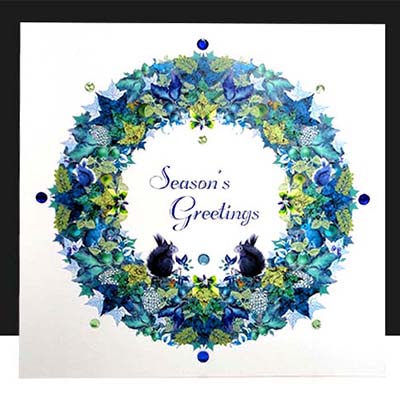 Maybe you can find the hidden small squirrels and rabbits in this gorgeous Blue Garland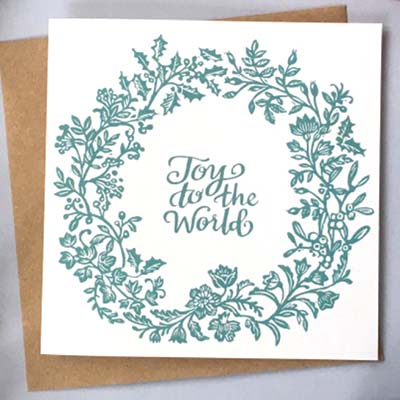 Really like this simple one colour green linocut wreath design.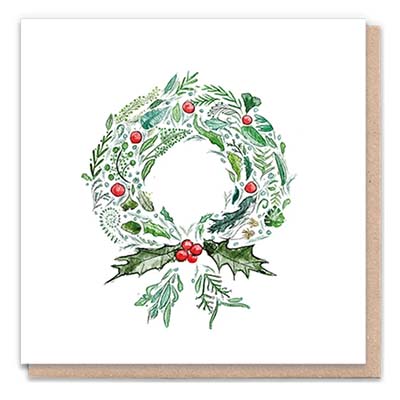 If you are looking for a 100% recyclable card and envelope, this green wreath is even printed with vegan-vegetable based inks.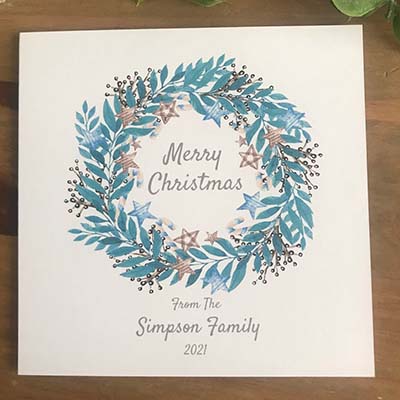 Seeking a personalised card, this teal garland with stars might just be ideal.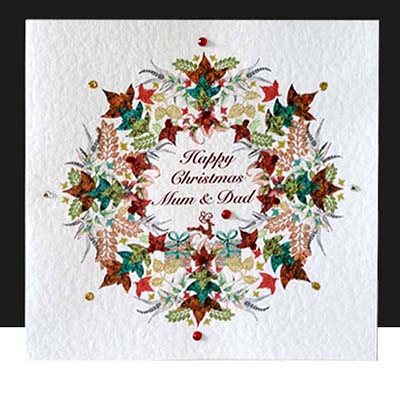 An Autumn Garland with lots of textured leaves is perfect for Mum and Dad or can be personalised for another family member.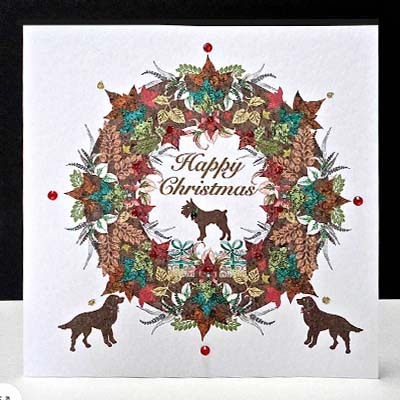 We love our pets and here is a card for all you dog lovers, yes, a Dog Christmas Garland!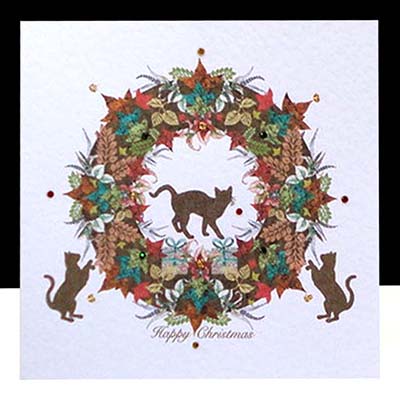 Not to leave out you feline lovers, here is a Christmas Cat Garland Card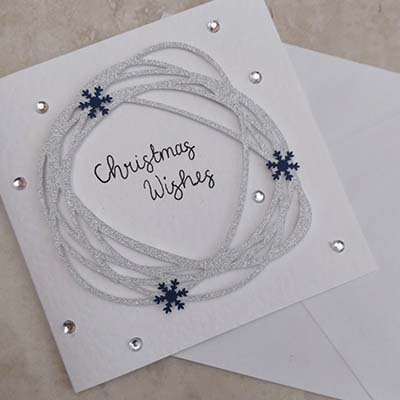 A contemporary handmade design has a silver and blue wreath which can also be in gold and red.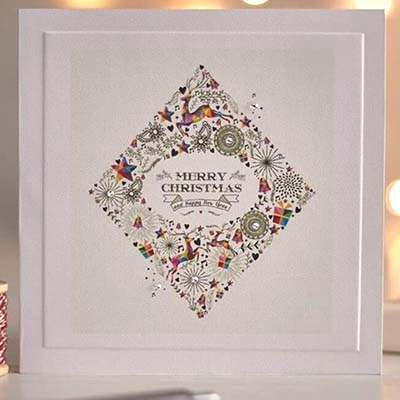 I think this Diamond Christmas Wreath works really well with reindeer and sparkles framing a Christmas message.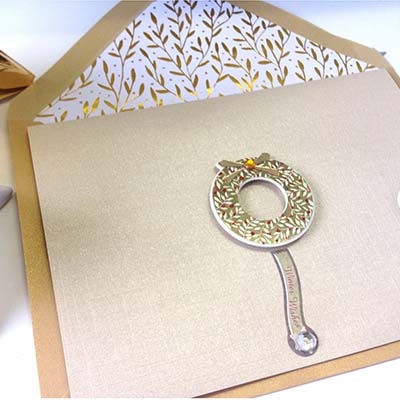 This is a very classy card with a small, mounted wreath. Lovely gold leaf detail and smart matching envelope.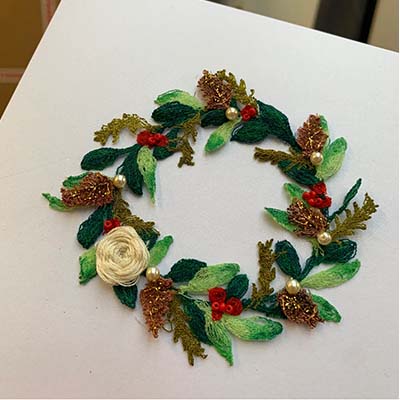 This stunning Embroidered Christmas Garland is a perfect example of free motion embroidery.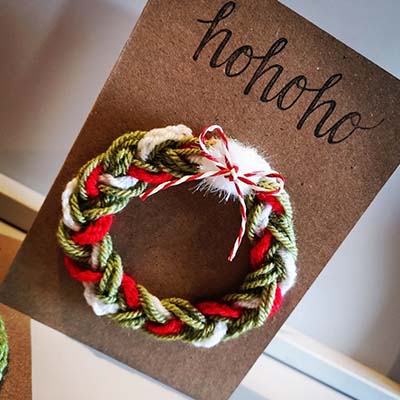 A Woven Wool Wreath, what a great idea to use up some of that left over wool!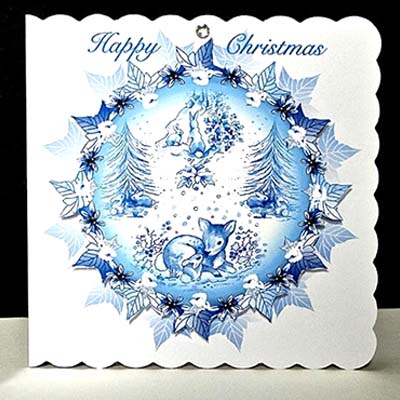 We also have a Magical White Christmas Garland for the young ones. An ivy circle surrounds a snowy scene with a cute fawn and bunnies.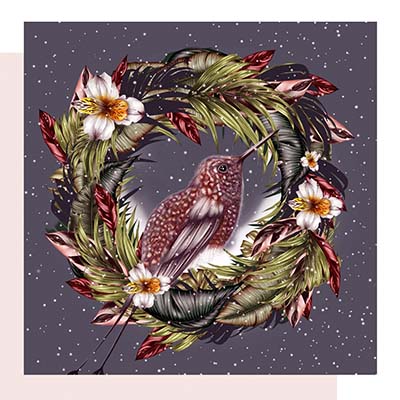 I think this card is my favourite, I love the tropical twist, why not a Tropical Christmas. It has beautiful foliage and a bird I use a lot in my designs, a gorgeous hummingbird.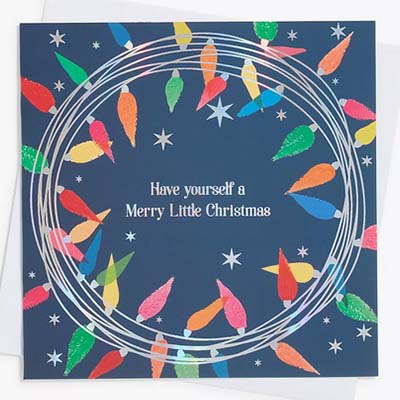 Unconventional, but why not a wreath of Christmas Lights!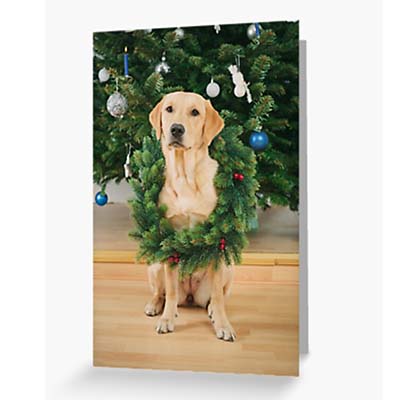 I have left this card until last as I think it's a such a fun card.  The Photo Garland something you can even do yourself.  Take a photo of your pet wearing a garland.
I'm sure there are hundreds more fabulous Christmas Garland Cards out there, but I hope you've enjoyed browsing through my choices.  There are some great designs here and a few ideas you might use to make your own Christmas garland card for friends and family.