We love our Mums! A great way of celebrating and showing that love is on Mothering Sunday, and here I wish to help you find that unique card.
For over a century, the day has been recognised as a day to celebrate motherhood. Traditionally, flowers, cards and gifts are given. In the UK, Mother's Day is celebrated in March traditionally, whereas, in the US where it originates from, it is celebrated in May.
Mothering Sunday falls on 27th of March 2022.
My search has uncovered some of the best Mother's Day cards online to help you find that perfect card for your mother. I have tried to offer a good cross-section of printed and hand-made cards the latter having options for personalisation.
I think all Mums love afternoon tea, that may be their special treat for the day, if not here's a few cards on this idea!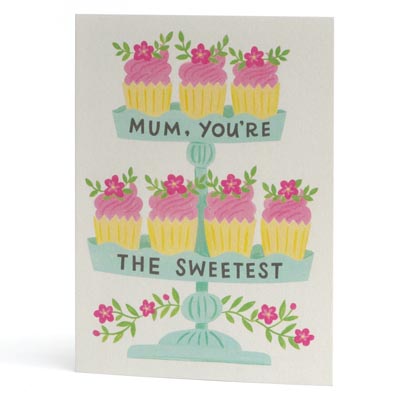 Here are a few cakes to be going on with, and by the way Mum you are the Sweetest.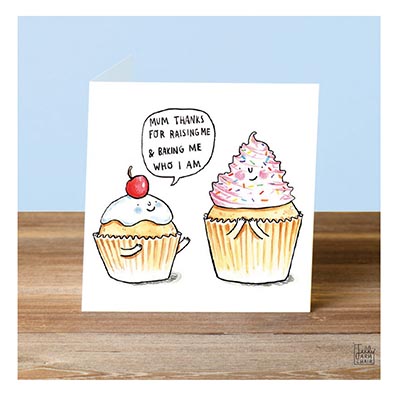 Does Mum make the best cakes? Well, thanks for raising me, Mum!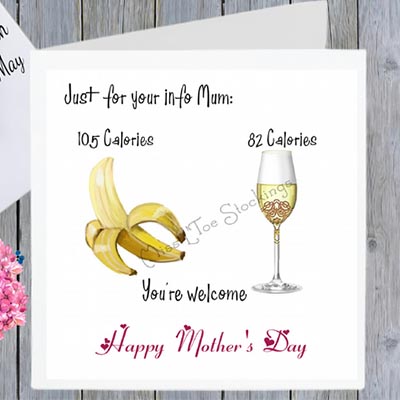 For a Mum who is watching the calories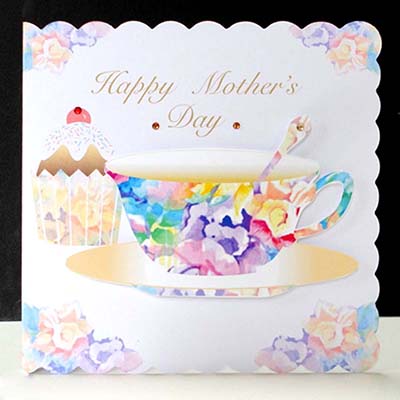 Afternoon tea with sunshine, beautiful china and a gorgeous cake, what more can you need to celebrate?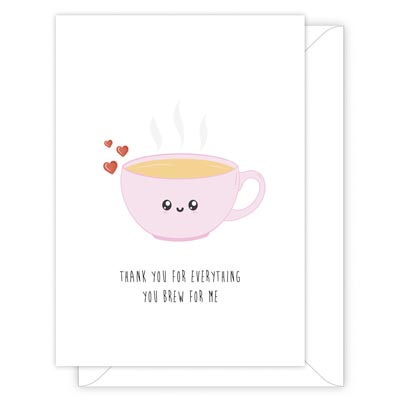 What a good Brew!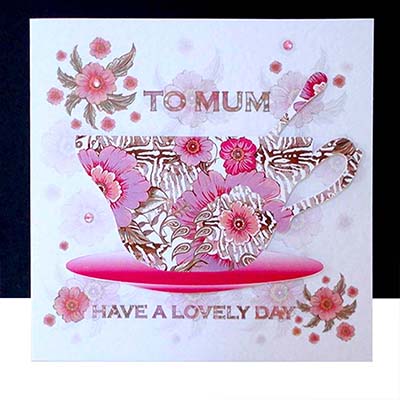 There is a beautiful pink glow to this cup of tea.
Pop Up cards are very popular, obviously more expensive as they can be quite elaborate in design and construction. But I'm sure they will be kept on show long after the day, being such a decorative gift.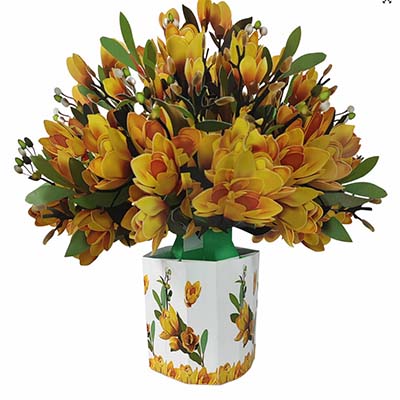 Yellow magnolias make a beautiful vase of flowers.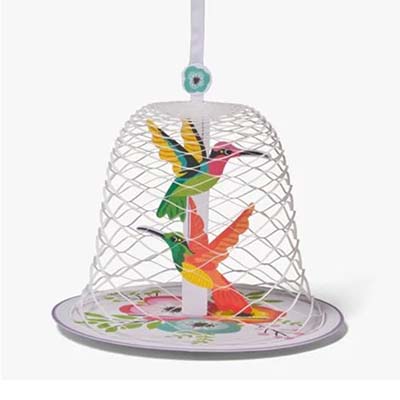 What a delicate, pretty hanging bird cage with my favourite hummingbirds.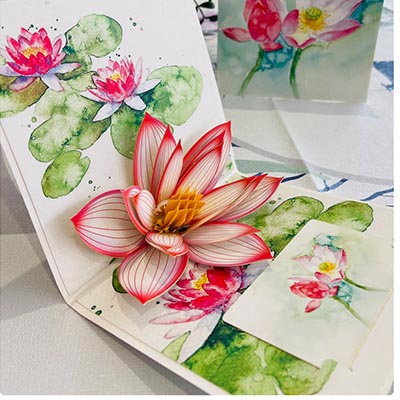 A stunning water lily opens out in this original Pop Up card
Tropical is currently a strong theme for everything even cards, so why not for Mother's Day?
This absolutely stunning red and yellow hibiscus flower really says tropical.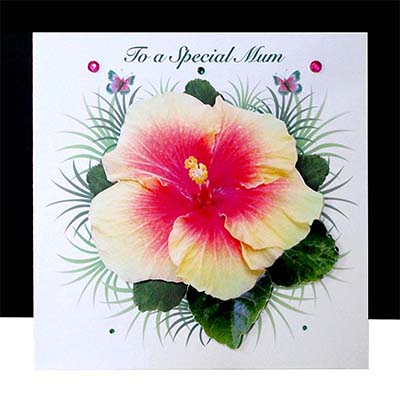 Palm trees on pink is definitely for the loveliest Mum.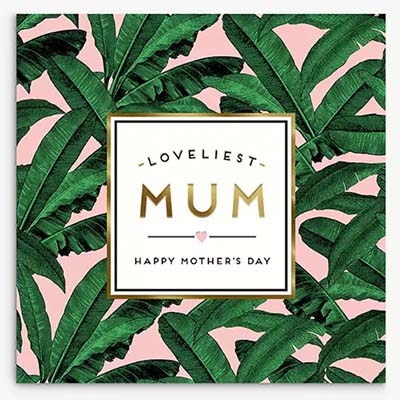 Exquisite exotic seashells and lilies adorn this love-heart.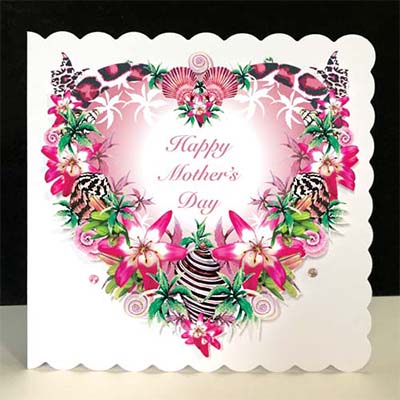 Wow, now this is bright! Tiger, parrot and pineapple, great combination.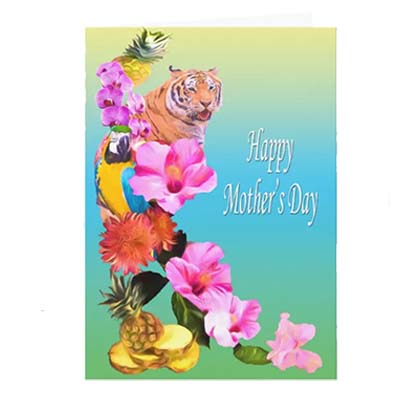 A burst of coral with tropical stylized flowers is very exotic.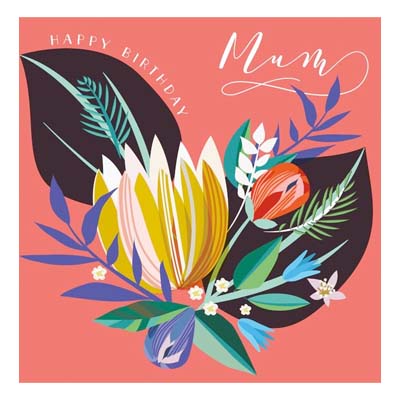 We all love our gardens, plants, flowers, and trees – I'm sure they are some of Mum's favourites too!
This is my kind of greenhouse.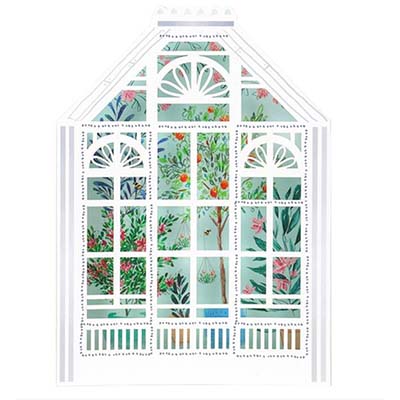 Hope Mum is good at keeping those house plants.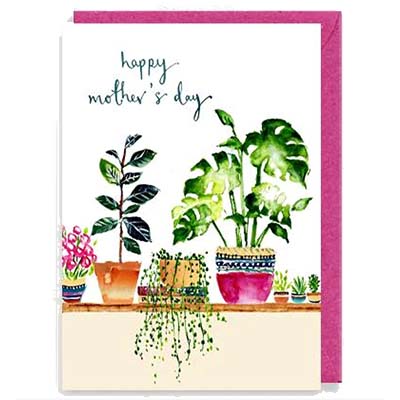 Here's one plant that is easy to look after, the Pincushion Cactus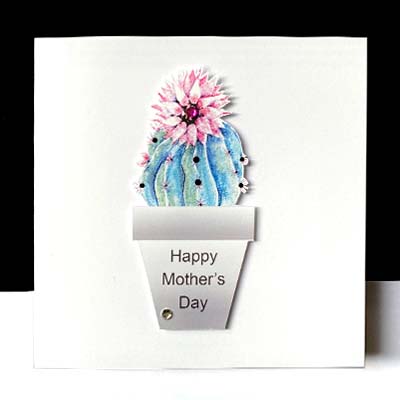 I wouldn't mind this colourful vase of flowers.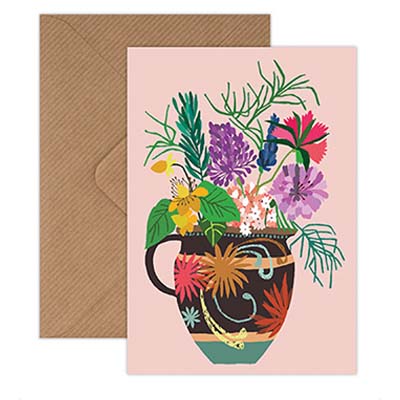 This floral tree is absolutely bursting with flowers.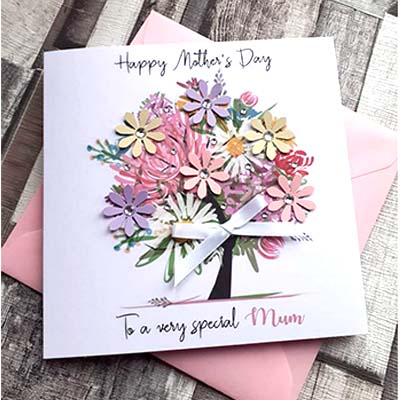 I love these puff-ball sheep under the blossom tree.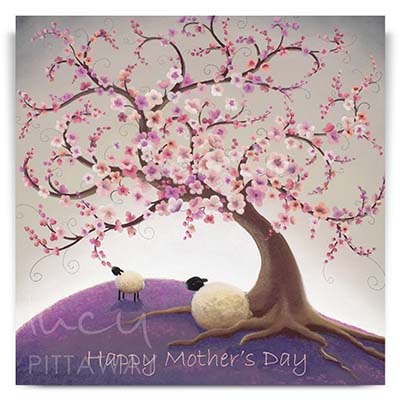 Naturally, Flowers are always the leaders in design for cards, hand-painted, photographed, stitched, garden, wild and tropical we just can't get enough of them!
I am starting with a staggeringly glorious Cerise Rose – a real eye-catcher.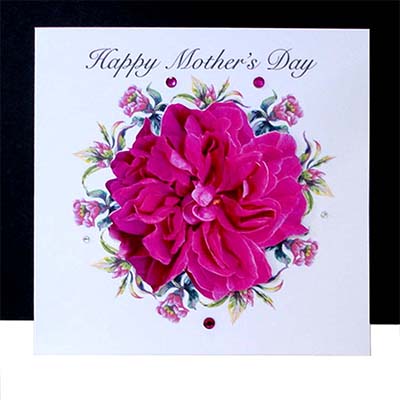 A printed Chrysanthemum made of butterflies reflects that same intense cerise colour.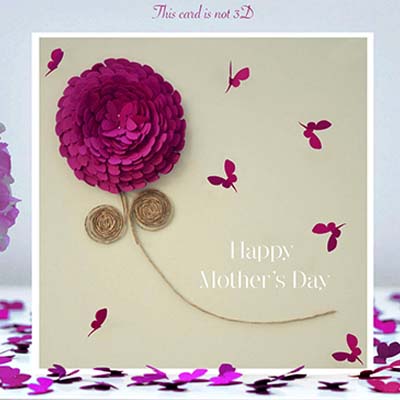 A fresh lemon morning rose makes it feel like the sun is shining.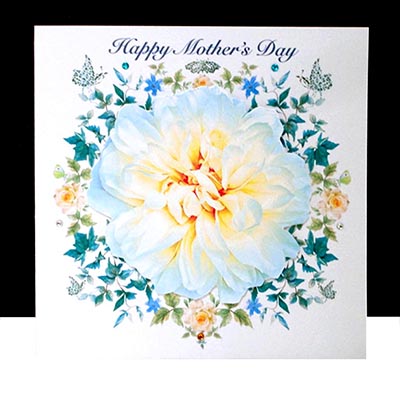 What a good idea, pages from a vintage gardening book stitched together in a heart.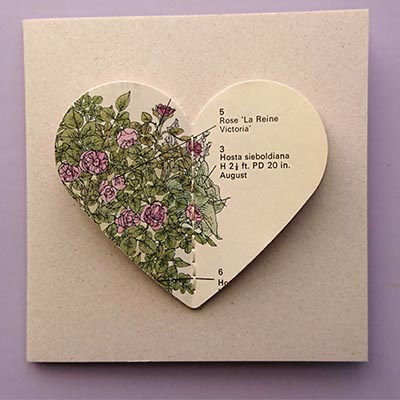 A fresh wildflower meadow comes to mind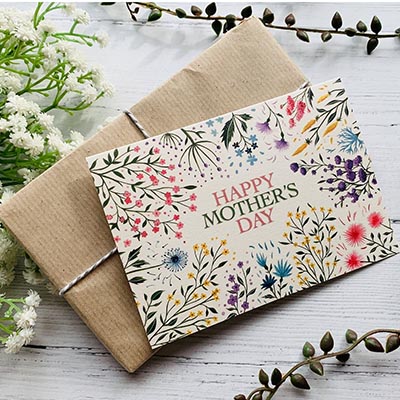 With a pastel swathe of flowers this card is a nice way to say 'Happy Mother's Day'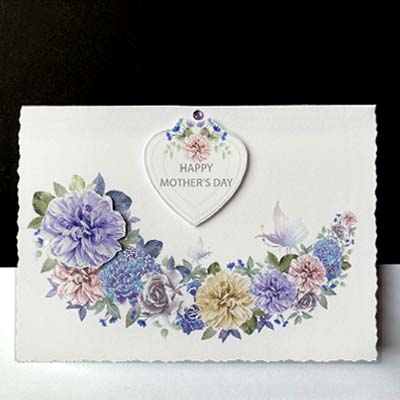 Vintage florals are just soft and dreamy!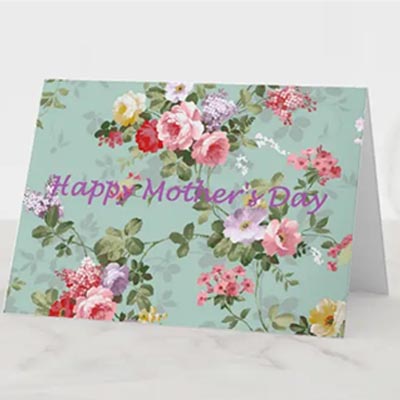 Roses and fruit hand-painted chintz decorates this pretty fan card.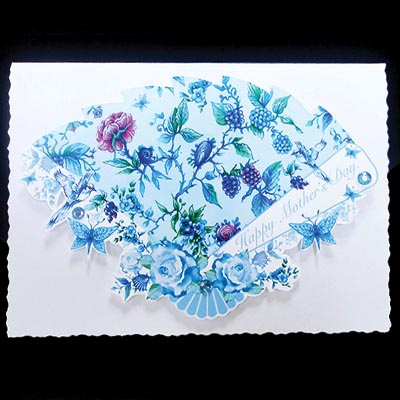 Birds are always high up on my list when choosing cards. We love the traditional British birds, those we invite into our garden with feeders, the visitors to our country, the wild birds, wading birds, and even exotic birds only found in tropical climes.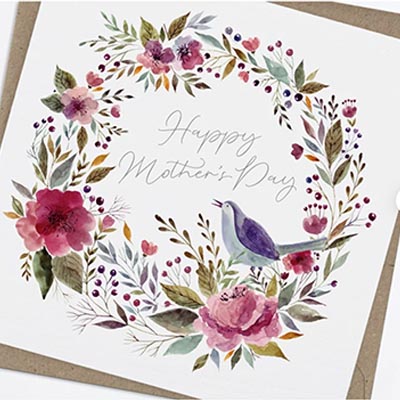 A pretty floral wreath is the home for this pretty bird.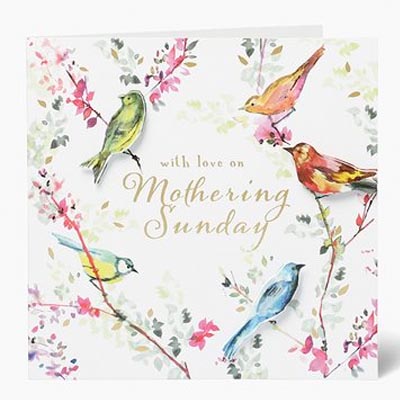 Birds and blossom a lovely Spring combination.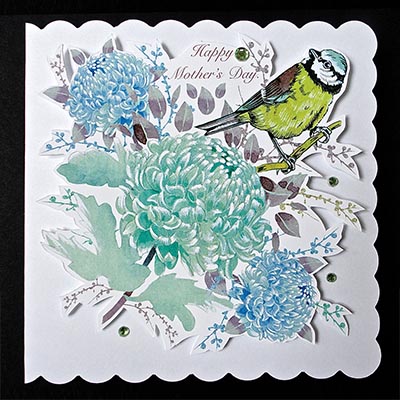 This stunning garden bird looks perfect perched among the Chrysanthemums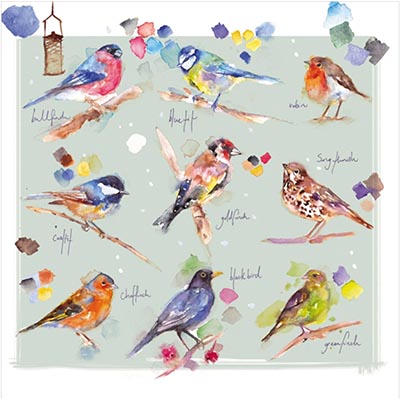 I like to always include a charity card in my selection, from Oxfam I have chosen these lovely water-colour birds.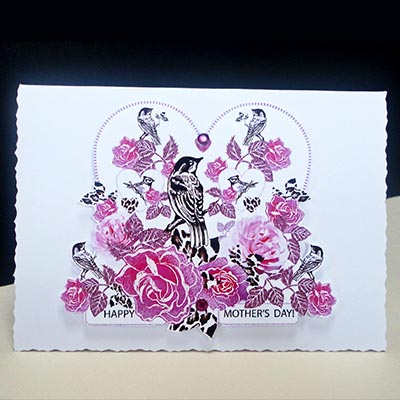 If Mum loves pink, these pink roses and birds set in a heart may be ideal.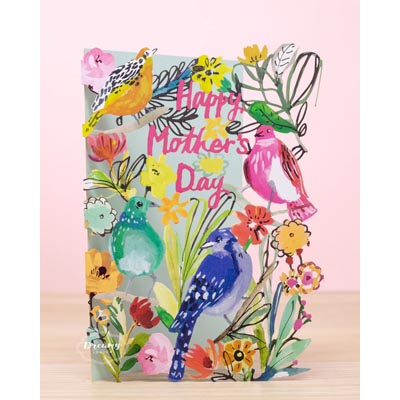 Bright, tropical, with birds this card part printed, part die-cut really stands out.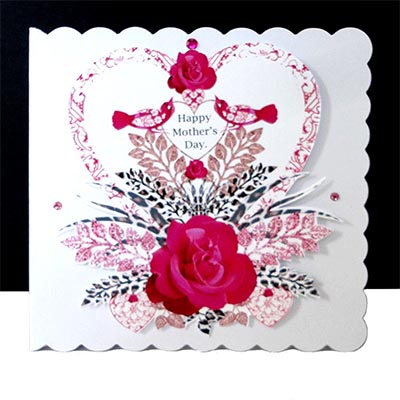 Hearts, birds and ravishing cerise roses are perfect and are also available in red or blue.
How could we forget our Pets, they are part of our family lives and we just love to be reminded of them on special days.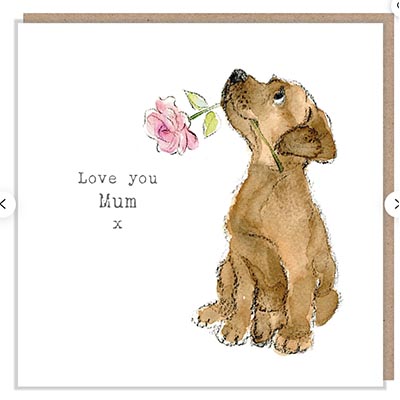 What can I say about this gorgeous puppy with the rose for Mum! Aah.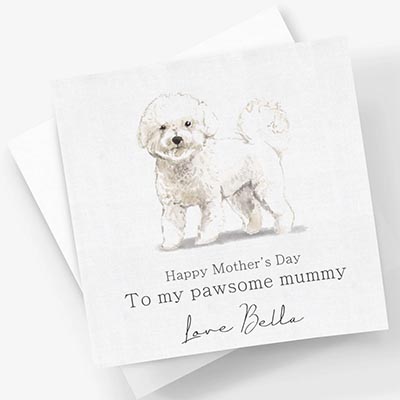 This cute card can be personalised to a Pawsome Mummy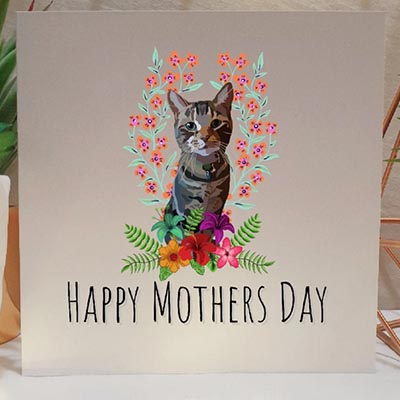 This beautiful tabby cat may just look like yours!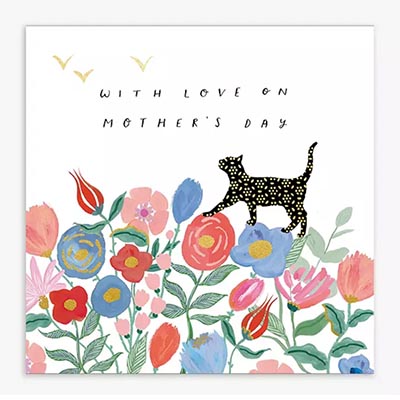 This patterned cat is just strolling across those flowers, as cats do!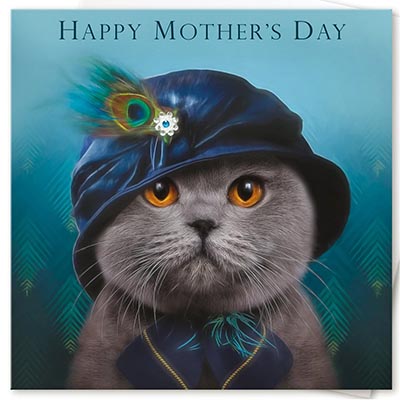 This cat really has presence. Dressed up for the day too. Just love that hat!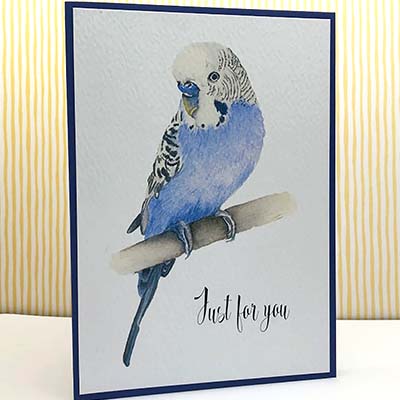 Budgies make lovely pets and this blue bird reminds me one I had, called 'Digger'
Our young family members need Mother's Day cards too. They especially relate to animals, so here's some Cute Ones.
This Little Mouse is on top of the world for the World's Best Mum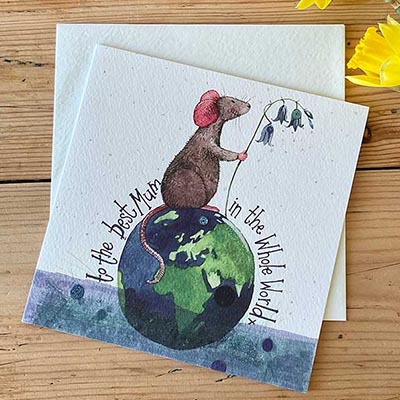 Peek-a-boo, this little duckling is just gorgeous.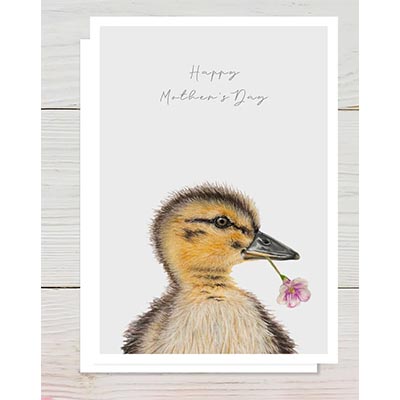 A Mother and baby elephant with a personalised wooden heart balloon makes a nice keepsake.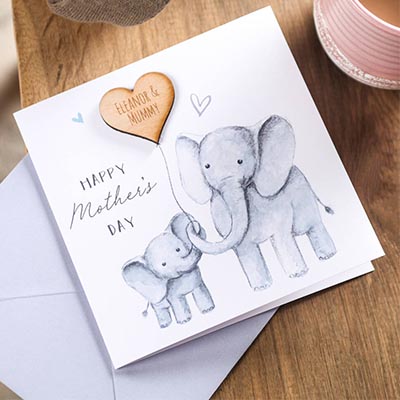 Mother and baby giraffe make a touching tropical scene.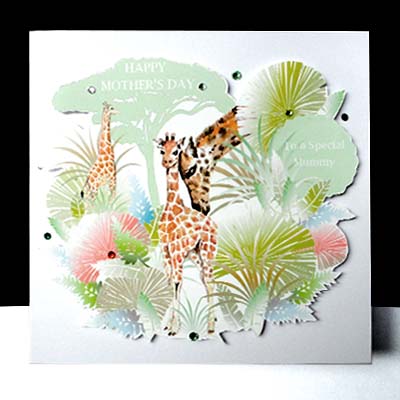 This elephant is in a rush to present this bouquet of roses.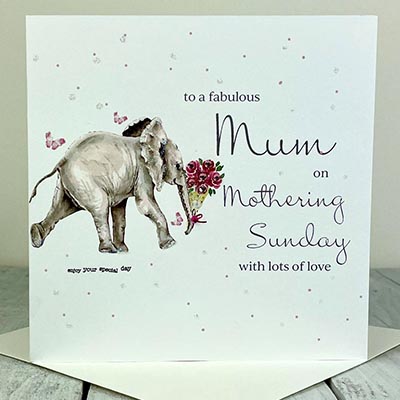 Relax Mum, like this mother and baby otter happily floating in the water.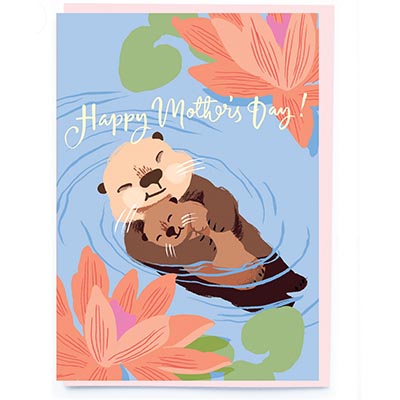 What about a Sloths Happy Mother's Day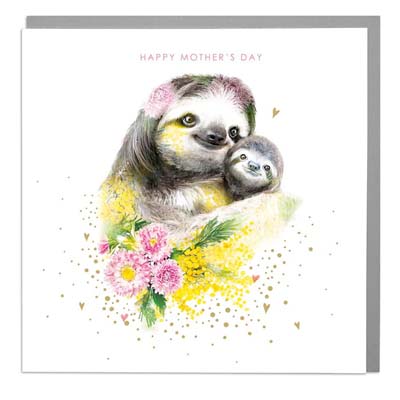 When it comes to Humorous Cards we always think of male relations, but I think Mums like a laugh too. So, here's a few hand-picked as the choice as you can imagine is enormous.
Love the idea of still panicking in a supermarket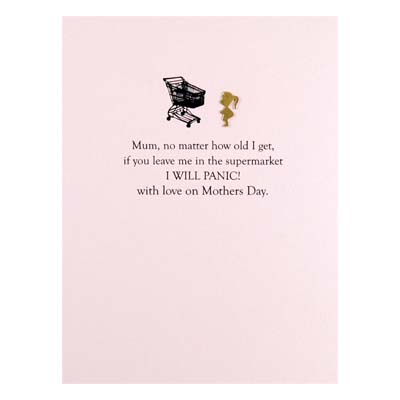 Of course Mum is a Unsung Hero, the list of her talents is endless!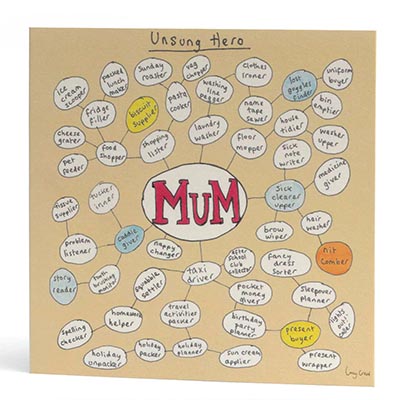 Go ahead Mum relax forget the chores and have a cocktail or two.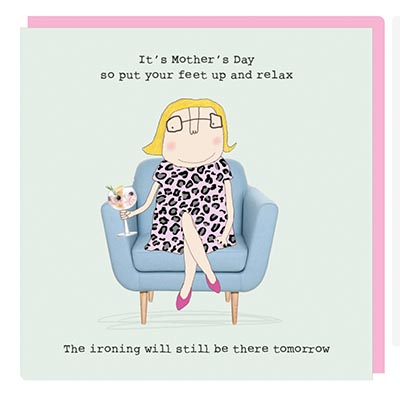 Compliments to both parties, a good job well done!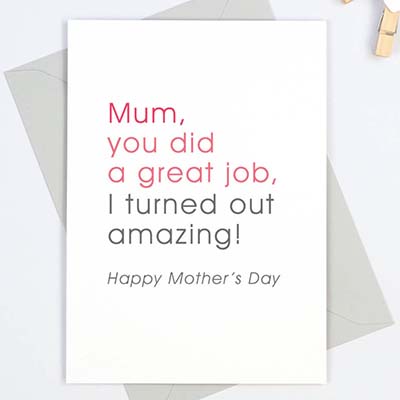 You can have some fun creating your own scratch card with messages for Mum.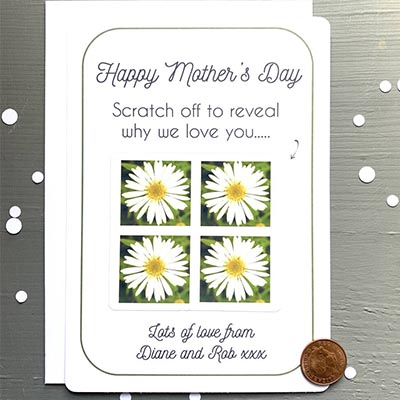 This lace card is not humorous but beautifully sentimental with the perfect words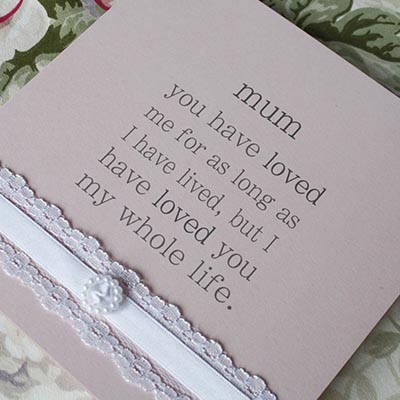 We must not forget Grandma on Mother's Day too, as they always love receiving cards. I have also found a good selection of cards for your Stepmother and versions of Nan, Nana or Nanny so no one will be left out.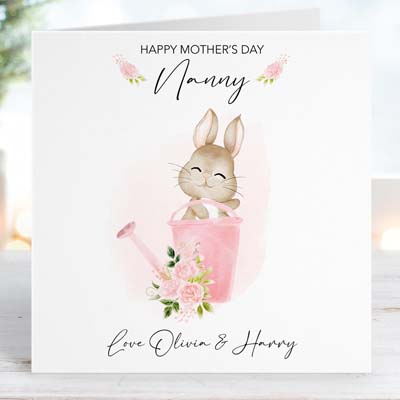 A really cute personalised Mother's Day Card for Nanny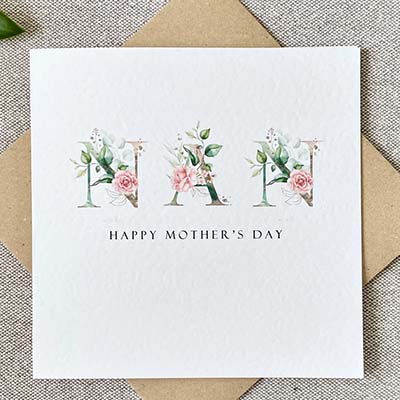 Such beautifully painted roses will make Nan's day!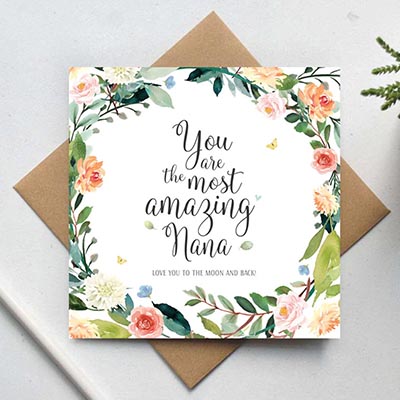 A pretty water-colour floral to an Amazing Nana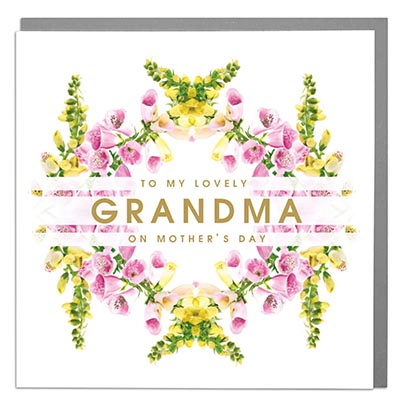 Pink and yellow flowers are perfect for a Lovely Grandma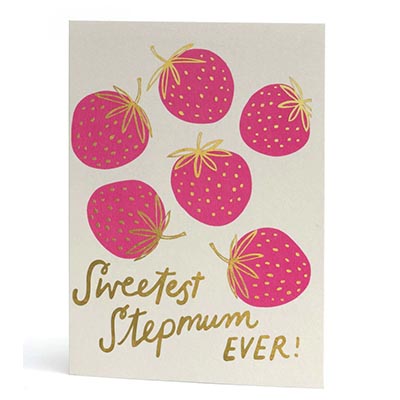 Strawberries for Sweetest Stepmum
Sometimes you can find cards that include a gift or keepsake which makes it an extra special surprise on the day.
This pretty scratch card reveals that special mother's day gift, a day out or may be afternoon tea!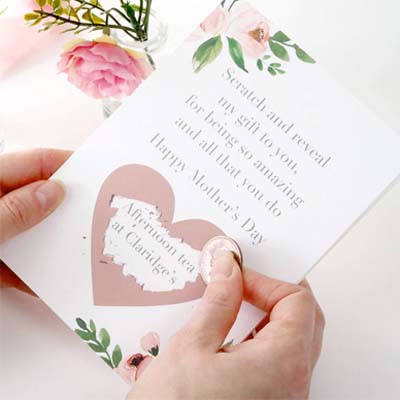 A delicate glass fused pot of flowers hung on a pink ribbon is a lovely keepsake for a Mum in a million.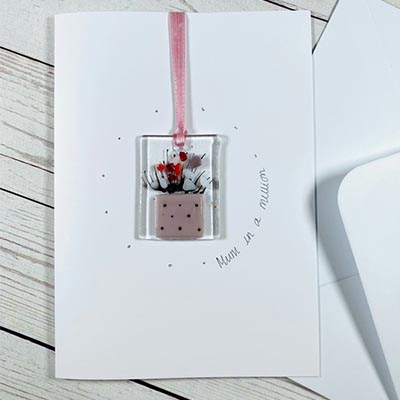 A Mother's Day Wooden heart gift – a personalised keepsake.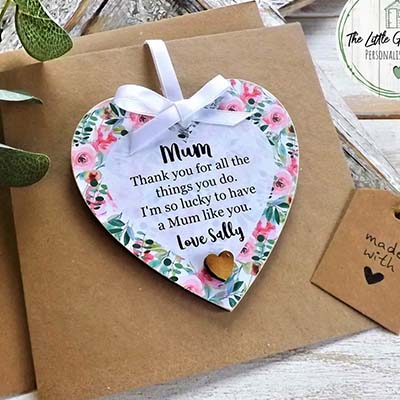 This unique Coral Rose Cork Coaster Card is lovely and practical too. Mum can take it off the card and use it every day for her cuppa!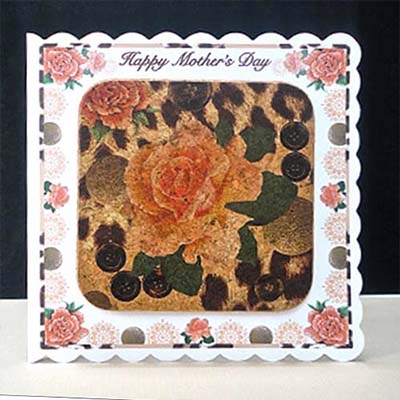 As usual, with my 'A Guide To…' blogs I have enjoyed seeking out some great cards for you to look through. Mother's Day is still one of the most popular days in the card industry calendar for sending cards. The choice is sometimes over-whelming, so hopefully my selection will assist your search for that perfect card, as Mums always deserve the best.