This week, I would like to sing the praises of creating handmade cards and how adaptable this makes your business for different events and fairs. With most products you would have to order or produce a long way in advance, but with cards made from home, using your own inspiration, printing, equipment, materials, papers and embellishments, this isn't a problem.
A few weekends ago, on Sunday 19th July we had a stall at The Dog Rescue in Stokenchurch, an event to raise money to support the cause. A great event with live music, an auction, tours around the kennels, plenty of food and a great mixture of crafts and gifts.
Responding to an event or seasonal occasion is a must in order to sell. So, I created a small group of designs on the dog theme.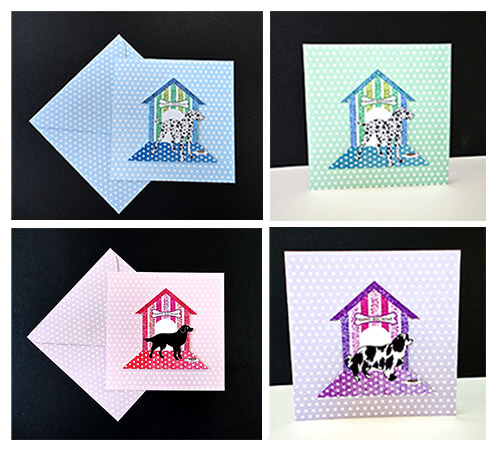 The first one in this new set of designs was the ultimate spotty dog, the Dalmatian with its black and white spots on a polka dot ground. The pastel polka dot greetings cards are off-the-shelf, ready to buy from a local craft shop. They are already printed on the back and front – a gift for any crafter, good quality card and with a professional finish.
I love drawing anything from nature, and the different breeds of dogs are all varying sizes and shapes, which makes a simple line drawing or silhouette of a certain breed easily recognizable.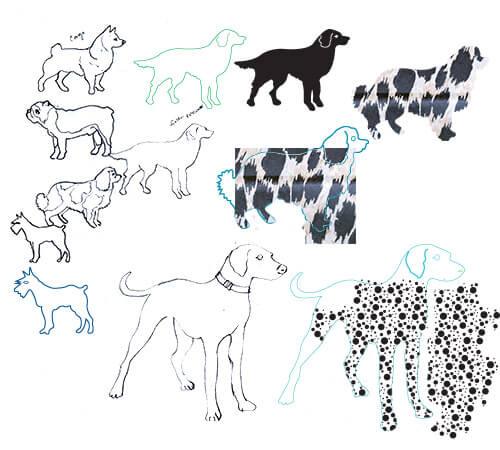 The Dalmatian I have cut out of a spotted design I created in Illustrator, so it has a clear perfect randomly spotted pattern. My second choice – the King Charles Spaniel – is patterned using a animal skin print from my collection, which matches well with its markings. The third breed I have chosen is the Retriever; its natural colouring of gold would not work on the design, so I have used a black silhouette to stand out on the colourful background.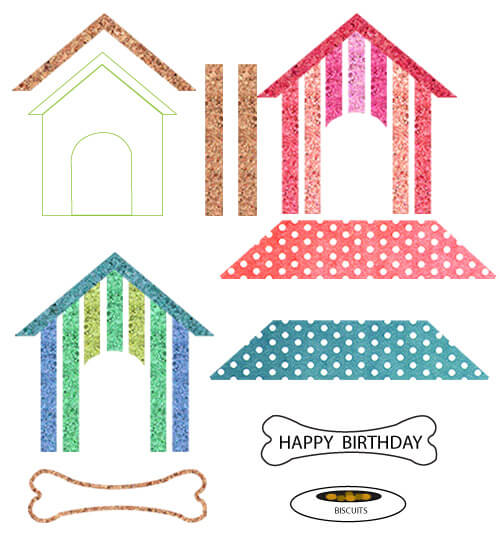 So as to make each card individual, I created a kennel, striped with bands of coloured textured cork, the colours of which change to coordinate with the different backgrounds of pastel, blue, green, pink and lilac. Each dog is placed in front of the kennel on a darker spotted ground. A bone-shaped sign hangs above the kennel entrance with the text 'Happy Birthday' and a small bowl of biscuits, drawn in Illustrator, sits at the right hand side.
Animals as subjects are extremely popular across all fields of design, from fashion to home textiles, to stationery and cards. We are a nation of pet lovers, and the statistics show that there are 27million pets in the U.K. and a large percentage of those are our furry friends, dogs and cats. Looking into this canine world I thought I should search for a few more examples of doggy cards to show you.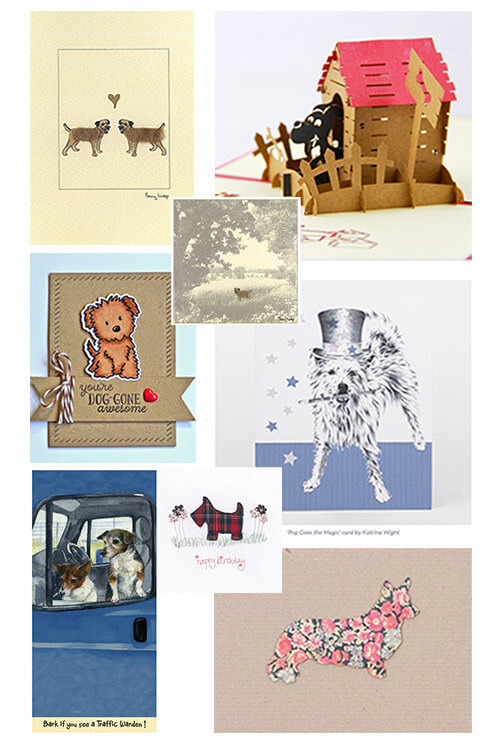 I have chosen a real mix of print and handmade. The first two cards are Penny Lindrop Handmade Dog Greeting Cards Designs these simple two dogs with a heart are hand finished with real sheep's wool. The second card has the Border Terrier set in a sepia landscape photograph. I do love pop up cards and this laser cut 'Dog House Birthday Card' sold on AliExpress. Although it is a little cartoon-like, I'm sure it would delight anyone, child or adult! My next card is a beautiful Illustration, in soft pastels of a dog on 'Pop Goes the Magic' card ;it is fun with a real character. The little tartan Scottie dog, Hamish Dog Birthday Handmade Card is another by Elspeth Thomson, with her dedicated stitching and embroidery technique. We all like a card with humour and this 'Greeting card Cracker & Jazz' has that, as well as two dogs with attitude. Finally, the simple little 'Corgi Card' with its floral pattern and a choice of different colourways I think works well on the buff background. Of course, there are hundreds of dog designs out there. I have researched the subject enough to know that mine are unique, which is what I aim for when designing for any subject.
Being able to respond to events and occasions is a great asset in selling products, and it really doesn't need to be complicated. In general, most people are just looking for something different, original, eye-catching and relevant at a reasonable price. Many, I find, really love to meet the designer and are always interested in design and how things are created and made.
All of these cards are available now to buy and they can be personalised as well, just email me your request to: [email protected].