The greetings card industry grows larger every year with an ever-increasing demand for more subjects and occasions to cover.
Within a multi-cultural society numerous different religious festivals and events are making their way increasingly into the annual British calendar. Some of these are the Chinese and Jewish New year, Eid and Diwali. Then we have the subjects such as Halloween, Thanksgiving, Pregnancy Announcement and the Baby Shower, all of which are influenced by the United States market. The new British occasions are Retirement, Leaving cards, Bon Voyage, Sorry and a Special Friend. But of course none of these card sending events will ever get anywhere near the sales of Christmas, Valentine's Day, or Mother's Day cards, which still make up the top three categories.

Diwali is a festival celebrated in Hinduism, Sikhism and Jainism for different reasons in mid-October. In Hinduism it is known as the festival of light; this sample card with its bright coloured image on black, I feel reflects that with a meaningful verse. Eid was, at one time a significant card selling custom towards the end of Ramadan in Pakistan; today it has not exactly died out as there is still a small market there; this Eid Mubarak card has a contemporary paisley design. This Tree of Life card again is a very contemporary design for an ancient tradition of Rosh Hashanah – the Jewish New Year, which will be September 13-15 this year. Likewise the Chinese New Year has no fixed date – it falls anywhere between 21st January and 19th February; the chosen card has the goat representing 2015.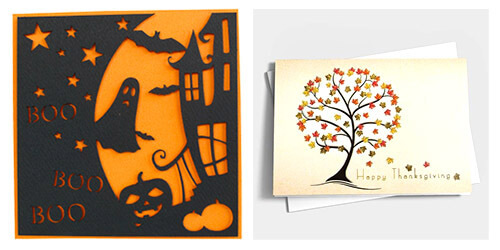 One of the most popular festivals celebrated in the U.S. is Halloween. I remember trick or treat, but the increasing amount of merchandise produced for this event has now crept into the greetings card market. This Halloween card, with its creepy silhouettes, is typical of the cards available to send for 31st October. Thanksgiving is not an event we celebrate in the United Kingdom on the fourth Thursday in November, but if we have friends in the U.S. or living here, either we or they may wish to purchase cards to send. The leafy tree is typical in subject and colour of the spirit of the harvest and Autumn or Fall.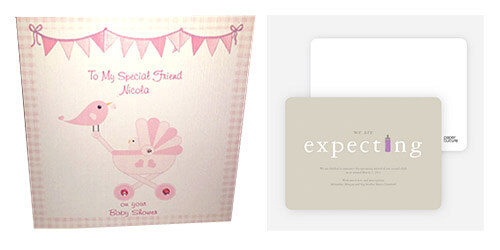 The next two subjects are around the birth of a baby. Pregnancy Announcements are new on the list; these simple cards are in modern typography with a subtle bottle replacing the letter 'I' in expecting. I am not certain if this will catch on as well in the U.K., but The Baby Shower event and card certainly has already! There are many invites around but a card to accept the invitation or accompany a gift for this event are few and far between – so I think this may now come high on my list of new cards.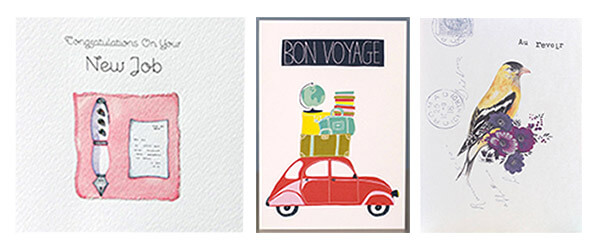 In the U.K. the tradition of sending cards will never fade; it's just something we enjoy doing and of course receiving. Our appetite for new occasions expands every year. Wishing people well in their new adventures in life, whether starting into a new job, leaving to move to another job or emigrating, and even holiday, are covered with a few words of 'Au Revoir' or 'Bon Voyage'.
The three cards I have chosen cover these events well. I really like the simple water-colour design of pen and paper on the 'New Job Card' by White Mink. The overloaded vintage car Illustration on the 'Bon Voyage Greetings Card' by Jessica Hogarth Designs covers leaving the country, moving house, travelling the world or going on a long holiday. The pretty 'Au Revoir' Bird Card by Little Grey Dove is a perfect way to say goodbye, whilst still wanting to keep in touch.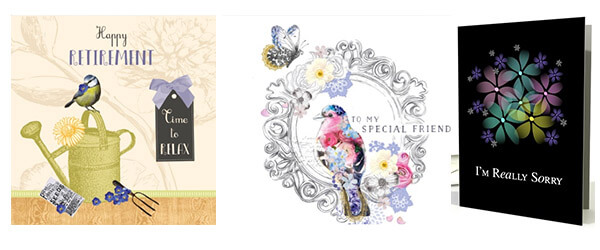 Today, many people are retiring earlier than ever, wishing to fulfil their dreams of travel or just enjoy life. The retirement party to celebrate the one's years of hard work has instigated the need for a card for this occasion. The 'Happy Retirement Card' by Whitefish, really appeals to me as it portrays a relaxing time in the garden with nature. There are always new family categories too – mother, daughter, brother, father-in law, the same concept carrying on from step-mother. Leaving these aside, I've chosen one 'To My Special Friend' which is another card by Whitefish – a beautiful design and ideal for any message. The clear message 'I'm Really Sorry' on this third card, stands out on a simple floral design on black. Saying you are sorry on a card is something new, but may be an easy way of just doing that!
I am sure there are many more occasions you feel are up and coming in this extraordinarily-competitive and ever-expanding greetings card market in the U.K.. I have just tried to cover a few events and occasions I feel will soon become more visible to buy – after all, we have to produce what the consumer needs and is asking for!