What is the 25th Wedding Anniversary?
The tradition of giving anniversary gifts relating to the number of years married seems to have originated from Germanic Middle Ages tradition. Wealthy husbands were known to give their wife a silver wreath after 25 years of marriage, while 50 years was commemorated by a wreath of gold.
This tradition continued and developed throughout the years, when the Victorians introduced Wood as the 5th Anniversary present, and when Queen Victoria celebrated her Diamond Jubilee in 1897, Diamonds became the gift of choice for those celebrating 60 years of marriage.
The traditional gift of silver as a present for those that have been married for 25 years continues, and the 25th Wedding Anniversary is also known as the Silver Wedding Anniversary.
What to Write in a Silver Wedding Anniversary Card?
Finding the right words to say in any card is important, but when it comes to celebrating the achievement of a Silver Wedding Anniversary it needs something special. Choosing the right words depends mostly on the receiver of the card; how well you know them and their relationship, and whether they would respond well to a little gentle joke. If you are really stuck, please see the below list for some ideas:
Congratulations for discovering the secret of a happy marriage. Happy Silver Wedding Anniversary
You two prove that love is an investment; the more you put in, the more you get back. Happy Anniversary
You are the epitome of true love
Everyone can make promises; few can keep them forever. Happy 25th Anniversary.
Love has little meaning if it fades away – congratulations for nurturing yours until this very day.
There is nothing more beautiful than a love that lasts forever. Happy Silver Anniversary
Your anniversary may be silver, but your love is more precious than gold. Happy Anniversary
Our Favourite Cards
We have taken some time to collate some ideas for the perfect card to give, depending on your relationship. Have a look at some ideas below:
Silver Anniversary Cards for Mum and Dad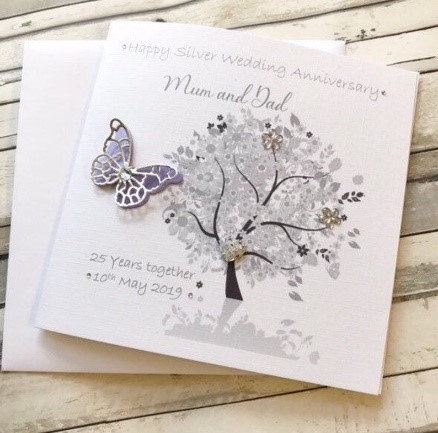 This beautiful card from Etsy is perfect for a personal gift to your parents on their silver wedding anniversary. With linen paper and 3D elements, it is a lovely handmade and heartfelt card to send.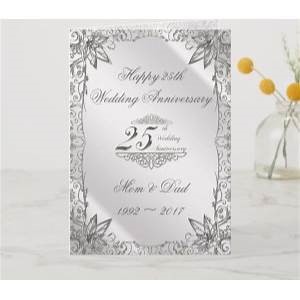 This Flourish Silver Anniversary Card from Zazzle.co.uk can be personalised and comes with a beautiful verse inside. Perfect for the Silver theme of the anniversary, it looks and feels very special.
One from our own collection is this beautiful, handmade card that has been created with photographs of my garden, coloured in Photoshop and laser cut into the card. You can see more about of my creative process in my blog here. This design can be personalised to your specification, making it perfect for family and friends.
Silver Anniversary Cards for Husband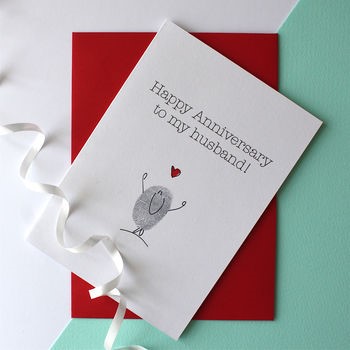 This beautifully simple card is made from recycled paper and ink and features a cute thumbprint character. Sold by NotOnTheHighStreet, each card is handmade and comes in a luxurious red envelope.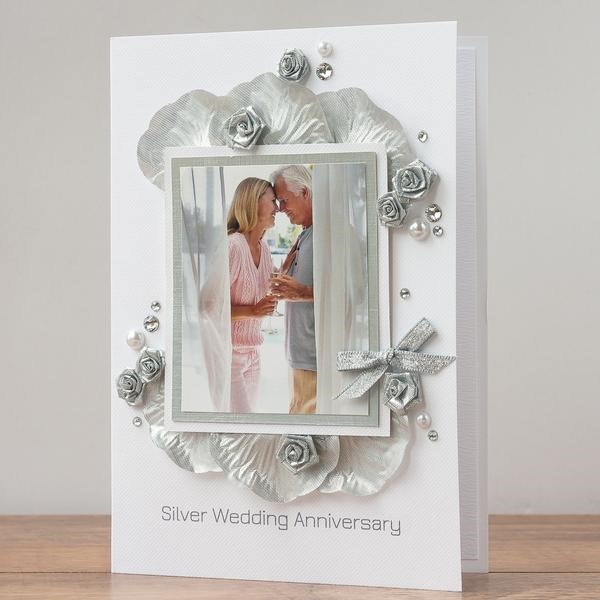 This photo anniversary card from Lotus Art Studio is a luxurious and personal way to commemorate your Silver Wedding Anniversary. Presented in a brown box filled with silk petals, it is a sure-fire way to wow your husband!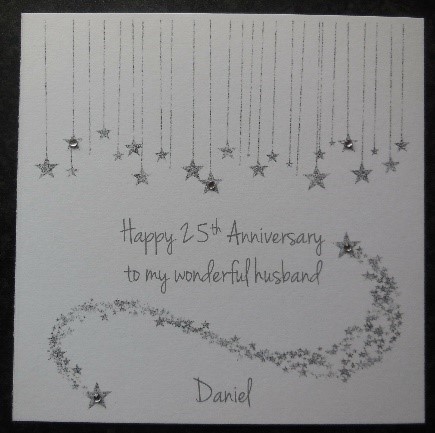 Of course, eBay has some lovely personalised designs available too. This card features a simple star design and comes blank inside for your own message.
Silver Anniversary Cards for Wife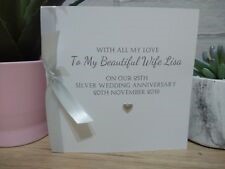 Available from a seller on eBay, this card can be personalised with the name of your wife and the date too. The seller has many options for personalisation available, so make sure you check all the options available.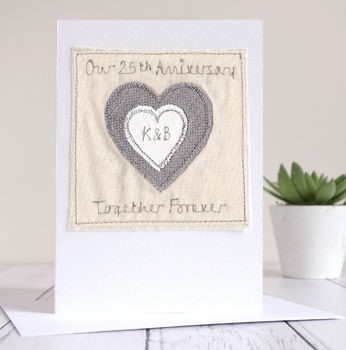 This beautiful handmade fabric card can be personalised with your initials and a brief message above and below. Handmade to order, it is the perfect bespoke and unusual card for your wife on your silver anniversary.
Silver Anniversary Cards for Grandparents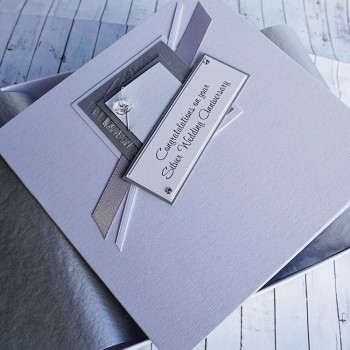 This elegant and understated card from Purple Mountain Designs can be personalised with the names of the anniversary couple, and you can print your own message inside too. The box, ribbon, and tissue used to present this card can have a personal touch added, just fill in the boxes.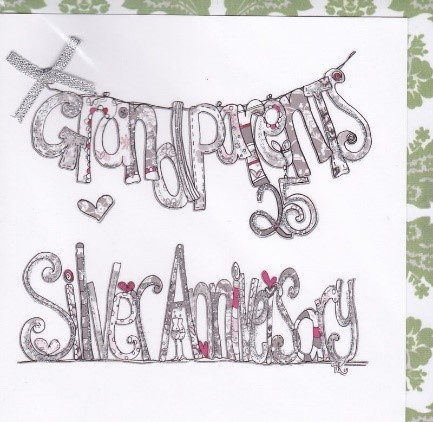 This card from Karenza Paperie is hand finished in Durham, with some beautiful embellishments. Perfect as a card from children, it is simple and effective, and with a blank inside for your own message you can really make it personal.
Silver Anniversary Cards for Sister and Brother-in-Law
My very own wedding cake and champagne glass card is perfect for any couple that reaches the milestone of 25 years – and we love the muted blue tone mixed with silver that gives this card a subtle glamour. Hand cut, with a beautiful personalised heart inside, this handmade card will speak volumes to your sister and brother-in-law.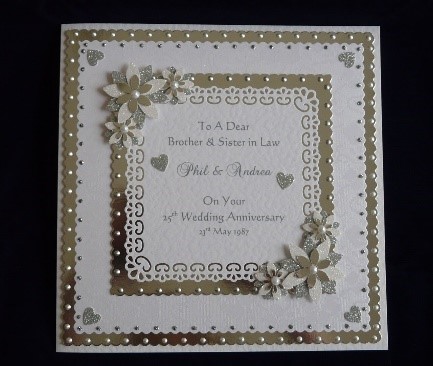 Another eBay find from seller Dazzling Handmade Cards based in Basildon, this anniversary card is embellished with diamantes, flowers, and hearts for a real keepsake value. The wording on the front is fully customisable, and you can use a set verse inside if you prefer.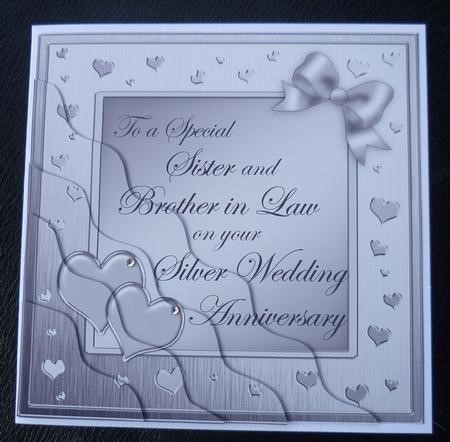 What about this from Craftsuprint.co.uk for a truly homemade card? Available as a digital download or as a print, you can create it yourself following the instructions. We love handmade, and this really fits the bill!
Silver Anniversary Cards for Friends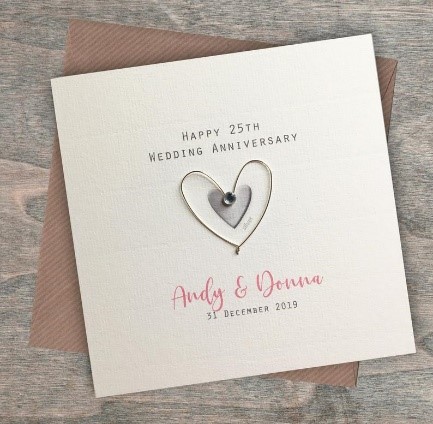 This beautiful card from Etsy can be personalised with the names of the Silver couple and the date of the anniversary and features a delicate silver-plated wire heart shape with a sparkly gem. Each card is made to order.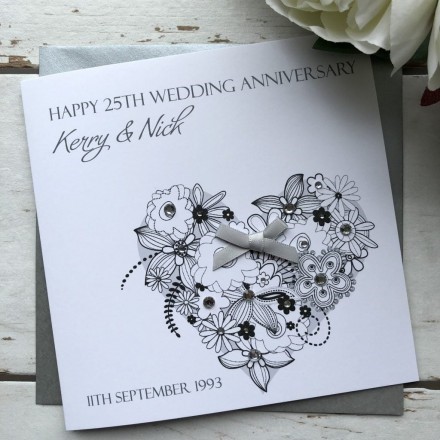 This simple yet intricate heart design from Pink and Posh is a lovely way to congratulate your friends on reaching this milestone anniversary. Embellished with gems and finished with a hand-tied bow and can be personalised to suit your exact specifications.
25th Silver Wedding Anniversary Gifts
Giving the perfect anniversary gift is much easier when you have a theme, and with the 25th anniversary being silver, you can find some amazing handmade gifts relating to the Silver theme online from many stores like Etsy and Not on The Highstreet. Gifts can be traditional, or a but more 'out there', but following the theme makes it so much easier.
Find some ideas in our handy guide below!
Traditional Gifts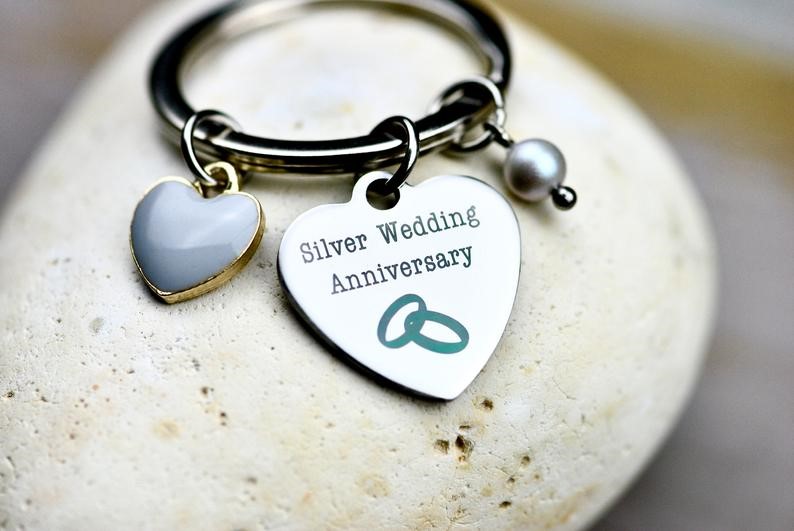 This lovely keyring is an understated gift that can mean the world. From Justyna on Etsy, this handmade keyring is small but perfectly formed, featuring a Swarovski pearl and a beautiful, simple grey heart.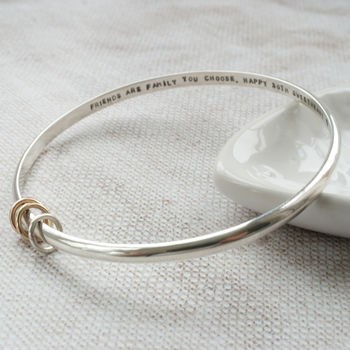 This silver bangle from Etsy can be personalised with a message of your choice – make it truly special with a line that means something to the wife. You can add as many rings as you like, they are available in silver, rose gold and yellow gold.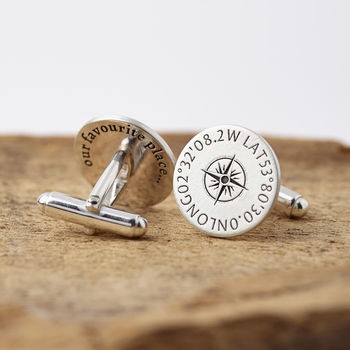 These personalised coordinate cufflinks can remind the wearer of where they first met their wife or the location of the wedding. A wonderful memento in Silver, these make a touching gift. A hidden message can also be engraved on the underside of the cufflink, making this gift truly personal.
Gifts for Couples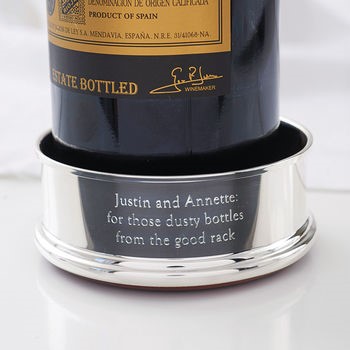 A great gift for a couple, this Not on The High Street silver wine coaster can be personalised with your own message and makes a great gift for a couple.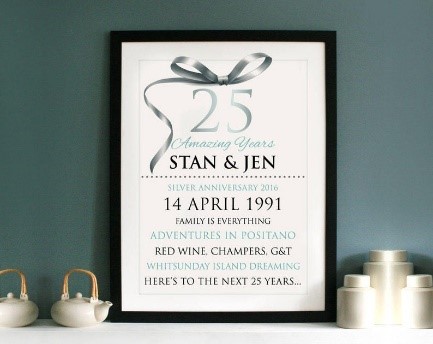 This lovely print from Etsy can be personalised with your own text and makes a wonderful gift. You choose the wording, whether it is to be framed, stretched canvas or the print itself – it is truly up to you.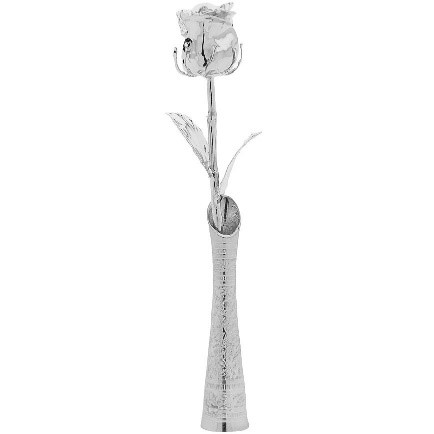 This truly amazing silver dipped rose is a statement piece about the precious milestone achieved by the happy couple. A genuine rose dipped in silver and presented in a beautiful case; it is a long-lasting symbol of deep love.
Unusual Gift Ideas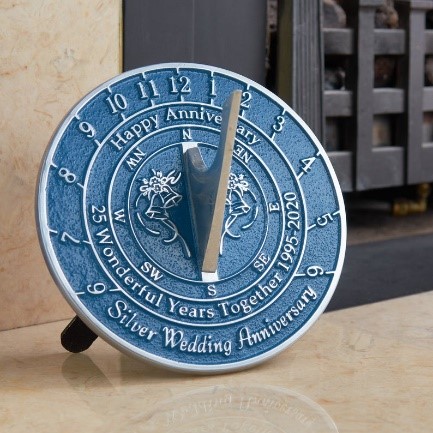 What an unusual Silver Wedding gift from Etsy, this sundial can be personalised with the dates of the anniversary. There are options for amount (as shown) so you can display it indoors, or of course, it is a fully working sundial so careful placement outside will mean you can always know the time!
Here at Decorque, we specialise in unusual gifts for our loved ones, so here are a few of our favourites:
This A3 butterfly print features some beautiful peach tones and simply elegant design. You can change a whole room using this design, as I have created cushions, cork coasters, and other home accessories in the same colourway.
The Big Cat Reserve Gift Set features a matching card and mousemat, perfect for those who love lions, tigers, or African colours. This design is also available in a print and mount, so you can keep the Big Cat theme constant in any room.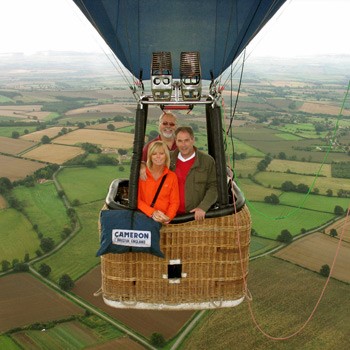 Don't forget, unforgettable gifts don't have to be physical presents – why not treat the happy couple to a personal hot air balloon ride? Lasting around an hour, with a champagne toast on landing, this is a wonderful way to commemorate an anniversary that is individual and heartfelt.
To find the perfect Silver Wedding Anniversary gift and card, have a look at our website. For more information about Decorque, please visit our blog.