Congratulate the happy couple with the perfect handmade wedding card!
The wedding – a perfect occasion to send a card, and what better way to show you care than with a handmade card? Whether personalised or truly bespoke, a handmade wedding card is a beautiful way to celebrate this life changing event.
Whether it is a luxury boxed card overflowing with ivory lace, or a simpler message wishing the couple well, a handmade wedding card is so much more thoughtful than something off the shelf.
Finding the perfect card can be tough, so here at Decorque we have put together this guide to make it as easy as possible to find the perfect card, depending on the recipient.
What to Write in a Wedding Card
Find below our favourite messages to write in a wedding card:
"We are excited to see you two become a family!"
"I'm glad to congratulate you on such an important and meaningful event."
"May your joining together bring you more joy than you can imagine!"
"I wish you success in your new titles, bride, groom, husband, wife, and any more you will pick up over the years together."
"I am wishing you the best of things in your marriage. I am confident that you two will be a blessing to each other and to those who you meet along your journey together."
"I am glad to be a part of your wedding day, and I am looking forward to seeing what comes from you two."
"Congratulations! Thank you for letting us be part of your special day."
"We are praying that God guides you in your new adventure. May God pour out blessings on you two."
"Marriage is a chance to be an example of the love that our creator has shown us."
"We are so sorry we can't attend your wedding. God bless you both!"
"You two are already blessed, but we wish you continued blessings and a lifetime of joy together."
"This one wedding day is a short celebration of how you two get to live the rest of your lives. Keep celebrating long after the wedding."
"Marriage is an adventure. It's up to you guys how much fun you will have. Don't forget to keep the adventure fun."
"Weddings are short and sometimes overrated. Marriage is long and challenging. But a marriage is also one of the most fulfilling things you can do in your life."
Our Favourite Wedding Cards
We have scoured the internet to find the very best in homemade Wedding cards suitable for any recipient, from the top online retailers.
Luxury Handmade Wedding Cards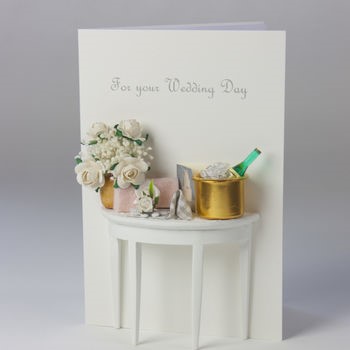 This card is the ultimate in handmade, personalised wedding cards – not only can you have your own wording on the front, but you can also add a personal message to the tiny card on the table. The table itself is wood, in white gloss or mahogany, and the bouquet features handmade flowers, fern, and gypsophila. Made by Karrie Barron and available from Not on the High Street.
Our Three Heart card is a wonderful keepsake representing love. With stylised patterns in delicate beige, delicate roses and sparkly gems with tiny doves, this beautiful card can be personalised with the happy couple's names.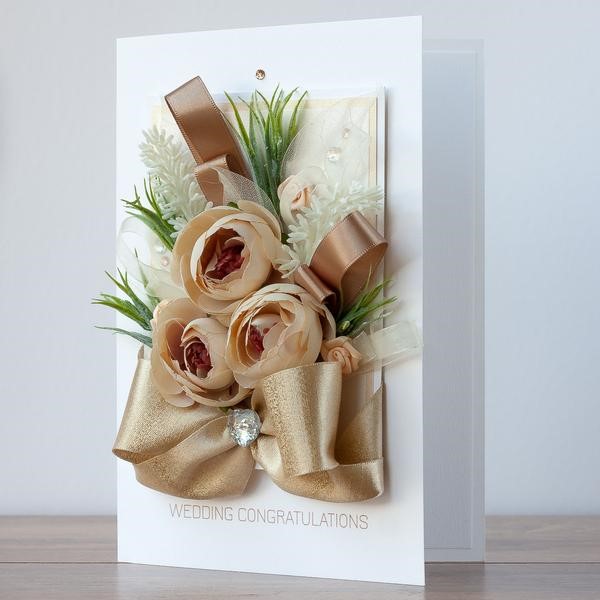 This beautiful extravagant card features a beautiful bouquet finished with a gold ribbon and beautiful flowers and leaves. This can also be personalised with your own message on the front and inside, and is available at Lotus Art Studio.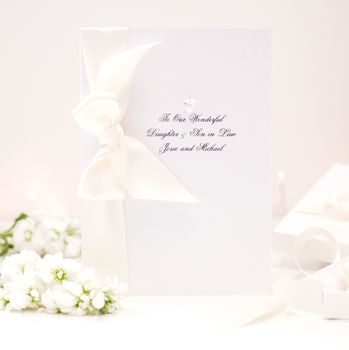 The Luxe Co has this lovely luxury card available to be personalised. It is made with a Swarovski crystal pendant and a coloured ribbon available in a choice of colours. Available from Not on the High Street, and comes blank inside for your own message as standard, but a message can be added if preferred.
Wedding Cards for Daughter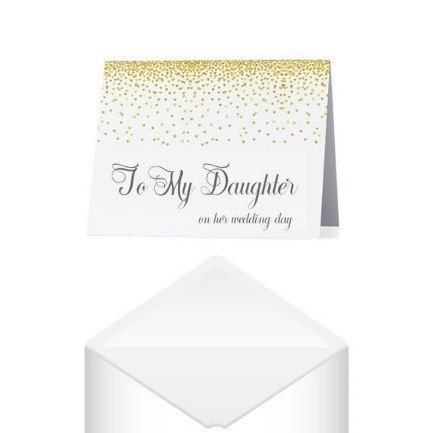 This card can either read 'to my special daughter' or 'to our special daughter' – depending on circumstances. This card is made with a linen feature and has gold/silver effect hearts. Available from Etsy.
Our pretty pink Fantasy Flamingo card is perfect for your daughter, quirky and fun with chintz flamingos positioned against delicate tropical grasses. The front heart can be personalised with names if required, just fill in the personalisation box.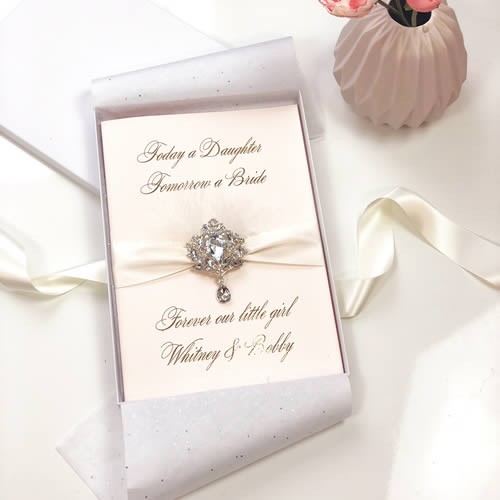 This beautiful keepsake from Made With Love Designs. Handmade in the UK, fully personalised and created with the sparkliest of diamonds, marabou feather, and blush pearlescent card. It is a card and a gift in one!
Wedding Cards for Son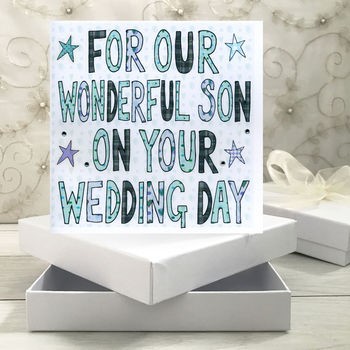 If you are looking for a personalised Wedding card that doubles as a gift, then this wedding card gift book made by Claire Sowden Design on Not on the High Street is a great choice. Each page can either be printed with a memory or message or left blank for you to add your own special message.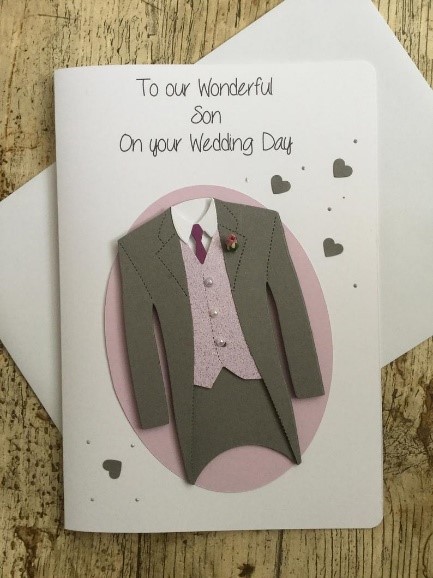 This card from Etsy is a lovely one to give to your son on his special day. Made from the highest quality card stock, the tuxedo is available in different colours to make it more personal. The card is embellished with faux pearls and comes blank as standard for your own message – one can be printed if you like.
Wedding Cards for Son and Daughter-in-Law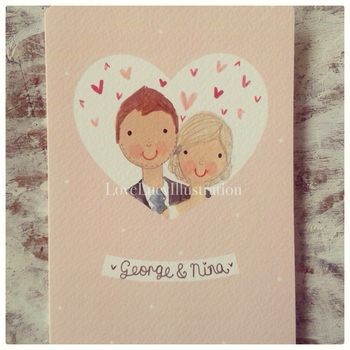 Turn the happy couple into a cartoon by using the skills of Love Lucy Illustration. Personalised and hand painted. This is more than just a card; it looks lovely framed too! Available on Not on the High Street.
Here at Decorque, our stunning wildlife art is very popular – and the colours of this Flamingo card are bright and eye-catching. The beautiful female flamingo is coyly fluttering her eyelashes, and the card is decorated with glittering gems, and the heart can be personalised with names if you like.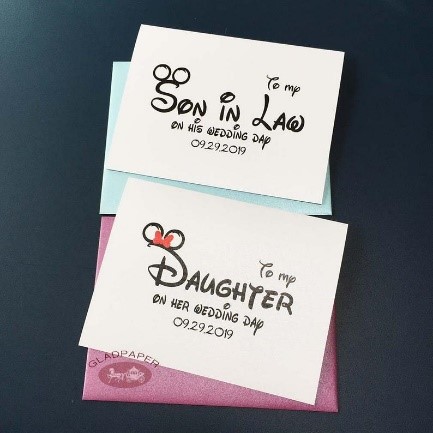 This Disney-inspired cards from Etsy can be personalised and are perfect for your Disney fanatic son and daughter-in-law. Made from beautiful shimmery card stock, this card can be sent in many different coloured envelopes.
Welcoming a new daughter-in-law into the family is an amazing thing, and this personal card shows your appreciation for your new daughter. Available from Etsy, the front of the card features a poem created by the artist and is really touching.
Wedding Cards for Brother and Sister-in-Law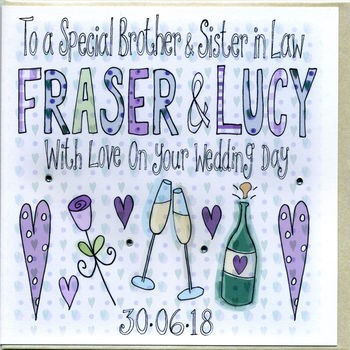 This personalised card from Not on the High Street features a hand-painted design carefully copied onto card and hand finished with sparkly gems. This card can be fully personalised and comes blank inside for your own personal message.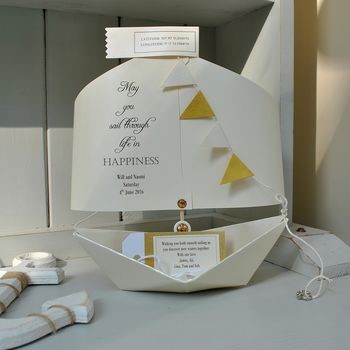 The Little Boat Company has this lovely keepsake card available for purchase through Not on the High Street. Available in several colours, the main text reads "may you sail through life in happiness" and the names can be personalised.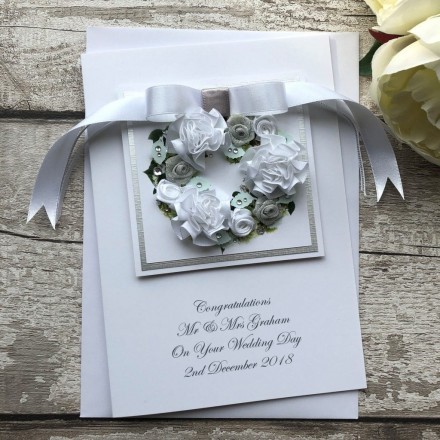 Pink and Posh have created this elegant and luxurious handmade card that features a floral wreath. Embellished with ribbon flowers, satin roses, and glittering pearls. Not only does this card look and feel truly luxurious, but it is also fully customisable with the happy couples' names.
Wedding Cards for Mum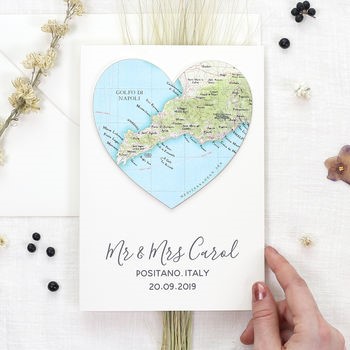 For someone special, to commemorate a wedding that might have taken place in some far-flung country, this map card is a lovely option. Available here, this can be personalised with the names, location, and date. Made in the UK, with eco-friendly material, it is a wonderful idea for a card.
Our Pink Rose Display Wedding Card is a beautiful, handmade card with all the essential elements of the perfect wedding day captured in a dusky pink theme. The heart says, 'Bride and Groom', but can be personalised with the happy couples' names!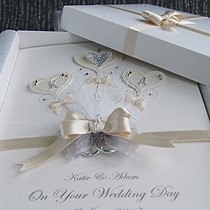 Looney Lizard Creations here have created this luxury bouquet card. Heart-shaped balloons can display the happy couples' initials, designed with pearls, feathers, ribbons, glitter and Swarovski crystals to really make an impression. You can include a personalised message too.
Wedding Cards for Dad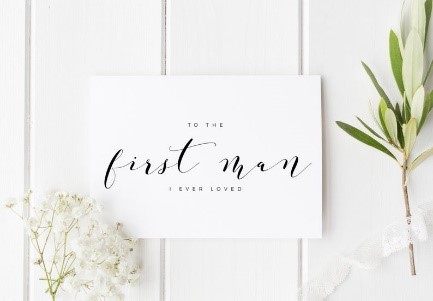 While it might not be a card intended for a dad on his wedding day, it is a touching idea for the bride to give her dad a little card to commemorate him being the first man she ever loved. This beauty, found on Etsy, is a whimsical, beautiful calligraphy piece guaranteed to touch the heart of any Daddy.
Our very own Blue Rose Wedding Card with soft blue ombre tones, photographic roses, and champagne glasses is the perfect card for your Dad and his new wife on their special day. The inside of the card is left blank for your own special message.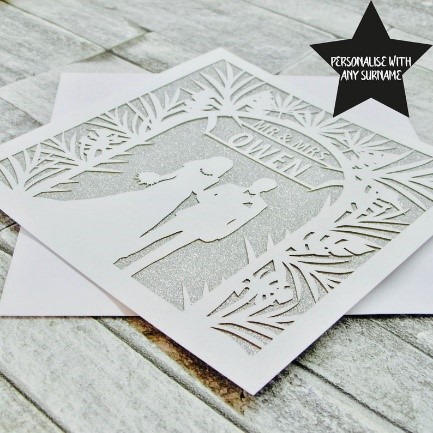 Available from Etsy, this handmade card can feature any surname and comes in a range of colours. It is made from luxury linen cardstock and features non-shed glitter, so it won't make a mess. You can choose which size you want too!
Handmade Wedding Cards – Make it Personal
When it comes to celebrating the wedding of a loved one, the handmade card with personalisation will really show how much you care. Choosing the perfect bespoke card and getting it just right is a wonderful thing. When it comes to creating beautiful, handmade cards, Lesley has a brilliant process that encompasses the world around us. To find out more about the process you can check out the blog on our site by clicking here.
Whatever the occasion, you can find the perfect card at Decorque. Discover our range of bespoke handmade products and gifts here.