What is the 40th Wedding Anniversary?
The 40th Wedding Anniversary is traditionally known as the Ruby Anniversary and being married for 40 years is an achievement that should be celebrated.
The tradition of certain gifts being associated with wedding anniversaries is reported to have started in the Middle Ages, and the designations for each year have developed and grown since then.
The full list of wedding anniversaries is:
1st Wedding Anniversary: Paper
2nd Wedding Anniversary: Cotton
3rd Wedding Anniversary: Leather
4th Wedding Anniversary: Fruit or Flowers
5th Wedding Anniversary: Wood
6th Wedding Anniversary: Iron
7th Wedding Anniversary: Copper
8th Wedding Anniversary: Bronze
9th Wedding Anniversary: Willow
10th Wedding Anniversary: Tin or Aluminium
11th Wedding Anniversary: Steel
12th Wedding Anniversary: Silk or Linen
13th Wedding Anniversary: Lace
14th Wedding Anniversary: Ivory
15th Wedding Anniversary: Crystal
20th Wedding Anniversary: China
25th Wedding Anniversary: Silver
30th Wedding Anniversary: Pearl
35th Wedding Anniversary: Coral
40th Wedding Anniversary: Ruby
45th Wedding Anniversary: Sapphire
50th Wedding Anniversary: Gold
55th Wedding Anniversary: Emerald
60th Wedding Anniversary: Diamond
What to Write in a Ruby Wedding Anniversary Card?
Making a great impression with a personal message inside a Ruby Anniversary card can be difficult, especially if words are not your thing. We have curated a little list of phrases that you can add to your card to make it a little bit easier.
An anniversary is a time to celebrate the joys of today, the memories of yesterday, and the hopes of tomorrow. Happy Ruby Wedding!
The secret of a successful marriage will remain a secret – or did you find it after 40 years?
Marriage means commitment. Of course, so does insanity. Happy 40th anniversary!
Happy Ruby Wedding! You managed your life together for 40 years and you have had bad and good times but always stuck together. I wish you all the best for the rest of your life.
After 40 successful years, I can say: You are like salt and a paper cut, two things that aren't supposed to be together but end up that way anyways!
We wish you all the best for your Ruby Wedding anniversary. May all your wishes and dreams come true in the next couple of years.
For your Ruby Wedding anniversary, we are sending 40 cuddles and 40 kisses, and all the best wishes we can find.
It is so nice to find this special person you want to annoy for the rest of your life. I wish you all the love for your ruby wedding anniversary.
If you could go back in time and wouldn't change marrying your partner for anything in the world, then you know, that you've done the right thing 40 years ago!
All the best wishes for your ruby marriage anniversary. We hope you will have another 40 years in harmony.
For your 40th Wedding I wish you a great anniversary party with all your family members and that you can spend the rest of your life in such harmony.
Our Favourite Cards
Of course, you also need to find the perfect card, and we have found some truly beautiful handmade, personalised cards for you to give, no matter the recipient.
Ruby Anniversary Cards for Mum and Dad
This beautiful card from us at Decorque is perfect as a card for the happy couple to celebrate their Ruby anniversary. Featuring red tones, red glass gems, real roses from Lesley's garden and beautiful butterflies, it is a real statement card. IF you would like to find out more about Lesley's creative process, and how she comes up with her eye-catching designs, you can find out more here.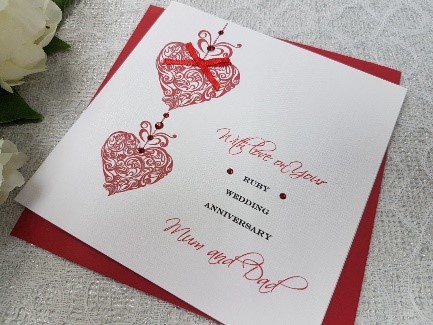 This handmade and personalised card is available from eBay and is completely adaptable to include your own message inside. Beautiful deep red intricate hearts give an elegant touch, while red gems add to the Ruby theme.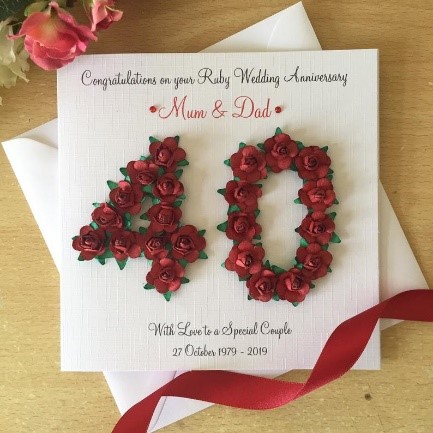 This beautiful keepsake card from Etsy features paper roses and red crystals, mounted on linen finished card. You can personalise the wording on the front and on the insert too.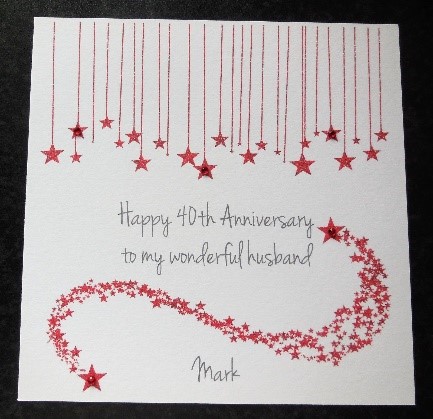 From eBay, this card is a modern take on a classic theme, with red stars and personalisation. Embellished with beautiful red gems, this card can be personalised to include your husband's name.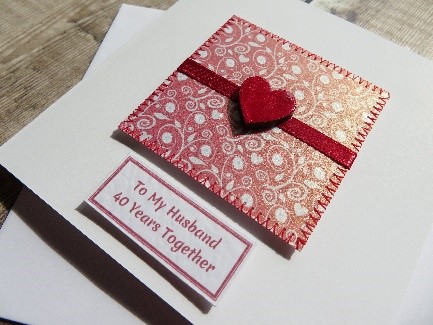 A beautiful, simply elegant card made individually, machine-stitched by Homemade With Love on Etsy. Featuring a ruby red heard, and personalisation of the front, this card can be left blank for your own message or verse can be printed on the insert.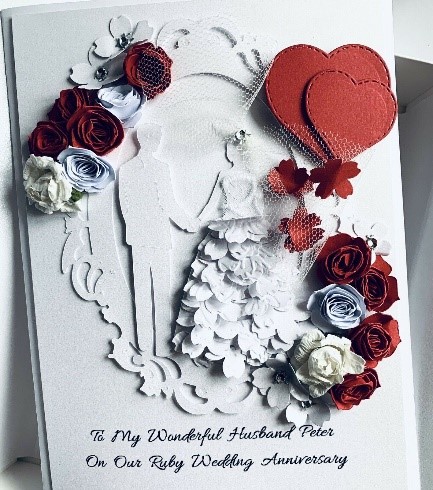 Ruby Wedding Anniversary cards for your husband don't have to be simple, sometimes a beautifully embellished card works perfectly. This card has gems, glitter and can be personalised inside and out. It also comes in a lovely box to protect it.
Ruby Anniversary Cards for Wife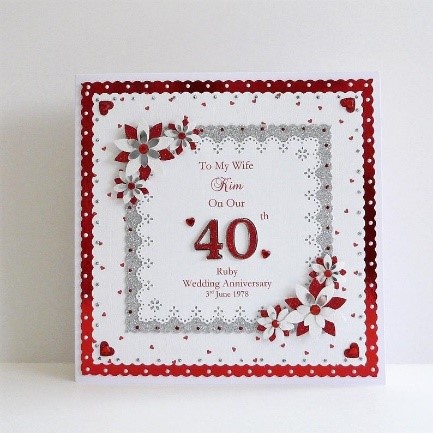 This handmade card measures 8.5 inches square and comes with a pre-printed verse inside (you have a choice of 8). The wording on the front can be personalised, and it can come in an envelope or a box.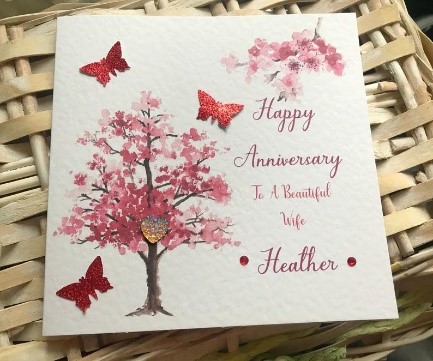 This card from Etsy can be personalised with a name and a date if you wish, and features a red theme, with ruby coloured gems and butterflies. You can also get a printed verse inserted inside the card.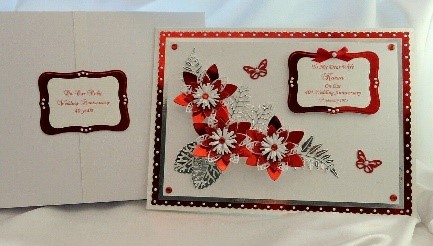 This boxed handmade card available on eBay is A4 sized and guaranteed to wow your wife. Personalisation includes the names and date on the front, and you can choose a verse to be printed on the inside too.
Ruby Anniversary Cards for Grandparents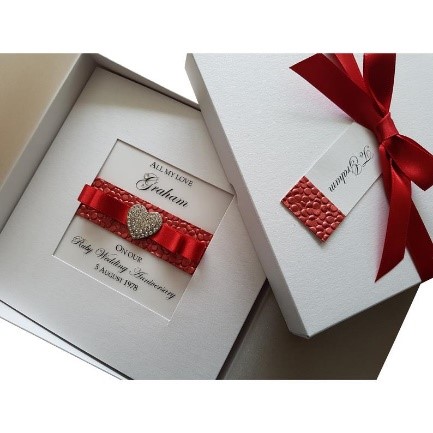 This boxed card available from Etsy is luxurious, using a diamante heart and satin ribbon to complete the look. Available to be personalised with any name on the front and supplied with a pearlescent insert for you to write your own message.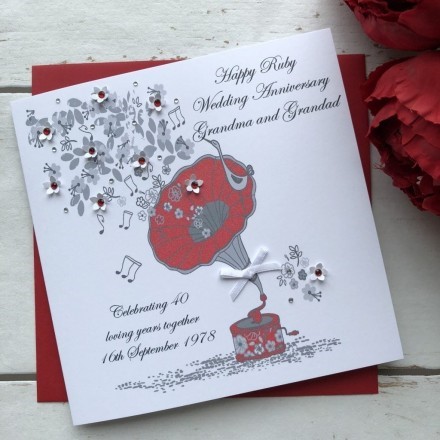 This lovely card from Pink and Posh features a floral gramophone with shimmering flowers and is just perfect for your grandparents to celebrate this milestone achievement. This card can be personalised to your specifications.
Ruby Anniversary Cards for Sister and Brother-in-Law
Sometimes, a simple card that follows the Ruby theme makes for an elegant congratulations, and our Red Rose & Congratulations card is just that. Featuring champagne glasses, roses and butterflies in a lovely red colour scheme, this is a perfect card for your sister and brother-in-law. Blank inside for your own heartfelt message.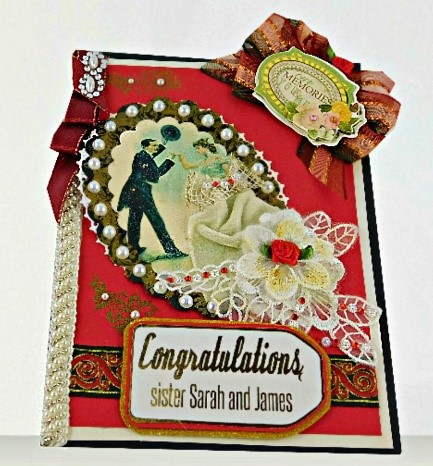 This lovely handmade card from a studio in Germany is available on Etsy. With a ruby red theme, added lace and pearls. Retro in style and design, this card is fully customisable and handmade to order – choose your wording for the outside and the inside.
Ruby Anniversary Cards for Friends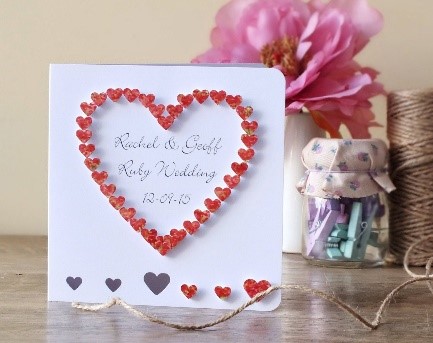 This 3D handmade card from Etsy is a lovely, personal keepsake that is perfect for giving to friends. It can be personalised at the front, and if you want a message printed on the inside that can be done – but if you prefer to create your own heartfelt message it can be left blank.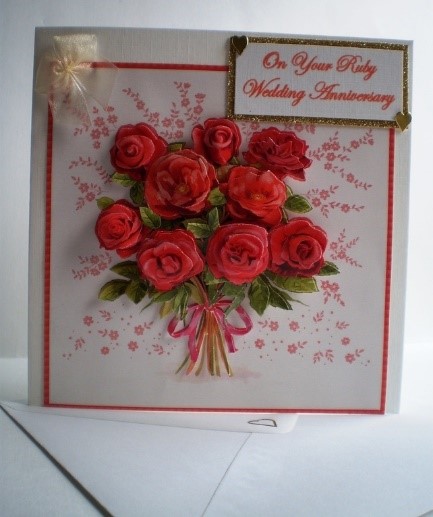 This card from Folksy is handmade with a beautiful bouquet of decoupage red roses, perfect for a Ruby wedding anniversary. A chiffon bow in the corner completes the front, and the simple message inside allows you to add your own greeting if you like.
A lovely simple anniversary card that is elegant and matches the theme – red roses in a red vase, created with a mixture of painted and printed elements in a smaller size. Embellished with red gems to suit the Ruby anniversary, this is a lovely handmade card from our collection to send to a friend.
40th Ruby Wedding Anniversary Gifts
When you are looking for that special gift to commemorate and celebrate such a milestone anniversary, the colour red should help guide you. Sometimes, a lucky sixpence is gifted as an anniversary present, and these can be personalised for the happy couple too.
Traditional Gifts
For Your Wife: You can't go wrong with a real ruby, of course. Whether a necklace or a ring, or even a bracelet, ruby jewellery is the perfect anniversary gift.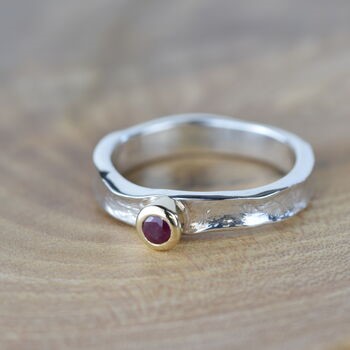 This handmade silver and ruby ring is a unique and beautiful piece. It can also be engraved with your message to make it truly personal – 'I love you' or the date of your marriage might be a nice idea.
For him: How about some understated and elegant cufflinks? A traditional gift, but one that stands the test of time. Buy handmade from stores like Etsy for unique ideas.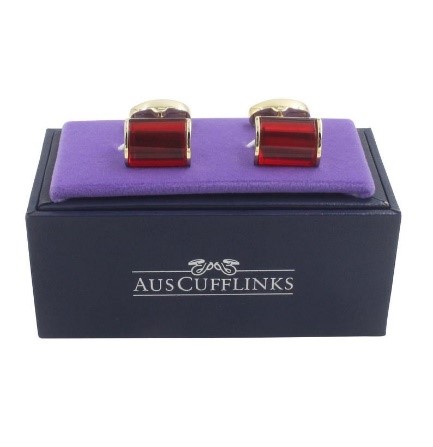 These cufflinks come in a beautiful presentation box, and are handmade in Australia (don't worry, they offer free delivery to the UK!) A perfect anniversary gift that looks great on any husband!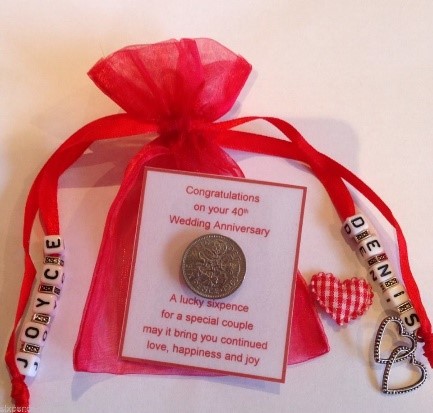 The obligatory lucky sixpence presented in a taffeta bag with personalised names and a lovely little heart charm. Available from eBay, this is a traditional gift!
Gifts for Couples
When gifting for couples, you can choose something that is useful, something that is beautiful – or if you go handmade, something that is both! Champagne flutes can be decorated and personalised, like the ones below from Etsy: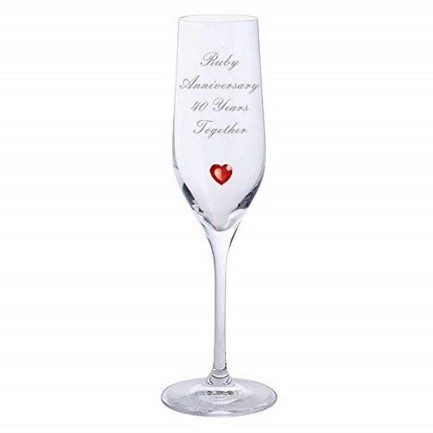 Or, you can choose something that is strictly for decoration, like the beautiful tree ornament from Etsy below: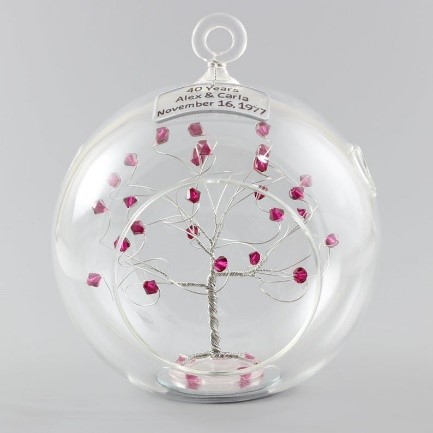 This beautiful ornament features ruby Swarovski elements and can be personalised with names and dates.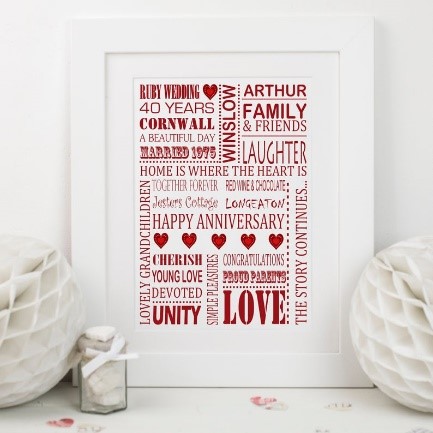 This typographic print is modern and interesting, and very personal to the happy couple. Using words and phrases directly related to their marriage, it is a beautiful keepsake and can come framed or as a print.
Unusual Gift Ideas
The Red Rose Display lampshade is a statement piece that demands attention in any room. Following the red theme, but not a traditional gift, why not buy this for the celebrating couple? The rose was photographed from Lesley's own garden, and the surrounding leaves and foliage include natural cork and a touch of leopard print to give texture. You can also buy a matching cushion to extend the colour scheme further in the room.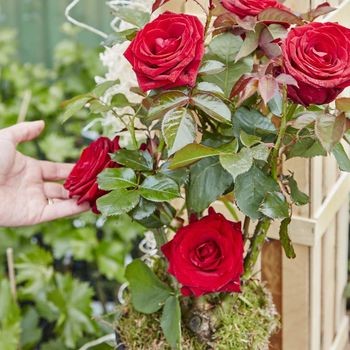 Why not give the gift of a 'grow your own' ruby rose? Perfect for those that love to garden, this gift will give for years to come and is something to remember. This can come with a personalised slate, and the variety has been chosen for its abundance of exceptionally beautiful summer roses.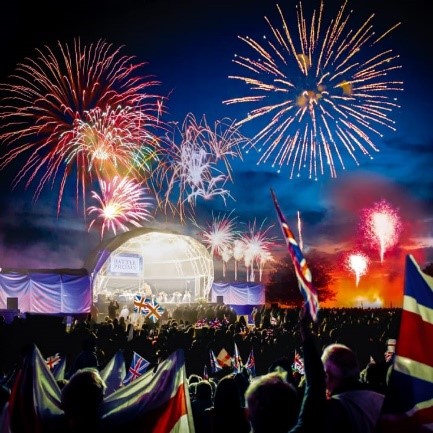 How about an exclusive experience as a present? Thought felt gifts don't have to be physical items; a well-planned day out can be a wonderful gift, and we love the idea of a Deluxe Picnic at the Proms as a Ruby Anniversary Gift. Including a fresh gourmet picnic and a bottle of Sauvignon Blanc to share, the Proms have never tasted so good!
We hope you have found this guide helpful, and if you would like to know more about Decorque and our products, feel free to browse our blog here. We have a lovely range of personalised, handmade cards to suit all occasions, and our gifts are unique – the perfect present for a Ruby Wedding Anniversary.