Why not celebrate a Birthday with this unique handmade card showing a glimpse of nature set in a heart of blue and yellow roses. It is prominently featured on the 'Home Page' and deserves its place there as one of the most popular handmade cards sold directly to customers at shows and fairs around the country.

I love building up a design from a simple shape adding images, textures, overlapping, spacing and harmonising colour. This design grows around a simple heart shape; I say grows, as I wish my clusters of roses to look as natural as possible.
This floral frame at the base of the heart balances the design with two framed inserts for text, in this case Happy Birthday. Three black and white hand- drawn birds bring this pretty scene to life.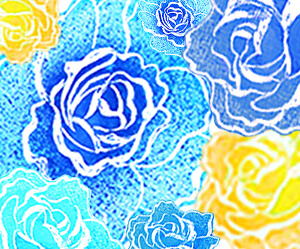 The Roses are the main feature of this design, and again as you will find in most of my work, a mix of media. The perfect photographed image of the blue rose which is also re-coloured in green, is challenged by the soft quality of the water- coloured roses with their sprayed texture of colour.
In my home accessories range I have designs digitally printed on cork and love the texture that still comes through the colour. It is this unique texture I like to reverse and use in my card designs, cutting leaf shapes out of the cork and re-colouring them. You can see this effect symbolising branches and leaves in a natural colour-way on 'The Cork Butterfly Bush single card'.
The fashionable skin print is also a recurring feature in my designs and used to create decorative leaves or even roses as on the 'Rose Pink Jewelled Tree handmade card'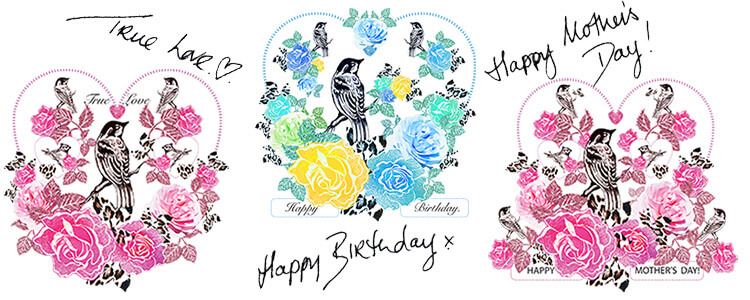 Cards are great when they can be personalised or like a Chameleon can change their colour easily to produce a visually different card. This card in pink transforms into an ideal card for 'Mother's Day'; or with added hearts and birds the 'Pink Rose and Bird' handmade card, with the text 'True Love' is perfect for Valentines Day. The design is popular and versatile, with a traditional English garden theme of roses and birds, but portrayed in my own unique way.