A majority of my handmade cards are created for friends, customers or family members requesting a card with originality for a special occasion.
I think everyone wants to find that perfect card. A personalised or handmade card shows the thought and care taken in making this choice!
Designing this Silver Wedding Anniversary card, I have chosen the three tiered wedding cake as a recognisable symbol of everyone's wedding day. This is a great image to use as it can easily be altered by pattern and colour to be adapted for other occasions, such as Wedding Day, a Special Birthday or other Anniversaries.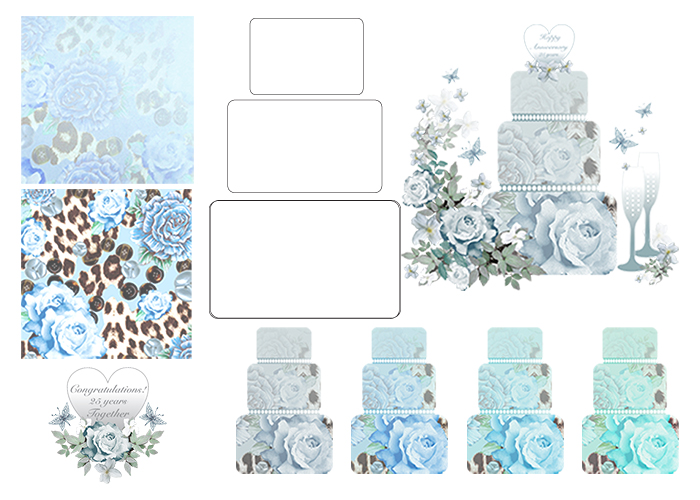 As you can see from the images, I have used an allover pattern, one of my popular designs from the Decorque collection, a combination of roses and skin print in tones of blue. I tend to use patterns from my existing range where possible as they then collectively become part of a colour or themed range. For this Silver Anniversary card I have reduced the saturation of colour, from bright blues to a level of tones of grey, using Photoshop. But, if needed the colour change can cover the spectrum; here, I show the cake in just a few different tones of blues, and how this simple shape can be used. If you do prefer more colour, this card is also available in blue.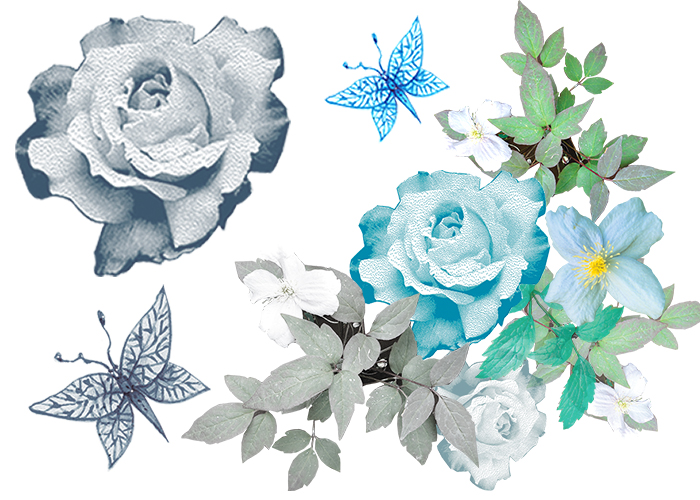 Each aspect of my cards is designed by myself; only the embellishments are purchased for that extra sparkle. The soft roses, clematis and leaves are photographed in my garden, some are left natural, whereas the blue roses have been bit-mapped into layers of colour which give that different textured look. Hand-painted elements will always exist alongside the digital images, as it still gives me that brilliant option of creating my own unique subjects, such as the water-colour butterflies. The complete image is printed individually, hand-cut and mounted in relief on the card.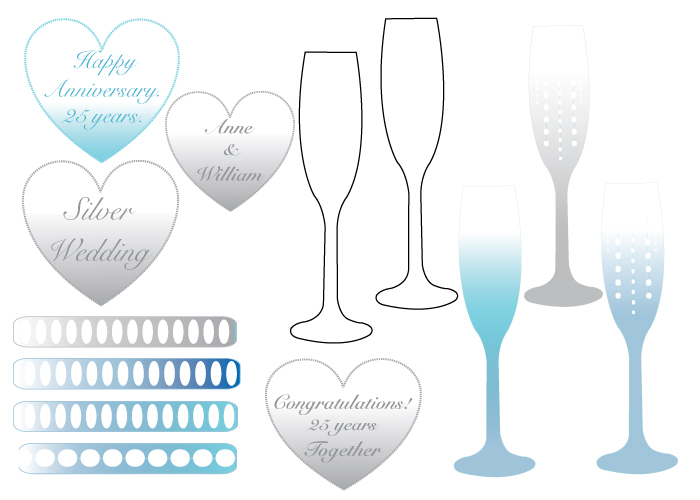 I find the clean perfect line and gradient possible using Illustrator a great asset when designing my cards. Here, I have used it to create the glasses of champagne, the ribbon dividers on the cake, and of course the hearts with a subtle ombré tone.
The hearts contain the text 'Silver Wedding' on the front and inside the card another with' Congratulations 25 years Together' set in a floral arrangement. This text is easily altered to personalise a card with the names of the happy couple, or an extra heart can be added to meet a customers' requirements. But, I do stress that too much text clutters a card and can diminish the impact of a design, so I always suggest keep it simple!