My designs are all about colour and pattern, something I do not shy away from and like to celebrate in my work. You will find a mix of media – hand-painted, photography, designs produced in Illustrator and the use of Photoshop to bring a final design together. Many ideas stem from my Home Accessories range, using flowers, birds, butterflies and pattern constructing slightly different designs for cards.
When reading through this blog, you may notice that, as yet there are no specific cards for Men in this selection. Excitingly, this will be my next area of focus over the coming months.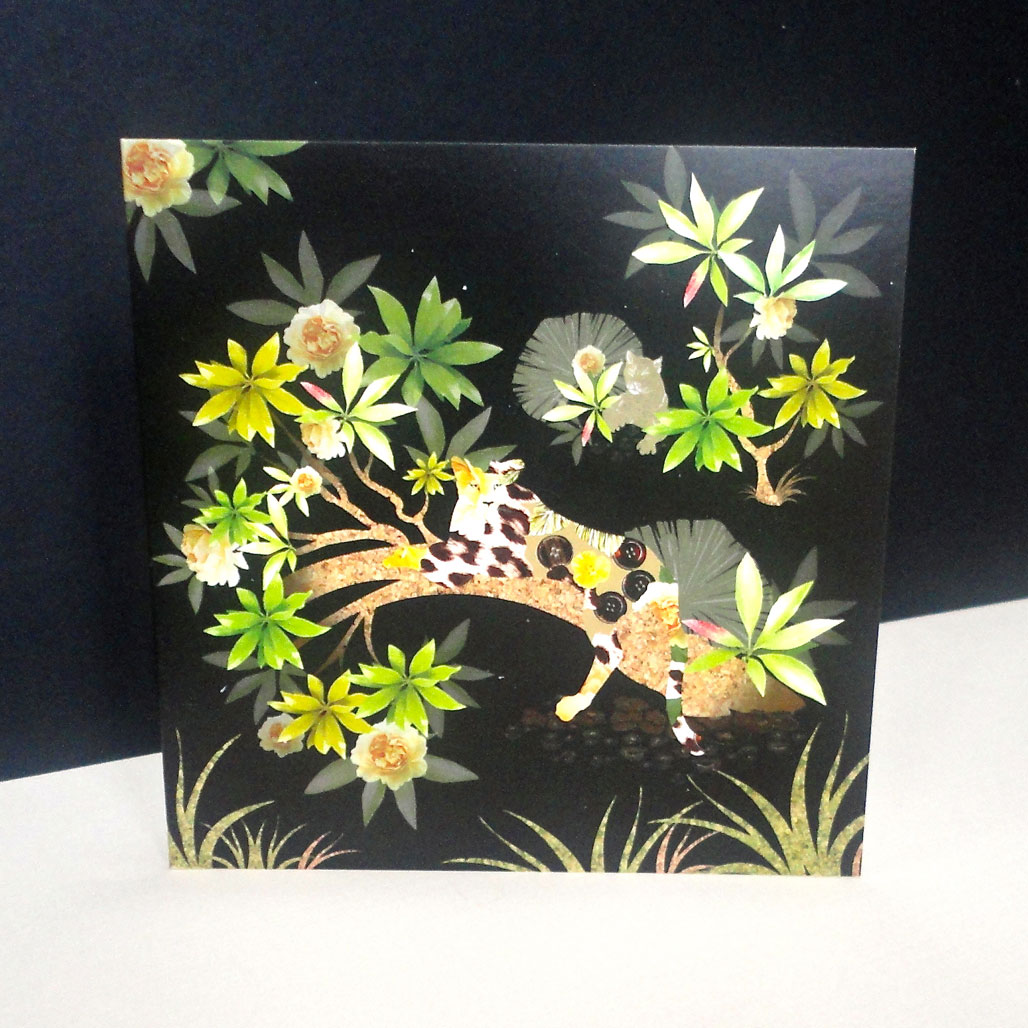 My top selling card is the wonderful Lazy Leopard; he is almost part of the family now, being one of my first card designs. This card has no text or Birthday message, left blank it can be used for any occasion, but I suggest Birthday is the main one.
Although this design is printed with no embellishments, its construction is like that of my handmade cards, but created in Photoshop. The leopard is cut from a design pattern of skin print, buttons and roses, the tree trunk and grasses from a scanned image of cork, used in many of my designs, recoloured and shaded. The soft buttery yellow roses and fresh green leaves are from photographs taken in my garden, with fan leaves drawn in Illustrator; all these elements are brought together to form a stunning digital collage, set on a black background. If you love wild cats then this is card for you, and is also sold in a pack with it's sister card the Zigzag Panther.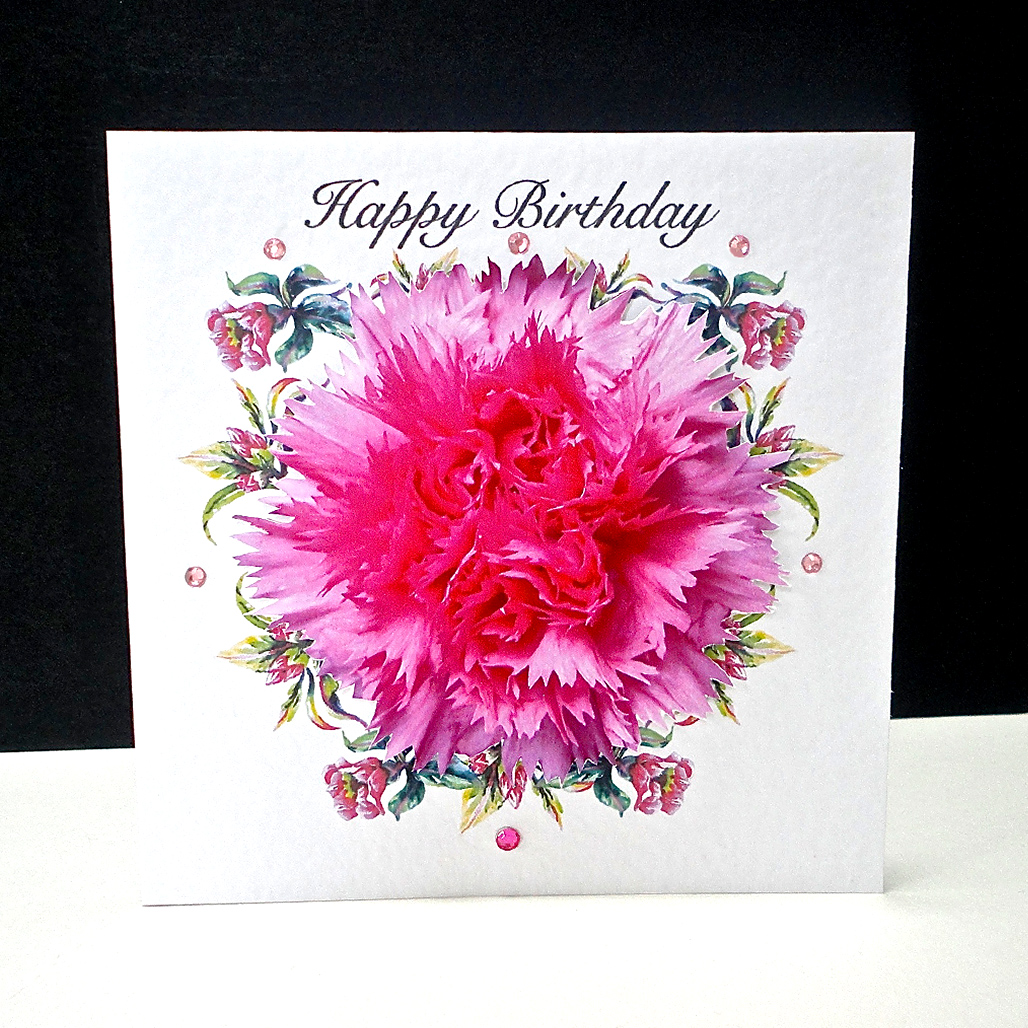 My second choice is quite a new card to the handmade collection, The Pink Carnation Handmade Happy Birthday Card but is fast becoming the one most frequently bought at fairs and shows. The intensity of this vibrant pink carnation and the freshness retained in this photographed image is what makes it so stunning. The flower head is hand-cut and mounted in the centre of a halo of hand-painted, water-coloured pink bell-shaped flowers with tonal green leaves. The text reads Happy Birthday, and this card can be personalised to Sister, Mum, Grandma or any family member. To add an extra sparkle, there are a few pink glass gems spaced around the design edges. If pink is not your colour then this card is also available in a cool aquatic blue.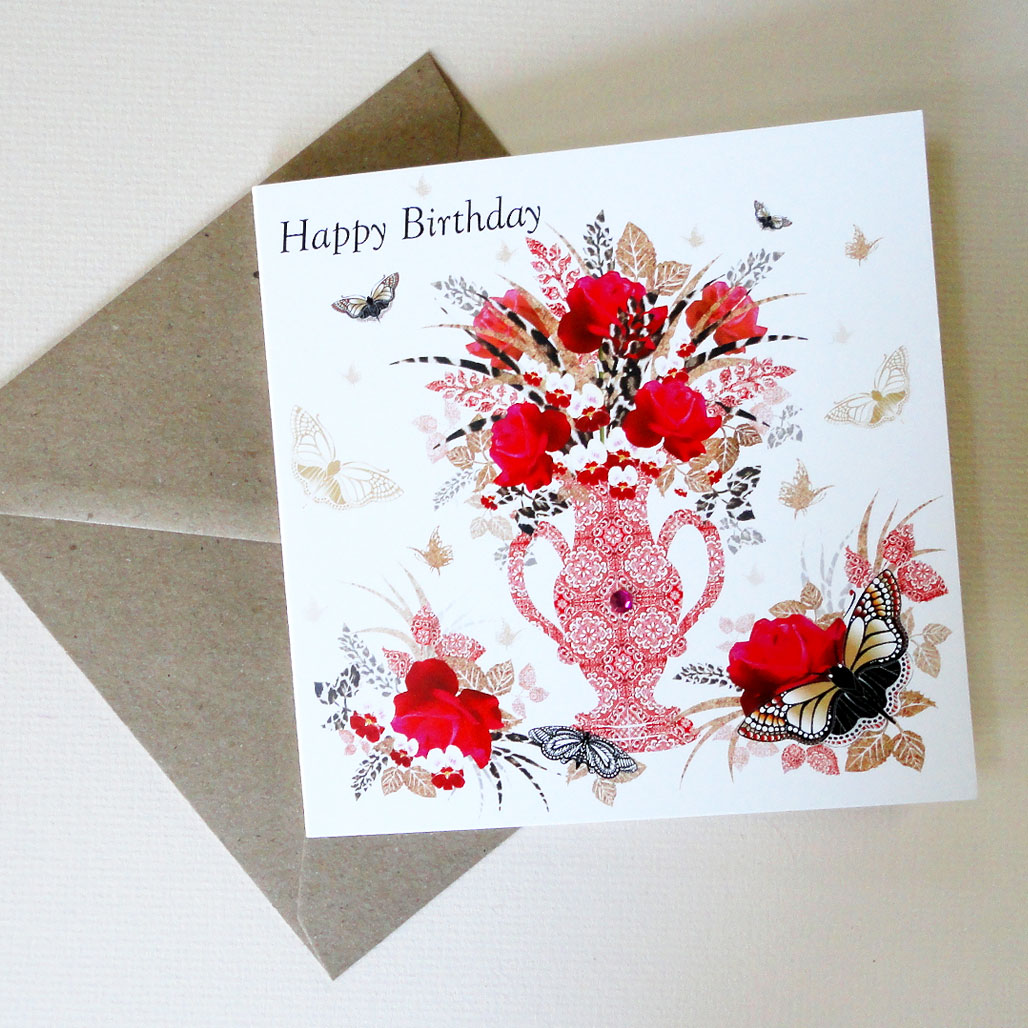 The Red Rose Vase Happy Birthday Card is a classic Birthday Card with its roses of bright red – a symbol of passion, happiness and good fortune. Again, this design is a collection of images. The hand-drawn vase, and leaves are cut from a red tile design of mine; other foliage is from a leopard skin print pattern and natural cork material.
Butterflies are a gift to all designers, a mirrored image of pattern and a delight to draw, paint and decorate. These examples are drawn and coloured in Illustrator for perfect symmetry and colour. I love this combination of techniques, the perfection of Illustrator, against the pattern and textures of Photoshop with the softness and reality of the photographic, and hand-drawn versus digital!
The prominent feature in this design is perfect red rose; see it used as a real statement piece on my Red Rose Display Lampshade or in this card that is for sale as Red Rose Display Duo, with a Congratulations Card in a similar design with gift tags.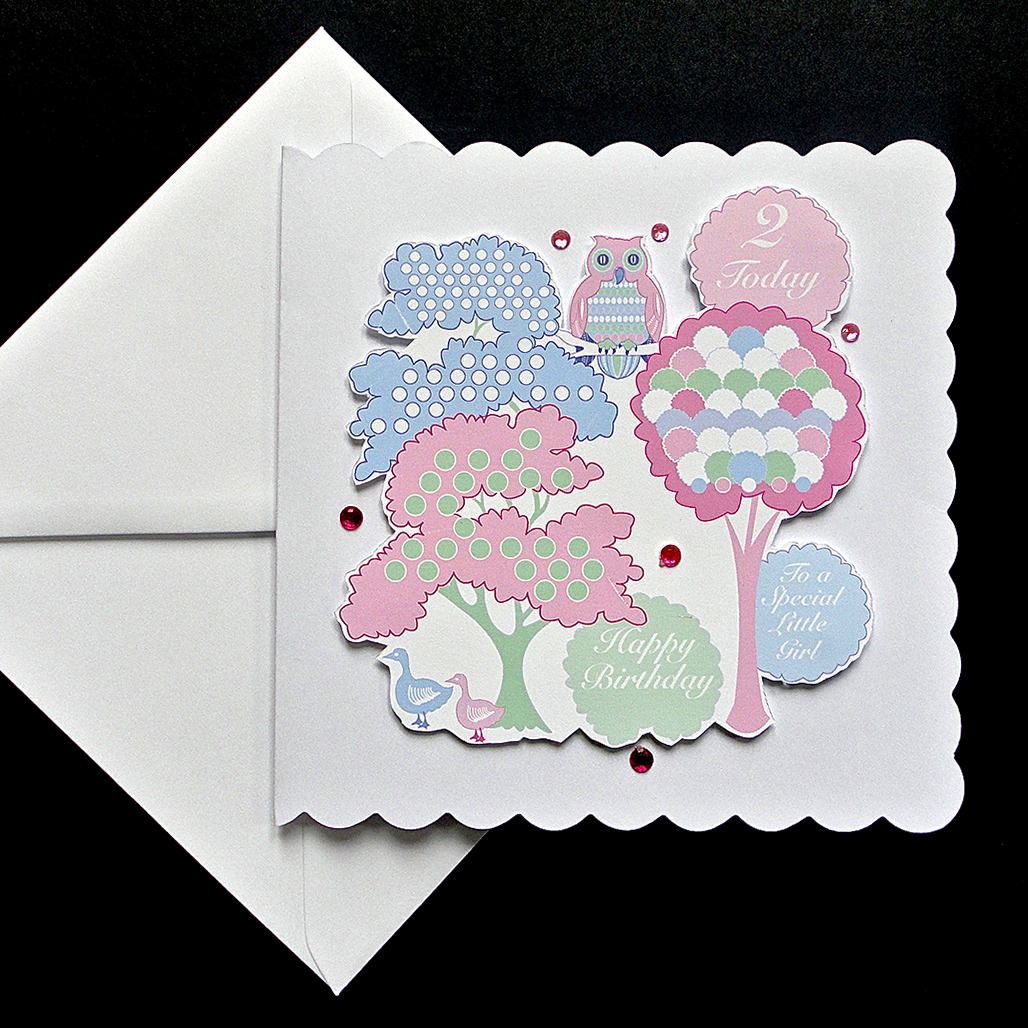 Children's cards are a challenge, and are a new addition to my range, and an area which I have yet to fully explore. The Pink Wise Owl Handmade Second Birthday Card is a pastel scene of fairytale trees, pom-pom like bushes of text, little wandering ducks and a perfectly patterned owl taking in the view. On this pretty card everything is sketched by hand, then re-drawn and coloured in Illustrator.
The scene is hand-cut and mounted on a white card with pink small glass gems spotted around. This card says 'To a Very Special Little Girl' which can be personalised to say to ' My Special Daughter' or a name. The age can be changed from 1-5yrs old.
For that special little boy, there is a Blue Wise Owl First Birthday Card in blue, lilac and green pastel tones; the text on this card can also changed on request.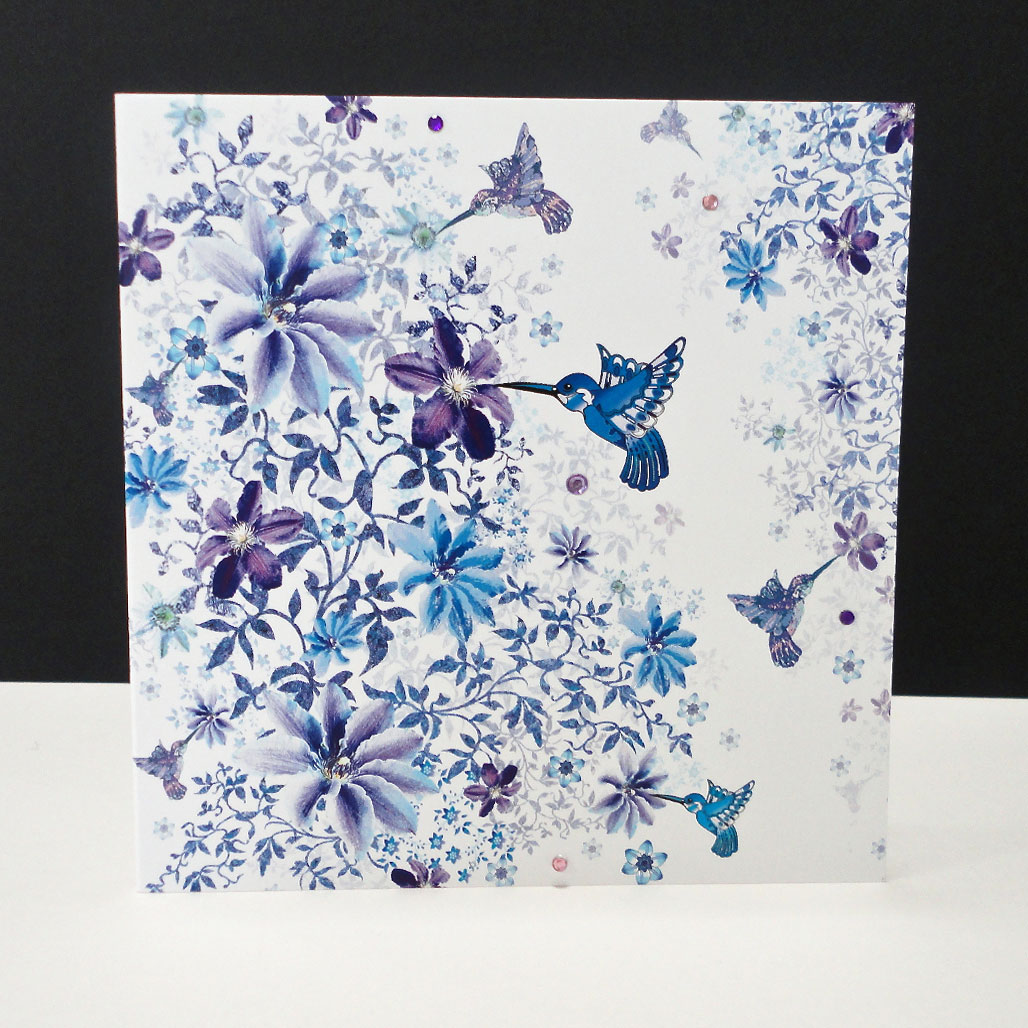 Floral Flight Single Card is one of my prettiest cards with its tiny detailed hummingbirds fluttering around a floral cascade. This delicate design is built up in layers of textured climbing stems and leaves cut from a cork background and re-coloured in tones of blues and purples; the opacity of some in the background is lessened to produce distance. The images in the forefront are in full colour to give them prominence. The clematis flowers are photographs mixed with hand-painted and smaller star-shaped flowers created in Illustrator. This idyllic scene is finished off with small, lilac, pink and purple glass gems.
The card is blank and is perfect for any Birthday, and your own message. The hummingbird is one of my favourite exotics birds; hand-painted and intricately drawn in Illustrator they are presented here in a very British floral environment.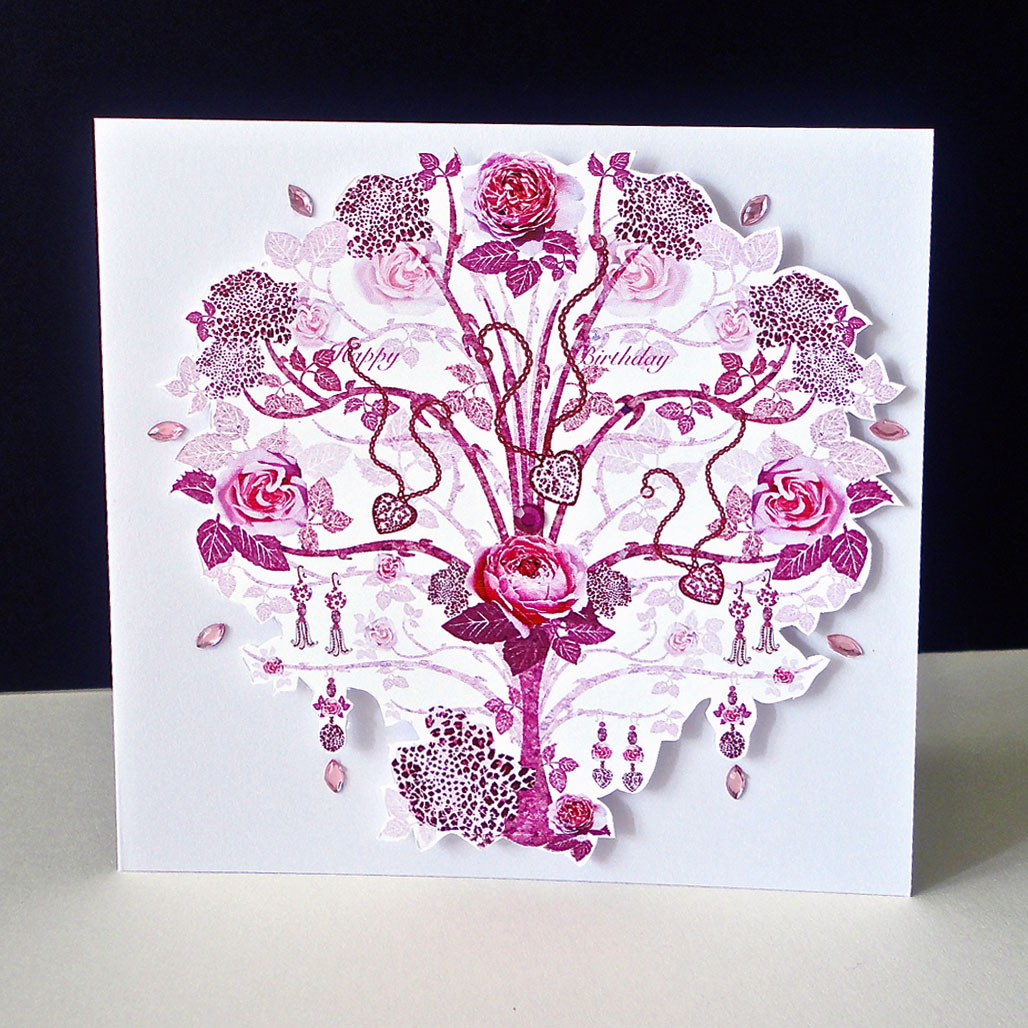 This Rose Pink Jewelled Tree Handmade Greeting Card is a perfect card for a daughter, sister or friend. The pink rose tree was created to display jewellery, from the heart-chained necklace to the small rose dangling earrings – all created specifically for this design.
The photographed roses are mixed on branches with the pink tonal leopard skin print blooms generated in Photoshop. A second, paler tree sits behind to give the image depth, and the tree and leaves are produced from a cork textured material.
The message on this small card is 'Happy Birthday', the image is hand-cut, mounted on a white card, and fringed with pale pink oval glass stones lighting up this enchanted tree.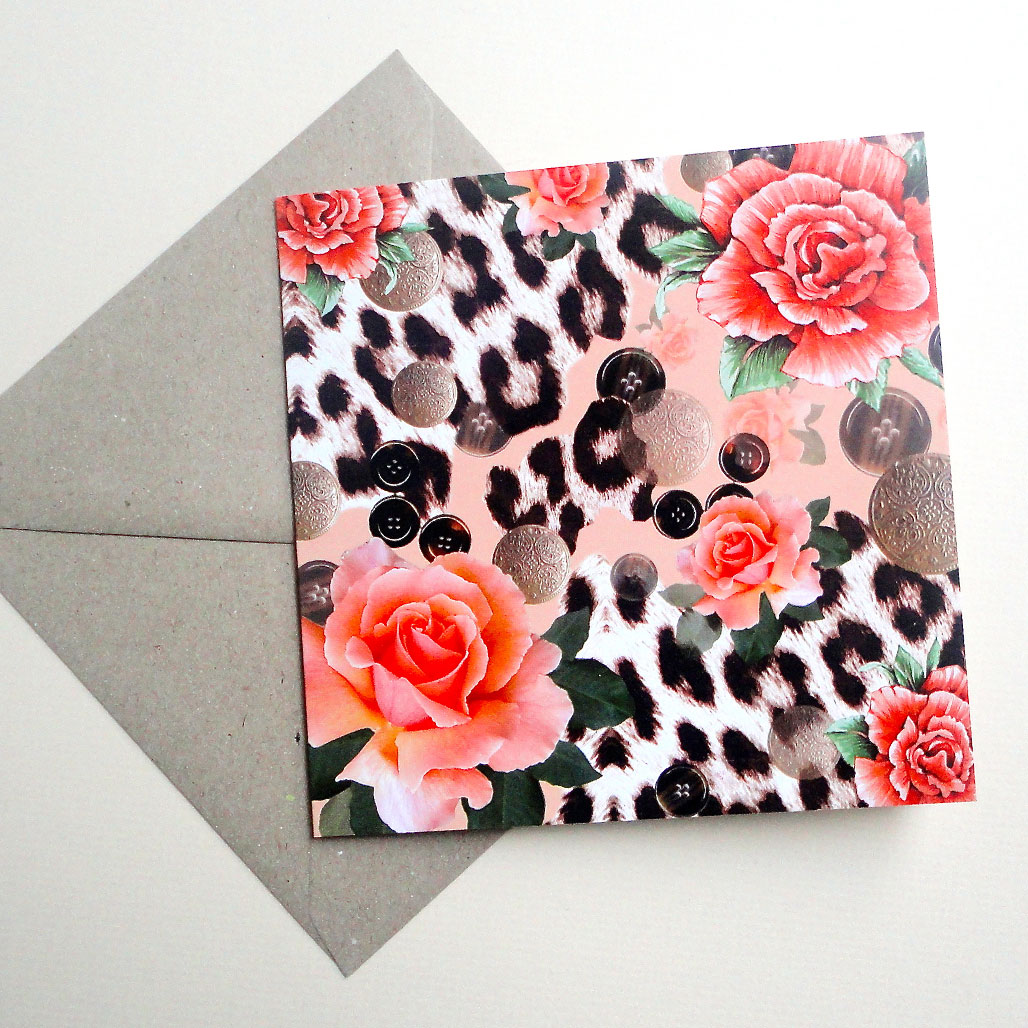 This Orange Skin Rose Single Card is one four designs in the Skin Heaven Display range. Being my first group it continues to define the initial 'Decorque Look' used on many of my products including my cork placemats, with which we launched the company.
This unique design definitely has a fashion edge with its leopard skin print, roses, buttons and gold medallions. The eclectic collection of images is spaced on a pale apricot ground.
There are hand-painted coral roses with the photographed images, the leopard skin still retains its fur detail and the brown and gold patterned buttons and medallions are so real you could almost lift them off the card! Contained in the 'Skin Heaven Display' range there are four colour-ways – orange, pink, blue and yellow with coordinating gift tags. The card is blank and perfect for your Birthday message.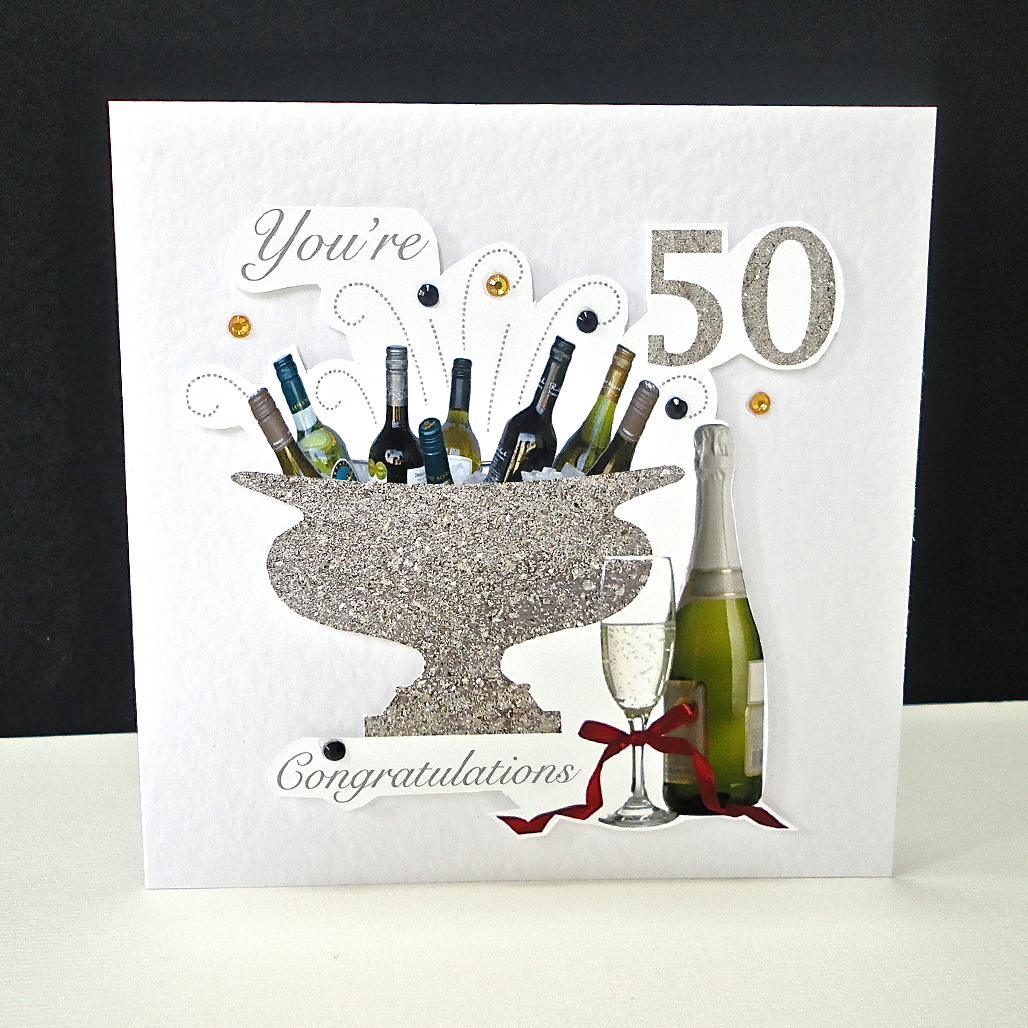 How better to toast a special Birthday than with a glass of champagne! The Celebration Bottles 50th Handmade Birthday Card does this with an iconic image in the foreground, the champagne bottle and glass of bubbly is also inside the card with the message 'Congratulations'. The classic urn shape was used to hold a central floral display at my daughter's wedding. This inspired me to use this classic shape to create my own central floral display for a wedding card – Pink Rose Display Wedding Card. The urn is hand-drawn and recreated in stone, as is the number 50 retaining its original granite tone.
I have inventively transformed its use into a great wine cooler chilling numerous bottles. Dotted swirls explode from between the bottles with glass gems in black and yellow ochre. This card is also available to acknowledge an 18th, 21st, 60th, or 70th Birthday.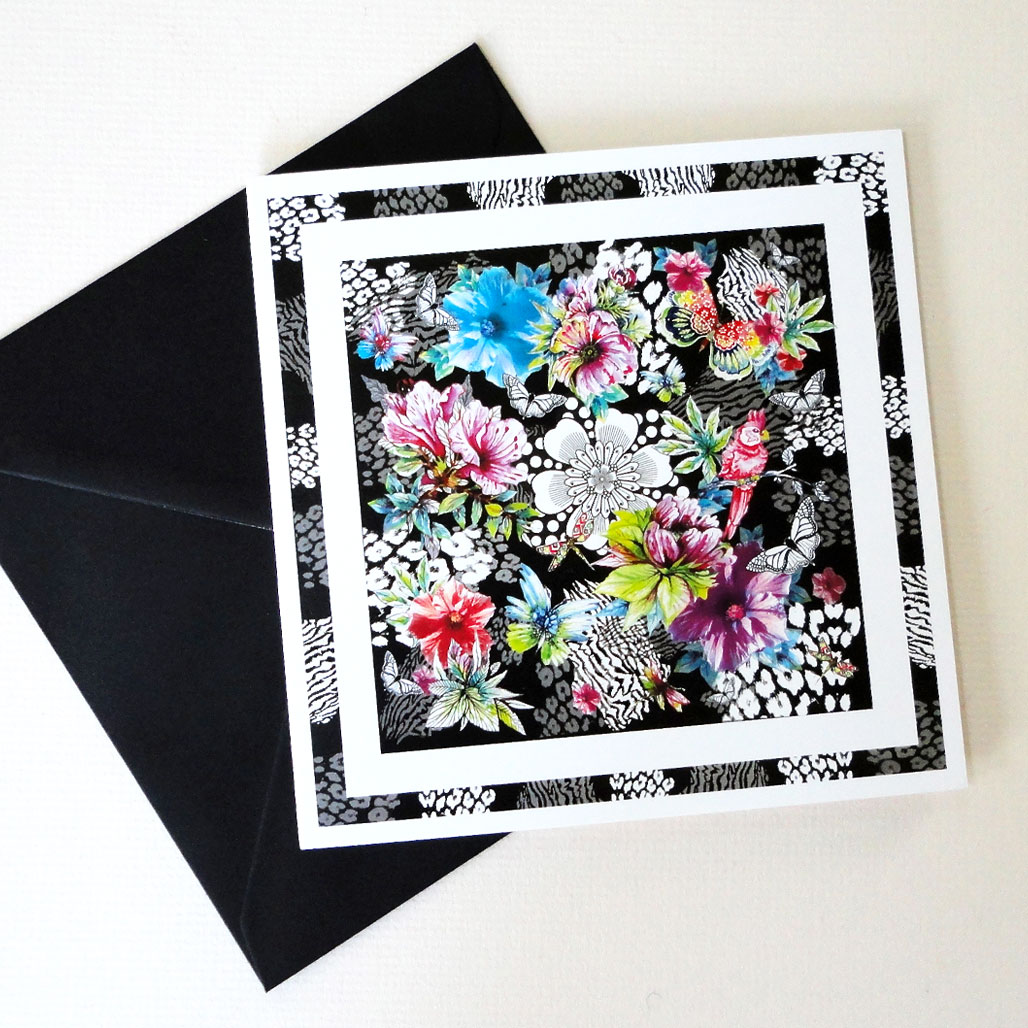 This burst of tropical flowers leaves and butterflies on the Hot Skin Single Card is set in overlapping frames of bright hand-painted skin prints, with the outer digitally produced frame of black and white. This fashionable design is popular for its unique combination of black and white with the hot vibrant colours set on white. My concoction of hand, digital and photography techniques again make this a very individual card to say Happy Birthday! This card is also sold along with The Skin Tropique Single Card. Or, if you really love this design you can have it on your wall as the Hot Skin A4 Art Print.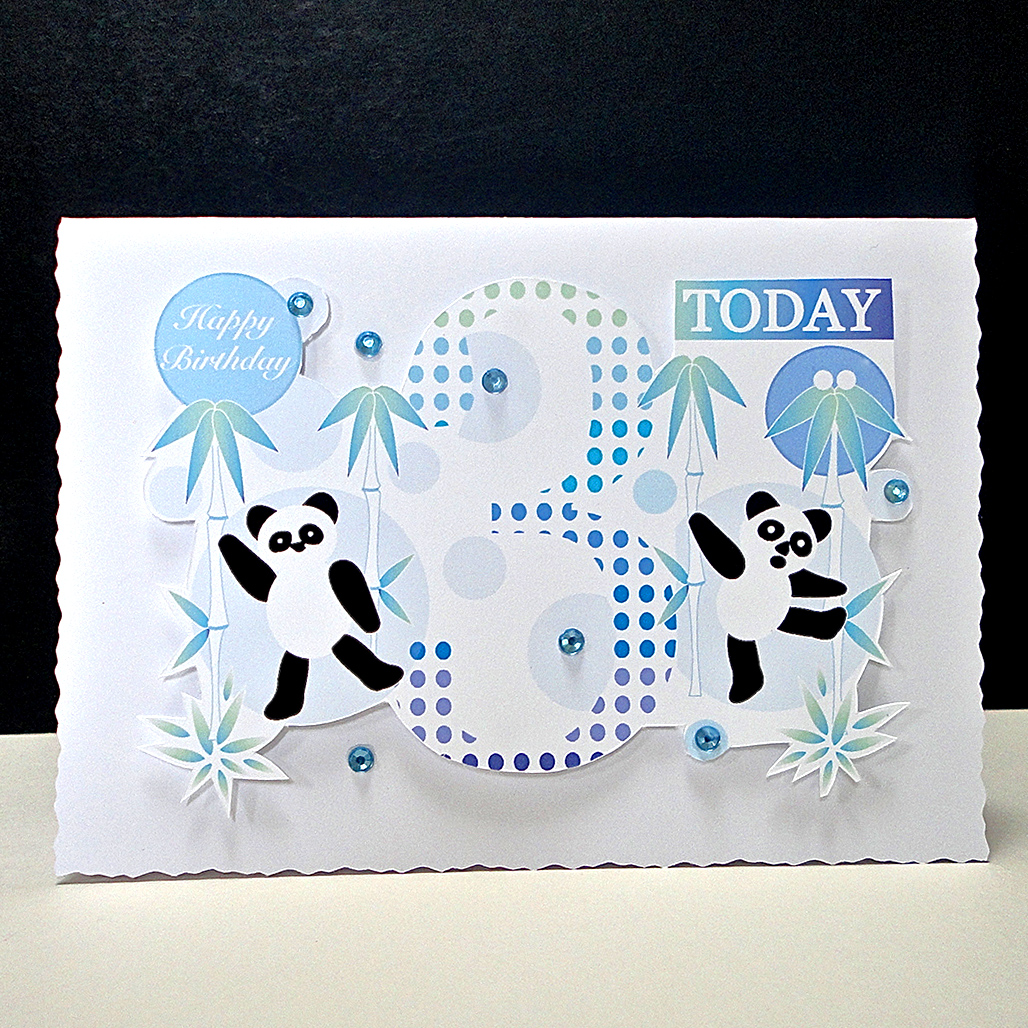 Children love all animals and The Playful Panda Handmade Birthday Card with its miniature black and white teddy is a perfect subject for a fun card. The two playful pandas stand amidst bamboo stems, each side of the polka dot patterned number 3 celebrating their third Birthday today; this is also available for ages 2-7years.
This design has precise drawn and coloured shapes created in Illustrator; the scene is a landscape view hand-cut, mounted on a rectangular white card and finished with pale turquoise glass gems.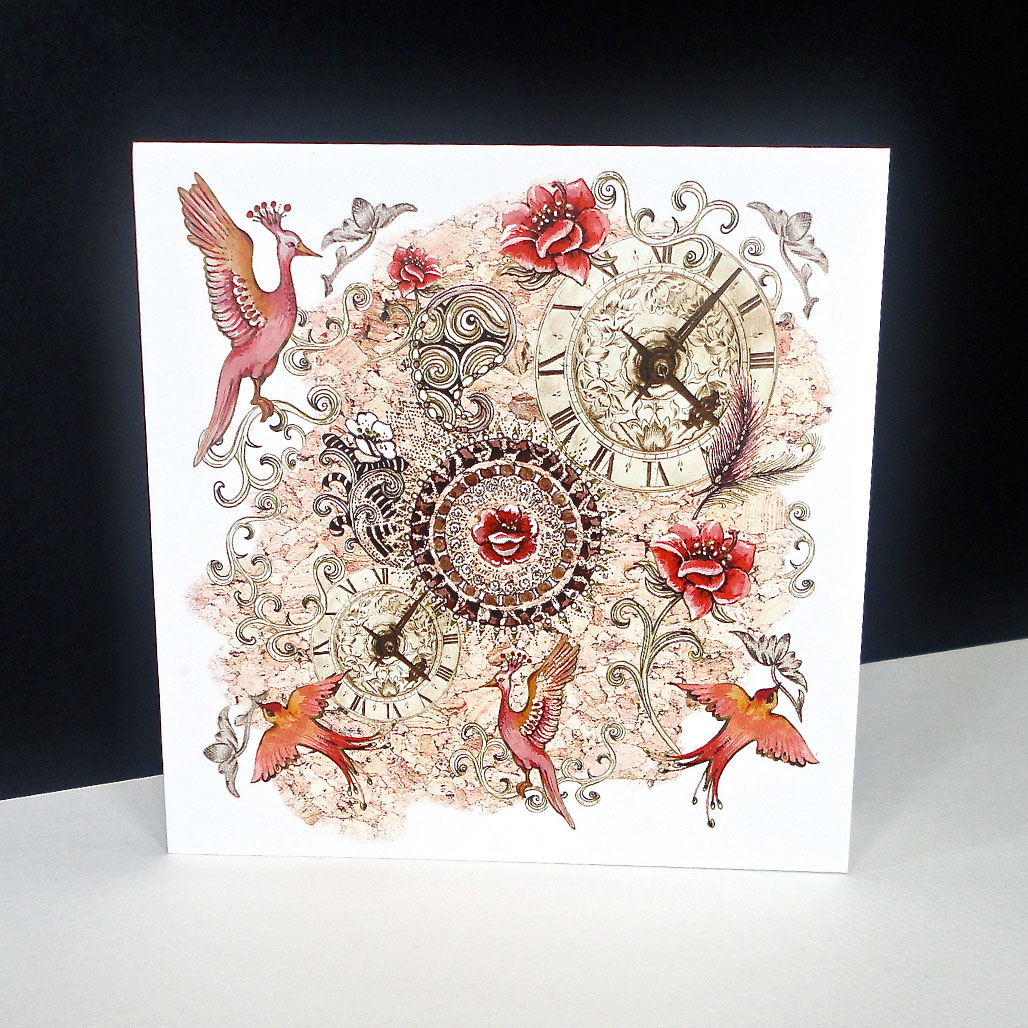 Imagination in Time is exactly that, a design of imaginary images, a surreal scene of hand-painted exotic birds, flowers, feathers and paisleys set on a central island of cork. The floating antique sepia clocks produced in Photoshop represent time. The colour palette of soft browns, gold and coral are popular tones of colour and the dream-like subject make a special card, great for Birthdays, and left blank for your own message. This card is also part of the Earth Display pack of cards with three more individual designs with similar colour tones.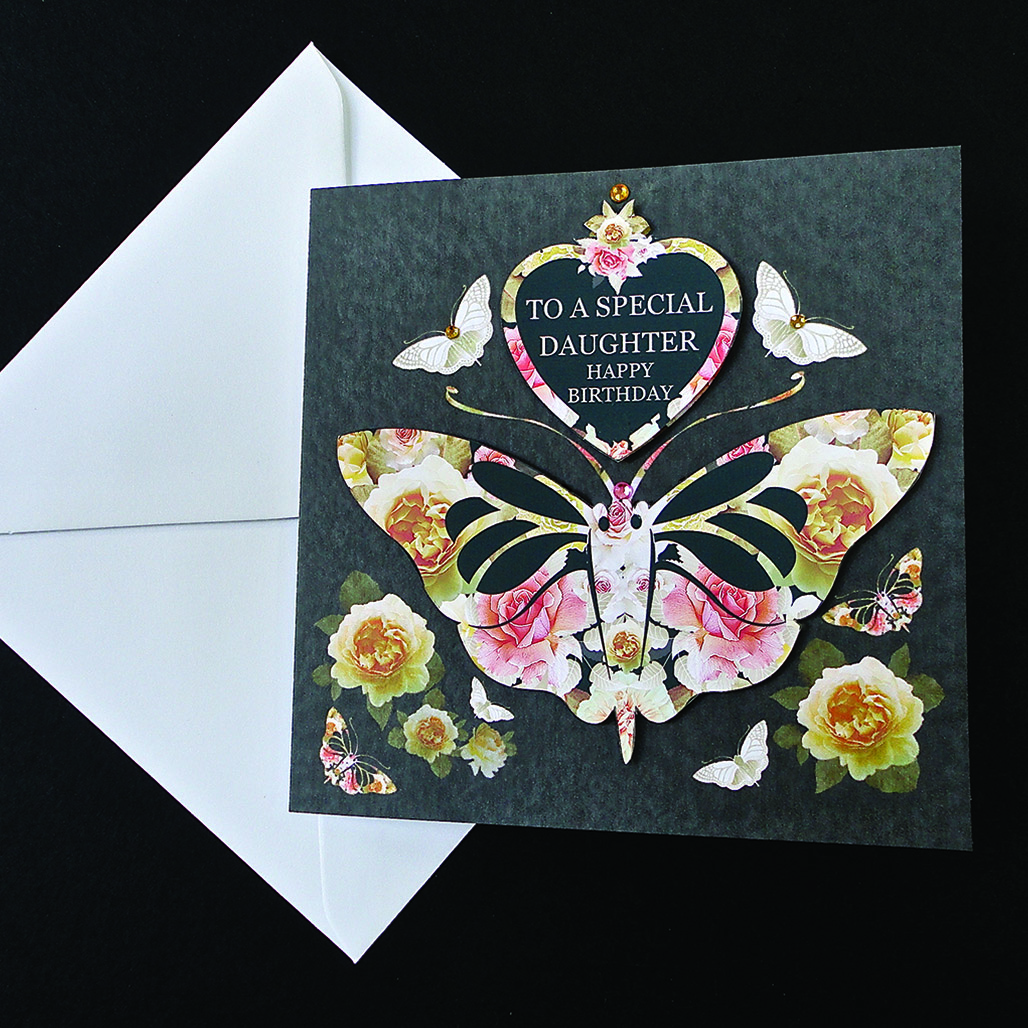 This new Butterfly of Roses Handmade Happy Birthday Daughter Card is a stunning collection of roses, uncharacteristically set on a dark ground, which gives it a contemporary feel. The large decorative butterfly is covered in soft photographic roses, the silhouette shape of which is cut from an allover rose print I have designed. This pattern is also used as an outline for the large heart shape, which holds the text 'To A Special Daughter –Happy Birthday'. Both these images are hand cut and mounted on a dark, slate coloured backdrop, patterned with soft buttery roses and smaller butterflies; hand-finished with glass gems in pale pink and amber. Inside the card is another mounted heart saying 'Have a Lovely Day'. This card is also available to celebrate a 21st Birthday, or if you wish can be personalised or changed for sending to an alternative family member.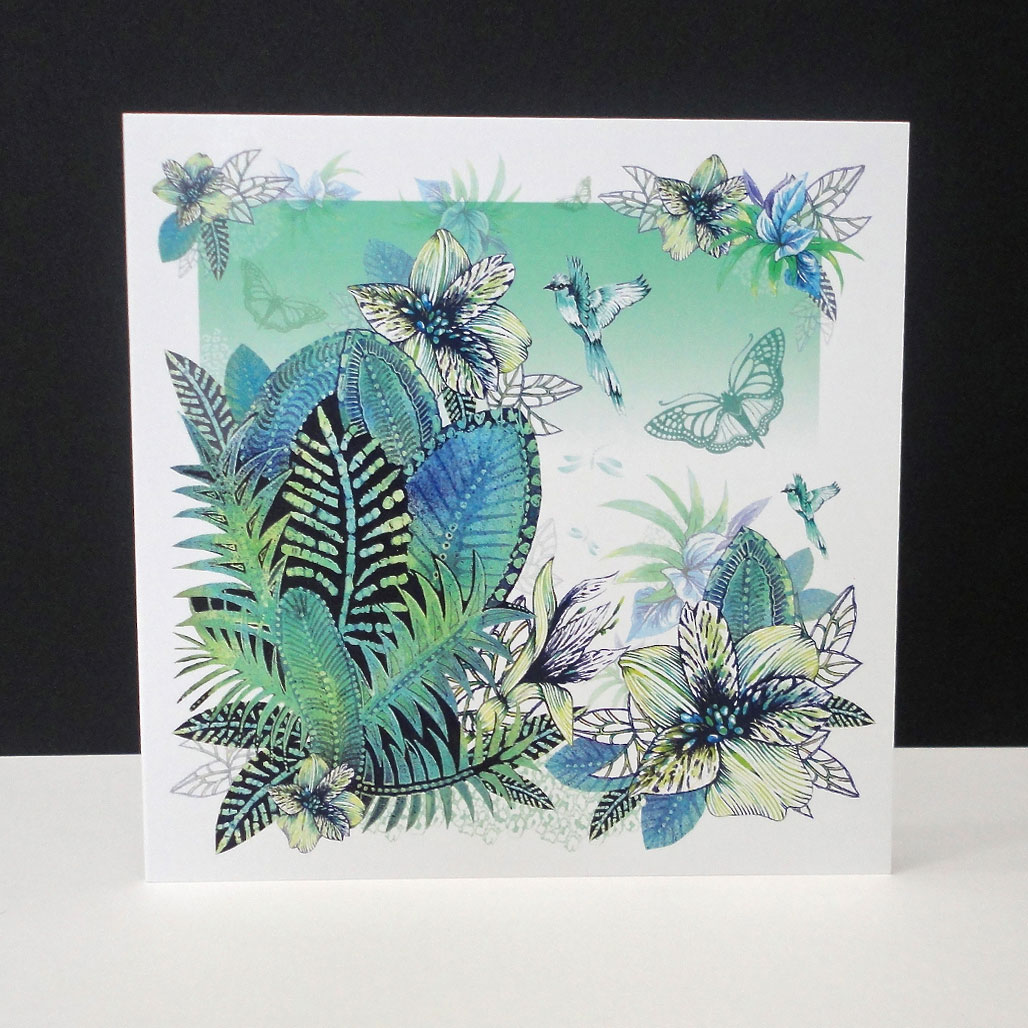 I really love creating scenes from my imagination and the Tropical Forest Scene Single Card is just that – a glimpse on the edge of a dense mass of rainforest. The large exotic leaves are taken from one of my fashion prints, with their intense tones of blues and greens in water-colour inks. Here, there are no photographic images – everything is created by hand and brought together in Photoshop. Sometimes, if I cannot find a flower, leaf or bird I invent one, that is the real beauty of designing by hand. This is set in a green ombré square, that is edged with foliage, and holds the scene together with small birds hovering around. This card is left blank so can be used for any occasion, but is ideal to celebrate a Birthday.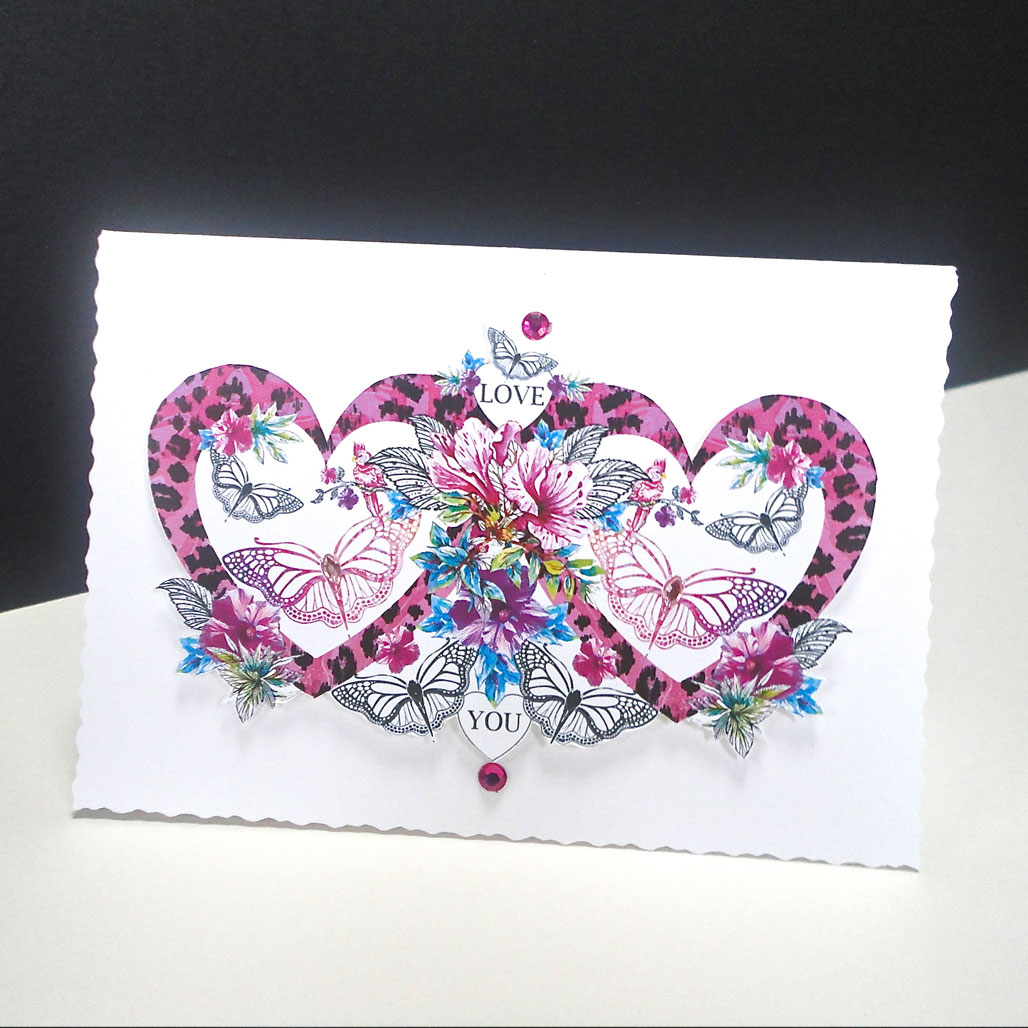 This Pink Heart and Butterfly Handmade Card to me is a perfect little card, with its simple message 'Love You'. Whether for a Birthday, Valentine's Day, Mother's Day or just a card to your partner in life, it fits the bill! There is so much detail on the card with the tiny butterflies, tropical flowers and leaves decorating the two pink patterned skin-print hearts. The design is hand-cut and mounted on a white scalloped edged card and finished with pink glass gems. Some elements of the design you will recognise from the Hot Skin Single Card, again a contemporary look, which I have developed into a different pattern of horizontal orientation for this delightful little card.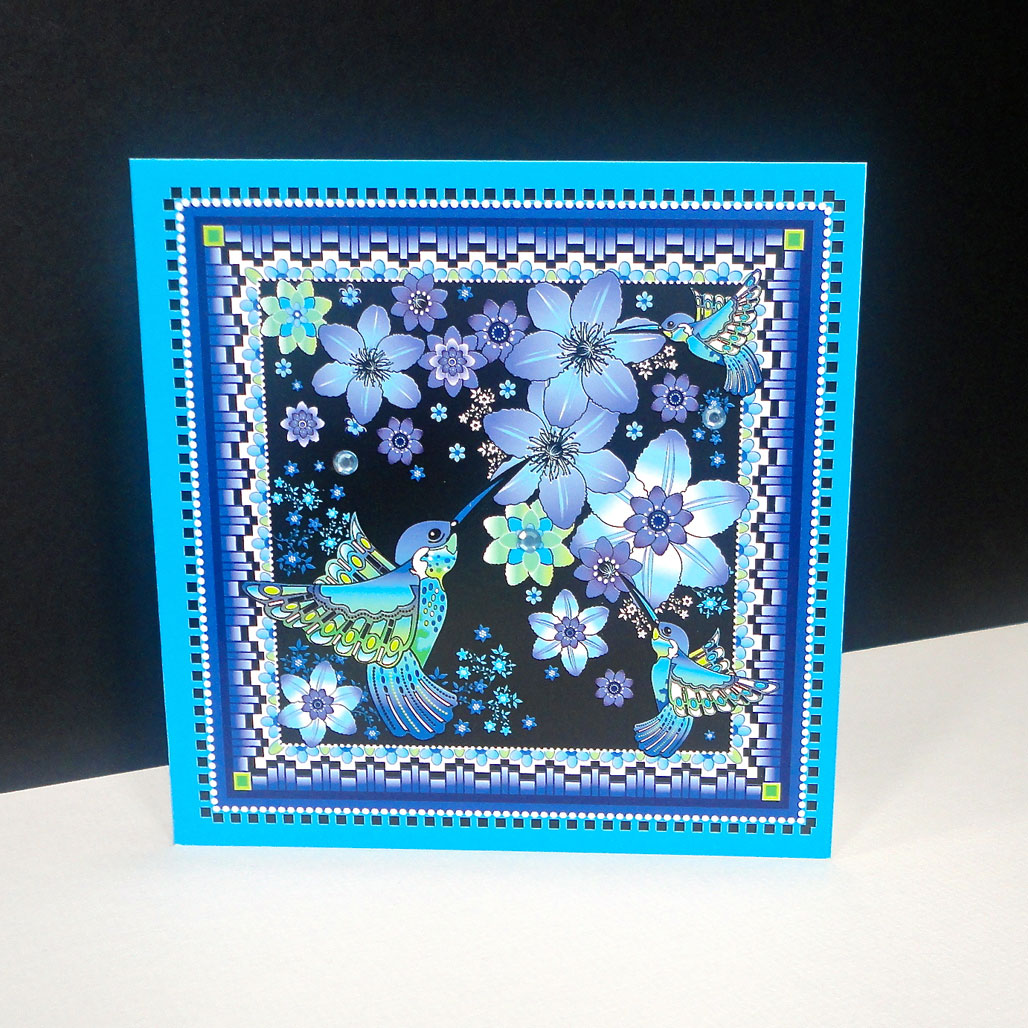 My last card A Charm of Hummingbirds really says it all, encompassing everything I love – my favourite bird, colours, and both floral and geometric pattern! It's a design that goes right through my Decorque range of products, from cork placemats and coasters, cushions, to cards and gift tags; I even have this design on fridge magnets sold only at shows. Like me, the hummingbird enchants many people, and on this card I have patterned its wings and coloured its body in aqua ombré tones, but hopefully kept its character. Everything in this design is initially sketched by hand, then perfected in Illustrator.
As a comparison to this crisp clean colour and detail of Illustrator on paper, I feature The Charm of Hummingbird Coaster Card, which is the exact same design printed and brought to life on cork. The card itself is printed at home with a border saying Happy Birthday, which frames the cork coaster. This is a new product range that I think makes a perfect gift and card together, where later the coaster can be taken off the card and used around the house or taken to the office – a little something to remember that day!