A personalised greetings card for any occasion is not just a card but a gift – a unique keepsake to remind someone of their special day.
During 'lockdown' many people have been searching online for something special to send to loved ones when we can't share the celebration with them. We all still love receiving cards and opening them is a joy, knowing that people care, and imagine the surprise seeing a personalised card, especially for you – what a wonderful, kind touch!
The shops are now re-opening and there are millions of mass-produced cards out there. We can spend ages looking for that perfect card – the occasion, subject, colour and sentiment are all factors that come into our selection.
Why not choose a personalised card that you can customise to your requirements? A unique card becomes something you will be excited to send, knowing what pleasure it will bring!
At DecorqueCards, I design many collections of printed cards – mainly blank so they can be bought to send for any occasion or event – but the handmade selections can be adapted, redesigned, or personalised for any occasion.
For those once in a lifetime events or significant Birthdays you may be looking for a bespoke card.
The Garden Trellis.
This is a new design, created specifically for a family to send to their 'Mother, Nan & Great Nanna on her 80thBirthday' from all the family. The brief was 'lilac being her favourite colour, she also loved the garden, wildlife, and had fond memories of when she kept chickens and Indian Runner Ducks'.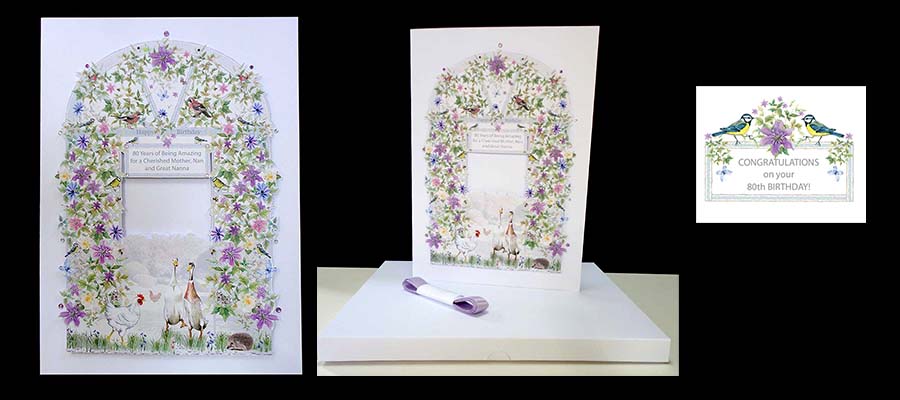 I think you will see that this card illustrates her life. The trellis is adorned with pink and lilac clematis and roses with garden birds, bees and butterflies. Ducks, chickens and a hedgehog were hand-painted to form this design. The image is hand-cut and mounted on an A4 card which was boxed with a lilac ribbon. Yes, this card being a new design created for the customer, was quite expensive at £60.00 including postage. But when you think about 10-12 family members signing this card, it is not expensive and such thoughtful amazing gift.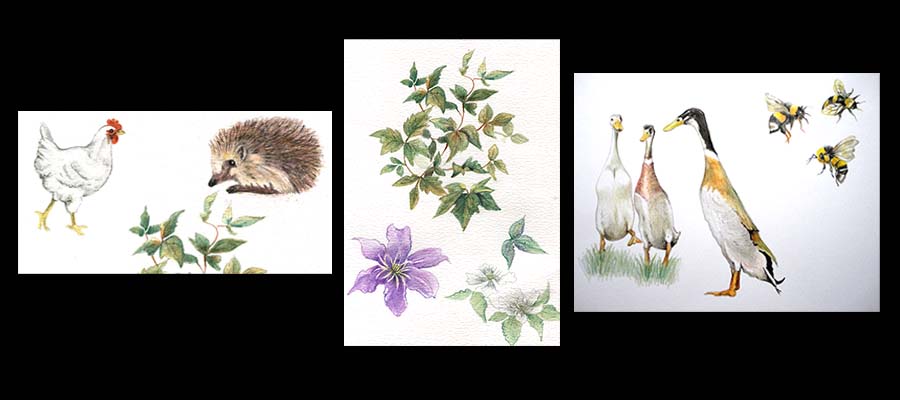 We all love our British gardens and 'The Garden Trellis' design is a very popular choice. It was chosen by a local customer for his wife's 50th Birthday.
Unfortunately, in 'lockdown' all the planned celebrations had to be cancelled, a story repeated around the country. This card was adapted with delphiniums replacing the animals, and inside was printed a very beautiful poem composed by the husband to his wife – a lovely touch which I'm sure would have made her day. This card was £35.00 gift wrapped ready to be presented on the day and collected by hand, so no postage was necessary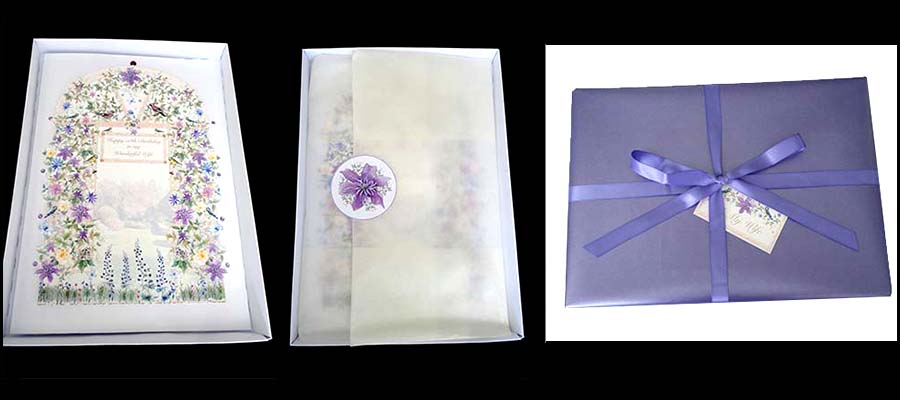 In a further concept taken from 'The Garden Trellis' design I created an oval halo of garden flowers. This design was chosen to congratulate a great achievement, a doctorate to send from all the family to a relation in the U.S. Boxed with a ribbon to attach when signed would really mark the occasion.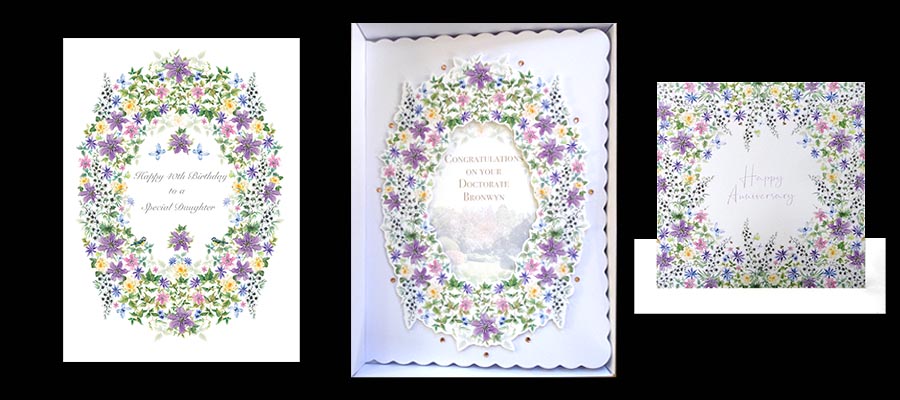 The same design was also perfect for a Daughter's 40th Birthday. Set on a plain white card it looked really stunning!
A smaller printed version 'British Garden Bird Valance' was brought into the collection to be available as an off-the-shelf 'Happy Anniversary Card' to buy online.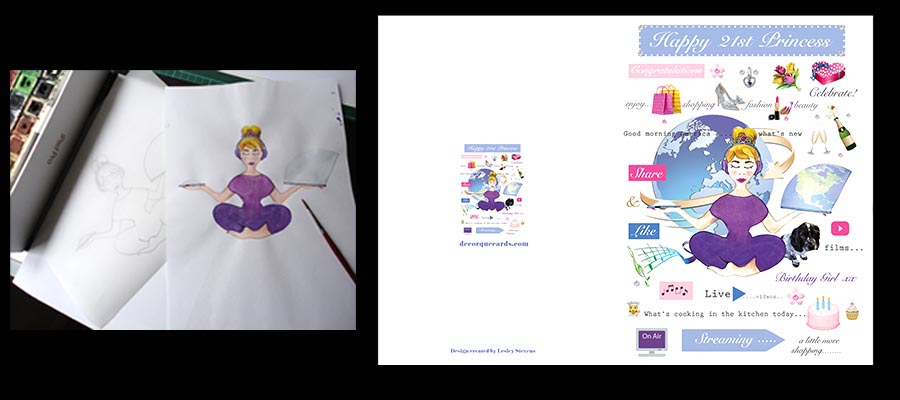 I must admit the next request was a challenge, but luckily, I was given an excellent brief to work around. It is sometimes exciting to go out of your comfort zone and design something completely different and this card certainly was, I call it 'Streaming'.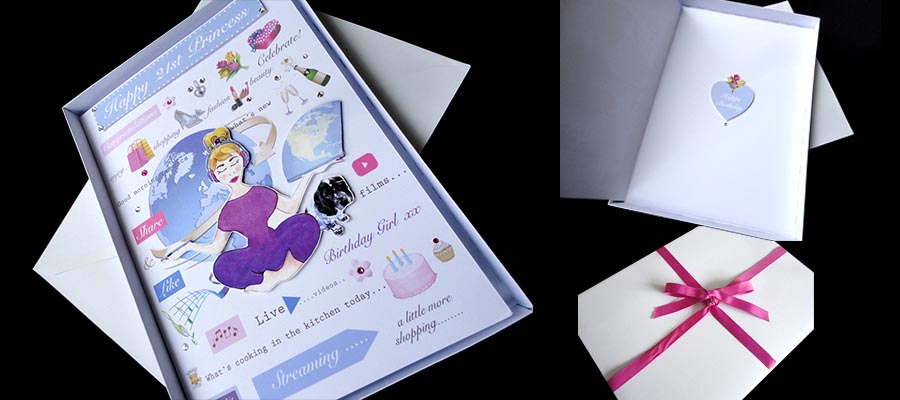 Yes, a Daughter coming up to her 21st Birthday spending many hours on social media, streaming films etc. from around the world. Her passions were fashion, make-up, cooking, shopping, film, and music. I used Emojis to illustrate her likes, but the central figure is hand drawn, she sits in a world of her own, with her pet dog by her side. This cost of this unique card was £65.00 including postage.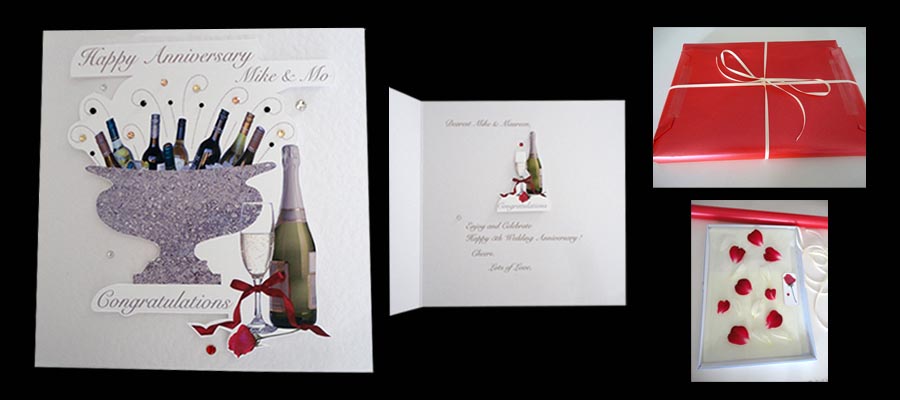 The 'Celebrations Bottles' design has always been a best seller for those landmark Birthdays from 18 -90 years old. It also makes a great Retirement and Anniversary card. The Happy Anniversary card was chosen to be personalised for friends who were unable to celebrate together.
This is just a normal sized card 150mm square, but the customer requested an A4 larger box with added rose petals. The senders' names and best wishes were printed in the card so this could be gift wrapped and sent directly to the recipient. This personalised card, gift- wrapped and ready to send was £10.00 and the customer paid for special delivery – next day which of course is the customer's choice – this is optional to suit their needs.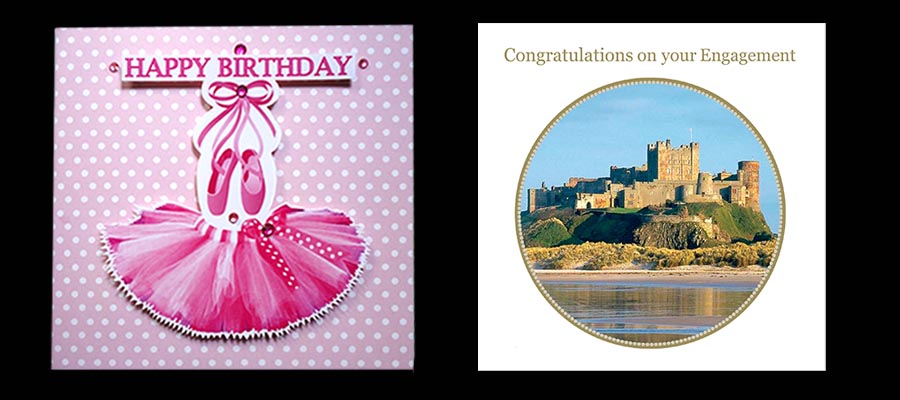 Quite often, I receive simple requests from customers who do not want to spend a fortune but need a special card.  The 'Pink Ballet' card was obviously for a young girl who loves ballet, and she was thrilled with her beautiful card.
The second card was really another lockdown story, and we all have those! An elderly lady who was shielding was unable to leave home to buy a card for her Daughter who was also her carer and was soon to get engaged. The request was for a card featuring the couple's favourite place, Bamburgh Castle in Northumberland, somewhere they had lovely memories of visiting together.
It was lovely to hear that this card made their day!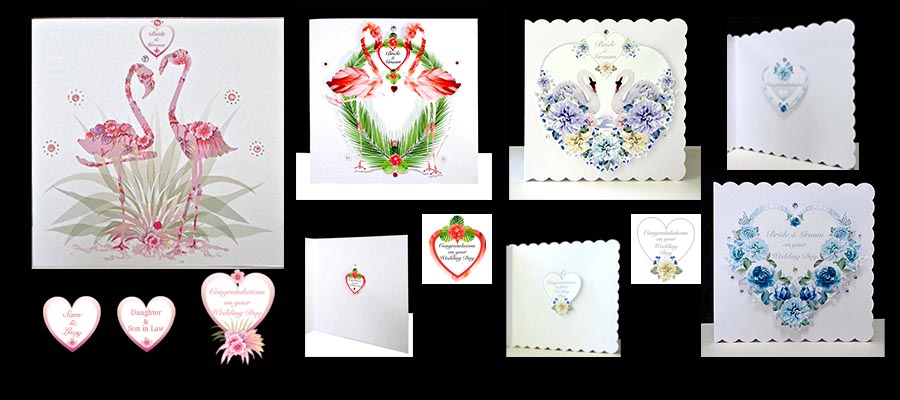 Of course, some of the most asked for personalised cards are unsurprisingly for Weddings and Anniversaries. Most of my wedding cards, which simply say 'Bride and Groom' on the front can be replaced with the special couple's christian names. Additionally, the text inside the card can be altered in the heart or if requested special wishes printed on the card. The contemporary flamingo designs have always been a 'hit' whether in the soft pinks or with hot red and green palms for a tropical look. Hopefully, weddings abroad may be back on the agenda soon!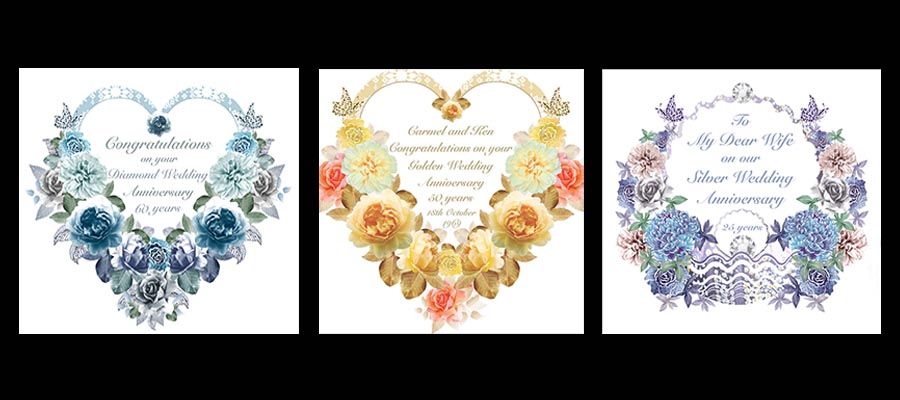 The beautiful 'Antique Rose Hearts' range of designs have definitely been my best sellers. The colour range is perfect for the specific occasion, soft buttery yellow and gold tones celebrating 50 years; deep reds and golds for 40 years; coral and deep orange tones for 35 years; lilacs, pearl and blues for 30 years, and dusty blues and greys for 25 years. The latter 'Silver Wedding' card is also suitable for a platinum or a diamond wedding which as you can see was personalised to celebrate those amazing 60 years. The 'Pearl Anniversary' card here was chosen by a customer for his wife to celebrate their Silver Wedding. For any special events you may be looking for, these cards are the perfect choice!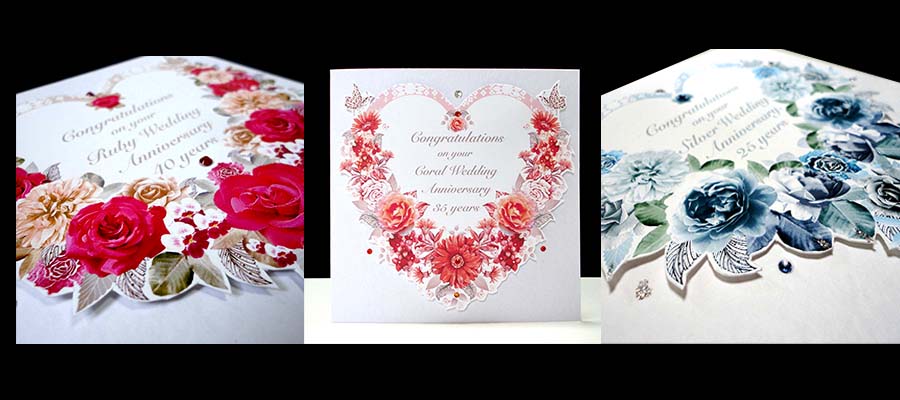 Birthdays are an occasion when everyone loves receiving a card, and one that is personalised just for you is something really special! A majority of my Birthday cards can have names or ages added. The 'Mother and Baby Giraffe' is listed as a Happy Birthday Daughter card but as you can see is perfect for Granddaughter, Grandson, or for any Birthday.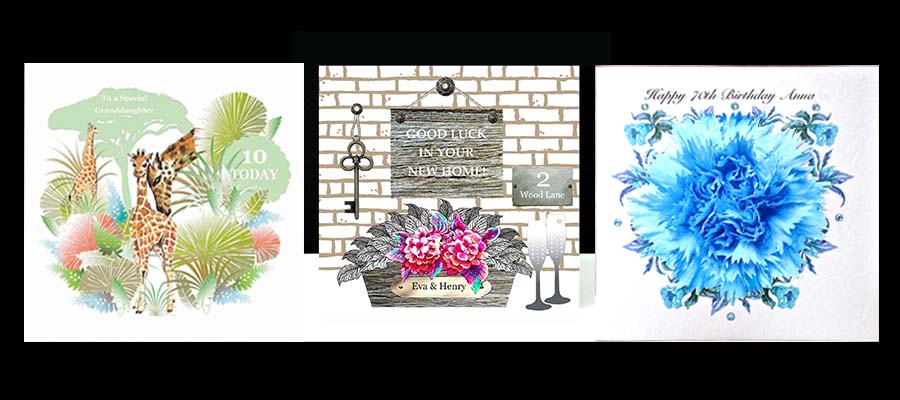 The 'Blue Carnation', as with the 'Pink Carnation' and the 'Cerise Rose' cards are all ideal for adding names and ages too.
Moving house – they always say – is the one of the most stressful events in our lives, so a card to mark the occasion is a lovely thought. This contemporary 'Pink Window Box New Home Card' with names, street and house number would definitely be one to keep, or maybe framed to remember the day.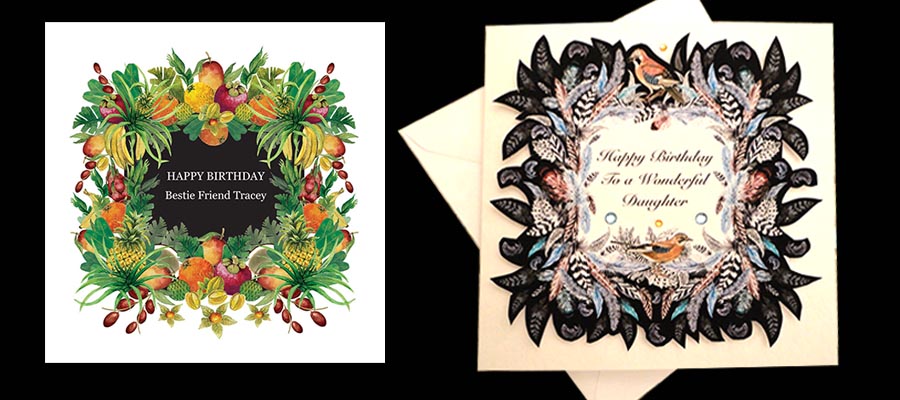 Occasionally, a customer may see a printed card that they love but would like it for a friend or family member. Obviously, the printed card cannot be changed but the design can be re-printed with personalised details, hand-cut and mounted on a card. This is the advantage of Handmade cards, that are so adaptable to customer's needs.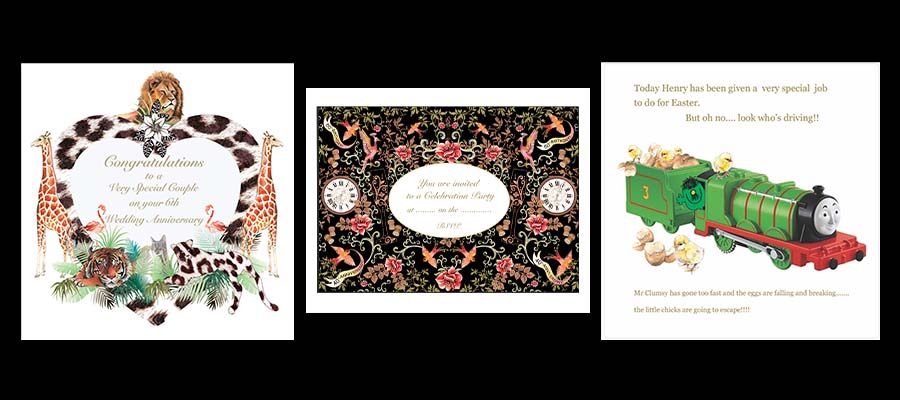 The joy of making personalised cards is when you can make them unique for family and friends. Anniversary, Birthday cards, Invitations, and of course special cards for a Grandson.
At the moment our Grandson adores Thomas the Tank Engine and all his friends. We read to him the 'Mr. Men' series, his favourite being Mr. Clumsy. Never missing a chance to make him a card, this Easter Mr. Clumsy caused chaos on the railway; inside the card the story continues with Thomas coming to the rescue with Mr. Clever who came up with a plan – yes ask Mr. Busy to collect all the eggs and chicks and put them in a basket! He loved it.
If you would like to order a personalised card, or commission a new design then just send an email to [email protected].
Many cards can just be personalised by filling in the boxes underneath the product.
If you are not sure and would like a specific design for a different occasion, again please get in touch and I will see what I can do to help you.