This how-to will show you how to hand-make the Good Luck card below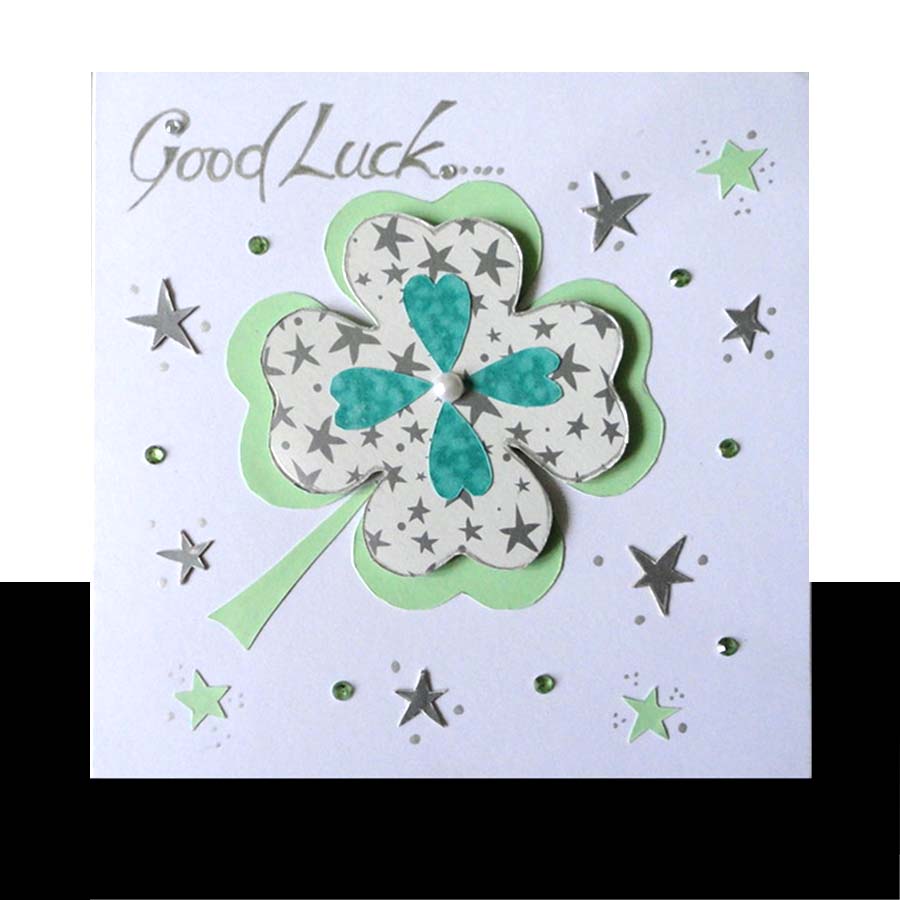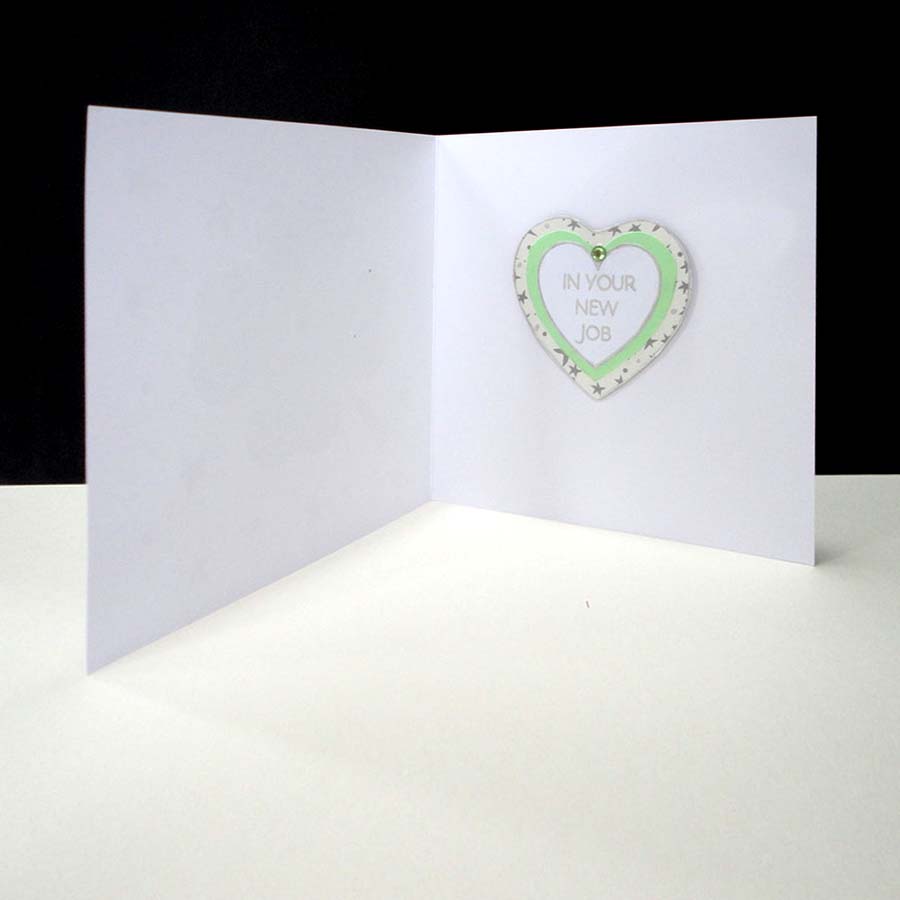 At this moment, I think we all need some good luck! With plenty of spare time it's a great opportunity to get creative – making something to give to others is not only motivating but also very satisfying too.
When we think of 'Good Luck' a few iconic symbols come to mind; the horseshoe, a rabbit's foot, the four-leaf clover, minerals and precious stones such as jade. We all also have our lucky numbers, seven being the most popular here and eight in Asia.
I have chosen the four-leaf clover, a great shape design-wise to play with and which seems to be the most popular lucky charm. It reminds me of my childhood, where my sister and I would spend many hours making daisy chains and searching for that elusive four-leaf clover, which we never found. But then I feel we all make our own luck in life.
Receiving a card wishing us Good Luck in a new job, with exams or taking our driving test, really helps boost our thoughts and determination to succeed, not just for ourselves but those that wish us well!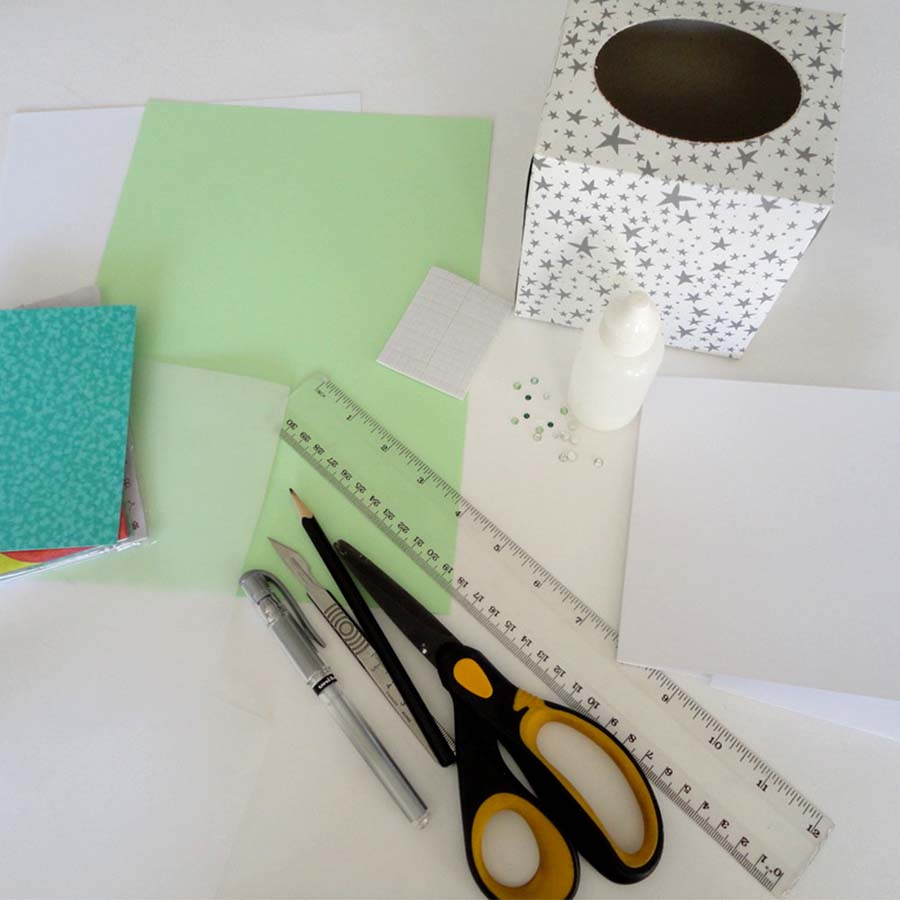 What you will need to make your own handmade engagement card
Equipment:
Scissors
Scalpel
Ruler
Pencil & metallic silver pen
Adhesive foam pads
Clear drying glue
Paperweight.
Materials:
Plain white card & envelope 150 x 150 mm (or make your own from a sheet of A4 card)
White paper & tracing paper
Blue-green textured paper
Patterned card / starred tissue box
Sheet of A4 pale green paper card
Glass gems – green & pearl
Most of these products are available from Hobbycraft or The Works, or you can improvise on materials with patterned paper etc… that you may have around the house; I have used an empty tissue box – loved the silver stars! Obviously if you use Illustrator/ Photoshop on the computer you will be able to produce all these perfect shapes with colour and pattern ready to cut out.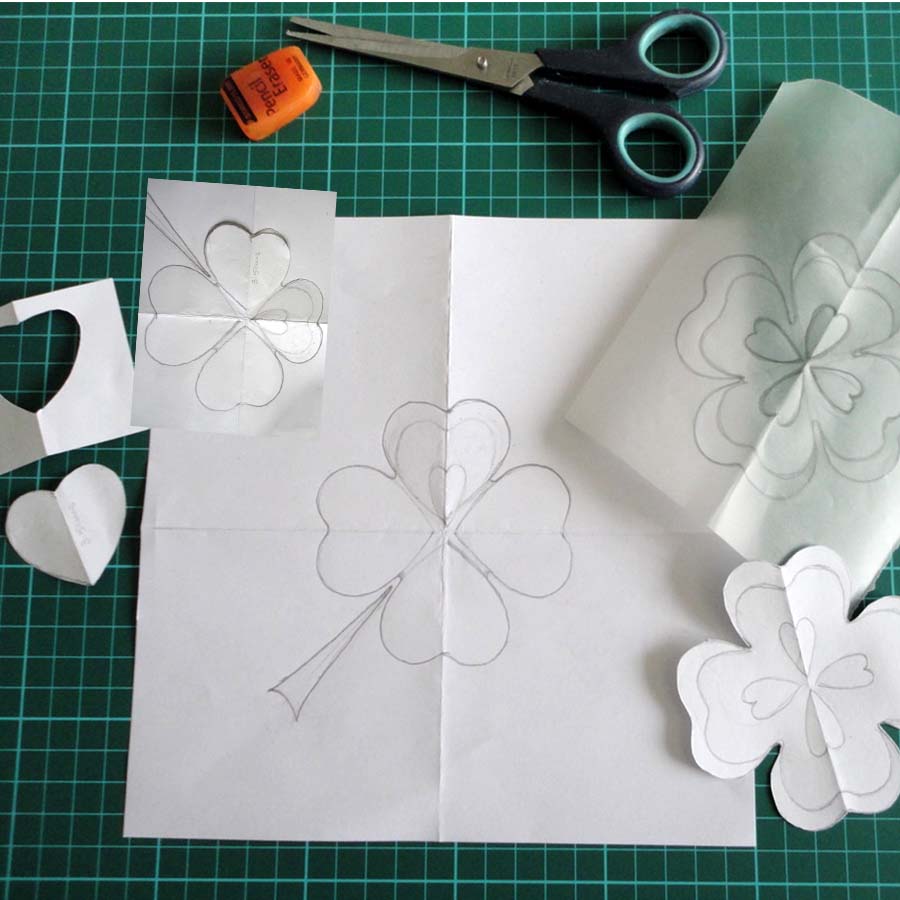 Firstly, we need to make the shape of the four-leaf clover.
Using a small piece of white paper/tracing paper fold in half, mark 3.5cms between dots and draw a half heart shape, cut through both layers to get your full heart.
Using the width of the A4 white paper cut out a square, fold into four, then you can centre your heart shape four times going around using the crease lines. Keep each one a small distance from the central point.
The clover leaf shape needs continuous curves to soften the edges. Also, draw a stalk to get the size right, this can be long, short – the option is yours.
There are three layers to bring this clover to life. So, you need to draw another smaller identical shape inside our main outline and create a smaller heart shape for spacing in the middle.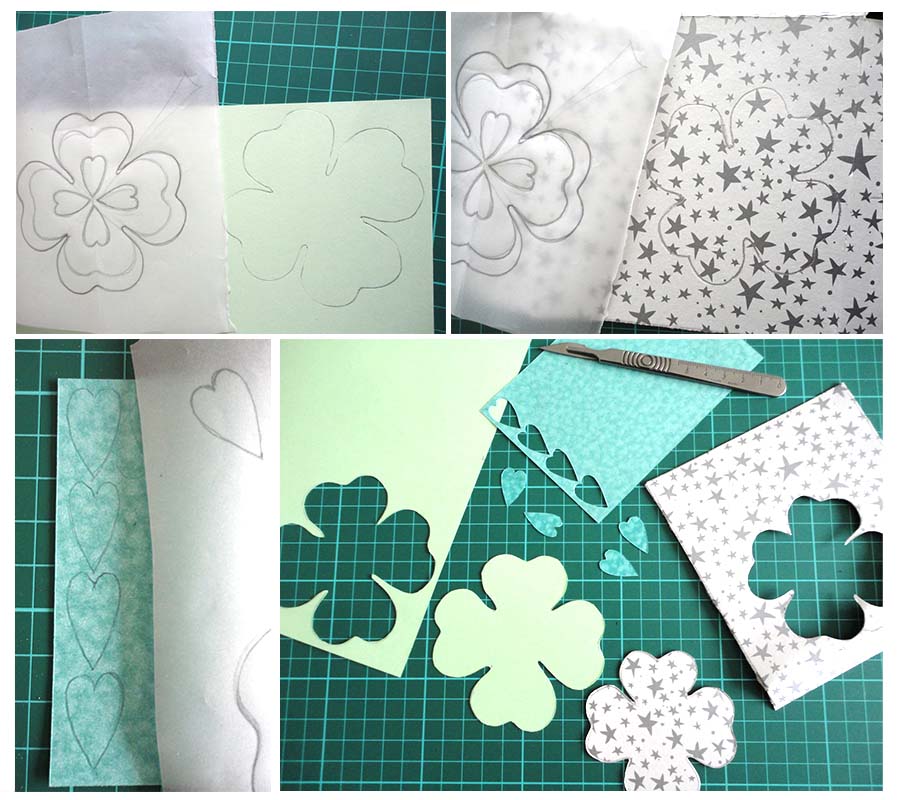 Obviously, if you have tracing paper it is easy to draw and cut all the shapes. Using the white paper drawing, cut out the largest shape first to use as a template on the pale green, then the medium shape will be the patterned starry card; draw this in silver ink so it has a border when cut out. Finally, cut small four hearts from the green textured paper.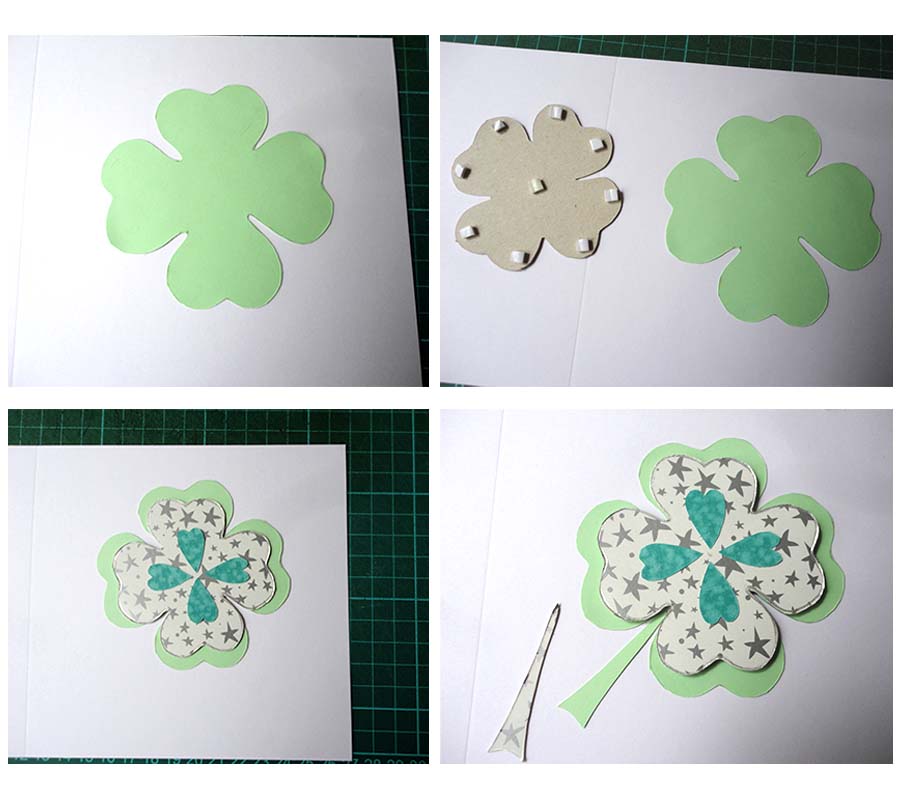 The large pale green layer is stuck flat on the front of the white blank card. It does not have to be central but leave 2.5–3 cms at the top for text and room to accommodate the stalk on the left, so check this first. Allow it to dry and putting a weight on it will ensure that it dries flat.
The second patterned layer has the foam pads stuck to the back and is then mounted, echoing the outside shape as best you can. The small hearts are then positioned and glued flat on that surface leaving room for a central gem/button/ glitter shape or whatever you have.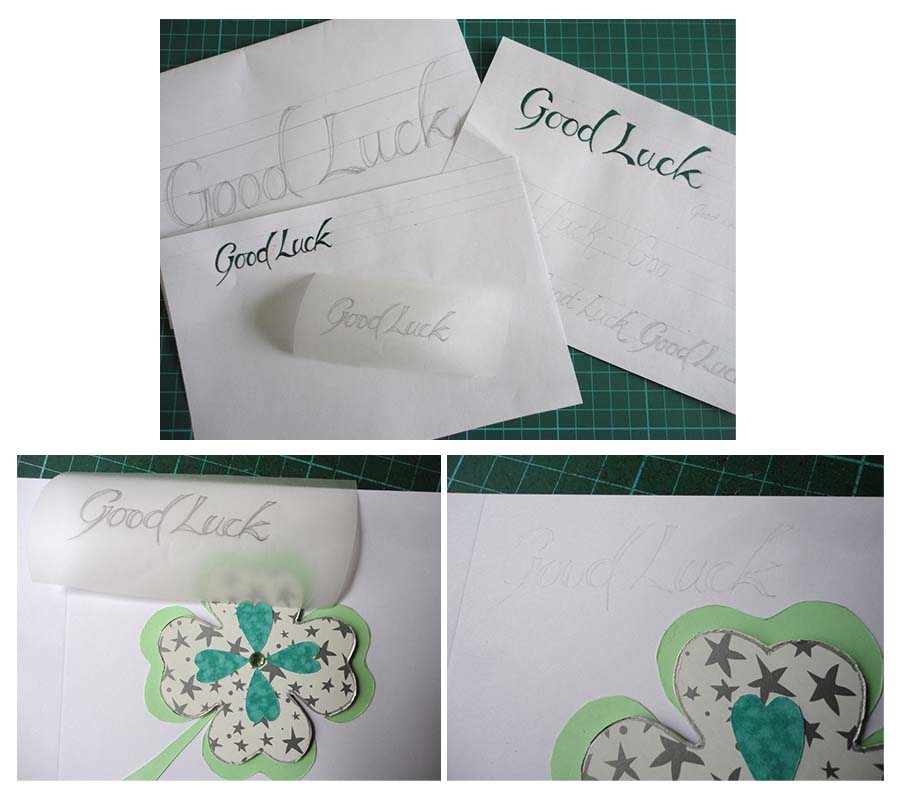 I always feel hand-written text is the most difficult to get and look right. I decided to have had a go at inventing my own – a large example first then refining it smaller. The rule really is to have three equally spaced horizontal lines, so you get the uppercase and lowercase correct. I chose silver text with a couple of clear gems as highlights.
If you're still having trouble with text, take a look at Faux Calligraphy tutorials, or if you have time you could invent your own font/alphabet! Or, much easier solutions are to use a ruler stencil or even buy ready stick-on text if you are unable to print this out successfully.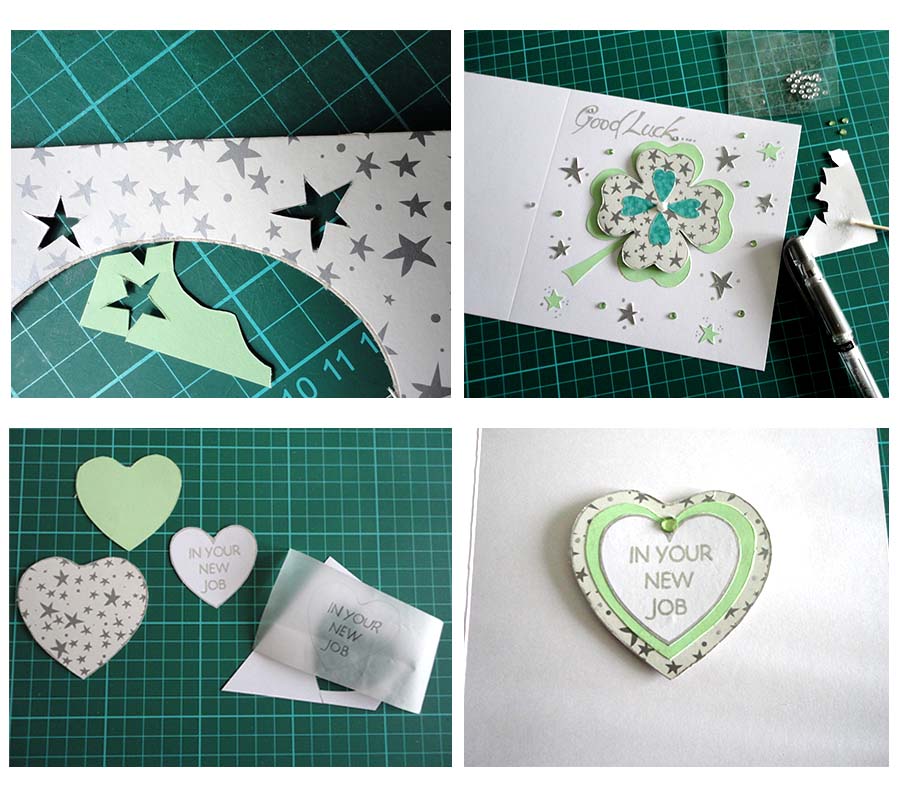 Once your clover leaf is complete, it is up to you if you want anymore decoration. I cut out some of the silver stars and some pale green ones to space around with pale green glass gems and a few silver dots here and there.
I really like to have a message inside handmade cards if possible; it's just another surprise when it's opened. You can use this for personalisation or a specific subject; in this case I have chosen 'In Your New Job'.
For the inside of the card, you need three heart shapes – heights are 7cms, 5.5 cms & 4 cms. I intentionally reversed the order of the pattern to coordinate; it just makes it that bit more interesting. The text was kept simple in silver, a glass gem added, all fixed in place with foam pads so that it stands out.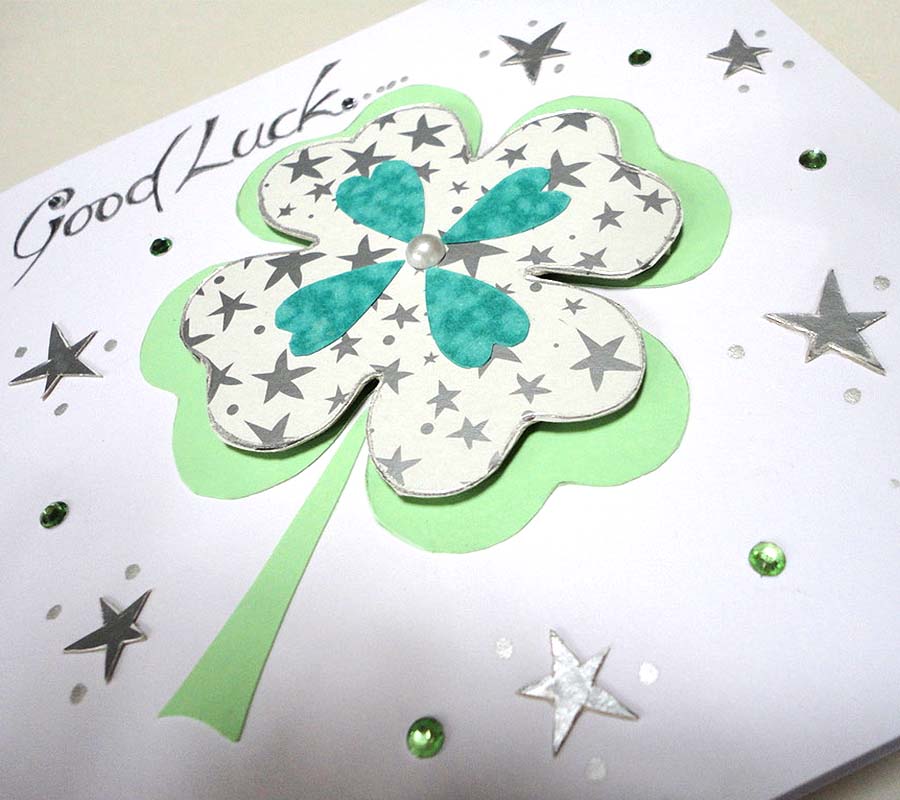 I hope this has inspired you to maybe make this card for a friend or family member in the future – who may just need that boost of 'GOOD LUCK' from someone who cares!
To see Decorque Cards full range of Handmade Good Luck cards click here