Why do we give engagement cards?
When your beloved family or friends announce an engagement, it is always nice to send them a little card to celebrate the moment. Some people have engagement parties to celebrate the news – and everyone loves a party!
Choosing a handmade, personalised engagement card is not only a better way to share the excitement, it can make for a lasting memory. As with some of the cards below, the art in the imagery mean that the happy couple can frame them to keep forever.
Handmade cards are usually created by small businesses, using recycled and recyclable materials – so not only are they a lovely thought for the recipient, they are also sustainable options that support the environment and small businesses.
What to write in an engagement card?
The most important thing about your message should be that it is full of warmth, love and excitement. You know your recipient best; if they would appreciate a funny message, or if they need some support. We have put together some ideas to guide you below.
Congratulations on your engagement! Wishing you both all the very best.
You're engaged? It took you long enough!
Congratulations on your happy news. I can't wait to cry at your wedding!
We are so pleased to hear your news and if there is anything we can do to help, let us know.
Congratulations! We wish you the happiest of futures together!
What wonderful news! You deserve the very best of happiness.
He finally put a ring on it! Congratulations!
On hearing your happy news, I couldn't be more pleased and proud.
You make such a wonderful couple who I know will be happy together.
We knew you would pop the question – and we cannot wait to celebrate with you on your wedding day!
Handmade engagement card ideas
For her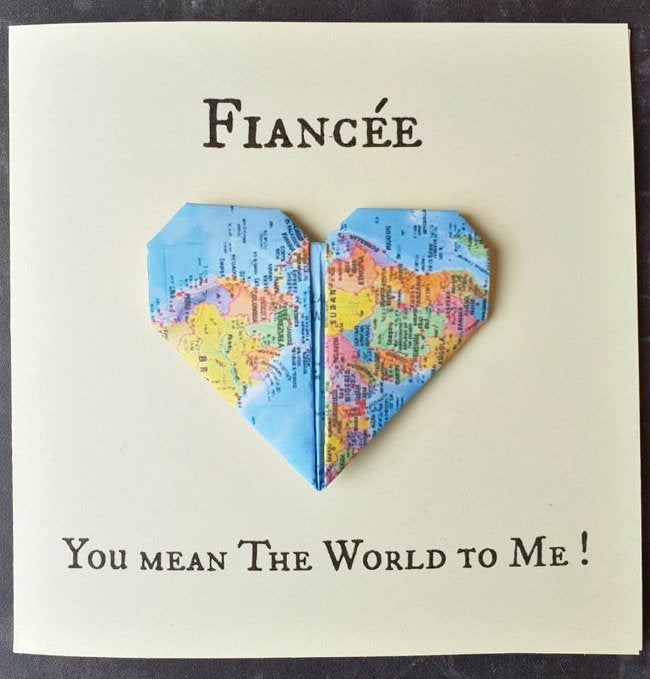 The perfect card to express your love for your new fiancée, this card features an origami heart made from a world map. Handmade in the UK, this card is available from Etsy.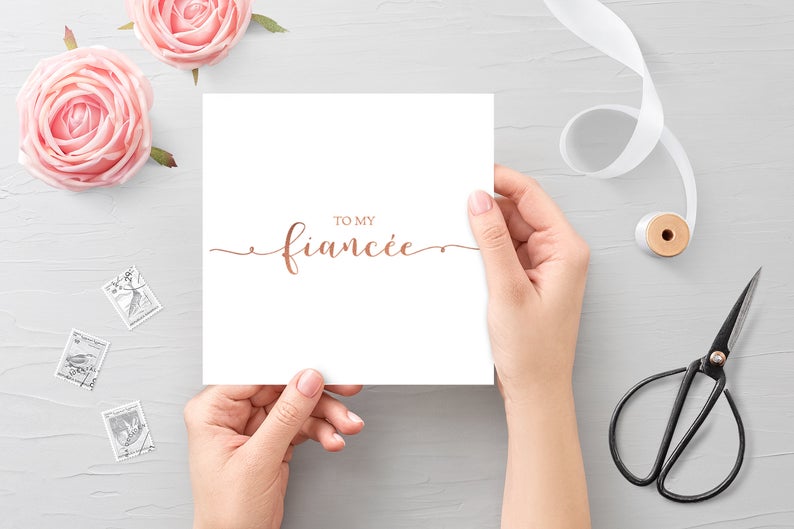 Real foil printed cards, lovingly handmade from beautiful card stock. The foiling is available in a range of colours and the card comes blank inside for your own message. Available from Etsy.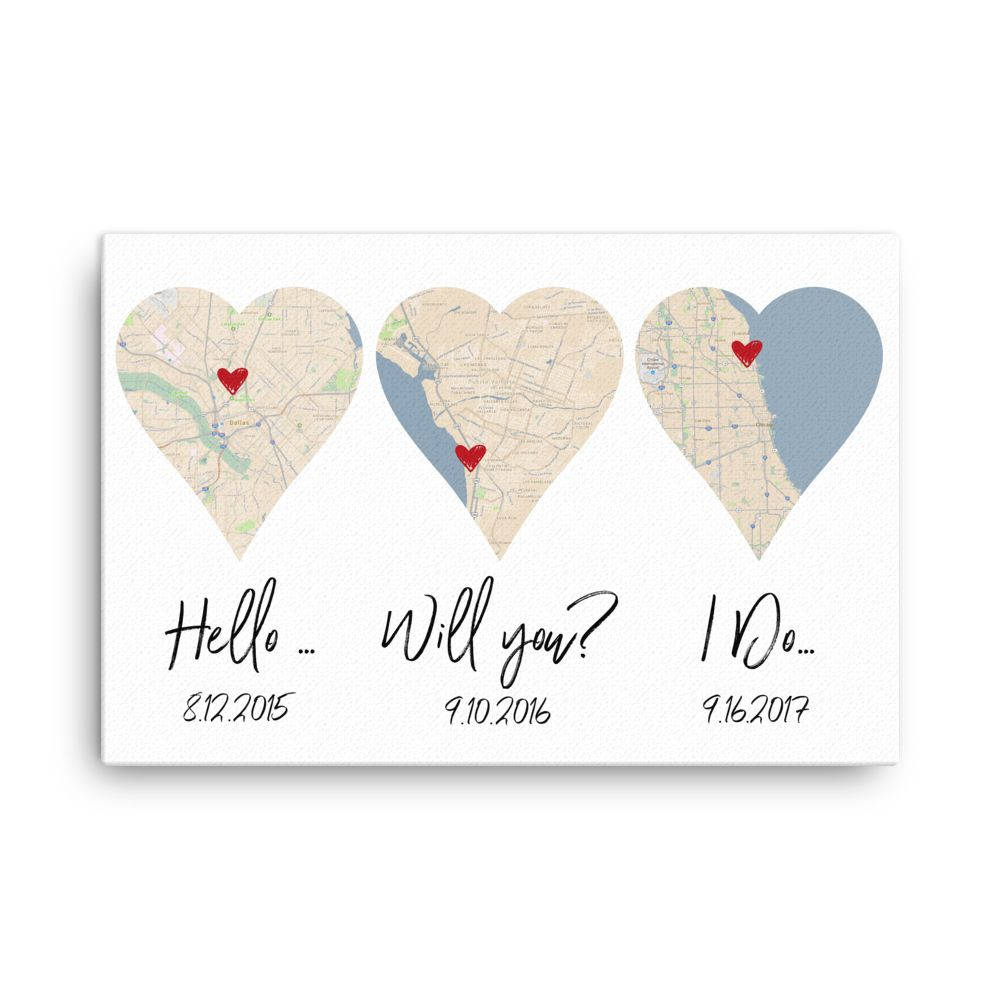 If you are a jet-setting couple that celebrated your milestones in different places, this card is perfect for you. Available from Etsy, you can make this truly personal with dates and locations for when you met, where you proposed and where you are going to have your wedding.
This exquisite, detailed handmade card from Decorque cards features an ornate silver ring. Adorned with glass gems and intricate flowers, this handmade card can be personalised with the couple's first names. This extra special, personal touch won't be forgotten and will stand pride of place!
For him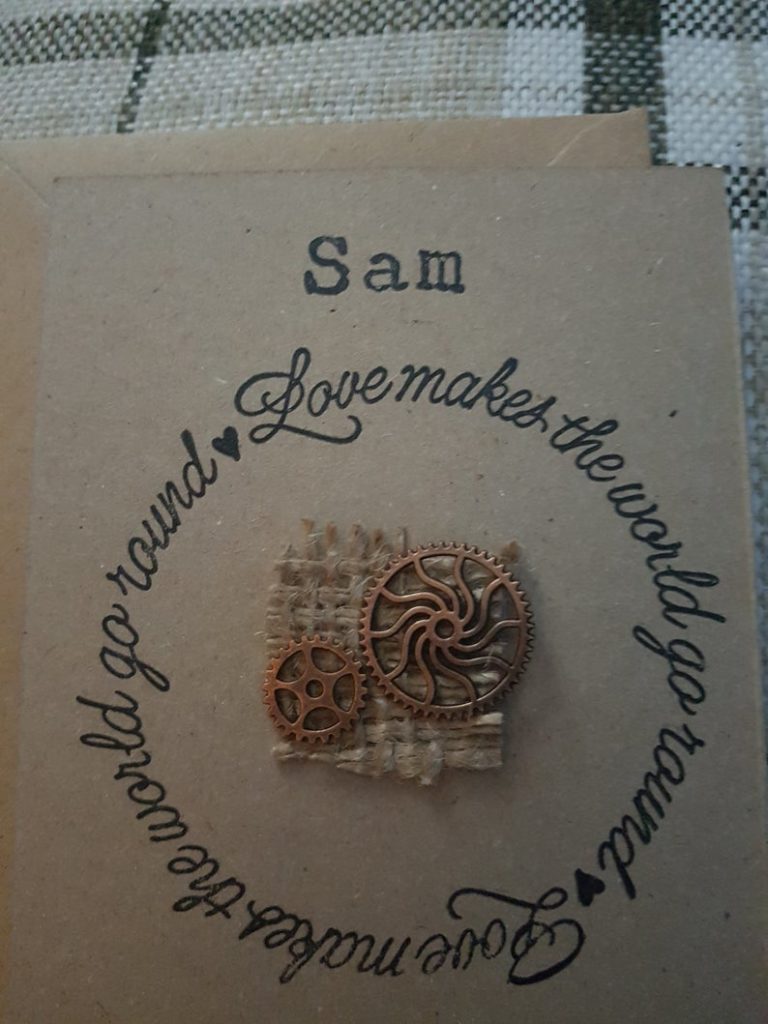 A rustic card that includes some copper cogs – and is the perfect card for your fiancé. Available from Etsy, it is handmade in the UK and will be delivered quickly.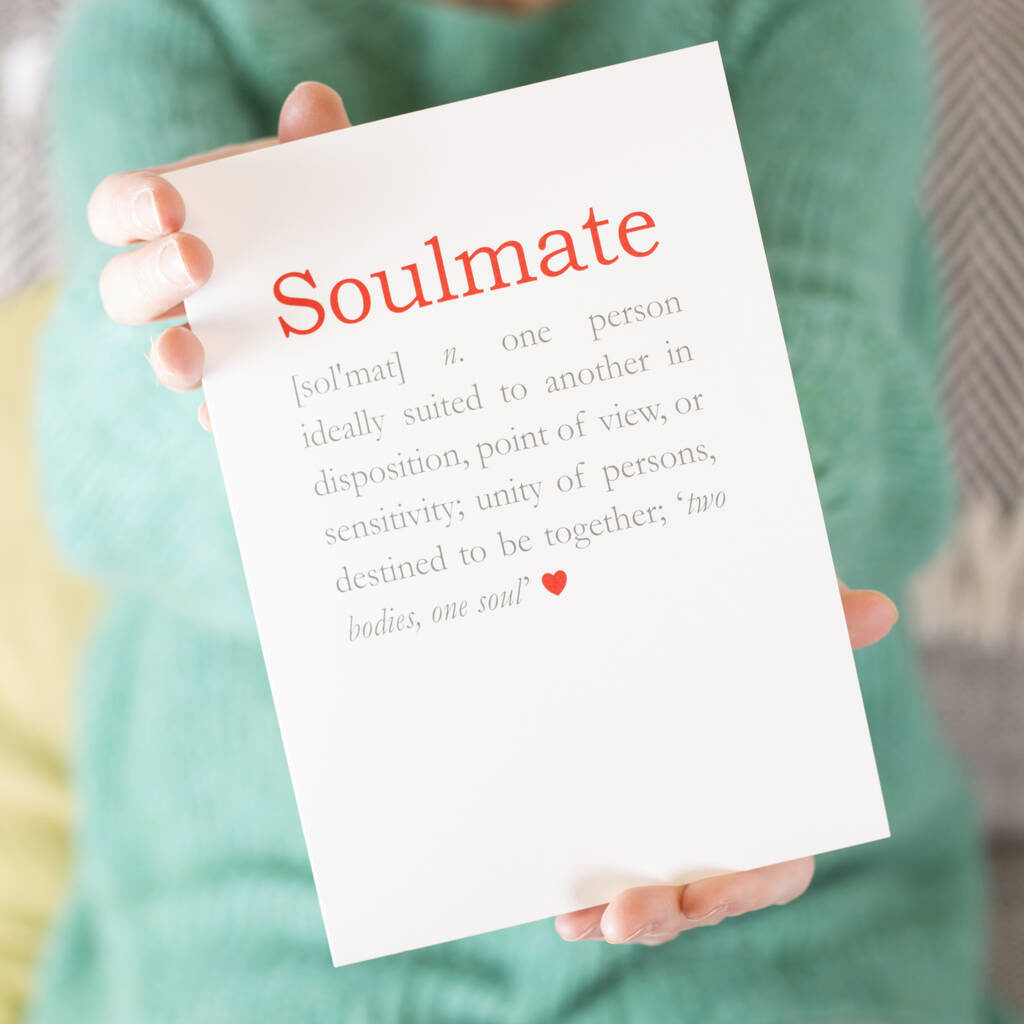 This 'Soulmate' card is a simple and beautiful card for your betrothed and is available from Not on the High Street.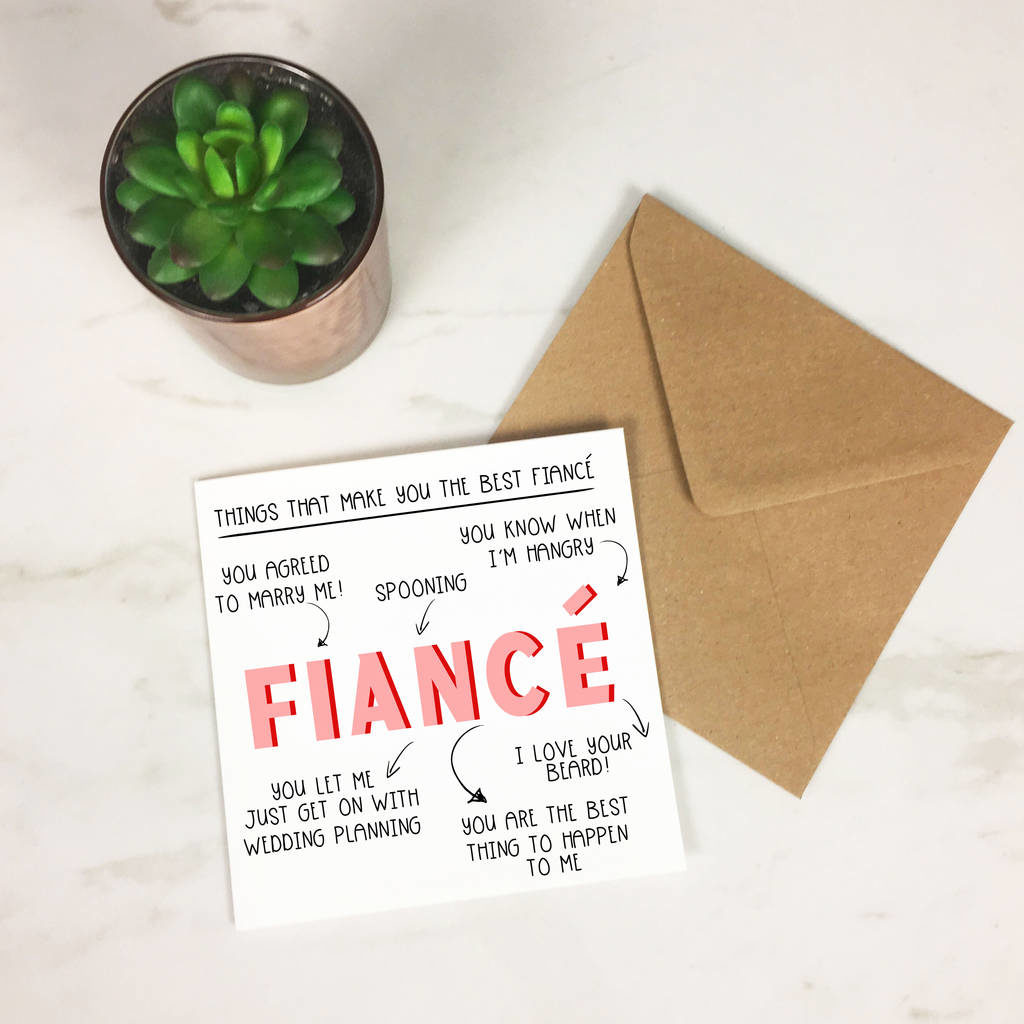 If you are looking for a witty card to celebrate your engagement, then this card from Not on the High Street is a perfect option.
For Mum
Everyone loves a succulent, and this cactus card features several, framing a message "just to say"… with the inside left blank for your wishes to the newly engaged. Our lovely Lesley has hand-painted these cacti in order to bring them out through colour against a black background.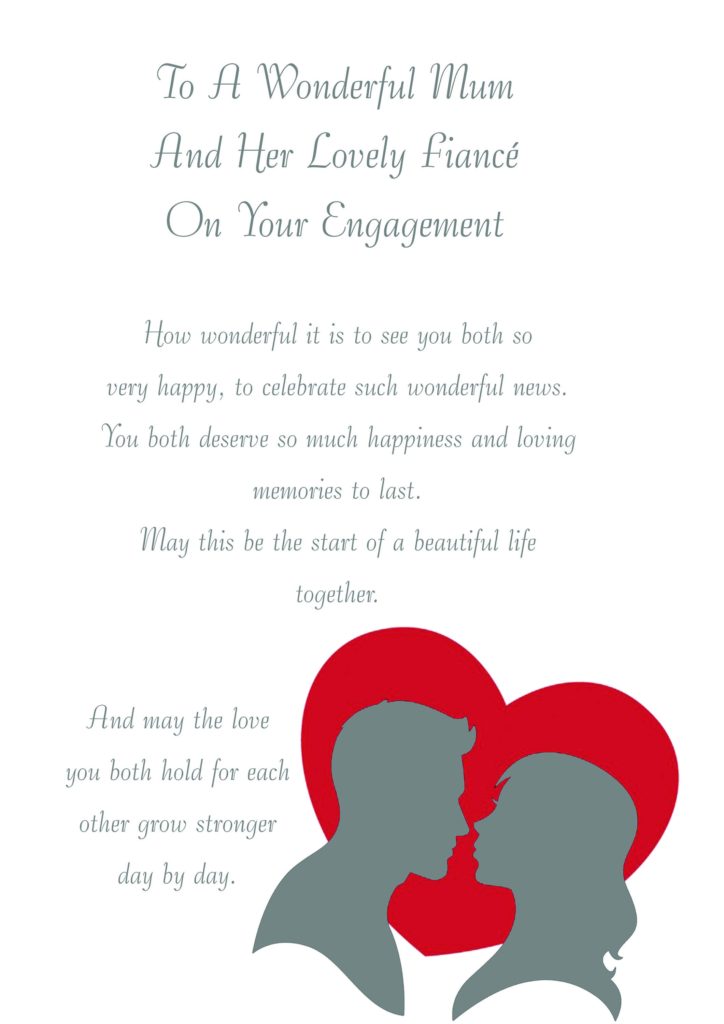 This lovely message is perfect for your mum and her fiancé and is a lovely way to share how you feel about her future wedded happiness. Available from ZeeBee's Cards on Etsy.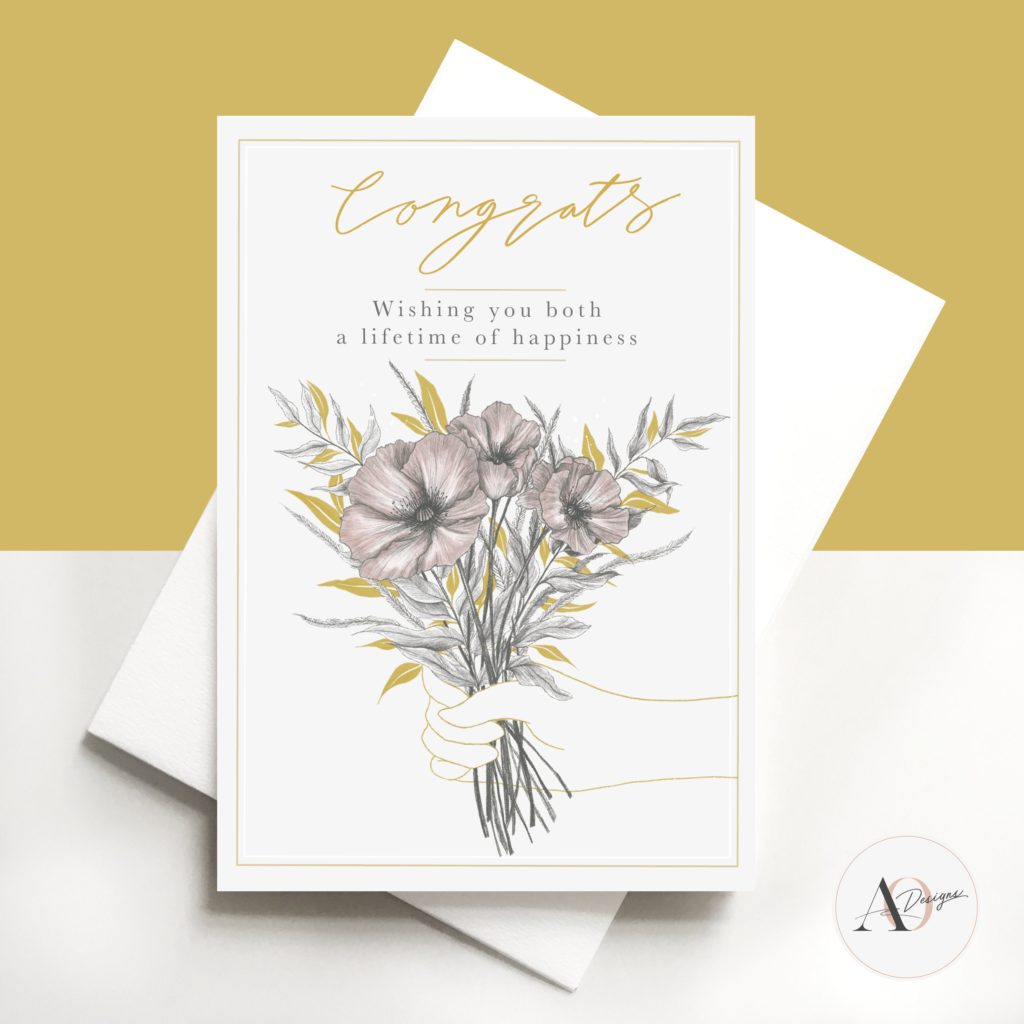 This handmade engagement card is full of beautiful, motivational words and imagery. Available from Etsy.
For brother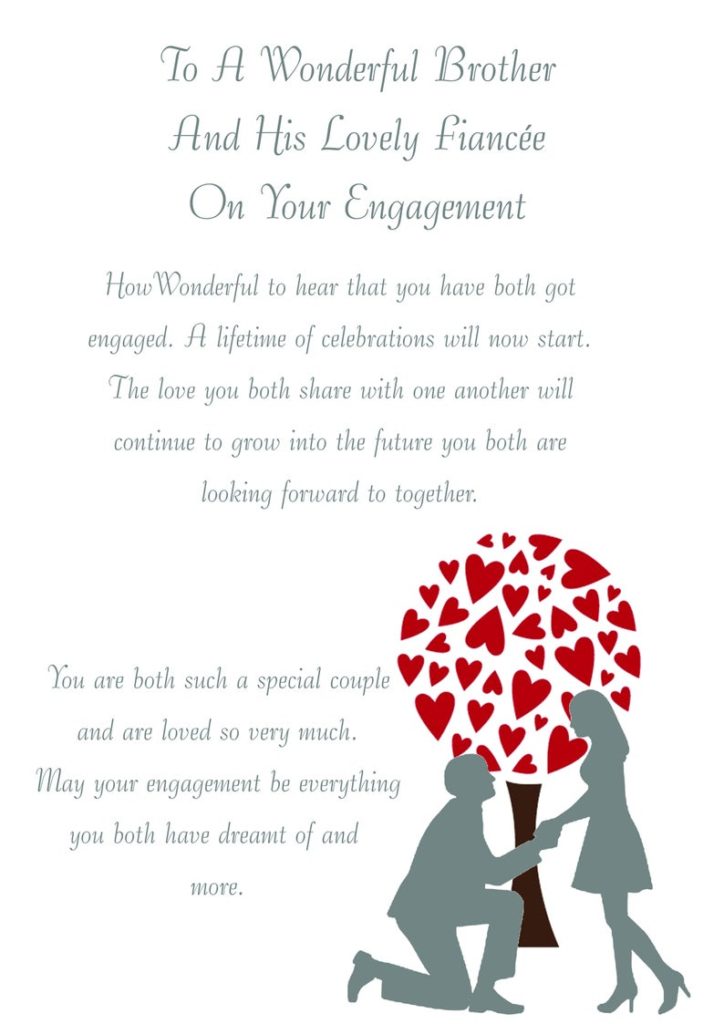 A heartfelt message from Etsy to share with your brother and his fiancée. It can be personalised to your specification and printed on 300gsm card.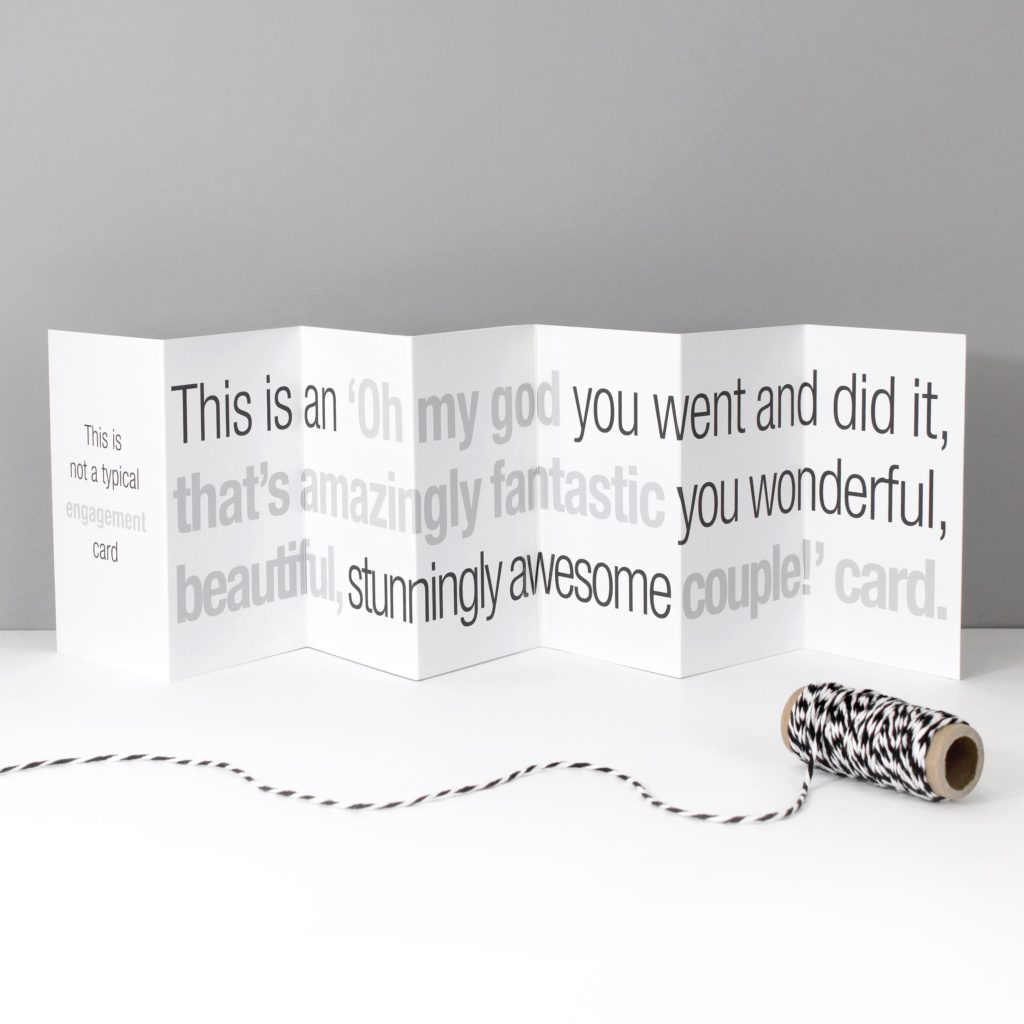 A lovely card from Etsy, this can be personalised with a message on the back and it is so much more than 'just an engagement card.
For sister
This lovely flamingo card made by Lesley is the perfect way to wish the newly engaged couple well. Hand drawn and cut from a feathered ground and surrounded by luxurious flowers and greenery, the flamingos really stand out due to the black background.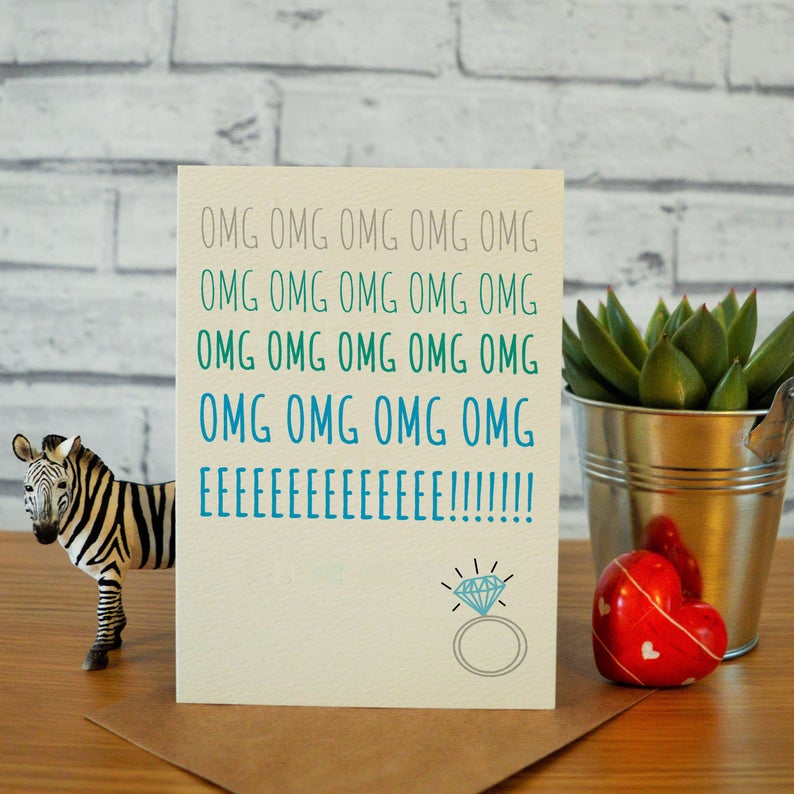 Share your excitement for your sister's news with this fun handmade card from Etsy. It can be personalised inside with your own printed message or receive it blank to add your own touch.
For friend
This cute kissing hedgehog design is perfect for your friend to celebrate their fabulous news. Available from Etsy, this handmade engagement card is printed using vegetable-based ink on paper that is FSC-certified.
Celebrate your friendship in this completely customisable card. You can choose the hair styles and names, and with the addition of sparkly diamantes on textured card, this is a gorgeous gift for your friend available from Etsy.
This colourful butterfly card is a great celebration of love available from Not on the High Street. The card comes blank inside, and the seller can handwrite your message before sending it directly to the recipient.
For daughter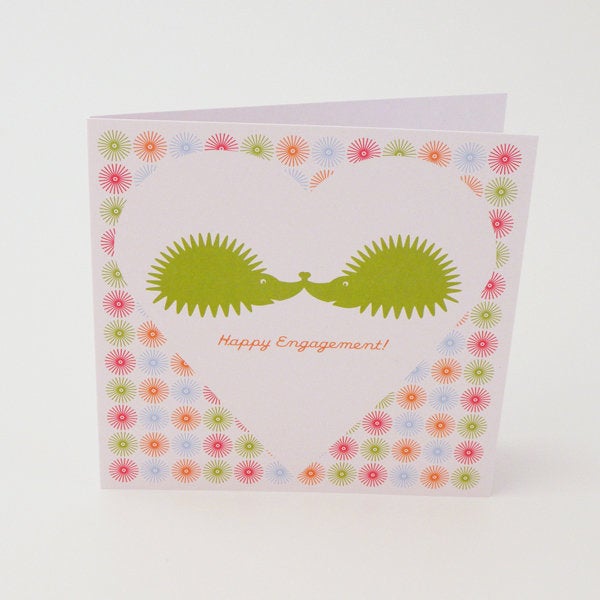 This highly personalised, classy and elegant handmade card is an excellent way to wish your daughter congratulations on her engagement. With names and dates able to be changed, this is a lovely handmade option for her from Etsy.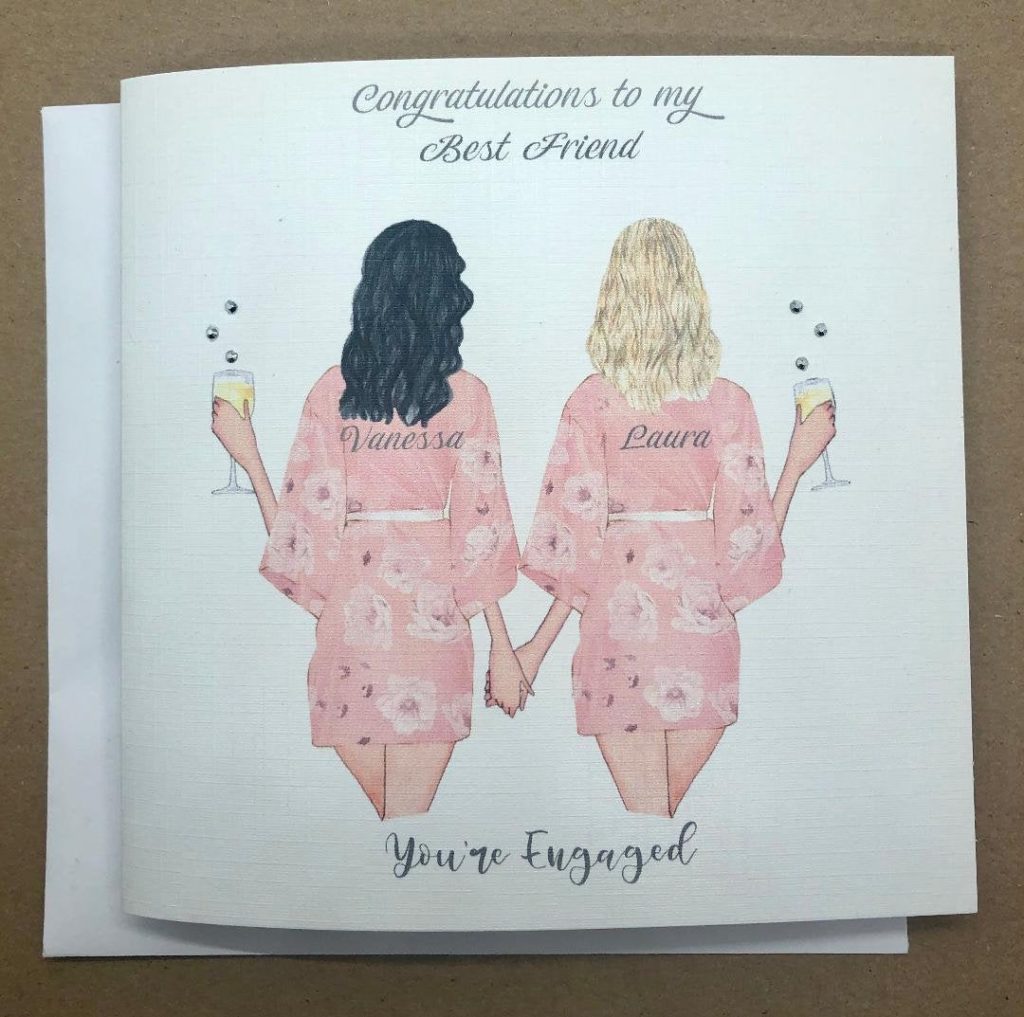 This lovely handmade engagement card from Etsy is so personal and elegant, it is the perfect card to congratulate your daughter and her fiancé. Hand decorated with sparkly gems and glitter on a shimmering dotty board and able to feature the names and date of the engagement. The card is left blank inside for your own personal message.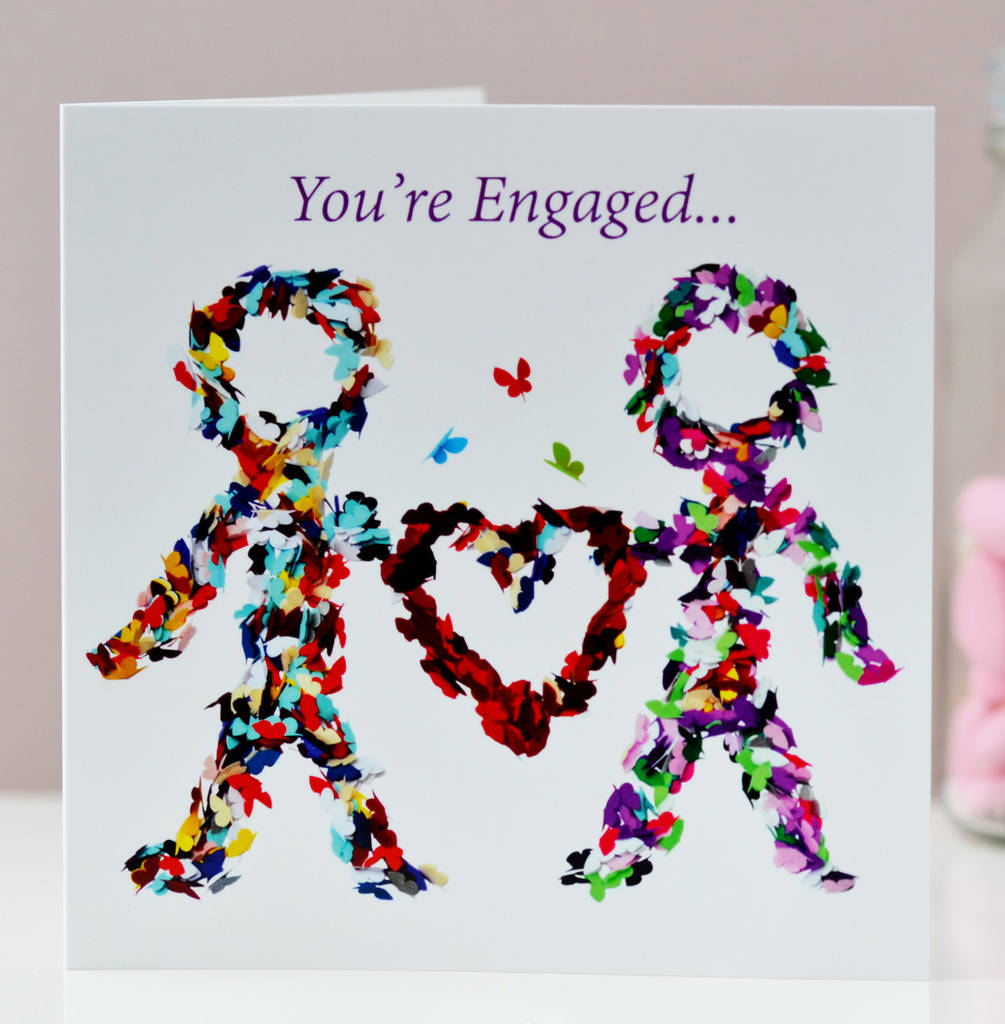 This hand painted engagement card from Etsy is suitable for your daughter and her fiancé, but you can also get this for your son and his fiancée – or another couple of your choice. Made with quality watercolour paper, organza ribbon and a touch of glitter.
Funny engagement cards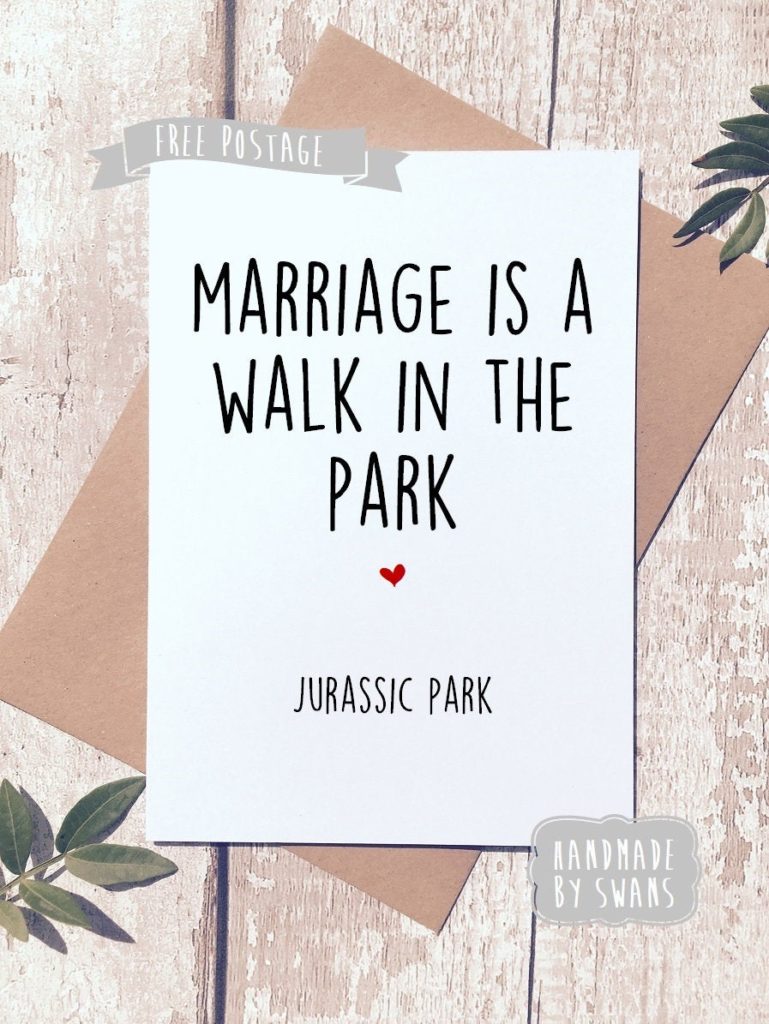 This funny card from Etsy is a brilliant bit of advice for the happy couple! This card can be shipped direct to the recipient, if you want to print a message inside.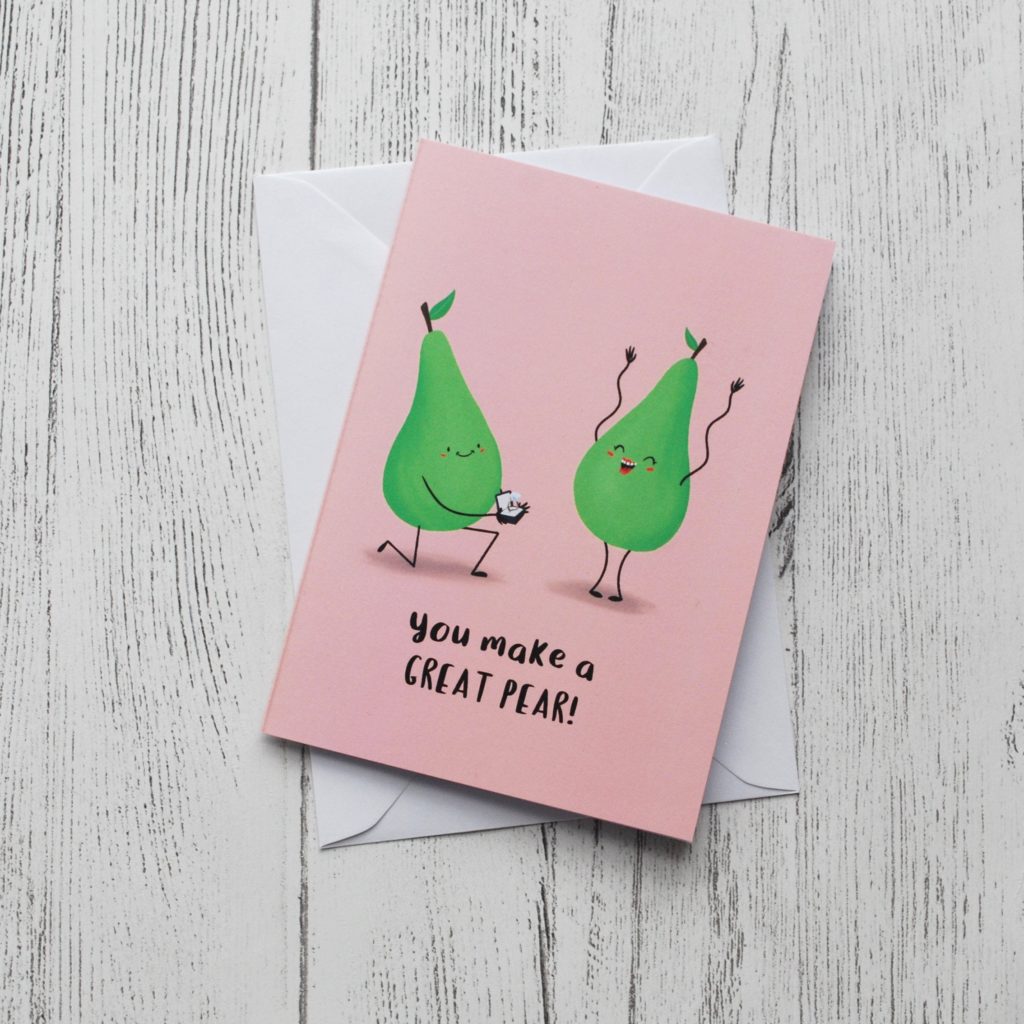 A cute card featuring a clever pun, this is from Etsy. It is blank inside and made from 100% recyclable materials – no cello, so it is great for the environment too.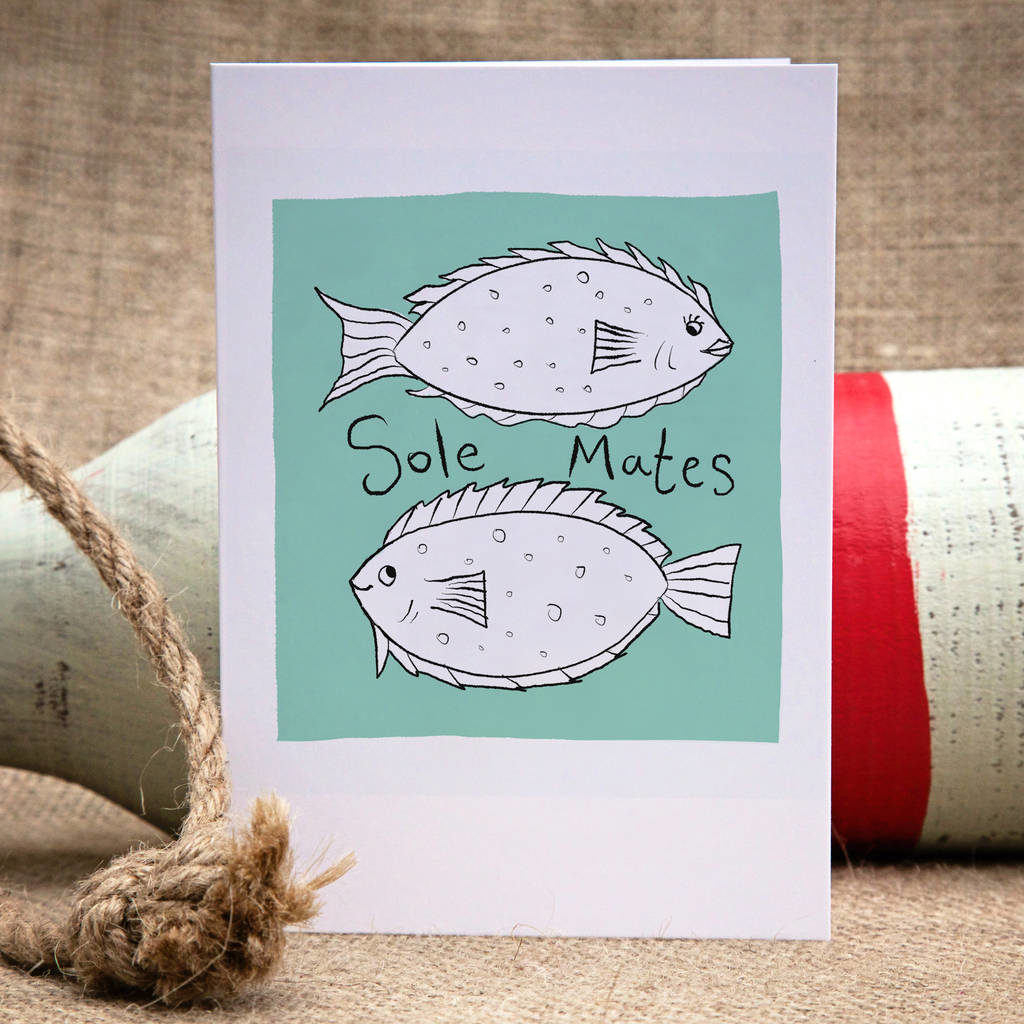 Everybody loves a pun, and this card from Not on the High Street features an amusing one! You can send this card direct to the recipients by customising the inside message, or get it sent to you blank so you can add your own words.
If you are looking for the perfect handmade cards for any occasion, then check out decorquecards.com where you will find all of Lesley's individual designs. To learn more about Lesley's process and how she creates her unique designs you can read all about it here.
Don't forget, Lesley is always happy to create a bespoke card for any occasion – just contact her with your ideas and she will make something fabulous and individually inspired, just for you.