Like many people, I still use a calendar.  In fact, I have three around the house, one in the kitchen utility (a long slim one to write on), a beautiful Countryfile calendar hung by my drawing desk in the studio and a Decorque desk calendar on my computer desk so I can immediately check or pick out a date with a quick flick of the page. It may seem a bit extravagant, but all are useful, practical and with changing images every month you don't get time to tire of looking at some great photographs or artwork around the place.
A glimpse at last year's 2023 Calendar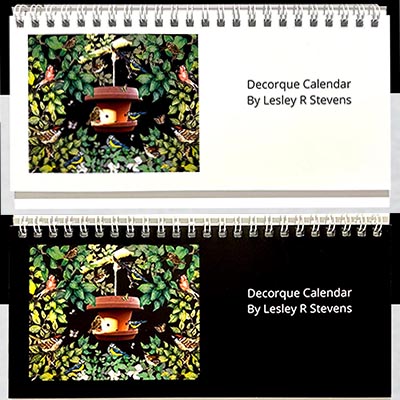 The images were picked from my range of greetings cards choosing designs, colours and subjects suited to the seasons and months. There were two options printed on a white or black background, which enabled me to select white this year as being the most popular.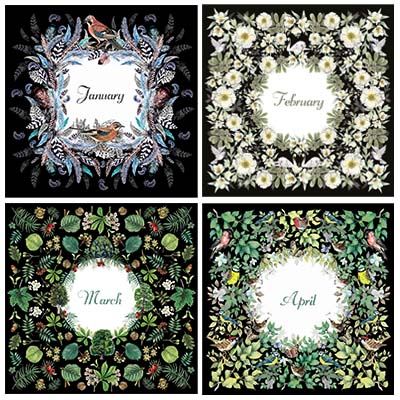 Some have been reset on black backgrounds to stand out on a white calendar.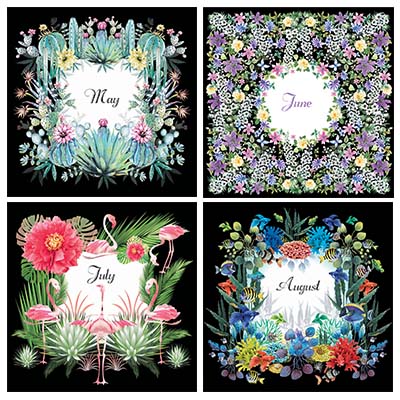 Others have had extra design elements added to create a fuller picture.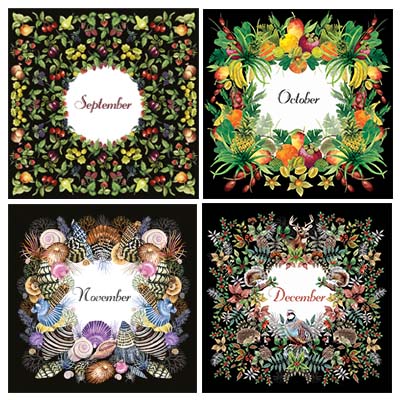 December has been totally redesigned with Winter foliage and popular wildlife from my Christmas Cards.
The New Calendar 2024
This year I have used some of my favourite wildlife from existing cards, in some cases with redesigned backgrounds so they perfectly illustrate the chosen month and season. The designs are all set in an ombre coloured circular background, framed in a black square for greater visual impact.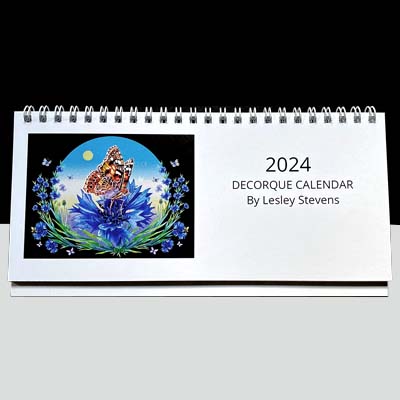 January features the beautiful mysterious owl in a wintry setting. This hand-painted Barn Owl is already featured on two existing cards, 'A Christmas Owl Garland' and 'Owls at Twilight' both of which are very popular cards, as we just love owls!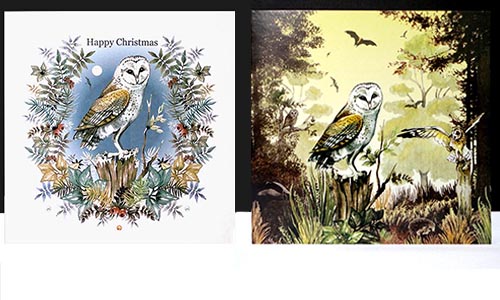 Taking elements from both designs I think I have achieved that cold misty atmosphere of a January day. Bringing wisdom, intelligence, and protection this owl is an impressive start to the New Year.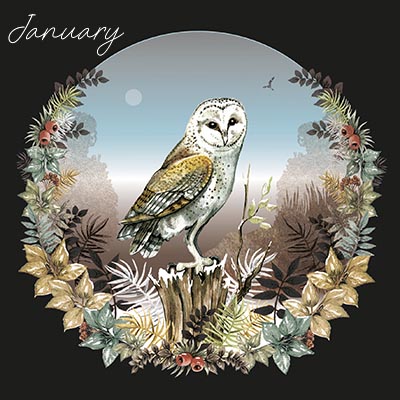 February has a hungry squirrel venturing out in the snow to find some food on a cold February morning. The design is taken from a very festive 'Christmas Squirrel Garland'.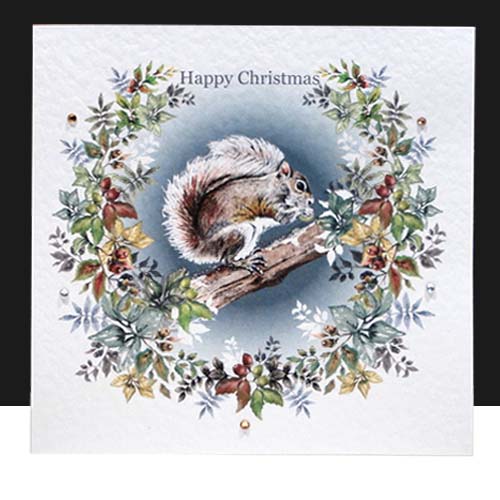 Changing the festive tones and colours of some of the foliage and the background brings this winter woodland scene a few months later into a the start of a new year and a cold February morning.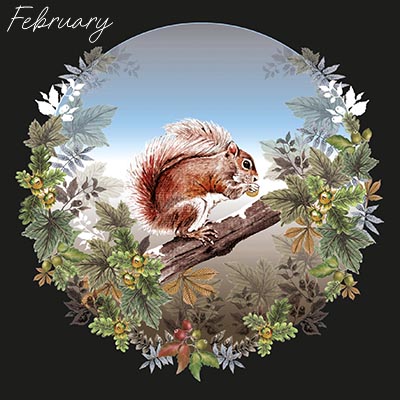 March. I loved painting this badger, we often get them in the garden at night and I feel privileged that they visit us. Again, this new design is inspired by another card 'A Christmas Badger Garland'.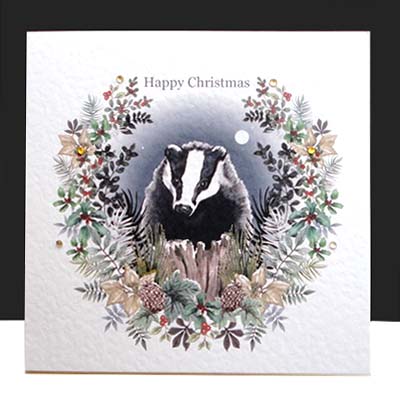 Of course, March is the beginning of Spring when the first snowdrops peep through the snow and the woods turns blue with a carpet of bluebells. Therefore, this design reflects this burst of green life that heralds Spring. Bluebells curve around the circle with buds opening on branches above and snowdrops cluster around the tree stump where a badger appears, a rare sighting in daylight.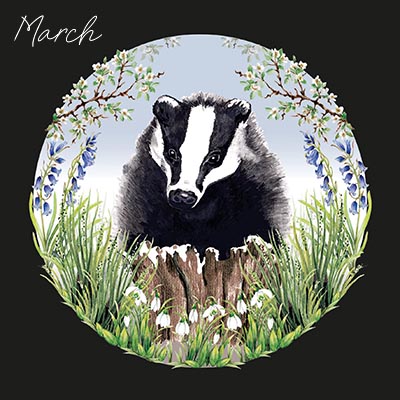 April. Monday, the first day of this month in 2024 follows Easter Sunday on 31st March. So, it's no surprise I have taken a design from one of my Easter Cards reflecting this time of year. These bunnies are also popular on a Christmas card with a suitable wintry scene.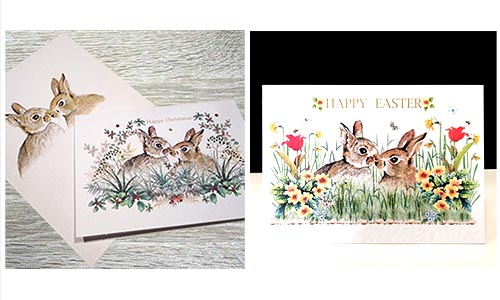 The sky is blue in this adapted circular wildlife scene. Having two cute bunnies out in a meadow of wildflowers and tulips makes a perfect Spring day for April!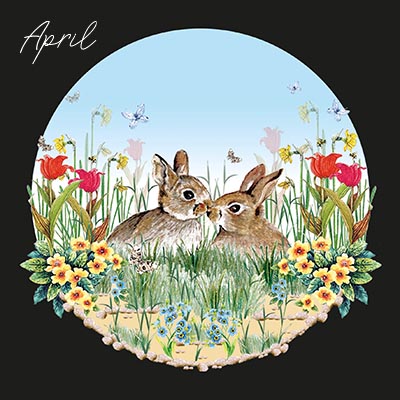 May. Blossom is bursting into life on the trees and the garden birds are perched on the branches looking for insects. The hand-painted garden birds appear on the 'Garden Birdwatch Card' inspired by the survey I do every year and the 'Lantern at Daybreak' card and art print.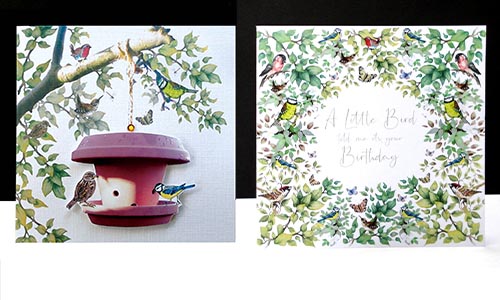 The sky is definitely getting bluer, the leaves are getting greener, and the gorgeous hand-painted blossom makes a pretty decorative circle for a warm May day!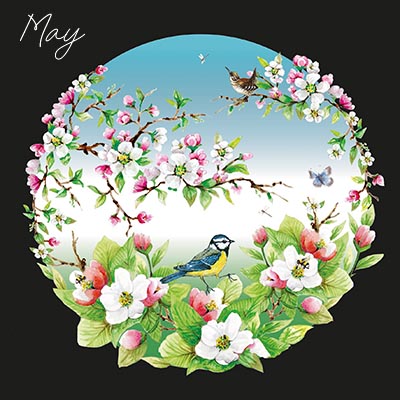 June captures this handsome startled fox. I love the fox in the snowy scene on my Christmas Garland and I am pleased to find a new setting for him to shine.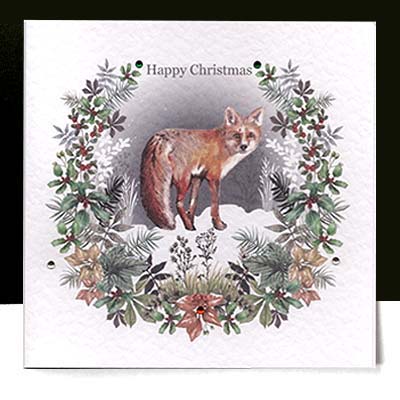 When you meet a fox, he is always as surprised as you are, and here, he is wandering through a field of poppies. A delightful circular view of nature as if captured through the lens of a camera!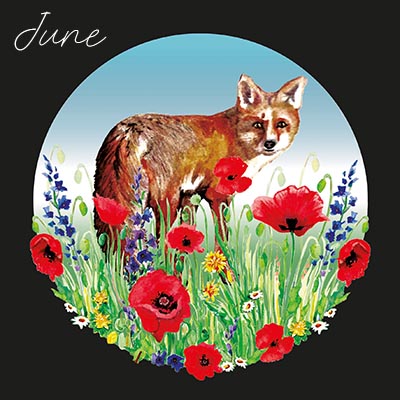 July shows a new design, as it not only depicts the month of July but is also featured on the front page of the calendar. Many of the butterflies presented in my work are created through my imagination, but here this features a real Painted Lady Butterfly, with all the intricate detail painted in.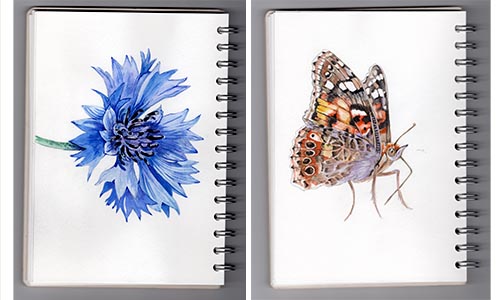 A circle of Summer portrays a hot July day, the sky is blue, and the sun is out. A spectacular butterfly has landed on a large stunning blue cornflower. Leaves and smaller flowers bend around to make a curved arc for the delightful month of July.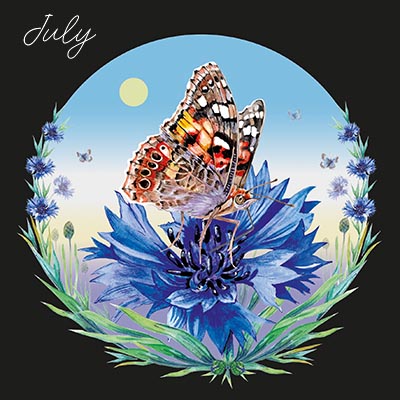 August focuses on the fabulous elusive Kingfisher. Such a stunning watery scene is a favourite with everyone, whether on a card, art print or mouse mat. It now rightly makes an appearance for August in the new calendar for 2024.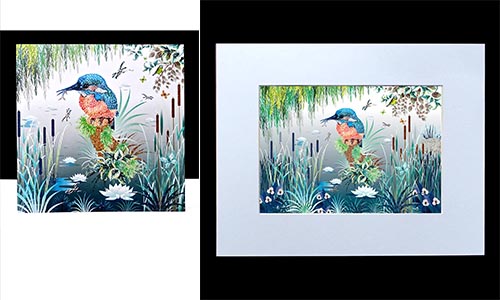 Simplifying this scene to fit into the round aperture, I have brought the Kingfisher to the foregraound on a branch. The leaves, moss and branches frame this softer and greener view of nature, which comes to life on a subtle blue, yellow and turquoise ombre backdrop!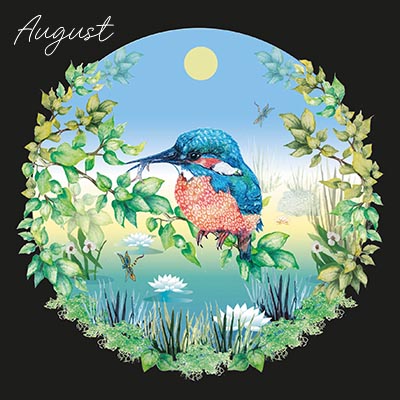 September donkeys – they should never be alone and these two are lifelong friends. Being featured in the Nativity scene they make a perfect choice for a Christmas Garland.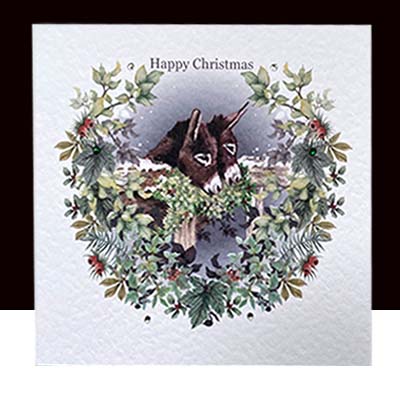 Taking away the wintry Christmas image , and replacing it with autumn fruits, brambles and briars brings it ideally into September. Looking for company the donkeys rest their heads on a fence hoping to catch the attention of passers-by, and bramble-pickers.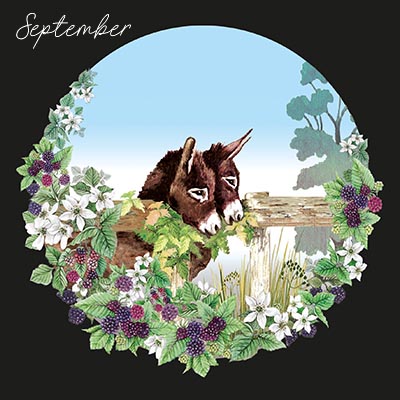 October was a simple choice; it must be the Dabbling Ducks. A misty Autumn morning by the water, a couple waiting on the shingle while others are happy to dabble for food or just swim around until the mist lifts.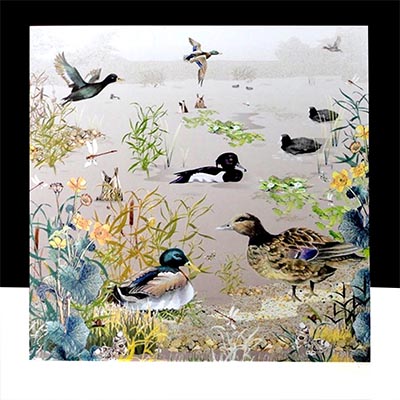 This image has been set in a circle placing leaves plants and stones to frame the bottom half, some overlapping the black background which brings the whole scene to life.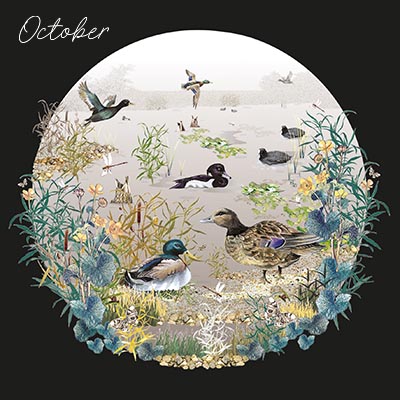 November highlights an animal we all love and want to help survive in our gardens and countryside.  The wonderful hedgehog. I have painted him a few times and he is already featured on a Christmas Card, but for 2024's calendar I have designed a new scene.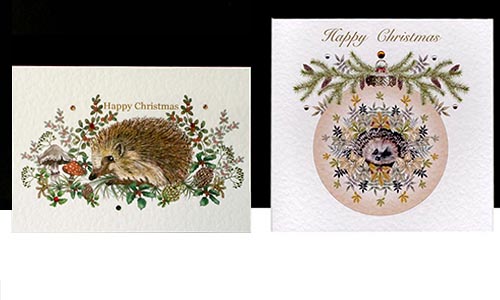 This Hedgehog has found himself an old chimney pot, filling it with leaves for cover which should provide a safe place to hibernate. Everything is hand painted with a pumpkin, nuts, berries, and autumn leaves to ensure he will have a cosy Thanksgiving!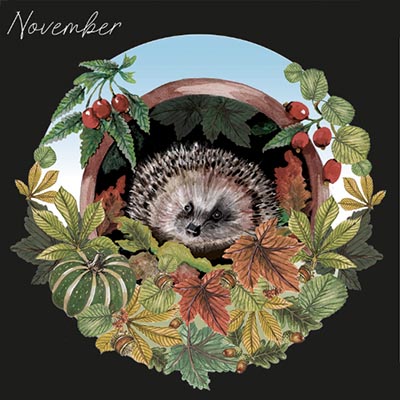 December is the last month of the year and here is the final design to enjoy. It was an easy decision to choose the Christmas Partridge as we all know the song the 'Twelve days of Christmas'. The partridge's colours, like other game birds are stunning and a special treat to paint.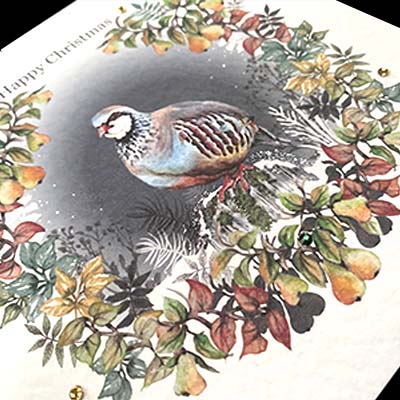 The December Partridge for the Calendar has not changed much, the festive foliage already frames the circle. But with the lighter winter sky in the background, provides a stronger contrast with the black surround to make a stunning end to the year.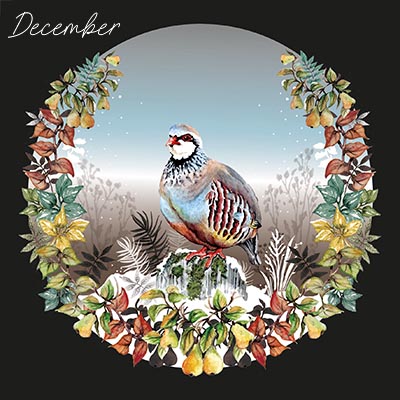 So, here are the twelve beautiful designs for 2024. Some will appear on new cards throughout the year as I feel they will make perfect seasonal Birthday cards and other occasions. Thank you for reading my festive blog and I hope you enjoyed seeing how designs and ideas can be easily added to and adapted to be suitable for different seaons and many occasions.