In my last blog showing 15 unique handmade cards I mentioned my next project was to go forward on a range of handmade and printed cards suitable for the men in our lives. As usual, it's a family Birthday at the weekend that has prompted me start on this new group! My inspiration for which is the 'Antique Office', which I would like to share with you.
The typewriter was once the main piece of equipment in an office and some of the original ones manufactured were really quite beautiful objects. The old fashioned telephones are also on my list of desirable objects, of which many of the iconic shapes are being reproduced today.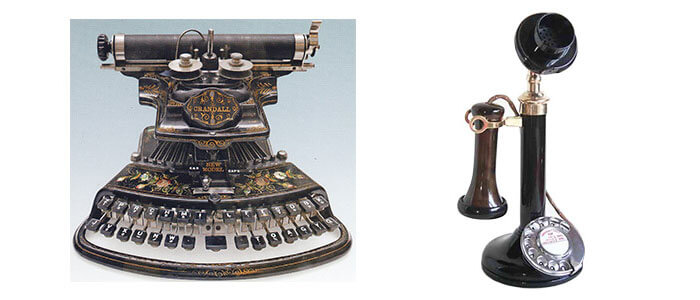 Unfortunately, I have not had time to look in great detail into exactly what is already out there for sale, encompassing all the aspects of office life. But, as my card is based around the typewriter I have found a varied selection of examples, from the simple, stamped card to the very complicated layered handmade card.
My first example The Hello Typewriter Card is a realistic image of a typewriter with buttons attached to the keys and a clear message typed centrally on a piece of paper. Alongside, is the Desk Top Design by Dawn Mcvey, simple shapes stamped out and mounted forms a small office scene.
The next card is A Little Note, typed in a black simple typewriter set on a patterned desk with a script backdrop with a little vase of flowers mounted on top. This wonderful full tag /card created in 2013 by Berdieu Weideveld has that travelled look with a combination of stamps and messages and a great solid antique typewriter. The Write Stuff by Karen W has a great background of colours pattern and textures with a with the message on the typewriter roll.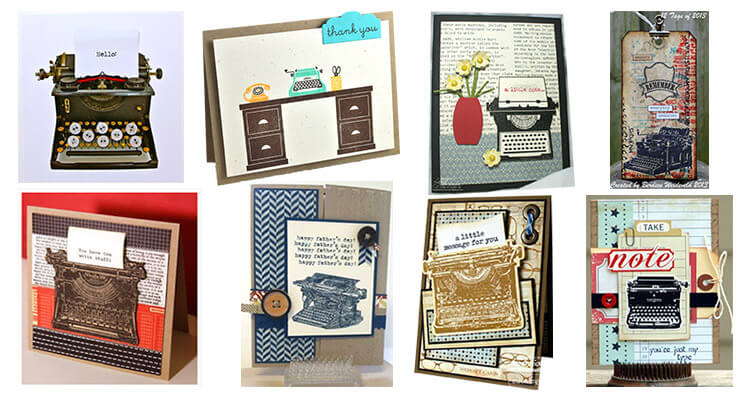 Next there is a Father's Day Card with a stamped typewriter and text on a square of paper held on to the large card with buttons and strips of patterned material.
A Little Message For You card is becoming a bit complicated with numerous layers of paper pinned onto a framed background of a sunglasses in sepia with eyelets and cord.
The final one I chose is The Kraft Journal, created for A Guy Thing Project and I think it is an interesting collection of boards, notes, tag, type and the typewriter image!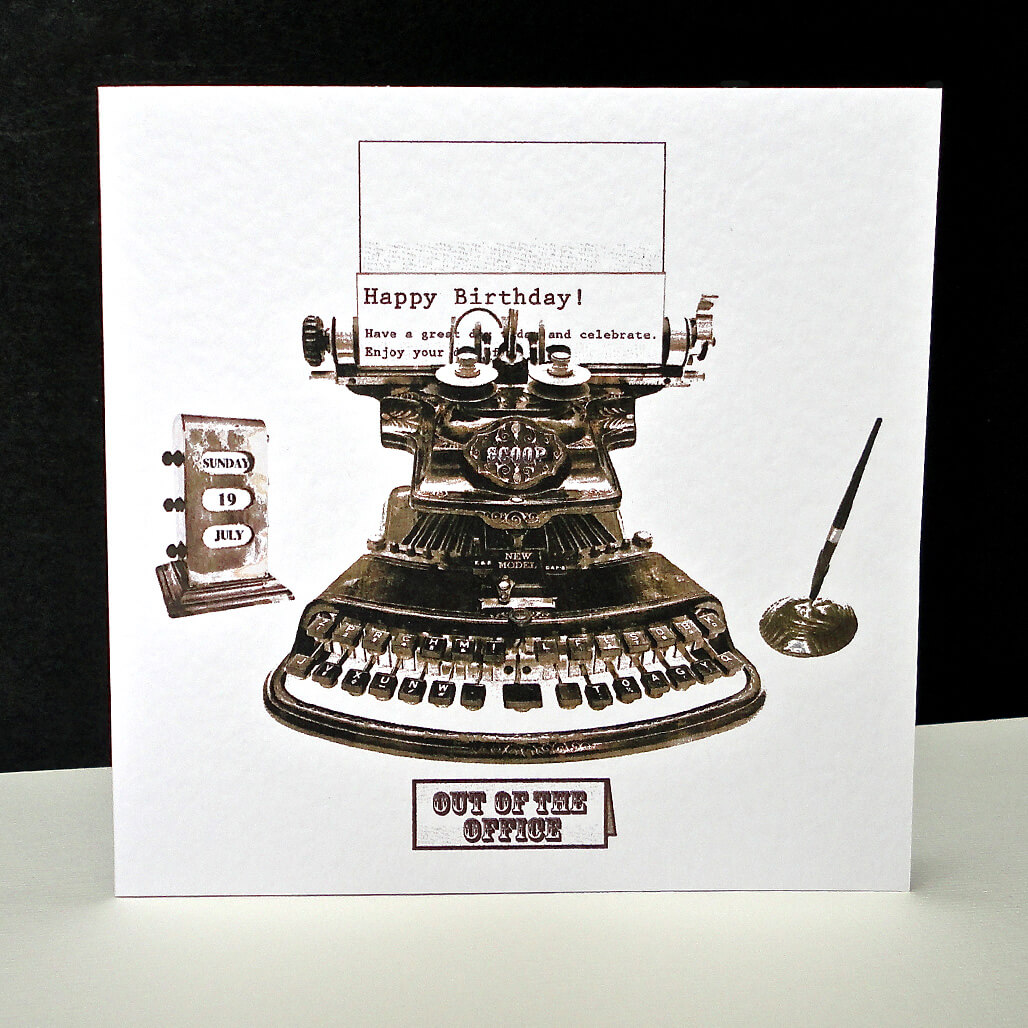 When designing my new Antique Typewriter handmade card, I was determined to keep a clean, simple and strong image. A little like the antique pram card I featured in my Beautiful Handmade New Baby Cards blog. The brown sepia tones generate the look of age, which I have kept throughout the design. The shape and design of this old Crandall typewriter is a beautiful, and was obviously a desired object of its time. The original, as you will see, is decorated with a hand-painted floral of roses, which I have removed as I don't want this to have a feminine touch as am aiming for the male in our lives!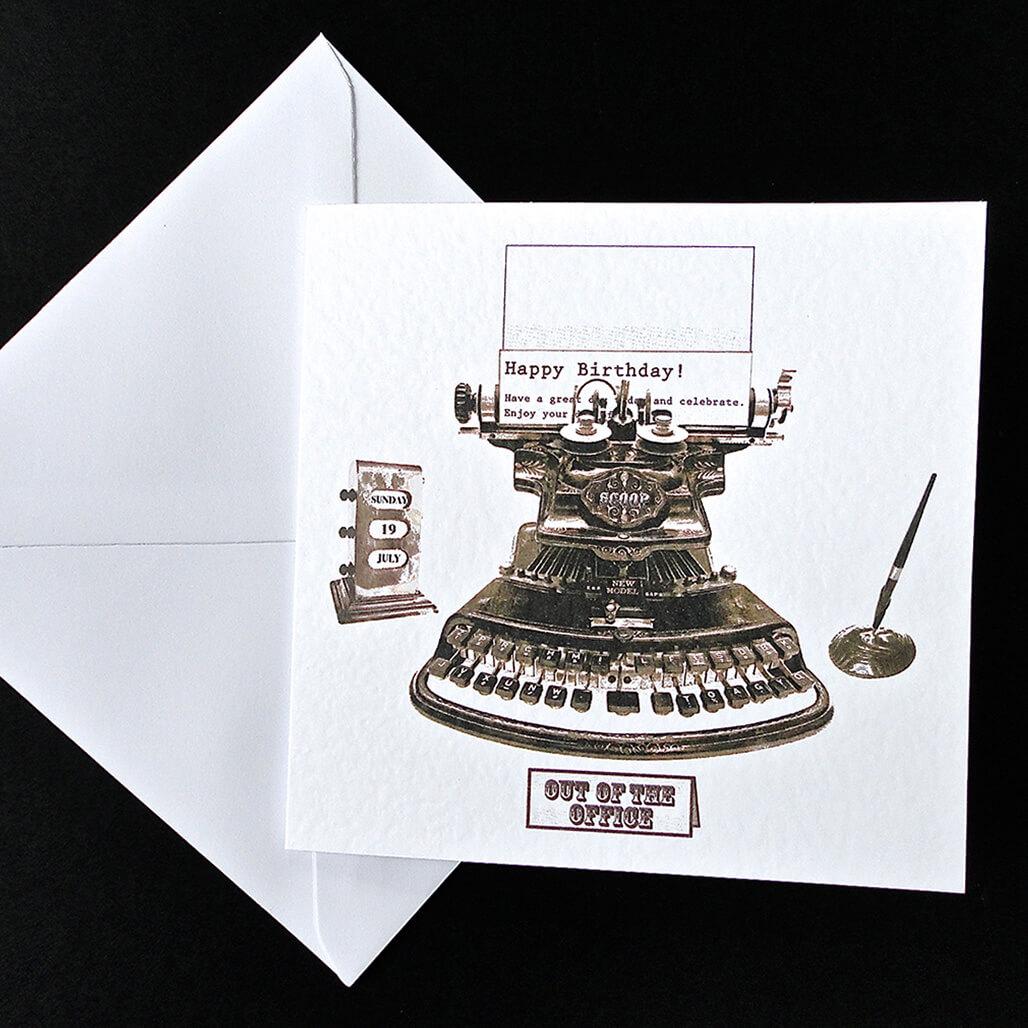 Alongside, on the right is a pen and stand and to the left a Victorian desk calendar; originally in brass – a perfect addition which will enable me to personalise the card with the exact birth date. The typewriter is in the process of sending a message of 'Happy Birthday' and continues to say— Have a great day and celebrate. Enjoy your day off work….. This too can be personalised to include a Christian name, Dad, Brother or any male relative. The sign at the front just says 'Out of the Office'
I spend a lot of time going around quirky antique centres which are local to where I live in Oxfordshire. I really love the eclectic mix of old and the unusual with a little contemporary brought into the mix! I hope to bring a few of my finds into this range as it develops into an antique collection of handmade cards.