I could not get to the end of the Summer season without giving two of my favourite icons a mention on the blog! Have you noticed that you haven't been able to go anywhere without seeing a flamingo or pineapple design in one-way or another? They have been a real hit this SS15 season.
My love for both themes stems back years, when I first started designing a few handmade cards I created one with flamingos on, and many years ago when I worked mainly on fashion textiles I created a flamingo print that was used on dresses and shirts! Even more recently, I have featured pineapples on my Zig-Zag Tropical Panther card too.

It seems that the flamingo is no longer considered tacky; instead they're fun, tropical, fresh and vibrant and are gracing not only fashion but also stationery and home interiors. The pineapple is also taking on a new dimension, being featured on wallpaper, plenty of home accessories and even dog beds, as well as also being, as always a trusty refreshing beverage!
The pineapple was a big favourite last year, but it seems to have made a welcome comeback this year too, and pair it with its tropical friend the flamingo, it seems you have a great design duo! I have found quite a few designs and products that incorporate the two, and think they compliment each other really well.
Firstly I'll take a look at where these themes are featuring in the world of fashion. From jewellery to swimsuits, Cosmo have done a great round up of some of the key fashion pieces featuring our favourite pink-feathered friend! Bold Mode has written a piece on how trendy pineapples are being featured (predicting watermelons being the next big thing!) and how they remind us of tropical climes, Hawaii and holidays. It's interesting to see how this theme has made its way onto many accessories and even men's clothing.
Several designers this season have embraced the themes, Kate Spade has created a bag and watch range, Adidas have used pineapples on some of their sports wear and even Marc Jacobs has placed the flamingo on a men's shirt. Then of course plenty of high street brands have used them as simple designs, or mixed them with other tropical elements. But what I do like to see is that they will be around longer than just the summer, with some retailers placing them on jumpers, jackets, hats, socks and scarves, which means they'll be living on well into Winter! I've created a mood board showcasing some of my favourite pieces and just how broadly they have been used.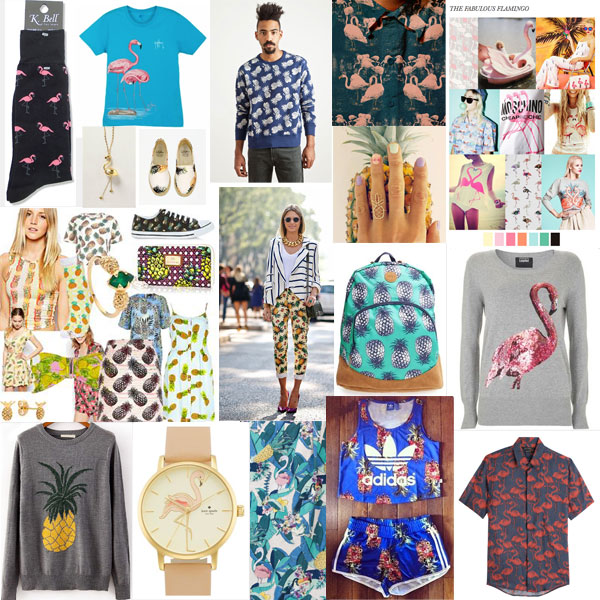 The flamingo is also a household favourite, from having an artificial stood by a plant, to serving friends a slice on cake on a flamingo plate; they feature everywhere. I really love this gold silhouette art print, I think it would look lovely on a wall in an office, maybe next to this clock, and you could string up the lights in a plant to add a tropical pink glow! For a subtler look you could use a classic wallpaper in a bathroom to add interest to a simple, calm space.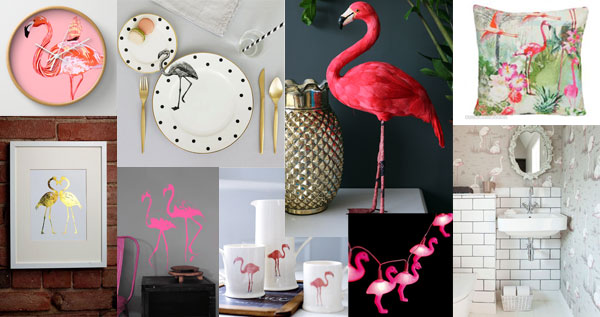 I have oddly enough wanted a gold pineapple ornament for my home for some months now, and recently bought one at an antiques centre to sit on my sideboard. It seems they're making their way into our homes in all shapes, sizes and formats due to their versatility. How amazing are these pastel pineapple lights, jars or cushions? They'd all make a real statement and become a talking point for visitors. They're so popular as a theme, that even Décor8 have an entire board on Pinterest dedicated to the fruity delight and The Chic Nest have recognised it as a decorative Welcome symbol for your home!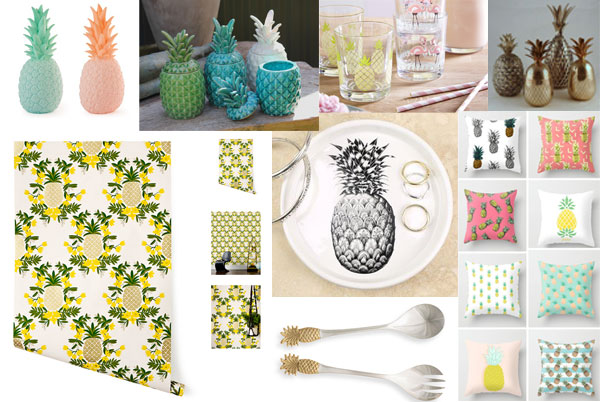 Both themes work well if you are hosting a party and need to decorate a space. Plenty of blogs have featured DIY methods on how to create your own pineapple garland or flamingo straws for drinks. There appears to be entire kits that could cater for a party, like plates, decorations and drink stirrers. People have even made cakes to look like flamingos to continue the theme. I think even if the sun wasn't shining, these decorations would still bring a smile to your face and give that summer party feel. And again they work so well together!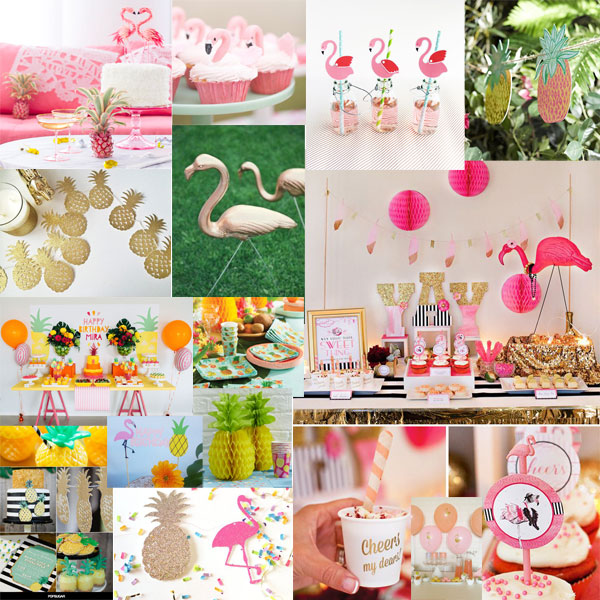 These themes haven't gone unnoticed on items such as stationery, gracing the covers of notebooks, cards and plenty of gift-wrap. Tesco recently sold a range that I just had to buy as it had that lovely summertime, tropical feel with pastel palms and gold pineapples. They also did a fab neon range of tags that I thought would brighten up any present.
A lot of stationery designs use the pineapple and flamingo as a simple shape, but several choose to showcase them using delicate illustrative techniques such as watercolour or line drawing. Others methods are using handmade layered techniques, using trendy gold foil, or even creating designs that people can print out and use at home such as stickers or postcards.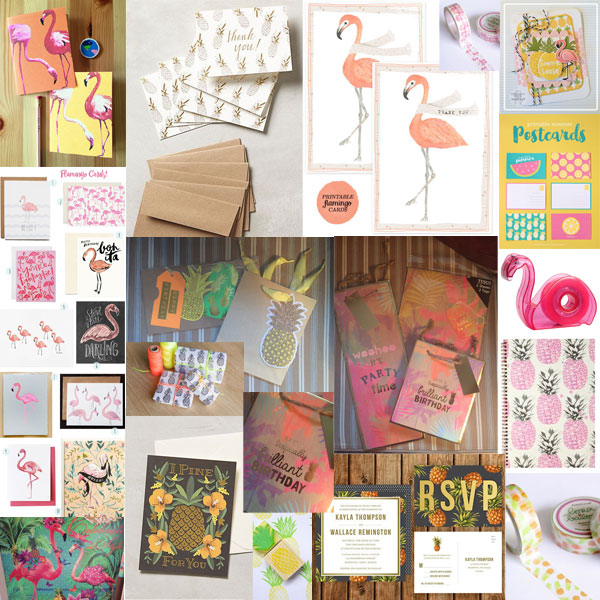 They have featured heavily in print and pattern designs, such as wallpaper and textile designs. Simplifying the shapes, and using them in a repeat makes them more graphic and bold, also changing the conventional colours gives them a much more modern look and feel. Some still use more hand drawn effects, but the majority are computer generated and make for a great statement art piece in a frame, or to use as fabric for some curtains or a cushion.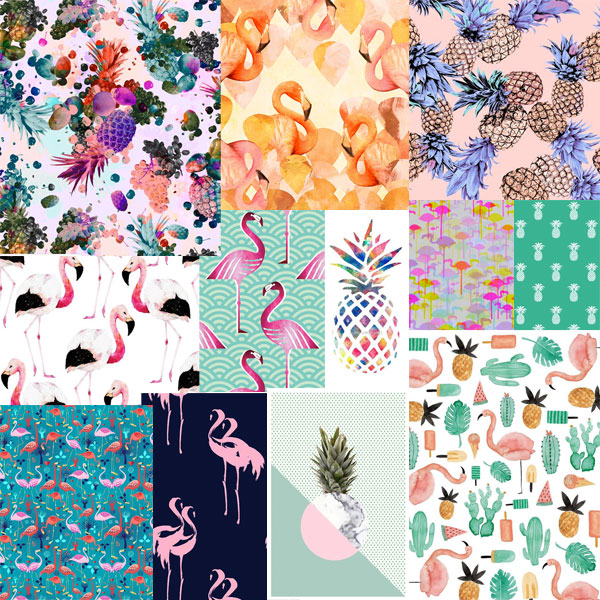 Technology has embraced the simple silhouette of the pineapple as it makes a gorgeous shape for the back of an iPhone case. Similarly the flamingo has featured on items such as laptop sleeves or iPad cases, and they both make an eye-catching yet simple wallpapers/screen savers for your computer.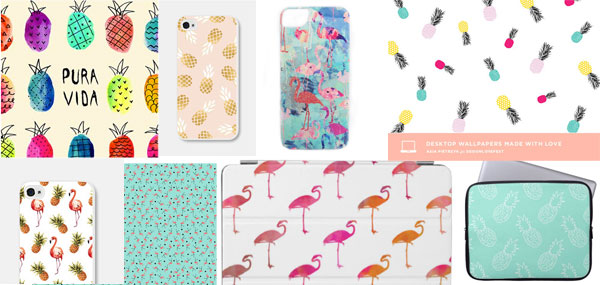 While researching, I have found some rather more quirky designs and creations using pineapples and flamingos. Like this absolutely amazing print that is made from petals to create a flamingo, or this quirky over-embellished Christmas tree decoration. Some of these challenge the conventional use and I like that as they give them new uses and ways to display them! It also gives them a more all year round use, as they do have a tendency to feel summery. Who wouldn't love a flamingo hat?!
What I didn't realise until writing this post, was how many flamingo items (and the odd pineapple design) I seem to have collected and squirreled away without even realising! My notepad and post it notes that I use every day features them, a friend recently bought me this gorgeous handmade statue that sits beside my desk and I even have an air freshener for my car with them on!!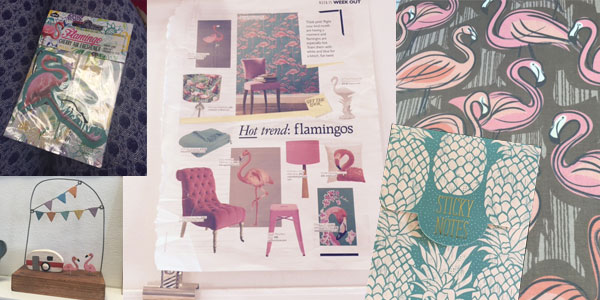 I just can't see these two design staples leaving us any time soon. I think they will be around for another season or two yet. Especially as I have seen them appearing on some more wintery fashion items and people are going to have them in their homes for years to come!
Now all that is left is for me to go and design a range of cards around these themes, incorporating some of the really interesting techniques and ideas featured here. I'll upload them to the website as soon as possible! I'm also going to keep an eye out for watermelons coming through as a SS16 trend, as I think Bold Mode are onto something there.
So watch this space…
Image refs: Mostly thanks to Pinterest, Rockett St George, Bold Mode, Cosmo, Oliver Bonas, George at Asda, Not on the Highstreet, Alexa and Alexa, Zazzle, Fenella Smith, The Chic Nest, Nikki Strange, Sarah is In love with, Design Love Fest, Paperchase, and some taken by myself.