Materials:
A image of wood with a distinctive grain.
Shapes to find; an ornate key, plaque shape, gold studs or buttons, flowers and leaves.
Cutting board and scalpel.
Double sided foam pads
Wax thread or string.
Black felt pen.
A buff coloured card – 125 x 175 mm.
Two pale gold glass gems.
Use of scanner, computer – Photoshop and Illustrator.
Making a new card is always a challenge; thinking of something different, whilst bringing in shapes and images you have already have access to, whether it be from old designs or ideas inspired by something you have been working on previously.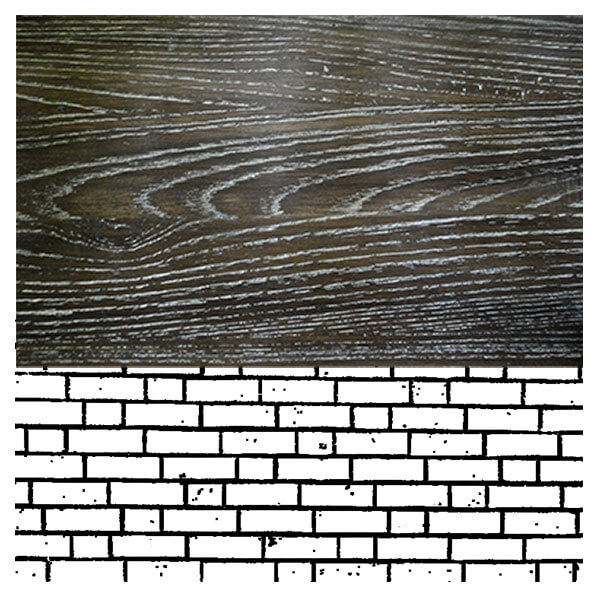 I really like the idea of using the colour and texture of wood, something associated with the home. In the shops today there are an abundance of wooden signs with messages to hang around the house and garden. I also like the idea of a brick pattern in the background, so have drawn one in black felt pen to scan in and use.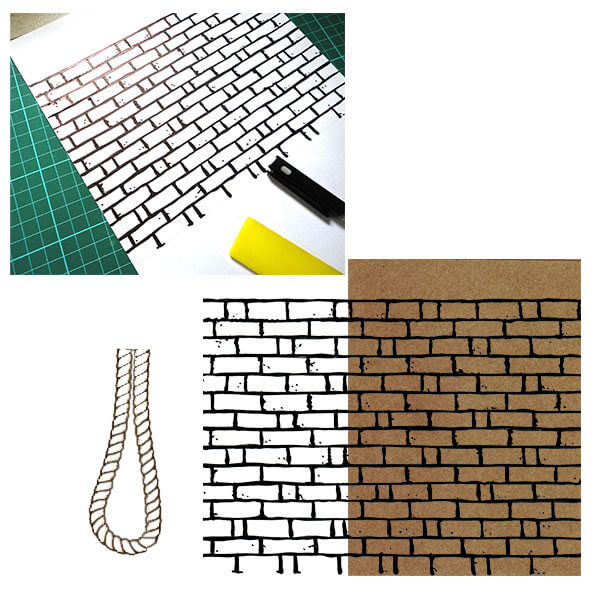 I have tried the black brick pattern on the buff card in Photoshop to check I have produced the right effect. On the wall I hang an antique key and a wooden sign which I have cut from the wood. A small loop of rope is drawn ready for the key and a gold decorative stud will be used as the anchor point for both. The sign will say' GOOD LUCK IN YOUR NEW HOME'.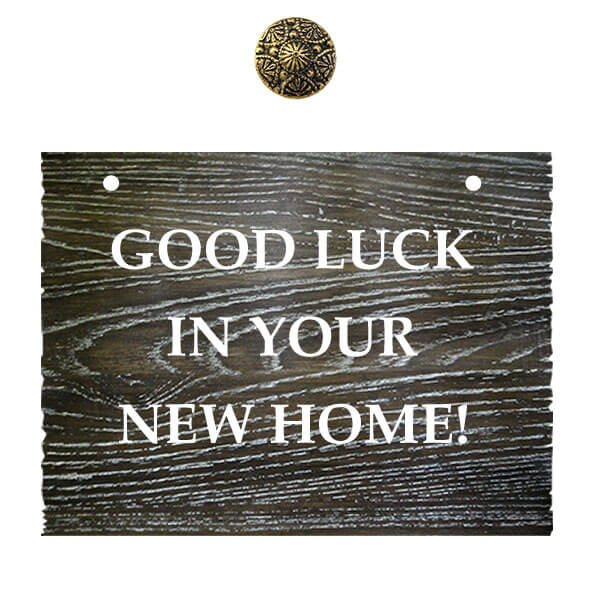 At the base of this card will stand a window box, which is cut out of the same wood. I have taken a gold plaque which will be used, if needed to personalise this card by printing the names on it. The gold key is also ready with a rope and stud to be printed directly onto the card.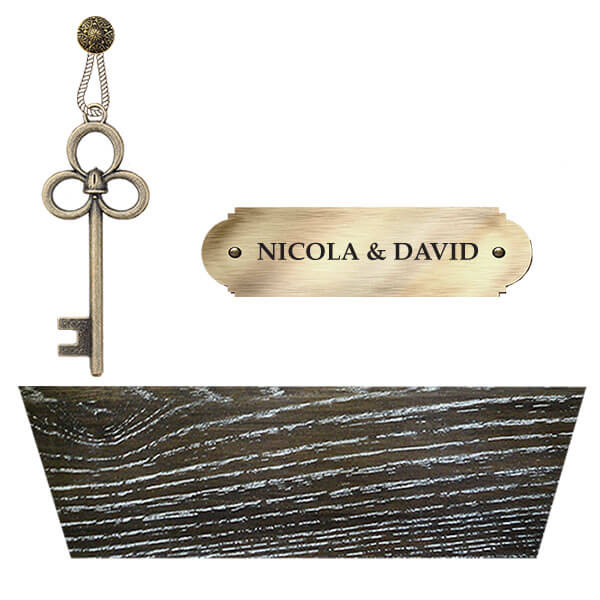 Next, you need to create that floral display. I have taken some hand painted blue hydrangeas and the contrasting black and white linear leaves both from existing designs. You could draw them freehand or cut them from old Birthday cards you have kept – recycling the old and bringing them back to life in a new way. The black leaves behind will be printed on the card to give the composition depth.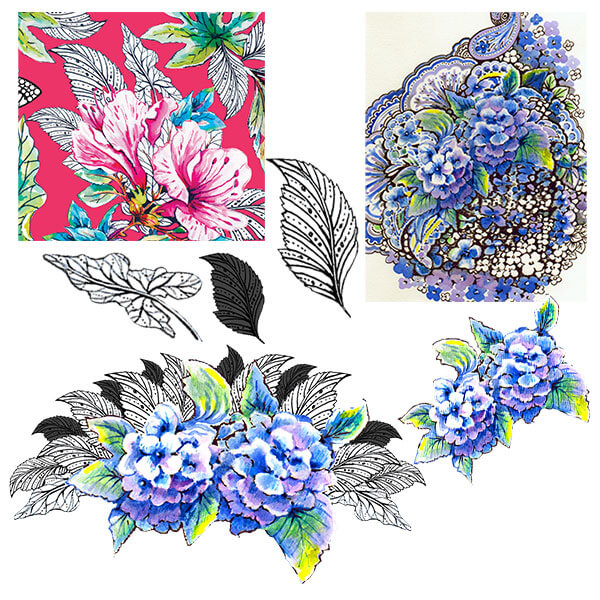 The wooden sign, window box with flowers and leaves and the gold buttons are printed separately on Epson Matt paper for perfect colour and detail. These shapes are then and cut and foam pads are placed on the back ready to stick on the printed card. Two holes are made in the white dots on the sign and knotted cream wax string is threaded through and knotted both sides at the front.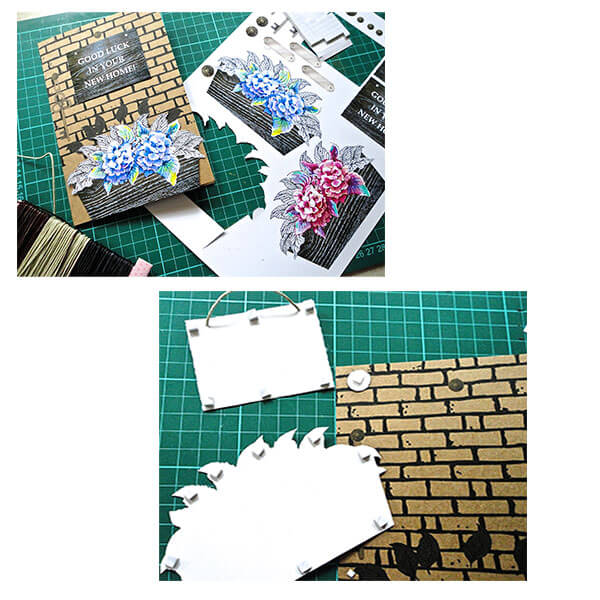 Just to finish off this rustic card, glass stones are added to the two gold studs, and the gold plaque is there ready on to carry the names of the new house owners. Alternatively, this card can just be sold as it is (un-personalised) and still delight someone in their new home.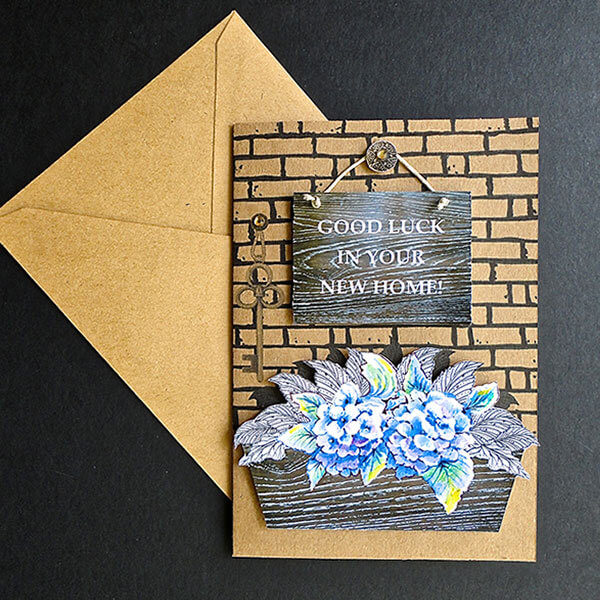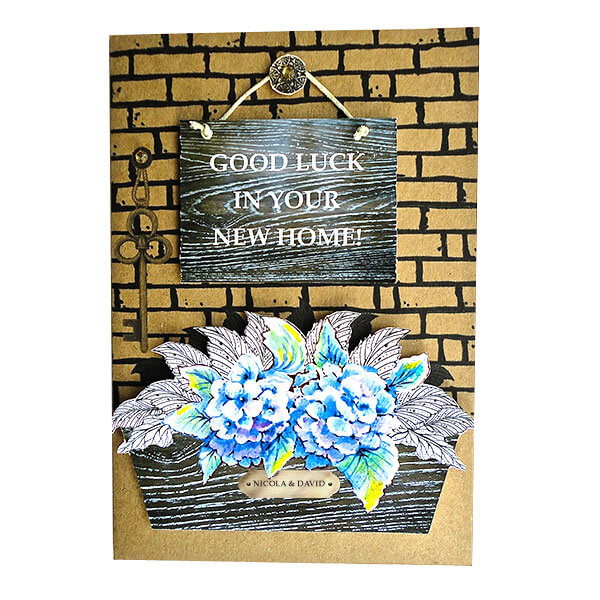 This handmade new home card can be purchased here.