St.Valentine's Day on February 14th is acknowledged around the world. We cannot fail to notice the shops are full of red, and the red heart has become a symbol to express our declaration of Love!
Although it has religious connotations, the 14th first became associated with love in the 18th century, when 'courtly love' flourished and was expressed by presenting flowers, confectionery and sending greeting cards. The Valentine's Day symbols that are still used today include the heart shape, doves and the winged Cupid. But, since the invention of the printing press in the 19th century, the hand-written valentine's messages have been replaced by the mass-produced greeting card.
Here are some vintage Valentine's Day cards I have found; and yes, some are very cute and a bit cheesy but the complexity of some of the die-cut cards is amazing – the quality of which I don't think we match, even today!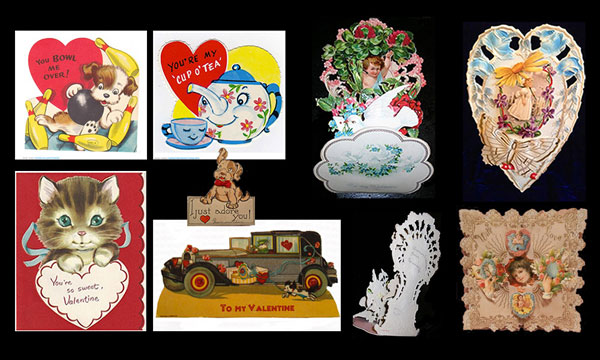 You can see a slight influence from the vintage cards of years gone by in my designs; I still prefer the more traditional and the hand-crafted. The three cards are all die-cut and mounted for a 3D effect. The 'Heart and Red Rose' card is more a traditional look in the red, the second 'Pink Heart and Butterfly' has a modern twist with the double heart frames in a hot animal print pattern. The last image is the 'Pink Rose and Bird' card that says 'True Love' in a single heart with clusters of roses and simple hand-drawn birds.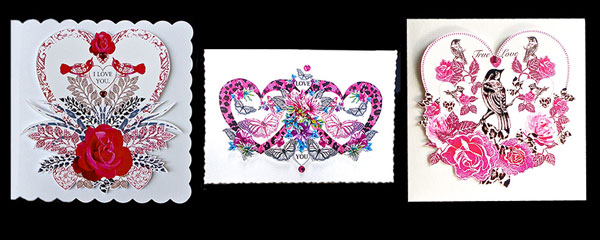 There is a market for many different ways to convey a message, whether through photographic images, text, humour, personalised cards, e-cards or just a simple printed card. Men tend to go for the traditional pinks and reds for their partners, whereas women choose cool, paler more masculine palettes. Still popular are humorous images, animal and bird cards, and handcrafted cards with embellishments including gems and bows. Also, there are cards that don't specifically say 'Happy Valentine's Day' but express 'Love' in different ways that can be used for other occasions to send to a loved one.
Below are a few of the more contemporary cards in a variety of media available for this Valentine's Day!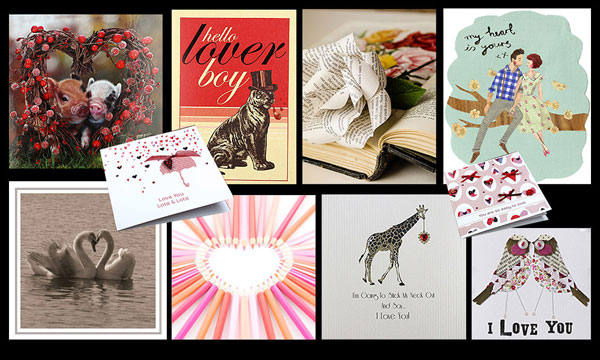 Love any of these cards? Let me know what type of card you'd send to a loved one, and don't forget I can make bespoke cards for any occasion, get in touch if you'd like to send a card with that real personal and creative touch!