Father's Day has become another very popular date in the greetings card calendar. This year it falls on Sunday 20th June, so if you haven't bought a card yet you need to get looking and buying soon!
It is a day to celebrate fatherhood and the role and influence of the father in today's family and society.
I like to think I have collected a good cross-section of the amazing cards available online – hobbies, sports, humorous, loving, celebration and of course those cards that flatter Dads as we all know they like a little praise just like Mums do!  Even Grandad gets to celebrate Father's Day, although he doesn't yet have a special day of his own!
The feature card above is a card to celebrate the day and if your Dad's favourite tipple is a glass of red wine then this card would be ideal.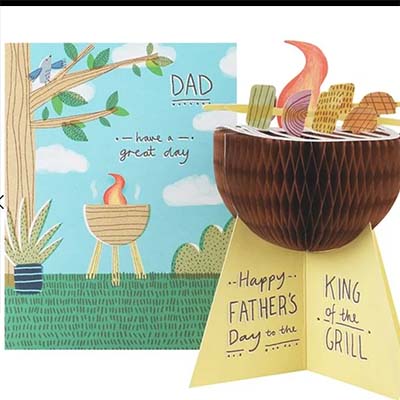 Dad is always the king of the BBQ ,and currently with this perfect weather he can get into action. A great 3D card for Father's Day!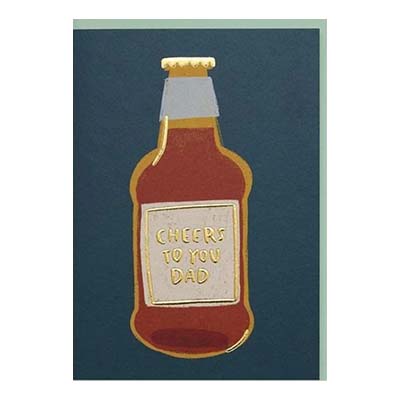 This drink would definitely go down well so 'Cheers To You Dad'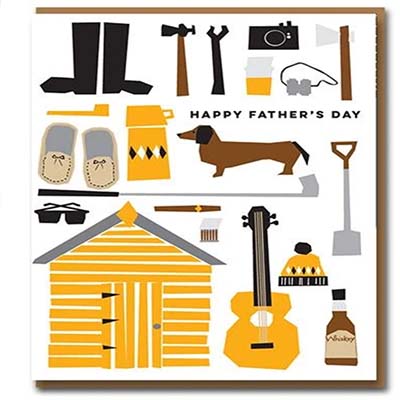 I think these images do cover all that 'Man Stuff'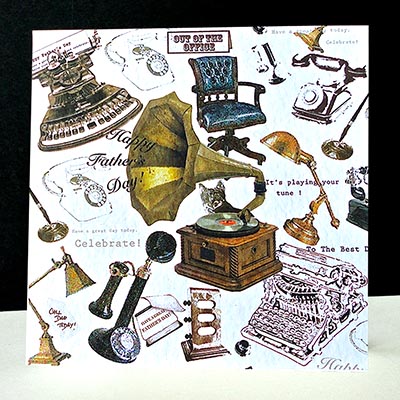 This Antique Office Collection may bring back a few memories! I think it may be playing his tune.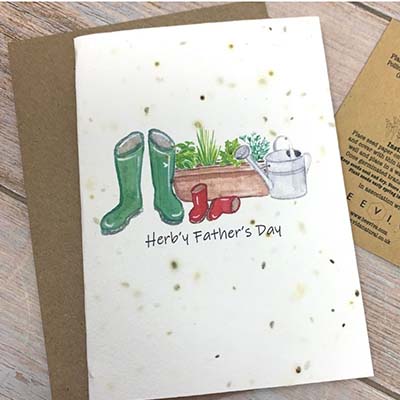 I like the play on words but love the fact the gardening image is on seed paper so it will live on!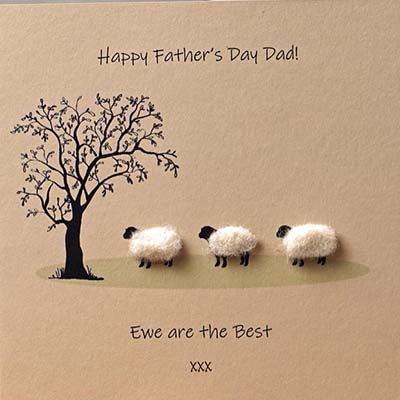 Love these fluffy sheep, a little bit of the countryside for a Dad who likes his country walks.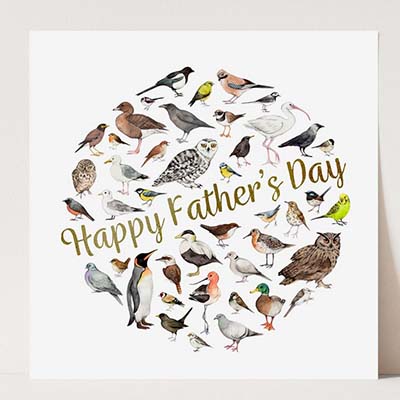 A perfect card for those Bird Watching Dads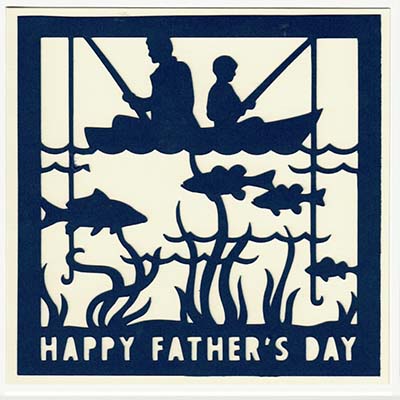 Fishing is definitely a popular outdoor hobby, and this is a great silhouette in blue.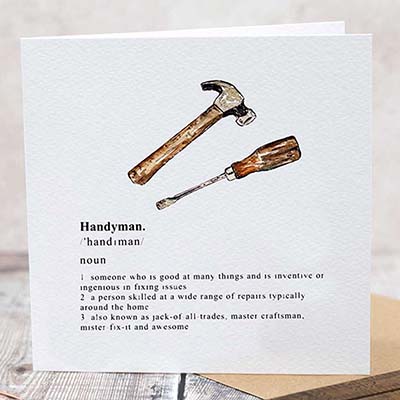 I think this Dad is very 'Handy' to have around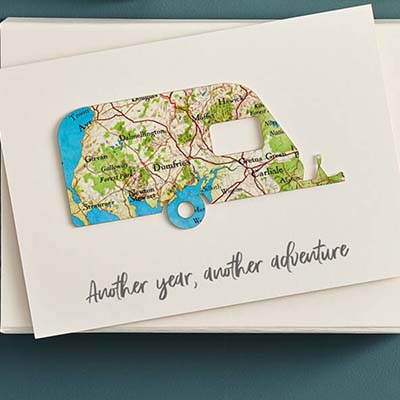 If you're Dad likes taking to the road on a new adventure, then this is the card for him!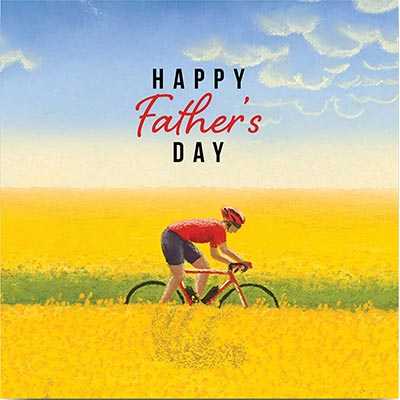 Cycling on a glorious summer day, these golden fields will certainly brighten up his day!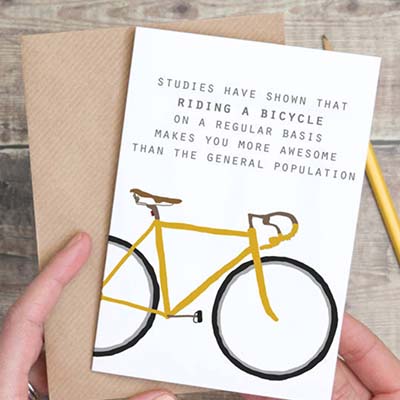 Every Dad would love to be 'more awesome than the general population' so keep pedaling Dad!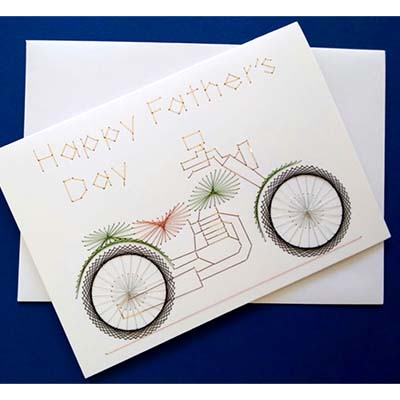 If Dad likes a little more speed this motorbike with amazing embroidery could be perfect!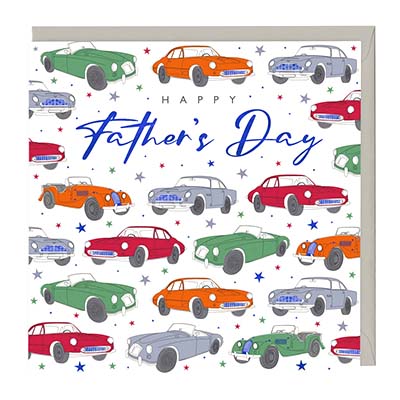 So, Dad prefers four wheels and classic, here's a showroom choice of makes and colours!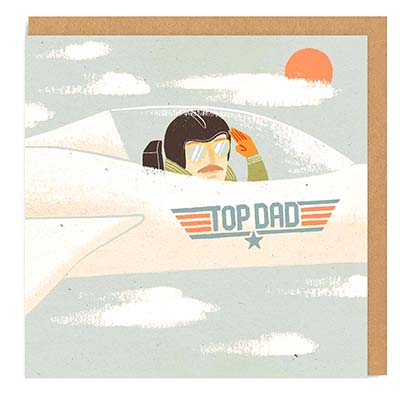 This design is going top speed for a Top Dad!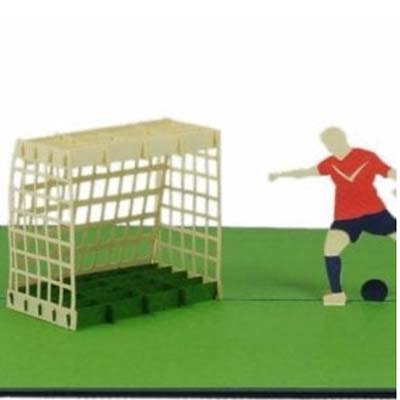 I think this Popup Football Card could be a winner!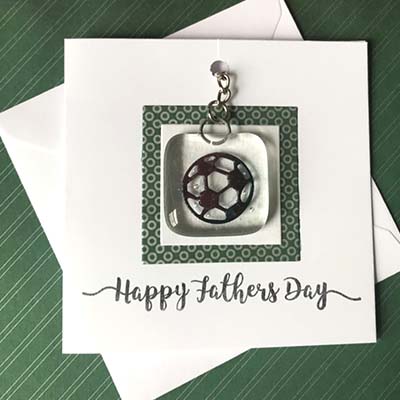 A gift and card in one with this football keyring.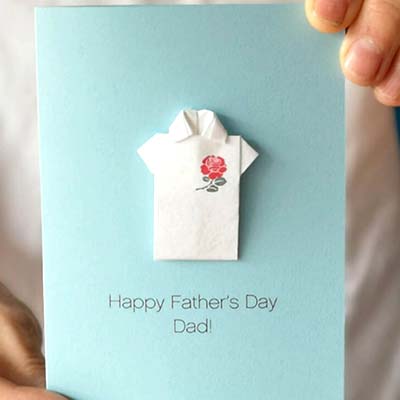 Personalise this card with Dad's favourite rugby team. Brilliant piece of origami to make this shirt.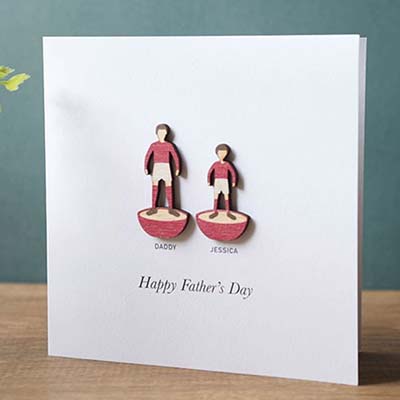 I know someone who'd love these wooden Subbuteo characters, great keepsake!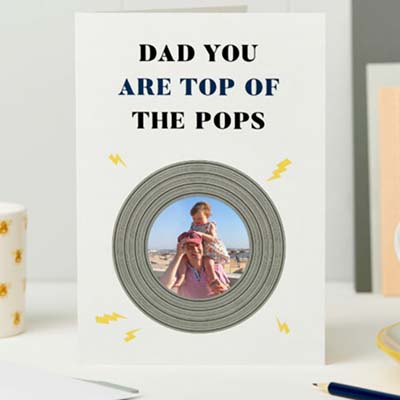 A Top of The Pops Father's Day! Personalised with a family photograph.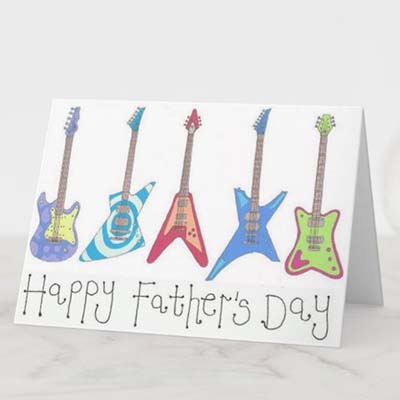 Or how about this Guitar Card for those music lovers.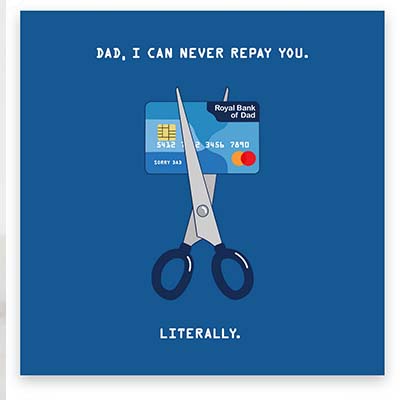 I can never repay you. Literally. Too True!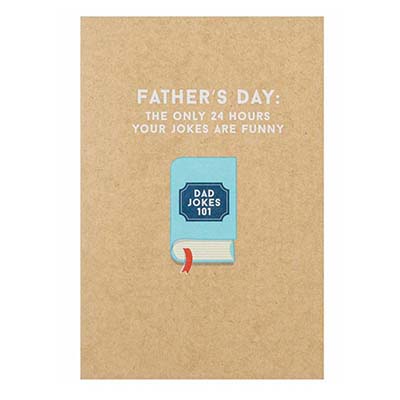 We all know what Dad jokes are like and here's the bumper book of 101.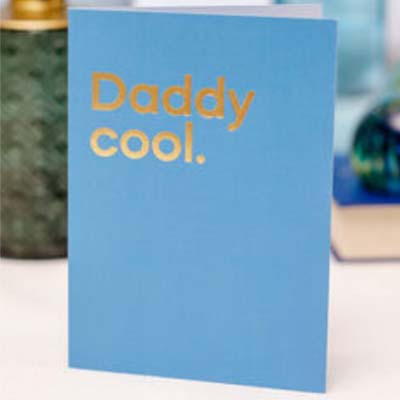 Simple but smart card for Daddy Cool. Love the blue and gold.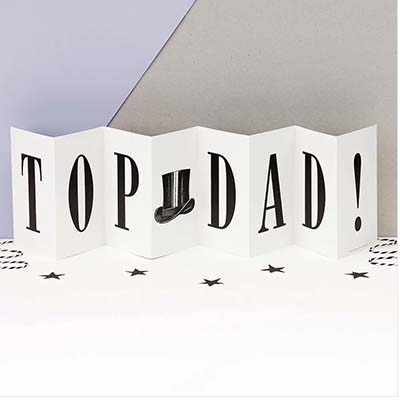 Top Dad! Great to pin on the notice board.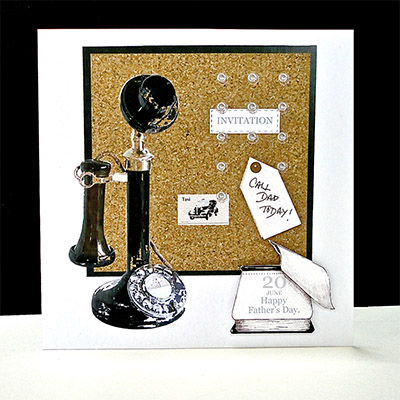 Talking of notice boards, this one has a few reminders to get in touch, call Dad today, it's his day!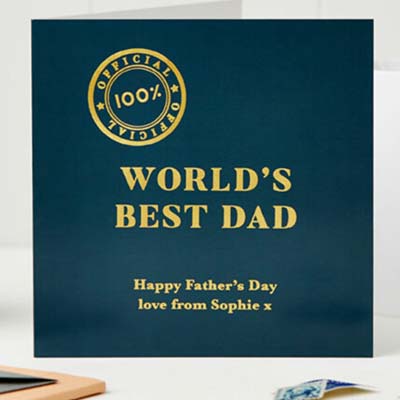 Simply the World's Best Dad. It's Official!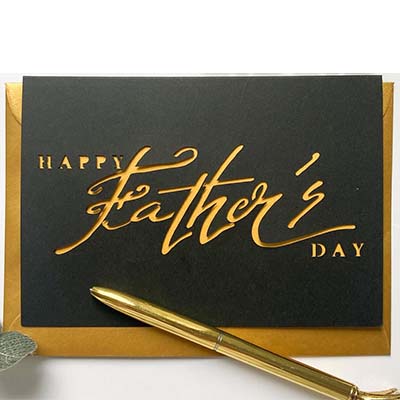 A striking classic text card in black and gold.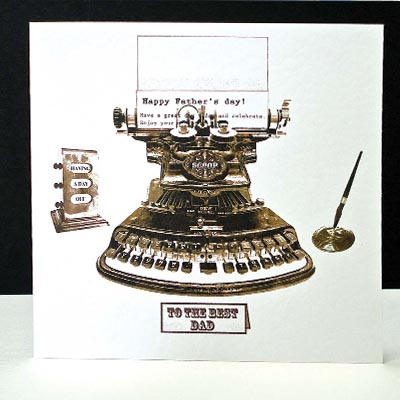 Just Typing Dad a quick note to wish him a Happy Father's Day on my Antique Typewriter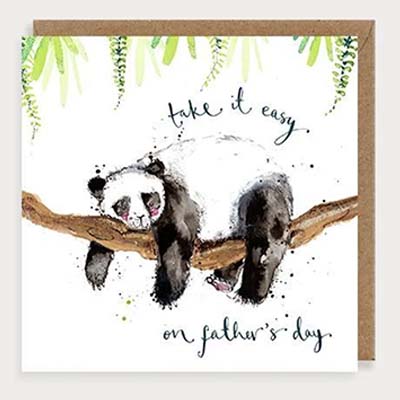 Some good advice here! Take it Easy Relax and enjoy the day.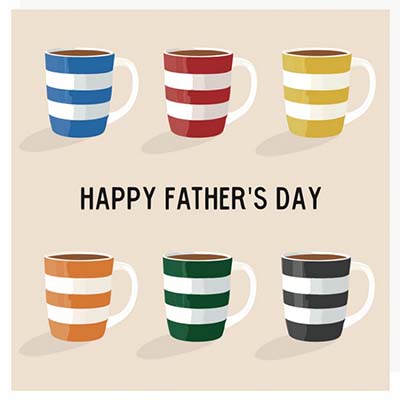 Just relax with a mug of something hot.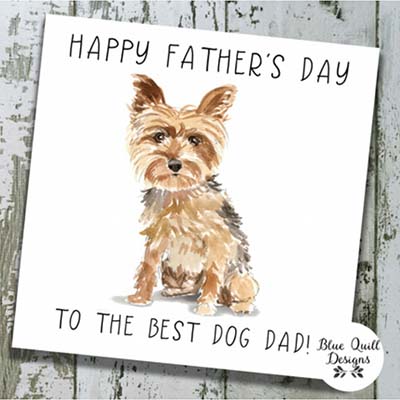 Even the pets like to get in on the act and send a card. Thanks for looking after me.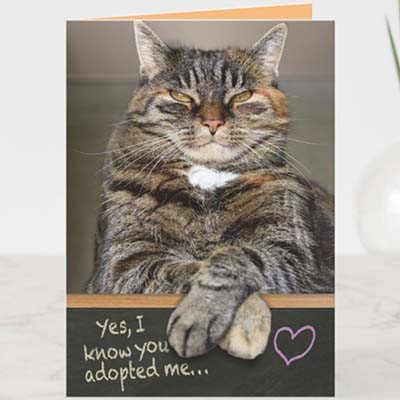 We know who's the boss in this house!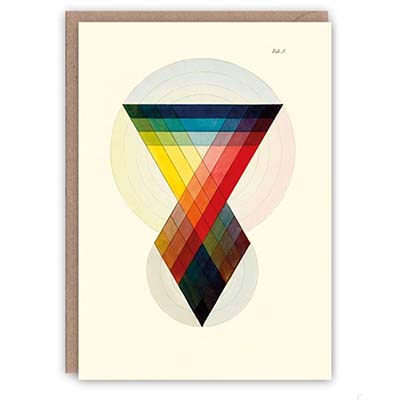 Wow, Colour Theory – Prismatics these fab colours represent something interesting. Take a look.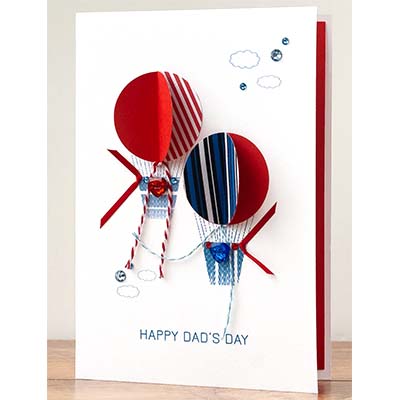 Looking for a really special luxury card, blue and red air-balloons may fit the bill!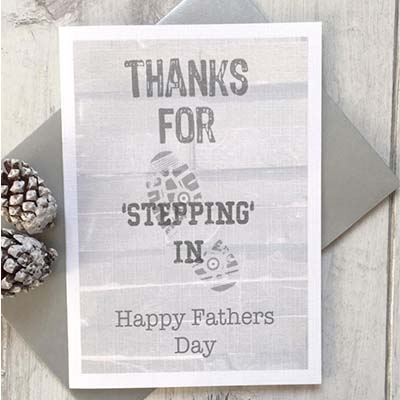 Not forgetting all those amazing Stepfathers. Thanks For Stepping In.
Cute Cards
We always need to find cute and sentimental cards for the younger ones to send to Dad, they usually feature animals as children can easily relate to a parent and baby animal. So, here's a few you may like.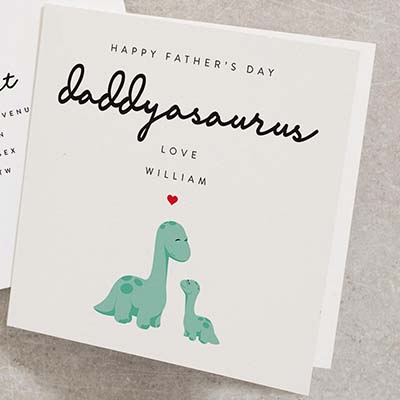 This Daddysaurus card will definitely make him smile! Personalised too.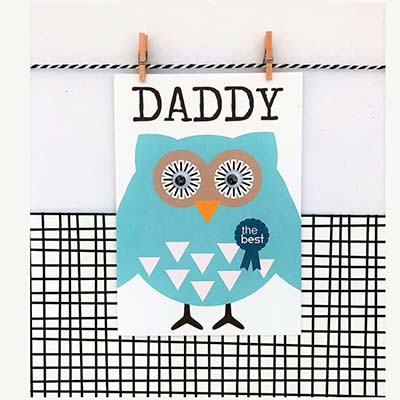 This Owl has amazing eyes and says 'Daddy -The Best'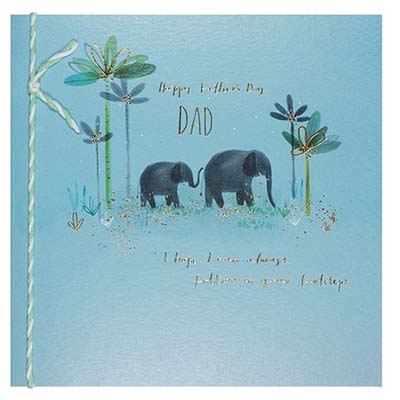 Follow in Dad's footsteps with these cute elephants!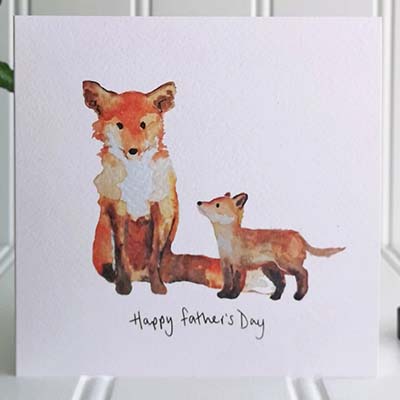 This fox and cub are so cute, he'll love it!
Not forgetting Grandad on Father's Day.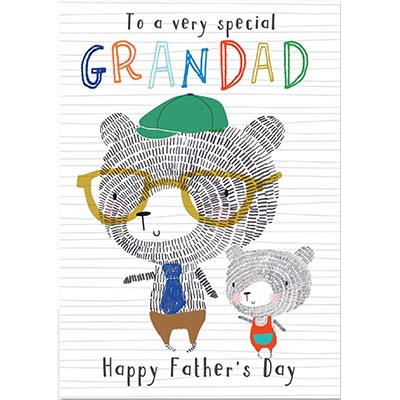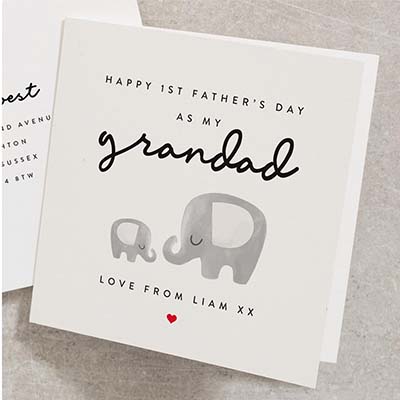 This sweet card is Personalised with love.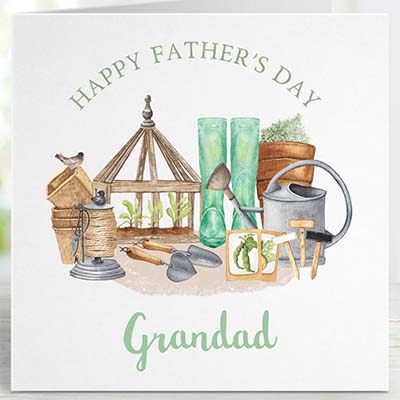 Of course Grandad likes help in the garden.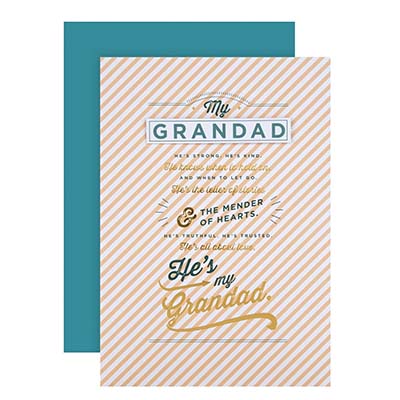 A classic card with all the wonderful attributes a Grandad has to offer.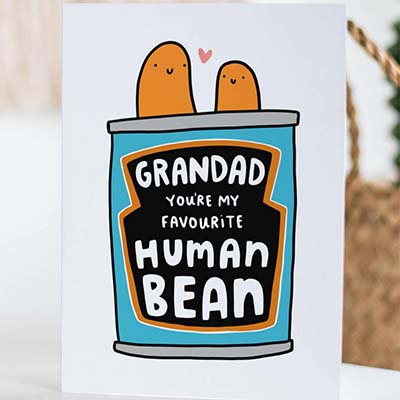 You're My Favourite Human Bean. A funny card that children will love sending.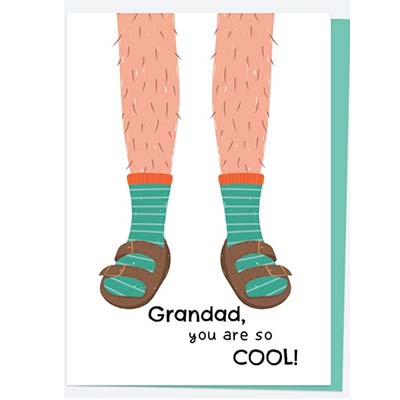 To finish with is another very funny card. Hope Grandad gets the joke in his socks and sandals.
Hopefully this collection of Father's Day cards will help you on your search for the perfect card for your Dad, or Grandad.
If you are looking to make your own Handmade Father's Day Card take a look at my blog post on Craft Invaders where you can follow the process to make your own Father's Day Mug design. Why not get the children involved too.